10 digital marketing trends for 2022 and how to use them
Article summary
This article covers the 2022 marketing trends based on the current technological and societal developments. We explain how to incorporate them into your marketing strategy for the next year.
Every December marketers are put into a reflexive mood – since this is the time we finalize the end of the year reports, evaluate our marketing strategy, and plan the moves for the next year.
Predicting marketing trends is a big part of this planning. However, unlike fortune-telling through horoscopes and cards, marketing trends for 2022 can easily be discovered by looking at the past and present.
The truth is, marketing trends don't appear out of anywhere – they are rooted in the technological and social development that happening right now. That's why we can pinpoint 2022 digital marketing trends by looking at what moves marketers, brands, and tech companies are making today.
The definition of what we consider "marketing" is constantly changing and becoming broader. Both the customers' needs and technology are developing rapidly and therefore brands need to catch up.
However, it's not easy to keep an eye on all the new ideas and technologies on top of your usual workload. This article will help you skip hours of research and analysis and go straight to the 2022 marketing trends that will have the biggest influence on the industry. And if you're looking for new opportunities - check out available digital marketing jobs.
2022 digital marketing trends
2022 will see the mix of the familiar marketing tactics taken in a different direction and completely new and fresh ideas becoming mainstream. Let's focus on the 10 marketing trends that will define the next year and how to utilize them in your own way.
1. VR-based social media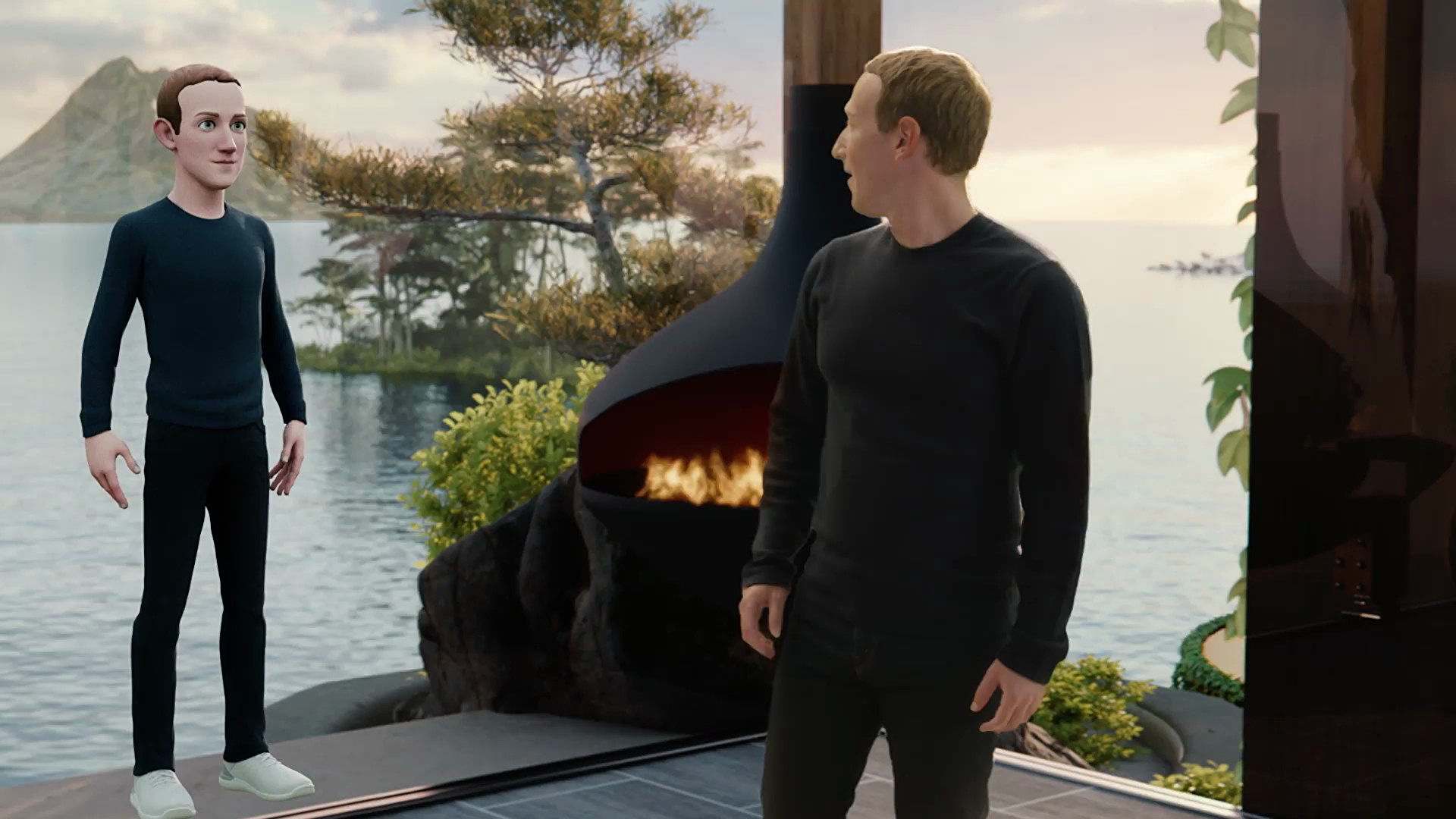 VR is already a popular technology in some industries such as gaming and entertainment. Marketers could implement it by, for example, creating exclusive VR experiences for brands or amplifying product placement in VR games. However, it's clear now that the next few years will become the blow-up of social VR.
Potentially, we will be able to talk, work, and hang out with friends through our avatars in virtual reality. That sounds like something straight out of science fiction, but Meta (formerly known as Facebook) is making it a reality.
Facebook has been focusing on VR for several years, with buying out Oculus, designing games, and projects like Horizon. This year Mark Zuckerberg made it clear that they want to make VR worlds a significant part of the social media experience.
Social media users will no longer need to use Facebook groups as "town squares" - now they will be able to go out to a literal town square where they can meet their friends, have a chat, exchange opinions, and discuss the latest news.
How can brands use it?
VR makes all the experiences we have on social media even more intense and meaningful. Thus, no matter how exactly you're going to amplify social media VR, remember that it has to be genuine and authentic. You can't be too promotional and annoying, because people will be even more irritated by that than usual.
The possibilities with VR social media are truly endless: you can advertise, connect to your customers through different gamified experiences, start communities, and so on. Keep an eye on Meta to see the new tools available for brands and be creative.
Meet your personal social listening assistant.
Try fully automated, 24/7 brand monitoring with Awario for free.
By signing up I agree to the Terms of Use and Privacy Policy
2. AI technology and machine learning everywhere

As marketers get access to more data gathered online, AI becomes a more prominent part of our work. It can help process tons of data and act based on it without having to spend our time on filtering, analysis, planning, and optimizing the strategy. For example, Awario's Insights analyze social listening data to highlight the most important trends and points of conversations so that you can use them in your strategy.
Another exciting way to implement AI is conversational marketing. This is sometimes perceived narrowly as chatbots. They can be useful in certain cases but have not proved popular with end-users because generally, the AI is not intelligent enough and often makes mistakes. The customer care provided by humans remains more practical in practice. However, the growth of conversational marketing and sales (or revenue acceleration) platforms such as Drift, Intercom, and Lyft looks set to continue.
AI-supported conversational marketing can be better realized through prompts and polls - the conversations that don't really require a human to engage.
How can brands use it?
Figure out where your brand can benefit from AI and machine learning technologies: data analysis, email marketing, conversation marketing, etc. Once you've done that, look for a tool to incorporate into your existing marketing strategy.
I'm a big proponent of AI-assisted social listening since it allows you to see the most important aspects of online conversations right away. You can try Awario's Insights feature by signing up for a free trial.
3. Hybrid events

Almost every industry was affected by the COVID-19 pandemic. Many businesses have been put into the crisis mode especially those small-scaled enterprises. Now that things have improved a little, companies are starting to reopen, however, there is still a high possibility that things will never return to normal, like how they used to be. It's possible that we will never be able to work, socialize, shop, and live like we used to pre-pandemic. Same goes for attending social and professional events.
One of the digital marketing 2022 trends that surfaced in the new normal is the shift to hybrid events. Although hybrid event culture has been around for quite some time already, marketers have been compelled to apply it in their marketing strategies in light of distant work and social isolation.
Hybrid events combine the personal and virtual components of social interaction and marketing for a more sustainable and inclusive experience. Companies now hold events that are more accessible to everyone interested and allow participants to innovate, strategize, be creative, and be more connected.
How can brands use it?
The answer is pretty straightforward - delve into event marketing and run a hybrid event. You can combine smaller and more intimate activities such as workshops and seminars offline with huge online meetings for talks, performances, and the like.
Don't neglect the first trend on our list - virtual space can be a great environment to organize an online event and make it as engaging as it can be.
4. Video marketing
Video launched to one of the top forms of content, and that trend shows no sign of stopping. Think about the benefits of video marketing:
Customers respond well to videos.

They increase engagement.

It's an effective way to show off new and existing products.

It's easy to put together and cost-effective, especially compared to graphics and copy.
Best of all, it offers one of the highest conversion rates of any form of marketing. But, like every other digital marketing trend, even continuing trends get updated. Video is no different. In 2022, the main forms of videos will be live videos and short videos.
Live video, such as Facebook Live and Instagram Live, keeps people watching three times longer than standard video. It triggers the "fear of missing out" and hooks viewers in so they are the first to find some big news.
Short videos such as TikToks and Instagram Reels are completely taking over social media. In 2022 we can expect more brands amplifying these platforms and creating content based on TikTok trends.
How can brands use it?
To make sure your video strategy is up to date, check out new platforms and forms of content:
Try live streaming by diving into Twitch marketing,

discover new platforms for your videos such as Vimeo or LinkedIn,

and create short vertical videos using memes and trends from TikTok.
5. Corporate social responsibility
A big thank you to @maltesersuk who have donated £225,000. We've loved working together to help shine a light on maternal mental health. #RedNoseDay pic.twitter.com/PgsAP5kUk0

— Comic Relief (@comicrelief) March 19, 2021
Corporate Social Responsibility (CSR) means "corporate social responsibility" – a cumbersome but meaningful term. Social issues have played an increasingly important role in social media for years. This relevance will increase even further in 2022.
What does that mean specifically for you and your company? Don't just focus on dull advertising on social media. It is just as crucial that you position yourself publicly on issues, especially sustainability, diversity, social justice, or mental health. It is then not enough to post one or two posts.
Your customers want to feel that you live the values ​​that you stand for. These must be firmly anchored in your company. You will find out which topics your community is interested in, Develop a plan in case communications get out of hand. It is essential to take a stand socially and politically. Face public discourse, even if it is inconvenient and involves risks, for example, through misunderstandings or incorrect expressions.
Sign up for a free Awario trial
See Awario in action with a free 7-day trial. No credit card required.
By signing up I agree to the Terms of Use and Privacy Policy
How can brands use it?
Before you take a stance on a social issue, make sure you know your audience and what they care about. Your position must correspond to their values and lives, otherwise, you're just making a completely irrelevant point (the best case scenario) or are actively going against them.
Use social listening to analyze your audience and monitor sentiment around certain social issues. This process will give you enough insights to build a socially responsible marketing strategy that won't lead to a reputation crisis.
6. Data protection and difficulties for ad targeting
This year, Google announced its decision to end cookie tracking in 2022. While that change may now have been delayed, its ultimate demise in 2023 will make effective ad targeting considerably more difficult. Digital marketing strategists will have to start planning how they're going to adjust their model during 2022 if they're going to cope with the change when it happens.
If the political will moves to protecting user data against huge tech corporations, the way we are used to advertise, analyze, and plan marketing campaigns will change significantly. Marketers will have to find new ways to understand their audience and find them without intermediaries such as Google and Facebook.
This means that the role of "ethically-sourced" data will grow in the next few years. By ethically sourced I mean the data that is already in the public domain (like the one gathered by social listening tools) or the data that is given voluntarily through polls, interviews, and so on.
How can brands use it?
Invest in market research and find non-invasive ways to get marketing insights.
I already mentioned social listening as one of the ways to gather and analyze publicly available data. It's able to examine your brand, audience, or competitors online, and give you tons of marketing insights to plan your strategy.
7. Gamification
Gamification is an emerging digital marketing trend that incorporates game features into a website. This is a bit of an oversimplification, but all the things that make games engaging, addictive, and fun are now being used as marketing strategies for businesses to increase customer loyalty, brand awareness, and sales.
A captive gamification experience taps into a player's emotions and easily demonstrates the best activities an audience can complete that make an impact on mutually shared goals.
How can brands use it?
Discover how you can gamify your customers' experience from website to social media.
Try to make every stage of your sales funnel more interactive: play quizzes and start challenges on social media, create gaming experiences through Twitch, and gamify the shopping experiences by giving out bonuses and incorporating rankings on your website.
Your customers deserve more than quality customer service and product, they deserve to have fun - do make sure you make their interactions with your brand fun.
8. More targeted use of influencers
A big thank you to @maltesersuk who have donated £225,000. We've loved working together to help shine a light on maternal mental health. #RedNoseDay pic.twitter.com/PgsAP5kUk0

— Comic Relief (@comicrelief) March 19, 2021
For several years now there has been an increased focus on influencer marketing as organic opportunities for content distribution via search and social media have declined. Plus influencer marketing offers the potential of increased audience engagement and the power of endorsements and recommendations which we know are one of the main reasons for purchase.
Analyst Altimeter highlighted this trend in their report The Power of Influence where they recommended that brands spend 25 percent of digital marketing budgets on influencer marketing, which they estimated would reach $10 billion by 2020, a 5X increase.
Here are the influencer marketing trends that will be relevant in 2022.

Rise of micro-influencers

More focus on performance marketing

Influencers as an 'always-on' strategy

Long-term relationships with influencers

From amplifiers to communicators
How can brands use it?
Start treating influencers as a part of your brand as an opposite to a hired collaborator. The current influencer marketing trends prove that you need to establish long-term relationships with influencers and turn them into brand advocates. The era of changing influencers from campaign to campaign is gone, now you want them to stay with you for a long time.
Another trend that is conquering the industry is micro-influencers. And while it can be hard to find small influencers who fit your brand image, there are plenty of tools to help you!
For example, Awario allows you to search for influencers in any industry and filter them by their reach - so you're easily able to find content creators with a small but loyal audience.
9. Smart personalization
Personalization is a trend that has been growing for the past few years and will continue to grow in 2022. Brands give customers more control over how they interact with them as consumers, which includes tailoring ads towards their individual interests or automatically making some of your purchases (i.e., Amazon recommendations).
The number of personalization examples is not limited to advertising. We see it in online shopping, social media content, and customer service interactions as well. This trend will continue to grow for the next few years at least.
At the same time, people are growing more protective of their personal information, therefore too much personalization can scare them. Make sure you don't infringe on anyone's privacy and sense of safety by incorporating personal information in your marketing messages.
How can brands use it?
Find the balance between personalized marketing and creepy all-knowing marketing.
For example, a good example of personalized marketing is personalized recommendations based on the shopping history your customer has on your website.
A bad example of personalization is ads and emails mentioning private information such as the specific location of your customer or their health issues. For instance, if you advertise pregnancy products based on users' Google searches, your potential customers may feel uneasy or like they are being spied on. So make sure you stay away from personalizing based on sensitive information and topics.
10. Zero-click searches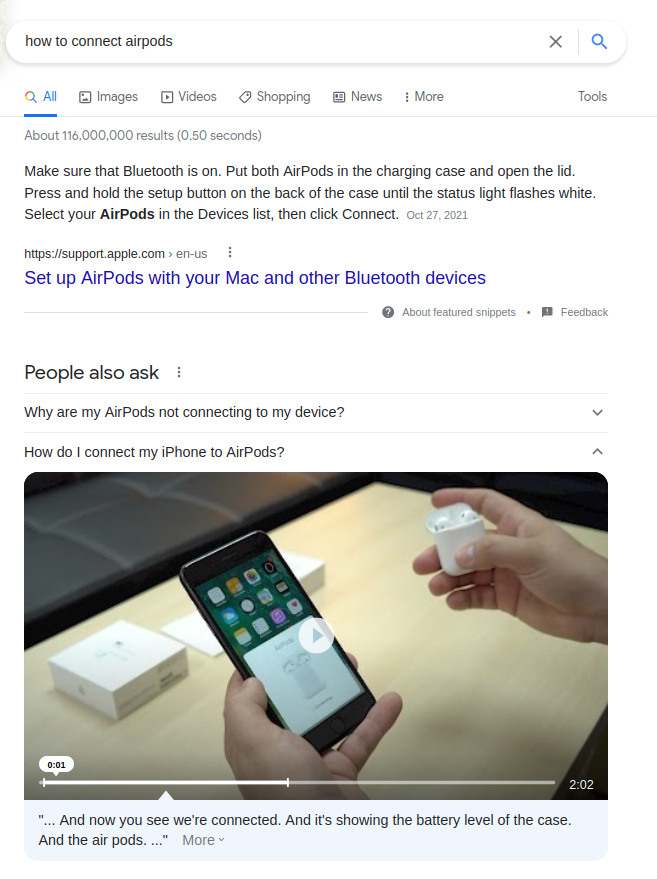 So what is a zero-click search? When you have a question, you type your question into Google and click on the article that best answers your question or gives you the information you need. Sometimes though, the answer is suggested to you in a paragraph at the top of the result page.
These boxes, called Position Zero in search engine results, often come with an image and all the information you were looking for displayed in an easy to distinguish box. You have the answer you need, so you don't need to click on an article.
How can brands use it?
Think about how you can update your page titles to indicate what searchers will get when visiting your site. Being the subject of a zero-click search means you're halfway there and people are interested in what you have to say.
Your next step is to attract them to your site for more of what you have to offer!
Good marketing luck in 2022!
Predicting 2022 marketing trends is easy when you know where to look. Keep an eye on the industry around you and that way you'll be able to spot the trends before everyone is using them.
And remember - marketing is always evolving and you need to evolve with it!
Enjoying the post? There's more.
Sign up for our newsletter to get our best content by email.