Top 10 best free and paid sentiment analysis tools

Summary
What are the top sentiment analysis tools? In this blog post, we gathered 10 best sentiment analysis tools from free user-friendly sentiment analysis apps to sophisticated and expensive data analysis power-houses.
Nowadays, businesses need to deal with a huge amount of communication from their brand's target audience, customers, industry pundits, mass media, etc. Staying in the know on all the opinions of your brand, products, and relevant issues is vital to your business's success.
But how can you process such a huge amount of text data without burying yourself completely in social media posts, articles, messages, emails and other communication from your customers? The answer is data analysis!
When processing data from current and potential customers, perhaps the first thing for a brand to identify is the sentiment of the message.
Whether you're dealing with a customer request or trying to analyze your brand reputation in the media, sentiment analysis helps you prioritize urgent messages and get the full picture of your reputation online.
There are various sentiment analysis tools on the market that can help with that, but before we get to know them and make up a list of the best sentiment analysis tools, let's discuss what sentiment analysis is and how exactly you can use it for business profit.
What is sentiment analysis?
Quite literally, sentiment analysis is the process of analyzing the emotions, feeling, or sentiment behind the textual or audial/visual (emojis) data with the help of a sentiment analysis software. This software analyzes text or audio based on the preprogrammed algorithm.
Sentiment analysis tools use Natural Language Processing or NLP to determine whether a piece of text is positive, negative, or neutral. Some sentiment analysis tools go beyond that and can even assign more detailed sentiment markers such as disappointment, excitement, or disgust to a piece of text. Sentiment analytics are often performed on text data sourced from social media, such as online reviews, emails, customer support chats, survey responses, blogs, and news items. In addition to that, some sentiment analysis tools can analyze voice clips or even analyze ongoing phone calls by applying Natural Language Processing logic to analyze the tone of voice.
The precision of the sentiment analytics software depends on the analysis algorithm it uses. It's important to note that no sentiment analysis tools are 100% error-proof, no matter if it's free or so expensive you can barely justify it. People often use sarcasm and slang in their communication which is hard to pick up even for the most advanced sentiment analysis tools. However, when you're dealing with hundreds or thousands of messages from various channels every day, automating sentiment analysis is always much more efficient than combing through them manually.
Why should you use sentiment analysis?
Emotions are often the driving force behind purchasing decisions thus, by analyzing how customers feel i.e. the sentiment behind their communication, you tap into a valuable source of business insights.
To make it more specific, here are some of the common business goals for utilizing sentiment analysis software:
Determining brand reputation

Improving customer experience

Preventing a brand reputation crisis

Improving marketing campaigns and product messaging

Testing business KPIs

Generating leads

Researching product decisions
You can use the sentiment analytics insights you get to inform business decisions or combine them with other tools you use. For example, by integrating sentiment analysis in your chatbot communication, you can make sure your automated responses are more relevant and appropriate.
Best sentiment analysis tools
Sentiment analysis tools can vary greatly. Some of these software require an understanding of basic programming principles while others are as simple to use as Google. The price also may change depending on the tool, starting from the free sentiment analysis options and going up to thousands of dollars worth of software. What you choose depends on your goals — sometimes free sentiment analysis tools can bring as much value as their paid alternatives.
In this list, I wanted to cover different tools for all types of businesses from startups to corporations.
I'll start with the tools that are easy to set up and are able to search for, collect, and analyze data on their own, and then move on to the tools that require some sort of integration or an external data import. The former are extremely user-friendly and can help you solve a wide range of marketing and business tasks. The latter will be useful if you're looking to integrate sentiment analysis for all your communication channels at once. I'm sure you'll be able to find something that works for you in this post.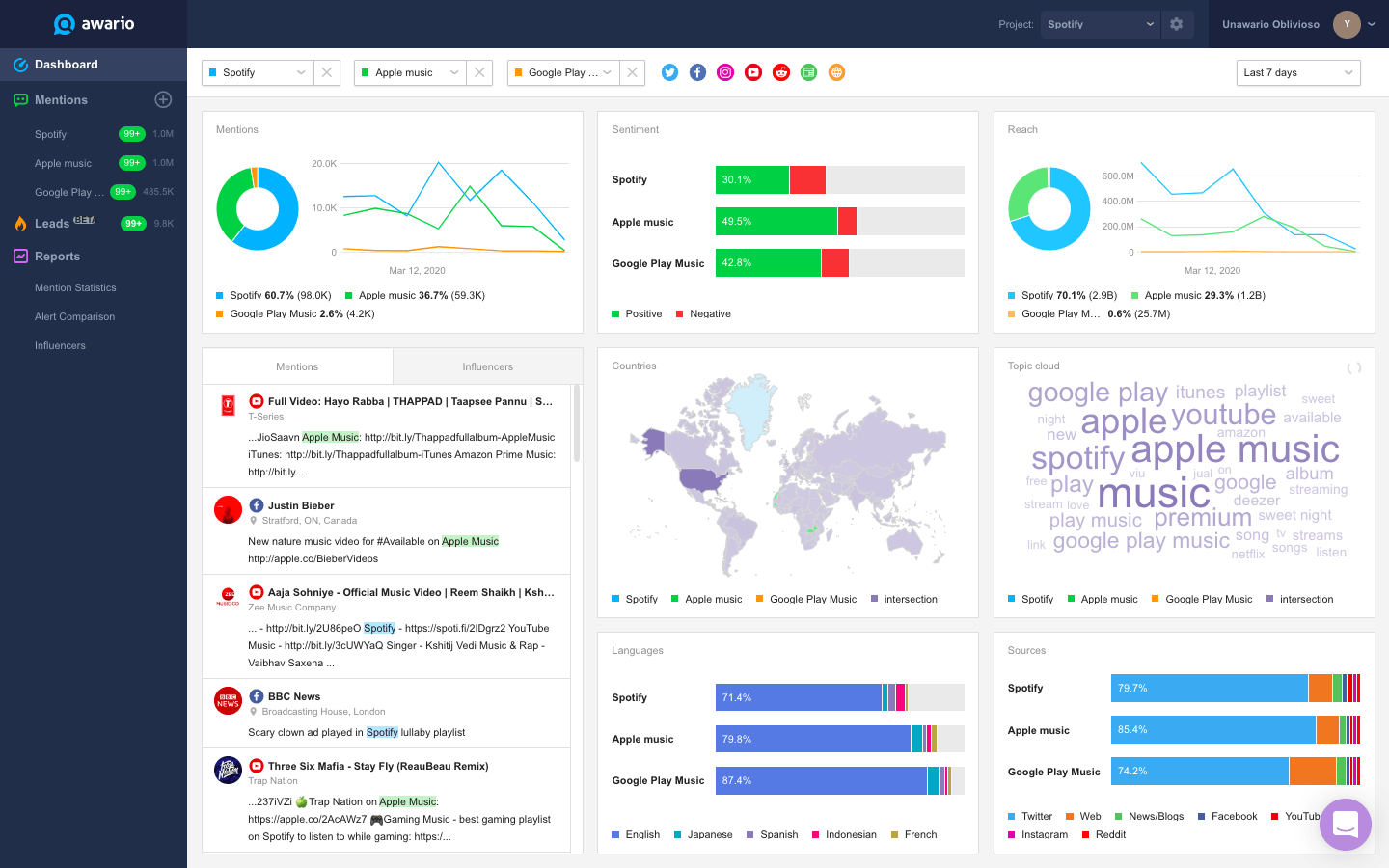 Best for: audience analysis, market research, reputation management, competitor analysis.
Awario is a web-based social listening tool, with sentiment analysis being only a part of its vast capabilities. The data Awario analyzes comes from social media platforms (including tweets, posts, Reddit threads, etc.), forums, blogs, and websites, and you get access to sentiment analysis as soon as you log into the tool. It can estimate sentiment of the mentions in real time.
You set Awario to gather online data by putting in the keywords you want to monitor. They can relate to your brand, your product, competitors, industry, or any other phenomena you want to research online.

In the screenshot above you can see Awario's sentiment analysis of the two major American parties. The tool analyzes the percent of negative sentiment, neutral, and positive sentiment.
Awario does all sorts of real-time social listening and data analytics: it displays the volume and reach of mentions for your keywords, the words commonly used along with them, and breakdowns of the volume of keywords by language, source, location, and more. You can also compare this data, including sentiment, for several groups of keywords. For example, you can find out how much negative sentiment you get online and benchmark the number against your competitors.
All this information is depicted through comprehensive drafts and can be exported and easily shared with your coworkers.
Pricing
You can try this software for free for seven days.
There are three main plans for users: Starter is $29, Pro is $89 and Enterprise is $299 a month. The prices for yearly plans start at $290. You can also choose a Custom plan should you need more powerful analytics.
Sign up for a free Awario trial
See Awario in action with a free 7-day trial. No credit card required.
By signing up I agree to the Terms of Use and Privacy Policy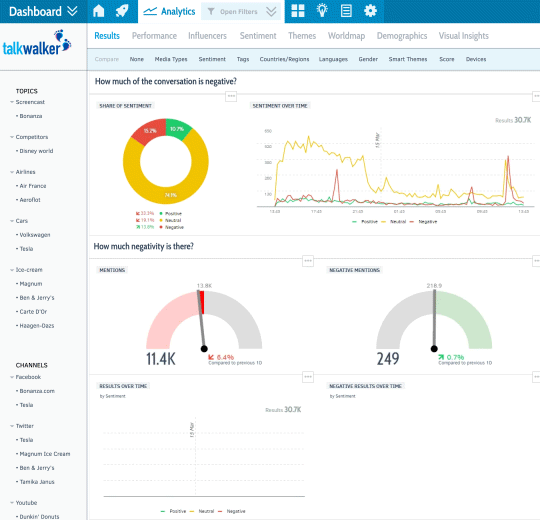 Best for: brand and campaign monitoring, competitor analysis, reputation management.
Talkwalker is another sentiment analysis tool that analyzes social media data. It uses its AI to check and analyze the tone of individual online mentions collected from major social media networks as well as blogs and forums. It can even automatically detect basic forms of sarcasm.
The tool allows you to track customer trends and see which features of your product your customers are drawn to, and which features turn them away. Similarly to Awario, it offers some competitor intelligence capabilities along with other important online data metrics such as engagement and demographics.
Pricing
You can get a free demo if you want to see Talkwalker in action. The prices start at $9,600 a year.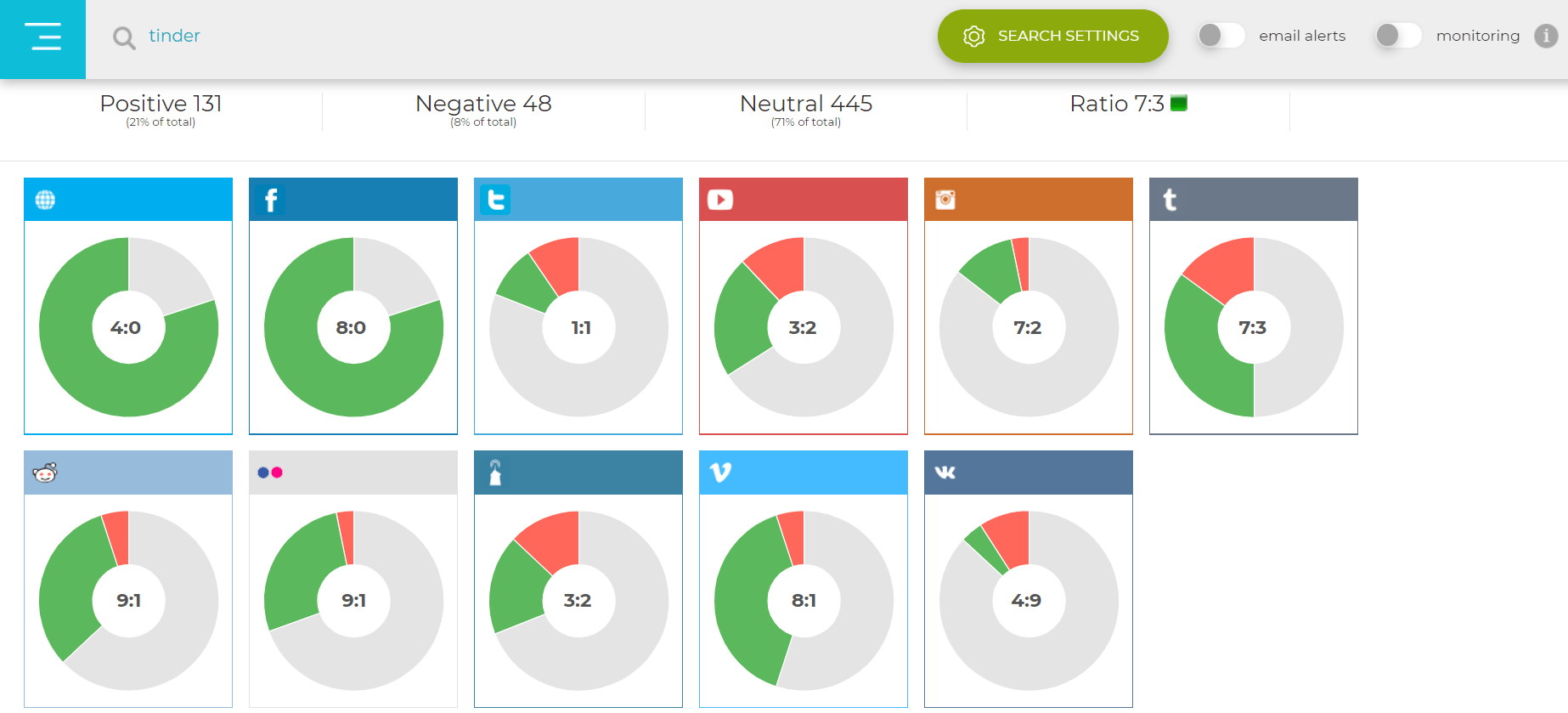 Best for: brand monitoring.
Social Searcher is a free web-based solution for social media monitoring. Once you get to the tool's page, it takes you straight to the settings where you can put in your keyword. It then sources data from 11 different sources including Twitter, Facebook, and the web.
To see sentiment analysis of the gathered mentions, you need to go to the Detailed analytics tab and choose Sentiment. The tool will show you the share of positive, negative, and neutral mentions as well as the ratio of positive to negative mentions. In the same tab, it shows you the sentiment ratio for each source and most popular positive, negative, and neutral posts.
Pricing
The tool is free for up to 100 keyword requests. You can also buy Premium Monitoring starting at $4 a month.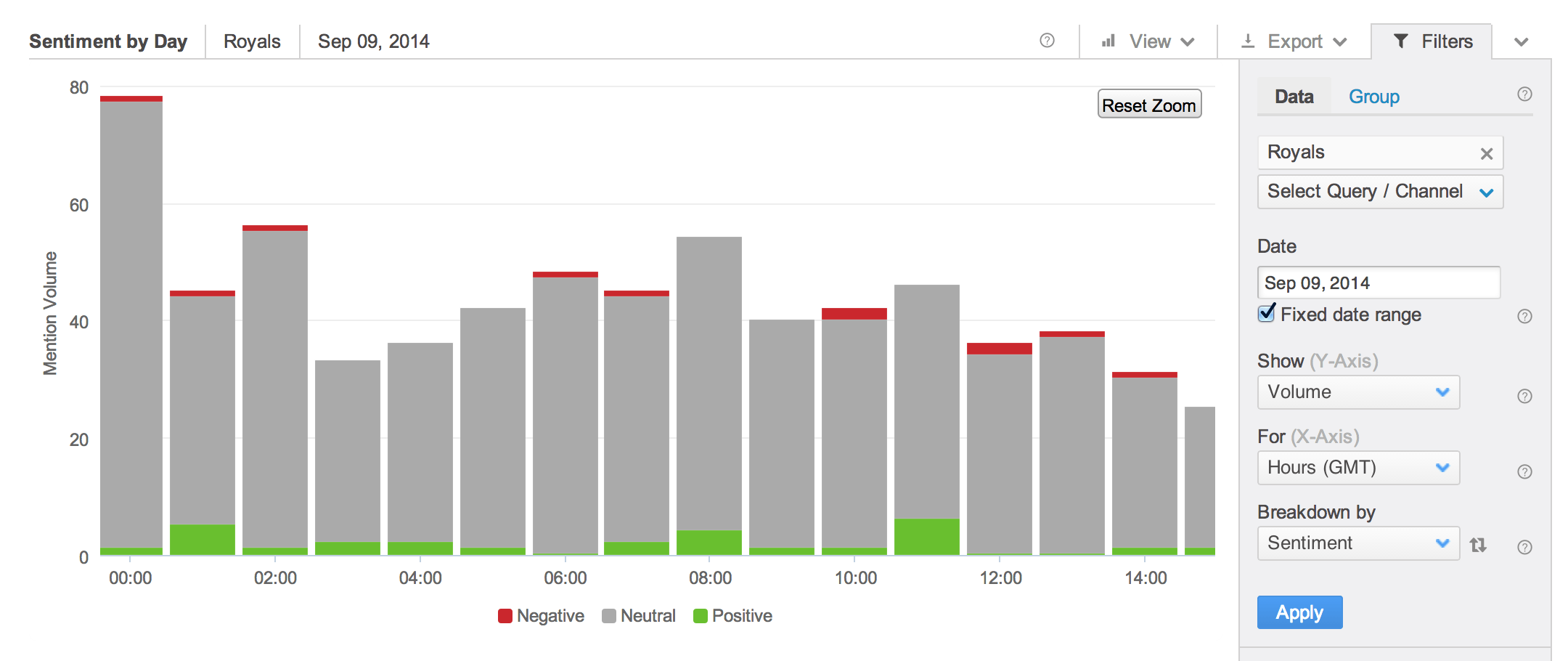 Best for: market and audience research.
Brandwatch also specializes in online data analysis, but compared to Social Searcher it does it on a much bigger scale. The tool assigns one of the six labels based on its sentiment analysis: anger, disgust, fear, joy, surprise, or sadness. The algorithm that is used to analyze sentiment was developed by Brandwatch's in-house team.
You can set the tool to notify you if it detects a mention with a specific emotion, for example, every time someone expresses disgust. There is also an option to add specific keywords to the sentiment analysis model and associate emotions with these keywords thus adding your own sentiment markers to the analysis. To make the insights even more detailed, the sentiment analysis can be broken down by audiences.
Pricing
The price, as well as a free demo, are provided upon request.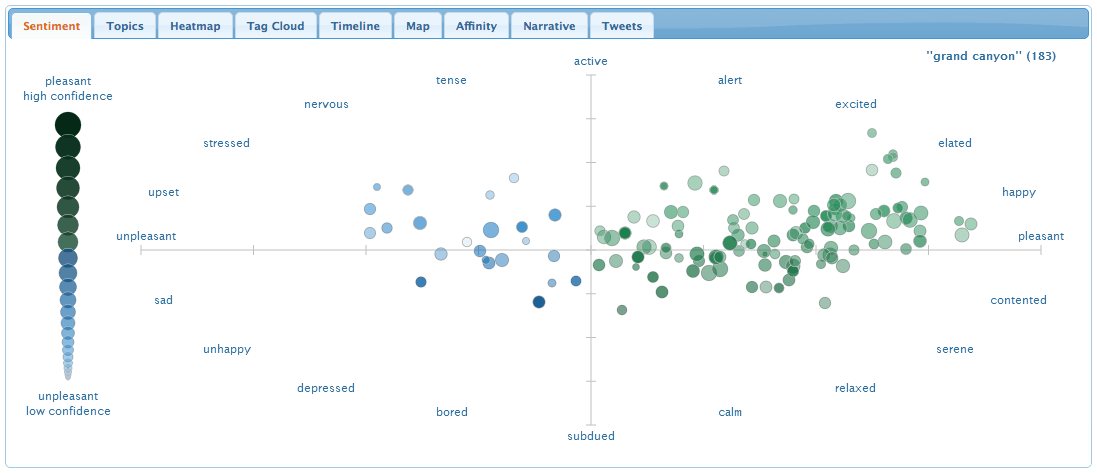 Best for: market research on Twitter.
In case you're looking for a specific tool that analyzes sentiment on Twitter, here's the best one.
Twitter can be an amazing platform for research, especially in tech, media, politics, and some other industries. Unlike other tools on this list, the app arranges the data on a spectrum of emotions organized along two axes: unpleasant to pleasant and active to subdued. The data is also analyzed by major topics featured in conversations around your keywords to help you understand the deeper meaning behind the tweets.
Pricing
The application is free.
Subscribe to Awario blog
Get your weekly fix of marketing goodness by email.
Best for: market research, target audience analysis.
With this sentiment analyzer, we move on from the more straightforward tools that collect information themselves to more complicated sentiment analysis tools that need additional input of the data that will be analyzed.
MonkeyLearn is a user-friendly sentiment analysis engine that connects to an app of your choice (it can be Excel, Google Sheets, Zapier, or Zendesk) and pulls the text data from there to inspect it. You can even train your own sentiment analysis model if you need to analyze industry-specific texts, and you don't need programming skills for that! It allows you to develop your own sentiment analysis models and even checks this model for accuracy once you tag enough texts to verify data.
Pricing
You can use the basic version of the tool for free. The paid version starts at $299 a month.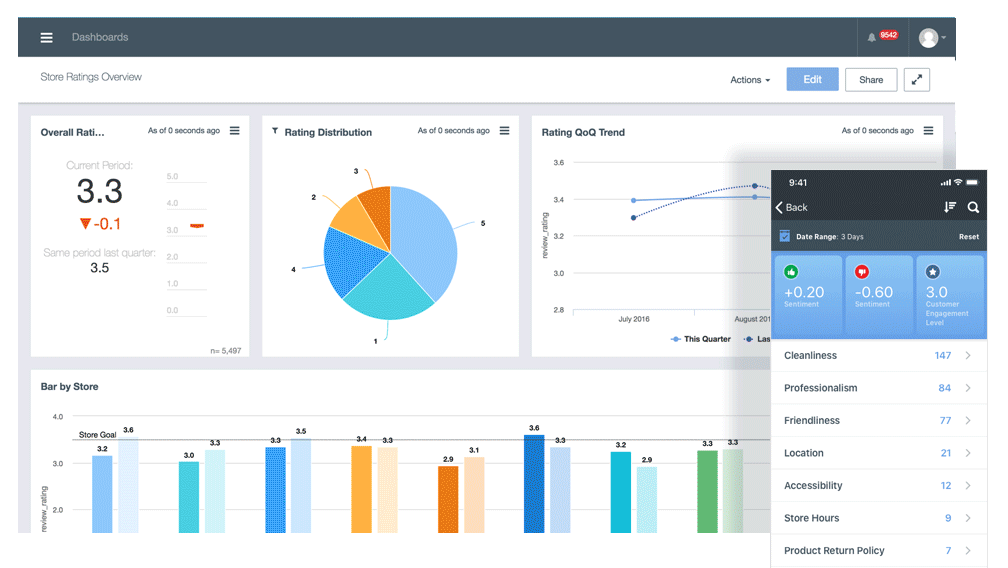 Best for: customer support, customer feedback analysis.
Clarabridge is a tool that helps you analyze communication with your customers including emails, chat conversations, and surveys. It uses grammatical and lexical principles combined with machine learning to analyze each sentence in the text individually and the sentiment of the text on the whole for a multitude of languages. Additionally, it is able to dissect audio data which can be useful for call centers.
Since the tool primarily acts as a Customer Experience management software, it provides a bunch of features to improve your communication with customers. For example, Clarabridge differentiates between urgent and non-urgent requests and notifies you about the former.
Pricing
A free demo is available. The price is available on request.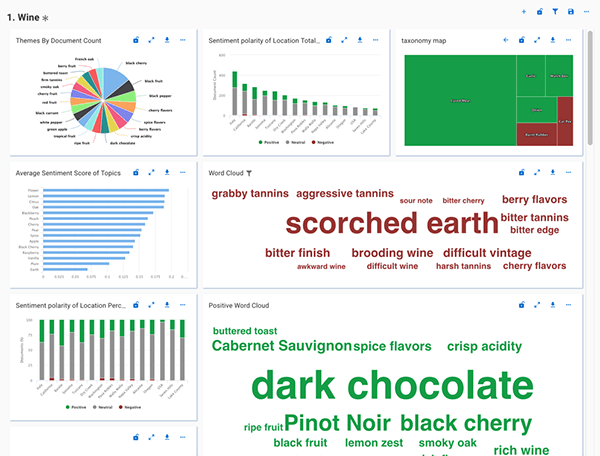 Best for: data research.
Lexalytics is another text analysis tool that can be used for all kinds of business purposes. It sources data from surveys, social media comments, reviews, and so on and uses natural language processing to identify whether a piece of text is negative, positive, or neutral. The tool can be integrated with other software through its Cloud API or you can get it as an add-on for your Excel sheets. The tool is fully customizable, although you'll need some basic data analysis skills to add your customizations.
Pricing
The tool offers free demos. The pricing is revealed upon request.
Best for: market research.
MeaningCloud is an excellent choice is you're looking for a tool with an API option. The platform is dedicated to text analysis to help businesses and researchers derive meaning from large sets of textual data. Its sentiment analysis API allows you to perform multilingual sentiment analysis of texts from different sources.
In addition to identifying whether a piece of text is positive, negative, and neutral, it also can detect polarity and irony, differentiate between opinions and facts, and extract aspect-based sentiment.
You can add your own industry-specific dictionaries and analytic models to make the results more precise.
Pricing
You can try a free plan. Premium plans start at $100 a month.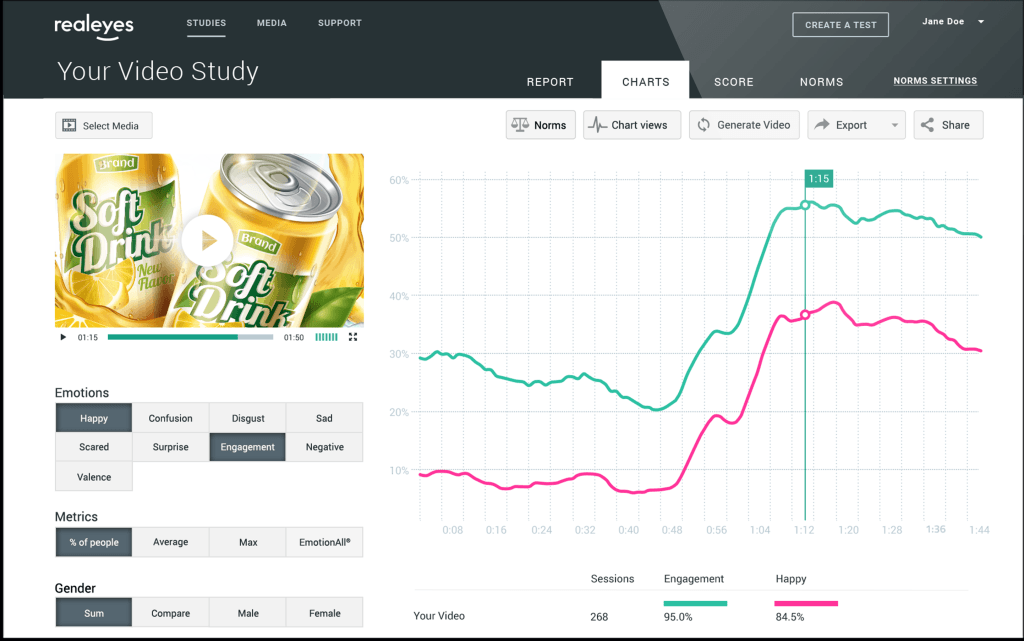 Best for: predicting the effectiveness of your campaigns.
Realeyes is an emotion AI platform so in some sense it's purely dedicated to sentiment analysis. It uses several ways to analyze mentions, including reading facial expressions through phone cameras or webcams, to give you business predictions based on the analyzed data.
The tool helps you test out your marketing decisions such as pitches, campaigns, and advertisements on a selected audience of 150 to 300 participants. The feedback they give is then analyzed by its AI that marks textual feedback as positive, neutral, or negative, calculates sentiment score, and arranges comments in clusters based on the sentiment. The tool offers a range of languages to choose from.
Pricing
A free trial is available. To get the pricing, please contact the support.
---
In conclusion
While data analysis is often seen as something detached and rational, as you see, sentiment and feelings play a major role in it.
Overall, the way you analyze sentiment and what value you derive from it may vary greatly depending on your brand and your goals. However, I wanted to emphasize that if you're getting a lot of content from your existing and potential customers, analyzing sentiment of these messages is extremely important.
These are ten best sentiment analysis tools and each one of these services has its unique advantages and special features. Most of them offer either free trials or free versions, so if you're interested, don't hesitate to give them a try!
Sign up for a free Awario trial
See Awario in action with a free 7-day trial. No credit card required.
By signing up I agree to the Terms of Use and Privacy Policy