Social listening glossary: 27 terms (and what they mean)
For anyone new to social listening, the process might seem confusing. No less confusing are the how-to articles and the tool listicles. All because of the vocabulary behind social listening: words and definitions used to describe processes and features can be strange and unfamiliar.
In this blog post, we'll go through the most popular social listening terms and describe what they mean in the most comprehensive way.
Meet your personal social listening assistant.
Try fully automated, 24/7 brand monitoring with Awario for free.
By signing up I agree to the Terms of Use and Privacy Policy
1. Alert
When you start with social media listening, the first thing you do is create an alert for your keywords. Every time a mention of your keyword appears online, your tool will add the mention to the feed. This way you are alerted of any mentions that appear online.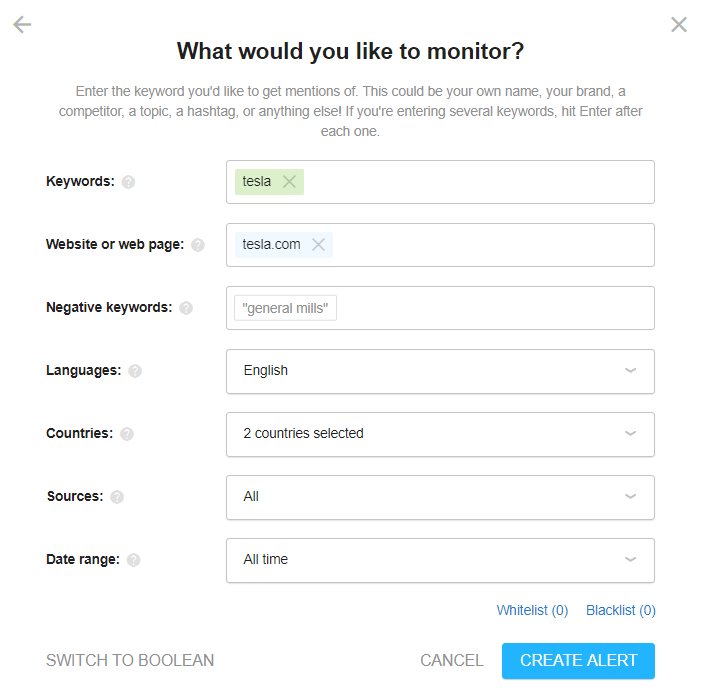 2. Analytics
Social listening analytics presents measurement, analysis, and reporting of the data from social media platforms, news, blogs, forums, and webpages.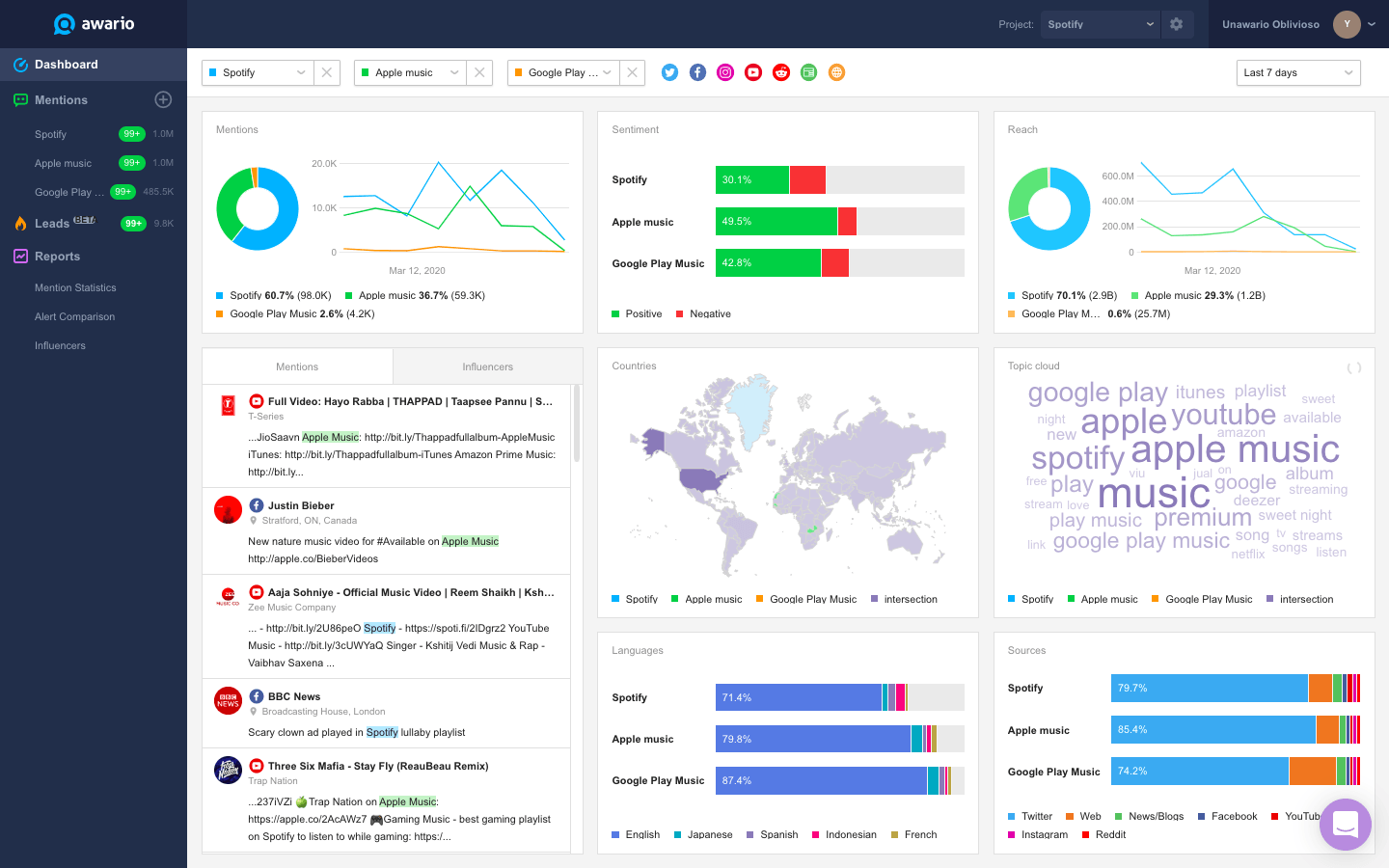 3. API
Application Programming Interface (API) is a documented interface that allows one software application to interact with another application. Twitter, Facebook, Instagram - all have APIs. Social listening tools also have APIs with social media monitoring data.
4. Audience analysis
Audience analysis is the process of discovering as much information about your target audience as possible. For example, their demographic, psychographic, interests, values, social media usage, etc.
5. Blacklist
Blacklist is a list of social media authors and web domains that a social listening tool will ignore when collecting mentions.
6. Brand health
Brand health is a collection of metrics that shows you how well your brand is doing. Metrics can include brand awareness, brand reputation, Share of Voice, and customer satisfaction.
7. Boolean search
Boolean search is a manual type of search where you can specify your query if otherwise you're getting many irrelevant results.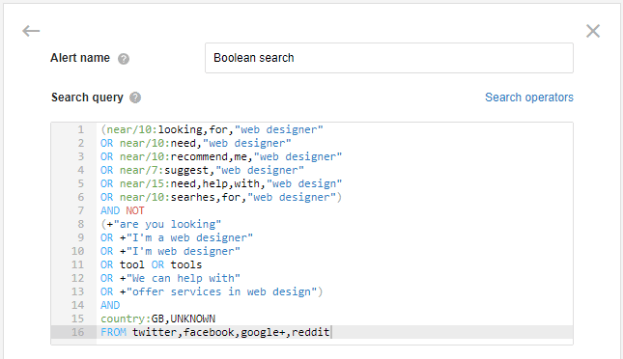 8. Dashboard
Dashboard is a feature in a social listening tool that allows you to see all of the analytics changing in real time.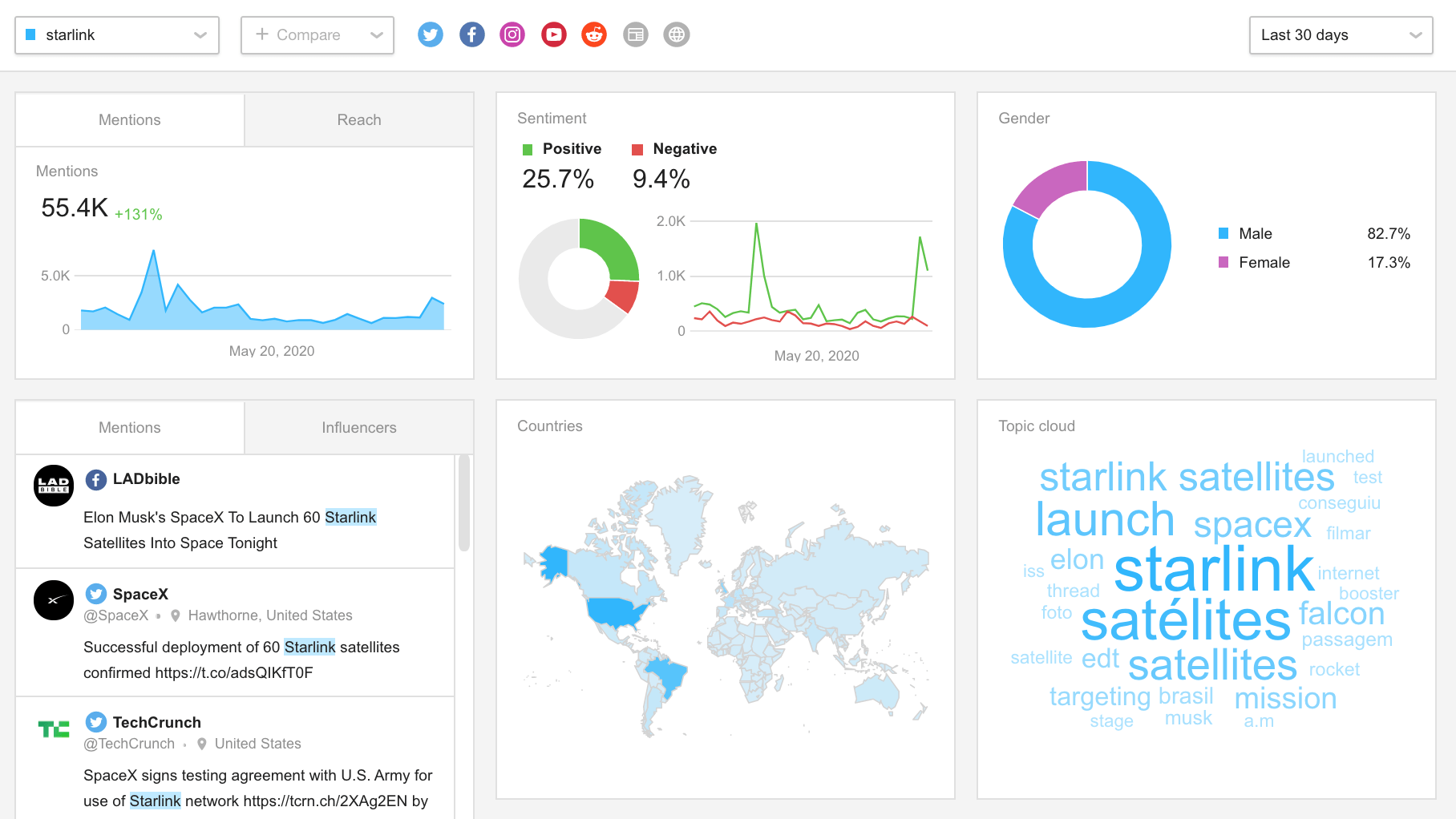 9. Engagement
Engagement rate is a social media metric that describes the amount of interaction, such as likes, shares, comments, that a piece of content receives.
10. Influencers
Influencers are people who have access to large audiences. These are celebrities, opinion leaders, and experts in their fields.

11. Keywords
Keywords are the words a social listening tool will be looking for. These can be separate words or word combinations; brands, names, slogans, etc. For example, "Bank of America", "more & more", "Adam Smith", "Orange", "welcome to the jungle" are all keywords.
12. Leads
Leads are people who are interested in a product or service like yours, and, therefore, might become your customers if you manage to find them and sell your product or service.
13. Link Building
Link building is the SEO practice that describes the process of acquiring hyperlinks from other websites to your own. Sometimes, you can use social listening for link building.
14. Mention
A mention is any public document (a post on social media, blog post, review, comment, and so on) that contains your keywords. For example, if you tracked "H&M", a mention would be any online public document that contains "H&M". If you used any filters (e.g., language, country), the tool will find documents according to the filters.
15. Mentions' feed
Mentions' feed is a place where all discovered mentions appear in real time.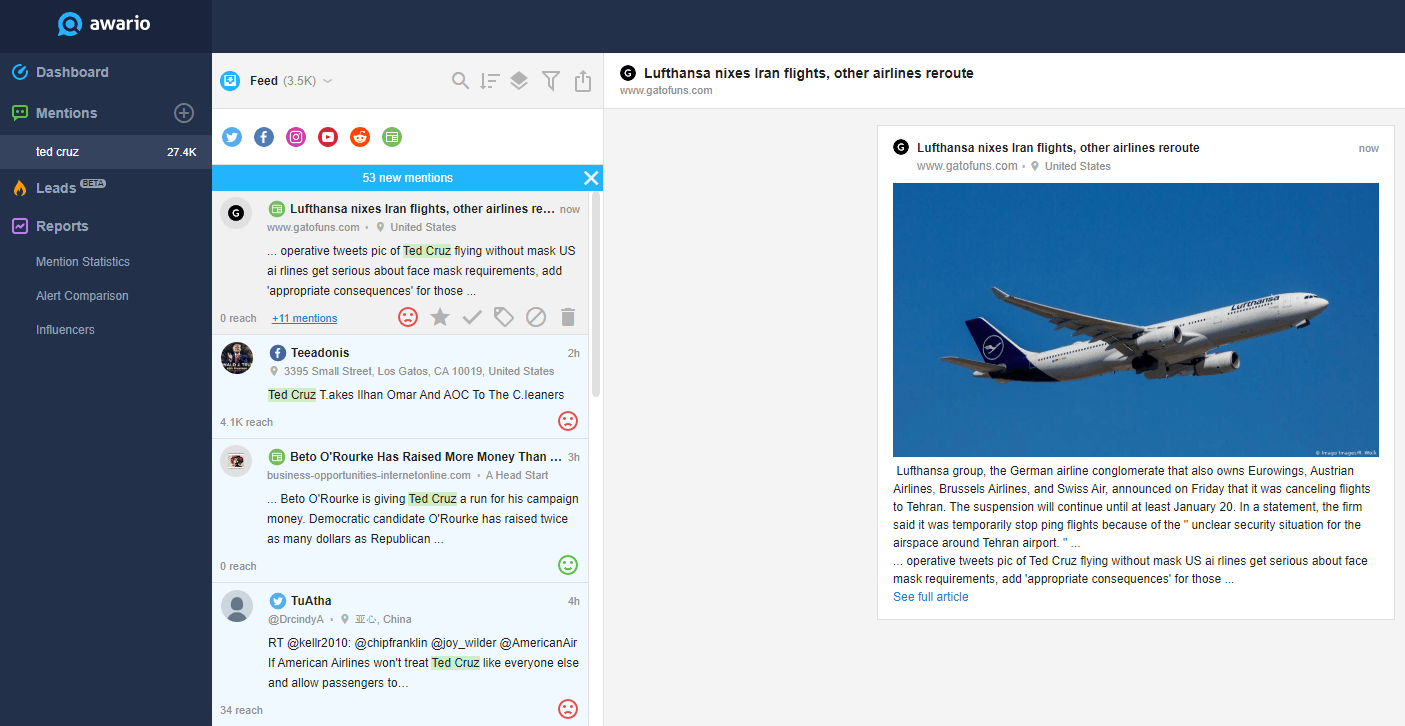 16. Negative keywords
Negative keywords are the words that should not appear in your results along with your actual keywords. For example, if you're looking for mentions of Apple the brand, you would want your negative keywords to be: "juice", "cake", "pie", etc. because you only need mentions of Apple the brand as opposed to apple the common word.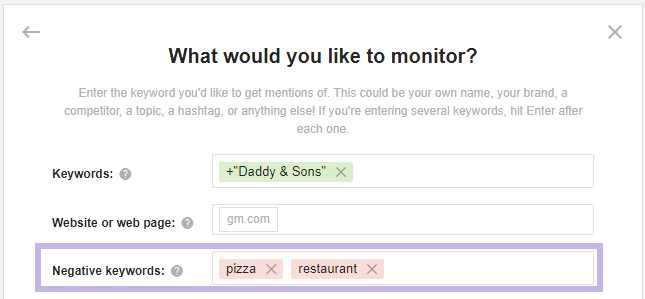 17. Project
Project is what you create once you open a social listening tool. You can set up different alerts for different keywords within one project. For example, you can have an "H&M" project where you'll have separate alerts for H&M, Zara, and Forever 21. Later, you'll be able to compare the brands by different factors.
18. Reach
Reach is the metric that shows the number of people who've seen the mention multiplied by the times they've seen them. This is an estimated number, based on the post's engagements and the post author's followers (for social media) and the website's traffic (for web mentions).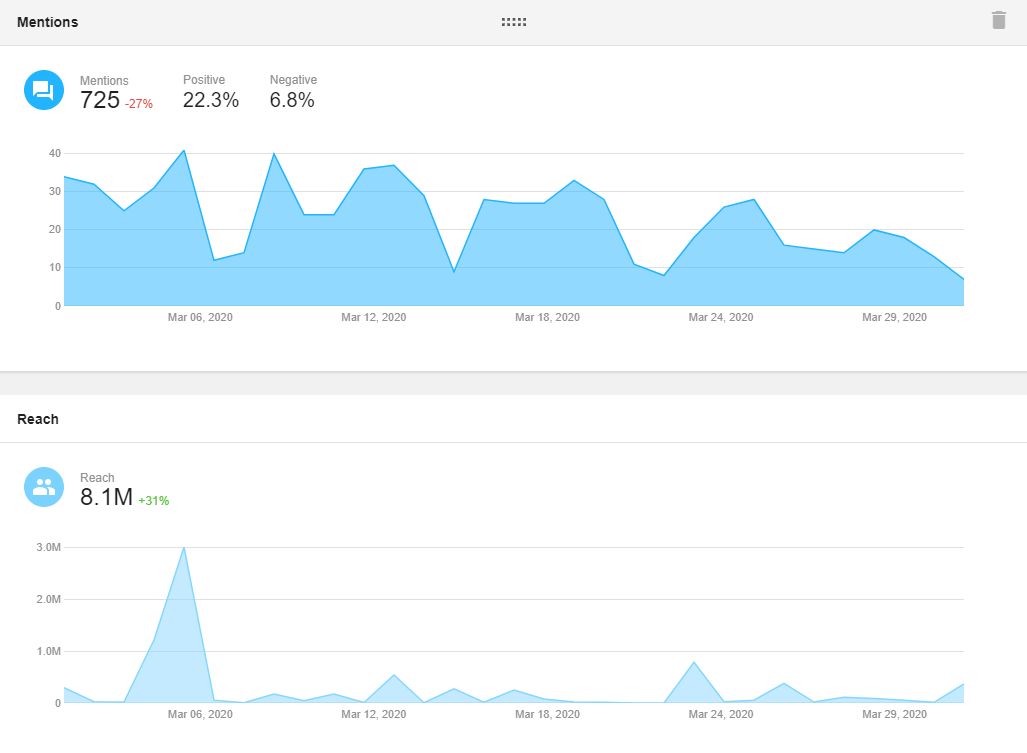 19. ROI
Return On Investment (ROI) is the calculation of how much a brand has invested - time, money, resources - and how much income they're generating from each outlay.
20. Sentiment
Sentiment analysis shows the tone of the mention. All found mentions are analyzed and broken down into positive, negative, and neutral.

21. Social listening/social media monitoring
Social listening (or social media monitoring) is the process of monitoring social media channels for mentions of your brand, competitors, product, and more. The terms are used interchangeably, however, some marketers point out that there is a meaningful difference.
22. Social selling
Social selling is the process of finding prospects online, building a relationship with them, and turning them into leads and then customers.
23. Share of Voice
Share of Voice (SOV) is a metric that allows you to calculate how much of the market you take up compared to your competitors. Historically, it's been measured for paid advertising, i.e. how many ads you run on TV or in print compared to your competitors. Digital marketing allows you to compare your brand awareness with your competitors according to the level of online buzz that each industry player produces.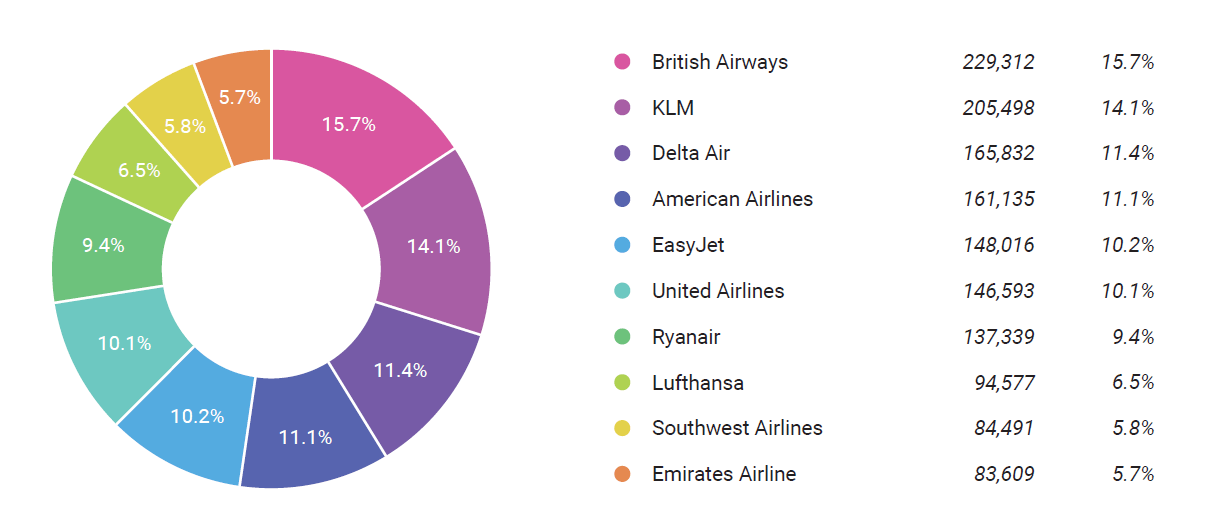 24. Topic cloud
The Topic Cloud shows which topics appear most often around your keyword.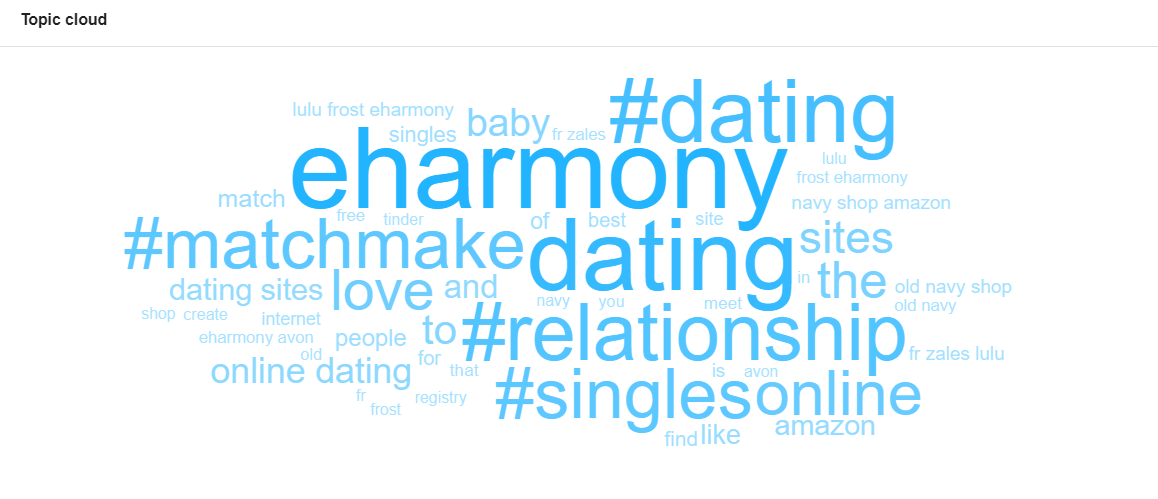 25. User-generated content
User-generated content (UGC) is any content — text, videos, images, reviews, etc. — created by people, rather than brands.
26. White-label reports
White-label reports is a feature that allows you to download social listening reports with the name and the logo of your company.
27. Whitelist
The Whitelist feature allows you to choose pages that a social listening tool will scan first.
Enjoying the post? There's more.
Sign up for our newsletter to get our best content by email.
Are there any other terms that you don't quite get? Let me know in the comments!