How to run the worst Thanksgiving campaign ever: 7 effective methods

Article summary
Are holiday campaigns silver bullets for marketers? Sounds doubtful. Sometimes everything goes wrong. In this article, we will analyze marketing fails and give you a hint on how to launch a high-performing Thanksgiving campaign.
Holidays are a high season for making big dollars.
According to the Insider Intelligence forecast, Thanksgiving 2021 will be the third biggest online spending season in the US after Cyber Monday and Black Friday. Specialists forecast a 20.7% jump of online sales from $5.02 to $6.10 billion.
Many brands have already activated Thanksgiving campaigns on social media networks.
However, sometimes, things can go wrong. Let's have a closer look at notable examples.
A guide to a failed holiday campaign
1. Don't bother if a campaign topic is irrelevant in your niche
It is easy to claim that everybody loves and celebrates Thanksgiving, but the answer is no. As Statista revealed, 16% of Americans have a neutral attitude to Thanksgiving feasts.
This is why adding any "thankful" and "grateful" posts to your content calendar can be a fatal mistake for your business. Your audience won't understand your message if it is irrelevant to them.
Meanwhile, the Wisconsin Department of Health Services wrapped the idea of COVID-19 vaccination into holiday packaging. They called on the locals to get a vaccine before Thanksgiving 2021 came. But the message did not reach its destination.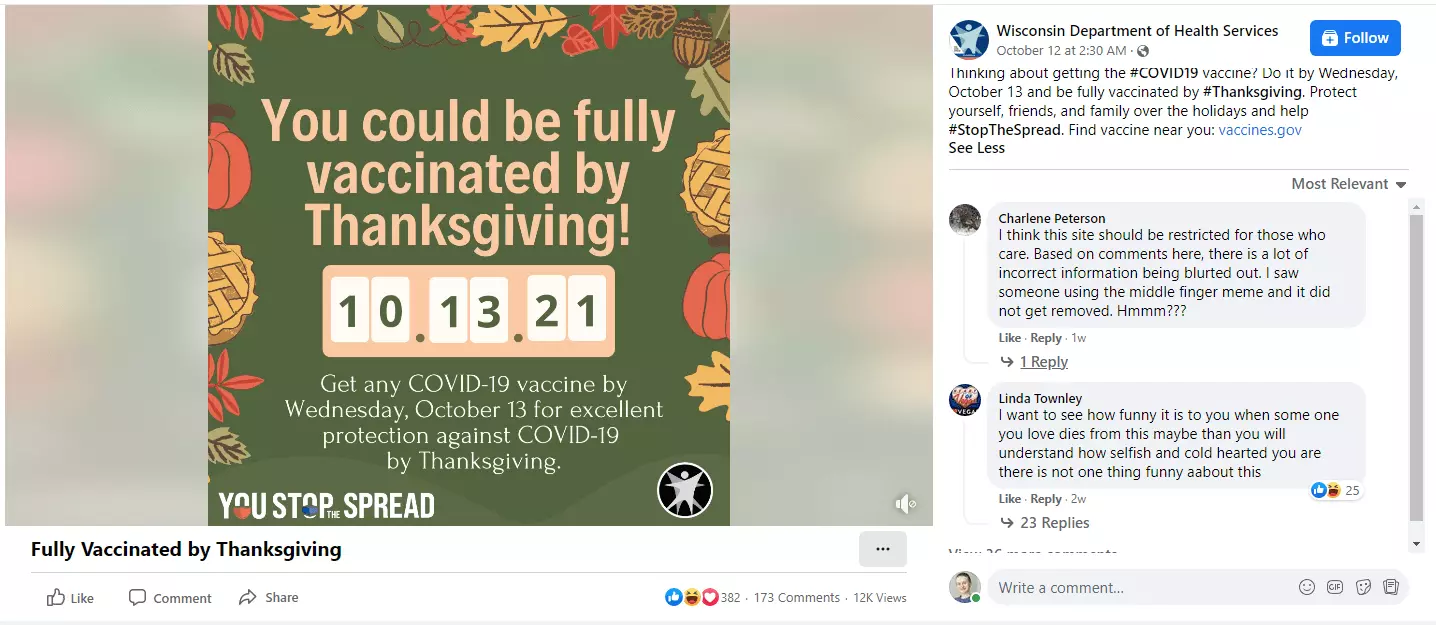 Supporters and opponents of vaccination opened up a hot discussion in the comments. As a result, the initial idea to protect yourself before the celebration got dissolved.
Sign up for a free Awario trial
See Awario in action with a free 7-day trial. No credit card required.
By signing up I agree to the Terms of Use and Privacy Policy
How to avoid
Preparing your social media campaign, meet your target audience needs first! Who are they? What do they like? What are they concerned about?
You need to find it out!
Social listening tools such as Awario will help you analyze your audience in detail. To start your research, create an alert using your brand name or industry-related keywords. This short video tutorial will show you how to do it.
Awario will scan social networks, news sites, blogs and forums, and collect all your mentions on the web. After a while, you can study them in the custom feed, open Reports, or go to Dashboard with graphs and charts that show your company or/and target audience web portraits.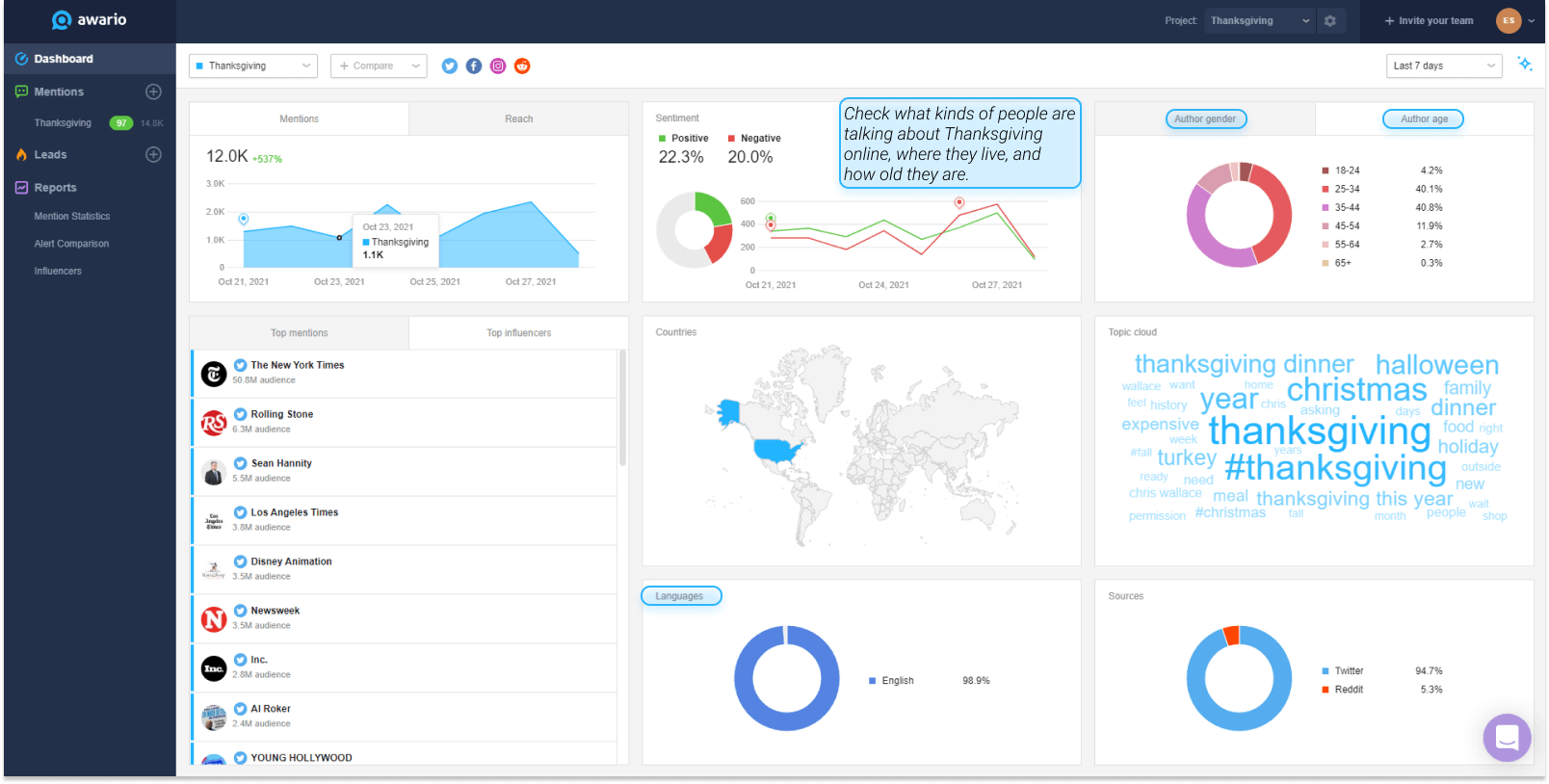 You can choose a location (up to a specific state or city) and language if you want to find Thanksgiving lovers over the world.
Social listening gives you a hint on what people feel about this holiday for now. Are they going to skimp on Thanksgiving dinner this time?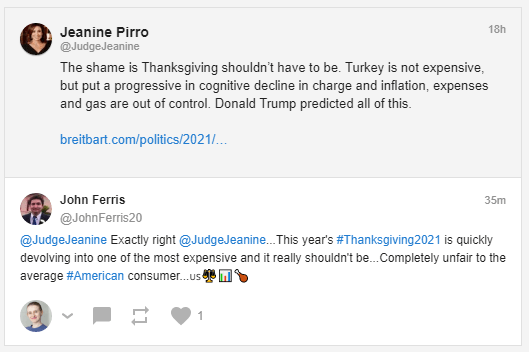 With this in mind, you can better understand your prospects and offer them the best options within your holiday campaign.
2. Make cringe visuals
Do you want to draw people's attention with a visual? On Shutterstock and similar platforms, you can just search for some pictures by keywords "fall", "thanksgiving", "turkey", and the like, and mix them with your branded pics.
For instance, a Canadian Walmart supermarket published a video presentation with photos of Thanksgiving products on sale.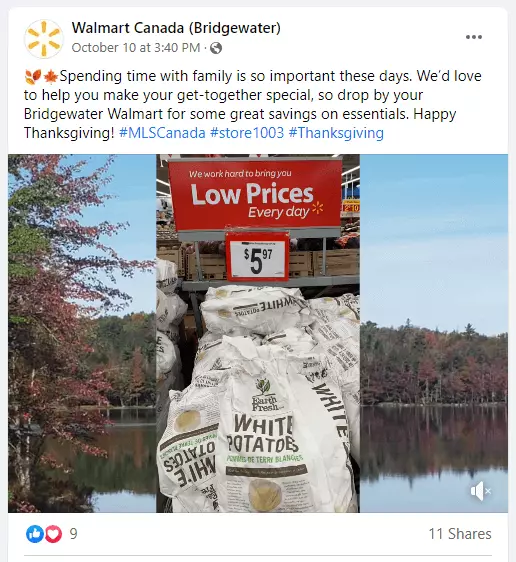 Seems its Facebook followers didn't appreciate that creative approach because the post earned few likes and shares.
How to avoid
Shutterstock is a wonderful source of visual content ideas. The problem is your holiday-related post is competing with tons of Thanksgiving photos on social networks.
It means you can't afford to use corny phrases and images – including fallen leaves, pumpkin pies, and funny turkeys in Pilgrims hats – within your holiday campaign. Precisely, you can use it as holiday signs, but you need to create something new to attract customers with them.
If you are out of ideas, just get inspired with other companies' and users' examples. Social listening helps you find content that people share and like.
In Awario, you can go to the Mentions feed where all social media posts containing your keywords will be shown.
Take a look at this yummy roast turkey that a food blogger published on Twitter.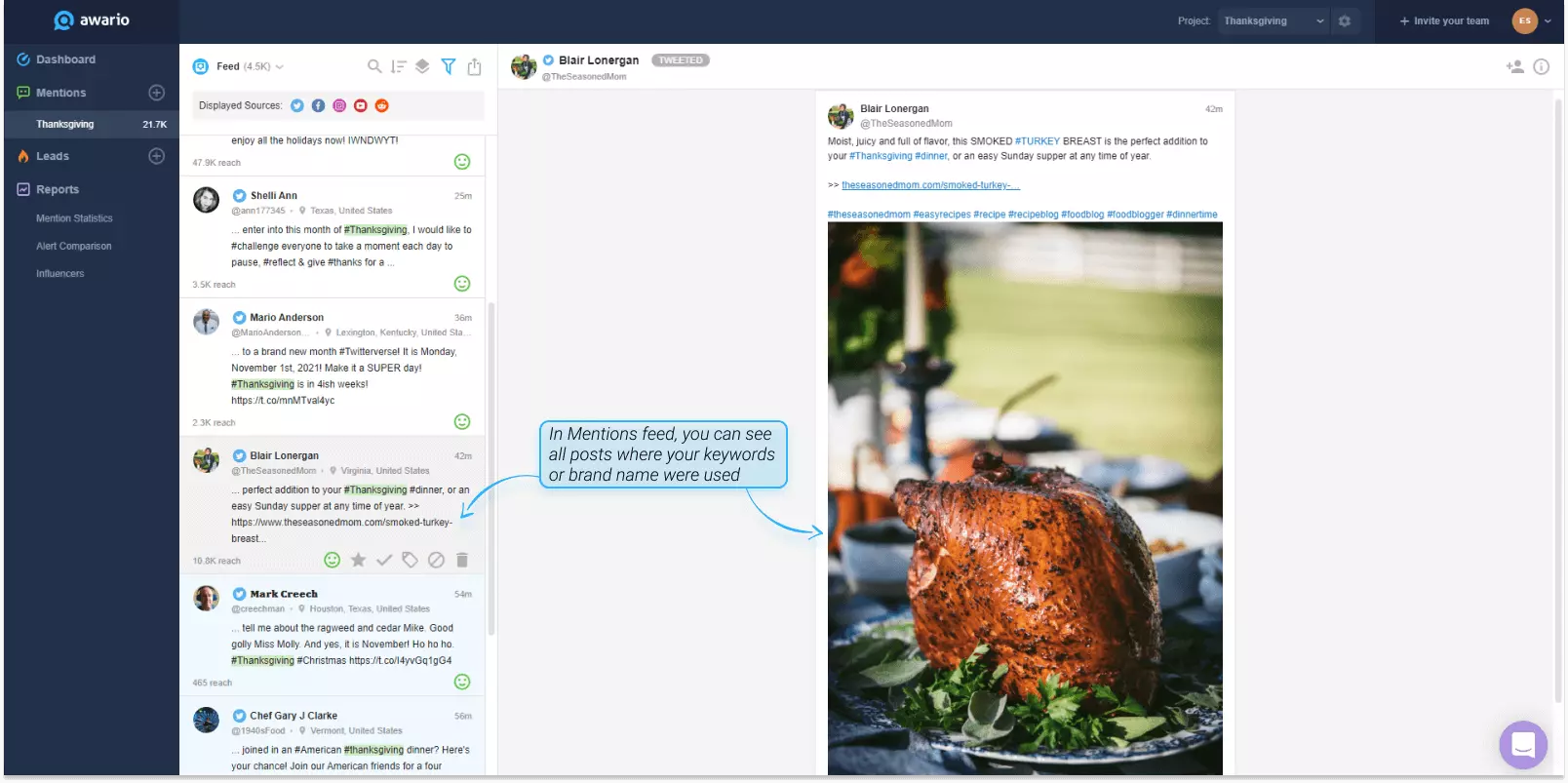 The Canadian Walmart post about discount Thanksgiving products could get more reach and impressions with such a nice photo of turkey! Also, they could collaborate with a local influencer who would pick products at the store and cook some holiday dishes.
This is how brainstorming with social media monitoring tools works!
To narrow down the search results in Awario, you can set up time period and reach, choose sources and sentiment (positive, negative, or neutral). Then, you will get the Mentions feed with posts filtered by your settings.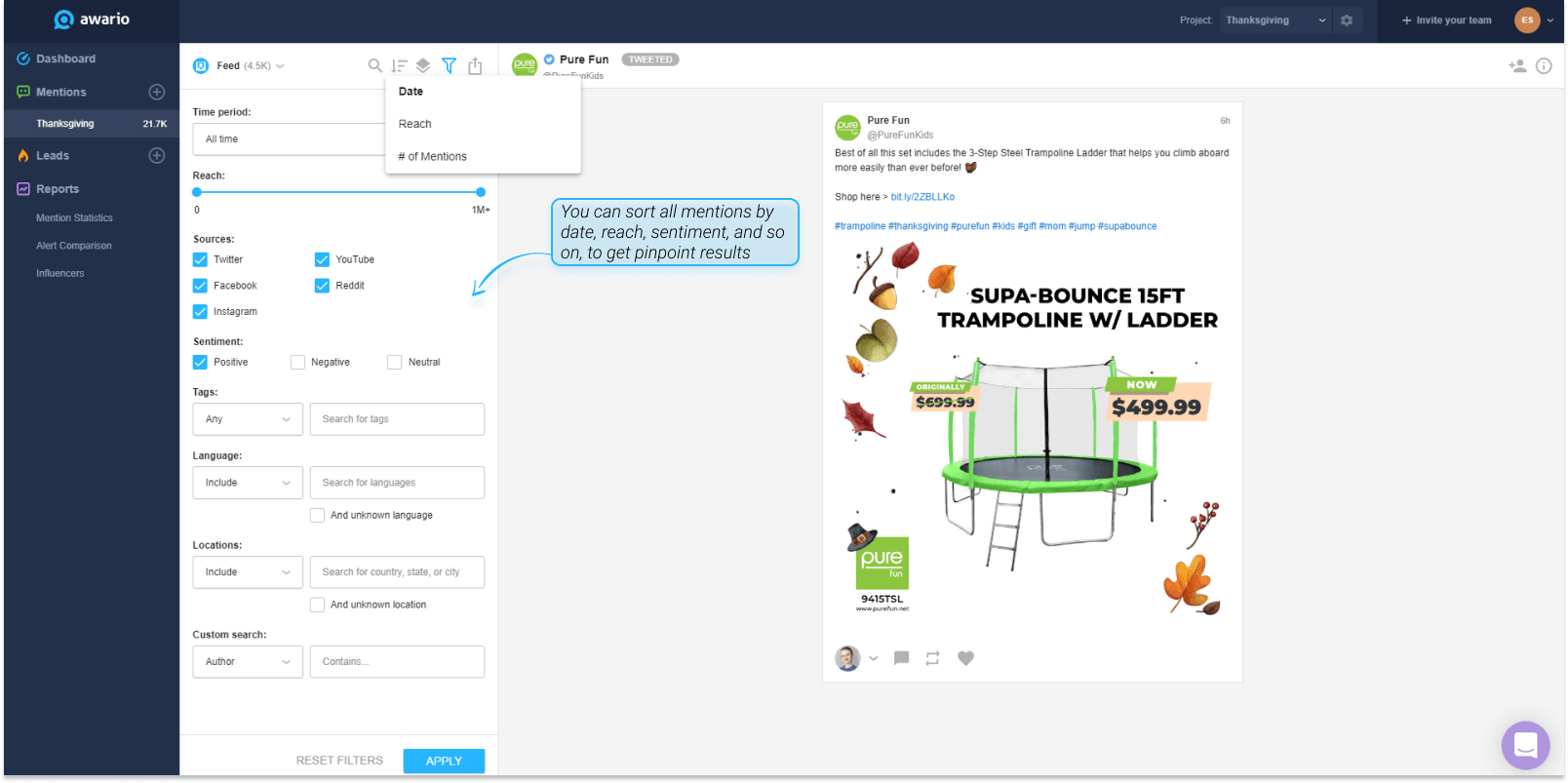 By the way, this is a good example of using Thanksgiving images in visuals for social networks during the sale.
3. Add over-promotional caption
Announce that you offer the biggest discounts ever! It's okay that it is the 10th post about the upcoming sale on your Instagram. In the end, people use this platform to buy from brands, not to consume interesting content.
This approach helped (not really) a New York bakery earn zero comments to its Instagram Thanksgiving 2021 sale post.
Not surprisingly, after the Halloween ad rush, people have already tired of promotional content like that.
A 20% discount is a good offer indeed. However, to catch your followers' interest, don't use the salesman's style announcing it.
How to avoid
Developing an effective content plan for holidays, you need to mix commercial with not-promotional posts – entertaining, educational, and informative. Otherwise, new subscribers will unfollow you within the first week.
A recent social media advertising research was produced by Chamber Media revealed that social media users engage with infomercials rather than classic ad campaigns. The firm analyzed 80 million of ad spend over six years, with 30,000 different creative assets.
It turned out that case studies, unboxing videos, product demos, and collaborations with influencers perform a lot better than traditional ad clips.
What does it mean for your Thanksgiving campaign? You can think up worthwhile ideas by analyzing social media!
Meet your personal social listening assistant.
Try fully automated, 24/7 brand monitoring with Awario for free.
By signing up I agree to the Terms of Use and Privacy Policy
Awario provides a Topic cloud, where you will find the most popular Thanksgiving-related (or any other topic) hashtags and keywords. The bigger the word or hashtag is, the more people use it.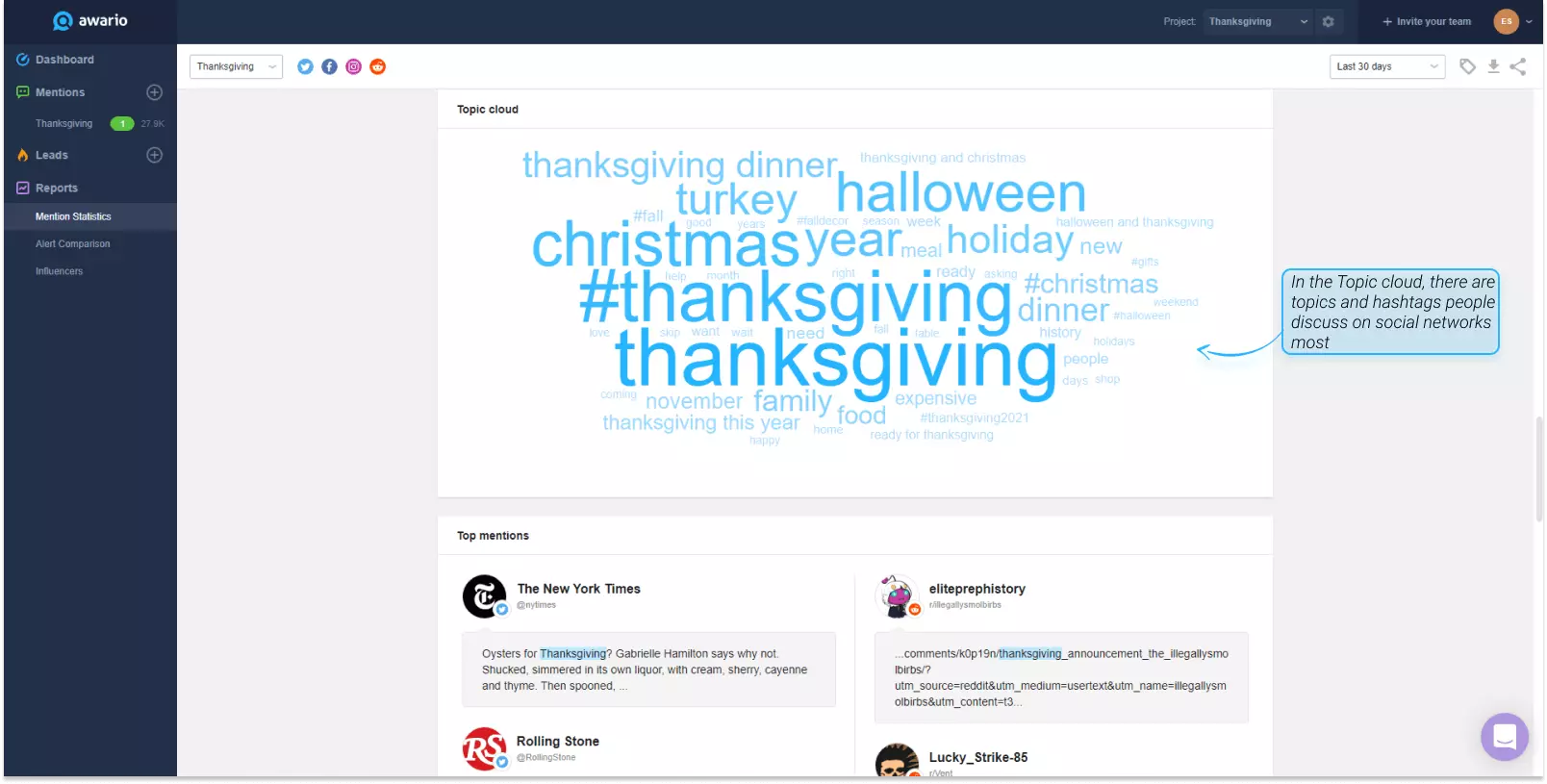 The Topic cloud is full of good content ideas!
Say, this year's Thanksgiving campaign can be based on the idea of cooking a delicious, but not expensive holiday dinner for the whole family (take note, the Canadian Walmart team!). Also, you can show your followers examples of home decoration with your house items hashtagged #falldecor. Finally, do not forget about #gifts!
4. Mix up all fall-related hashtags
It's November. People are immersed in all this autumn stuff. Just add hashtags dedicated to the fall season so users can find your post immediately.
This educational magazine for children did this way. They added a lot of autumn hashtags, including #thanksgiving, #harvestfestival, and #harvester, to the post about a Halloween giveaway.
It is not only a weird content distribution strategy but also bad! Users who search for #thanksgiving posts on Instagram will treat this one as irrelevant. It means you're losing customers!
How to avoid
First, follow the rules social media networks provide. It helps you detect the optimal number of hashtags and make sure that you choose appropriate options. As a quick point, here are more tips about mapping up hashtag strategy on Instagram and Twitter.
Second, use relevant hashtags. To pick the best ones, you can track popular hashtags with Awario. Click on a hashtag in the Topic cloud on Dashboard to read all posts where users mentioned it.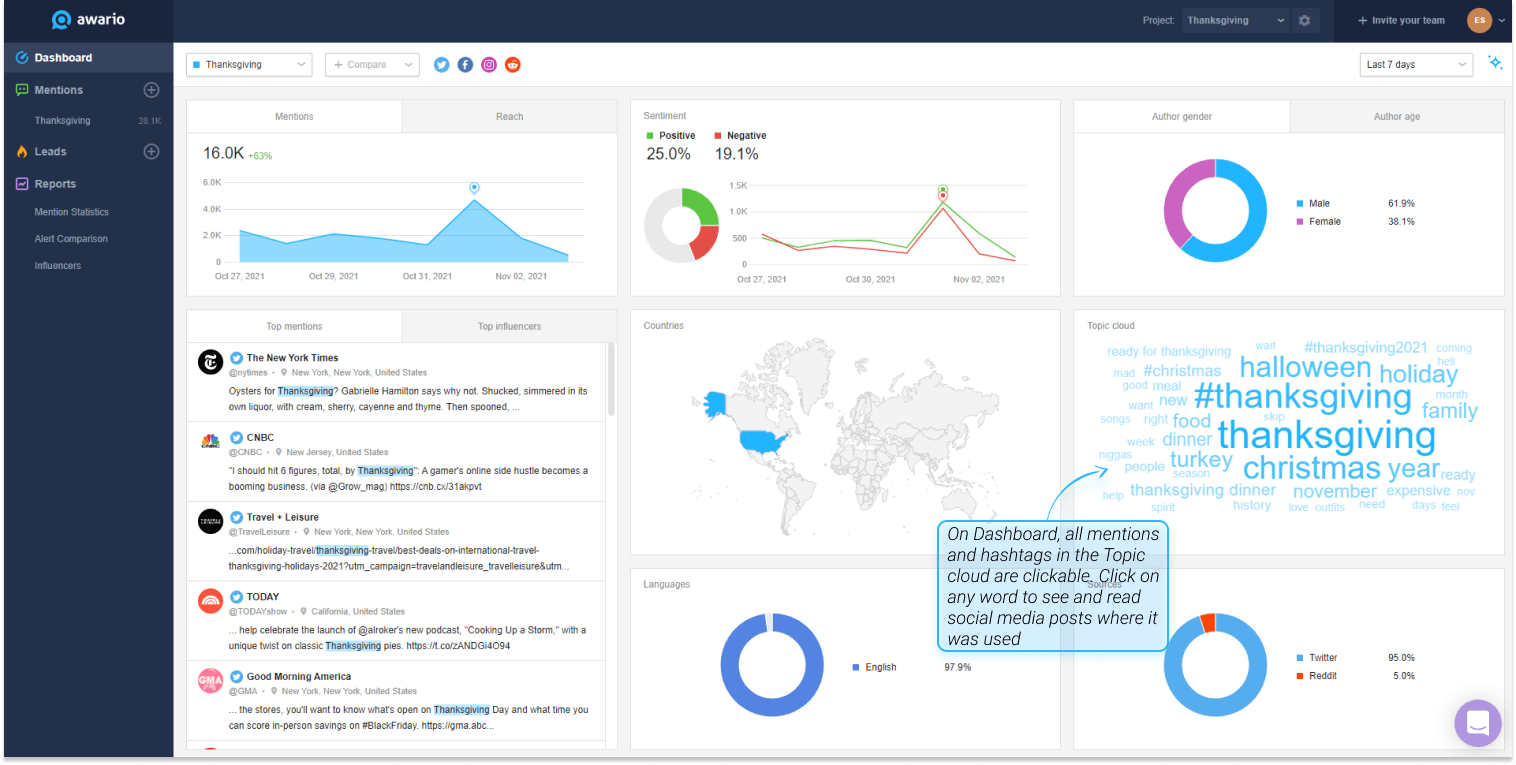 Pay attention to #thanksgiving and #thanksgiving2021 hashtags. They are gaining momentum on social media right now.
5. Be controversial
Posting something out of the ordinary is the best way to stand out from the crowd. People love public scandals involving brands!
Twisted Wares, a store that sells a quite provocative house stuff, didn't cheat on itself in the Thanksgiving campaign.
They posted a short video with a #thanksgiving hashtag. A girl demonstrates an apron with a bit of ambiguous writing on it.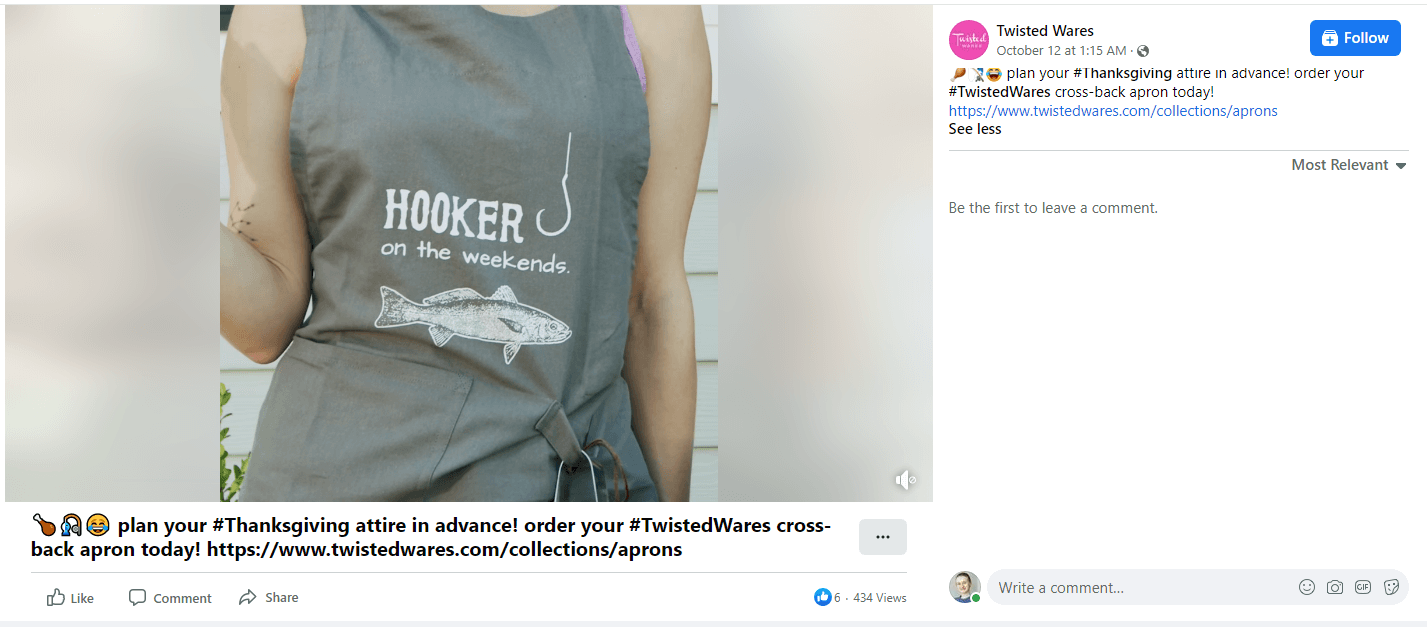 Usually, the store fans actively engage with their Facebook posts that have about 20-25 likes on average. In contrast, this one performed poorly.
Probably, Thanksgiving as a holiday imbued with old family traditions is not a good occasion for being controversial in your social messages.
How to avoid
Check your brand sentiment before pulling off your controversial campaign. Maybe, you have a problem with it. Don't make it worse!
Awario measures the amount of positive, negative, and neutral brand mentions on the web. You can see how it changes over the last week or month, or use Custom range to set up a particular period of time.

Also, you can sort all mentions in the feed by the sentiment to read what people are thinking of your company.
6. Don't bother about social platforms for posting
A holiday campaign is not a special event at all. This is why use any social platform you are used to posting on. In the end, the majority of companies spread the same content through all their social platforms.
For instance, a New York bakery shared this post on its Twitter, Instagram, and Facebook pages. It is a very common practice in SMM indeed.
Be thankful for #dessert this year! 🦃🍰😋 Order your final course from us by November 18th to have it in time for #Thanksgiving2021. Details here: https://t.co/Iu3VZQ7LOT pic.twitter.com/qZ0DZg1ypB

— Duplin Winery (@duplinwinery) November 3, 2021
However, the engagement rate of this post is different depending on the social network where it was published. It got 34 Facebook and 33 Instagram likes.
It means that the company should focus on these platforms because there is a more engaging and active audience there.
How to avoid it
Before launching your Thanksgiving campaign, you need to analyze where most of your prospects are.
Estimating the average reach of posts dedicated to your topic on the platform is a good idea as well. It's hard to find Thanksgiving recipes on LinkedIn.
Awario can do a thorough audience analysis for you. The tool scans social platforms where people mentioned your brand name, industry-related keyword, or a holiday-dedicated hashtag and brings you accurate results.
For example, the reach of Thanksgiving posts is bigger on Twitter (459.6M) than on Reddit (1.4K people). It means that your tweets have a better chance to grab users' attention!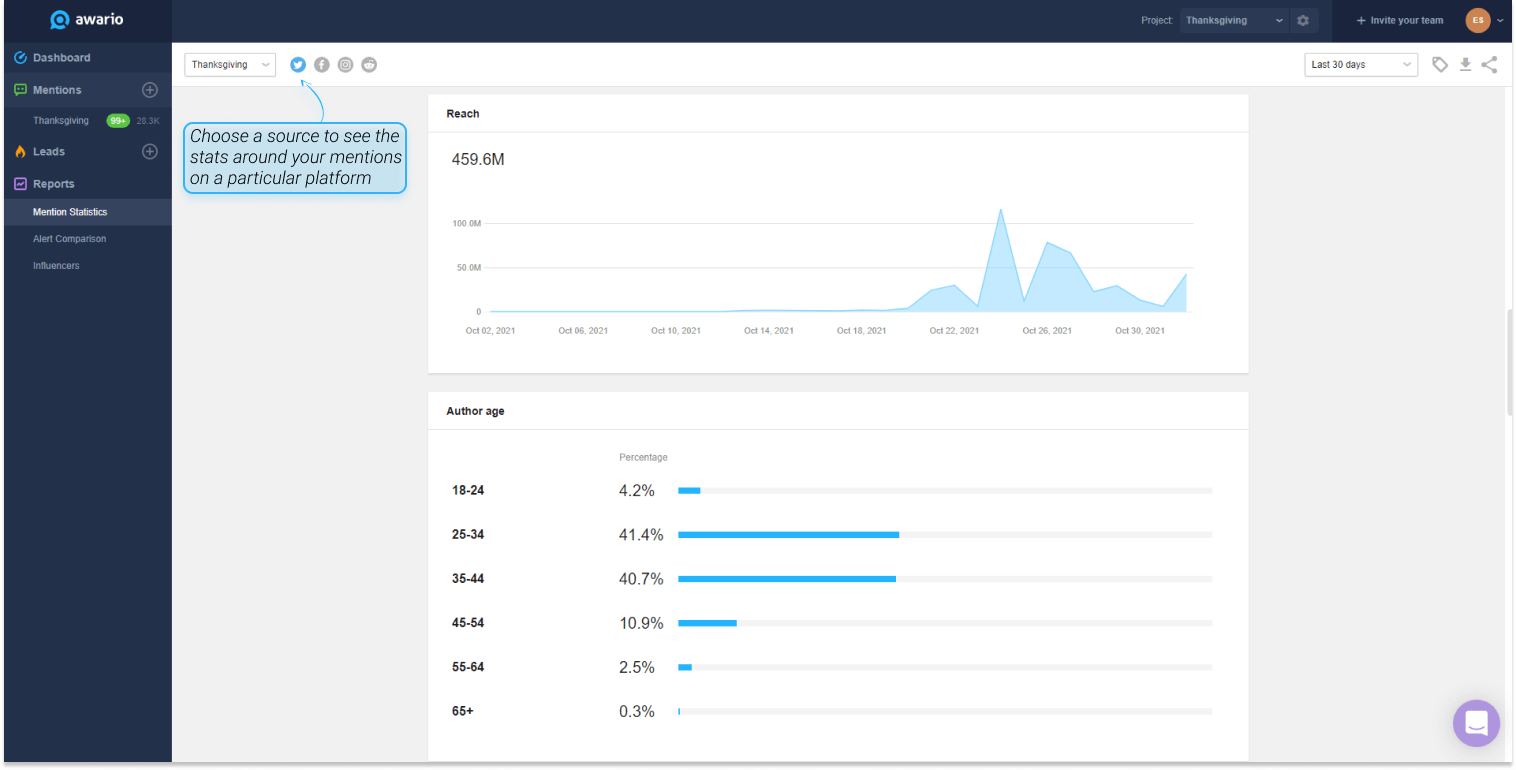 In Mention Statistics, you also find the data about posts' and comments' authors: their gender, age, location, and the type of social account – a business or personal page. This information gives you a hint of what kind of content your target audience will appreciate.
7. Ignore social media KPIs and UTM parameters in links
Do not waste your time evaluating the effectiveness of your campaign. The more money you earn, the more effective it is.
For instance, this painter sells very fancy pictures that can become a bright spot of your apartment. However, it is really hard to go to her paintings on Etsy via these links that Instagram shows as plain text.
Adding a short link with UTM parameters in the Instagram bio can fix the problem. Also, it enables you to track how much traffic this social platform drives to your webpage. Probably, you need to try out TikTok instead or, at least try IG stories with a link sticker.
How to avoid
Measuring your campaign's performance with KPIs detects what works best for your marketing goals. As a result, you get an idea of what your customers like and dislike, how they engage with your messages on social networks.
With this information in mind, it is easy to draw a super effective social media strategy.
You can monitor statistics that social platforms collect such as impressions, likes, shares, and so on, or analyze the data that social listening tools obtain.
If you set up your brand name, holiday, or branded hashtag as an alert, Awario will generate detailed reports dedicated to your campaign.
You can see how many mentions on social media your activity earned, users' demographics such as gender, age, language, and location, top influencers, and top mentions with the greatest audience reach, and so on.
This data fills in the gaps of the stats you get from social platforms. Voila! Now you know how to improve your future campaigns!
Enjoying the post? There's more.
Sign up for our newsletter to get our best content by email.
Final thoughts
Holidays are very exciting time for social media marketers. It will be both easier and more effective if you come prepared. Learn from other people's mistakes and sign up for a free 7-day trial to do a bit of social listening magic!