What happened on Social Media in April: monthly round-up

April proved that it might take a while for us to get back to our usual routines.
However, if there's one thing you can count on to remain consistent, it's our social media news roundups! This time we decided to jazz it up a little bit and added infographics for each social media network. If you don't have time to dive into the new features and policy updates, just look at the pictures where we highlighted everything that a social media manager needs to know.
So, without further ado, let's see what changed in the world of social media last month!
Facebook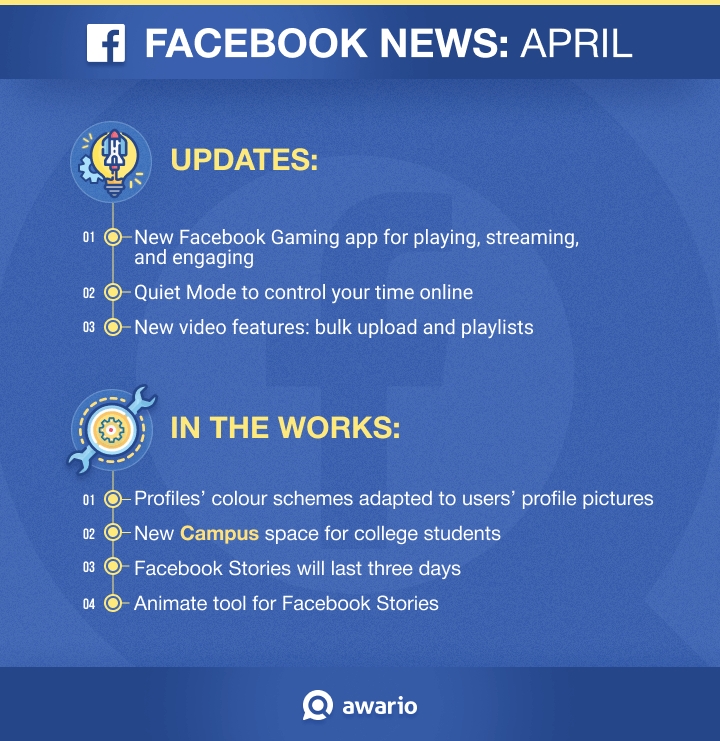 Facebook Gaming app for playing, streaming, and engaging with gamers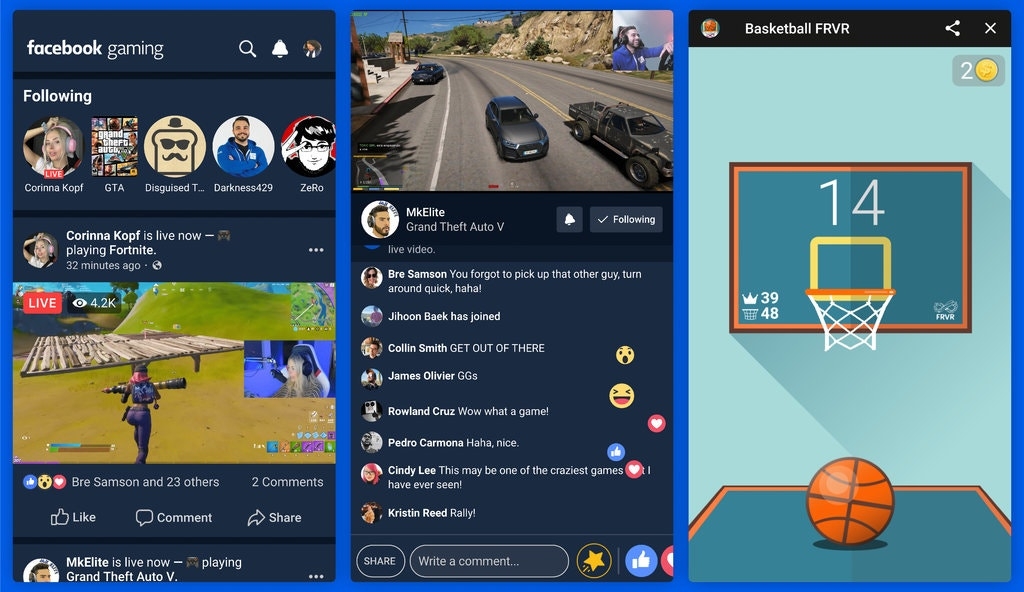 As a competition to Twitch and YouTube, Facebook launched a new app for gamers. Facebook Gaming has three main components:
Watch allows you to stream your gameplay or watch streams from other people as well as eSports competitions and publishers' announcements.

Play enables you to play games in-app without the need to download them.

Connect employs Groups to encourage communication among gamers.
The app will initially be available on Android, with iOS to follow soon.
New location markers for posts with high reach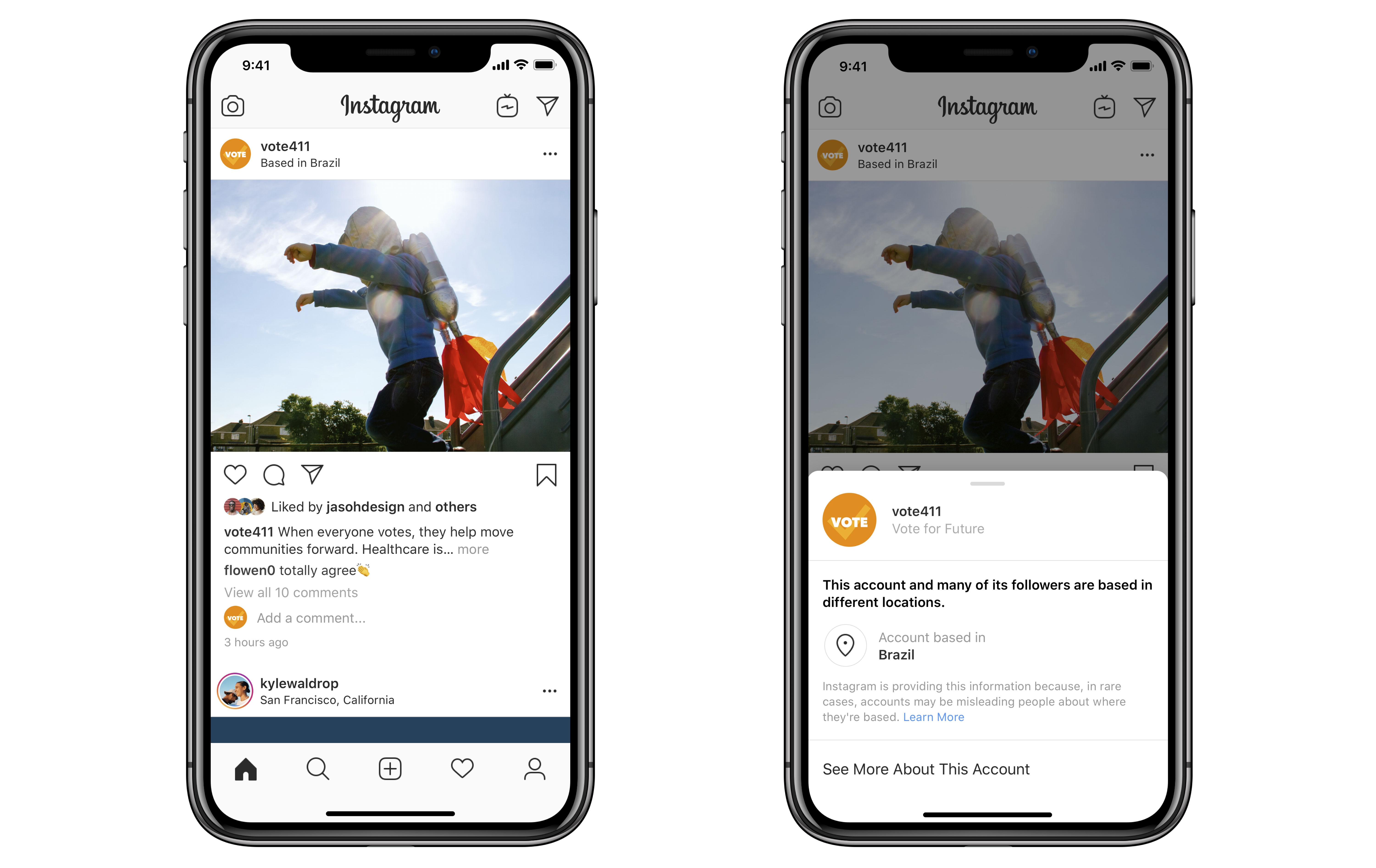 Since the last month, Facebook started to mark the location of the authors for high-reach posts with the goal to give more transparency to users. The location is displayed at the top of the post both on Facebook and Instagram. As per Facebook's announcement, the feature will help users gauge the reliability and authenticity of the content they see in their feeds.
Quiet Mode to control your time online
With people spending more time online while self-isolating, Facebook added a new way for you to unplug and take a break. The 'Quiet Mode" will mute most push notifications you receive and will show you a reminder that you set this time aside to limit your time in the app if you try to open Facebook. You can either switch it on immediately or schedule it to turn on later.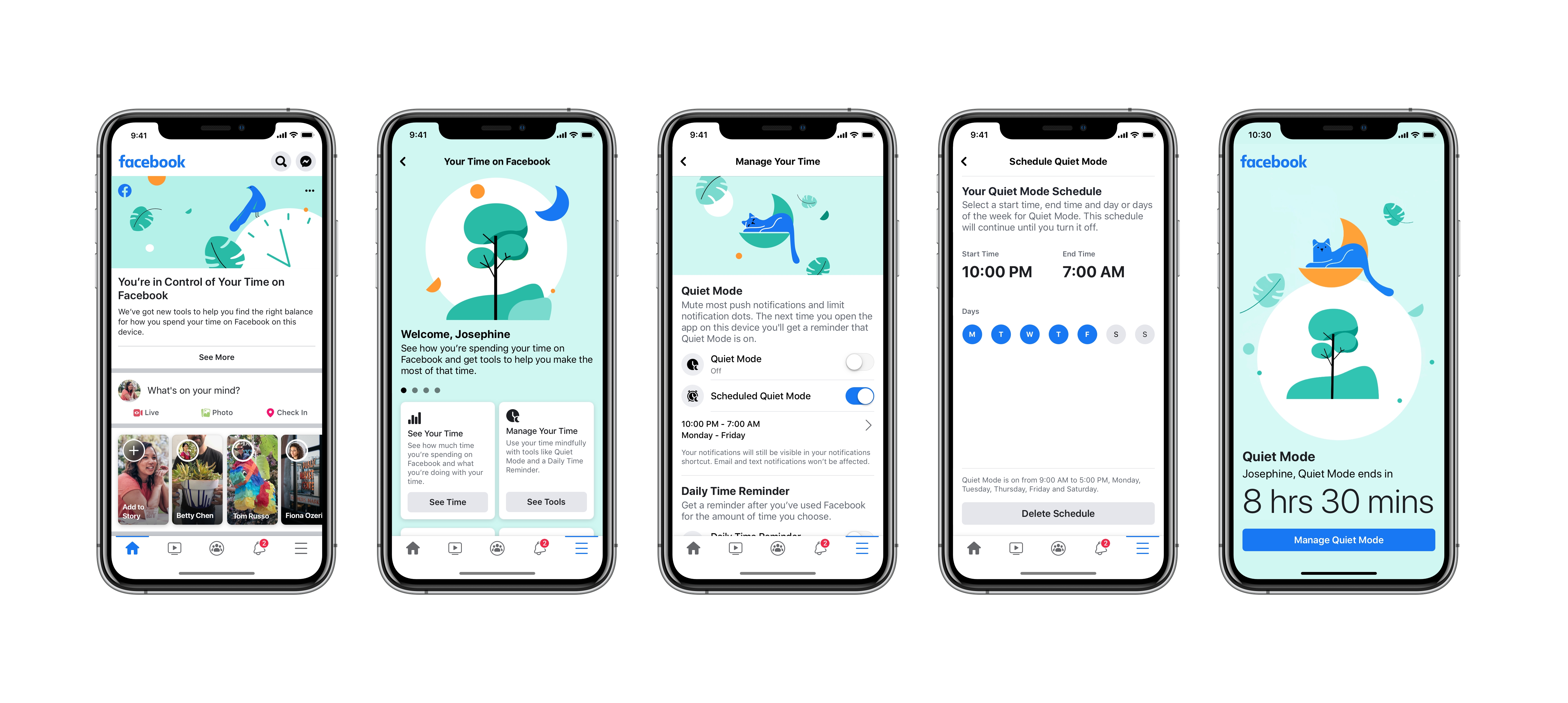 The only types of notifications you'll still be able to receive in quiet mode are privacy updates and "legally required alerts".
New video features: bulk upload and playlists
Last month Facebook updated its Creator Studio to include some features that were previously only available in Facebook Watch.
Playlists allow you to sort your videos in a thematically-united group to simplify content discovery for users. Each playlist has a unique URL that you can share elsewhere online.
Series enables you to organize your content into episodes, with the flexibility to show episodes in chronological order, as well as add seasons, brand logos, and trailers. This feature will be useful for produced and scripted content.
Bulk Uploader will now allow you to upload up to 50 videos to one page in a single action.
Adaptive colour backgrounds for profiles
Facebook is working on adaptive color background for profile view

Found 10 days ago and still waiting for comments from Facebook pic.twitter.com/nRmBcE4vun

— Jane Manchun Wong (@wongmjane) April 20, 2020
Your profile might become prettier! Facebook is working on an update that would change the background colour of your profile to the dominant colour of your profile picture. The test was discovered by reverse engineer Jane Manchun Wong.
New Campus space for college students
Facebook is working on "Campus", a new space exclusive for college students

There will be Groups, Events, etc for "Campus" spaces pic.twitter.com/cfEwubLxTt

— Jane Manchun Wong (@wongmjane) April 9, 2020
Facebook is testing a way to organize college students in closed communities. Based on your college email, it will connect you to other students in your college and give you access to exclusive Groups, Events, and so on.
A longer expiry date for Stories
Facebook is working on Stories that last 3 days pic.twitter.com/6S5sLpMrzA

— Jane Manchun Wong (@wongmjane) April 15, 2020
Ephemeral content on Facebook might become a bit less ephemeral. The company is testing Stories that will last three days before disappearing. You'll be able to choose how long your Story will be available when uploading.
Animate tool for Facebook Stories
Here's how Facebook's NEW 'Animate' feature for Stories works... pic.twitter.com/Sn5Kxz9JaE

— Matt Navarra | 🚨 #StayAtHome (@MattNavarra) April 22, 2020
Facebook added a new option to liven up your Stories. You can add four types of motion effects to your still images:
Bounce

Pan

Zoom In

Zoom Out
You can change the speed and direction of the animation making them uniquely yours. Currently, the feature is being tested with a range of users.
Instagram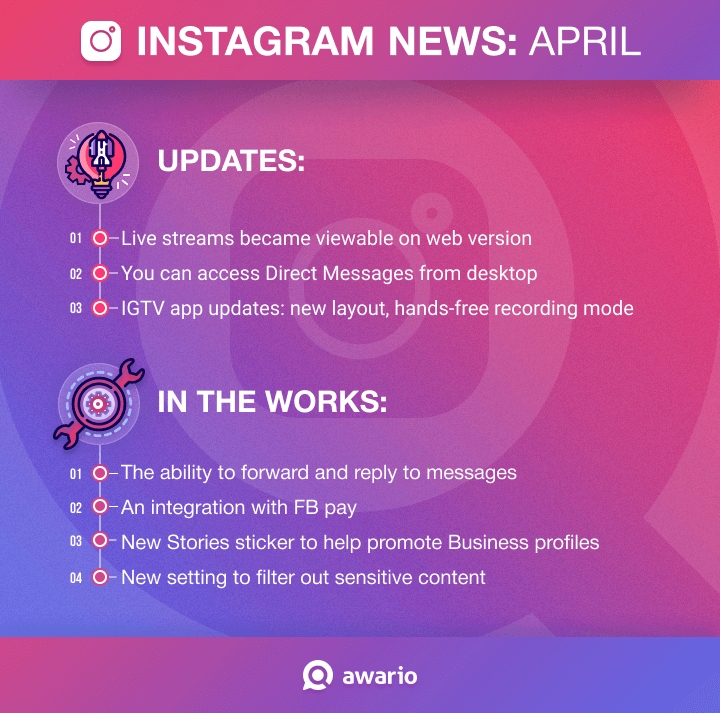 Live streams became viewable in the web version
Since more and more users are going live on Instagram due to coronavirus measures, Instagram decided to make live streams more accessible. Now you can watch them from the desktop!
It might be even more convenient to watch streams on your laptop since the comment section is placed on the right side of the video.
However, if you want to stream from your laptop, you'll have to find another platform — Instagram still only allows you to start a stream in the app.
IGTV updates
Instagram introduced some changes to its separate IGTV app:
The homepage now highlights popular creators on the top of the page in a dedicated banner. The creator featured on the banner will be selected based on your usage.

The second change concerns content exploration. Instagram added a new Discover tab which will allow for a more focused way to find new IGTV content.

You can share IGTV videos in your Stories by sharing a 15-second clip with a swipe-up link.

And something for creators — you'll now be able to record videos using hands-free mode right in the app.
Desktop DM access
Another feature now available from the web — your direct messages. Now you can receive and answer private messages in the web version of the app! Not all users have this update yet, but the wider roll-out is expected in the near future.
Forward and reply to DMs
Speaking about DMs, Instagram is looking to add more functionality to direct messages! As tweeted by Alessandro Paluzzi, Instagram is working on the way to forward messages and reply to the previous messages, as in Messenger, for example.
Instagram is working on a couple of new direct message features:

1/ Forward messages
2/ Quote/Reply to previous messages

h/t @alex193a pic.twitter.com/IICbwPsW5K

— Matt Navarra | 🚨 #StayAtHome (@MattNavarra) April 16, 2020
Integration with FB Pay
Jane Manchun Wong discovered that Instagram is also developing a Facebook Pay integration to the app. This introduction will facilitate eCommerce on the platform, something that the company has been testing for a while.
Instagram is working on FB Pay integration pic.twitter.com/ddJnk0GWqM

— Jane Manchun Wong (@wongmjane) April 21, 2020
New Stories sticker for business promotion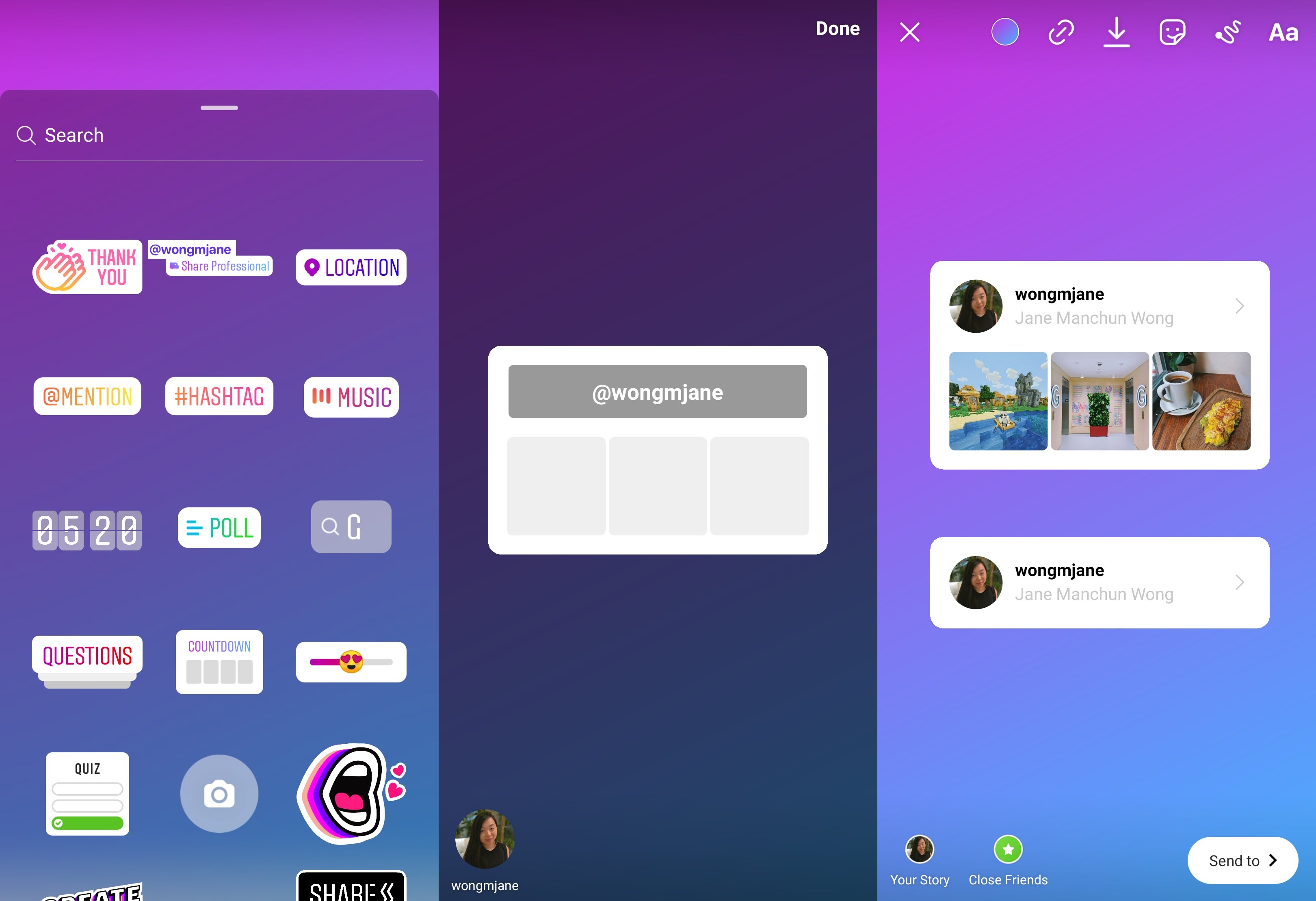 The company is testing a new sticker that will allow sharing a Business or Creator profile in Stories with a header and a three-image preview of the most recent photos that links through to a brand's Instagram profile. The Share Professional sticker will enable users to share their favourite creators and businesses and amplify word-of-mouth.
New filter for sensitive content
Instagram is working on "Limit Sensitive Content" option

This seems to be on by default (it's on when I came across it) and shows a warning dialog when you turn it off pic.twitter.com/lvQhepAU3e

— Jane Manchun Wong (@wongmjane) March 31, 2020
Seems like Instagram is planning to add a new setting to filter out sensitive content. The app already has a special screen for sensitive content that is laid over the photo and requires you to click on the photo to see it. Perhaps the new setting will give you more control over whether you need such screens on your feed or not.
Twitter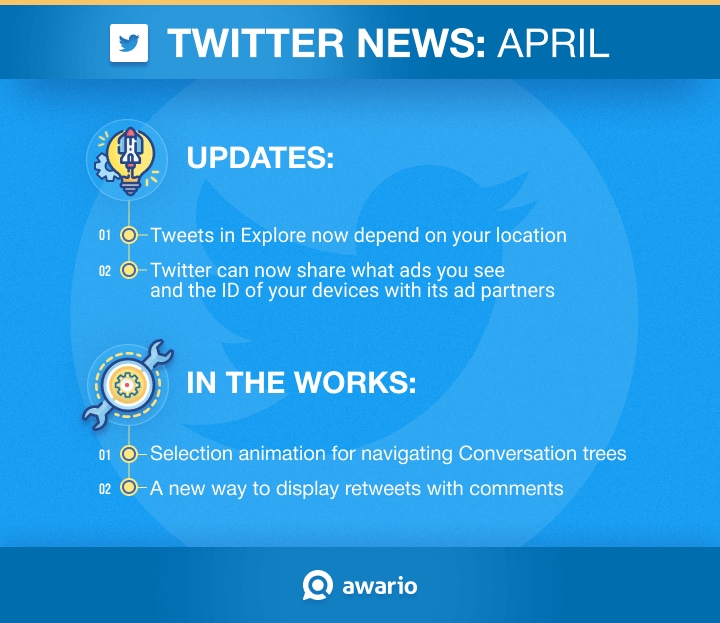 Explore tab becomes more location-specific
Now more than ever, it's vital to see what's happening anywhere in the world, from wherever. So we updated how Explore location settings work:

🔍 Changing your location now applies to all of Explore, not just Trends.

🔍 To select a new location, tap the ⚙️ icon on Explore

— Twitter Support (@TwitterSupport) April 2, 2020
Now all the Tweets you see in the Explore tab including Trends, 'What's Happening' and the topic listings will take into account your location. The update also removed the Worldwide Trends view, which caused some protests in the replies.
Updated data sharing policy
You might have seen the notification from Twitter recently about the update of their data sharing policy. Since last month, Twitter is able to utilize more user data for advertising purposes.
The data Twitter will be using now concerns the ads that you've seen in the app and the unique ID of your device. Twitter provides this data to other ad platforms in order to help optimize ad performance, specifically, with Google and Facebook.
As per Twitter:
Twitter shares certain non-public personal information with certain digital advertising platforms to help measure and optimize the effectiveness of our efforts to market Twitter on those platforms.

[...]

These advertising platform partners act as data controllers for this information.
Selection transition in Conversation trees
Twitter is working on selection transition in the Conversation Tree pic.twitter.com/BR3JbkH5ti

— Jane Manchun Wong (@wongmjane) April 3, 2020
A lot of Twitter users already have the new conversation layout, where the replies are organized in a conversation tree. Now Twitter is testing a way to navigate them easier by enlarging certain tweets and comments in a tree after a click. This could make it easier to reply to specific moments in the conversation.
A new way to display retweets with comments
Two changes might be coming to the way Twitter treats retweets with comments:
Firstly, Twitter is testing the way to include retweets with comments in the overall number of retweets, uniting them in one metric.
In addition, your retweet listing might also get an update with two separate tabs for regular retweets and retweets with comments.
The test was confirmed to Social Media Today, however, no rollout date was announced.
TikTok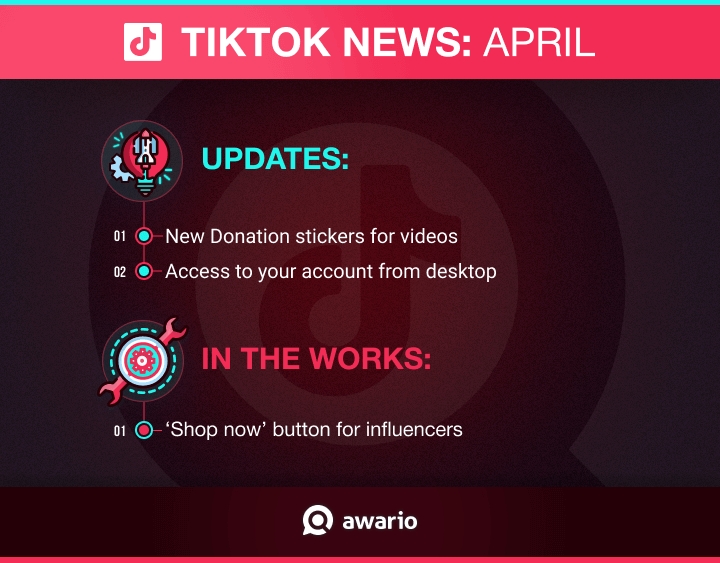 Donation stickers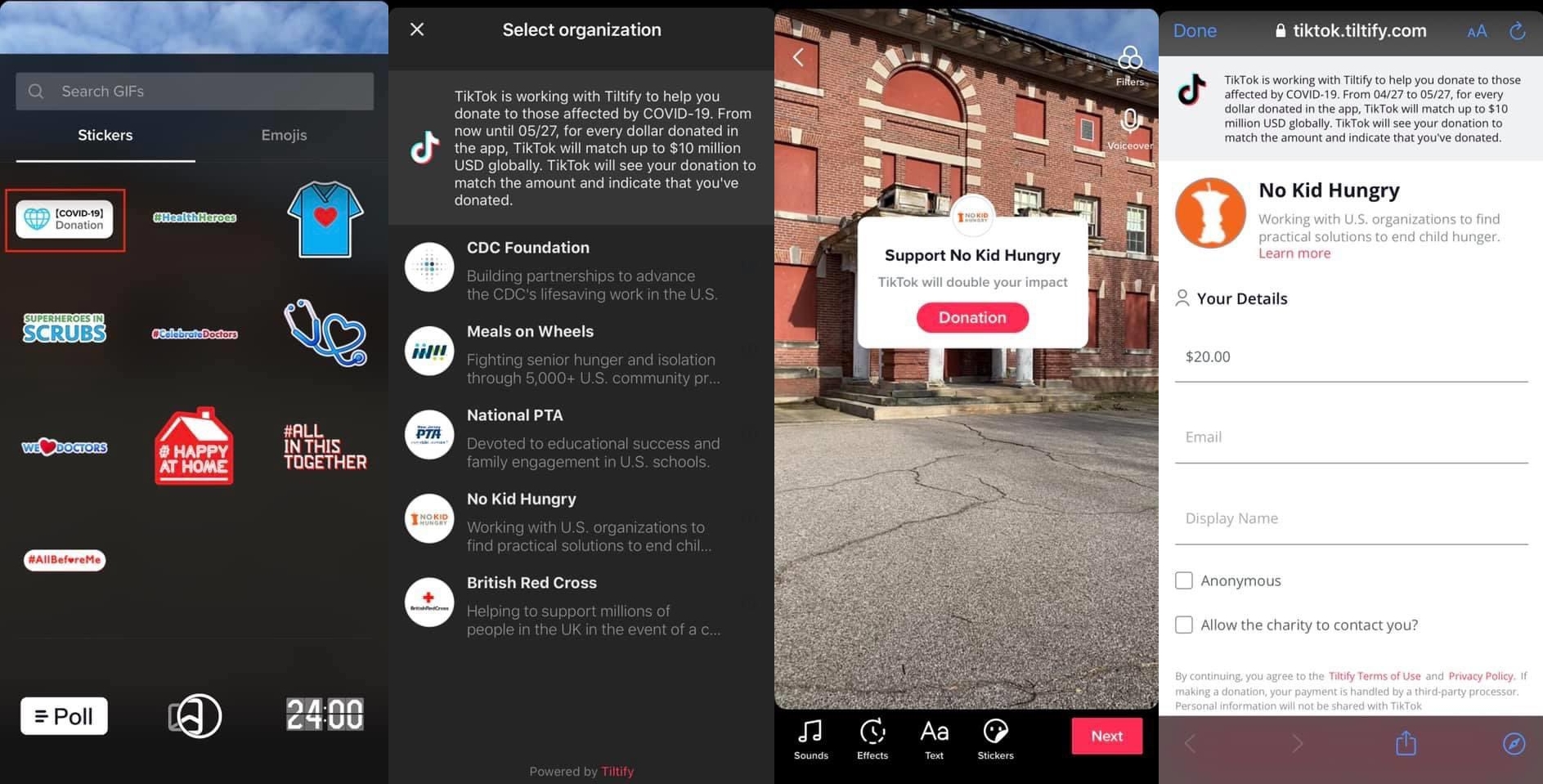 TikTok added a new way to help out those working for a better world. New donations stickers can be added to any TikTok video or live stream. When a user taps on the Donation Sticker, they will be guided to a pop-up window where they can quickly and easily submit a donation without having to leave the app.
To incentivize the use of the sticker, TikTok will be matching every donation made by a user until May 27.
Log into your account on a desktop
You can now log into your account from TikTok's website, which enables you to not just look through your feed, but upload videos and see your analytics as well. The login option is at the top right of the screen on the Trending page, but it doesn't appear at the main home screen at this stage. The ability to upload and view analytics on the web is especially welcomed by social media managers who can now publish more professionally produced videos and analyze their account's performance.
'Shop now' button for influencers
According to Digiday, TikTok is testing a call-to-action button that could be added directly to influencers' videos and links to advertisers. The revenue from such advertising would be split between TikTok and a video creator. This model allows TikTok to tap into revenue that may have previously been shared only directly between the advertiser and influencer.
For now, the creator call-to-action ads are only available to select advertisers and agencies.
Snapchat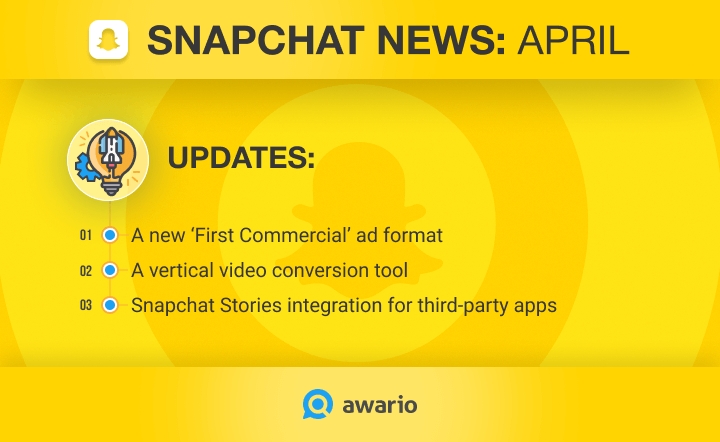 A new 'First Commercial' ad format
Last month Snapchat announced a new ad format called 'First Commercial'. By selecting this ad format, advertisers ensure that their ad will be the first commercial users see when they go to Snapchat's Shows — the company's original video content.
A vertical video conversion tool

Snapchat added a new tool to its Snap Publisher kit that allows you to easily turn horizontal video into a vertical one. Remember that you can access Publisher from your desktop, so you can easily upload professionally edited content and turn it into a Snapchat-fitted horizontal video.
Snapchat Stories integration for third-party apps
Last month Snapchat launched an integration that enables the users to exchange content between Snapchat and other apps. This integration is available in Snap Kit and allows developers to connect their apps to Snapchat. Once it's done, you're able to share other app's content in Snapchat or share your Stories in other apps. The initial partners include music app Triller, video chat app Squad, online dating app Hily, and social augmented reality app Octi.
---
And that's it for the social media news from April! Is there a new feature you're excited about? Are you looking forward to any of the experimental features becoming available to users? Did you like our pretty infographics? Share your thoughts in the comments!