7 best Google Alerts alternatives to try in 2020
From the moment the Internet took over the world, people of all backgrounds, businesses, and levels of self-esteem have been interested in what the World Wide Web says about them. They googled their own and their ex-lovers' names, and, of course, they googled their brand names. At some point, Google picked up on that and built Google Alerts - a simple tool that notifies the user via email every time their keyword is mentioned online. "Online" didn't cover the extremely popular and no-doubt important social media mentions. However, it covered web pages, news sites, and blogs. Not bad for a free tool.
People rejoiced. You wouldn't (and still won't) find a marketer who hasn't tried Google Alerts. Keeping track of what's said about your brand, company, product, CEO, etc. became an essential part of online reputation management and any effective marketing strategy. However, with time, things got worse. Firstly, Google Alerts just stopped working well. Google is huge; it has thousands of projects to keep up with and new ones to invent. Some are just left overboard. Unfortunately, Google Alerts was one of them. It's not supported or updated anymore. Google Alerts is useless at the moment, and it's time to face this. But even that's not all.
For the past... many years, mentions on social media have been getting a lot of attention. Communication between people and brands happens on social media all the time, and social media users often discuss brands without tagging the said brands. Of course, if you care about what the Internet says about you, ignoring social media is just not an option.
So now we arrived at the most obvious conclusion the world has ever seen. If you care about your online presence, you need a Google Alert alternative.
This is, therefore, a list of Google Alert alternatives.
The list consists of social listening tools for businesses of different sizes and budgets. Most of the alternative to Google Alerts tools have a free trial and some are even completely free, as I am sure you'd be happy to find out. Most of them went much further in what they can do than Google Alerts ever tried to go. Even exploring the tools, getting the most out of free trials and cheap plans, will leave you happy and excited about what the 2020 level tech can do. So let's move on to the list - yes, it starts with our own social listening tool. Yes, we know it's tacky, but we love it.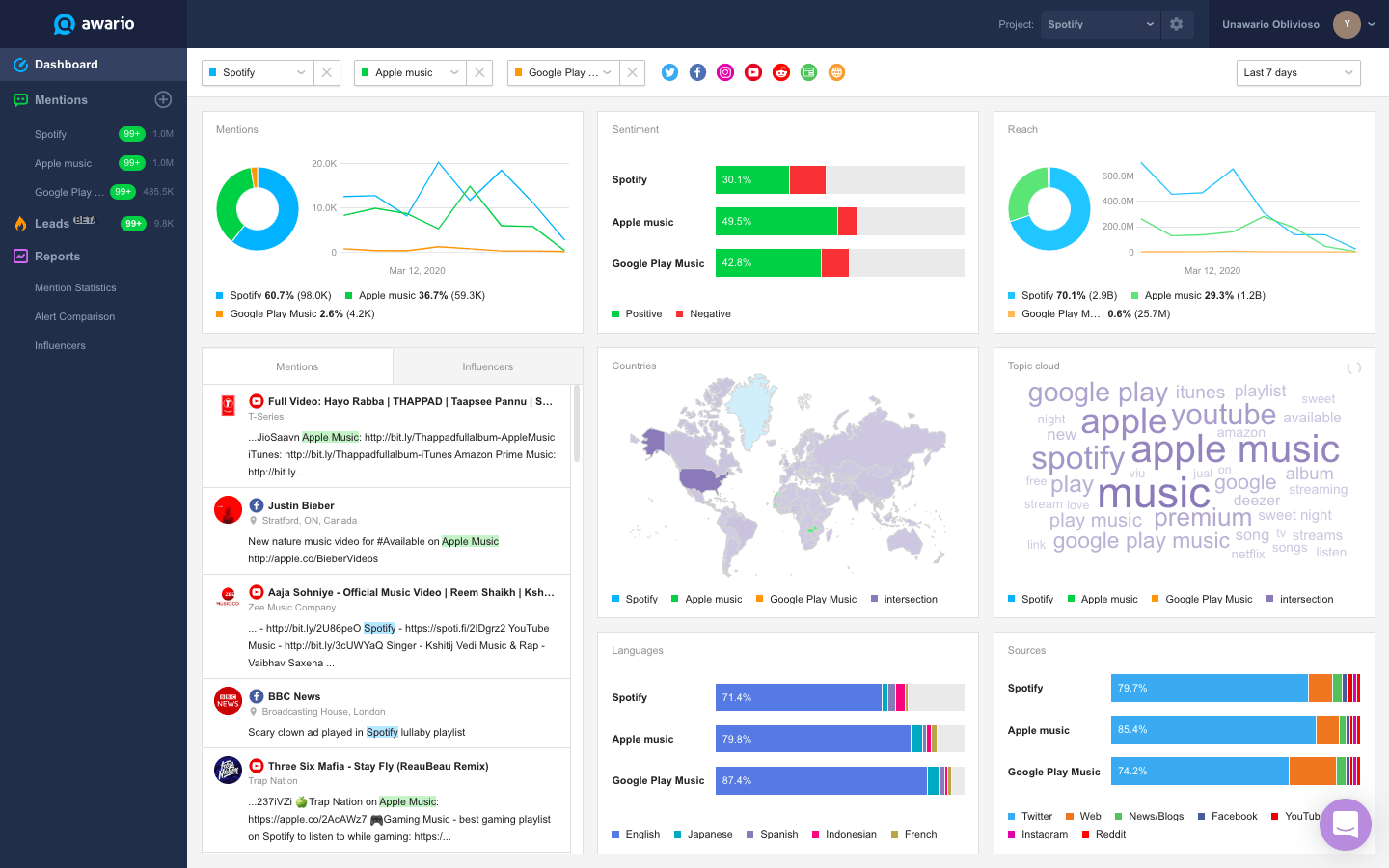 Awario is a social listening tool - the next generation of Google Alerts, if you will. Awario crawls everything: social media networks (Twitter, Facebook, Instagram, YouTube, Reddit), news sites, blogs, forums, and web pages. You can choose to receive alert notifications via email or you can watch mentions of your keyword appear in real time in Awario's Mentions' Feed. From there, you can reply to social media posts. This will make your customer service much more inclusive and your social selling strategy more effective.
Awario also analyzes the data it gathers. The tool shows how the number of mentions grows over time, how many people your brand mentions reach, and what the tone of these mentions is: are they positive, negative, or neutral? What is the prevalent tone?

Sentiment analysis lets you find unhappy people and deal with their problems. It also helps you spot a social media crisis: as soon as the number of negative mentions starts growing rapidly, it's time to open the Mentions Feed and look at what they are saying.
Analytics also tells you more about your audience - the people who've mentioned your brand (or any other keyword). The tool shows the authors' genders, locations, languages, and social media networks they use. You can filter the results by all these features, discovering where people talk about you more and who they are.
For complicated keyword cases (e.g., common names, abbreviations, etc.), Awario has a Boolean search option. Using Boolean operators, you can specify the search to the tiniest details, avoiding all possible irrelevant mentions.
Besides, Awario finds brand advocates and niche influencers and has a special feature called Awario Leads which finds people online that are searching for a product or service just like yours.
Pricing: $29/mo for the Starter plan, $89/mo for Pro, and $299/mo for Enterprise. Saves 2 months with a yearly plan.
Free trial: Sign up for a free 7-day trial.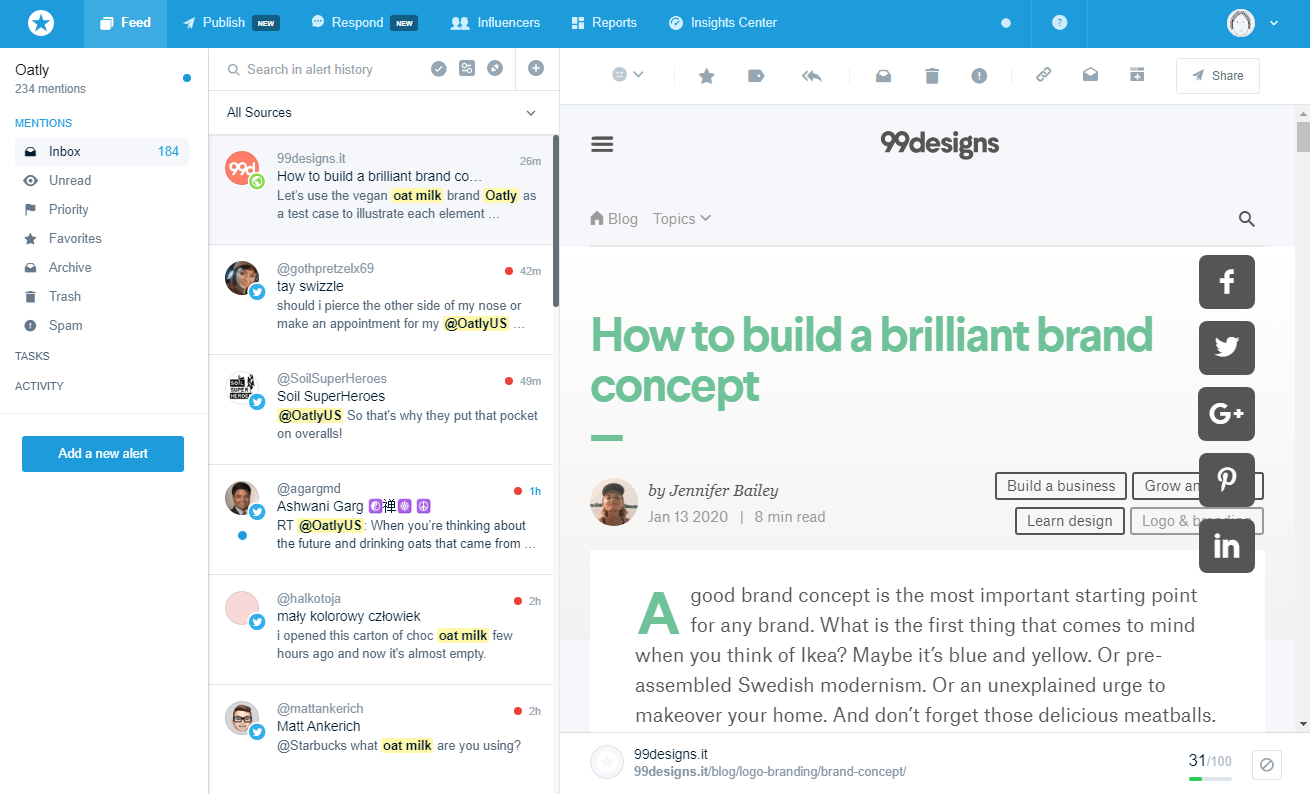 Mention is one of the oldest Google Alerts alternatives and social listening tools. It's been called "Google Alerts on steroids" more than once. The tool entered the market when it was clear that Google Alerts isn't doing its job, and it has been popular ever since. Mention monitors major social networks, news sites, blogs, forums, and web pages. You can opt to receive alert notifications via email as often as you wish, or, you can choose to only receive alerts when the activity around your brand is higher than usual. You can also observe mentions on the app's dashboard as they appear in real time and reply to them straight from the app.
Mentions' analytics is similar to Awario's. The tool analyzes mentions' growths, sentiment, locations, languages, and social media sources; finds social media influencers. Mention gives you access to historical data and API, so that you can integrate Mention capabilities into your own website, with your own layout and your own way of managing rights.
Like all great tools, it has a Boolean search option. Make sure to use it to avoid being flooded by irrelevant mentions, alerts statistics, and noise.
Pricing: Solo is $29/month, Pro is $99/month, and Enterprise is $450+/month. A yearly plan saves you two months.
Free trial: Signup for a free 14-day trial.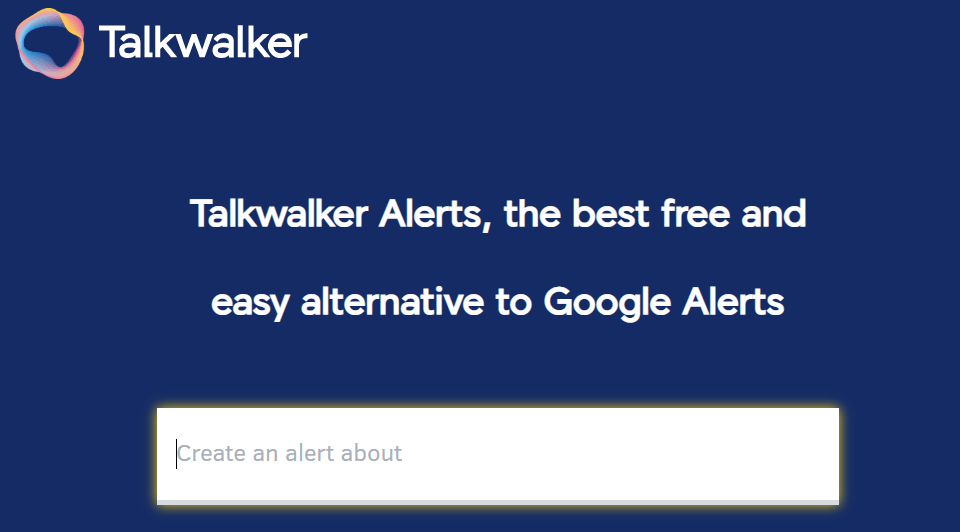 Talkwalker Alerts is a free tool that is the closest to Google Alerts in terms of its features. Talkwalker monitors web pages, news sites, blogs, forums, and even Twitter, but you can opt to only search for blog mentions. All mentions are brought straight to your inbox. You can choose how often to receive emails and whether you need all mentions in your inbox or just the most important ones. The importance is determined by the tool. It chooses mentions that get the most traffic and engagement.
Unlike Google Alerts, Talkwalker Alerts also has a Boolean search option using which you can customize your search and make sure you only get relevant results.
Pricing: free.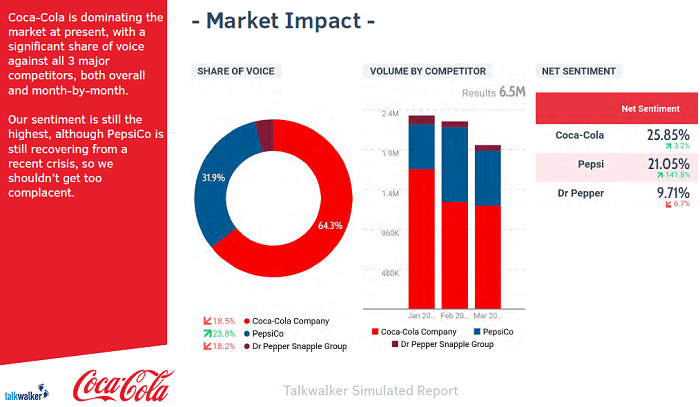 At any point, you can switch from Talkwalker Alerts to Talkwalker. The latter is a paid tool for large businesses and agencies. Talkwalker monitors Twitter, Facebook, Instagram, YouTube, Pinterest, Flickr, blogs, news, the web, print, and TV. If there's a specific website that the tool doesn't monitor, you can add it manually at no extra cost. Moreover, the Enterprise plan offers image recognition, which means you can spot pictures and photos that include your logo.
Talkwalker offers extensive analytics. It goes beyond what other tools on the list offer by analyzing the audience's demographics, occupation, and interests. It also spots trends in the buzz around your keywords, shows popular hashtags, and finds niche influencers.
As brands that use Talkwalker usually receive a large number of mentions and have SMM teams, the tool uses a predictive alerting system that notifies the right people if mentions' activity is different from normal.
Pricing: Basic plan is €6000/year. Other plans are available on request.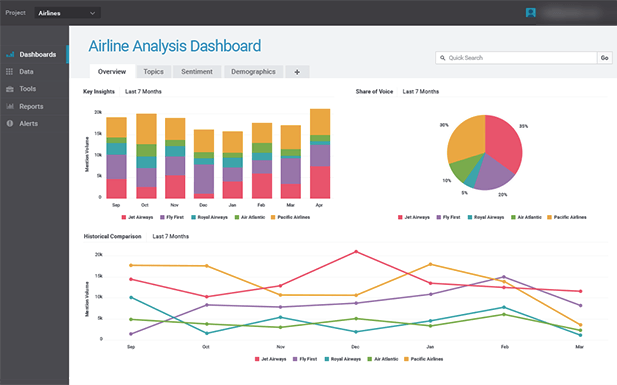 Brandwatch is another excellent social listening tool for large businesses and agencies. It consists of three built-in tools: Brandwatch Analytics, Brandwatch Audience, and Brandwatch Vizia. Brandwatch Analytics is responsible for social listening: the tool crawls Facebook, Twitter, Instagram, YouTube, Pinterest, Sina Weibo, VK, QQ, news, blogs, forums, review sites, comment sections, and web pages. If there's a source that you're interested in, you can request to add it to the list - it won't take long for Brandwatch to satisfy your request.
The tool finds images as well as texts. Then, it analyses the data to reveal your brand's growth and sentiment, your audience's demographics and psychographic, and your industry's trends. Brandwatch Vizia visualizes this data.
Brandwatch is integrated with Google Analytics, Falcon.io, Buzzsumo, and Hootsuite to provide you with even more data and give you the most detailed understanding of your online presence, as well as your target audience and your industry.
Pricing: available on request.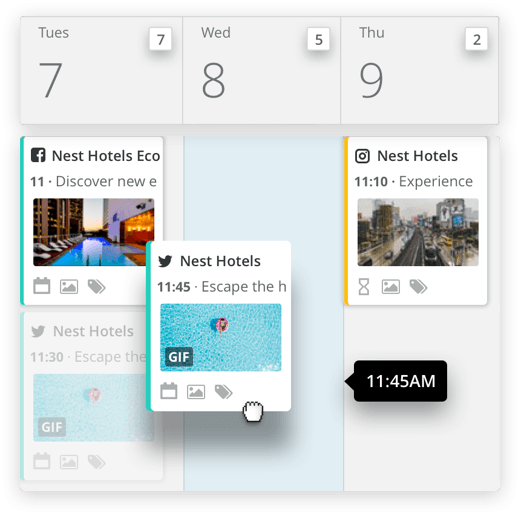 Hootsuite is a social media management platform and, unlike others, it's rarely perceived as a logical alternative to Google Alerts. However, its social listening capabilities are good enough for it to be included in this list. Hootsuite is especially useful for marketers that are looking to have it all in one platform: publishing, collaboration, and monitoring. It's also a good choice for businesses on a budget - the ones that can't afford a specific tool for each social marketing need.
Hootsuite monitors Twitter, Facebook, Instagram, and YouTube, however, more sources are available via integrations.
The tool offers extensive collaboration features: you can organize mentions and assign them to your colleagues in any way you like. You can filter mentions by location and hashtags to better organize the data.
Pricing: Professional is $19/month, Team is $99/month, Business is $599/month, and Enterprise is available on request.
Free trial: Signup for a free 30-day trial.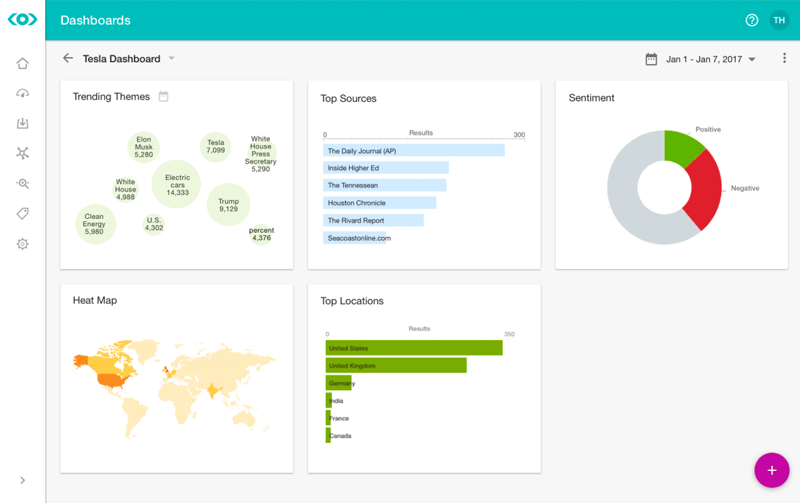 The last one in this article, Meltwater, is an Enterprise-level tool that doesn't stop at social listening, although social listening is one of its main features. Meltwater monitors 15 different social networks, as well as blogs, forums, review sites, comment sections, and web pages. You have access to both real-time and historical data.
The tool finds the most popular topics around your keywords, analyzes sentiment, and shows spikes in conversations. It performs audience segmentation based on their demographics, interests, and consumer behavior. It also finds relevant influencers and popular content in your industry.
Besides, Meltwater offers content and campaign planning, scheduling, and publishing services.
Pricing: available on request.
Final words
I hope this list made it clear that it's time to let Google Alerts go and give way to new, much better tools. Trust me, you'll feel the power and joy of knowledge as soon as you try any of these tools. You'll quickly realize that social listening isn't just about satisfying your ego and feeling great because now you know people talk about you and your brand (keep in mind, you can monitor anything including your own name). Social listening provides opportunities for performing perfect customer service - any time your brand is mentioned somewhere, even without a handle, there you are to answer questions, complaints, and comments. You can research the market, discovering more about your target audience and your competitor's customers (remember, you can monitor your competitor's brand just like your own). While we're on it, you can do competitor research, discovering which campaigns were successful, what their customers complain most about and what they praise, how their SMM pays off, and what their share of voice on social media is. You can perform social selling and influencer marketing, find the guest posting and link building opportunities, find journalists and bloggers who have mentions your brand, your name, your industry, or your competitors. And do so. much. more.
Luckily, free trials are available in some most of the tools, and other offer demos where you can observe how the tool works. Let me know in the comment section how the transition went.