We at Awario use our app to keep a close eye on our competitors, and we picked the most prominent of them (and Google Alerts) to compare to our platform.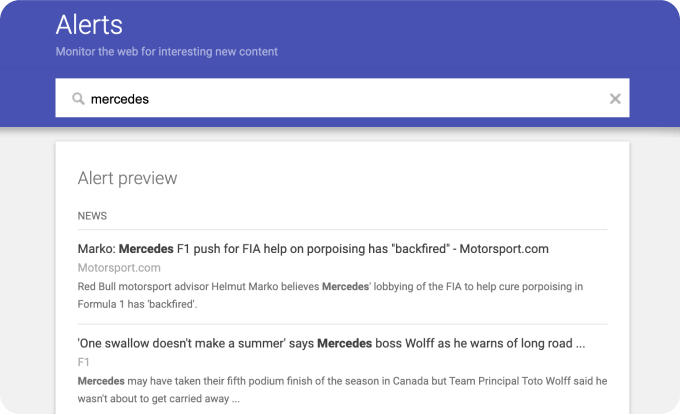 Whenever someone mentions the subject of the notice you entered, or rather the query, the service sends notifications and alerts to your e-mail address. You receive all the web pages that contain your keyword. This way you can stay up to date on your favorite topics or be notified when your brand is mentioned on the net (brand monitoring).
It is important to specify that the information is retrieved from websites, blogs, and searches within the Google network. Social media, forums, and the deep web are not considered.
You have the possibility to set the following search parameters:
Frequency of receiving alerts
Types of sites you want to use as a source
Search language
Research region
Amount of results (only the best or all)
Remind that the application is usable only if you have a Google account. Once registered, connect to the official website home page and start setting up the various search queries.
Awario
Meets the needs of solopreneurs, small businesses, and mid-size companies. It has a reasonable price for the number of data it offers. With the Leads module, Awario is gaining popularity among agencies and larger companies.
BrandMentions
Is aimed at entrepreneurs, medium-sized organizations and agencies. Its subscription plans have way fewer mentions compared to Awario. However, unlike other tools it offers image monitoring.
Brand24
Suits those looking for simple free solutions with their complimentary tools or a robust social listening and analytics service for Enterprise-level companies (with paid plans).
Google Alerts
Is best for individuals or companies which are okay with real-time data from the web, news, and blog sources.
Brand24 also offers Team plan that stands between Individual and Pro plans. In the Team plan, you won't be able to find influencers, get reports and white-label them. You can monitor less alerts and get fewer mentions. Though the plan provides far wider analytics and the Boolean search feature.
To clear things up a bit, here are the stats on the number of mentions each company offers for $1:
Awario offers 769 mentions for $1 in Starter plan
BrandMentions offers 101 mentions for $1
Brand24 offers 33 mentions for $1
There are 2 521 mentions for $1 in Awario's Pro plan, 167 in BrandMentions's plan, and 139 mentions for $1 in Brand24.
You'll get 2 506 mentions for $1 in Awario's Enterprise plan while Brand24 offers 334. BrandMentions's enterprise/agency plan gives you 300 for $1.
1. Decide on your objectives
Identify the most important aspects that suit your needs: are you interested in tracking your own social channels or do you want to keep track of what's being said about you elsewhere?
Is your goal to primarily track your online reputation and handle social customer requests or do you want to conduct comprehensive social listening research on your audience, market, and competitors?
Maybe your aim is measuring the success of a campaign you've launched or it could be finding brand influencers. There can be a hundred reasons for investing in social monitoring, you just need to find your own and get started from there.
2. Establish your budget
Anticipate how much resources, including time and money, you are willing to invest in the monitoring process. It is always important to assess whether the sum of money you are willing to pay is directly proportional with your needs and the services you expect from the monitoring tool.
3. Investigate what customer support each tool provides
In most cases, the success of your social media monitoring relies on the training and guidance provided by the support team once you've purchased the tool.
In order to be able to measure your ROI successfully, it is vital to know how to make the most of the tool and how to take advantage of all its features.
4. Make sure you check thoroughly the services that each tool offers
Depending on your objectives, the quality of all sorts of different features can sway your decision entirely.
Things like data coverage (which media platforms does the tool crawl, how many languages, locations, etc.), whether it provides sentiment analysis, its approach to SPAM and duplicates and plenty of other criteria can vary wildly between each solution.
5. Test and compare
Snoop around for demos and free trials to get a better insight into each tool and explore its ease of use.
Always be open to trying other tools, as even though your current social media monitoring tool might satisfy your needs, it isn't necessarily the best one on the market.