What happened on Social Media in August: monthly round-up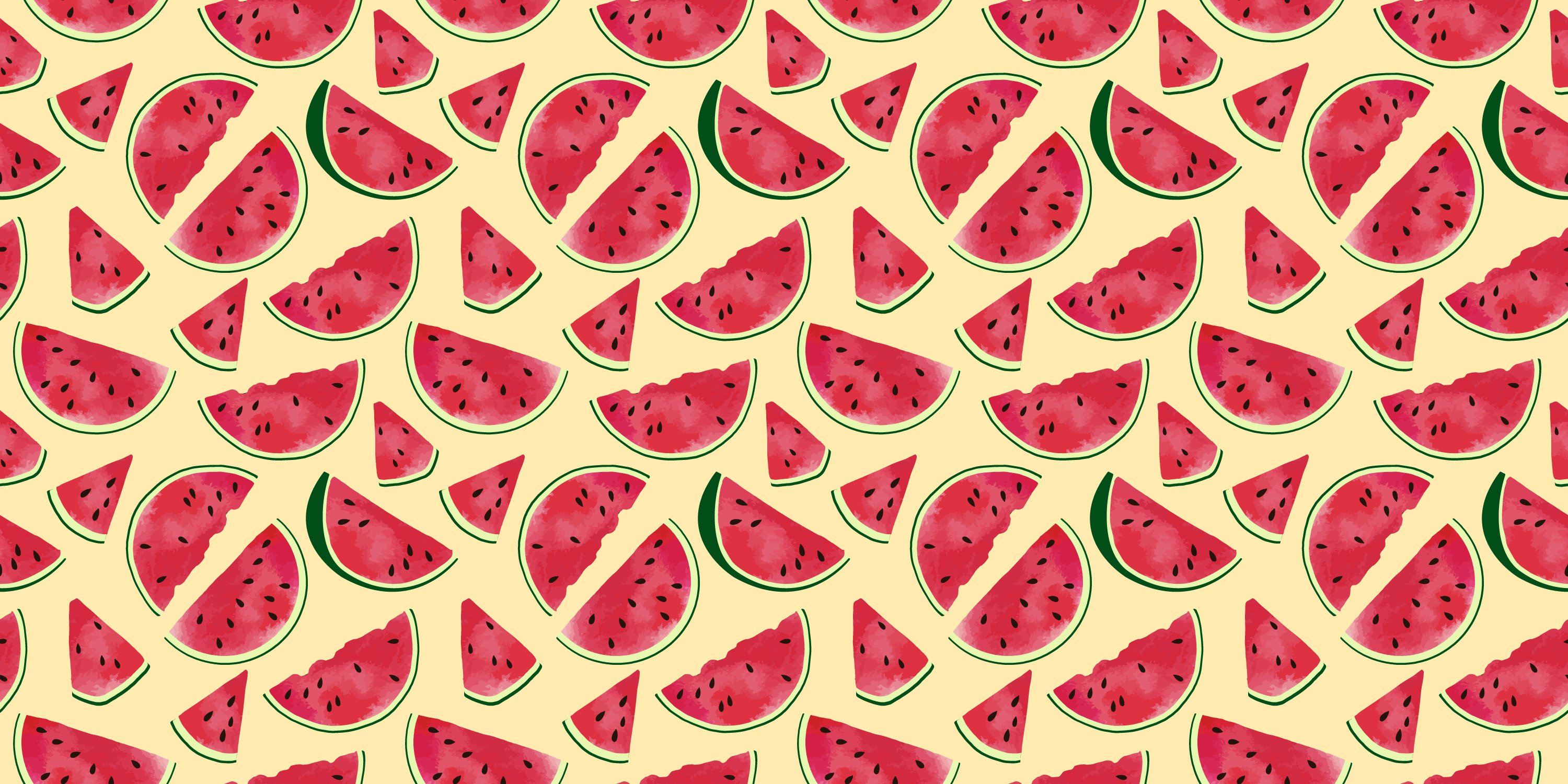 August is typically the month of abundance and harvest, the month of horns of plenty. Social media companies seemingly operate in the same manner as farmers because last month they decided to give social media managers some tools that will REALLY simplify their work and some juicy scandals and rumors as well!
In this edition of our monthly social media news roundup, we talk about Facebook's bold new move to remove like count, Instagram's fight against abuse of platform's data, and why you should pay attention to TikTok.
If you're interested in a specific platform, click the link:
Twitter
Get notified about new replies in threads
You probably have notifications on for your must-follows. Now you can get notifications when there's a new reply to a Tweet you're interested in! We're testing this on iOS and Android now. pic.twitter.com/MabdFoItxc

— Twitter (@Twitter) August 8, 2019
Twitter is testing the ability to turn on notifications for the specific threads so you can keep up with conversations. You can choose to get notified about the most important replies or about all of them. The tests are being held both for Android and iOS.
For many users, Twitter is not just about following certain people but also about discovering and participating in conversations, and this update will surely come in handy. Another planned update, Topic Lists, is also aiming to help with that.
Topic Lists
You already know about Twitter Lists: in July they got some limelight with the new Twitter redesign. Last month Twitter announced a sister feature they are going to try out — Topic Lists that allow you to subscribe to certain topics, for example, 'Elections'. You'll be able to follow a curated list. For now, the Topic List test is looked over by a team that make sure you only get the most relevant tweets. But if the feature is going to be implemented, Twitter will need to come up with an algorithm.
DM search
Soul searching? Hard. DM searching? Easy! Go ahead and try out the new DM search bar. We're testing it out on iOS and web with your most recent DMs. pic.twitter.com/vwGlBjz4B5

— Twitter (@Twitter) August 14, 2019
The news that will surely make social media managers happy: Twitter is rolling out DM search! The feature is currently in tests on iOS and Android, but there are no doubts that it will be out pretty soon.
For brand accounts that get hundreds of messages a day about anything from customer support queries to questions from potential customers, this update may become lifesaving!
In addition to this, Twitter will be adding a separate folder for messages from the accounts you don't follow that might potentially contain offensive material (as detected by Twitter itself). The messages can be removed without you having to go through them.
These updates show Twitter's new initiative to focus more on DMs which might be the right move considering that more and more communication on social media is moving to private channels.
Unwanted messages aren't fun. So we're testing a filter in your DM requests to keep those out of sight, out of mind. pic.twitter.com/Sg5idjdeVv

— Twitter Support (@TwitterSupport) August 15, 2019
Soon you'll be able to schedule tweets from desktop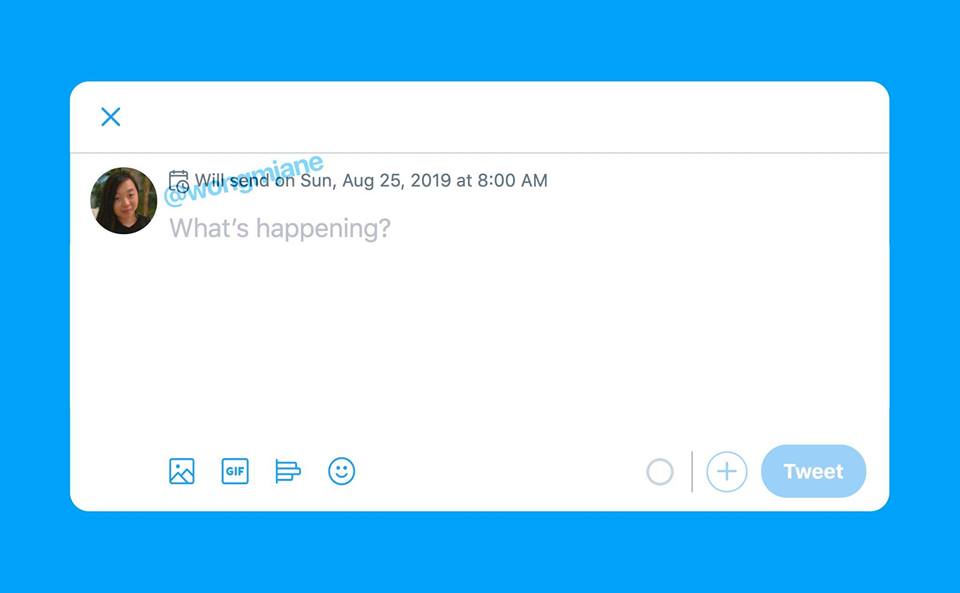 Another piece of social media news that will surely make social media managers excited — Twitter is working on the ability to schedule tweets from the desktop version as discovered by social media hacker Jane Manchun Wong. Of course, you could already do that through Tweetdeck, but the more functionality we as social media managers have, the merrier! For now, there is no ETA for the feature rollout.
Facebook
Facebook may remove Like counts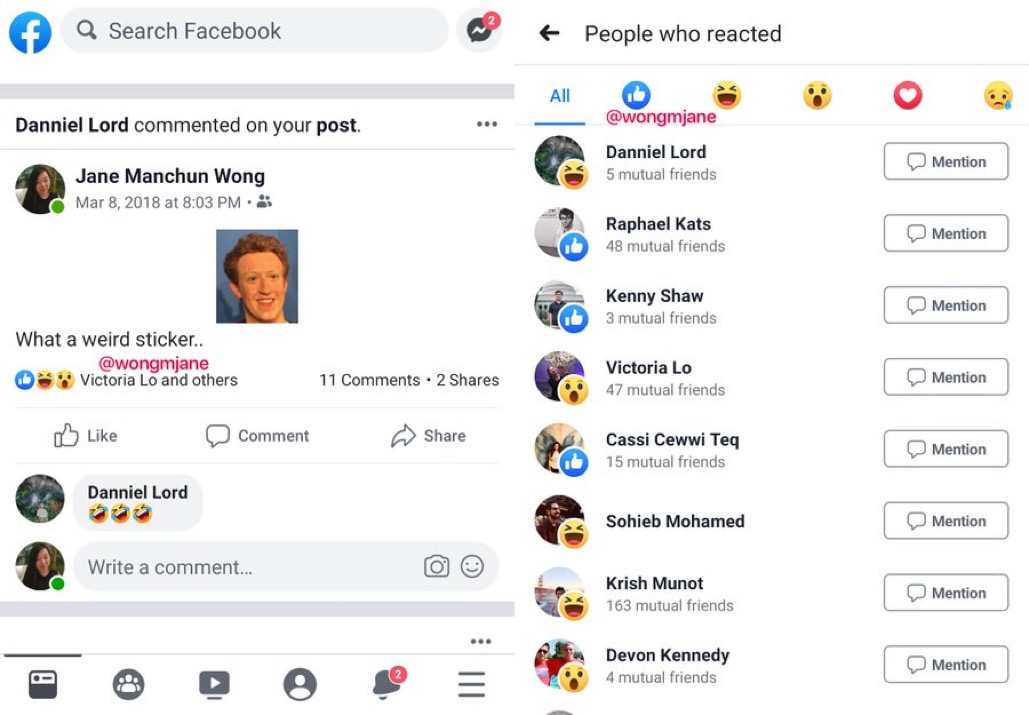 This is possibly the most important piece of news of this roundup. The above mentioned Jane Manchun Wong spotted Facebook prototyping the hidden Like counts in its Android app. The company confirmed to TechCrunch that it's considering testing removal of Like counts but refused to reveal any further information.
Of course, Facebook is already experimenting with hiding like counts on Instagram, and Twitter has stated their vision to move away from vanity metrics a long time ago. But the fact that Facebook, the largest social media network in the world, decided to move away from focusing on vanity metrics indicates that we might be stepping into the new era of social media. And surely, for brands this would mean new ways of reporting analytics, evaluating social media campaigns, working with influencers and more.
Another Facebook scandal: contractors reviewed and transcribed audio messages
Last month Bloomberg broke out another story that damages Facebook's reputation. According to Facebook contractors, they were paid to transcribe clips of audio from users of its services. They didn't know where the messages came from, who they belong to, or how they were attained. As stated in Bloomberg's article, the contractors were listening to Facebook users' conversations, sometimes with vulgar content, but do not know why Facebook needs them transcribed.
Facebook confirmed that it had been transcribing users' audio and said it will no longer do so, following scrutiny into other companies. "Much like Apple and Google, we paused human review of audio more than a week ago," the company said Tuesday. The company said the users who were affected chose the option in Facebook's Messenger app to have their voice chats transcribed. The contractors were checking whether Facebook's artificial intelligence correctly interpreted the messages, which were anonymized.
Facebook has never disclosed that the messages would be reviewed by third-party contractors.
One more social media news that put a stain on Facebook this month was a statement from a group of researchers working with Facebook to study its impact on democracy. They threatened to quit research since the company had failed to make necessary data available to researchers.
Will Facebook ever get out of hot waters? And will it ever convince people to quit the social network? Let's see!
Facebook tries to roll out the Clear History tool and fails
Speaking about privacy, Facebook is really trying to make their data use practices a bit more ethical: for the last couple of months they introduced more ways to find out how your data is used by advertisers, and in August they were planning to roll out the Clear History tool. It would clear all your browsing history on Facebook: what you've clicked on, websites you've visited, and so on. As explained by Facebook:
Once we roll out this update, you'll be able to see information about the apps and websites you've interacted with, and you'll be able to clear this information from your account. You'll even be able to turn off having this information stored with your account.
However, we didn't even have time to get properly excited about the tool when Facebook faced a setback. An American court put a hold on the planned rollout of the feature since it might have resulted in the loss of evidence in a criminal case.
The legal case in question is quite obscure: a woman is suing Facebook for negligence in allowing alleged grooming and sex trafficking to take place as a result of contact originally made via the social network. The woman's attorneys want Facebook to provide details of any known browsing history for an alleged pimp — which it wouldn't be able to provide if the person concerned was able to use the upcoming tool.
It's unlikely that Facebook will give up on this feature, so the tool will probably be implemented once this court case is over.
Facebook is venturing into paid video
Facebook is looking for Netflix's fame! Last month, as reported by Variety, Facebook launched a test to sell video content from BBC and ITV as a Facebook video subscription. Facebook's video-subscription test with the four initial partners will be available only to users in the U.S. and will be rolling out over the next few weeks.
Last month the company was also reported to be working on a TV-connected device that would be allowed to stream video from Facebook Watch and third-party providers (such as Disney) alike.
Perhaps, the idea behind Facebook diving into streaming is the social aspect of consuming content: subscribers will be able to join discussion groups to talk about recent episodes and participate in Facebook's Watch Parties, which let multiple users watch videos simultaneously and chat in real-time.
New Group badges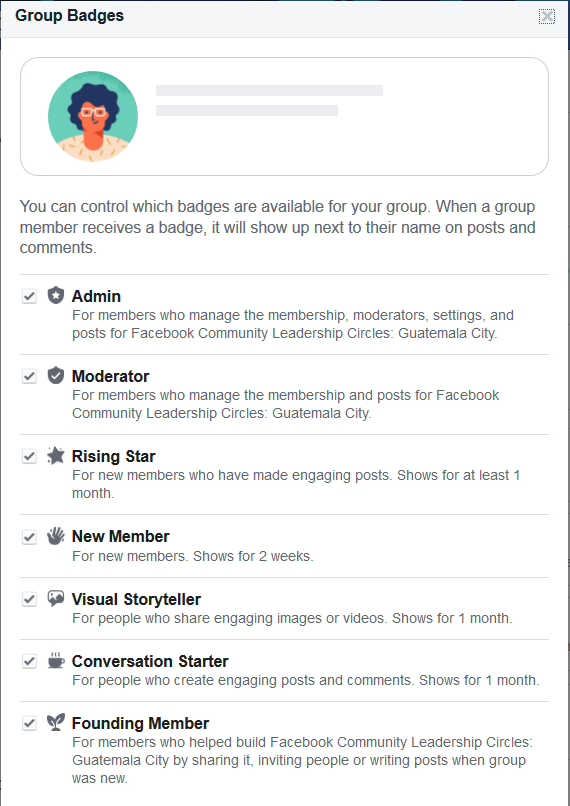 It's no news that Facebook is focusing on Groups: their organic reach is famously the only thing that is not cut by the algorithm. Last month Facebook added several new badges - those small icons that you get near your name - in order to encourage users to participate more.
Moreover, Facebook is expanding this feature to Pages: they added several new badges to those as well.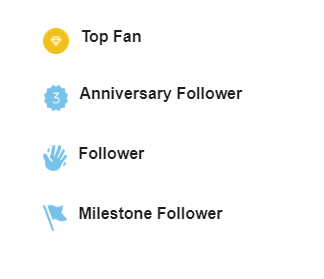 Facebook wants to manage your Wi-Fi connection
Facebook already has a Find Wi-Fi feature that lists nearby Wi-Fi networks that Page owners shared with Facebook. Now the company wants to help you connect to available Wi-Fi by managing it from your device. You need to allow the feature access to your device to opt-in. In return, Facebook will list the on-device saved Wi-Fi networks and let users pick their preferred networks by tapping the star icons next to each saved network list item. You can also give feedback on the quality of the connection.
As noticed by Jane Manchun Wong, who discovered the feature:
...judging by the network names, it seemed most of these 13k Wi-Fi networks in Manhattan are residential and not belong to businesses. It is unsure how Facebook obtained this huge list of what appears to be residential Wi-Fi networks. But it would not be surprising if Facebook "crowd-sourced" the data from app users who granted Location access.
I, for one, would not be ready to give Facebook any more access to my data than it already has, so I have major doubts if this feature will actually be in use by anyone.
New screen-sharing option for Messenger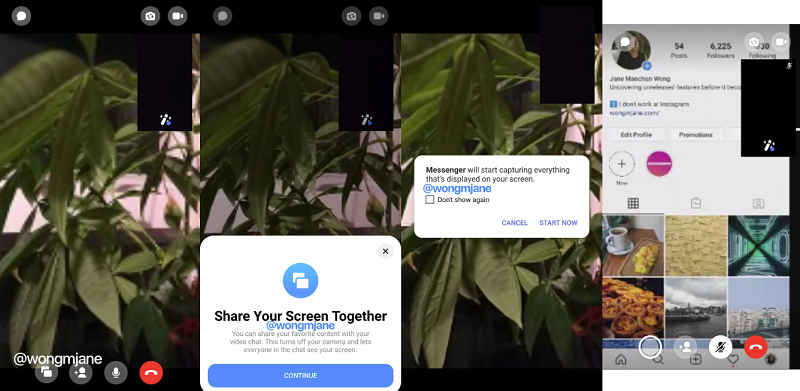 The new feature would give you the ability to share your screen while on a video call in Messenger. Before switching, Messenger gives you two prompts reminding that everyone in the chat will be able to see your screen — probably for the better.
As Wong notes, the function would enable viewing of video content from beyond Facebook. In combination with streaming content from third-party providers, it could give you even more options for communal watching of series and films.
Stories now have Question sticker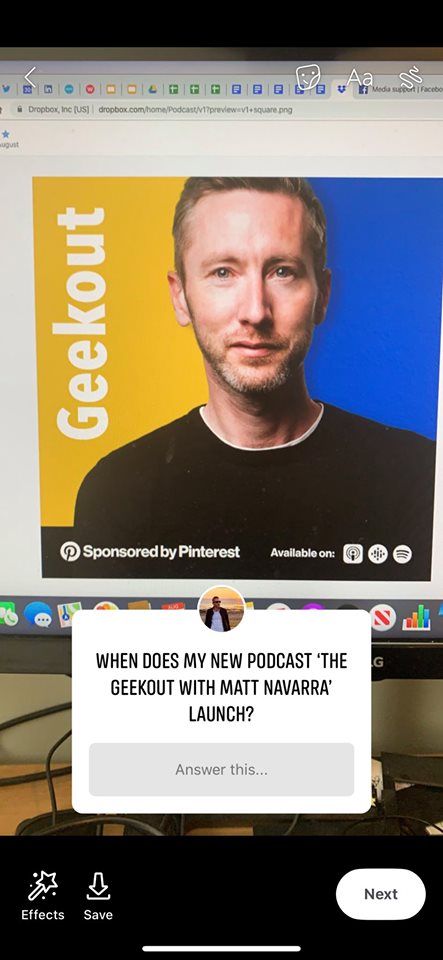 Similar to Instagram, you can now prompt your fans to ask you questions through Facebook Stories. Considering the steady decline of organic reach for Pages on Facebook, using other ways to raise engagement is always a great idea, so this sticker will surely come in handy.
Instagram
Instagram bans third-party tools for data scraping
This wasn't a good month for Instagram-focused social media marketing tools. The first case happened in the beginning of August: the company found out that a tool called Hyp3r scraped public data such as users' physical locations, profile information, and photos to serve better-targeted ads. The app also stored ephemeral data from Stories.
Perhaps, prompted by this occurrence, Facebook took an effort to review the third-party marketing partners that handle its data. Social Report was famously hit by this, causing a lot of irritation from social media managers. Another app that's been affected is Brand24 - their Instagram and Facebook pages were blocked.
Instagram scheduling becomes available through Creator Studio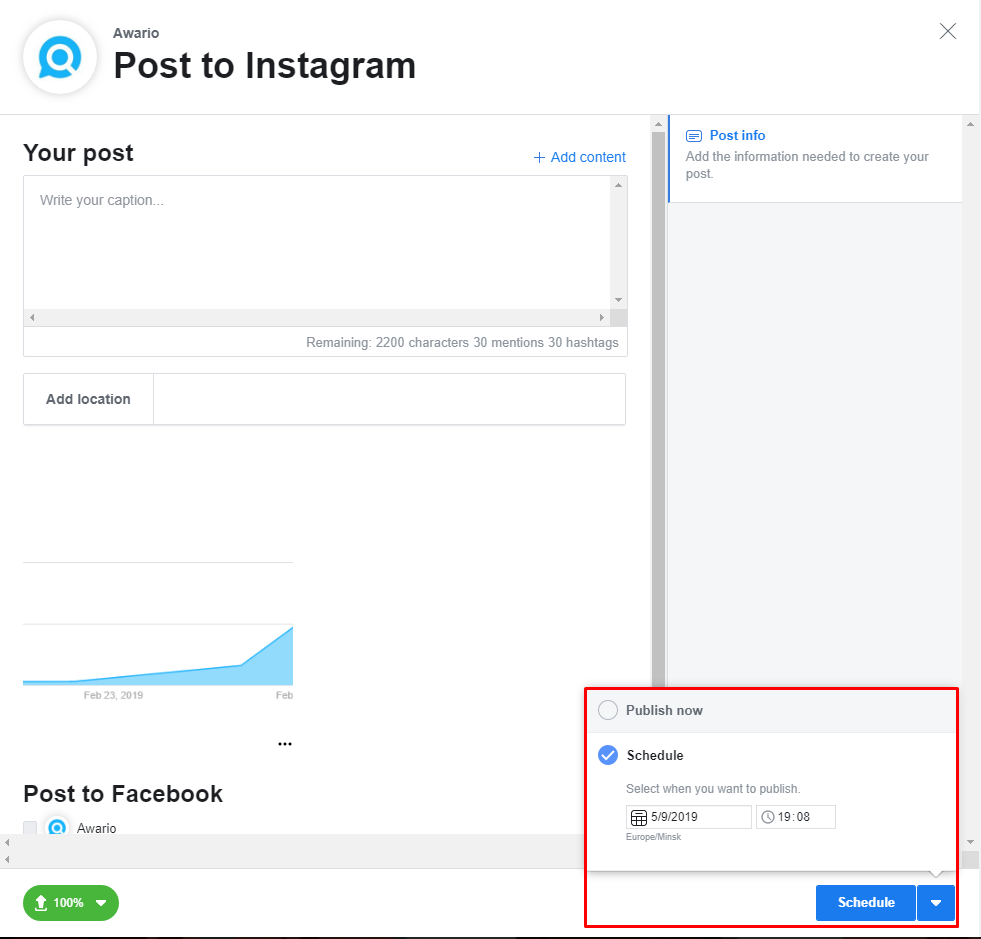 Another reason for social media managers to rejoice! Now you can schedule Instagram posts from the desktop.
To do that, you should take the following steps:
Go to Creator Studio.

Connect your Instagram Business account if you haven't already.

Click Create Post.

Choose scheduling option at the bottom right of the screen.
You can only schedule posts to your feed and IGTV. Creator Studio also gives you desktop access to some Insights you can see in the app.
Create your own AR Effects for Stories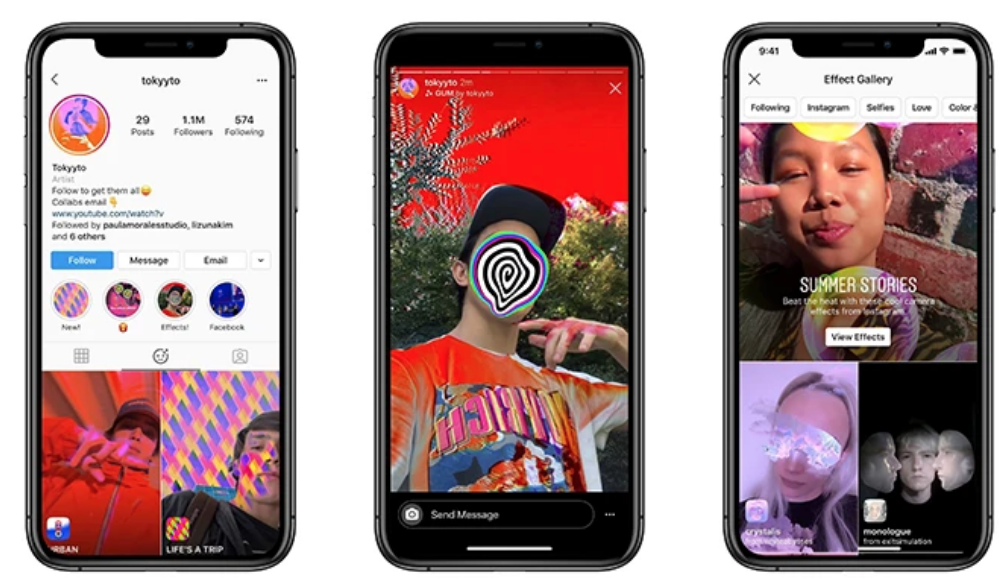 Instagram added the ability to create your own AR filters to Facebook Spark. These are all the filters that make you look like you have Kardashian's makeup on or like your face is melting (whatever you prefer).
For brands, it could be an amazing way to get creative and design a fun filter that has the potential to go viral.
Back-to-back ads in Stories
As reported by Adweek, Instagram is testing showing Stories ads from two different advertisers back-to-back. Typically, you would see an ad between two Stories from the accounts you follow — but a small percentage of users will now get two ads at once.
A spokesperson for parent company Facebook said the goal is to see if back-to-back Stories ads from different brands provide a more seamless experience for users and to gather feedback, adding that the company's focus remains squarely on user experience, with the platform's value for advertisers representing the next factor.
As you might remember, the company recently implemented ads to users' Explore feed as well: if you click on a post in Explore tab and keep scrolling, you might get a paid post from an advertiser. Seems like Instagram is trying to give brands more space for paid promotion.
Instagram is working on a Comments Sharing feature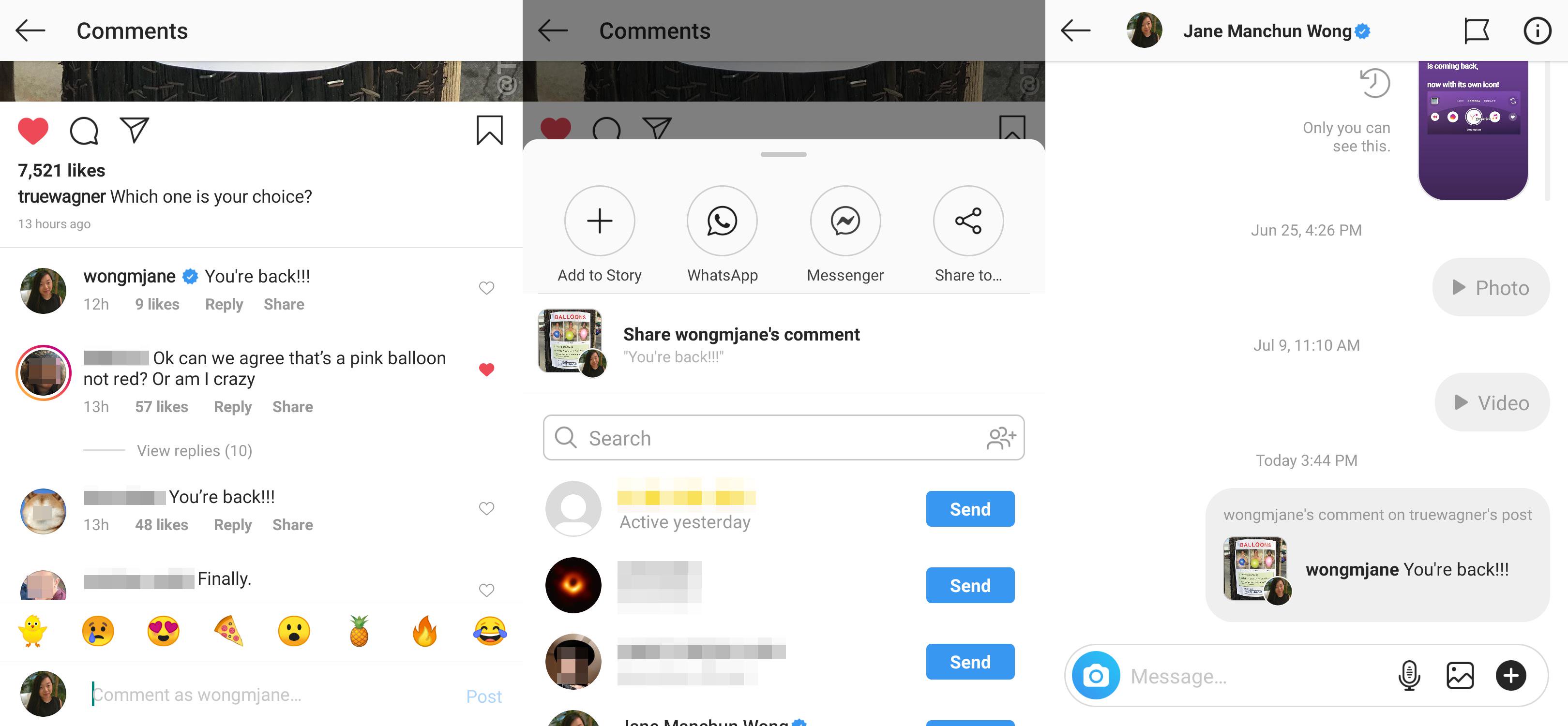 Spotted by reverse engineer Jane Manchun Wong, Instagram is developing a way to share comments on posts. For now, you can only share them through Direct Messages, but Jane speculates that there'll be more options in the future.
A separate app centered around private communication
According to the Verge, Instagram is developing an accompanying app for private communication with your mutual followers who are on the "close friends" list. The app called Threads allows users to automatically share their location, speed, and battery life with friends, along with more typical text, photo, and video messages using Instagram's creative tools.
As per the article that broke the news, "the app is designed to promote constant, automatic sharing between users and the people on their "close friends" list on Instagram. Opt in to automatic sharing, and Threads will regularly update your status, giving your friends a real-time view of information about your location, speed, and more. At the moment, Threads does not display your real-time location — instead, it might say something like a friend is "on the move," according to sources familiar with the matter."
Since Instagram declined to comment on the news, the future of the app is unclear — the company might decide to halt the development at any stage. But the app definitely falls in line with Facebook's new vision for social media to move towards private communication.
LinkedIn
New Insights and Research Hub
Last month LinkedIn introduced a new addition to its Success Hub for Marketers which provides you with a bit more insight in LinkedIn's users. The Insights and Research Hub is divided into several parts:
People Insights allow you to learn more about LinkedIn users (not necessarily your own audience). Once you choose a specific group (IT, Sales Professional, Members with Bachelor's Degree, etc.) LinkedIn will provide some information on platform usage within this group.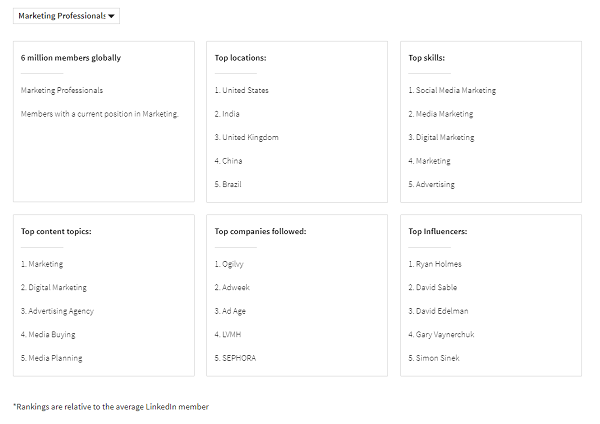 In this section you can access:
Insights into top audiences on LinkedIn, including their location, skills, and the influencers they follow, which you can filter by various professional fields (C-suite, small business owners, IT decision-makers, etc.)

Topics that resonate most with specific audiences, such as venture capital, cloud computing and many more

Content that members are engaging most with on the platform
Industry Insights and Advertising Insights are essentially articles from LinkedIn's knowledge base that use LinkedIn data to educate marketers.
It's highly likely for LinkedIn to share more insights in the future: content trends and hashtag use data would be especially welcomed.
Dark Mode is coming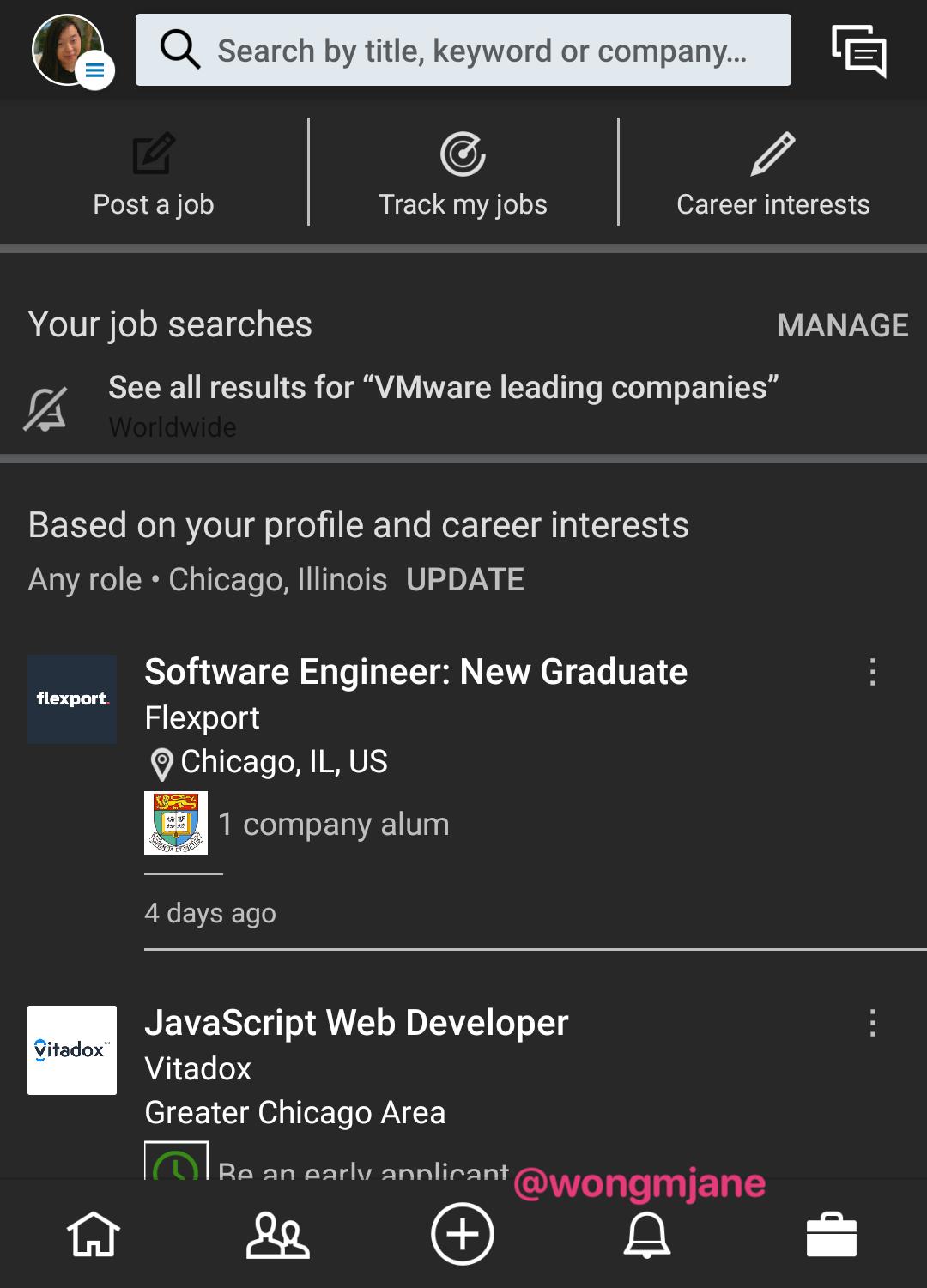 Dark Mode has long been a common feature for many apps, and even though it's more likely that you'll be scrolling through Twitter memes than building professional relationships after dark, LinkedIn is planning to introduce it to their platform as well.
According to Jane Manchun Wong, Dark Mode appears to be in an early stage of development. For now, only certain parts of the app have been reworked to support the Dark Mode. For example, a dark icon displaying on a dark background, and vice versa.
TikTok
New ways to advertise on TikTok
TikTok is currently the most successful new social media app, it's growing fast, it has millions of dedicated users, and it taps into the younger audience, which famously stays out of Twitter and Facebook. However, the one thing that keeps brands from exploring TikTok is the inability for most of them to advertise on the platform.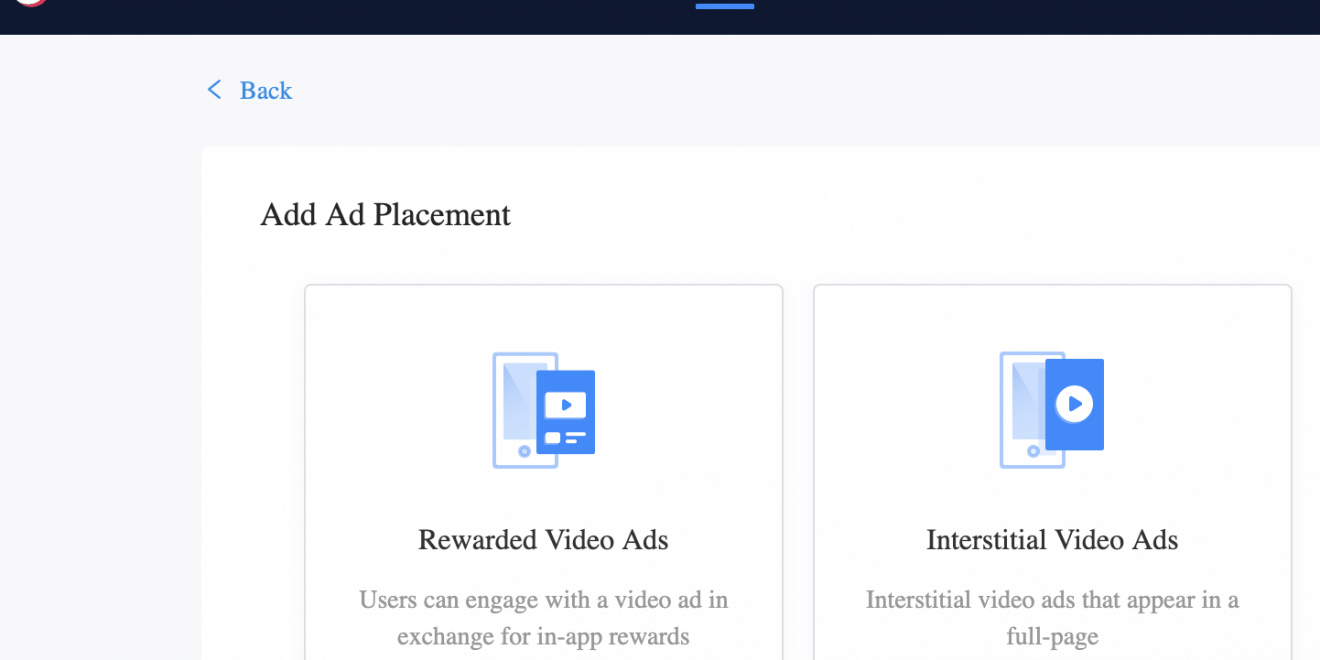 That might change extremely soon. According to an article by Adweek, newly discovered developer documents reveal the platform has rolled out a native audience network for advertisers looking to reach the roughly 260 million collective TikTok-ers in China and Japan.
Two media buyers with knowledge of TikTok's operations confirmed to Adweek that the network's test run in the East Asian market could be a signal of things to come in the U.S.
---
And those are the most important social media news from last month. Were you able to schedule your Instagram posts from the desktop? How do you feel about the removal of like counts? Will you dip your toes in TikTok marketing pool? Let's talk in the comments!