What happened on Social Media in December: monthly round-up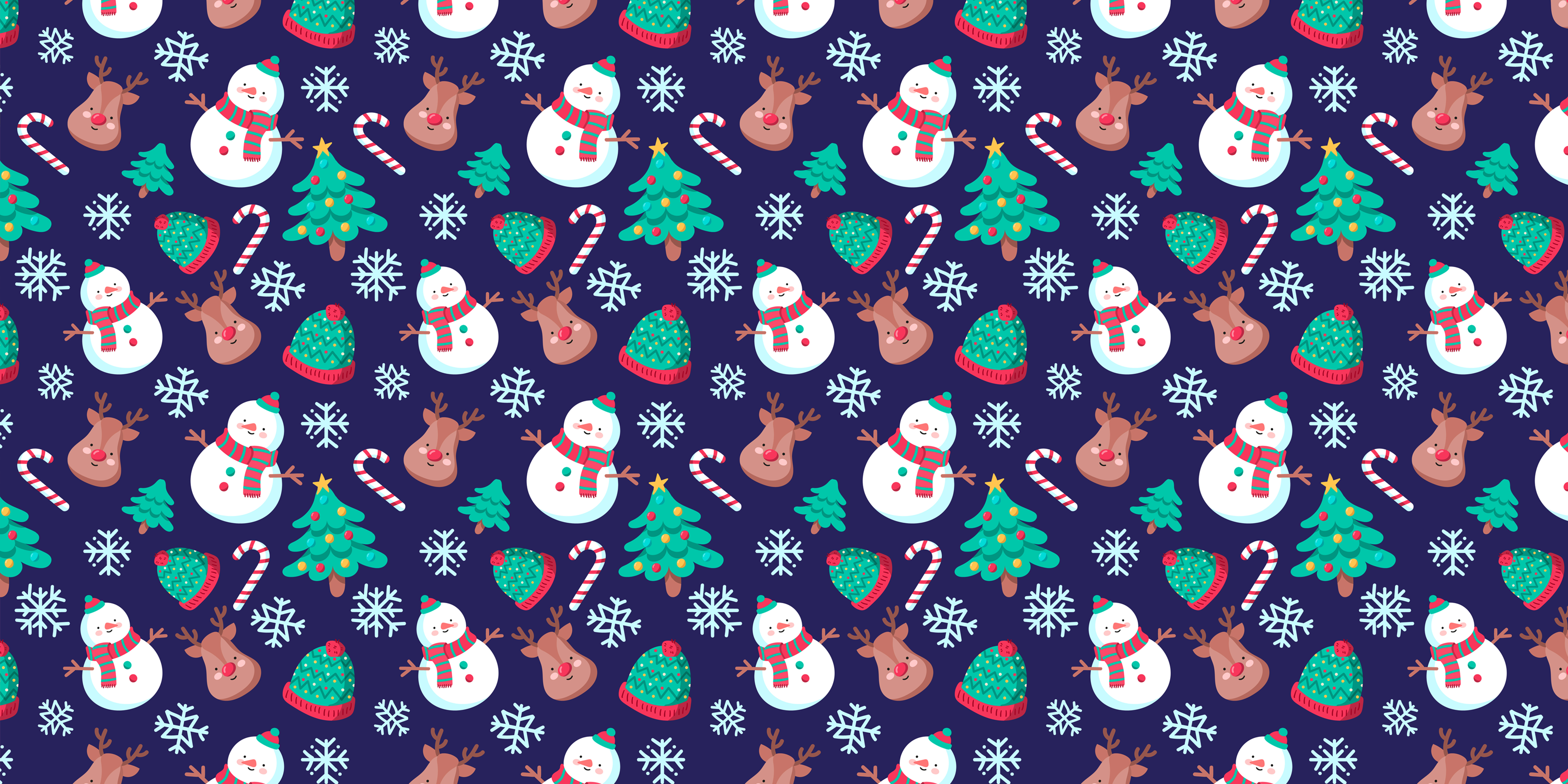 December is the month when staying on top of the news is especially challenging. How can I be in the know of what's going on with Instagram feed when I still need to finish scheduling all the content before the holidays start? Luckily, this social media roundup updates on all the important news without taking too much time, so you can carry on trying to shake off holiday spirit and get into the mindset of a productive person you are. So what's happened on social media while you were decorating a tree?
Facebook
Another Facebook scandal
This wouldn't be a true social media roundup if there wasn't some news involving the words "Facebook" and "scandal" in the headline. This month, Facebook managed to have two.
The biggest one broke out on December 18 when The New York Times published an investigative piece about Facebook's data-sharing practices. The obtained Facebook documents, generated in 2017 by the company's internal system for tracking partnerships, revealed the following:
Some companies, most notably Netflix and Spotify, had access to users' private messages. Citing internal Facebook documents, The NYT said Spotify could see the messages of more than 70 million Facebook users a month. They also reported that Spotify, Netflix, and the Royal Bank of Canada could read, write, and even delete people's messages. Facebook confirmed this but also claimed that they found no evidence of "data abuse" from these companies (whatever that means). In their blog post, they stated: Both Netflix and Spotify have since come out to say that they were unaware of having such kind of broad access.

The social network allowed Microsoft's Bing search engine to see the names of virtually all Facebook users' friends without consent (doesn't feel like it helped Bing though, why is it still a thing?).

Facebook also allowed Amazon to obtain users' names and contact information through their friends, and it let Yahoo view streams of friends' posts as recently as this summer, despite public statements that it had stopped that type of sharing years earlier.
And as with every scandal I mentioned, apart from the usual "I know I should delete Facebook, but all my friends/professional contacts/ex-girlfriends-whose-photos-i-need-to-check-for-the-presence-of-engagement-ring are on there" sentiment and their stocks falling a little bit, Facebook is fine. But we will see how it affects their strategy this year.
Data access bug exposes users' photos
This one wasn't as serious as The New York Times exposé but still needs to be acknowledged. On December 14, Facebook reported a photo API bug which permitted third-party tools to access the photos which you haven't even actually shared. As Facebook explains:
"For example, if someone uploads a photo to Facebook but doesn't finish posting it - maybe because they've lost reception or walked into a meeting - we store a copy of that photo for three days so the person has it when they come back to the app to complete their post."
The bug has been fixed, but as a result, up to 6.8 million users could have their photos uploaded to Facebook from September 13 to September 25, 2018, at the disposal of third-party tools. Affected users were to receive the message notifying them about the data breach.
CTA stickers for Page Stories
Seeing that the Facebook Stories feature is on the rise (although it is nowhere near as popular as the similar feature from Instagram), Facebook aims to add more room for promotion and marketing.
One such addition is call-to-action stickers. Now the users are able to buy, book, call, or ask for directions right from the stories by simply clicking the attached sticker. Basically, the stickers repeat the button available in the header of a Business Page.
It's highly anticipated that Instagram might add a similar feature. For now, apart from ads, there is no opportunity for businesses to get leads from Instagram unless they have more than 10 000 followers.
Twitter
Button to switch between timelines
I talked about Twitter's algorithm not being the most popular feature (an outrageous understatement) on our blog before. In September, everyone celebrated the promised return of the chronological timeline, and now it's finally here! Twitter introduced the Sparkle button to enable switching between a chronological timeline and an algorithmic one.
Actually, the possibility to switch back to the chronological timeline was already there: you could choose it in your Twitter settings. However, now that Twitter doesn't need this setting anymore, it will probably be retired.
Twitter named the algorithmic timeline 'Home' (which assumes that it is the essential one) and the chronological timeline 'Latest tweets'. The timeline will automatically switch to 'Home' if you haven't been on Twitter for a while, which means that you'll have to tap Sparkle every time.
Personally, I enjoy the algorithmic timeline, and I see how it coincides with Twitter's purpose as I perceive it — to connect with people and ideas outside of your friend circle. I'm not the only one to enjoy it: as Twitter has noted in its regular performance reports, the algorithm-defined feed, despite user protests, has actually helped the platform consistently boost engagement since implementation.
Security flaw discovered
Of course, Twitter is in no way near the number of security incidents Facebook had last year, but they still were involved in a couple. The same day The NYT published their article, Twitter reported that it had detected an error in its system which may have exposed selected user information to those seeking to find it, via the platform's support forums.
As Twitter explains:
"We have become aware of an issue related to one of our support forms, which is used by account holders to contact Twitter about issues with their account. This could be used to discover the country code of people's phone numbers if they had one associated with their Twitter account, as well as whether or not their account had been locked by Twitter. Importantly, this issue did not expose full phone numbers or any other personal data. We have directly informed the people we identified as being affected. We are providing this broader notice as it is possible that other account holders we cannot identify were potentially impacted."
The flaw was discovered on November 15 and was fixed by November 16. Since it only relates to those who used the support form, the number of affected users shouldn't be large and there's no reason for grave concerns. However, as TechCrunch points out, this leak could harm political dissidents and whistleblowers.
Enjoying the post? There's more.
Sign up to receive one email a week with exclusive, actionable tips on social media and digital marketing.
Instagram
Horizontal feed
If we evaluate social media news by the amount of buzz they create, Instagram takes the silver in December. On December 27, some users opened their app to find something completely different.
Basically, this new feed functions like Stories, showing you one post at a time. You have to tap to go on to the next post, and a scroll bar at the top will show you how far you've progressed.
This change limits you to only seeing one post at a time and gives quicker access to comments.
What's weird about this (apart from the new feed itself) is that the feature was available only for a few minutes, before the traditional scroll-down feed reappeared. And the response from Instagram when asked about this was quite confusing.
Adam Mosseri, the current head of Instagram, responded on Twitter that it was just "a very small test that went broader than we anticipated".
However, the official statement published later contradicted his words.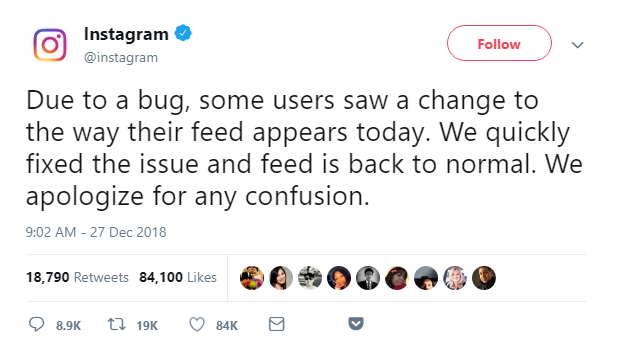 The possible reason for this inconsistency was the reaction on social media. As I said, the feature caused a lot of buzz, and I don't need Awario to tell that the sentiment around it was far from positive.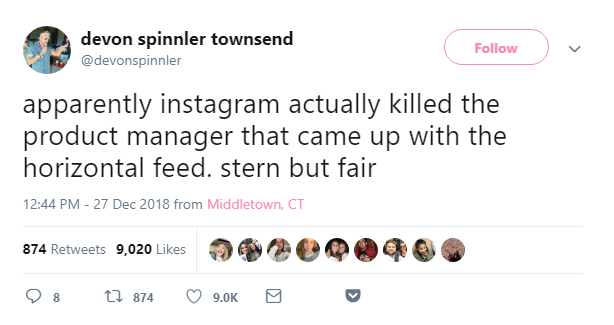 Such a strong reaction might discourage Instagram from introducing this feature, which would likely battle mindless scrolling and force people to pay more attention to ads.
Creator accounts
Instagram was reported to be testing out 'Creator accounts' which will make managing Instagram so much easier for influencers.
Many influencers on Instagram struggle with their profiles: they have as many (maybe even more) followers as businesses and brands, but they don't have the features available to Business pages. Creator accounts will solve this problem
Creator-specific tools that will be part of the new accounts include:
growth insights such as data around follows and unfollows;

direct messaging tools that allow users to filter notes from, for example, brand partners and friends;

flexible labels that allow users to designate how they want to be contacted.
The new features are being tested among a small beta group before they roll out to the wider community next year.
The direct messaging tools will allow creators to filter their messages by status: read, unread, and flagged. They will also be able to sort their pending requests by relevance or time to make sure they don't miss important requests.
Since it's the time of the year when everyone makes lists, instead of a traditional "What does it all mean" conclusion to this article, I'd like to present my personal Social Media Awards 2018.
Social Media Awards 2018
Best new feature
Polls and question stickers on Instagram. They were an immediate success, I saw them all over Instagram stories. It's a great opportunity for engagement for brands and regular users alike.
Best way of having your cake and eating it too
This one goes to Twitter for bringing back the chronological timeline and still managing to force people to engage with their algorithm-defined feed.
Greatest betrayal
API changes in the holy trinity of Facebook, Instagram, and Twitter hit the social media management tools approximately at the same time. Managing Facebook Groups will surely be missed. Automatically publishing your tweets to Facebook — not so much.
Honorable mention: best robot impersonation.
Mark Zuckerberg testifying at Capitol Hill. The Internet can't be wrong.
I'm excited to see what social media world bring us this year and I'll be sure to cover all the important news in these roundups in 2019. Happy new year!