What happened on Social Media in February: monthly round-up

February was a busy month for social media companies. Safer Internet Day and the looming American elections prompted many social media companies to roll out new features that deal with transparency and misinformation. Besides, social media news this month included a lot of tiny-but-useful updates to make the life of a social media manager better, such as Creator Studio App, video trimming for Instagram Stories, and so on.
If you missed the recent social media news or want to see just how hard Facebook is trying to prevent misinformation on their platform, check out this blog post!
Facebook
The running theme for Facebook last month was battling misinformation and giving more transparency around political posts, but there were also some new features launched.
Updates
Creator Studio App
Creator Studio is Facebook's central hub for all your Facebook video marketing efforts. Now you can access it on the go!
Last month Facebook introduced a Creator Studio app, that enables Facebook managers to:
Manage multiple Pages at once

View and edit posts

Quickly respond to their fans

Get important notifications

See actionable insights on their posts
The app is available both for iOS and Android.
One-Time notification API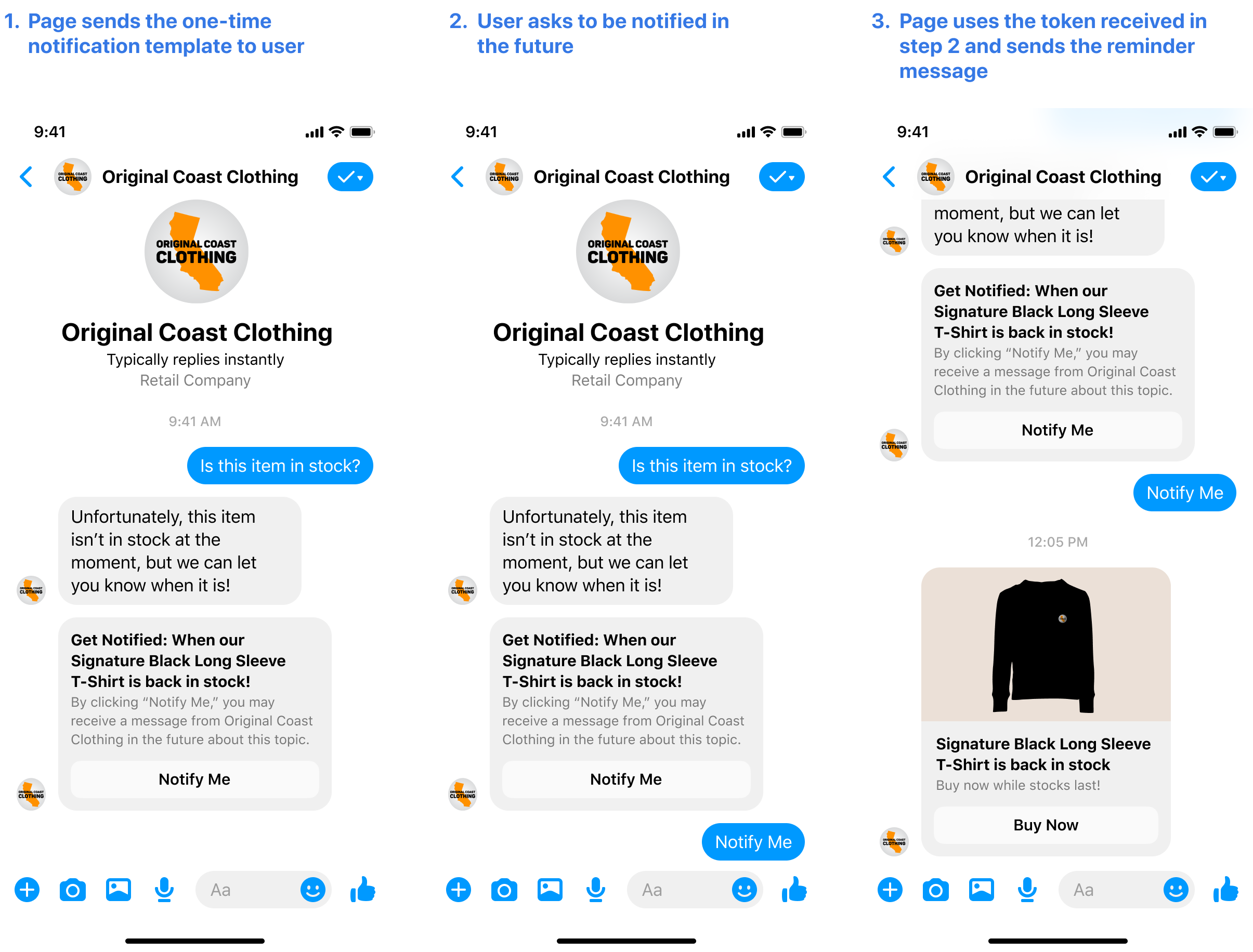 In February, Facebook for developers announced a new API that enables businesses to send one-time notices to users who agreed to receive them.
The way it works is simple: a user identifies that they want to be notified on a specific occasion (for example, when the item they meant to buy is back in stock). The users ask to receive a notification, and the business gets a token in exchange to send a notification with the information the user requested at a later time.
The number of one-time notification requests that a business can send to a user is limited in order to prevent spam.
Partnership with Reuters to identify misinformation
And with this piece of news, we start a stream of updates dedicated to Facebook battling misinformation (should we dedicate this its own section on the blog?)
Facebook is partnering with the world's leading news agency Reuters to fact-check posts on Facebook and Instagram. As explained in the partnership announcement
The fact-checking initiative is an extension of the media verification efforts Reuters has built through its long history of providing accurate and trustworthy news content. Reuters will now assess the authenticity of user-generated photos, videos, headlines and other content on social media… verifying for Facebook U.S. audience in both English and Spanish and publishing findings on a specially created

blog

.
Of course, the main focus, for the time being, will be the 2020 elections, but if we remember the fact that Facebook is planning to launch Facebook News really soon, partnering up with a news agency could be an advantage.
Giving access to Facebook data for research on misinformation
Facebook has been sharing its data with researchers who are looking into how social media affects democracy since 2018, and last month the company expanded this program to provide more data to 60 academic researchers across 17 labs and 30 universities around the world.
The information Facebook provides researchers with concerns the links shared by at least a 100 unique Facebook users. It includes insights on share counts; how people interact with these links (views, likes, clicks and so on); third-party checkers' ratings on spam, hate speech, and false news associated with those links. In addition, Facebook aggregated these shares by age, gender, country, and month.
The data shared with researchers is completely anonymous. As a researcher, you can apply for data access through Social Science One's request for proposal process.
More regulations for political advertising
The closer we get to the USA elections, the more creative political social media campaigning gets. One candidate that stood out last month was Mike Bloomberg.
Firstly, his campaign has been hiring more than 500 deputy field organizers whose job includes mobilizing and engaging friends to support Bloomberg including sharing social media posts with this goal. In the comment to CNBC, a source from Facebook said that the company is concerned about transparency when it comes to political posts on personal pages of campaign staffers. You can't call it advertising per se, but these people are getting paid to share messages supporting Bloomberg and Facebook is looking into ways to mark them as such.
We think it's important that political campaigns have the guidance and tools to be transparent," a Facebook spokesperson told CNBC. "That's why we recommend campaign employees make the relationship clear on their accounts. We welcome clearer guidance from regulators in this area.
The second initiative was also prompted by Bloomberg's campaign. The candidate gathered a lot of buzz for partnering up with influential meme accounts on Instagram and producing extremely self-aware content.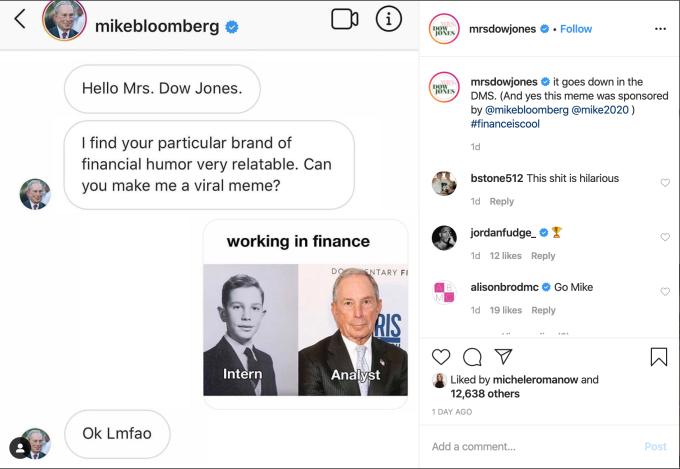 As you see, the description of the post includes a mention of paid partnership, but Facebook decided to encourage even more transparency by changing its advertising rules. Now all political campaigns' sponsored posts require influencers to use its Branded Content Ads tool that adds a disclosure label of "Paid Partnership with".
Branded content is not included in Facebook's Ad Library since Facebook is not getting directly paid for it, so there is less ways to check how much money a candidate is spending on such campaigns. With new requirements, there will be a bit more transparency around paid campaigning for politicians, even though it's still unclear how to keep track of branded political content on social.
In the works
New Stories Discovery Page
As noticed by Twitter user Guillaume Baratte, Facebook is testing a new format to discover Stories. You can click See All Stories to access the section, where some of the Stories panels are larger than the others, Instagram-explore style.
Facebook 'See All Stories' brings you to a Gallery with all Stories grouped by Profiles and Pages.
Is this new? pic.twitter.com/OWbfr906rv

— Guillaume BARATTE (@gbaratte) February 19, 2020
There's no clear ETA for a separate Stories Discovery tab, but we can expect it pretty soon.
Colour highlight for tags and hashtags
Facebook is working on displaying hashtags and mentions in the "new Facebook blue" color pic.twitter.com/G1r0DjLLNm

— Jane Manchun Wong (@wongmjane) February 18, 2020
With this small UI tweak, Facebook is testing bold blue colour highlight for tags and hashtags in Facebook posts.
Currently, tags and hashtags are written in bold.
New Feed sorting options
Facebook is working on tabbed newsfeed for easier access to "Most Recent" and "Already Seen" feeds pic.twitter.com/8Z9KLG9nc8

— Jane Manchun Wong (@wongmjane) February 18, 2020
Chronological feed: almost no social media platform has one right now (at least by default it doesn't). At the same time, if you were to use Awario to search for the mentions of "chronological feed", I bet the Topic cloud would show you different variations of demands to bring it back. Well, Facebook just might!
As uncovered by Jane Manchun Wong, social media reverse engineer, Facebook might be experimenting with a toggle that would allow you to switch between algorithmic and chronological feed, similarly to Twitter, with an added fun twist — Already Seen feed which lets you go back to the posts you've seen (in case you need to find something that you saw before).
Actually, Facebook already allows you to switch to chronological feed via the More listing in the app (left image below) or clicking on the three dots beside News Feed in the right-hand column on desktop and choosing Most recent. You can also access your Already Seen feed via this URL https://www.facebook.com/seen. However, if you do switch that way, every time you log in, you'll see the default algorithm feed.
The toggle would make it easier to access different feeds, and the company's representative confirmed that's it's being tested internally.
Top Admins and Moderators feature to keep an eye on group moderators' activity
Soon you'll be able to see how much work is being done by each person running your Groups. Facebook already shows you all the Group management activity in the Admin Activity log, but with Top Admins and Moderators stream you'll be able to see the number of actions taken by each team member. You'll be able to check how much your team members are doing in relation to 5 activities:
Member Requests Approved

Member Requests Declined

Posts Approved

Posts Declined

Posts Removed
You'll also be able to download this data so you can keep a separate record of ongoing activity.
Instagram
Instagram launched a LOT of updates last month, but none of them were really platform-changing. The feature which piques my interest is IGTV videos' monetization, which is currently being internally developed.
Updates
A new way to manage who you follow
Want to see which Instagram accounts show up in your feed the most and who you interact with the least? Now you can! Just tap "Following" and manage your list from there. pic.twitter.com/eKFOBCdutr

— Instagram (@instagram) February 6, 2020
Last month, Instagram added two new sections to the Following tab and a new way to sort by date. The new sections are Least Interacted With and Most Shown in Feed.
The Least Interacted With section shows you the accounts you've interacted with the least in the last 90 days.
Most Shown in Feed contains Instagram profiles whose content shows up most often in your feed.
For businesses, these tabs as well the ability to sort your following chronologically could help weed out inactive users or indicate those that might need more social media attention.
New option ties Click-to-Messenger ads to Instagram Direct
Now you can send people who click your ads to your Instagram DMs! When you choose "Messages" as an objective in Business manager, Facebook now shows you three options for Message Destination: Messenger and WhatsApp, which were already there, and Instagram Direct. When a user clicks on your ad, they'll be directly transported to your Direct conversations.
A new appeals process for disabled accounts
On the Safer Internet Day (February 11 in case you didn't know) Instagram announced some new features to make the appeals process on the platform simpler. The new process will allow users to appeal Instagram's decision right after they log in.
When you enter your username and password, you'll see a prompt informing you that your account will be deleted, with 30 days to appeal the decision. You then have two options - Download Data to get access to all your Instagram content or Request Review. Once you tap on Request Review, you can fill in the appeal form.
In addition to this, you can now track any cases you reported from the app. Go to your settings, Help - Support Requests to see all the reports you submitted and their status.
Reply to Stories with GIFs
TIL... You can reply to Instagram Stories with a GIF

Start typing your reply to a story, the icon changes to GIF

h/t @thebkh pic.twitter.com/2j9mN2lg66

— Matt Navarra (@MattNavarra) February 4, 2020
Last month Instagram introduced an option to reply to Stories with GIFs sourced from GIPHY. To find a relevant GIF, start typing a keyword and then click GID icon in the text field.
In the works
Remove All button for Close Friends list
Instagram is working on a "Remove All" button for Close Friends

bold... pic.twitter.com/wWnre3e9uD

— Jane Manchun Wong (@wongmjane) February 15, 2020
In February Jane Manchun Wong discovered that Instagram is testing a button to remove everyone from your Close Friends list. To remind you, Close Friends list currently allows you to share Stories with selected followers and, as we speculated, might also be tied in with Direct Messages in the future. So if in the future you need a totally fresh start on who you want to share your personal life with on Instagram, stay tuned for this update.
"Later posts" feed
Instagram is working on "Latest Posts" feed for catching up feed posts

This sounds like the chronological feed people are asking for. Similar, but not the same 👀 pic.twitter.com/AUMwlZGtUr

— Jane Manchun Wong (@wongmjane) February 14, 2020
The very same social media reverse engineer discovered a feature that might indicate Instagram's interest in the chronological feed. Later Posts feed would allow you to catch up on, logically, the latest posts in your feed. Although Facebook tech comms Alexandru Voica claimed that the feed was only developed as a part of an in-team hackathon and is not actually in development, the feature later got renamed to Here's What You Missed feed. It's unclear if we should expect any type of chronological feed from Instagram soon.
Video trimming for Stories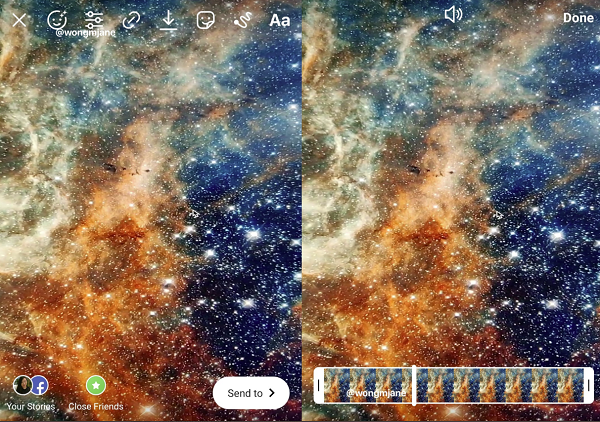 It's hard to believe Instagram doesn't have this one already, but, as discovered by Jane Manchun Wong, the company is working on a new option to edit videos in Stories by trimming them. In the creative options along the top of the first frame, a new editing icon has been added. Tap on that and you'll be taken through to the second frame trimming process.
The feature looks quite ready, so we can expect the roll out pretty soon.
Ads on IGTV videos
Instagram is developing an Instagram Partner Program that would let IGTV creators monetize their videos by running ads on them. On the screenshots shared by Jane Manchun Wong, you can see how creators can apply for Partner Program and if they are eligible (eligibility criteria are so far unknown), they can run ads on their videos. In the comment to TechCrunch and later on Twitter, Instagram representatives (including CEO Adam Mosseri) confirmed that they are currently prototyping the feature internally and haven't moved to the testing stage yet.
It's no secret that we've been exploring this. We focused first on making sure the product had legs — else there would be little to monetize in the first place. IGTV is still in its early days, but it's growing and so we're exploring more ways to make it sustainable for creators.

— Adam Mosseri (@mosseri) February 7, 2020
Monetization for IGTV videos could become a great incentive for Instagram creators to produce more quality content. The project is still at its early stages, so we don't know a lot about how big of a cut the creators will be getting, but Facebook Watch, for example, lets video producers take a 55% cut. It's also unclear when the tests will begin and when we can expect the roll-out.
Twitter
Twitter is really focusing on battling fake news, both with the features released last month and with the tests it's currently running.
Updates
Twitter acquires Chroma Labs
Last month, Twitter made an acquisition that could indicate the company's intention to introduce Stories to the platform. Or maybe Twitter will just get a bit prettier.
Thrilled to welcome the amazing @Chroma_Labs team including @picturejohn, @alexli, @joshuacharris to @Twitter.

They'll join our product, design, and eng teams working to give people more creative ways to express themselves on Twitter 🎨💬

— Kayvon Beykpour (@kayvz) February 18, 2020
Twitter acquired Chroma Labs, the company behind the Chroma Stories app which enables you to edit your Stories with layout templates and collages frames on multiple platforms. The team behind the app will be split between Twitter's engineering, design, and product teams. According to TechCrunch:
The team will be working on the Conversations division at Twitter, and the deal is meant to boost its talent, leadership, and expertise for serving public discussions. A Twitter spokesperson also confirms that Chroma will shut down its business and future versions of the app will not be available.]
We will see how Chroma's creative vision will be incorporated into the app, whether it will be Stories or simply more visually appealing tweets.
Connect new tweets with the already tweeted faster
Now you can add a Tweet to one you already Tweeted, faster! pic.twitter.com/j3ktAN6t5o

— Twitter (@Twitter) February 19, 2020
Twitter simplified the way to add new tweets to those that you already tweeted. You can now do it by pulling down your new tweet and choosing the right one from the old ones. It's a small tweak, but it will add to thread-centered tweets and allow users to resurface their old content by connecting to new tweets.
Labels for manipulated videos and pictures
We know that some Tweets include manipulated photos or videos that can cause people harm. Today we're introducing a new rule and a label that will address this and give people more context around these Tweets pic.twitter.com/P1ThCsirZ4

— Twitter Safety (@TwitterSafety) February 4, 2020
Last month Twitter introduced the Manipulated media label which will show you if a video or an image is falsified. By tapping on the label under the tweet, you'll be able to see information from the reputable outside sources explaining how the video or image was altered. In addition, Twitter updated platform regulations to ban deceptively sharing synthetic or manipulated media that are likely to cause harm.
In the works
New tags for misinformation
The tags for manipulated media is just the first step Twitter is taking into indicating false content. Right now the company is working on labeling misleading information on the platform and adding fact-checking messages right under the misleading tweet. The feature in tests looks like this: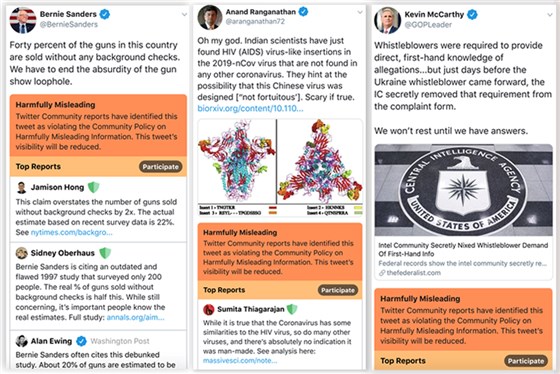 As reported by NBC News, in this version, misinformation posted by public figures would be corrected directly beneath a tweet by fact-checkers and journalists who are verified on the platform and possibly by other users who would participate in a new "community reports" feature, which the demo claims is "like Wikipedia."
Twitter is also planning to add labels for identified bot accounts akin to verification mark in the future to battle the spreading of misleading information by bots.
LinkedIn
Not much news from LinkedIn this month, but with the new CEO perhaps we are up for something exciting in the future!
In the works
At the very end of February, LinkedIn officially announced that they are testing Snapchat-like Stories. The announcement mentions several instances where ephemeral full-screen posts might be useful:
We've learned so much already about the unique possibilities of Stories in a professional context. For example, the sequencing of the Stories format is great for sharing key moments from work events, the full-screen narrative style makes it easy to share tips and tricks that help us work smarter, and the way Stories opens up new messaging threads makes it easier for someone to say, "and by the way… I noticed you know Linda, could you introduce me?"
Right now Stories are being tested internally, and the company is planning to launch user tests in the upcoming months.
Updates
'Featured' section to highlight your key achievements
LinkedIn added a way to make your successes known to anyone who visits your profile. You can add any of your LinkedIn posts as well as links to external websites to the Featured section which will be situated right below your main profile header and above your activity listing.
As stated in LinkedIn's announcement:
The Featured section allows you to showcase samples of your work to people who view your LinkedIn profile. This is a great way to provide evidence of your skills and experience.,
To add something to your Featured listing, you'll be able to select a new 'Featured' star below updates in your activity feed, which will then add that content to your Featured section.
Staff changes
LinkedIn's CEO Jeff Weiner is stepping down from his responsibilities to take on new ones as LinkedIn's Executive Chairman. It's likely that he is going to focus on developing the platform in order to provide equal opportunities for all LinkedIn members, as he stated in this interview with the Wired.
LinkedIn's former Senior Vice President of Product Ryan Roslansky took on the position. He was heavily involved in all the major platform developments for over a decade, so it's improbable that this personnel reshuffle will result in major strategy changes.
TikTok
Looks like TikTok gets more and more inspiration from Instagram, which is ironic considering the fact that Instagram is trying to bring TikTok-like features to its platform.
In the works
Direct website links on profiles
🚨 New TikTok feature alert 🚨

The long awaited website in bio feature has just rolled out! pic.twitter.com/xoW2kJCypW

— Sam (@Sphinx) February 19, 2020
TikTok is testing a way to drive traffic from your profile to a website. The option enables TikTok users to put a link in bio under the profile's description, similar to Instagram. The link is highlighted in pink.
This would allow TikTok creators to direct their audience elsewhere, whether it's a sponsored link, an official website, or another social media profile.
Instagram-like profile design
Link in bio might not be the only thing TikTok is borrowing from Instagram. According to the New York Times' journalist, Taylor Lorenz, TikTok is considering to change the look of users' profiles to something reminiscent of Instagram's profile design. Here are the new and old versions compared side-by-side.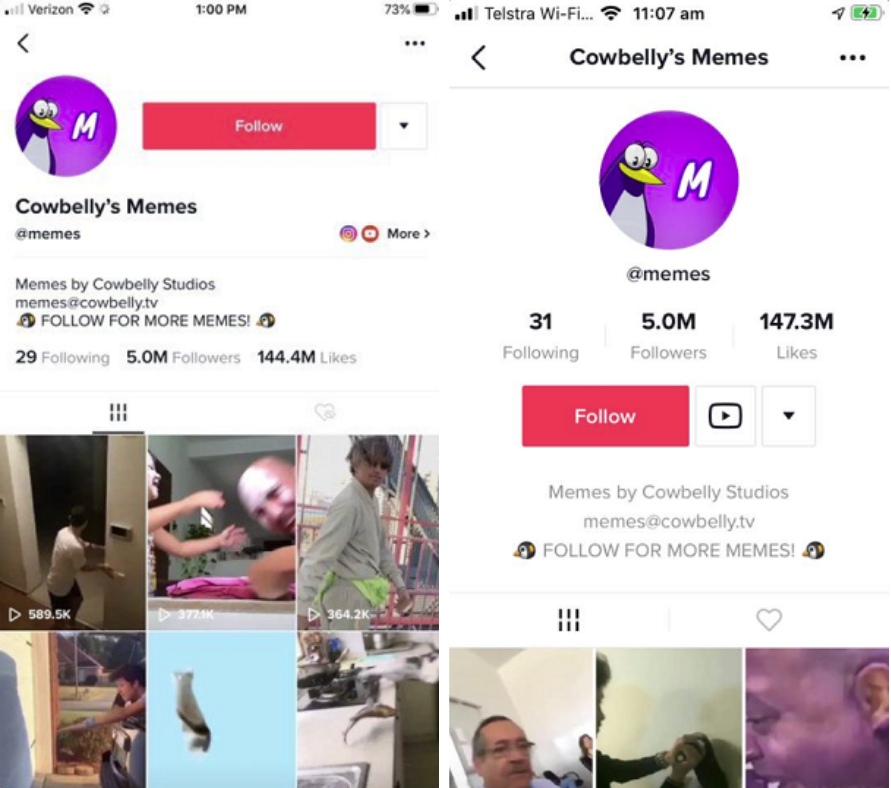 Snapchat
Snapchat might soon change its look in order to attract more new users!
Updates
Swipe up to call Ads in the USA
In December, Snapchat launched "Swipe Up to Call" ads in the Middle East, and now the company rolled them out in the USA. To remind you, you can access this setting in Snapchat's Ads Manager under advertising goals.
To be honest, the option to call businesses might seem a bit outdated, but Snapchat makes a good case for using it in specific cases such as food delivery orders, restaurant bookings, or connecting to real estate agents.
In the works
Redesign of the app
Snapchat is testing out a major new redesign that would expand the app from three to five sections and add a black navigation bar along the bottom of the screen.
As reported by The Interface, the five sections are:
Snap Map, which you can now access by swiping down on the camera screen.
Chat section for all your messages.
The Main camera.
Community which is essentially is the Snap Discover tab that features all the content from your connections, accounts you follow, and recommendations.
The new Discover section that would show content produced by or in partnership with Snapchat.
These changes would make the app more user-friendly and make the onboarding simpler.
---
And that's all for social media news from February! Looking at what in the works right now, we can expect more regulations, more transparency- and safety-related features, and small but useful additions. What new feature will be the most useful for you? Let's talk in the comments!