What happened on Social Media in July: monthly round-up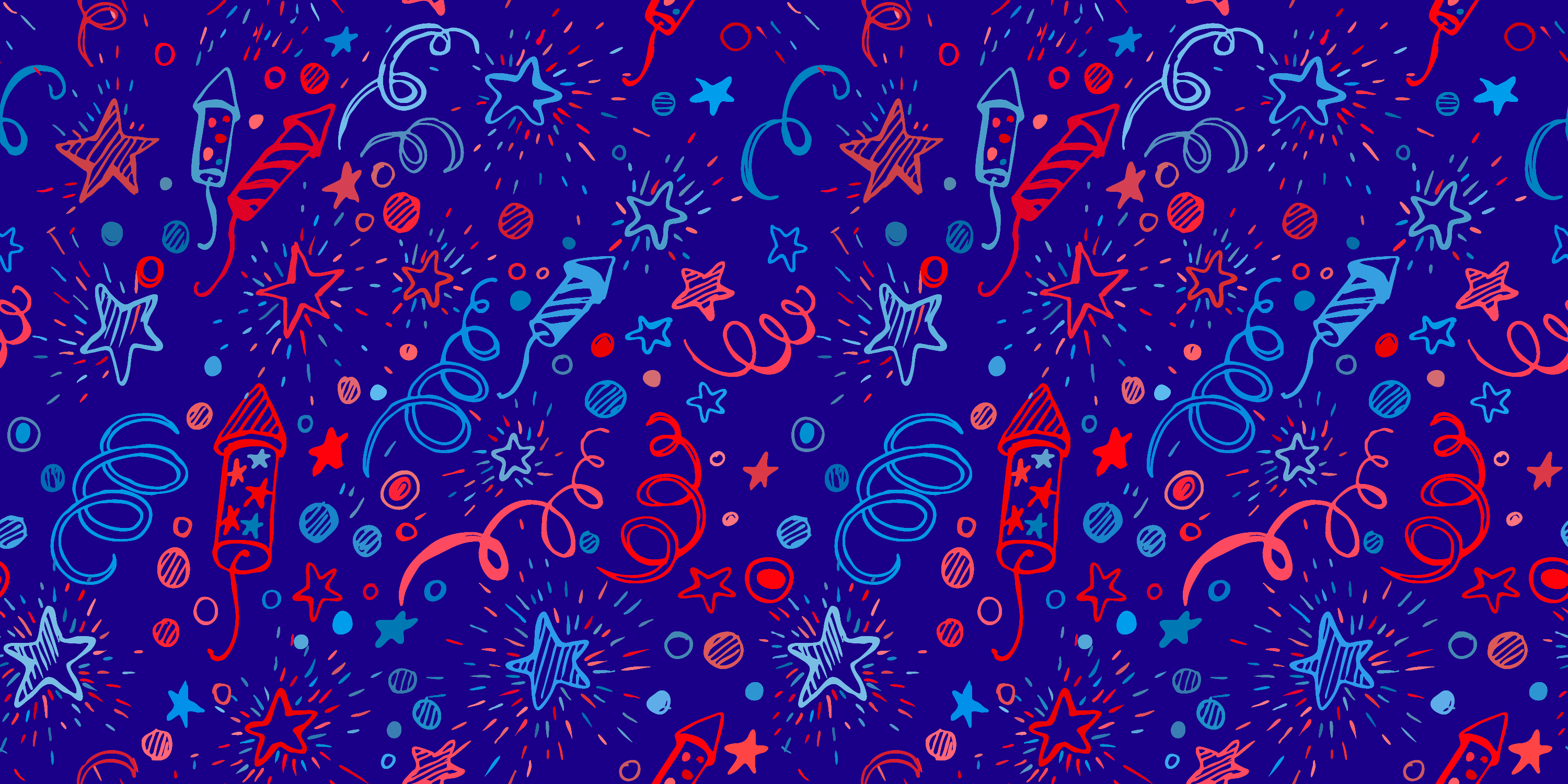 While most of us marketers are either planning or already having their summer vacations, social media companies know no rest. Or could all the outages from last month be blamed on the summer heat?
Just as always, we gather the most important social media news in one blog post to keep you up to date. In this post, we will talk about several major UI redesigns, new features, and more ways to spend your money on advertising. Let's begin!
Twitter
The desktop redesign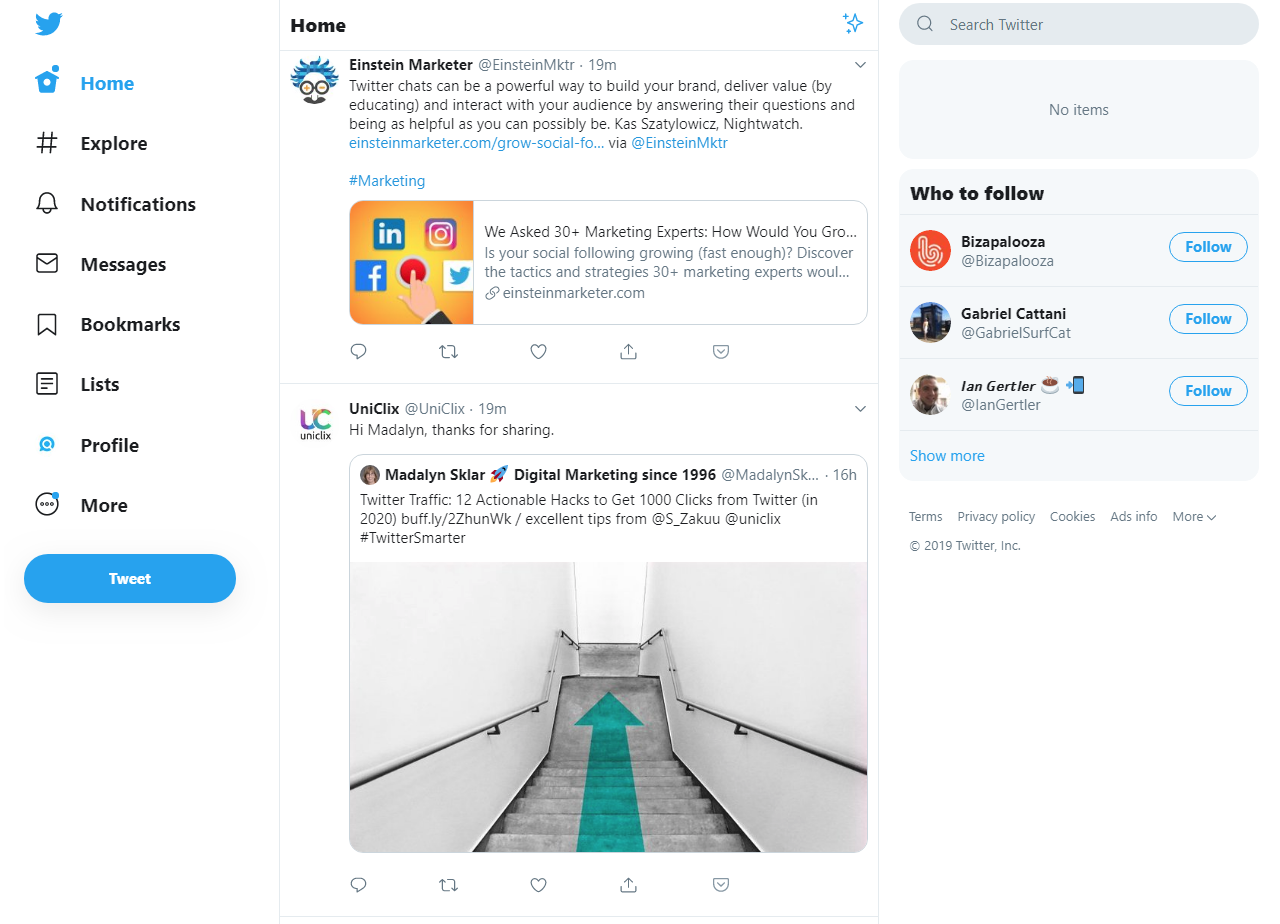 It has been teased for some time, and many of you probably saw the new and improved Twitter look long before its worldwide launch, but last month it became official! Twitter has finally rolled out the new UI for desktop. The key features and tabs are not moved to the sides of the screen as opposed to the previous design which placed them at the top of the page. The new look allows for easier profile switching and more ways to personalize Twitter.
The Direct Messages tab now takes more space and looks more like a classic messenger.
All in all, the update aims to make navigating around Twitter much easier. The new navigation menu includes the following tabs: Home, Explore, Notifications, Messages, Bookmarks, Lists, Profile and More, which expands to Twitter Moments, Settings, Analytics and so on.
The last two buttons, Bookmarks and Lists, used to be buried in Twitter's drop-down menu and are now getting some well-deserved spotlight.

The compose feature also got a facelift with options to include media, polls or emojis now all in the bottom left — with the emoji button taking the place of the location button, following Twitter's decision to limit the ability to share users' precise location to the in-camera feature only.
The Search got an update as well, which puts tabs for moving between "Top," "Latest," "People," "Photos" and "Videos" at the top of the screen, with Advanced Search Filters to the right.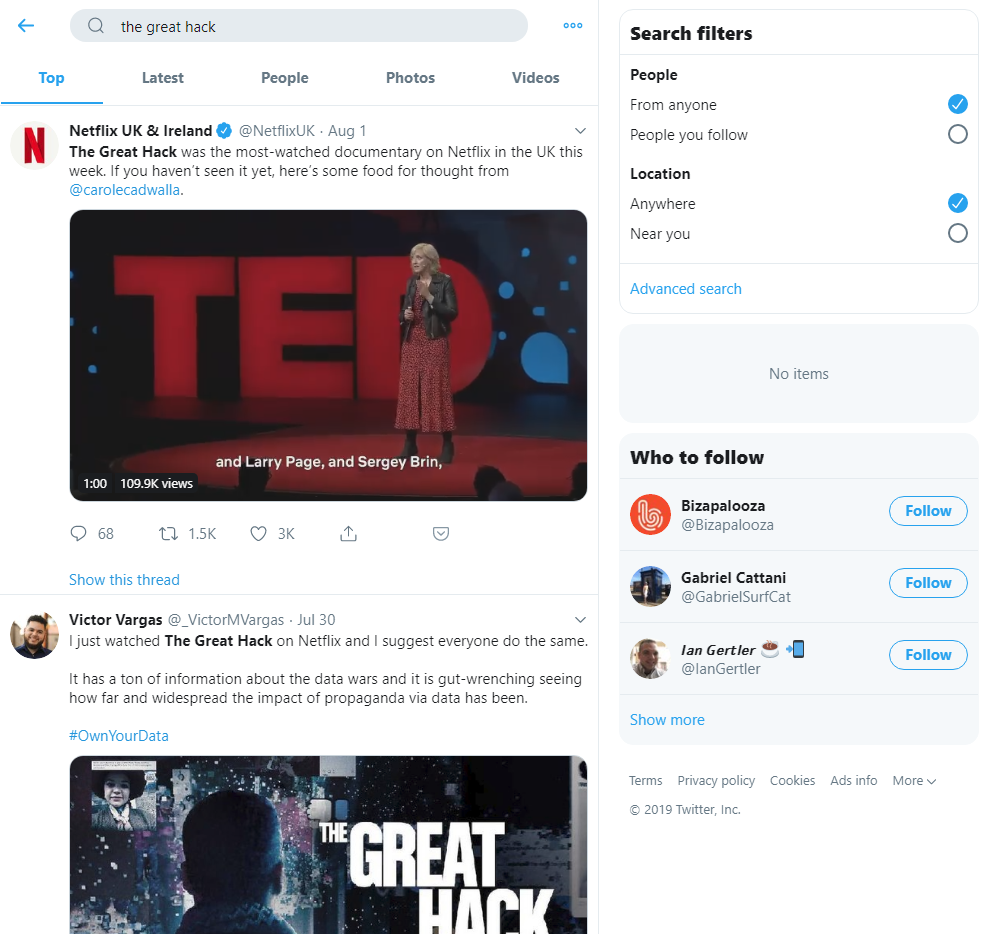 The redesign was probably motivated by an attempt to retain new users: Twitter hasn't shown the extensive growth that other social media platforms have and keeping new users on the website is a major priority for them.
Donald Trump is banned from blocking users
In the beginning of July, federal appeals court ruled that it's unlawful for Donald Trump to ban users that tweet at his personal account as it is a "public forum" where American citizens have a right to interact with him and his comments the same way they'd be able to attend any public forum like town hall.
The court's decision could potentially have significant consequences for the use of social media by politicians, however, the situation is quite ambiguous for now. How would you evaluate if a politician's personal Twitter account is a public forum or not? In January, the court ruled that county officials couldn't bar critics from their Facebook pages. But a different court has maintained that Kentucky's governor can block constituents on Facebook and Twitter.
Crucially, this case doesn't discuss whether Twitter itself is a public forum. It just rules on the actions that individual government-related accounts can take.
Our society is still trying to figure out how to balance the freedom of speech principles and the existence of extremely harmful rhetorics on social media. In June, Twitter came up with a UI tweak that hides tweets that breach their guidelines but are deemed to be "in public interest" instead of deleting them, which many immediately associated with POTUS considering the things Trump tweets. This solution was widely criticized as a half-measure.
Twitter ArtHouse
Last month the platform announced Twitter Arthouse, a new creative force aimed to help brands produce video content optimized for Twitter. The Arthouse team will help with designing strategy, producing content, finding creators to collaborate with and more. The initiative will focus on three areas: working with influencers, video production, and live video.
The Arthouse is supposed to attract more advertisers and brands to the platform while simultaneously giving more monetization options for Twitter creators.
Facebook
More ad transparency
Seems like Facebook is really doubling down on transparency: last month the platform introduced even more features which let you see why a particular ad is appearing in your feed. As said in the official announcement:
In the past, "Why am I seeing this ad?" highlighted one or two of the most relevant reasons, such as demographic information or that you may have visited a website. Now, you'll see more detailed targeting, including the interests or categories that matched you with a specific ad. It will also be clearer where that information came from (e.g. the website you may have visited or Page you may have liked), and we'll highlight controls you can use to easily adjust your experience.
You are also able to see businesses and third-party that upload your information such as email address and use it for targeting. If the information was uploaded by a third-party, you can see which advertisers have used it. You can access this information in your Ad Preferences by choosing the Advertisers and businesses category.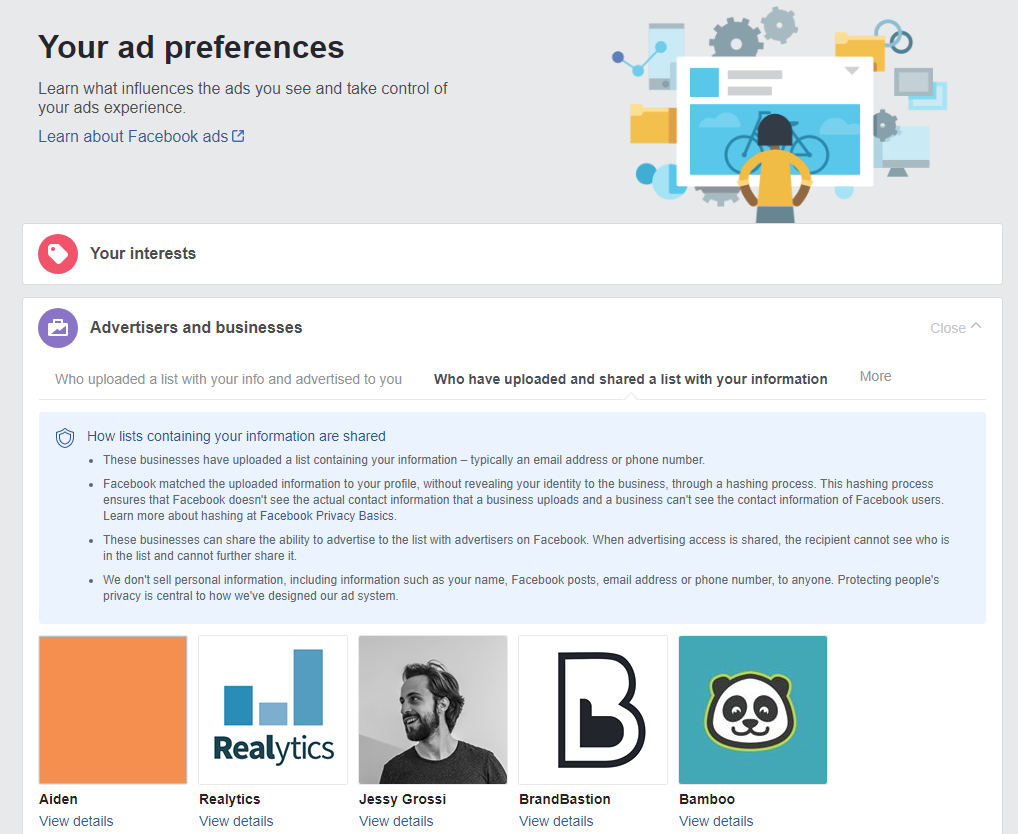 Coincidentally, last month FTC finally imposed a $5 billion fine on Facebook for not protecting users' security as a result of the investigation triggered by the Cambridge Analytica scandal. In addition to the fine Facebook agreed to stricter oversight of how it handles user data by authorities.
Facebook and Instagram image outage
On the third of July Facebook, Messenger, and Instagram had major problems with showing images and video on the platforms. Due to its visual nature, Instagram was affected the most. Facebook posted a tweet explaining the reason for the issue.
During one of our routine maintenance operations, we triggered an issue that is making it difficult for some people to upload or send photos and videos. We're working to get things back to normal as quickly as possible and we apologize for any inconvenience.

— Facebook Business (@FBBusiness) July 3, 2019
The issues were resolved later that day.
Enjoying the post? There's more.
Sign up to receive one email a week with exclusive, actionable tips on social media and digital marketing.
Business Manager gets a new look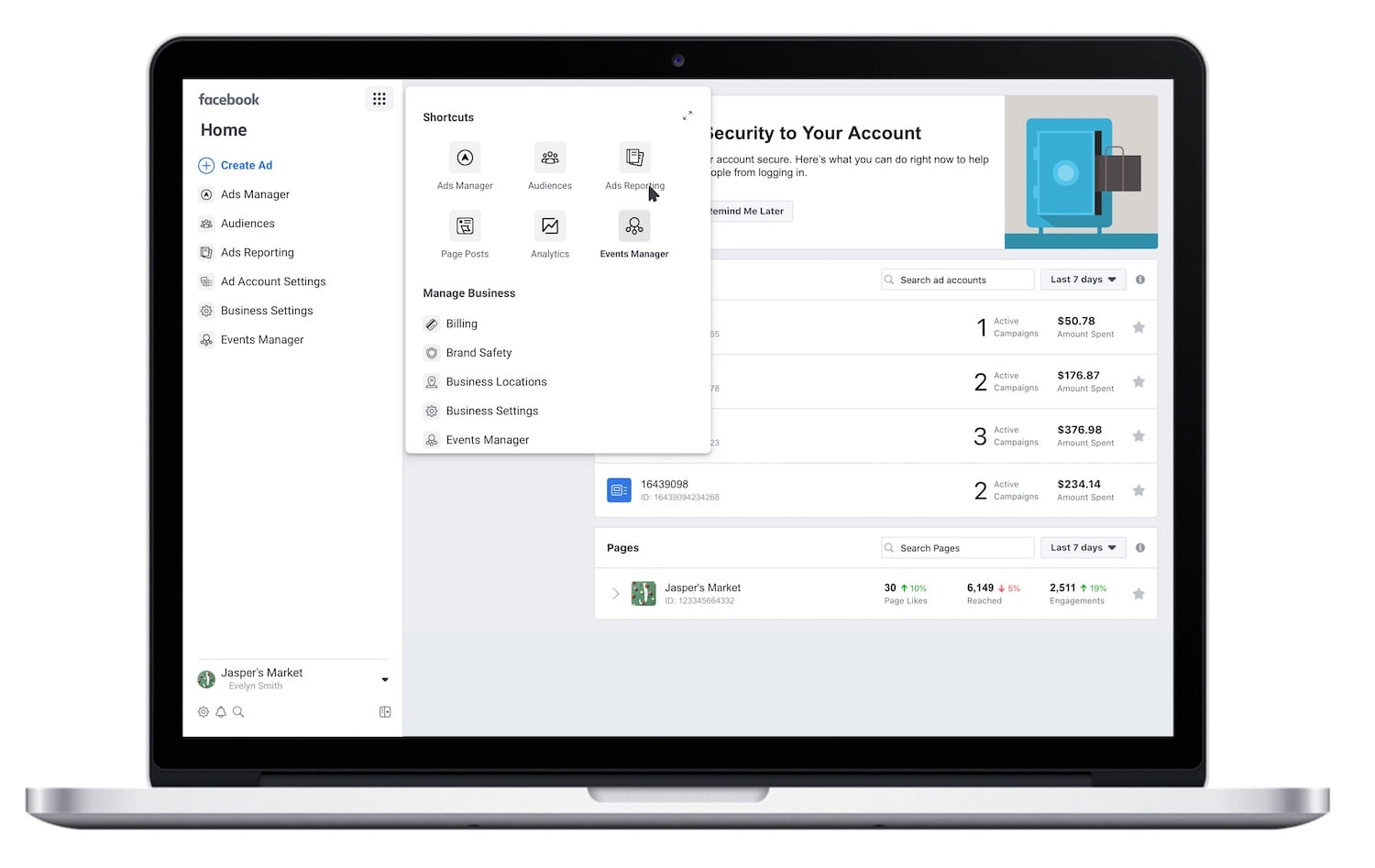 Desktop Twitter is not the only one getting a fresh new look for the summer! Last month Facebook announced the new design and several updates for Business Manager. The new interface is supposed to make it easier and faster to manage all your advertising activity across Facebook-owned platforms.
The new design also features a shortcut tool that delivers suggestions based on past activity and an ads creation tool which takes you directly into Ads Manager to build ads. There were also some minor changes to targeting options, most notably, the removal of the ability to target page fans. Now you can choose to target people who engaged with your page recently, but not those who like your page.

There's also a new way to group your Facebook page, ad accounts, pixel, and other assets so you can better manage employee access to them and assign permissions to multiple assets at once.
New requirements for posts displayed on mobile feed.
Last month Facebook also announced a few minor tweaks to how posts are displayed on mobile. The aspect ratio for pictures will be changed from 2:3 to 4:5, and the text before the See More button divider will contain three lines instead of 7. The changes will come into place on August 19th.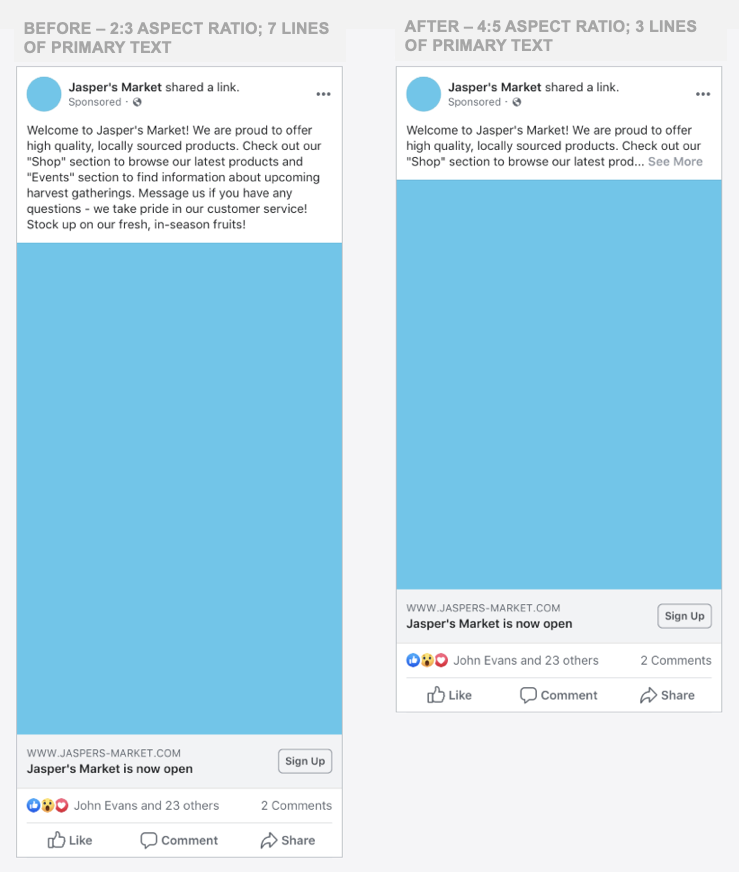 Instagram
Post reach declines
According to the latest report by Trust Insights, reaching your Instagram audience is becoming harder and harder.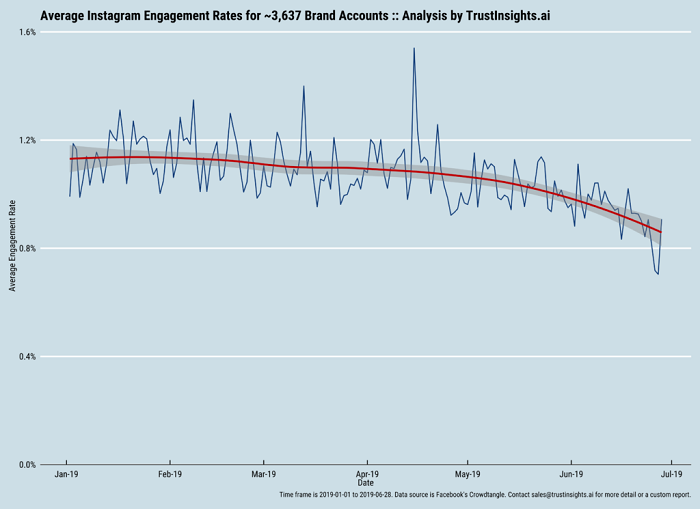 Trust Insights analyzed 1,430,995 public posts from 3,637 brand profiles to assess the overall average engagement rate.
This could be caused by a few things. Firstly, the sheer amount of businesses that have Instagram presence creates intense competitions: people only have so much time to spend on the app and it's logical that some posts will remain unseen. Secondly, Instagram is very likely to take Facebook's route of limiting the organic reach to encourage an influx of advertisers' money.
Surprisingly, the average engagement rate for influencers is also in decline.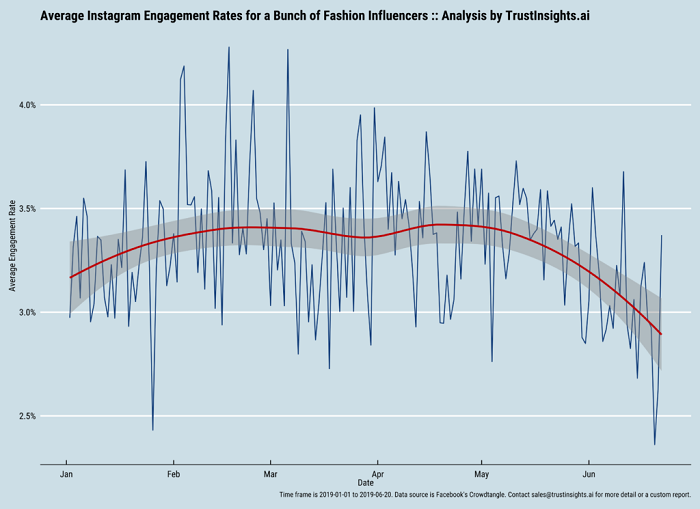 Perhaps, any Business account owner will have to put in more effort to get their posts to show up in users' feeds from now on.
Like count removed in more countries
Instagram has been testing removing the like count for the past few months in Canada, and last month they rolled out the change to six more countries: Ireland, Italy, Japan, Brazil, Australia, and New Zealand.
As before, the feature hides users' like counts on videos and photos in the feed, on the web and on profile pages. The author of the posts is still able to see their own like count.
Since Instagram chose to expand the tests, we can assume that it's the feature that they are seriously considering. Possibly, once the like count is removed, people will be prompted to leave more comments, especially positive comments, which might lead to more interactions on the platform and more time spent on Instagram.
Instagram deletes several big meme accounts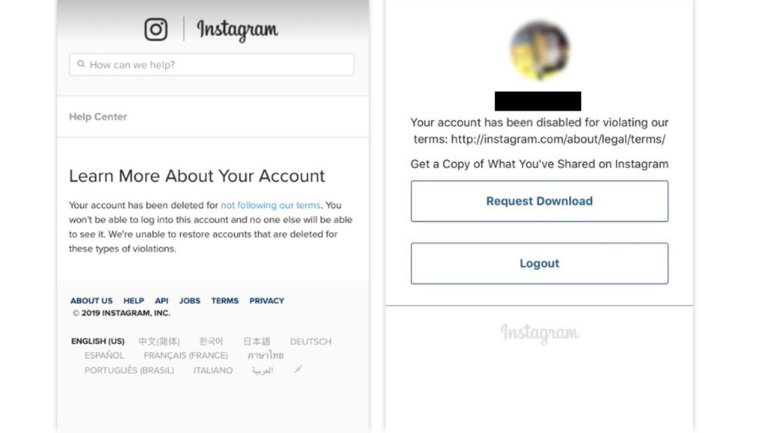 Following the recent changes in Instagram's terms of use, the platform deleted several accounts that primarily post memes with over 30 million followers combined. The recently updated rules state that the platform can permanently remove accounts that have a certain number of violations within a window of time without a warning. The owners were not given the option to appeal Instagram's decision.
As one of the affected Instagram users shared with FOX5, meme pages might have been deleted because they were reaching out to users who also violate Instagram policy by selling verification services, retrieving disabled user names, and reinstating banned accounts through a private program that is only supposed to be available for members of the media.
Other practices that violate Instagram rules include trying to buy, sell or transfer any aspect of an account (including the username), sharing sensitive personal information (names, bank account details, addresses, etc.) and transferring funds or sending money through Instagram or Facebook accounts.
The removal of a popular meme page may cost its owner thousands of dollars — for example, one of the interviewed owners said that he had already made more than $30,000 this year before his account was removed.
With Instagram cracking down on the accounts that violate its rules and applying shadowban more and more, it's even more important to avoid malicious and sketchy growing tactics such as buying followers and spamming.
Focus Mode
Instagram introduced some new tools for Stories camera united under the Focus Mode. New options include:
Normal
Tilt-shift
Circular
Vintage
Zoomed
Sharp
Stories proved to be an enormous success for the platform, and although it seems like Instagram has put the UI change on hold, they constantly improve user experience by introducing new tools and filters.
LinkedIn
New advertising objectives
LinkedIn introduced three new marketing objectives in the Campaign Manager: brand awareness, website conversion, and job applicants. Moreover, LinkedIn is optimizing its pricing according to these objectives.
The brand awareness objective helps marketers to boost their share of voice via advertising campaigns that charge by CPM (cost per thousand impressions).
Website conversion allows for campaigns optimized for specific actions, such as purchases, downloads or event registrations. In this case, advertisers will only be charged for clicks that go to their landing pages.
Job applicants will now be able to create ads using Campaign Manager with the new update integrated with LinkedIn Talent Solutions.
Pinterest
New video tools for creators and brands
Pinterest introduced four updates to better manage video content on the platform.
An updated video uploader simplifies the process of uploading a video directly to Pinterest.
A new video tab enables business profiles to gather all their videos in one place for added discovery.
Since Pinterest makes any content you upload evergreen, the platform decided to add lifetime views to video analytics so that brands can evaluate performance over time.
And finally, you're now able to schedule video through the Pin Scheduler tool.
In a blog post, Pinterest emphasized that brands like L'oreal, PureWow, and Giadzy are all using video to drive growth. The most popular niches for Pinterest video content are cooking, style, beauty, and learning a new skill.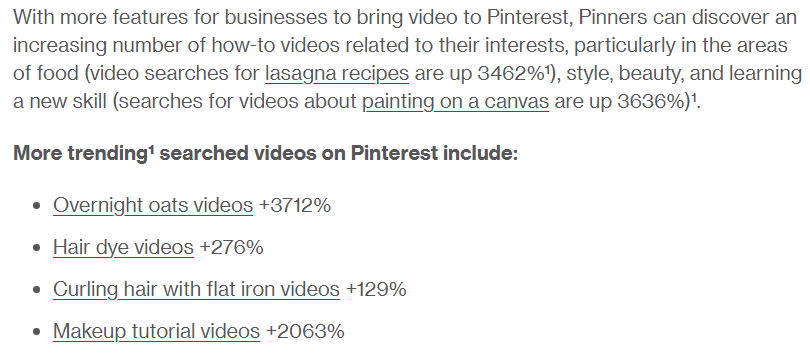 New shopping section on the home feed
Pinterest wants to make the platform more shoppable. The latest update adds a personalized shopping section to your home feed. Users will see these shopping hubs at the top of their screens with suggestions based on their previous Pinterest activity.
In addition to that, the platform also introduced an updated shopping section below the pins which acts as a browsable catalog for specific brands.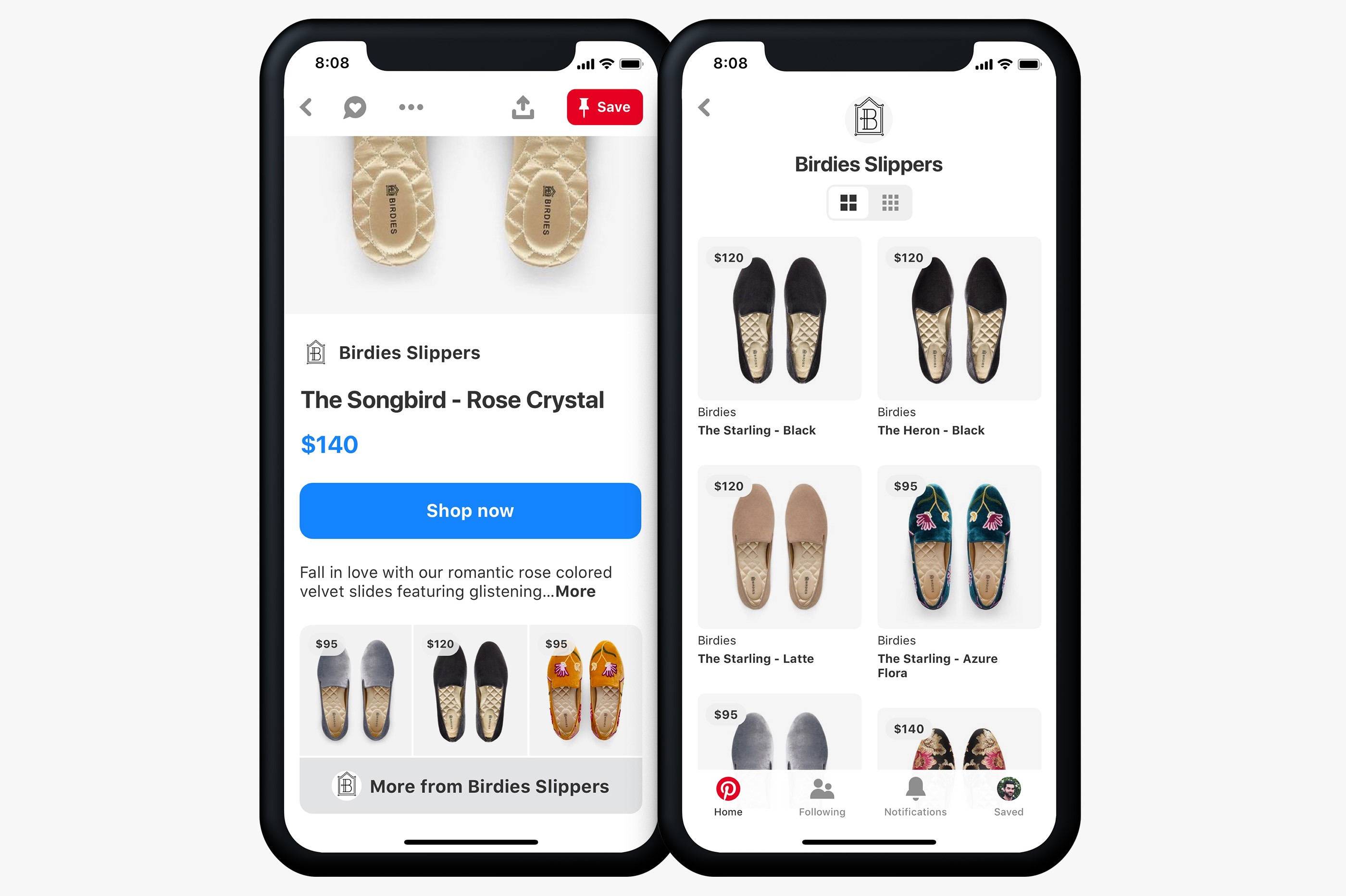 According to the study by Neustar, participating retail brands saw a 2x higher return on ad spend on Pinterest than social media and a 1.3x higher return than on paid search. Seems like the company is putting even more focus on making the platform THE place for product discovery, at least, in some niches.
---
These are all the major social media news of July. Do you like Twitter's new look? Have you noticed the reach numbers on Instagram posts going down? And how do you think LinkedIn advertising compares to other platforms? Let's talk about all things social media in the comments!