What happened on Social Media in July: monthly round-up

What social media news did you miss in July? Well, everyone is trying to fight racism by changing and revising their feed's algorithm, while the American government wants to ban one of the most successful social media platforms in recent years — sounds fun! In addition to that, a 17-year old was arrested for one of the biggest hacks in Twitter's history.
July was indeed an exciting month for social media news. In this blog post, we collected big stories and small updates that are no less important for social media managers. If you're a visual learner, check out our infographic with the headlines before moving on to the article.

Facebook
If you are one of the people who were the last to see Facebook's new desktop design, congratulations! I know I was. Even though we reported on Facebook's plans to redesign desktop almost a year ago, I still was surprised when I saw the changes. How do you like the new look?
But the desktop wasn't the only thing that changed last month!
News algorithm updated to prioritize original news content
In July, Facebook introduced a change to its algorithm — but don't you panic. The change only concerns how news content is ranked, so it won't affect most businesses and brands unless you're running social media for a news company. Now Facebook prioritizes
original reporting meaning original news content will have more chances to appear in the feed;
and stories with transparent authorship (based on the bylines in the article).
The changes were based on the users' behavior and feedback from publishers and academic experts.
Facebook investigates potential algorithmic bias
In early July, a Civil Rights audit commissioned by Facebook revealed that there are several areas that require attention from the company, including harmful and divisive rhetoric on the platform, failure to address voter suppression tactics, lack of civil rights experts in company's leadership, and the need to create a more diverse workplace. The company has already started taking steps to address the issues and one of the first initiatives is to investigate the feed algorithm.
As reported by the Wall Street Journal, the social media network designated two "equity and inclusion team", one for Instagram and one for Facebook, to investigate how racial minorities in the U.S. are affected by the company's algorithms, including its machine-learning systems, and how those effects compare with white users.
The move was likely caused by the #BlackLivesMatter movement, as more and more stories of racial injustice in the U.S. have come to light recently.
Promoting the use of hashtags
For a very long time, the consensus around hashtags on Facebook has been that you shouldn't use them: the algorithm doesn't take them into account and Facebook's content discovery functionality is not geared towards them. However, last month Facebook began actively pushing users to use hashtags by sending them pop-up notifications. In addition to that, some users are reporting seeing a 'Browse' button on the foot of some posts to discover more about an included hashtag.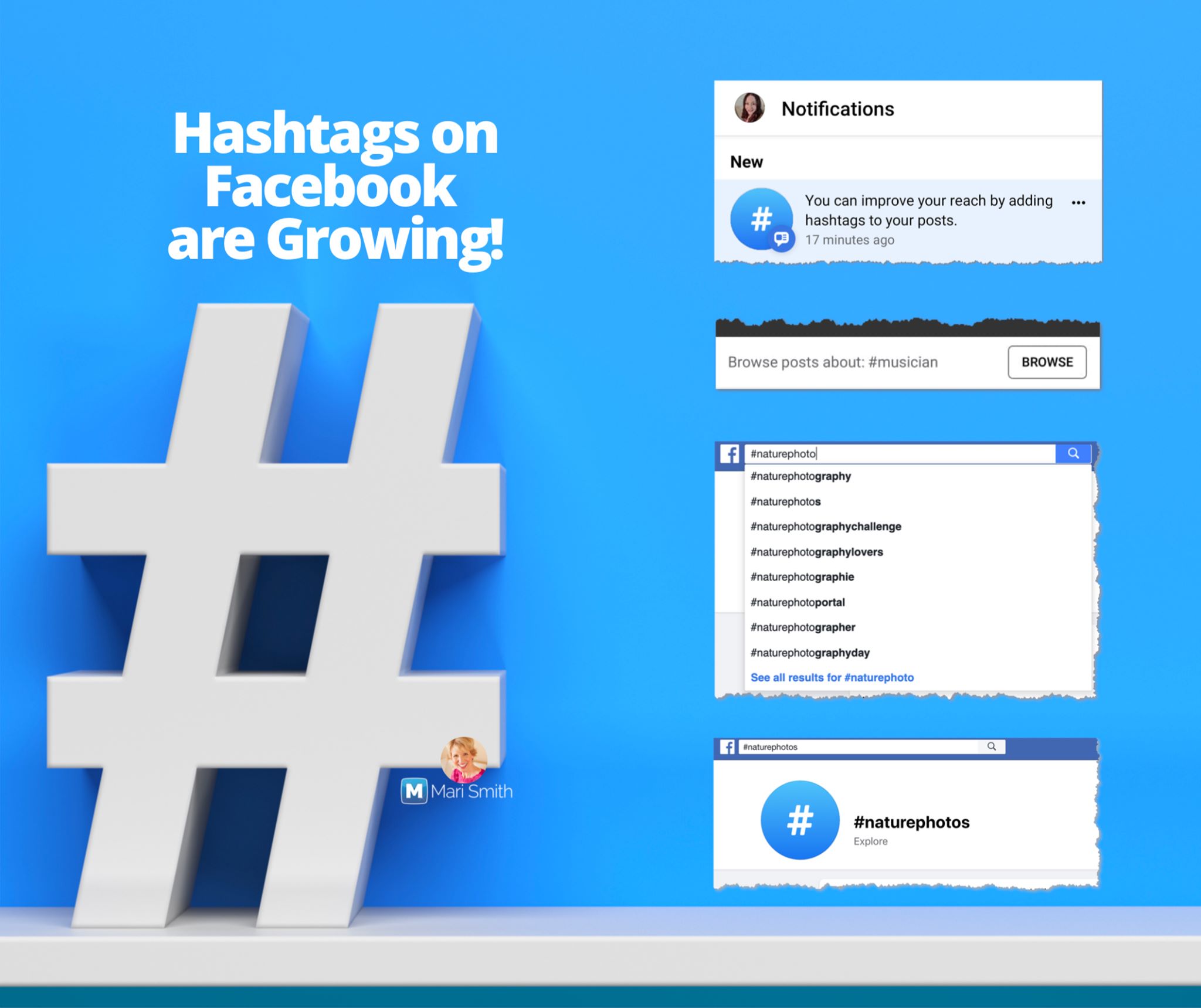 Although there have been no official announcements from the company itself, it's likely that Facebook will continue to improve hashtag-based content discovery and might even add the option to subscribe to a hashtag similar to Instagram.
New Pages design to hide Like count
Looks like there's one more attempt to move the focus away from vanity metrics. Facebook reportedly is testing a new Page design in the app with a clearer and more readable layout.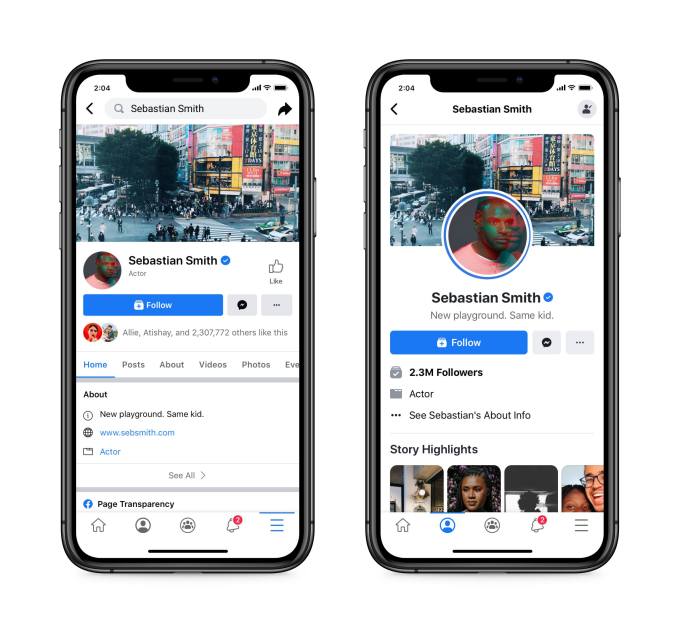 As you see, the new design provides users with essential information about the Page and prioritizes the Follow button instead of Like button. The number of followers will be indicative of the Page's true Reach since you can follow the page without liking it on Facebook. The new Page layout is meant to make it easier for visitors to a Page to see key information, like the Page's bio and posts. The new format is currently being tested with a small group of Pages.
Changes to Brand Safety controls
In July, Facebook announced some changes to its content monetization policy and Brand Safety controls invoked by the results of the Civil Rights audit mentioned above. The measures platform is taking include:
An evaluation of the development and enforcement of the Partner Monetization Policies

An evaluation of the development and enforcement of the Content Monetization Policies

An assessment of the ability to apply brand safety controls to ads shown within publisher content such as in-stream, Instant Articles or Audience Network

Participating in the World Federation of Advertiser's Global Alliance for Responsible Media to align on brand safety standards and definitions, scaling education, common tools and systems, and independent oversight for the industry.

Certification from independent groups, like the Digital Trading Standards Group which specifically examines advertising processes
These measures are likely to affect the advertising on the platform: ad reviews might take longer and become more strict.
Touch ID and Face ID chat security option on iOS
Speaking about safety, Facebook is trying to make your conversations more secure. According to social media expert Matt Navarra, the app is testing the ability to unlock your Messenger using Touch ID or Face ID.
New! Facebook has added Touch ID and Face ID chat security option on iOS 🔐(in beta) pic.twitter.com/ar33xLSxYQ

— Matt Navarra (@MattNavarra) July 20, 2020
Instagram
Exclusive deals with TikTok creators to boost Instagram's Reels
While TikTok may soon be banned in the U.S., Instagram is making moves to replace it trying to get popular TikTok creators on their side. According to the Wall Street Journal, several creators were offered high-priced contracts in order to get them to share their content to Instagram's Reels option instead.
Earlier in July, Facebook confirmed that Reels would be coming to more regions in August.
Pinning post's comments became available to all users
The tests for pinning comments started back in May, and now pinning became available to all Instagram users. You can now pin up to three comments within the comments feed.
Today we're rolling out pinned comments everywhere 📌

That means you can a pin a few comments to the top of your feed post. By highlighting positive comments, you can better manage the tone of the conversation. ❤️ pic.twitter.com/w2X5grdee7

— Vishal Shah (@vishalshahis) July 7, 2020
For brands, it could be a good way to highlight positive responses and encourage their followers to interact more.
Full-screen Stories display
Are you one of those people who only watch Instagram Stories and ignores the main feed most of the time? Well, you'll be happy about the new test Instagram is running.
Instagram confirmed that it started testing full-screen Stories display: when you open the app, you see a prompt to "See al Stories" which once you tap expands the Stories to full screen.
You've heard of two rows of Instagram Stories...

Now prepare for "SEE ALL STORIES" pic.twitter.com/vs42wwHuh0

— Julian Gamboa (@JulianGumbo) June 26, 2020
What do you think?
Twitter
Hacker responsible for the Bitcoin scam arrested
Perhaps one of the biggest news that happened on social media in July was the hacking of several high-profile Twitter users, including Elon Musk, Jeff Bezos, and the official Apple account. The hacker tweeted a similar message from all the hacked accounts encouraging people to send money to a Bitcoin account and promising to return the double amount.
As reported by Twitter, the hackers used 'phone spear phishing', among various other tactics, to obtain the information they required in order to facilitate access to Twitter's admin dashboard. Later in July, the Verge reported that the FBI arrested 3 people allegedly responsible for the attack.
New Direct Messages overlay on desktop
You might have noticed that Twitter's desktop design had a small makeover. You can now access your messages by tapping the icon at the left corner of your screen. This enables users to engage with their messages without having to leave their main tweet feed.
Slide into those DMs without clicking away from your timeline.

Rolling out on web. pic.twitter.com/BdaeYoyPu2

— Twitter (@Twitter) July 15, 2020
Collaborative option for Fleets
As you probably remember, Twitter is currently testing its own version of Stories called Fleets. Last month it added a new option to create a Fleet with your friends. Visually, the two Fleet bubbles would be united in one and tapping through on that would seemingly enable followers of the two users to view their collaborative Fleet.
Twitter is working on 'co-fleets' where you can have ephemeral conversations with anyone 💬👀 pic.twitter.com/LQHSr2YGRP

— Amrith Shanbhag ✊🏽 (@amrith) July 1, 2020
Fleets are still in the testing stage and it's unclear if and when they'll get a wider rollout.
LinkedIn
New Post Composer options
LinkedIn added more prompts to its Post Composer to help guide what you post about on the platform. At the moment the options include 'Celebrate an occasion', 'Offer help', 'Add a job', 'Create a poll', and others. In July, the platform added 'Share a profile' option, which allows users to dedicate a post to a connection of theirs.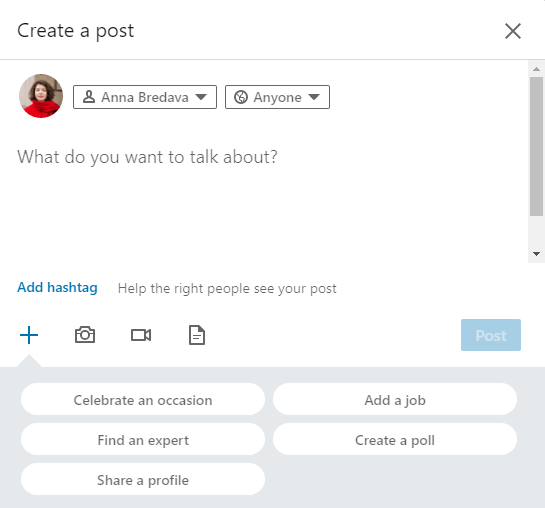 New career opportunities hub for those affected by the COVID-19 crisis
In an effort to mitigate the consequences of the pandemic, LinkedIn launched a new initiative to help those who lost their job because of COVID-19. The website gives free access to the skills and training that job seekers need.
The whole project consists of three steps:
Learning skills for in-demand jobs (demand is determined by LinkedIn's data)
Searching for jobs
And preparing for the interview
LinkedIn provides tons of free learning courses for each of the steps. In addition to this, Microsoft Learn and GitHub are also partnering with LinkedIn to provide advanced course material in technically advanced areas.
TikTok
America discusses plans to ban TikTok
July was a difficult time for TikTok. Firstly, India introduced a ban for a large number of Chinese apps including TikTok and now the U.S. is considering the same move. The cause behind this is the concern with data sharing — the government worries about U.S. citizens' data being shared with the Chinese government. The US House of Representatives voted to have the app banned from all Government-issued devices earlier in July.
Microsoft was reported to be considering an acquisition of TikTok's operations in the U.S. The final decision on what will happen with TikTok will be announced at the beginning of August, but it's highly likely that it will be sold to an American company and not banned entirely.
Gamified Branded Effects templates for brand promotion
TikTok is planning to launch a new way for brands to raise brand awareness and promote their company on the platform.
Introducing TikTok Gamified Branded Effect! Flip the creative script and engage the #TikTok community by integrating your brand into an interactive effect that users can make their own.

Don't Make Ads. Make (Gamified) TikToks. pic.twitter.com/fmvIqq30zP

— TikTok For Business (@TikTokBusiness) July 22, 2020
Basically, this functionality enables brands to build branded games into their TikTok clips, with more than 20 templates available, which can be customized with various brand elements. The option will be made available within the TikTok For Business Platform.
Pinterest
Home feed algorithm updated
Last month Pinterest published a report covering how recent algorithm changes affected the user feed. According to Pinterest's team, the platform doesn't only display content based on what you engaged with, but also on the goals it sets itself. These goals are the following:
Highlight video content
Highlight new features i.e. content created with the help of features Pinterest introduced recently
Highlight content from people with diverse backgrounds
How much weight is assigned to user behaviour markers vs Pinterest's goals when ranking content is not entirely clear.
---
And that's all the social media news from July! Are you worried about TikTok's possible ban? What do you think about Instagram Stories covering your whole feed? Let's share our thoughts in the comments!