What happened on Social Media in March: monthly round-up

Some people might feel like the world stopped right now: the streets are empty (hopefully) and you only leave your house once in a fortnight to get groceries. But if we look at the social media news from March, we see that social media companies haven't stopped at all. They did slow down or rather redirected their efforts, shifting a lot of their focus on mitigating the impact of the COVID-19 pandemic.
However, there were still some important social media updates and tests announced and discovered that improve the life of users and marketers, both related and unrelated to coronavirus. If you spent too much time looking at the world news (like we all did), this social media news roundup will help!
Enjoying the post? There's more.
Sign up for our newsletter to get our best content by email.
Facebook
For many people, Facebook is the main news hub, so in times of crisis, the company obviously needed to amp up their efforts to deliver the most reliable information. And they did! Facebook implemented several updates to limit the spread of corona-related misinformation on the platform and also introduced some updates to help battle self-isolation loneliness.
Updates
Response to coronavirus
In March, the company undertook various measures to help inform Facebook users about COVID-19 and mitigate its impact.
Firstly, Facebook increased its fact-checking efforts and banned all ads from people seeking to exploit the pandemic. As a spokesperson mentioned to Business Insider the social network now bans any ads that promise to cure or prevent the virus or attempt to "create a sense of urgency" about it.
The app also added a COVID-19 information panel to the top of all users; News Feeds and provided WHO with an unlimited number of free ads.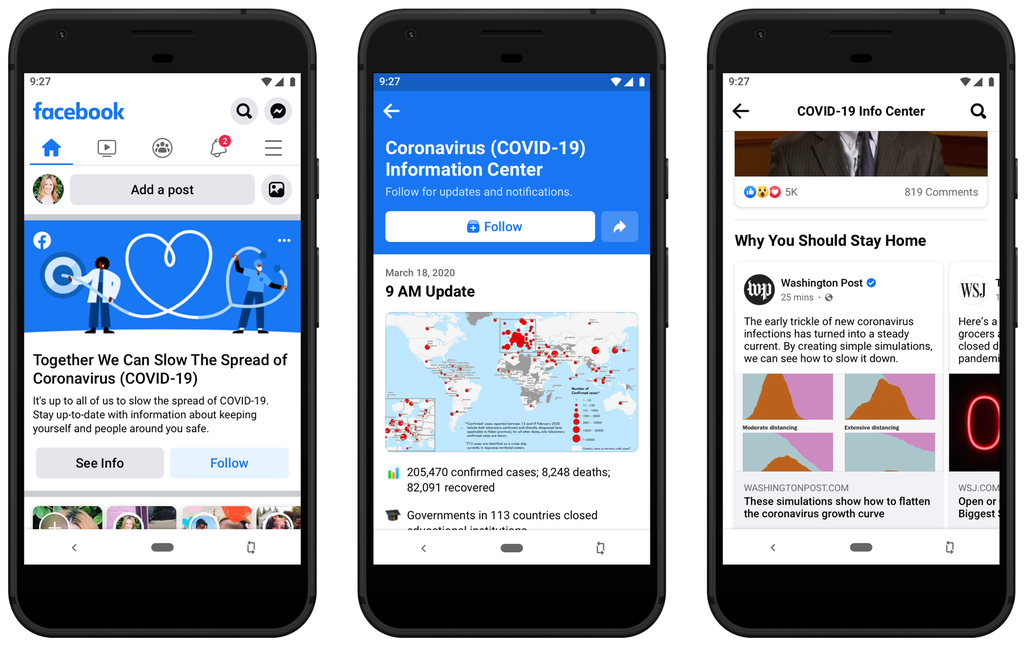 In addition to that, Facebook announced a $100 million grant program to support 30,000 small businesses that were affected by the pandemic in 30 countries. The program is not yet open, but you can sign up to receive more information on how to apply in the upcoming weeks.
New additions to Facebook Live
Another update that was in some way caused by the pandemic is the new Facebook Live features. More and more people are using live video on the platform, so the company introduced some additions to improve the user experience:
Live Producer tool, which is essentially an updated dashboard for managing Live broadcasts from Pages.
A new set of comment moderation settings.
Create a Clip option which creates a 1-minute clip of your broadcast while you're still live.
Automatic closed captions for live streams.
The ability to listen to the audio of the broadcast without playing the video.
The ability to generate toll-free telephone numbers within a broadcast for fundraising and charity streams.
All these updates will surely come in handy as more and more people move online while self-isolating.
Mood mode for Stories
Facebook added a new creation mode for Stories which enables users to create custom posts with GIFs. Here's a video of how it works by social media expert Matt Navarra:
Here's how Facebook's NEW 'Mood' creation mode for stories works... pic.twitter.com/YbU4l8Ih8d

— Matt Navarra | 🚨 #StayAtHome (@MattNavarra) March 18, 2020
The tool provides you with a new fun way to create Stories and will certainly be used by many given the popularity of GIFs on the platform.
In the works
New Horizon VR social platform
At the beginning of March, Facebook started to invite beta testers for its new social VR platform called Horizon. The platform is a virtual world where users can design their own avatars, interact with each other, and hop into mini-games and experiences build by Facebook.
The information was shared by an unknown Reddit user, who posted a screenshot with an invitation to try out the alpha version of Facebook Horizon. For now, it's hard to say when we can expect a wider rollout.
An option to cross-post Facebook Stories to Instagram
Right now we are able to post our Instagram Stories to Facebook, but we can't do the reverse. However, as discovered by reverse engineer Jane Manchun Wong, Facebook is planning to change it!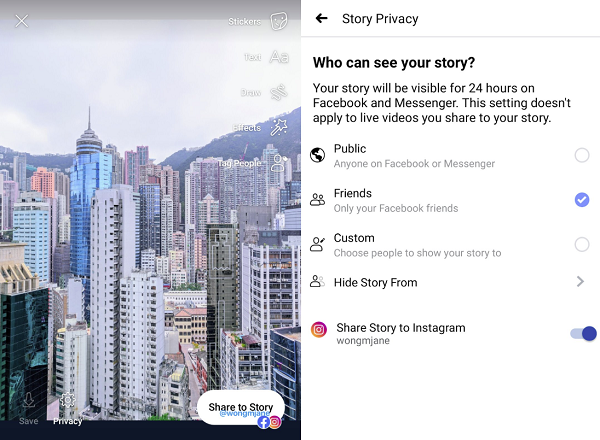 The new option would appear in your Facebook Stories visibility options, with a simple toggle to switch on cross-posting of Facebook Stories to Instagram. There are also icons on the Share to Story button indicating that it will be posted to both.
Connecting brand loyalty programs to Facebook
The platform is testing a new option that would allow businesses to connect with the members of their brand loyalty programs on Facebook. Brands will be able to do it by creating ads using Custom Audiences targeting those that previously created a profile with a brand. The ad will have a new Link Account button which will allow connecting the two user profiles (the brand loyalty one and the Facebook one). This will allow members to track their membership via Facebook and earn points or get discounts for their Facebook activity.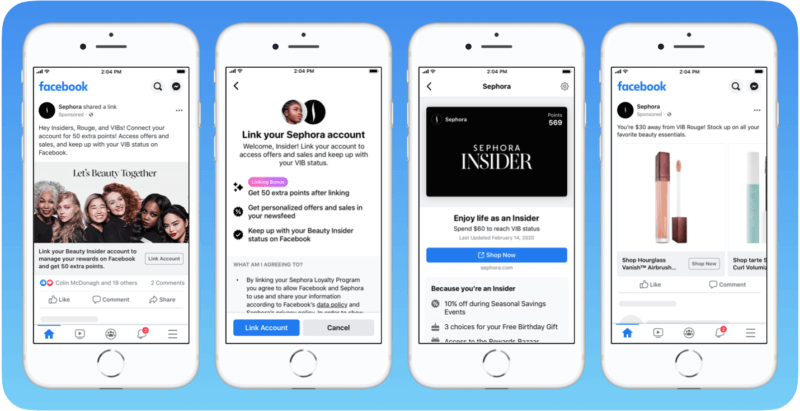 In the future, your Facebook profile could even become an aggregator of all your brand loyalty programs with different businesses. For now, the feature is being tested by only a handful of businesses, but we expect expanded testing in the future.
Instagram
The platform also introduced several measures to help users during the pandemic. In addition to adding info prompts at the top of the feed, It launched new Stories stickers to encourage users to stay at home and does its best to inform users through highlighting links to WHO and CDC whenever someone taps on a COVID-19-related hashtag.
Today we're launching a new "Stay Home" sticker that you can find in Stories. If you use the sticker, your photo or video will be added to a shared Instagram story where people can see how you're staying home and staying safe ❤ pic.twitter.com/MtU3d4bKKq

— Instagram (@instagram) March 21, 2020
Updates
New co-watching feature
To mitigate the effects of self-isolation, Instagram launched a feature to enable a group of people to look through and share Instagram content together. As stated in Instagram's announcement:
We've launched media sharing, a new feature that allows you to view Instagram posts together with your friends over video chat. You can start a video chat by tapping the video chat icon in the Direct inbox or in an existing Direct thread, then view saved, liked and suggested photos/videos by tapping the photo icon in the bottom left corner in an ongoing video chat.
The feature allows you to connect to your friends and still use Instagram at the same time. To be honest, looking through Instagram posts with your friends is not exactly the activity we used to do before the pandemic, but desperate times, right?
In the works
Reshare live videos to IGTV
Have you noticed how everyone has been going live on Instagram lately? With many events canceled, people are using Instagram live to have parties, workshops, and concerts in the comfort of their homes. And soon you'll be able to save these videos by sharing them to your IGTV once the broadcast has ended.
Video response for IGTV
Instagram is working on a Video Reaction feature that allows users to respond to IGTV videos with videos of their own.
Instagram is working on IGTV Video Reactions,

allowing people to respond to your IGTV videos with their own pic.twitter.com/dBAiiPFDXk

— Jane Manchun Wong (@wongmjane) March 3, 2020
It seems a bit strange to introduce this option to IGTV and not to Stories — IGTV implies long-form well-produced content while Stories are personal and spontaneous, so video responses might have been a better fit for the latter. But the platform's plans to monetize IGTV videos might call for more ways to interact with them — hence this update.
Restrict multiple users at once
Instagram has been consistently improving on-platform moderation to make the user experience more enjoyable. In March, it was reported that the company is testing a way to block multiple users at once right from the comments.
Instagram is working on letting you block/restrict multiple accounts from your comment sections in a new tool to help mitigating comment abuses pic.twitter.com/vXxBZKPdzD

— Jane Manchun Wong (@wongmjane) March 5, 2020
To remind you, you can either block a user, which prevents them from seeing and interacting with your profile, or restrict them so that their comments are not shown to anyone but them. This is a great feature to help moderate unwanted and abusive comments.
Reshare live videos to IGTV
It seems like all the social events are moving to Instagram live right now: concerts, workshops, and even parties are happening in the comfort of our homes. Well, the company took notice and is working on a way to save all this great content on the platform.
As discovered by Jane Manchun Wong, soon you'll be able to save your broadcast to IGTV once it's over. That means that all your live videos can be watched later whenever users want.
Instagram is working on streamlining sharing Live Videos to IGTV after it's ended with this new UI pic.twitter.com/4q57GHcvoQ

— Jane Manchun Wong (@wongmjane) March 11, 2020
Disappearing messages
Instagram is looking to make your DM conversations even more secure with the disappearing messages option. When you switch to the disappearing messages chat, all the messages in the conversation will disappear once you read them and exit the chat to go elsewhere in the app. For now, there's no option to set a timer for a message to make sure it disappears after the timer runs out, but it's likely that Instagram will add this feature.
We're always exploring new features to improve your messaging experience. This feature is still in early development and not testing externally just yet!

— Instagram Comms (@InstagramComms) March 19, 2020
Mirror camera mode
Instagram continues to develop new ways to film and edit Stories. The Mirror camera mode that's currently in tests splits your screen into various types of reflected images. Here is the demonstration of it in action:
March 11, 2020
Twitter
Twitter's efforts to help during the COVID-19 outbreak were aimed at supporting authoritative and informed voices on the platform. Firstly, the company re-opened its verification process to give blue checkmarks to public health experts and later it announced a $1 million funding pledge to help two journalist organizations (the Committee to Protect Journalists and International Women's Media) during the crisis.
Updates
Fleets: ephemeral content for Twitter
Twitter is the next (and probably the last?) big social media network to introduce ephemeral content to the platform. The motivation behind Fleets was to give users a way to share their thought more privately and remove the pressure of vanity metrics: you can't retweet or like a Fleet.
Users with the Fleets available will see a new, rounded profile icon at the top of their Twitter feed, as you can see in the image below. To create a Fleet, you tap on your bubble with the '+' icon. When you do this, you'll be taken to the second screen in the top image sequence, where you can add in text, photos, GIFs and videos, similar to your tweet content options. Fleets will be available on your profile, so their accessibility will be based on your profile settings.
I know what you're thinking: "THIS SOUNDS A LOT LIKE STORIES!". Yes, there are many similarities with the Stories format that will feel familiar to people. There are also a few intentional differences to make the experience more focused on sharing and seeing people's thoughts. pic.twitter.com/OaGYZpChcN

— Kayvon Beykpour (@kayvz) March 4, 2020
To view multiple Fleets, users will need to swipe down and to move to the next person's Fleet, you swipe to the left.
For now, Fleets are only being made available in Brazil, where Twitter will conduct its initial testing.
Invite users to your live stream in advance
Since self-isolation encouraged more live streaming, Twitter also added new functionality to its broadcasting. Now you are able to invite your followers to join your live stream in advance to make sure they'll make it.
Broadcast live with a little help from your friends, no matter where they are.

Now you can send invites to guests before you start your video!
👥 Tap the compose icon, then the camera icon
👥 Select "Live", tap "Invite guests", and choose your guests
👥 Hit the "Go LIVE" button pic.twitter.com/4kr2KLUCGq

— Twitter Support (@TwitterSupport) March 17, 2020
Prior to that, you could only invite guests to live stream with you once you were already broadcasting.
LinkedIn
LinkedIn, being the most professional social media network, helped where they could by making their Working From Home courses on LinkedIn Learning available for free. They also created a new section in the feed called Trending News to feature information from reliable sources such as WHO.
Updates
Conversation Ads for messaging
In March, LinkedIn introduced a new ad format that enables you to add new CTAs to your Sponsored InMails, message ads that you can send to potential customers. Among the various options, your in-message CTAs can be things like:
Visit website

Register for Webinar

Sign up for newsletter

See case studies

Sign up for demo

Learn more

Tell me more
You can add several CTA buttons to each of your messages, giving your recipients more ways to respond. LinkedIn refers to these multiple options as "choose your own path" experience.
TikTok
TikTok contributed to the fight against coronavirus in multiple ways. Firstly, the platform united with WHO to create an informational page on anything virus-related. On March 17th WHO experts also used TikTok to live stream from their official TikTok page answering questions and giving users advice. In addition to that, TikTok pledged to donate $10 million to the WHO's Solidarity Response Fund.
Updates
New analytics tools for Creator Marketplace
In March, TikTok added some new metrics to its Creator Marketplace, a platform for finding influencers for collaboration based on topics, location and reach.
Now the analytics of your sponsored content include:
Views
Engagements (likes, comments, shares)
Engagement rate
Audience stats such as top markets, gender, age, device
For now, the access to Creator Marketplace is invitation-based. Brands can apply via the main website, or contact TikTok for a prioritized invitation via the Help Center.
In the works
Add URLs to your posts
TikTok is testing adding links to videos — but only certain links are allowed. The new set of option to Add Link prompt in post creation mode will allow adding links to Wikipedia, Yelp or TripAdvisor in their video post.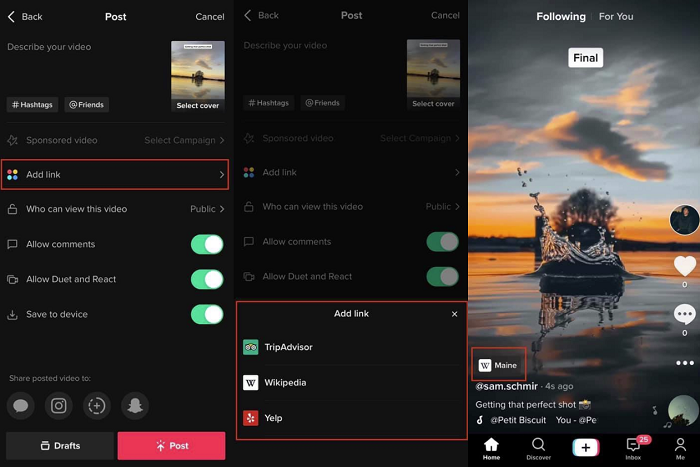 Supposedly, the links could help provide more context to your videos. Of course, there are not many commercial use cases for this feature, however, links to TripAdvisor or Yelp could be used in sponsored posts for brick-and-mortar businesses.
Downvoting comments
You might soon be able to express your annoyance with a silly comment on TikTok! According to images shared by Matt Navarra, TikTok might be thinking of replacing the current heart icon and count with thumbs up and down images, and a total count on upvotes only, similarly to Reddit.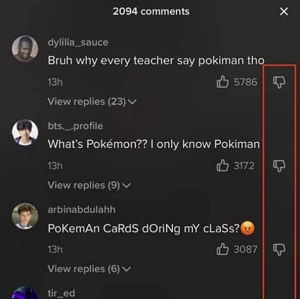 ---
Evidently, social media companies are following the rest of the world and focusing a lot of their efforts on mitigating the coronavirus pandemic. However, they still introduce new features and test out bold changes that will help users and marketers alike. I for one can't wait to be able to see all the Instagram live videos I missed on IGTV. What is the upcoming feature that you're looking forward to?