What happened on Social Media in May: monthly round-up

It's finally summer! But while you're thinking about all the beaches you would visit if the borders were open, why not catch up with the social media news from May?
In this round-up, we have everything: new features, political scandals, updates to platforms' policies, and so on. Instagram is working on new ways to reward creators, Facebook gives brands more creative tools, and Twitter is trying to make its platform a nicer place to hang out on.
We also designed infographics to quickly update you on the most important news. Scroll down to see the complete infographic with all the social media news combined.
Facebook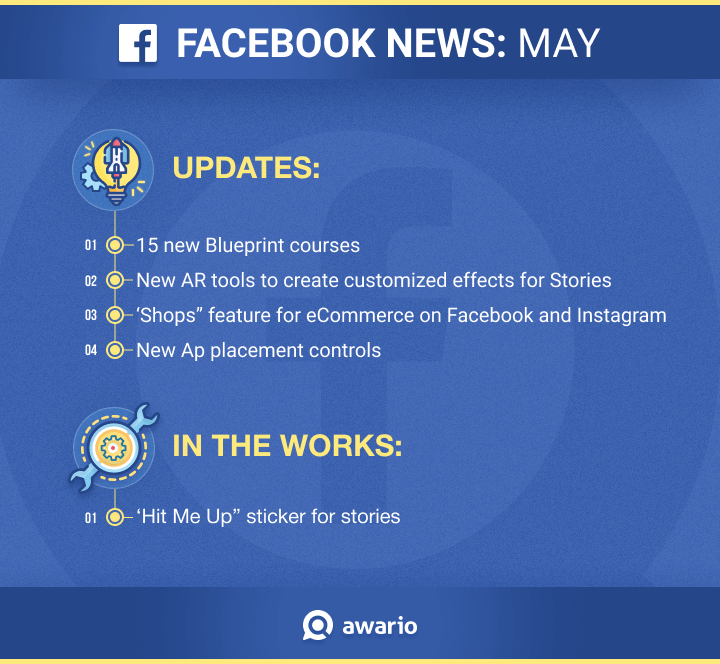 New AR tools for Sparks AR studio
Sparks AR studio allows anyone with enough skill to create their own effects for Facebook and Instagram Stories. Last month Facebook enriched its capabilities by adding several new tools.
AR Music allows you to make an effect that will change depending on the beat of the song you play along from Instagram's music library.

Media Library enables you to use AR effects on the photos and videos that you've taken before, not just on the pics you take with Instagram's camera.

Gallery Picker lets creators publish AR effects to Instagram that people can then personalize with their own images, enabling green screen-style effects.
The company also added templates to Sparks studio to simplify the creation of effects and improved the discoverability of the effects in the Effect Gallery.
Enjoying the post? There's more.
Sign up for our newsletter to get our best content by email.
15 new Blueprint courses
Facebook Blueprint is an amazing educational source for any social media marketer, and last month it got updated to cater to the current business needs. The courses cover such important topics as "How to create a content calendar", "How to choose the right social channels for your business", "Mapping the customer journey" and so on. You can view the list of all the available free courses on the Blueprint platform.
Facebook 'Shops' announcement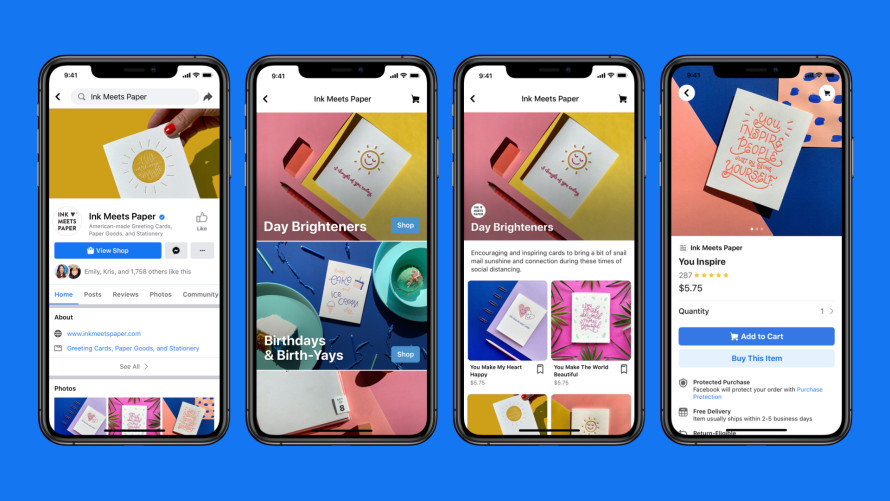 In my predictions for social media in 2020, I pointed out that eCommerce will be an important focus for Facebook — and now the company announced its own eCommerce platform. Shops will enable businesses to create an online store integrated with their Facebook and Instagram profiles. The design of the store is customizable: you can add brand colours and images and choose which products from your catalog you want to display. As Facebook states in the announcement:
This means any seller, no matter their size or budget, can bring their business online and connect with customers wherever and whenever it's convenient for them."
Facebook will also allow customers to message businesses from their shop listings via WhatsApp, Messenger, or Instagram Direct. And in the future, customers will be able to view a shop and make purchases from a messenger of their choice. Businesses will also be able to link to their Shops from live streams and to connect their loyalty programs.
The shops got gradual rollout, starting with the businesses that use Instagram Profile Shops. Eligible businesses will receive an email when they will be able to set up a shop.
New Ad placement controls
Seems like Facebook rolls out new ways to control your ads on the platform every other month. In May, the social media network introduced the new features it had been testing for a while with the most prominent being whitelists. Here are the new brand safety controls:
Publisher whitelists for Audience Network, which will enable advertisers to designate which third-party publisher apps to run ads on.

Content whitelists for video, enabling third party providers (including Integral Ad Science, OpenSlate, and Zefr) to dynamically review and customize suitable videos for in-stream campaigns.

Live stream exclusions, which will enable advertisers to opt-out of the test of in-stream ads in live streams from certain partners.
Besides, Facebook introduced an updated ad delivery report, which will include impression data at both publisher and content levels.
The new tools are now available in the Brand Safety Controls dashboard within the Business Manager.
'Hit Me Up' sticker for stories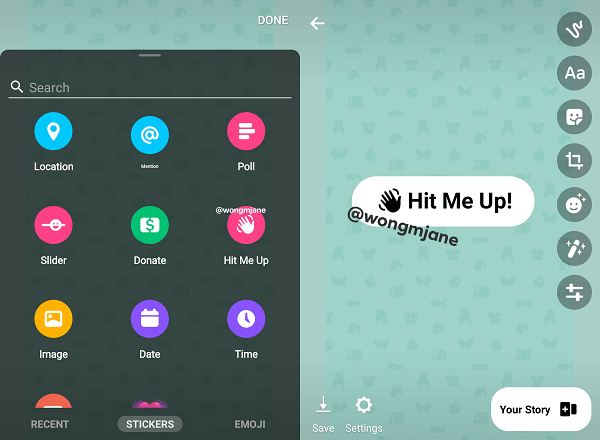 Facebook is working on a Hit Me Up sticker that would encourage users to message you privately. The sticker was discovered by social media reverse engineer Jane Manchun Wong and once you tap it, it takes you right to the DMs of the profile which posted the Story. Taking into account Facebook's emphasis on messaging, we can expect the rollout pretty soon.
Instagram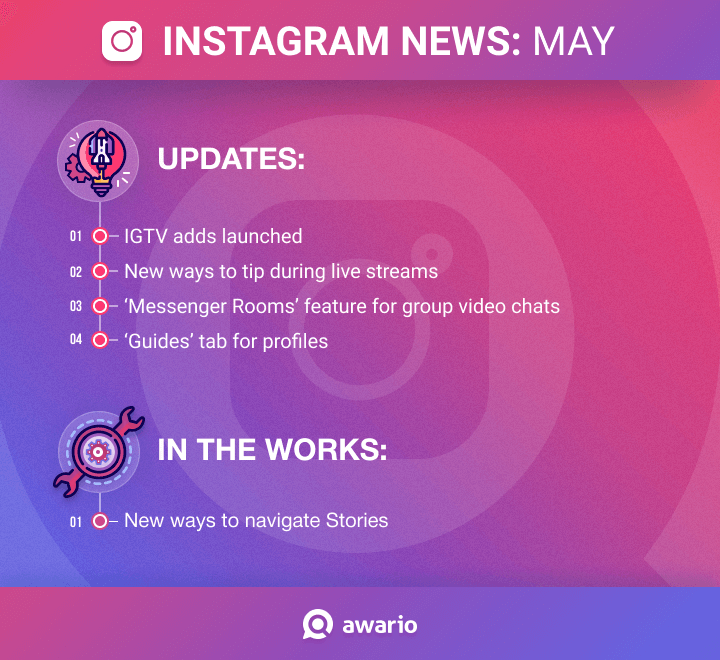 IGTV ads rollout
Instagram had been teasing IGTV monetization for several months, and now it's finally out! As per Instagram's announcement, IGTV ads will initially appear when people click to watch IGTV videos from previews in their feed. The video ads will be built for mobile and up to 15 seconds long.
In the initial rollout available for a selected group of creators, they will get 55% of the revenue.
The company is going to experiment with IGTV ads in the upcoming months, for example, testing the ability to skip an ad.
New ways to tip on live streams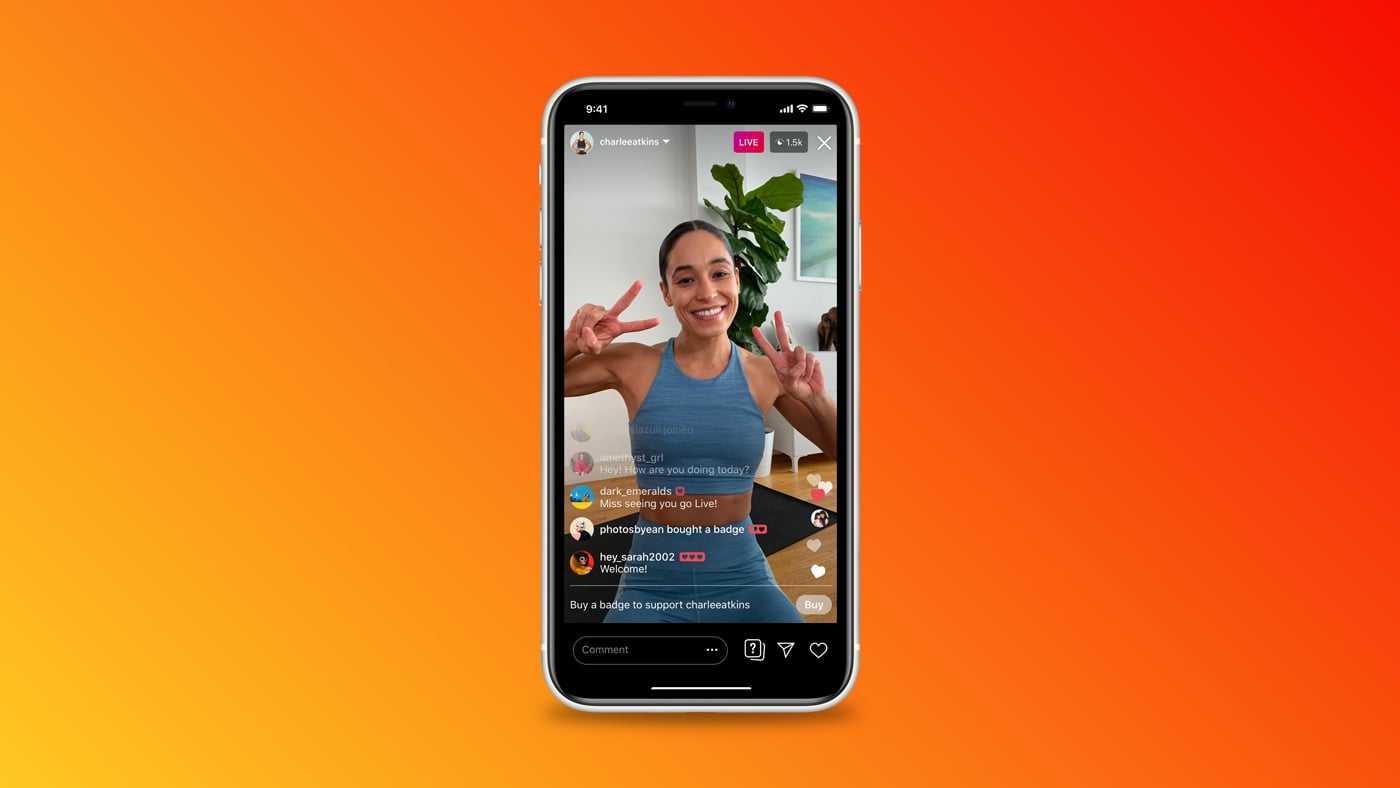 If IGTV is not for you, here's another way to make money on Instagram. Now users can purchase special heart badges during live stream to support their favourite creators. The badges will appear next to their name in the stream's comments and give them special features, including placement on a creator's list of badge holders and access to a special heart reaction.
New 'Messenger Rooms' for group video chats
An easy way to video chat with up to 50 of your favorite people? Yes please 🙋‍♀️

Starting today, you can create @messenger Rooms on Instagram and invite anyone to join 👇 pic.twitter.com/VKYtJjniEt

— Instagram (@instagram) May 21, 2020
Instagram added new integration which allows you to start video chats with people you follow on Instagram. The call itself happens through messenger, so once you choose who you want to chat with, you'll be taken to a 'room' on Facebook Messenger. To create a Messenger Room, go to your Instagram DMs and tap the video chat button.
New 'Guides' tab for profiles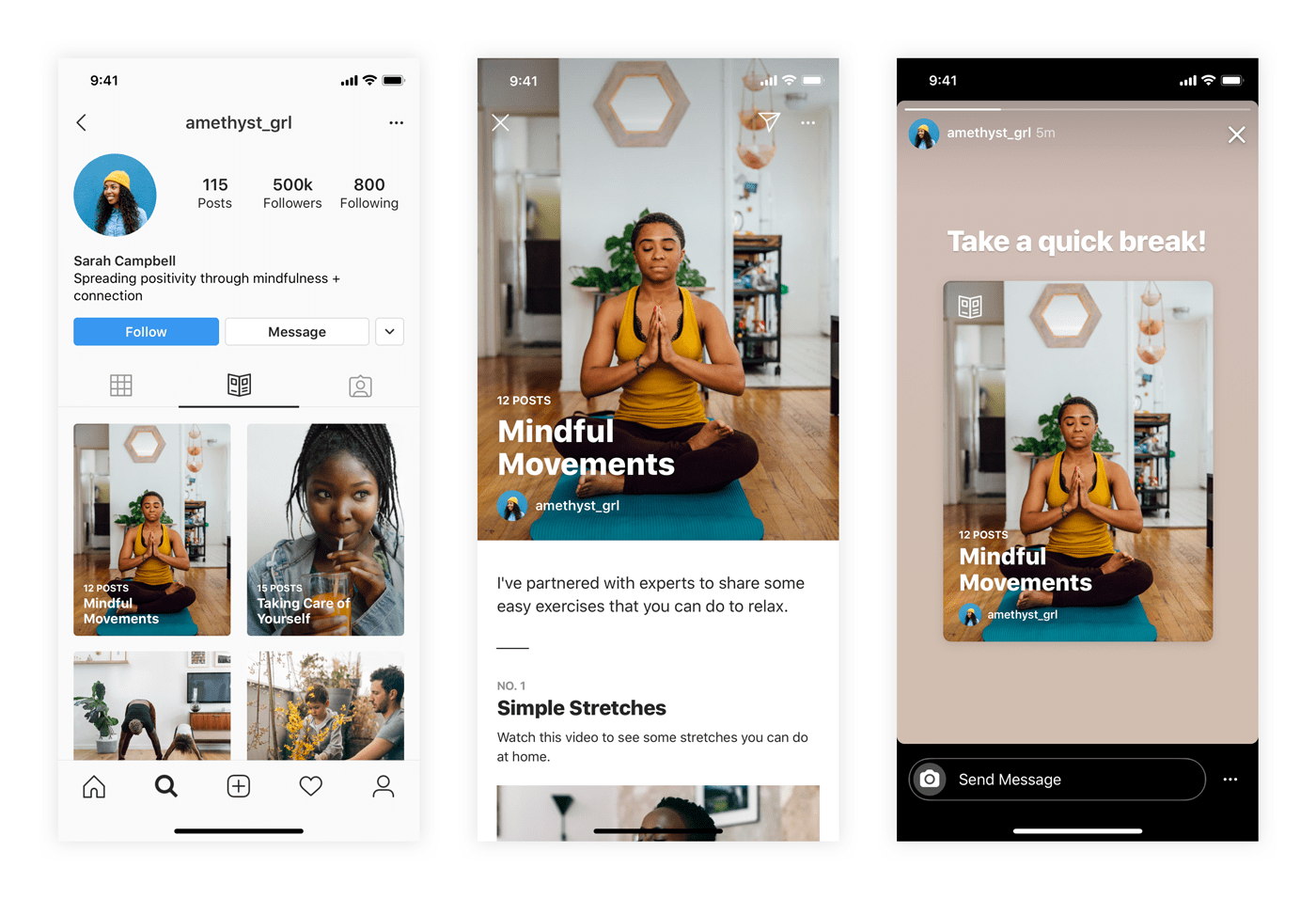 Instagram added a new tab to the selected profiles which will allow business users and creators to highlight recommendations, tips, and other serial content. In addition to Posts, Mentions, and IGTV, Business profiles and Creator profiles will get a Guides tab to highlight several posts collected under the same topic. You can accompany these posts by comments and helpful tips. You can also access Guides through the Explore tab.
This could prove helpful for those who aim to organize their content by topics and themes.
New ways to navigate Stories
Instagram is working on a quick switch to other user's Stories pic.twitter.com/rq2KBlmO4o

— Jane Manchun Wong (@wongmjane) May 7, 2020
Instagram is working on a new way to see Stories on the app, which would make it easier to navigate between different profiles. As you can see in the video posted by Jane Manchun Wong, users are able to side the main Stories frame down to reveal the profiles at the top of the screen, then switch through to each.
Instagram's Adam Mosseri confirmed that they are thinking of different ways to look through stories.
We're looking into ways to making it easier to find the stories you care about about most. How do you navigate stories?

— Adam Mosseri 😷 (@mosseri) May 7, 2020
Twitter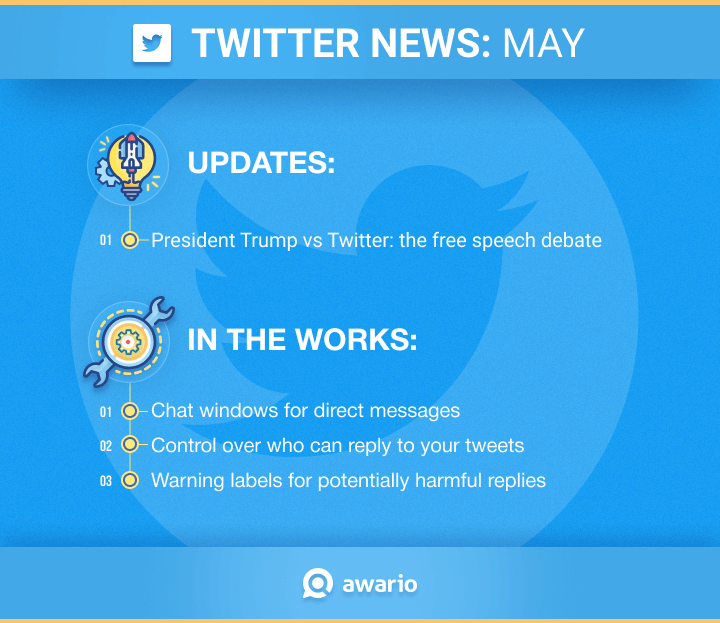 President vs Twitter: the executive order against speech censoring
Donald Trump's social media presence has been an interesting subject for all kinds of investigations and think-pieces, but last month it's his grudge against Twitter that drew the attention of the media.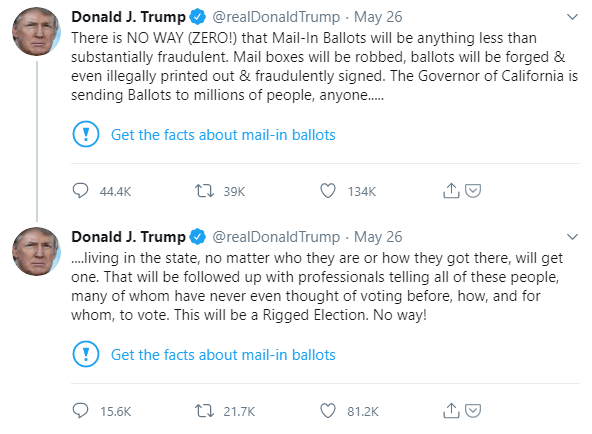 Here's what happened:
The president tweeted about voting by mail protesting the widespread application of this way of voting.
Initially, the tweet was flagged as suspicious by third-party fact-checkers as potentially violating Twitter's Civic Integrity Policy which is designed to stop the distribution of misleading information about voter participation.
Later, Twitter's internal team decided that the tweet did not violate the rules, but put a fact-checking warning label on it.
President Trump accused Twitter of bias against conservative speech.
On Thursday, President Trump signed an executive order for the review of Section 230 of the Communications Decency Act which protects social media platforms by stating that social media platforms are "largely exempts online platforms from legal liability for the material their users post". Trump suggested that if the content was altered in any way (such as putting a warning label on a tweet), it makes a social media platform not just a host, but an editor. Supposedly, Trump administration was planning to call for an investigation into alleged bias, then seek to implement penalties or restrictions as a result.
The executive order was largely denounced by social media companies including Twitter and Facebook.
The removal of Section 230 could have a significant impact on social media networks. If platforms are held responsible for everything everyone posts, they'll basically have to restrict anything that could be deemed offensive, in any way. This would drastically change the way the platforms operate right now.
In terms of the executive order, the legal consensus is that it will not hold up, and federal laws cannot be altered by the presidential administration's actions alone. However, it will likely impact public opinion on the issue and may lead to great changes.
Chat windows for DMs
Twitter chat window for DMs on desktop spotted in the wild

h/t @CalumYoungg pic.twitter.com/yvJiYk4zAC

— Matt Navarra | 🚨 #StayAtHome (@MattNavarra) May 26, 2020
According to social media expert Matt Navarra, Twitter started testing a new look for direct messages on desktop. Right now, to look at your DMs you need to open a new tab, but soon you might be able to open a Messenger-like chat window which allow you to look through your timeline while simultaneously having a conversation.
Control who can reply to your tweets
You might have noticed that certain tweets on your timeline got special markings last month such as "People they follow can reply". Yes, Twitter started testing the safety controls which allow you to choose who can reply to the tweets you post.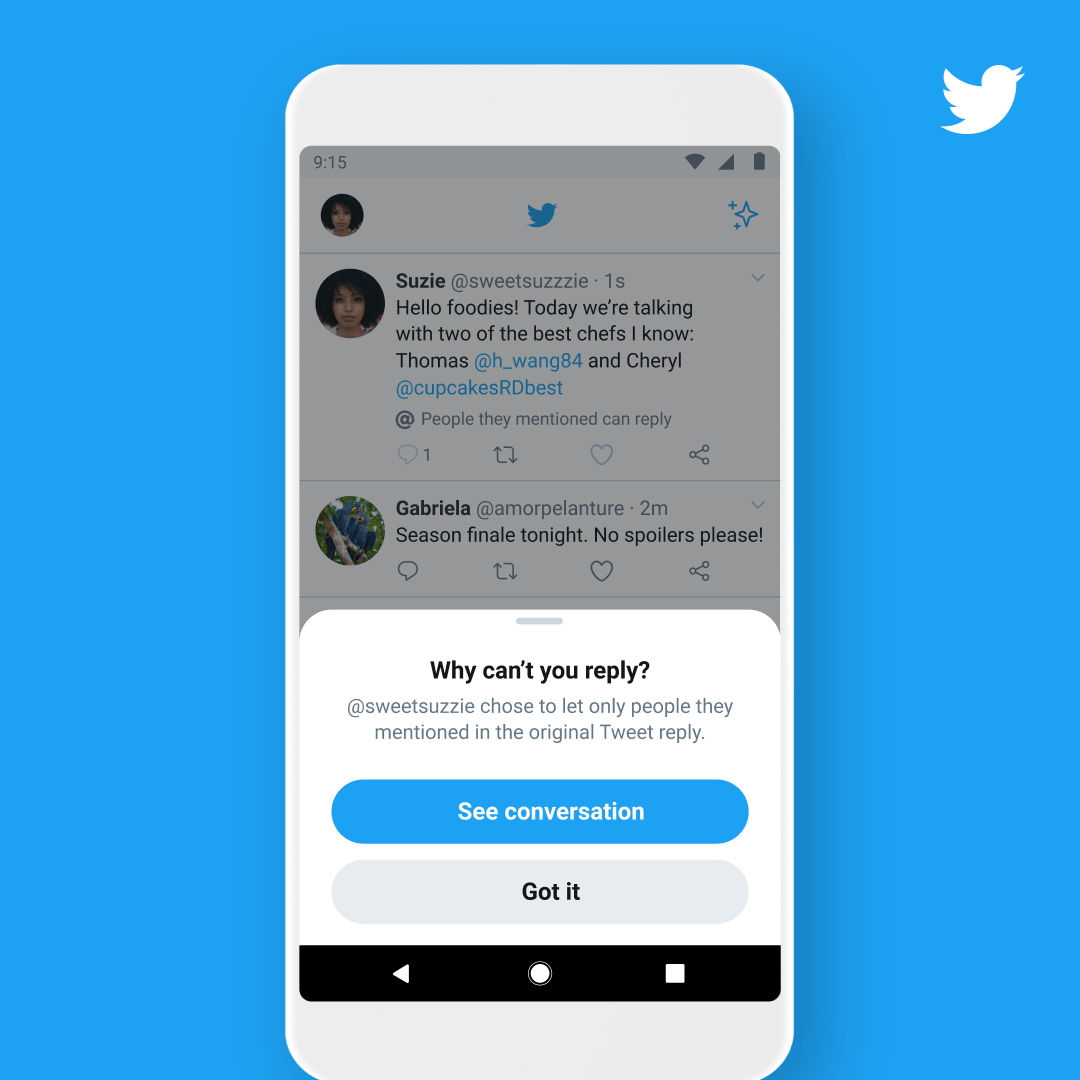 You can choose from the following options: anyone, people you follow, and people mentioned in the tweet. Tweets with the latter two settings will be labeled and the reply icon will be grayed out so that it's clear for people if they can't reply. People who can't reply will still be able to view, retweet, and like these tweets.
Warnings for potentially harmful replies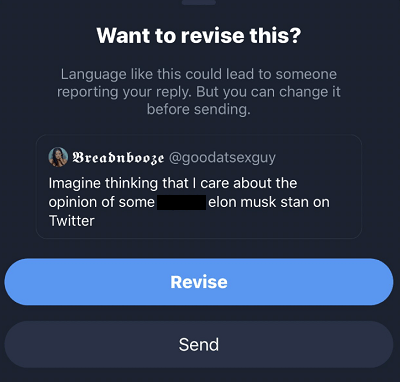 Similarly to Instagram, Twitter is looking to promote healthier conversation on the platform by adding prompts to replies it deems offensive. What that means is when you are replying to someone, if Twitter's algorithm suspects that this reply contains verbal abuse, you'll get a prompt suggesting to rethink your message.
This feature could potentially reduce cyberbullying and abuse on the platform, especially in the cases when the abuse doesn't exactly violate Twitter's policy.
LinkedIn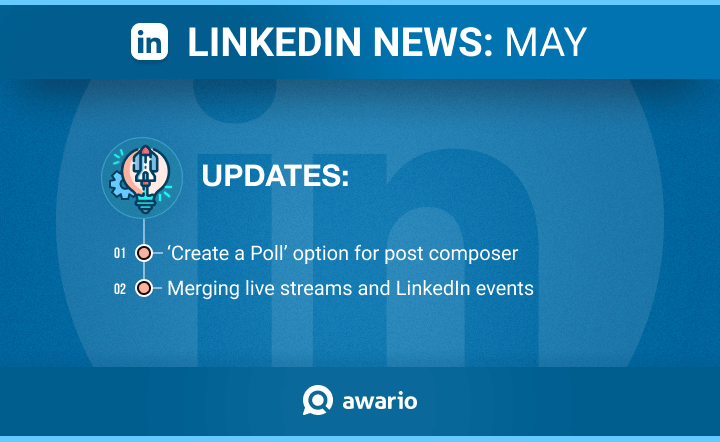 Polls feature
In May, LinkedIn officially launched the poll option for posts. 'Create a Poll' option is now available in the post composer. You can enter up to four options and choose the time period for the duration of the poll: between 24 hours and two weeks.
LinkedIn polls can be shared with your connections (subject to LinkedIn's algorithm), specific groups, or to any specific people that you're connected to.
Integrating live-streaming with LinkedIn Events
Since many, many events are now moving online, LinkedIn decided to amp up their Events feature to move with the times. Since many organizers are turning to live streaming, LinkedIn combined Events and LinkedInLive to allow streams on Event pages. You can limit the broadcast of your LinkedIn Live video to only those who have chosen to attend (or your company page followers), while the related event discussion and any additional content will all also be hosted on the one, dedicated page.
Once your event is over, the video content will be added to the Videos tab on your company page.
TikTok
New rules for brands using music
As you know, TikTok's functionality is closely tied to the music tracks you can use to accompany your video. Previously, any account on TikTok could use any song from its library, be it an original sound or a popular single.
However, last month TikTok changed its rules in regard to commercial use of popular music. From now on, brands will be referred to the royalty-free Commercial Music Library of sounds that are available for businesses.
To be clear, the change here only impacts verified businesses on TikTok, and not regular users.
---

And that's all the news from May. Are you excited about the new updates? Have you tried any of the introduced features already? Do you think Trump's actions will have long term consequences (for Twitter or for the USA)? Let's talk in the comments!