What happened on Social Media in September: monthly round-up

It feels weird to write this social media news roundups every month because time doesn't feel real anymore. That's the effect of social distancing and the lockdown — days become weeks and weeks become months and you can only notice the changes because it suddenly gets darker much earlier. Luckily, we have these monthly updates to keep us grounded.
So what happened on social media in September? No doubt, the biggest news is the acquisition of TikTok that's finally happening. There were tцo main players that were eager to join the world of social media, Microsoft and Oracle, and TikTok eventually went with the latter. But it's not the end of the dispute with the American government.
Besides that, there were several new additions to Facebook, Instagram, and Twitter, some interesting experiments and rumours of possible launches. I think it's time to stop stalling and get to the news!
Facebook
New rules regarding text on ad images
Facebook famously had a rule which banned ads which include more than 20% text in the main image. Well, the limit is no more!
Matt Navarra, a social media expert, reported that Facebook is contacting advertisers directly to inform them of the update, explaining that they will no longer penalize ads with higher amounts of image text in auctions and delivery.
This update will certainly be welcomed by social media managers who can forget about the Text Overlay tool forever.
The launch of Facebook Business Suite
Facebook offers several tools to manage your profiles across its platforms: Pages Manages, Creator Studio, and now — Facebook Business Suite. According to the company, this tool incorporates all of your Facebook Page and Instagram profile options into one space and will be available on desktop or in a new mobile app. You're able to manage your profiles' private messages, notifications, posts, and insights all from one tool.
The main difference from the other two management tools are analytics: you get comprehensive insights for both platforms in one place.
One feature that might be coming to Facebook Business Suite according to the rumours is the integration with WhatsApp thus effectively integrating all your inboxes in one.
An order to stop sending European data to the US
Facebook is traditionally the main hero of conversation about data privacy. This time, the European court is the main prosecutor. A European Union privacy regulator sent Facebook a preliminary order to suspend data transfers to the US about its EU users.
According to the Wall Street Journal, EU officials are concerned about potential surveillance by the US Government and are looking to limit them by restricting the transfer of user information, limiting the data transfer to the region where it was sourced.
Instagram
Rights Manager for Instagram
Rights Manager is the tool that helps Facebook find copywrite infringement on the platform. Last month the company expanded the tool's capabilities from text only to images and enabled it to monitor Instagram.
As explained by Facebook:
"We're introducing Rights Manager for Images, a new version of Rights Manager that uses image-matching technology to help creators and publishers protect and manage their image content at scale. Page admins can submit an application for the content they've created and want to protect, and Rights Manager will then find matching content on Facebook and Instagram."
Rights Manager works by cross-referencing your uploaded visual content against other user uploads across Facebook's platforms and alerting content owners to potential violations.
Testing new tabs on the navigation bar
Instagram is experimenting with the layout of the app. Last month in India the company added Reels button to the navigation panel — if you don't remember, Reels are short edited videos similar to TikTok.
Later in September the app also started adding a Shop button to chosen profiles. As stated by Instagram chief Adam Mosseri:
We're starting to test different versions of Instagram's home screen – when you open the app you'll soon see a Reels tab and a Shop tab in one of these three layouts. pic.twitter.com/WLmjAwYwFW

— Adam Mosseri 😷 (@mosseri) September 9, 2020
We will see what the team will settle on.
Twitter
Testing audio clips in DMs
Voice messages are almost a standard at the moment: you send them in Messenger, you send them in Instagram DMs, and soon you might be able to send voice messages on Twitter. You probably remember that Twitter had already introduced audio clips to the feed — well now it's testing voice messages as well.
Twitter is testing Audio Messaging in DMs (in Brazil) 🗣 pic.twitter.com/rzPqtE5Qjx

— Matt Navarra (@MattNavarra) September 12, 2020
The new option is called 'Audio messaging' and it enables users to record and send audio clips via direct message.
Example Tweets for trends
I bet this happened to you — you log in Twitter, look at what's trending, and have no idea what all these trends are related to. Well, Twitter is testing a way to fix this. Last month, the platform started adding example tweets alongside trending topics in its lists, which will provide more context as to why that topic or term is trending, saving you an extra click and some confusion.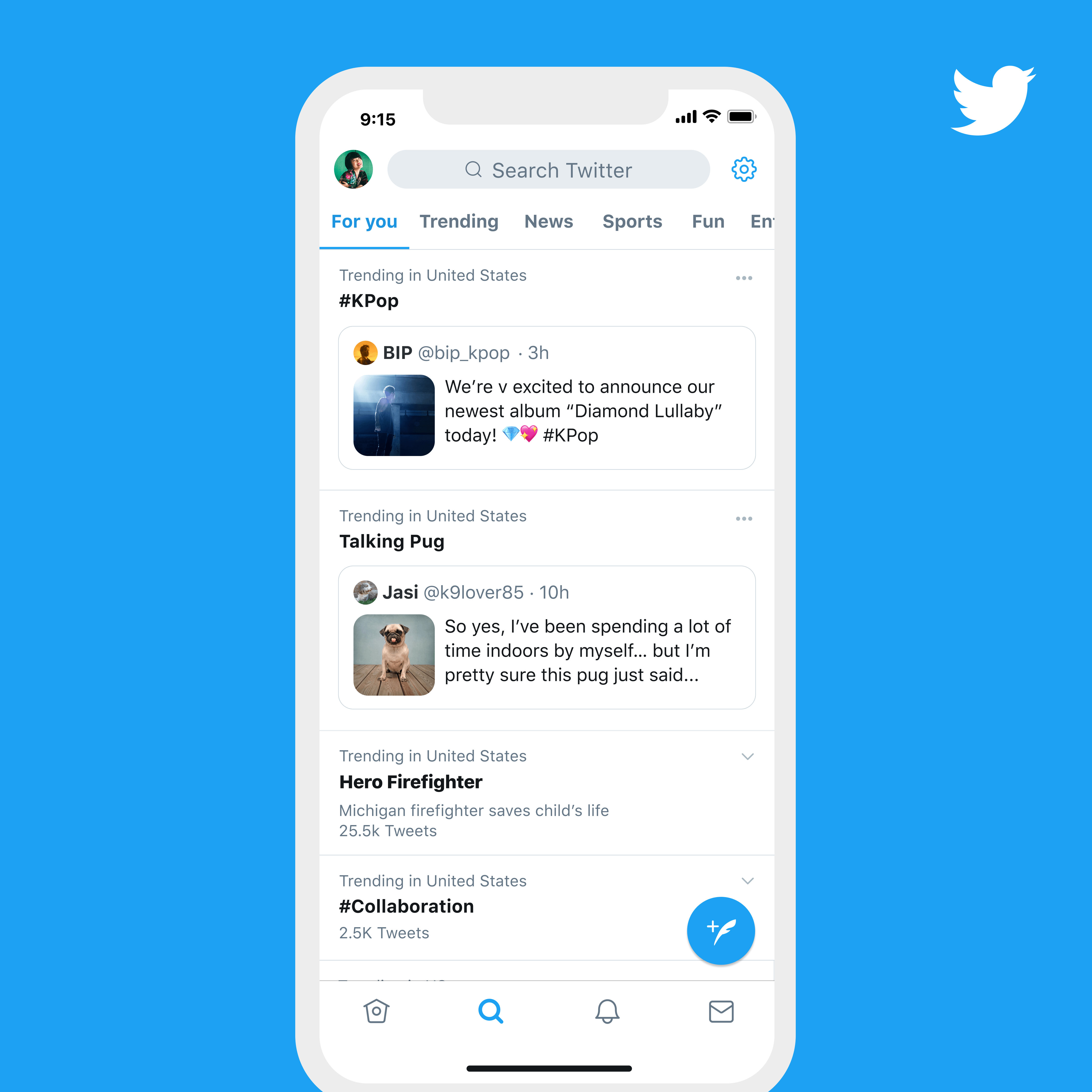 TikTok
TikTok makes deal with Oracle, still might face restrictions
TikTok chose from the two main contenders for its USA branch and went with Oracle. Once the deal was announced, Trump expressed his approval. But! The details of the deal are a bit more complicated than the American government had expected:
First off, ByteDance clarified that it will not be transferring algorithms and/or technologies to Oracle, or any other US company, as part of the deal.
As per ByteDance:
"The current plan does not involve the transfer of any algorithms and technologies. Oracle has the authority to check the source code of TikTok USA."
Going on this statement, it seems that the Oracle team will need to develop a new, unique algorithm for the platform - which could be problematic.
Moreover, president Trump has already disputed these conditions and said that he would not be approving any deal for TikTok if its Chinese ownership did not fully sell its interest in the product, which ByteDance had no intention of doing.
For You Page algorithm explained
Speaking about the algorithm, last month we got some insight into how it works. TikTok's algorithm is its main asset since it has this magical power of guessing what you like and making up a perfect feed just for you. They revealed a bit about the magic behind the engine during the press tour. As reported by Axios, here is how it works:
"When users open TikTok for the first time, they are shown 8 popular videos featuring different trends, music, and topics. After that, the algorithm will continue to serve the user new iterations of 8 videos based on which videos the user engages with and what the user does."
One of the key strengths of TikTok's algorithm, as opposed to other social platforms, is that TikTok is a largely open network, and as such, it's less defined by who you follow and more dictated by popular trends. That's most evident in this point - TikTok will show you the key, trending posts from several categories, then customize your feed based on the one you engage with the most.
As TikTok has shared previously, that engagement is based on:
Direct interaction - Comments, likes, follows, and shares

Completion rates - If you watch a clip through to the end

Video information - Whether the clip includes captions, specific sounds and songs, hashtags, etc.

Device and account settings - This is a lesser factor in determining reach, but TikTok does also consider elements like your language preference, country setting, and your mobile device type.
Based on these elements, TikTok then customizes your feed based on your preferences, with topic-defined posts being the initial starting point, not people (i.e. celebrities).
LinkedIn
Introducing Stories globally
LinkedIn had been testing Stories over the last few months, with users in Brazil, the Netherlands, Australia, UAE, and France able to access the option. Now, everyone will be able to try it out!
In addition to that, LinkedIn started experimenting with links in Stories last month.
#LinkedIn is working on adding swipe up links in Stories 👀 pic.twitter.com/MSXcSGpBg1

— Alessandro Paluzzi (@alex193a) September 3, 2020
The functionality appears to be similar to other Stories options, in that users would 'swipe up' on the frame to access the attached URL link.
---
And that's all the major social media news from September. Logically, all eyes are on TikTok right now, but nice additions like removing restrictions for text on Facebook ads and voice messages on Twitter are also exciting! What was your favourite news this month?