What Happened on Social Media in August: Monthly Round-Up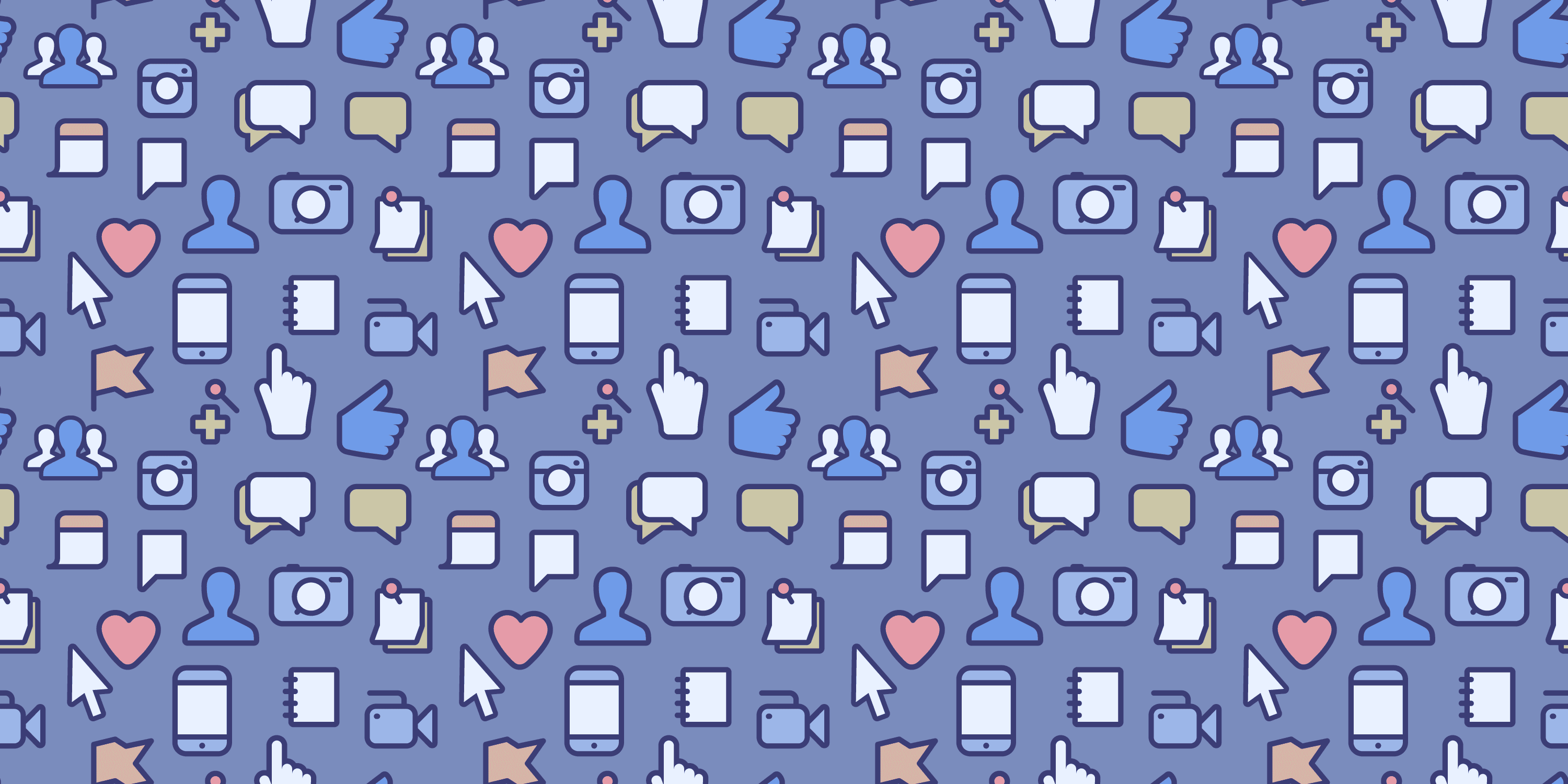 The one thing that all the social media marketers agree on is that social media is a constantly changing environment. The world of social media is moving forward non-stop and you need to keep up with it. But sometimes it's not easy - with so much news every day it's hard to stay on top of every important update. That's why starting this month we're going to give you a monthly update on all things social. Let's dive in and see what happened in the world of social media in August.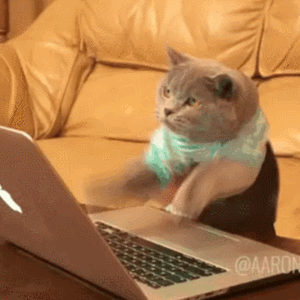 Twitter
This month Twitter introduced the long-promised API changes, which caused a little bit of a panic among social media experts.
Basically, Twitter is choosing Facebook's route and is trying to limit third-party tools' capabilities in order to force people to use their native analytics and managing features. This had a great effect on some third-party tools such as Tweetbot and Twitterrific.
Timeline streaming was disabled.

Notifications for Mentions and DMs are now delayed by a few minutes.

Other push notifications were disabled.

Some of the third-party analytics features which duplicate the native features were removed.
These changes surely will make many users start using Twitter's own tools like Tweetdeck. It's very likely that Twitter will continue going this route, further limiting Twitter management abilities for third-party tools.
Account Suspension
Twitter continues on their effort of cleaning up the platform from dead accounts and malevolent users.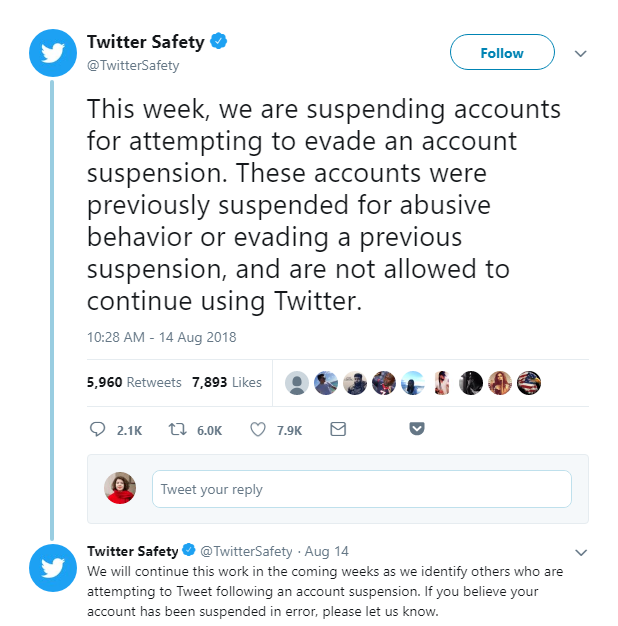 This is a part of a bigger project which goal is to get closer to realistic follower numbers. For many users, it means losing followers. It's highly likely that this initiative was caused by brands raising questions about the validity of follower counts, particularly as they relate to influencer marketing.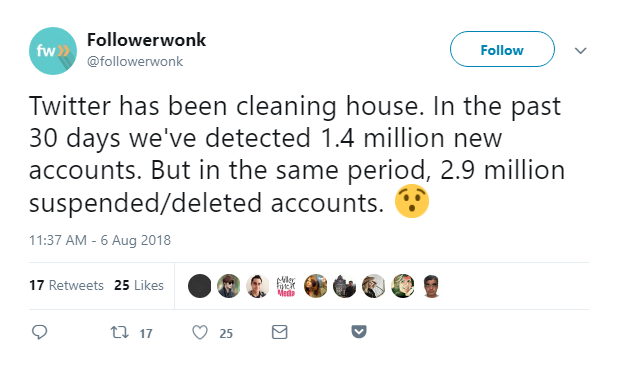 Facebook
API Changes
Twitter wasn't the only one who introduced API changes this month - Facebook also managed to cause some anxiety among third-party tools. Since August 1, they no longer have access to personal pages.

Moreover, you can no longer auto-publish your tweets on Facebook.
This is likely related to Facebook's app review process started after the notorious Cambridge Analytica scandal.

According to Facebook, so far it's investigated thousands of apps, with more than 400 providers suspended due to:
concerns around the developers who built them or how the information people chose to share with the app may have been used.
To help smaller and local businesses raise their exposure, Facebook introduced a bunch of updates which help them utilize Groups and Reviews and Recommendations more effectively.
New Recommendations feature for Pages enables users to post a written review of your business, which can include text, photos, and a new option - related business tags. It will be featured prominently on Pages.

The Tags which will work similarly to hashtags but for business. Suggested tags will be generated based on keywords from past recommendations, or they can be manually added in. The tags will make it easier for users to understand what your business is known for and will make it more suitable for related searches. For example, the data included in the new recommendations, including tags, will help ensure your business comes up when people use question posts, seeking business recommendations.

New Action buttons on pages will enable users to do things like book an appointment, order the product, send a message, or write a Recommendation in as few clicks as possible.

Updated product and services listings will make any relevant information such as working hours, prices, recent events and etc. easily available for visitors.

Facebook's also making it easier for businesses to sell tickets for Events directly on their Facebook Pages with new ticketing integrations.
Facebook officially launched Activity dashboard both for Facebook and Instagram. Now you're able to see how much time you spend on the platform and set a daily reminder to close the app if it goes past your own time limit. The intent behind the tool is to reduce mindless scrolling on the platforms in favour of deeper engagement.
We want the time people spend on Facebook and Instagram to be intentional, positive and inspiring. Our hope is that these tools give people more control over the time they spend on our platforms and also foster conversations between parents and teens about the online habits that are right for them.
- says Facebook.
Enjoying the post? There's more.
Sign up to receive one email a week with exclusive, actionable tips on social media and digital marketing.
Reddit

In the beginning of August it became known that Reddit got hacked. In June the hackers got access to the email addresses, passwords as well as public and private messages of early Reddit users. They also hacked Reddit's email digests sent in June. The digests connect a username to the associated email address and contain suggested posts from select popular and safe-for-work subreddits you subscribe to.
This led to Reddit hiring their first data security manager and conducting a thorough investigation of the breach.
Higher Engagement
According to the company's VP of brand partnerships, Zubair Jandali, the platform is seeing significantly higher engagement rates lately. During an interview conducted over email, the company's VP of brand partnerships, Zubair Jandali, said Reddit is seeing three to seven times better user engagement rates with the redesigned site compared to the classic version — a lift that translates to advertising response rates as well.
"Advertising didn't play a role in the redesign per se," says Jandali, "but we're seeing much stronger engagement on ads by virtue of the fact the core organic experience is more engaging."
LinkedIn
New Group Tools
LinkedIn is focusing on Groups with the introduction of new tools. With the new features and various updates LinkedIn is hoping to turn groups from spam-filled spaces into the place of valuable communication and support.
Reintegration of groups with the main app.

LinkedIn will now highlight conversations taking place within groups in the main LinkedIn feed of members.

LinkedIn will be looking to push more group activity into your notifications stream.

LinkedIn will also drop the group e-mail blasts with the same aim to make them less spammy.

Users will now be able to post videos and GIFs in groups – and @mention users in group posts.
So far, these updates are nothing to write home about, but I'm sure that the platform will continue its efforts to make LinkedIn Groups enganging and useful.
Instagram
Recommendations feature
Instagram is testing a new content discovery process, by suggesting posts from accounts similar to those you follow and interact with in the main feed.
As Instagram states:
You'll see recommended posts at the end of your Feed, once you've seen everything new from people you follow. When you see the "Recommended For You" message, you'll have the option to view your past posts or keep scrolling for your recommendations. And, if you're interested in seeing more from the accounts shown in your recommended posts, just tap on the blue button to follow them.
Private polls to DM
A couple of months ago Instagram introduced poll stickers to Stories which allow users to vote on two alternatives: and now they are available send in Direct Messages as well.
Social media marketing news
The French social media listening tool Mention had a data security breach related to a third- party provider.

As said in their statement, the hack was not directed at Mention itself. The following information about your Mention account may have been exposed:
Names and email addresses of Mention users.

Mention account profile info such as the number of connections, numbers of alerts, number of mentions, plan value, and account creation date.
What does it all mean?
As we see, the general trend of social media is to move away from spammy advertising into more genuine types of marketing such as word-of-mouth marketing or personalized promotional messages based on your interests. The fears related to data security remain a popular topic on everyone's mind as more and more platforms are doubling down on a more clear and open way of informing the users about the safety of their information. We'll see how these tendencies will develop at the end of September.