What happened on Social Media in November: monthly round-up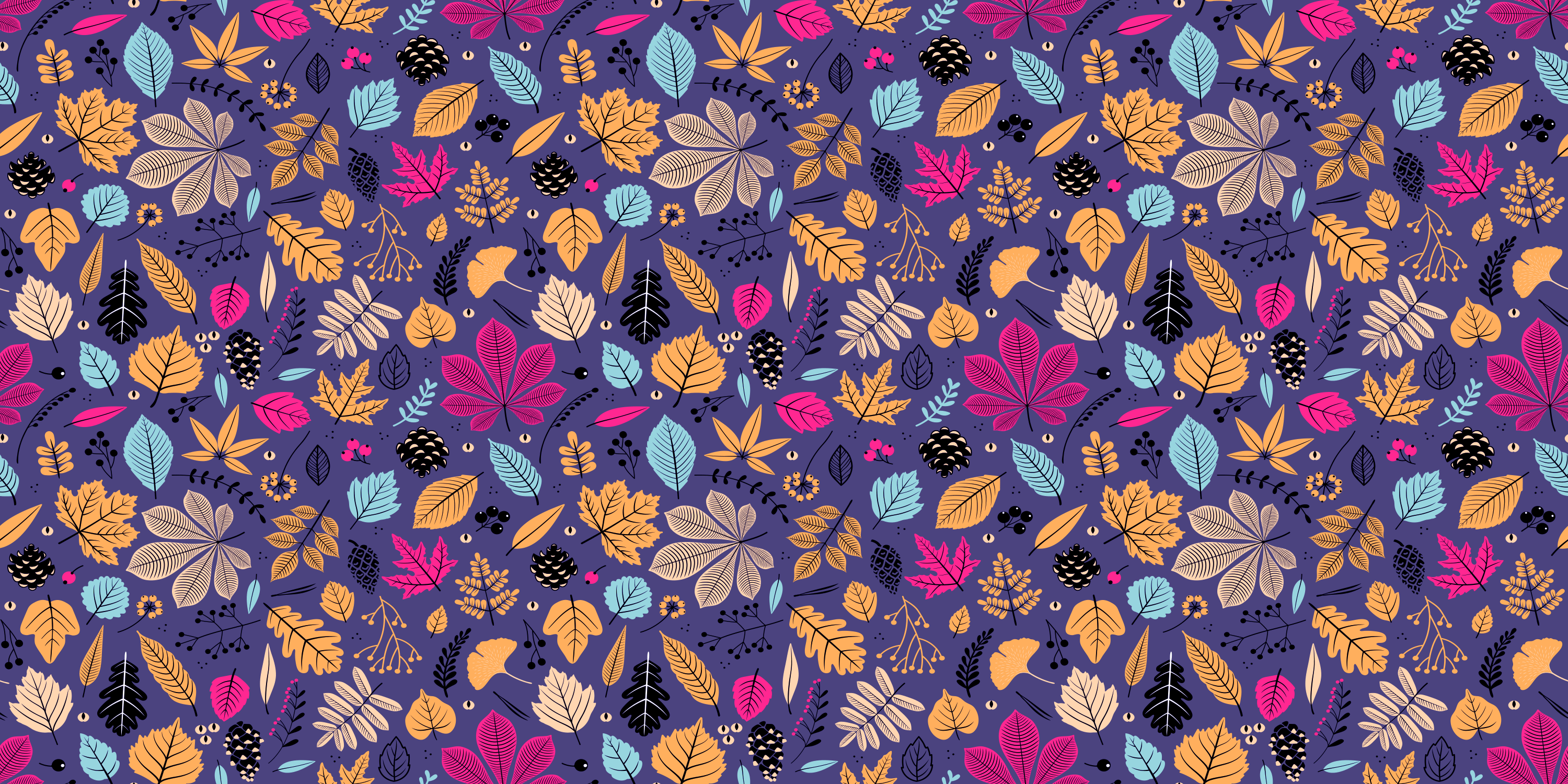 It's finally the most wonderful time of the year! The bells are jingling, holiday marketing campaigns are on the rise, and Hanukkah is in full swing.
The holiday season can be a bit hectic for anyone, but for social media marketers it's truly a test of their abilities: you have to write holiday greetings, plan competitions and giveaways, follow this year's holiday trends, and so on. But it is just as important to know what's going on in the world of social media. So here's a short and sweet overview of Facebooks' mishaps, Twitter's soul-searching, and LinkedIn's new features in one article to update you on important social media news.
Facebook
Fake news investigation
In November Facebook was under a lot of heat (and as we're entering the last month of the year, the situation seems to be only getting worse).
As a part of an ongoing inquiry into disinformation and fake news on the platform, Mark Zuckerberg was invited to testify before the international committee from 9 different countries. And what do you do in this stressful situation when the company you built with a mission of "making the world a better place" is accused of actually making it much much worse? Well, apparently you just don't show up.
According to BBC, "Its chairman Damian Collins, has repeatedly asked Mr. Zuckerberg to attend hearings".
Richard Allan was asked about the spike of activity coming from users with Russian IPs in 2014 and about access to Facebook data given to the third-party apps. He was unable to name a single occasion when Facebook had banned an app for breaking its rules, despite saying that it was Facebook's policy to do so.
During the session a lot of people expected the committee to release the documents seized by MPs from a US businessman on the grounds that they were relevant to the inquiry. They were actually released while I was writing this article, December 5, and include papers and emails exchanged between Facebook executives. They reveal Mark Zuckerberg's initial thoughts on sharing data and commercializing it. This Guardian article summarizes some key points from the revealed documents.
At the same time, numerous Facebook users were kicked out and locked out of their accounts. The last time it happened, Facebook admitted to a data breach, but they haven't commented on this event yet.
A new algorithm to battle fake news
You might get an idea that I have some kind of personal vendetta against Facebook, which is not true (even though I'm thinking about deleting my account more and more often). So let's talk about the good things Facebook is doing.
In parallel to the fake news investigation mentioned earlier, Facebook introduced a new News Feed algorithm aiming to fight fake news. As explained by Mark Zuckerberg, it will automatically limit the reach of certain content once it's passed a certain number.
As the letter from Facebook states:
"Our research suggests that no matter where we draw the lines for what is allowed, as a piece of content gets close to that line, people will engage with it more on average -- even when they tell us afterwards they don't like the content. This is a basic incentive problem that we can address by penalizing borderline content so it gets less distribution and engagement. By making the distribution curve look like the graph below where distribution declines as content gets more sensational, people are disincentivized from creating provocative content that is as close to the line as possible."
In addition to this, Zuckerberg also notes that Facebook's looking to establish a new independent committee to handle appeals over content rulings.
"In the next year, we're planning to create a new way for people to appeal content decisions to an independent body, whose decisions would be transparent and binding. The purpose of this body would be to uphold the principle of giving people a voice while also recognizing the reality of keeping people safe."
Facebook famously employs a huge number of content moderators currently, so this move could have interesting consequences both for the users and the company.
Keyword alerts for Facebook Groups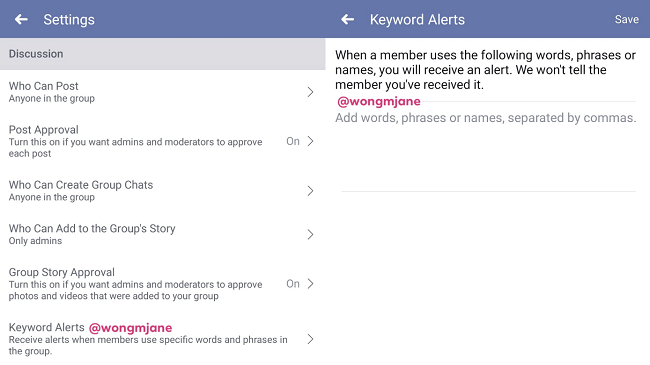 Naturally, we atAwario love everything that has to do with keyword monitoring so the rumours of this feature are very exciting to us. It was spotted by Jane Manchun Wong, a hacker that often uncovers features which are being tested by Facebook and Instagram.
The process is quite straightforward — you add keywords and get alerted every time somebody uses said keywords in your group. It seems like the feature will be available to group admins and moderators.
The initial thoughts I had are that it could be used for social selling: just set an alert for keywords that express buyer's intent or a need for recommendations and get alerted about the sales prospects, stunning! But since this feature will be only accessible for moderators, it's much more likely to be used for filtering offensive or harmful comments.
Live Video Mode for Sellers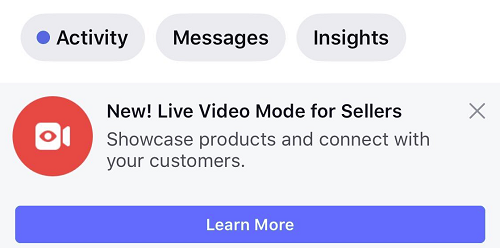 However, another feature Facebook is currently testing is fully dedicated to selling. As reported by Social Media Today, this new addition to an eCommerce toolset available to brands currently will enable Pages to showcase products in their stream, which viewers can then easily purchase via screenshots. The option appears to be an extension of Facebook's 'Shop' option for Pages, which enables businesses to list products they're selling.
Live video saw a huge boost in 2018 with most social media platforms now making live video a part of their functionality, and now sales are going to be enhanced by live video as well. Facebook says the new feature will help businesses "quickly close sales" by connecting viewers to purchases in real-time.
This falls into Facebook's (and Instagram's) general direction to make buying a part of social media experience. It will be interesting to see whether this new feature will cause more spontaneous purchases among Facebook users.
Twitter
Segmented Feeds in Explore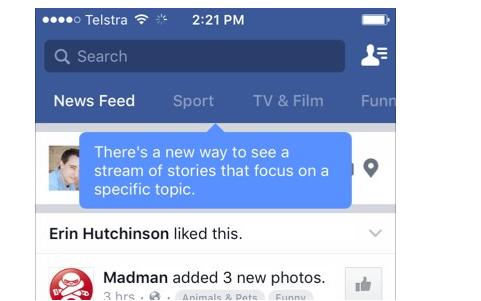 A new update of Twitter's Explore section is... more sections! Now your Explore section is divided into several topical feeds, which will help you discover relevant content.
Currently, the update is only available to the USA users, but it's expected to get a broader release in the future.
Considering that more and more people are getting their news from Twitter, this should be a useful feature to help you stay up to date with the topics you're interested in.
New update to de-emphasize follower count
Twitter's CEO Jack Dorsey did a lot during his recent trip to India: talked about the possibility of Edit Button, sparked a controversy, and shared his thoughts on the Follower count.
The update itself is extremely minor — Twitter is going to make the font which states the number of followers smaller. Quite an underwhelming news, isn't it?
But what's interesting to us is the thought behind this change. The CEO even said that "The follower count is meaningless", which goes against a lot of the current sentiment surrounding social media and influencers. As Jack Dorsey puts himself:
"I don't think that's the number you should be focused on. I think what is more important is the number of meaningful conversations you're having on the platform."

This is an interesting view that can signify further changes in the platforms' user experience.
Enjoying the post? There's more.
Sign up to receive one email a week with exclusive, actionable tips on social media and digital marketing.
Instagram
Crackdown on fake followers
As Twitter is trying to move away from the power of follower count, Instagram is trying to make follower count more accurate. Last month Instagram decided to double down on eliminating followers and likes gained through the use of third-party services which promise to boost your on-platform presence (in other words, paid followers and likes).
"We've built machine learning tools to help identify accounts which use these services, and remove the inauthentic activity. Accounts we identify using these services will receive an in-app message alerting them that we've removed the inauthentic likes, follows and comments. We will also ask them to secure their account by changing their password."
Instagram being one of the biggest platforms for influencer marketing, it's easy to imagine how this will affect marketers. It's a clear effort to help businesses make more informed decisions when working with an influencer.
New Activity Dashboard
Announced back in the summer, Instagram rolled out the new Activity Dashboard which shows you how much time you're spending on the app, allows you to set daily time limits, and mute push notifications for a chosen time period.
The feature can be found inside the hamburger icon on the upper right corner of your profile page, and you can see it under "Your Activity." It's available worldwide.
The fact that the update not just informs you of the time spent on Instagram but actually lets you limit yourself indicates that Instagram (and it's owner Facebook) acknowledges the effect social media can have on mental health and is ready to take steps to mitigate it.
LinkedIn
New groups structure
LinkedIn announced their intentions to revitalize groups earlier this year: I already covered some of the minor changes they had introduced. The goal is to turn LinkedIn Groups from spam-filled spaces of self-promotion into useful and valuable places of communication.
In November LinkedIn continued on their mission and shared some insights into the new Groups Infrastructure.
The actual changes for users are pretty minor, but there are some points that will affect your experience on the platform:

Since the Groups are included in general LinkedIn's infrastructure now, LinkedIn is able to add in any new features you see in the main LinkedIn feed. This is how they've been able to add in video and GIF posting, and it'll enable LinkedIn to offer improved integration of all new functionality within groups moving forward.
The Group notifications were also improved by applying the same principles that are seen in your main LinkedIn feed.
"The new Groups product leverages this notifications platform to deliver a consistent experience across LinkedIn by sending relevant and timely notifications. Content creators can now focus solely on getting their message out and not be distracted by how it's delivered. They can rely on the platform to deliver it to members via a channel that's most optimal for them (push, in-app, email)."
Groups also now leverage the same spam filtering process as the main LinkedIn feed - so if you're happy with your overall experience on LinkedIn, you'll likely be more satisfied with groups.
In conclusion
This month's social media news show us a few trends, which have been prominent for the last year.
Firstly, the battle against hate speech, fake news, and general abuse of the platform. The social media executives recognize the consequences that can come out of misusing social media and are trying to prevent them. Besides, they are urging every user to spend their time on the platforms more responsively.
Secondly, making their platforms more business-friendly, which is especially obvious with Facebook's products. By clearing up follower count and introducing new ways of buying right on social media, they intend to give brands more tools to market and sell on social media.
Are you thinking about deleting your Facebook account? Do you agree with Jack Dorsey that the numbers don't matter? Let's share our thoughts in the comments!