What happened on Social Media in September: monthly round-up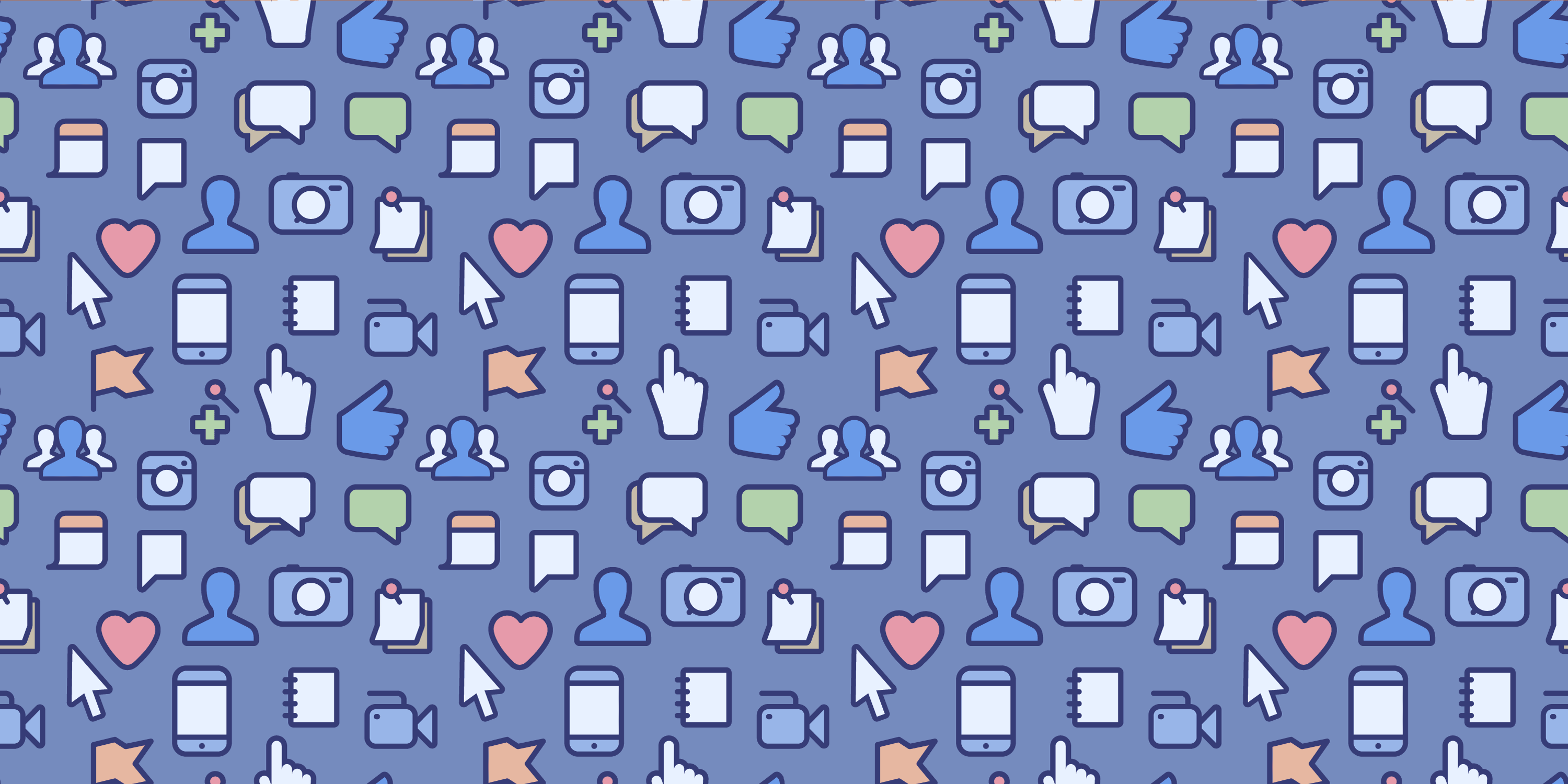 Autumn is here and social media platforms are very much back from the holiday season - if they ever were on holidays at all. This month we're celebrating the return of the chronological timeline, wondering how Instagram will change after its founders left, and observe how LinkedIn is trying to make groups great again (again) in our monthly social media round-up.
Twitter
Chronological timeline is back!
After almost two years of constant complaints, Twitter is bringing the chronological timeline back. About two years ago, Twitter implemented the algorithm which shows "In case you missed it" tweets first as well as recommended Tweets from people you don't follow, and since then users would not stop tweeting about the good old days of the chronological timeline. Well, their tweets have been answered (thanks @jack!). Starting this month, Twitter users will be able to turn off the algorithm and return to the chronological order.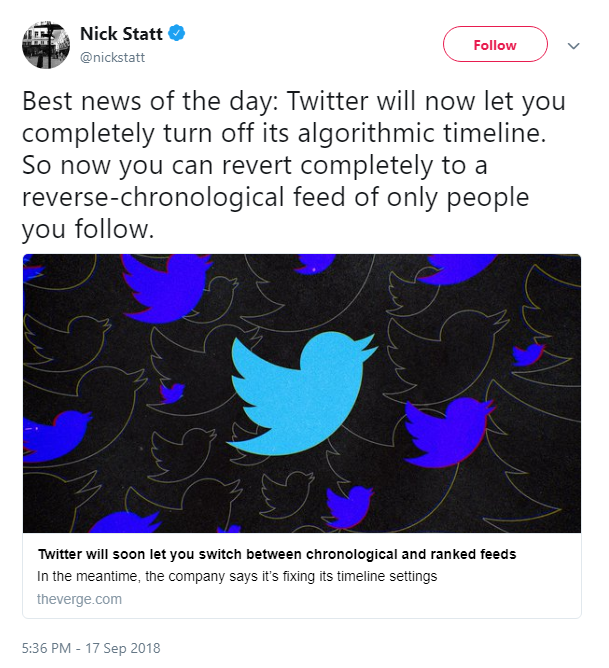 In the statement, Twitter says that even though there are many people who like the algorithm, they also understand that "people at times prefer to see the most recent Tweets". According to the thread, their main goal is to make switching between chronological timeline and the algorithm easily available, a feature they will be testing out in the upcoming weeks.
For now, you can see tweets in chronological order by turning off the option "Show the best Tweets first".

Interestingly enough, Twitter's recent performance report shows that the algorithm helped to boost engagement. To be frank, it doesn't surprise me. Since Twitter never managed to become as attractive to advertisers as, let's say, Instagram, their algorithm was actually helpful and engaging for most users, including me. But it's always good to have variety.
API bug discovered
Last week Twitter informed users that they had discovered a bug affecting the API. As a result, protected tweets and DMs could be sent to the wrong registered developer or a third-party tool who was not supposed to have this data.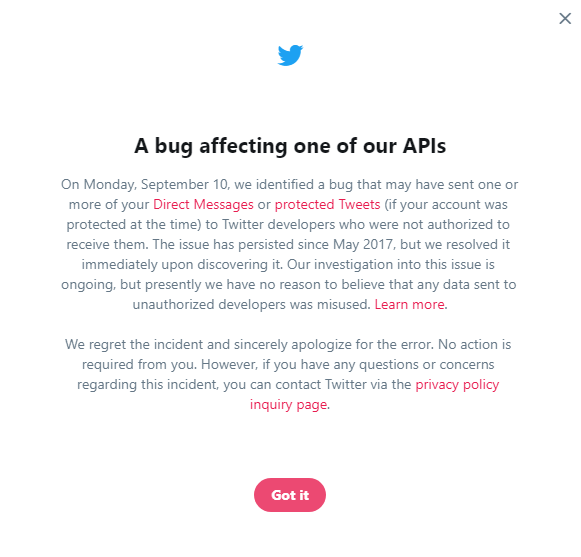 As they state in the notice, "If you interacted with an account or business on Twitter that relied on a developer using the Account Activity API to provide their services, the bug may have caused some of these interactions to be unintentionally sent to another registered developer. Similarly, if your business authorized a developer using the AAAPI to access your account, the bug may have impacted your activity data in error."
According to Twitter, the bug was active since May 2017 and was fixed upon discovery on September, 10. Currently, they're conducting further investigation and contacting developers and users who might have been affected by the bug.
In their comment to CNBC Twitter states: "We have no evidence to suggest that any data was improperly misused or exploited anywhere, and there's virtually no possibility that this happened, but we still want to be thorough."
Introducing audio-only live streams
In September Twitter launched a new feature that allows users to broadcast audio in the same way as you can broadcast video. The feature is available on the Twitter app as well as Twitter-owned Periscope on IOS.
You can start an audio broadcast from the same interface where you can start video live stream. The new update could allow people to share live news on Twitter of an audio-only nature, record sharable mini-podcasts, or post something to their followers that takes longer than 280 characters to explain.
Similar to live video, audio broadcasters will be able to view their statistics, such as the number of live listeners, replay listeners, time listened, and other metrics.
Facebook
Handful of updates for Facebook Ads
This month Facebook has really been doubling down on perfecting the Facebook Ads. They introduced several updates which are supposed to make the life of a Facebook advertiser much easier.
First of all, they noticed the critiques from Facebook users and brands alike and added new placement control for video ads. A lot of brands were concerned that their adverts might be played around controversial content, so Facebook announced new measures which will enable video advertisers to control their in-stream ad placements on Facebook videos, including Facebook Watch, and within Instant Articles. New features, Publisher Lists and Publisher Delivery Report, will inform advertisers where their ads are shown and enable them to exclude certain pages and content.
They also revamped their existing Canvas feature, which enables users to see a mini-website for the advertised products right in their Facebook feed. Now it's called 'Instant Experience', which is a better way to describe the functionality behind the feature. The feature offers several templates available to advertisers to help them present their product.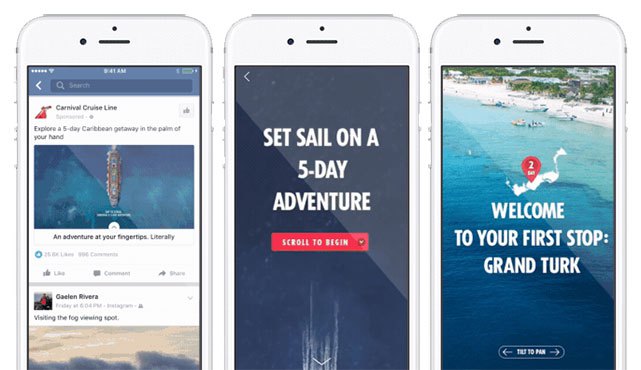 Additionally, Facebook has also launched a new template called 'Instant Form', which enables viewers to quickly and easily share their contact information to learn more about the offerings. Facebook also added an integration with Facebook Pixels to show how successful your add is.
New fact-checking efforts
In the midst of the elections campaigns, Facebook updated their third-party fact-checking system. Now it will also analyze images and video. This initiative aims to battle misinformation which comes from people forming their opinions based on images and headlines only and ignoring the articles.
Basically, from now on Facebook's new systems will be able to pass on suspicious content within images and videos to fact-checkers, expanding its fact-checking program.
Facebook Dating Launches in Colombia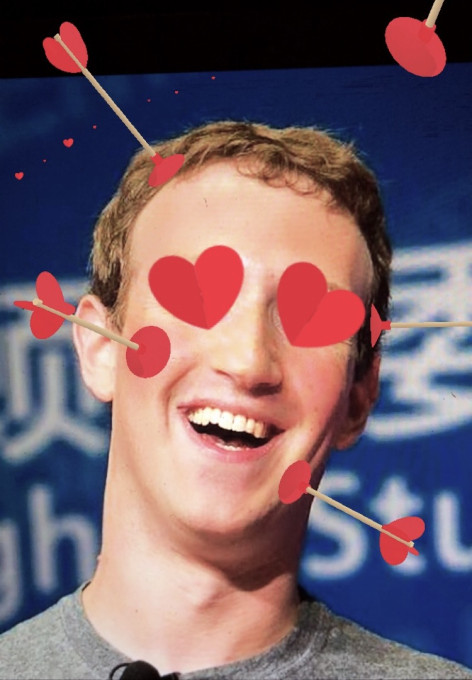 Source: techcrunch.com
This week Colombians got an opportunity to test out Facebook Dating. The feature will analyze your profile and suggest potential dates based on your interests, actions on the platform, common friends, and so on. Users in Colombia are now able to create a Facebook Dating profile, but the company won't start serving matches until there are enough sign-ups.
Facebook emphasizes that their goal is not to compete with dating apps and to encourage meaningful long-term relationships instead. Well, the saying "Time will tell" has never been as relevant.
Don't miss our next analysis.
Subscribe to Awario blog to get social data analyses, case studies, and social listening how-tos in your inbox.
Instagram
Instagram founders leave the company
Maybe one of the biggest stories on social media this month was the resignation of the Instagram co-founders Kevin Systrom and Mike Krieger, which they announced on Monday.
The departure is rumored to be caused by differences in vision between the founders and the Facebook team. Systrom and Krieger were famously against some of the changes which were introduced in recent years, including the extremely successful stories feature. According to BBC, the founders were gradually losing decision-making authority to Facebook, which might have been one of the reasons.
In a blog post, Mr Systrom said: "We're now ready for our next chapter."
He added: "Building new things requires that we step back, understand what inspires us, and match that with what the world needs; that's what we plan to do."
Instagram might be working on a separate app for shopping
The Verge reported that Instagram is developing a stand-alone app dedicated to shopping. The app — which may be called IG Shopping — will let users browse collections of products from brands which they follow on Instagram and purchase them directly within the app.
According to their source, the app is currently in development and could be canceled before it is released, but Instagram believes the company is well positioned to make a major expansion into e-commerce.
LinkedIn
New LinkedIn Groups Experience
The updates which were announced last month are here. LinkedIn officially introduced the New LinkedIn Groups Experience with a number of updates aimed to make LinkedIn groups relevant and useful.
As explained by LinkedIn:
"With your feedback in mind, we've rebuilt Groups from the ground up, making them available right in the main LinkedIn website and app. Why does this matter? Over the past year we've focused on bringing conversations to the forefront on LinkedIn, adding new features to make it easy for you to talk to your professional communities - things like being able to record and share videos, messaging from anywhere on the site, and seeing when your connections are online. The new Groups experience helps you take advantage of all these conversations tools with a seamless, faster experience so you can easily participate in your groups alongside all of the things you already love to do on LinkedIn."
It's questionable whether these updates will help to clear out Groups of spam and self-promotional links, which made groups so unpopular in the first place. But LinkedIn is rigorous in their attempts to make groups a place of connection and value exchange as they're planning to roll out more updates in the upcoming months.
Talent Insights Launch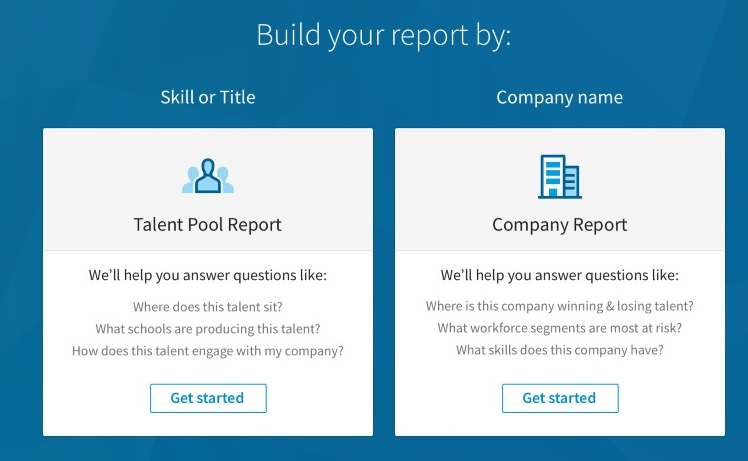 After being in limited beta, LinkedIn officially launched its 'Talent Insights' tool, while also announcing additional functionality. The platform intends to make use of LinkedIn's giant professional data set and help recruiters make choices powered by information.
Talent Insights taps into LinkedIn's vast pool of career development and professional education data to provide key indicators on recruitment trends - either broad-ranging or within specific parameters - enabling businesses to make more informed and strategic HR decisions.
The Insights present two type of reports: Talent Pool and Company.
The Talent Pool Reports focus on key hiring trends within a specific sector, including broad-ranging insights into where the most people with relevant qualifications are located, who's currently employing them and what specific skills they have.
The Company Report will give you more information on talent at both your own company and your competitors.
Integration with Office 365
In collaboration with Microsoftб LinkedIn introduced new features to organize your professional life.
LinkedIn Connections integration with Outlook Calendar. By adding insights on the people you'll be meeting with the calendar you can make your meetings more effective and personal.
LinkedIn Connections integration with Outlook Contacts. Now your LinkedIn connections will be displayed in your Outlook contacts, so you will be able to email them without writing their email address.
LinkedIn emphasizes that they pay a lot of attention to security and assure users that the connection between LinkedIn and Microsoft is absolutely safe.
But still, what does it all mean?
Well, we see several tendencies in the development of social media platforms.
A lot of focus is brought to e-commerce: either through broadening the functions of social media ads or working on your own platforms as in Instagram's case.
Another trend seems to be finally giving users what they want. Twitter brought back the chronological timeline and LinkedIn gave up on the idea of a separate app for Groups and is focusing on making their platform more functional for professional users.
What do you think? Are you happy about the return of the chronological timeline? Are you going to use Outlook with LinkedIn? Tell me in the comments!