7 B2B reputation management fails and how to avoid them

Article summary
In this article, we go through the most common reputation management fails of B2B companies and explain how to fix them with a good strategy and social listening tools.
Do you know how your latest client decided to go with your offer? How did they discover your company, what steps did they take, what made them attracted to your product?
Chances are, reviews and recommendations played an important role in this process. These can be recommendations from colleagues and experts in their field or a random review from a social media user - it still leaves the mark.
The truth is, for B2B companies reputation is a vital asset. Of course, reputation management should be a focus for any company. However, B2B brands are probably one of the most reliant on their reputation.
While B2C companies can pour money into advertising and get their leads from it, a lot of B2B marketing happens through word-of-mouth and recommendations where reputation plays a major role.
It has always been the case but with the digital age, it's gotten so much easier for customers to share reviews. According to Gartner, nowadays only 18% of independent research in the buying process happens offline.
However, for companies, it means that they have to keep a close eye on every review shared. That's why online reputation management can be tricky even for those businesses that are aware of its importance.
In this article, we'll go through the most common mistakes B2B businesses make when it comes to online reputation. Besides, we'll show you how to fix these fails using reputation management services like Awario.
So let's make sure your online reputation remains stellar!
Start monitoring your brand today.
You should've been doing it yesterday – but the next best time is now with Awario.
By signing up I agree to the Terms of Use and Privacy Policy
Fail 1: Lacking a reputation management strategy
The most common mistake I see with brand reputation management is not having a plan.
Sure many brands check their online reputation or even establish some kind of a natural routine that helps them monitor their brand reputation. And yet they still lack strategic thinking when it comes to reputation management.
The lack of a plan may lead to inconsistent, haphazard, and incomplete online reputation management. You may be covering some online grounds but missing twice as much. Moreover, you end up completely unprepared for urgent situations.
A brand reputation management strategy should include three aspects:
Consistently monitoring your online presence

Training your team

Having plans for crisis situations at the ready
If you're a kind of an online reputation manager who struggles with the first aspect, reputation management tools can help.
How to fix it
First of all, you need to start steadily tracking your online reputation. This can be done with reputation management tools. For example, Awario analyzes every mention of your brand online (tagged or untagged), determines its sentiment, and builds a sentiment graph that shows how the perception of your brand changes over time.

Additionally, you get access to the Mention Feed where you can see every online post mentioning your company or products.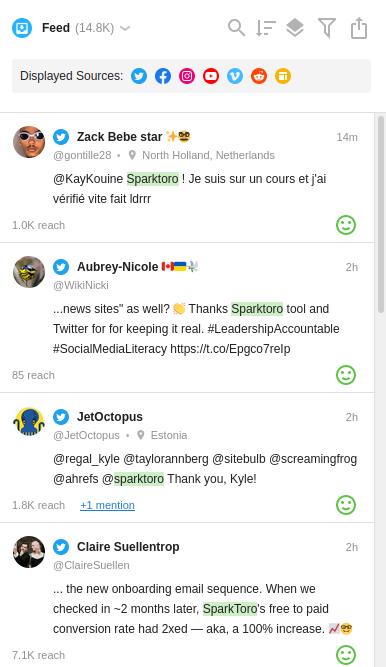 All you need to do is set up a monitoring alert with your brand and product names as keywords. Awario will find all the conversations mentioning these keywords and analyze them.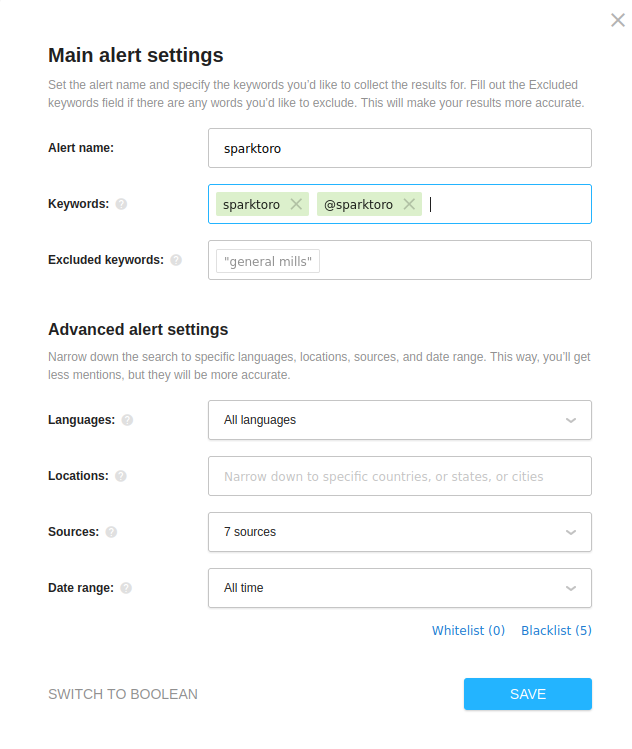 The tool gathers and analyzes conversation in real time so all you really need to do is to have the tab with Awario's Mention Feed open and respond when necessary.
Now that you're consistently tracking your reputation, it's time to decide what to do if something goes wrong. Set up different scenarios and workflows for when you get a negative review, a sudden influx of negative conversations, or someone with a big following mentions your brand.
Write down these scenarios and go through them with your social media and customer care teams. Make sure they know how they should respond, how to prioritize certain conversations, and when to report on them.
That's all the three aspects of a robust online reputation management plan covered.
Fail 2: Posting fake reviews
I think it's clear that posting reviews fake positive reviews about your company (or negative reviews about your competitor) is not the most conscientious practice. What's important is that it's not the most effective one either.
Firstly, most fake reviews are easy to spot. Customers just don't talk the way a company's employees do. They rarely bring up specific features or products by their exact name or use corporate speak, even in the B2B world.
Secondly, even if you manage to write an undistinguishable review one time, if you're doing it repeatedly, one day you'll be discovered. Just one fake review may lead to a reputational crisis – people start talking about you posting fake reviews and won't trust you anymore.
Thirdly, the review website themselves can easily notice if you're posting fake reviews, for example, from the same IP address. In this case, the reviews are usually deleted and you can be banned from the platform.
And yet, you still need reviews – the more of them you have, the easier it will be to convert potential clients. So what do you do?
How to fix it
Let me assure you, there can be plenty of reviews from your customers that you're missing on social media. All you need to find them is to consistently track your brand online – which you're already doing if you fixed your previous mistake!
Every time you come across a positive opinion of your brand shared on Twitter or Instagram, thank the customer and link them to a review website asking them to share their opinion there.
There are lots of different tools ou there, but I like using https://t.co/tFzX3ulTPy

— Cattle Ranch Dog ?? (@CattleRanchDog) March 16, 2022
In addition to that, you can encourage your clients to leave reviews in your newsletters or when solving their customer care requests. Stay proactive and you will yield genuine positive reviews from real clients very quickly.
Fail 3: Not monitoring company accounts
Since we already brought up social media, let's talk about them. Sometimes brands treat their social media accounts as a kind of mouthpiece, a channel for their contact, and nothing more.
However, nowadays more and more people choose social media as their main platform for communication with brands, even with B2B companies. This means customer care requests, product ideas, questions about the company, and more.
If you are not monitoring your company's social media accounts thoroughly, it's very easy to skip this communication. This can lead to clients feeling neglected and venting about it on social media which doesn't improve your online reputation.
In order not to put your efforts into reputation repair, pay attention to your social media accounts.
How to fix it
There is more than one way to contact you on social media. Your clients can reach out through direct messages, tag your account in one of the posts, mention you in an ephemeral post (Stories), and so on. Make sure your social media team keeps track of all these channels and checks them constantly.
There's also a chance that some clients can misspell your name when trying to tag you. For these cases, I suggest adding common misspellings of your brand name to your online reputation management tool to make sure you spot them anyway.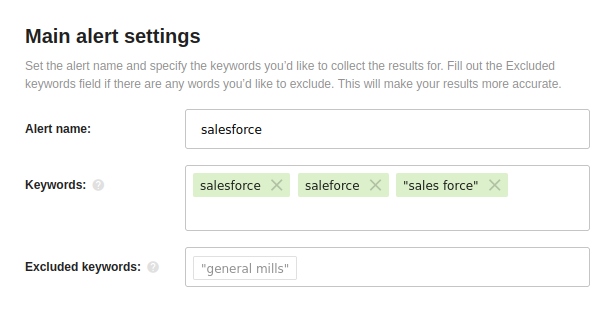 Fail 4: Lack of customer care
Customer care is one of the main factors when it comes to making a purchasing decision and most companies know that. The worst feeling you can leave with your customer is the feeling of neglect when they feel like their problem is not taken seriously.
The two mistakes I see with customer care are:
Not responding quickly enough

Not responding at all
As we discussed above, it can be quite easy to miss communication from your clients with the sheer amount of channels we have nowadays.
As for the hastiness of your response, according to Hubspot, 90% of customers rate an "immediate" response as important or very important when they have a customer service question. 60% of customers define "immediate" as 10 minutes or less. It can be hard to keep up with these demands without automation.
Start monitoring your brand today.
You should've been doing it yesterday – but the next best time is now with Awario.
By signing up I agree to the Terms of Use and Privacy Policy
How to fix it
First of all, you need to revise all the channels your clients can use for communication: email, live chat, social media, Google My Business, telephone, and so on. You need to make sure you're keeping track of all of them. Analyze where you lack attention and assign special care to them within your team.
Secondly, use customer care tools! You can use Awario to make sure you see all the customer care requests in real time and can respond quickly. Chatbots can help you with frequently asked questions but use them cautiously – people like talking to humans much more than robots.
Fail 5: Responding negatively to every critic
It might be a controversial idea, but the customer isn't always right. However, arguing with them won't do any good for your business or your online reputation.
No matter if your customer misunderstood something, or it's simply a troll or a competitor using dirty tactics, a defensive or antagonizing response will only show you in a bad light. Show empathy and take the higher ground, this will help reputation repair much more.
How to fix it
Instead of arguing, acknowledge your customer's problem and apologize for it, even if it's just a result of a misunderstanding or a mistake on their part. Once again, it's important to respond as quickly as possible.
Then, re-establish trust with the customer by explaining what steps you're going to take to address their problem. And, if you feel it's necessary, you can even offer a freebie or discount for the customer to encourage them to give your business another chance.
Fail 6: Deleting reviews and comments
While you may be tempted to delete bad reviews, especially if you already solved this problem, it's always a bad move.
Deleting bad comments makes it look like you can't handle criticism. And owning up to your mistakes is important in brand reputation management. It helps you establish trust with the customers.
Besides, if you delete one bad review, the customer might just take their anger elsewhere. They can post on private Facebook or LinkedIn Groups where you don't even have a chance to reach them and fix your mistakes. So by deleting reviews, you are actively harming your reputation.
How to fix it
Make sure you have established protocols on how to address negative reviews in place. I mentioned the appropriate steps in the previous point, so it won't be hard to prepare for that.
Once your team has instructions on how to handle customers' complaints, they won't have thought to delete a review because they know what to do instead.
Enjoying the post? There's more.
Sign up for our newsletter to get our best content by email.
Fail 7: Spamming more than marketing
The Internet made us develop a high intolerance for spamming. We see so many irrelevant sales-y messages every day that we instantly get a bad feeling about businesses that spam us.
Now, you might not think you're a spammer, but that's for your customers to decide, not you. This applies to anything you are sharing online such as private messages, emails, social posts, groups, and comments.
If you're bombarding your clients with emails on best offers, discounts, special plans, articles, and so on, you are spamming them. You're not giving them the information THEY need, especially if you are not using secure email protocols such as DKIM records.
So how do you avoid looking like a spammer, even unintentionally?
How to fix it
Listen to your audience! They know what kind of content they want to see from you, so learn from them.
Social listening is a great tool for researching your audience, what kind of content they share, what offers work for them, etc. You can discover what language they use to communicate their needs, what channels are the best to reach them, and what product changes they dream of.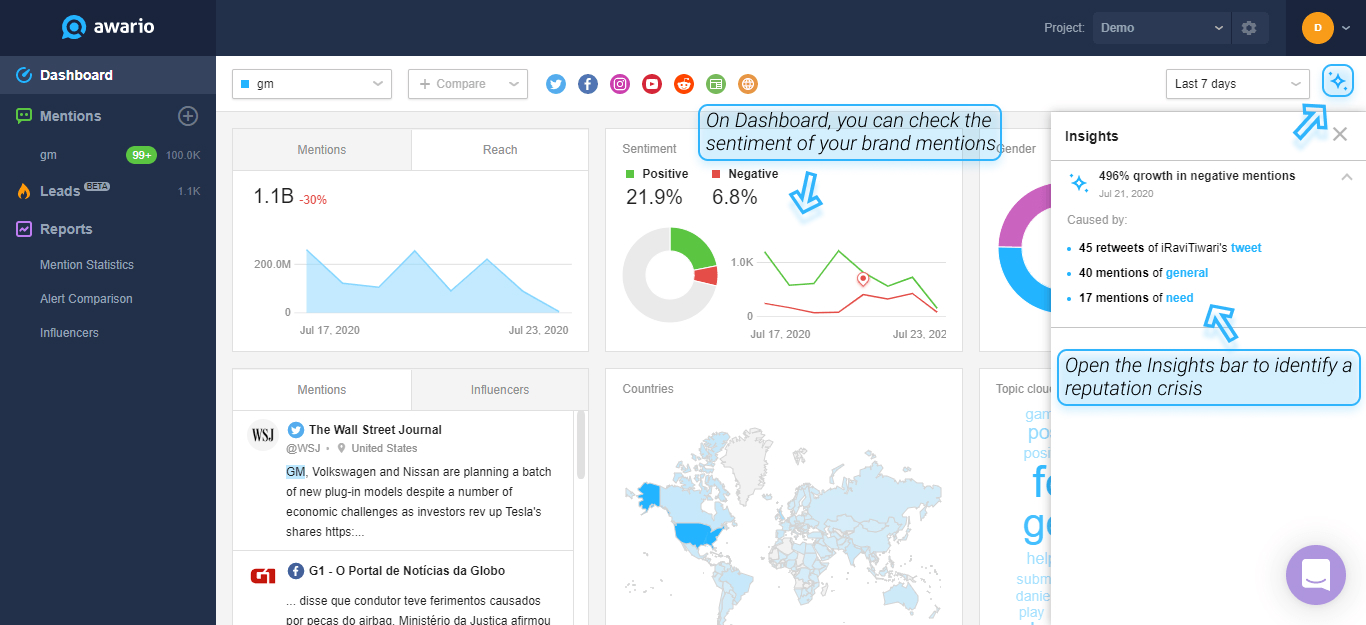 Knowing your audience well allows you to understand what communication they would consider spam and what messages would actually be helpful. This allows you to stay away from an online reputation of a spammer and keep the goodwill of your customers.
In conclusion
These are the most common mistakes B2B businesses make when it comes to online reputation management. Avoiding these 7 errors allows you to have the trust and loyalty of your customers and makes them your biggest marketers.
Amazing online reputation makes word of mouth work for you bringing in more and more customers.