Advertising on TikTok: types and tips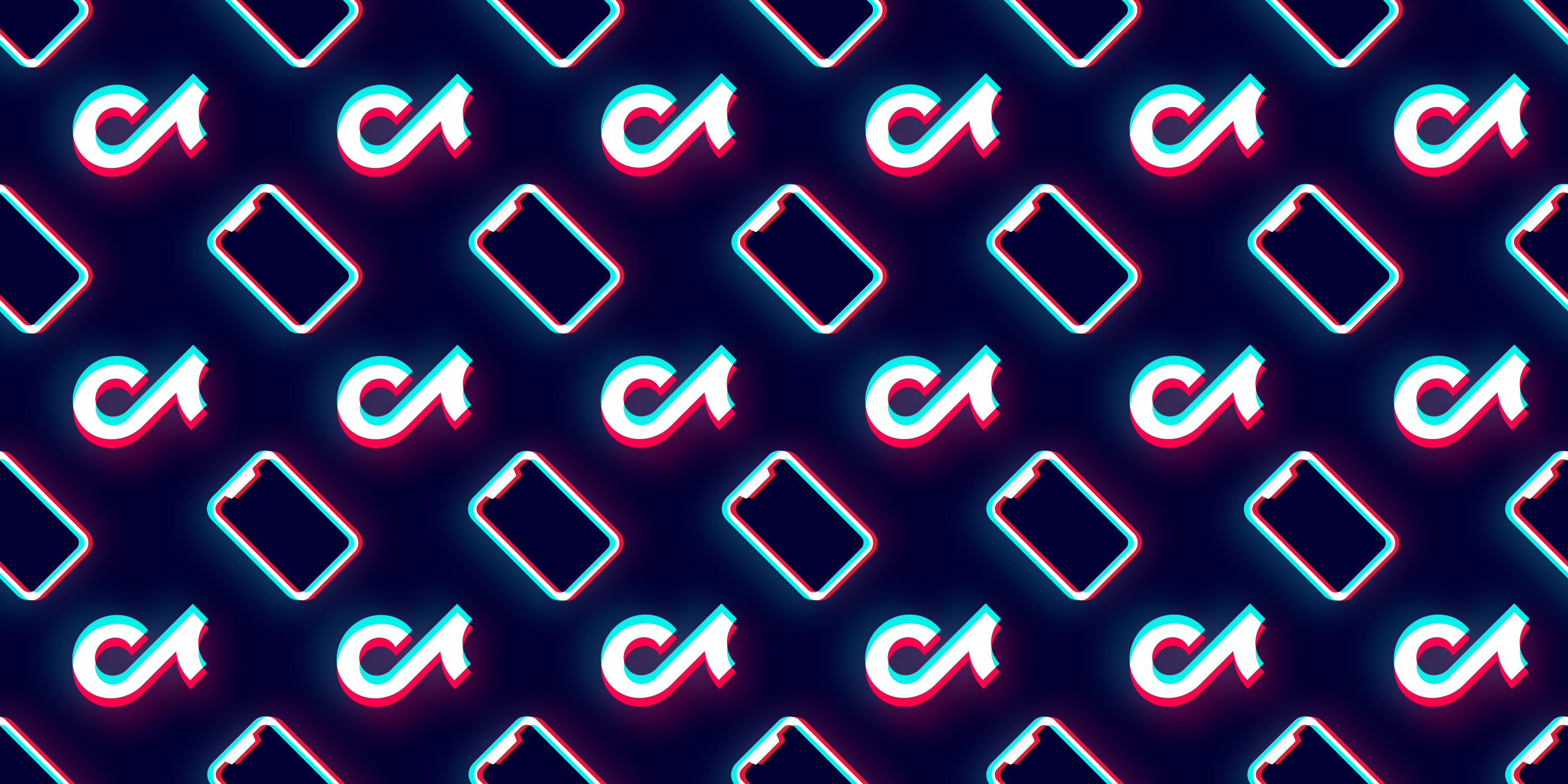 In September of 2019 alone, TikTok was downloaded almost 60 million times, making it the most downloaded social media app in the world for the month. With more than 500 million users worldwide, it's no secret that the social media platform could be a goldmine for marketers.
That dream became a reality as TikTok began testing out its ad platform. Since the launch of that platform, brands like Nike, Grubhub, and Apple Music have used the social media monster to promote their products the same way that users create their videos – visually, with stimulating music, effects, and filters.
When marketers use this platform, the efficacy can be rewarding. But what makes TikTok such a popular platform is also what makes it challenging to advertise on. You'll need to learn the nuances of this new platform to get the most out of your ad spend.
Advertising on TikTok
Advertising on TikTok isn't something that marketers should dive into headfirst. Like any type of advertising, it's important to step back and identify the "who" and "what" of your process: who are you advertising to and what are you advertising? Only then can you begin to determine the platforms with which you'll take your next steps.
Understanding the TikTok audience
As stated above, TikTok has over 500 million users. But are those users the right people to target for your product? Let's break it down.
Close to 50% of TikTok's global audience is younger than age 34. The app is available in over 150 countries, and in the U.S., 60% of TikTok's audience is between the ages of 16 and 24.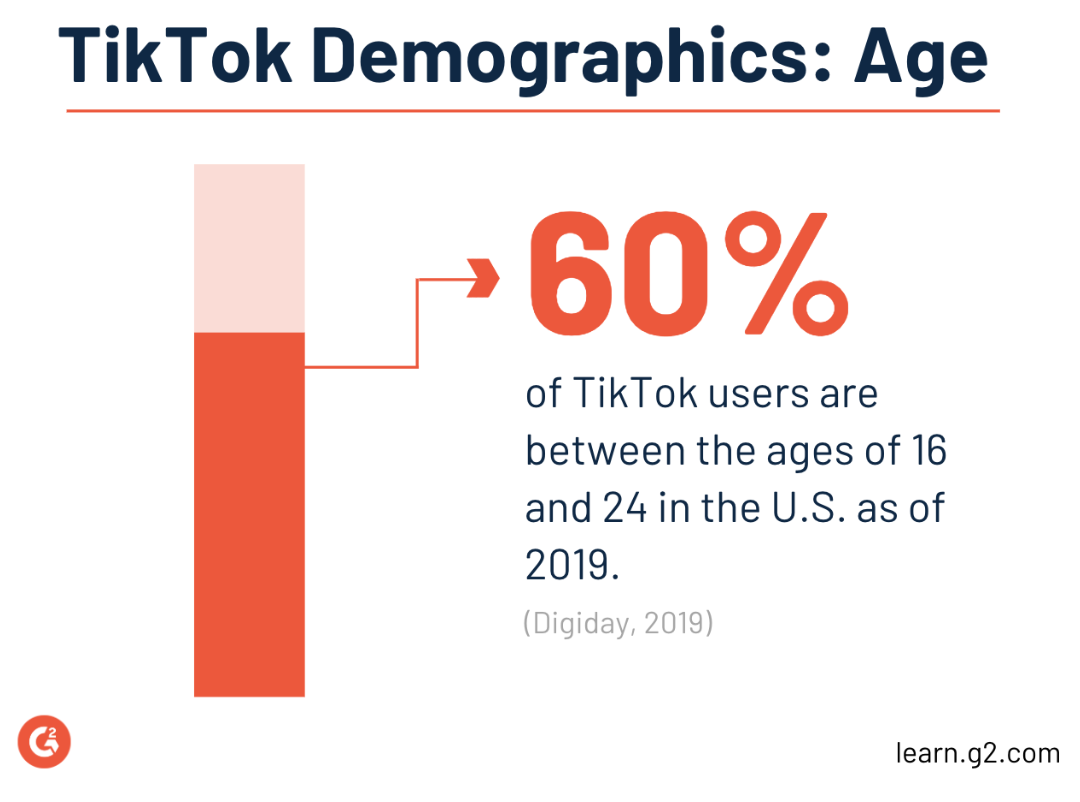 In other words, if you're trying to market to a younger audience, investing in TikTok might not be a bad idea. However, TikTok is still a fairly new app – if your product is for older audiences, it may not hurt to keep your eye on the platform. Just like Facebook and Twitter audiences have evolved over time, there's always a chance that TikTok's could, too.
Types of TikTok advertisements
If your product's audience matches that of TikTok, the next steps to take would be gathering an understanding of the options that TikTok's ads provide.
TikTok provides advertisers with four different types of advertisements: brand takeovers, native video ads, hashtag challenges, and branded lenses.
1. Brand takeover
Brand Takeover advertisements can appear in the form of still images, GIFs, or videos, all linkable to the brand's landing page or a hashtag challenge within the app. Brand Takeovers are exclusive to their categories, so only one brand can appear per day in that slot. These advertisements are what a user will see in their feed, before any user-generated content appears.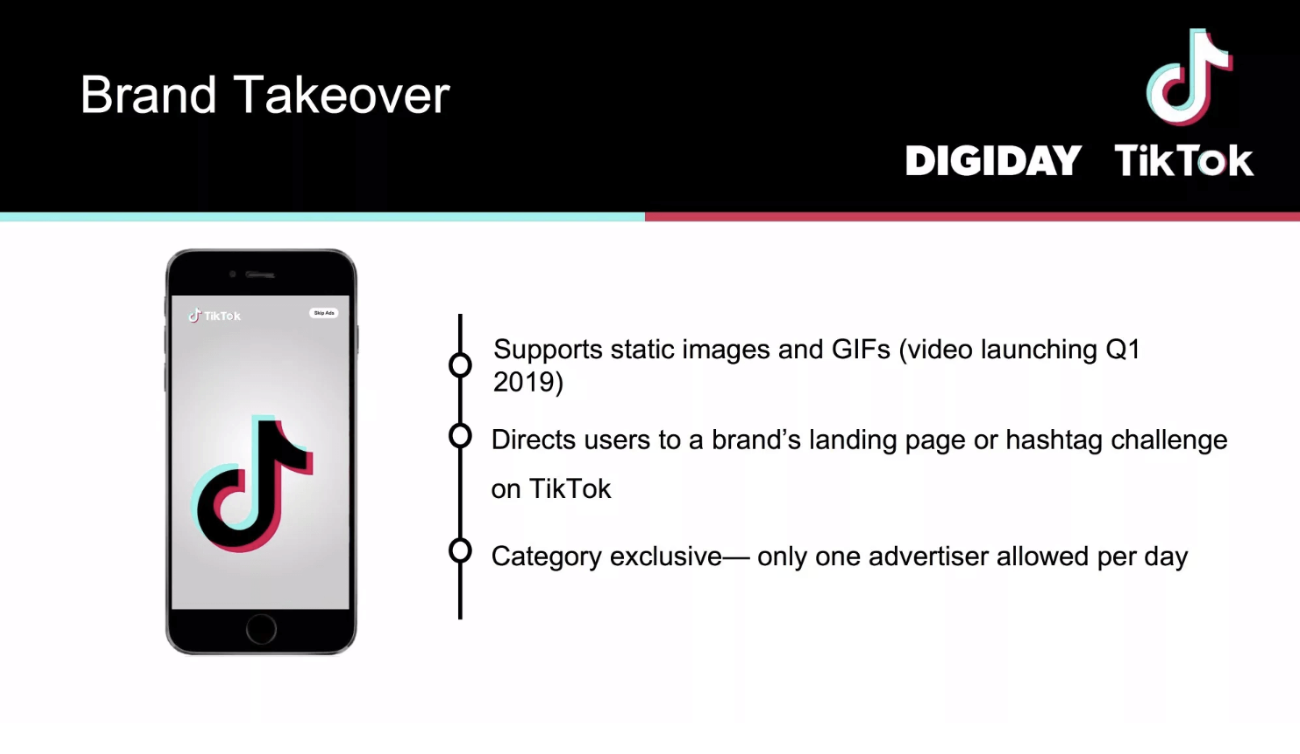 As of right now, measuring the success of a Brand Takeover advertisement can be done with TikTok's measurement of clicks, impressions, and unique reach.
2. Native Video ads
In-feed Native Video ads on TikTok are video advertisements that are required to be between 9 and 15 seconds long. With so little time to make a statement, investing in video editing software is likely more than necessary in order to deliver quality content to your audience.
Native Video ads appear sandwiched between users videos in the TikTok feed and can be scrolled past or skipped. These advertisements support multiple call-to-actions like clicks and app downloads.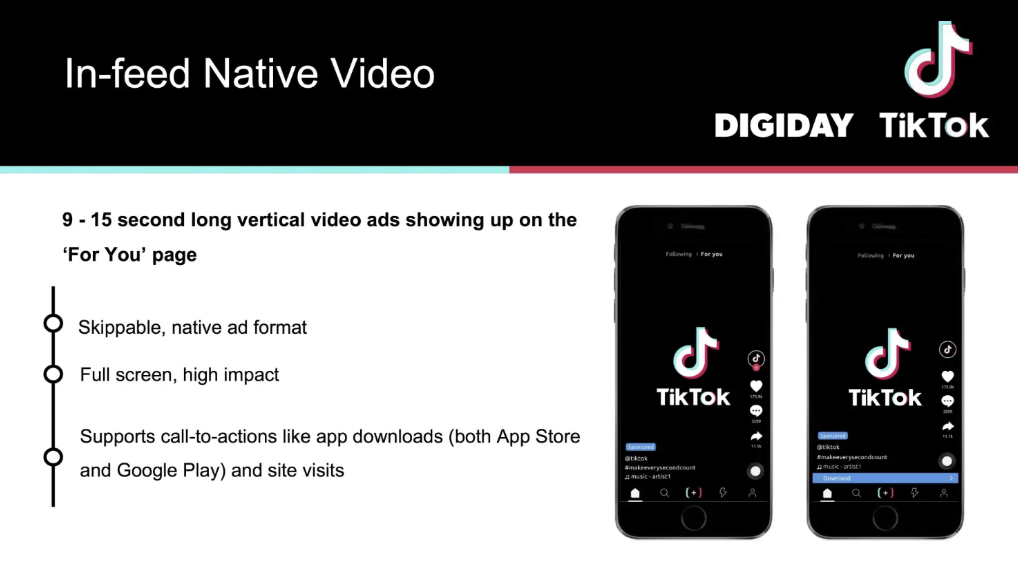 Native Video advertising metrics that TikTok can measure include impressions, clicks, video views, and video engagement.
3. Hashtag сhallenges
While clicks and views are interaction in and of themselves, your business may be looking to engage even further with your audience, and a sponsored Hashtag Challenge may be your key. Hashtags should not be new to your social media marketing strategy as they are a great way to attract new followers and you can even run giveaways such as Instagram hashtag contests with them.

TikTok almost completely thrives on challenges, where users create and recreate trends through music, acting, and tricks. With a Hashtag Challenge advertisement, your brand can create a unique banner on the TikTok Discover page to drive users to a particular challenge that your team creates. Instructions for the challenge and already-created videos of the challenge taking place will have a home on this page.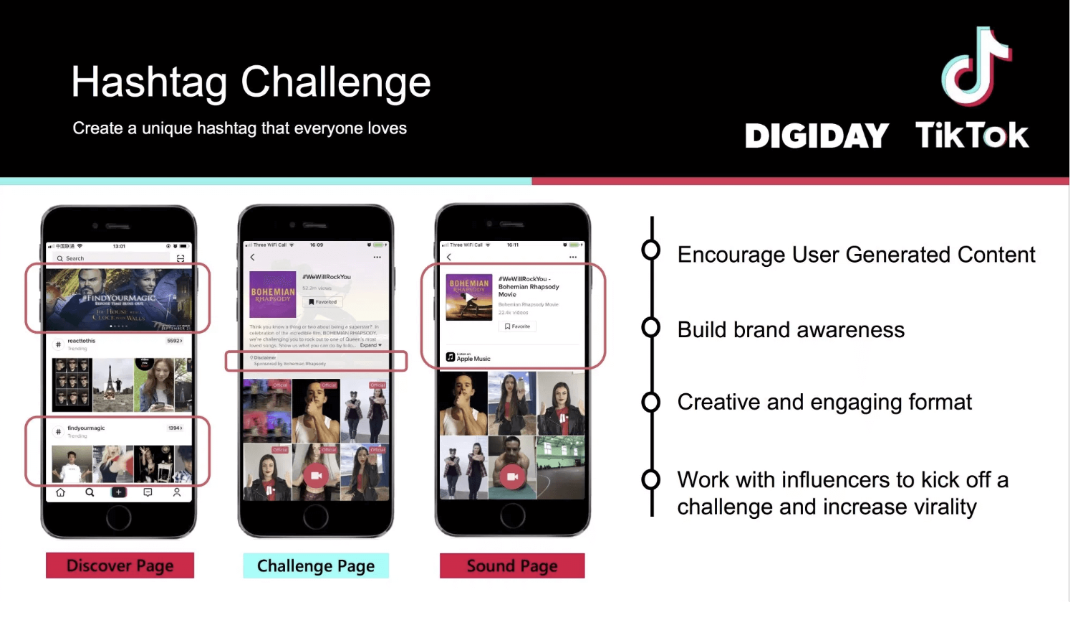 Brands can measure the success of their Hashtag Challenge with banner views and clicks, number of user-generated videos, number of users using your brand's music, and more.
4. Branded lenses
When a TikTok user creates a video, there are countless filters available at their disposal. Similar to Snapchat's branded lenses, TikTok's Branded Lenses advertising option allows advertisers to design a filter promoting their brand or product. These lenses can go live for up to 10 days at a time, and encourage the user to create content with your brand at the forefront.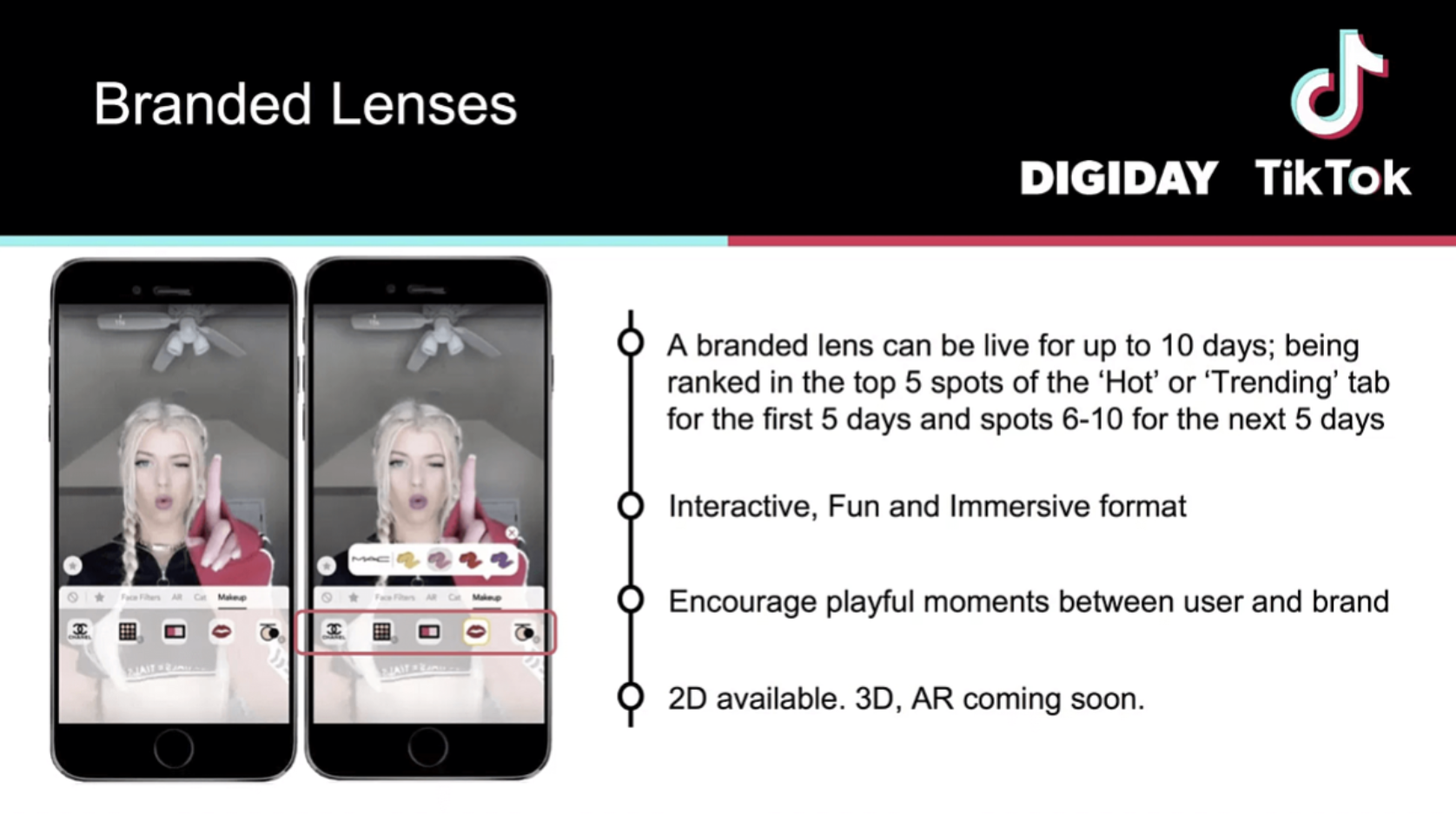 TikTok advertising tips
Many of the users on TikTok make their short videos look effortless. And while some may be shot quickly and without much thought, some of the most popular TikTok accounts may spend days, even weeks to develop an idea, film, and edit their videos for their audiences.
With this in mind, your advertisements shouldn't be low-quality; they should be an impressive representation of your brand, meaning that your creative team may need to use project management tools to help manage your creations. Besides great editing skills, take the following into consideration:
1. Create relevant, relatable content
As mentioned above, half TikTok's current users are under the age of 34. TikTok may not be the platform to create buttoned up, elegant advertisements. Instead, it's important to appeal to your audience the same way that the creators on TikTok are: through humor, interesting visual effects and music, and storytelling.
2. Collaborate with influencers
In today's day and age, Gen Z seems to absolutely worship influencers. Influencer marketing is still in the beginning stages of taking off, but showing a familiar, authentic face on your advertisement may earn the attention of your viewers.
3. Follow the leader
Things on TikTok trend for a reason.
Algorithms on the platform can help you find some of the most popular tracks that users utilize in their videos. If you're looking to add music to your video, those are the songs that should be added. Thousands of people who watch those popular TikToker's videos have the chance to click on that track and check out other videos that are using it, yours included.
Lights, camera, action
TikTok advertising is still fairly new, meaning that there isn't a ton of detail in regards to the return on investment in TikTok. However, making yourself known on TikTok doesn't always require money. Brands like Chipotle and even The Washington Post have created content that appeals to the TikTok audience and creates word of mouth marketing around their brand. Other brands have partnered up with influencers and earned millions of views organically.
If you've tried your hand at marketing your brand organically, or you're just looking to reach your audience in a different way, creating a short video for the millennial and Gen-Z infested platform might be your brand's ticket to fame.