New in Awario: city and state filter for precise location monitoring

Article summary
In this article, we present a new feature in Awario — a city and state filter. We explain how to set it up and talk about use cases for laser-targeted location-based monitoring.
Imagine you are planning to open up a new coffee shop in Chicago and really want to know what people think about coffee there: what kind of roasts they like, what they appreciate about the coffee shops, and what they hate, do they want delivery, etc. Now you can do it without having to spend time on polls or focus groups!
You guessed it, Awario just added a city and state filter to its monitoring settings. Now you can immediately find any mentions of your keyword in a specific city, state, or region of any country.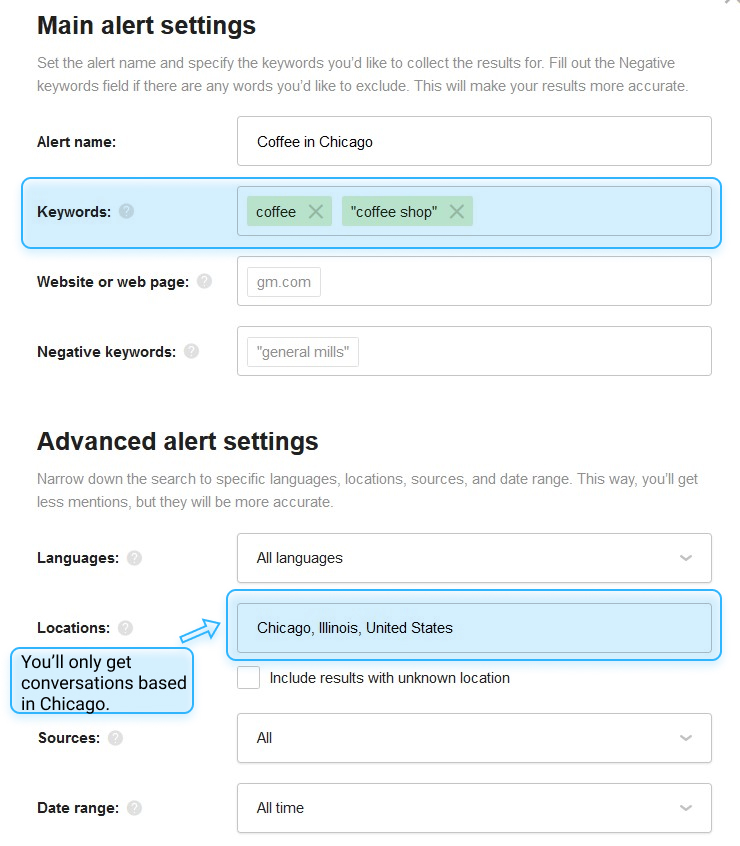 We are very excited to talk about the feature that was long requested by our customers, but first, let's take a look at some of the cases when it can be helpful.
Why should you use location-based monitoring?
City and state monitoring for local businesses
There are many reasons why you might need to focus on specific cities or regions in your social media monitoring process, but the most common is to target consumers for your local business.
Let's go back to our coffee shop example. Imagine that you're planning marketing activities for the launch and want to run an influencer-driven social media campaign. Obviously, you're not interested in influencers that live elsewhere since they won't be able to show off the services at your salon. However, checking manually where each of the micro-influencer you can Google lives is extremely time-consuming.
Instead, you can create a monitoring alert in Awario targeting keywords related to nails and beauty and choose Chicago as the location of your influencer search. You will only get social media posts from Chicago in your Mentions feed, and then you can sort them by reach to find those that came from popular accounts, thus finding influencers.
Your mentions are almost here!
Fire up brand monitoring and see Awario fetch social data in real-time.
By signing up I agree to the Terms of Use and Privacy Policy
City and state monitoring for audience segmentation
Even when you're an international business, you might still need to target a specific area and segment your audience according to their location. Audience segmentation is an important part of audience analysis, so you can't neglect it. Luckily, Awario does exactly that — it analyzes your audience in a specific city or region and gives you various demographic, psychographic and behavioral insights.
For example, a Starbucks coffee place in Manchester will be obviously interested in the reviews from Manchester. Even for a tech startup or an international consultancy, it might be useful to know how their audience differs in varied states and cities. You may find out that people in the capital and smaller cities prioritize different things when it comes to customer care, the product itself, and business communication.
Ok, but enough about the reasons to use location-based monitoring — you probably know them better than we do since it was such a highly requested feature. Let's talk about the details: how do you set up location-based monitoring in Awario?
How to use Awario's location filter?
The location filter is extremely easy to use. Awario could specify countries for your monitoring alert before and now you can just add the names of states, regions and cities in your language to the same field.
However, we did redesign the Alert Settings page a little so a walk-through won't hurt. Here's how to set up a monitoring alert that targets specific regions and cities.
Your mentions are almost here!
Fire up brand monitoring and see Awario fetch social data in real-time.
By signing up I agree to the Terms of Use and Privacy Policy
Step 1: Set up your alert
Once you sign up for Awario's free trial or click a plus sign on the left sidebar, you'll be immediately taken to the Alert Settings page. Here you'll need to click "More options" to see the full settings.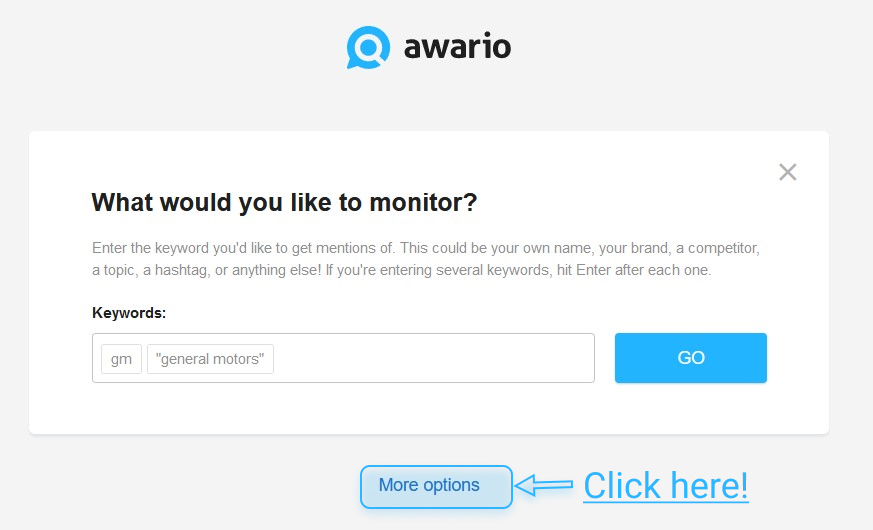 Awario's alert settings are now divided into "Main alert settings" and "Advanced alert settings", and the location filter is placed in the advanced section.
In the "Main alert settings" section you can fill out the name of the alert, the keywords you want to monitor, your website URL, and negative keywords that will eliminate certain conversations from the search. This is a good feature if your keywords are quite common and you want to filter out unrelated mentions.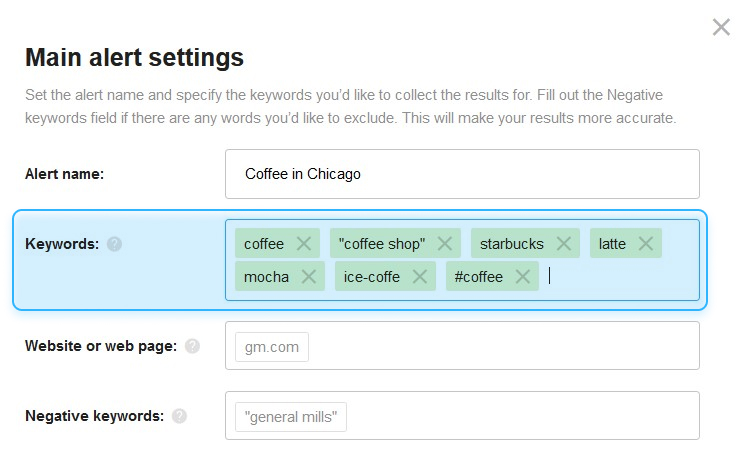 Pro tip: choosing your keywords
Don't forget to add misspellings and abbreviations of your brand if you're setting up a brand monitoring alert. This will ensure that you get all the mentions you need.
Then you can move on to the advanced settings, where you can specify languages of your mentions, sources i.e. social media platforms and Internet channels, how far back in time you want to go in your monitoring and, finally, locations.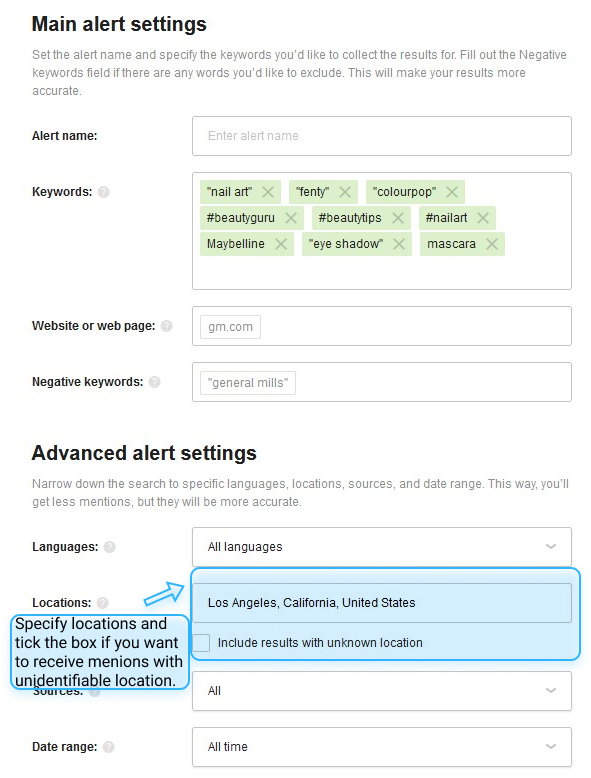 You can add countries, administrative regions, cities, and states to the Locations field in your native language. You can add several cities or regions. Awario saves your previous choices of locations and will recommend them next time you're setting up an alert.
It might be impossible to identify a location for some mentions depending on their source. If you also want to receive conversations with unknown locations, check the box below the field.
Pro tip: Reddit monitoring
Reddit doesn't share the data on the location of their posts, so the conversations that come from Reddit will have an unspecified location. Please remember that when setting up your search you can exclude Reddit from sources entirely in the settings or filter it out when working with mentions.
That's it! Now you can click "Create" and start your monitoring.
Step 2: Work with mentions
Given the power of Awario's real-time monitoring, you'll start getting mentions immediately. If your goal is social customer care, it's a good idea to start responding to these conversations right away, if not — you can wait a couple more minutes to get more data.
You get a feed with all the conversations mentioning your keywords that come from the locations you specified. You can:
Group mentions by Authors or Conversations.
Sort them by date (most recent mentions go on top), reach (most influential mentions go on top), or the number of mentions in a conversation.
Filter them based on the filters available in the settings as well as their reach, sentiment, authors of the posts, words featured in these posts, tags you assign to them, and more.
Note that you can further filter the conversations based on their location. That means that you can find location-specific conversations in the alerts you already have set up or set up a general non-specified alert but find the mentions from a specific city if such need emerges with the help of the feed filters.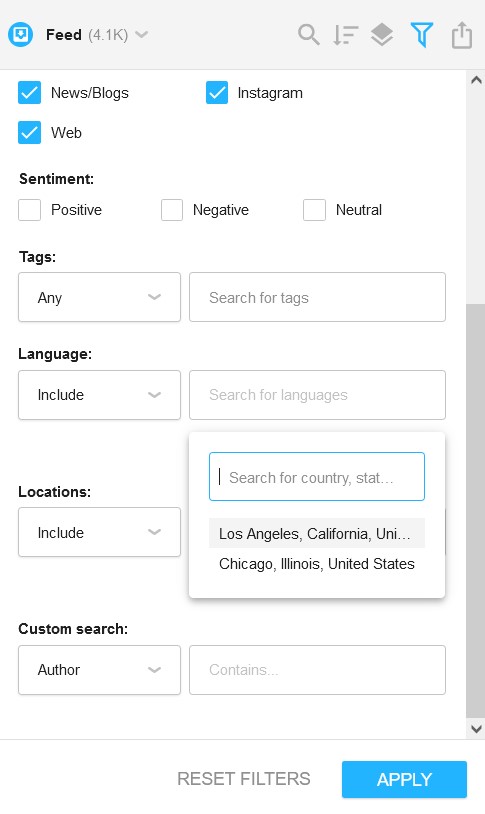 If you connect your social media profiles, you can interact with mentions right from Awario: like, comment, and reply to them.
This can be extremely helpful for social customer care and community management.
You can also peak into the Mentions Report or Dashboard to get analytics on the audience in this specific city including sentiment around the topic, gender, age, and more.

Enjoying the post? There's more.
Sign up for our newsletter to get our best content by email.
Over to you
Awario is inspired by our customers! We hope you like the new feature and if you have any ideas on how to improve Awario, don't hesitate to contact us! We are always ready to develop and improve the tool based on our customers' requests.