How brands can use TikTok to market their business

Available in over 150 countries, TikTok launched in 2016. In 2018, the app gained a lot of popularity among young people and became the most downloaded app.
In 2020, TikTok is one of the most popular social media apps, allowing users to create videos up to 60 seconds that they can share with the world.
If you are a brand and want to reach Gen Z's attention, you must plan a TikTok marketing strategy.
In this article, you'll learn how brands can use TikTok to market their business in 2020.
Create your brands' TikTok channel
Define your marketing goals
Create a hashtag challenge
Cross-promote your videos
Create TikTok Ads
Take a look at your analytics
1. Create your brand's TikTok channel
The first step is to create a TikTok account for your brand and then make sure you create videos that are relevant for your followers.
If you don't know how to create a TikTok account, here are the steps you should follow:
Download and open the TikTok app
Tap the profile icon from the bottom right corner
Select "Sign up with phone or email." You can also use your Facebook, Instagram, Twitter, or Google account to create a TikTok profile, but my recommendation is to sign up with your phone number or email address
Enter your birthday (this information is not public)
Enter your email or phone number
Set a password
Done
After you create your account, make sure you don't skip the photo and the bio - like on any other social media account, these are essential elements.
You can use the same profile picture and description that you have on your other brand social accounts, so people will recognize your brand easier.
You can take, for example, the fashion brand "Guess" - they are using the same profile picture and the same description on Instagram, TikTok, Facebook, and Twitter.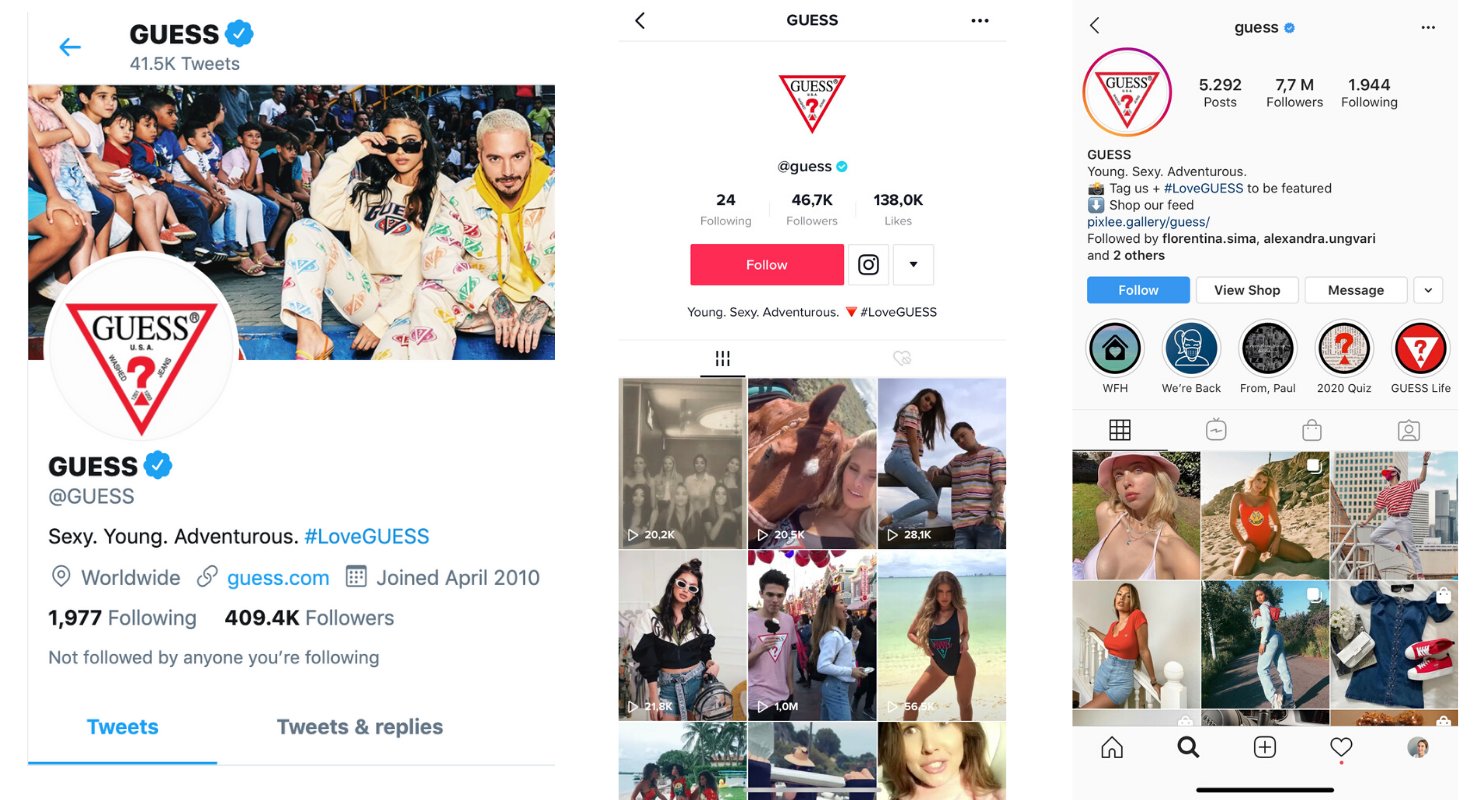 After you set up your profile, make sure you create videos that are relevant for your brand. You can make webinar announcements, product updates, how-to tutorials, or behind the scene videos.
Use TikTok filters and music to make them unique.
2. Define your marketing goals
Set your marketing goals. As a social media manager for a specific brand, you should ask yourself:
Why should my brand be on TikTok?
How can I promote my brand's message using TikTok?
The goals you set from the beginning will direct your actions on TikTok. For example, if you only want to use this platform to grow your brand's reach and make your prospects love your company and you don't care about conversions, you'll be more relaxed when posting.
If all you care about is conversions, you'll do your best to create content that will eventually drive people to your website and into your marketing funnel.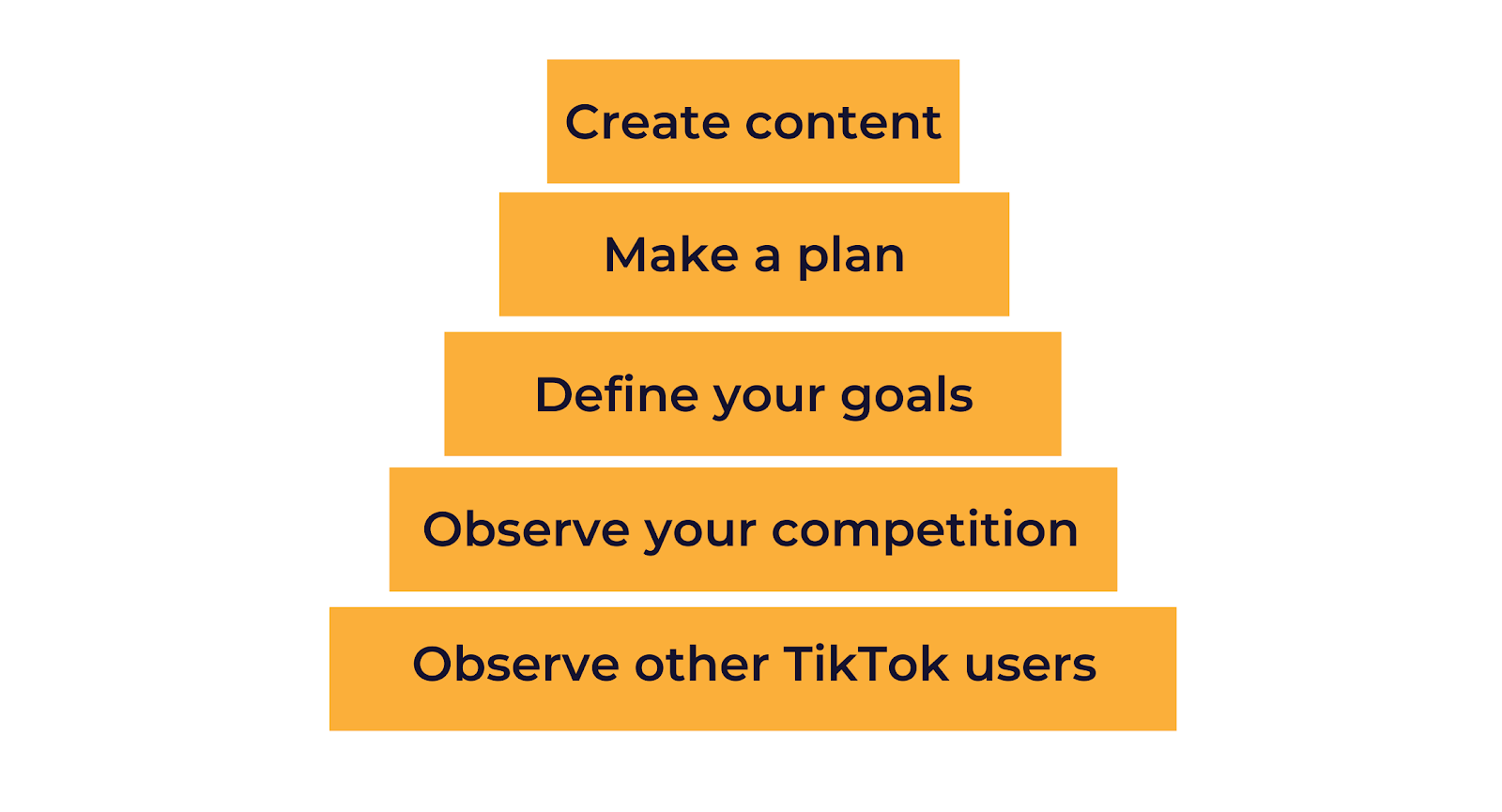 3. Create a hashtag challenge
One of the greatest ways to promote your brand on TikTok is by launching a hashtag challenge. This means you inspire TikTok users to create or recreate content and add your branded hashtag to it.
A great example here is BMW with its #THE1Challenge. When the brand launched its new 1 Series, they asked several influencers to create entertaining videos of them dancing in and around the cars.
You should know that a hashtag challenge not only promotes your business but also drives user interaction and engagement.
Here you can find some examples:
https://vm.tiktok.com/J885GbT/
https://vm.tiktok.com/J88hKRu/
4. Cross-promote your videos
One great thing when it comes to TikTok is that you can easily share your content on other social media platforms. You don't have to create separate videos for Instagram or Facebook.
Not anymore!
After you publish a TikTok video, it will be automatically saved on your phone. You can use your TikTok videos on any other social media platform - this will save you time and increase your engagement. Win-win!
5. Create TikTok Ads
With 800 million TikTok monthly active users, you should start planning your brands' TikTok Ads strategy right now.
But first, you'll need a TikTok Ad account to see if your business suits this.
Here's how to create a TikTok Ad account:
Go to https://ads.tiktok.com/
Click "Create an Ad"
Select your billing country/region and type of account: "Business" or "Individual"
Click "Next"
Based on your account type, you can choose to apply for an individual account or a business one.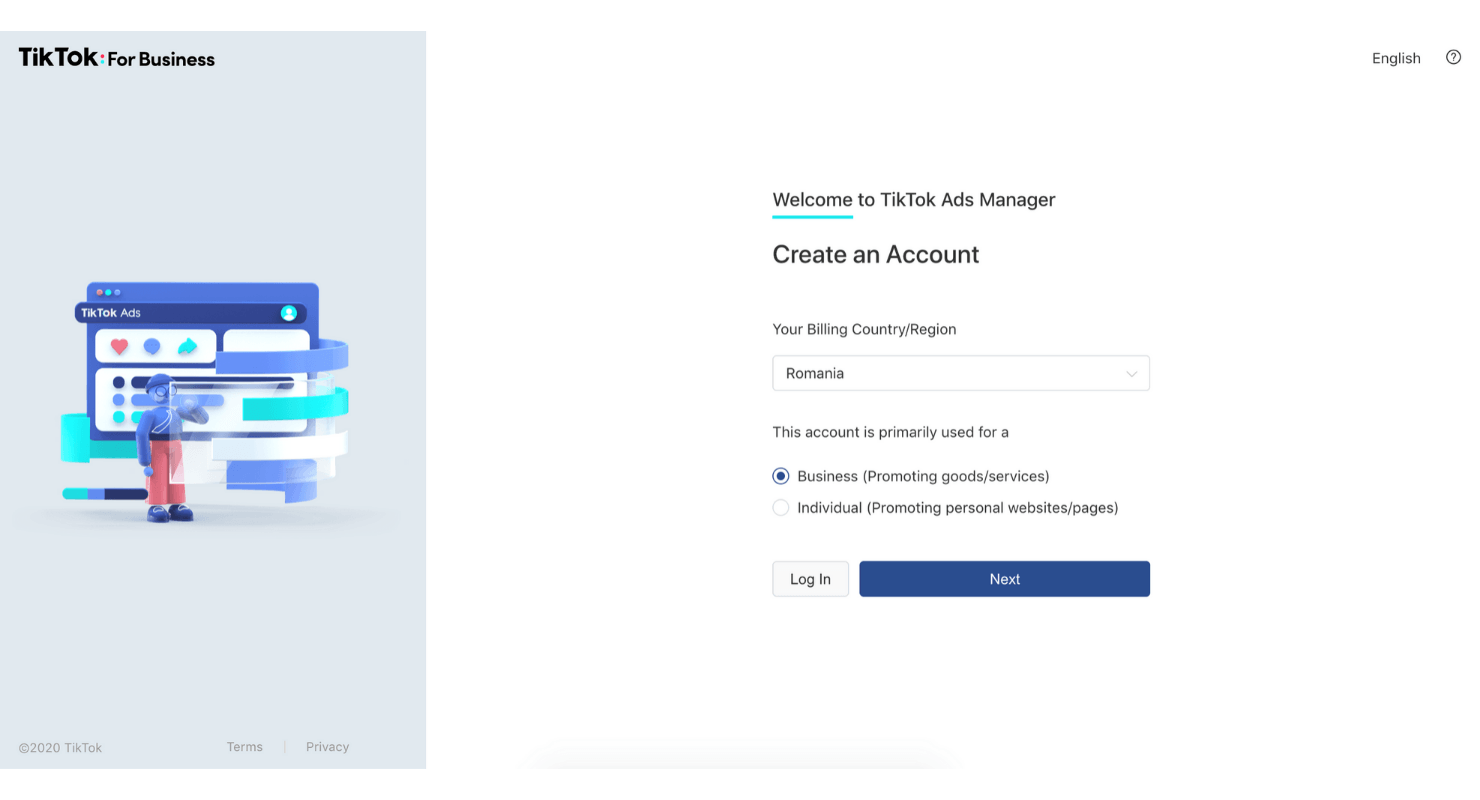 Note: Because TikTok advertising is still new in some businesses, you might have to wait up to 48 hours until a TikTok ads manager verifies your account and gives you the approval.
You can discover more about how to create TikTok Ads that convert in "TikTok Marketing for Brands", Socialinsider's free book - a complete guide that covers everything you should know about this fast-growing platform and how to promote your brand and business.
6. Take a look at your analytics
Make sure you take a look at your analytics. Like on any other social media platform, you have to measure your online performance to see if your strategies are right or you must change something.
To access TikTok analytics, first, you should switch to a Pro account. If you don't know how to do that, here's a quick how-to:
Go to your profile
Go to settings and click the "Manage My Account" option
Click "Switch to Pro Account"
Select a featured category for your account: public figure, music/dance, personal blog, education, media, entertainment, sports, etc.
Add your phone number: you'll receive a verification code
Go to your profile
Tap the three lines in the right corner
Select Analytics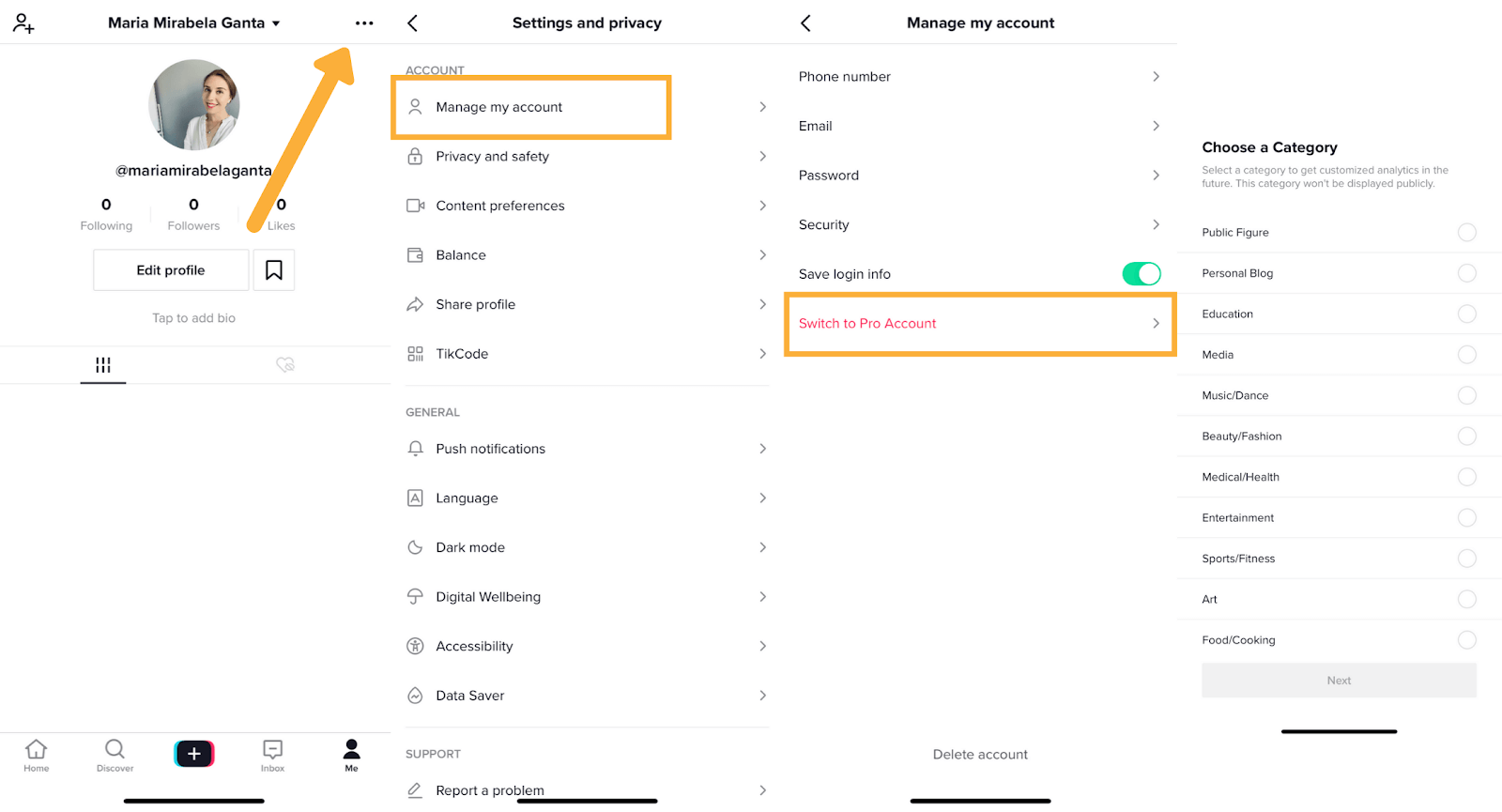 From here you'll be able to see:
your video and profile views
the number of likes, comments and shares your videos got
the distribution of followers by their gender and by territory
your follower's activity - videos they watched and sounds they listened to
Note: using TikTok analytics, you'll be able to see your analytics only for the last seven days. This is great, but if you want to analyze your brand's performance on the platform, you'll need more than that. Using Socialinsider's TikTok analytics, you'll be able to analyze your brand's account for more than seven days, and as a plus, you'll be able to analyze your competitor's TikTok profiles.

7. Display a TikTok widget on your website
Showing a collection of TikTok videos on your website can be a game-changer for you!
Take a look at the reasons why you should consider embedding a TikTok widget:
TikTok videos are an excellent way to create strong social proof on your website and show your visitors how people use your brand.
Prolonged time on site, lower bounce rate, higher CTR are just some of the SEO benefits you can expect when adding TikTok videos to your website.
Embedding TikTok videos, you will save time and a lot of space and resources from your hosted server.
You have 2 options to embed TikTok videos on any website, using a third-party platform like EmbedSocial or the manual native TikTok embedding option.
If you want the shortcut, consider tools like EmbedSocial to help you display your TikTok videos in the form of an engaging widget that will entertain your customers and motivate them to stay longer on your website.
Here is a step by step guide on how to embed TikTok videos on your website.
Conclusion
TikTok is one of the most effective social media platforms for brands that want to capture the attention of Gen Z. TikTok should be number one on your list of social media platforms.
Enjoying the post? There's more.
Sign up for our newsletter to get our best content by email.