How to do social listening on LinkedIn?

Summary
LinkedIn isn't just a professional networking site. It's a source of connection for marketers. Find out how social media listening tools can help.
18 minutes read
LinkedIn social listening approach
If you're just looking at LinkedIn as a platform to share your professional successes and look for a new job, you're missing out. LinkedIn is a gold mine for B2B and B2C connections. Building a powerful brand image on the social networking site can not only help you promote your business and sales but you can also advocate for yourself as an employer and expand your team with top talent. The only question remains, how to do so effectively? The answer is to apply social listening techniques for LinkedIn.
Of course, by utilising LinkedIn's native analytics tools you can gain some useful insights, and this is a good start. But to go deeper and deeply connect with your audience through tailored LinkedIn content, you'll need an effective social listening strategy in your kit.
Let's take a look at how you can get the most out of LinkedIn, develop a top-class business image, and create engaging content with the help of social listening.
Why is LinkedIn the most trusted media platform in the US? Fast Facts
Why use social listening for LinkedIn?
LinkedIn is a powerful source for marketers, used for brand development and social selling. Meanwhile, social listening tools significantly facilitate these two activities for marketers. How?
Sign up for a free Awario trial
See Awario in action with a free 7-day trial. No credit card required.
By signing up I agree to the Terms of Use and Privacy Policy
Using page analytics tools provided by social media apps, it's easy to understand which topics are popular among your followers and if your posts are beneficial to your audience. By tracking your target audiences' preferences you can better realize which content to post next and how to build your marketing campaigns to increase the sales and build a brand connection.
Social listening tools also help to:
Quickly jump into social discussions and hot topics relevant to your industry

React to any negative feedback and ensure a strong brand image

Shift conversations in your favor

Be aware of market sentiment toward your brand and industry
How to do social listening on LinkedIn right?
No doubt social listening is amazing for building your company's social media presence and your product promotion, but that's only if you use it right. Here are some useful tips on how to do social listening on LinkedIn, including the use of handy social monitoring apps, to get the results you want without any of the stress.
Important
Awario does not provide the opportunity to monitor LinkedIn, since it is restricted by LinkedIn API. Still, using social media monitoring tools can help you point out the most suitable industry keywords from other social media platforms to help boost your activities on LinkedIn
Step 1. Join relevant and active groups
Be on trend and learn which groups are out there. Search on LinkedIn to find ones that are relevant to your business and join them to keep up with the latest news in the industry. You can do this by typing in group names in a search bar on LinkedIn.
Search bar option — this will allow you to find groups that you know about or have heard about already. It's quick and effective, but can also be limited if you don't know what to search for. Try to use keywords and see what comes up. Usually, the algorithm will link you with other similar groups, making the search a little easier.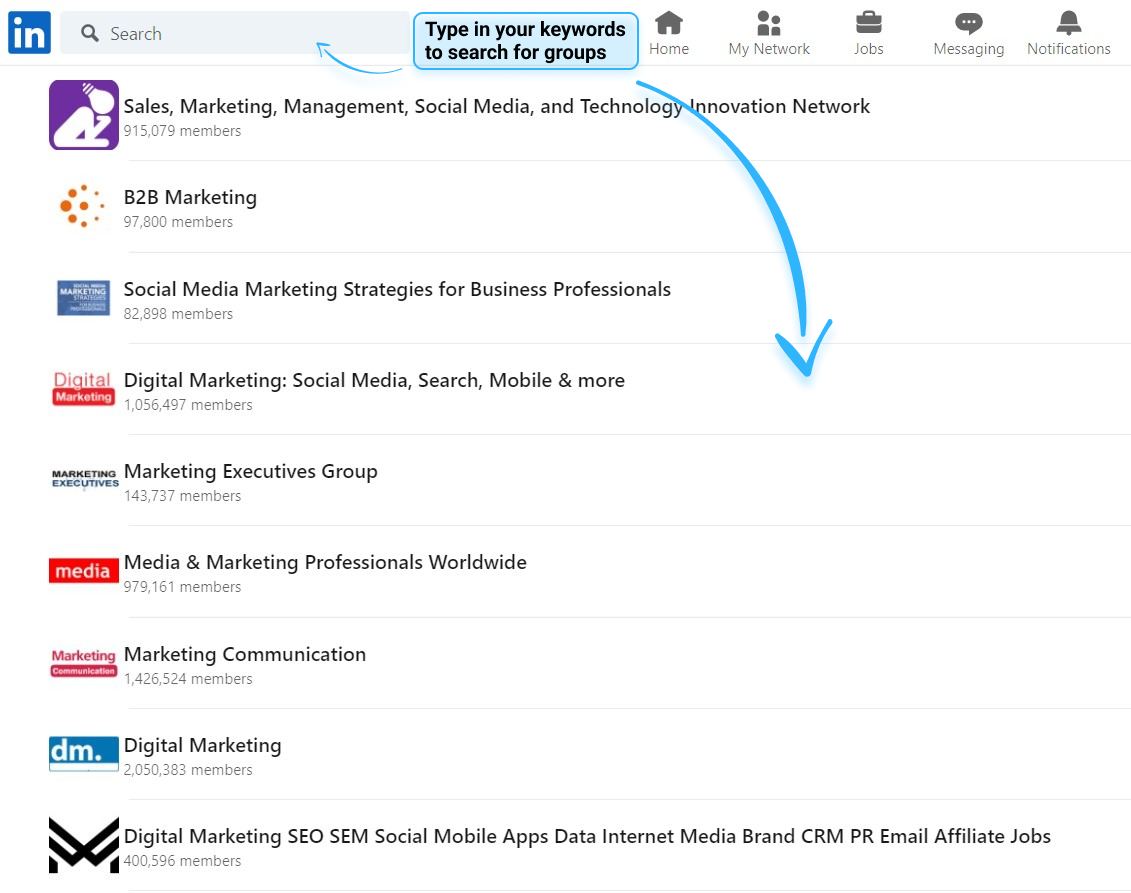 Social monitoring tools—these tools allow you to widen your keyword search and uncover more groups with similar interests. They rely on the industry-related keywords you enter when creating your social listening projects. These tools bring up every social media post containing the mentioned words. Allowing you to discover the groups you've not heard of that can be important for your industry and have a vast number of followers.
By joining these groups you can learn more about the recent trends and innovations in your industry as well as find potential customers by making your business visible there.
Step 2. Build up your reputation
After you discover the groups you want to join to monitor the latest news, don't just be a lurker. Jump into the spotlight instead by entering industry-related discussions. This is an opportunity for your brand to present itself as an industry professional, and show how it meets the market's needs, so follow the recent posts and reply to them. This allows you to keep up with the conversations faster than most of your competitors that are still focused on the interest groups in your business area.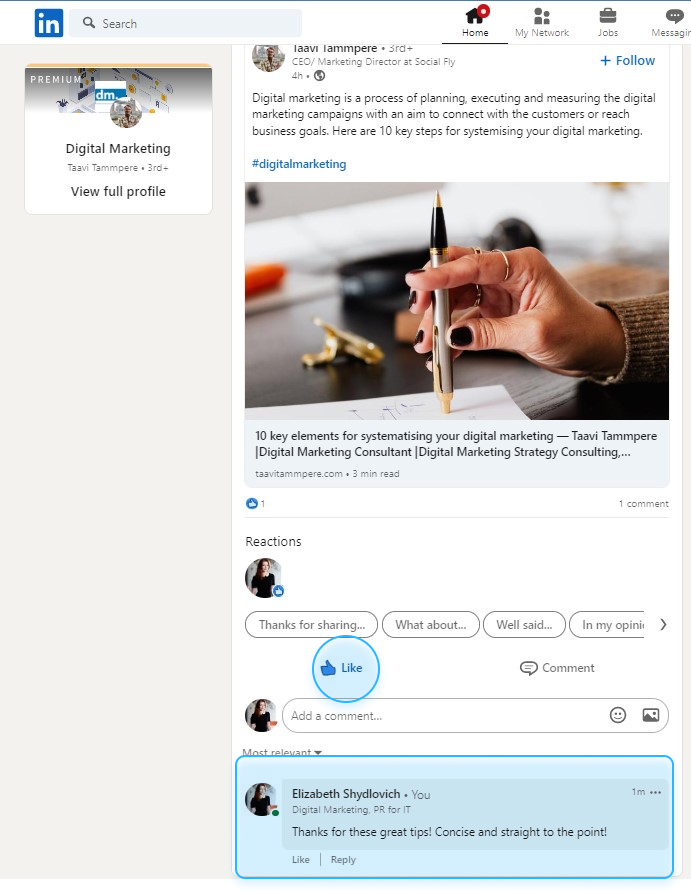 Step 3. Create a customer persona profile
Creating a customer persona is an important step toward successful social engagement. It allows you to better understand your target audience and helps tune-up your marketing campaigns.
Customer persona development requires a deep analysis of your target audience so that you can find characteristics that unite your social media followers. It's easy to do with social media listening apps that involve advanced analytics tools such as Awario.
Social monitoring tools can provide you with extensive data on your audiences on a diverse range of social media platforms. The metrics include followers' gender, age, languages they speak, world locations they come from, keywords they use when discussing your industry topics, and much more.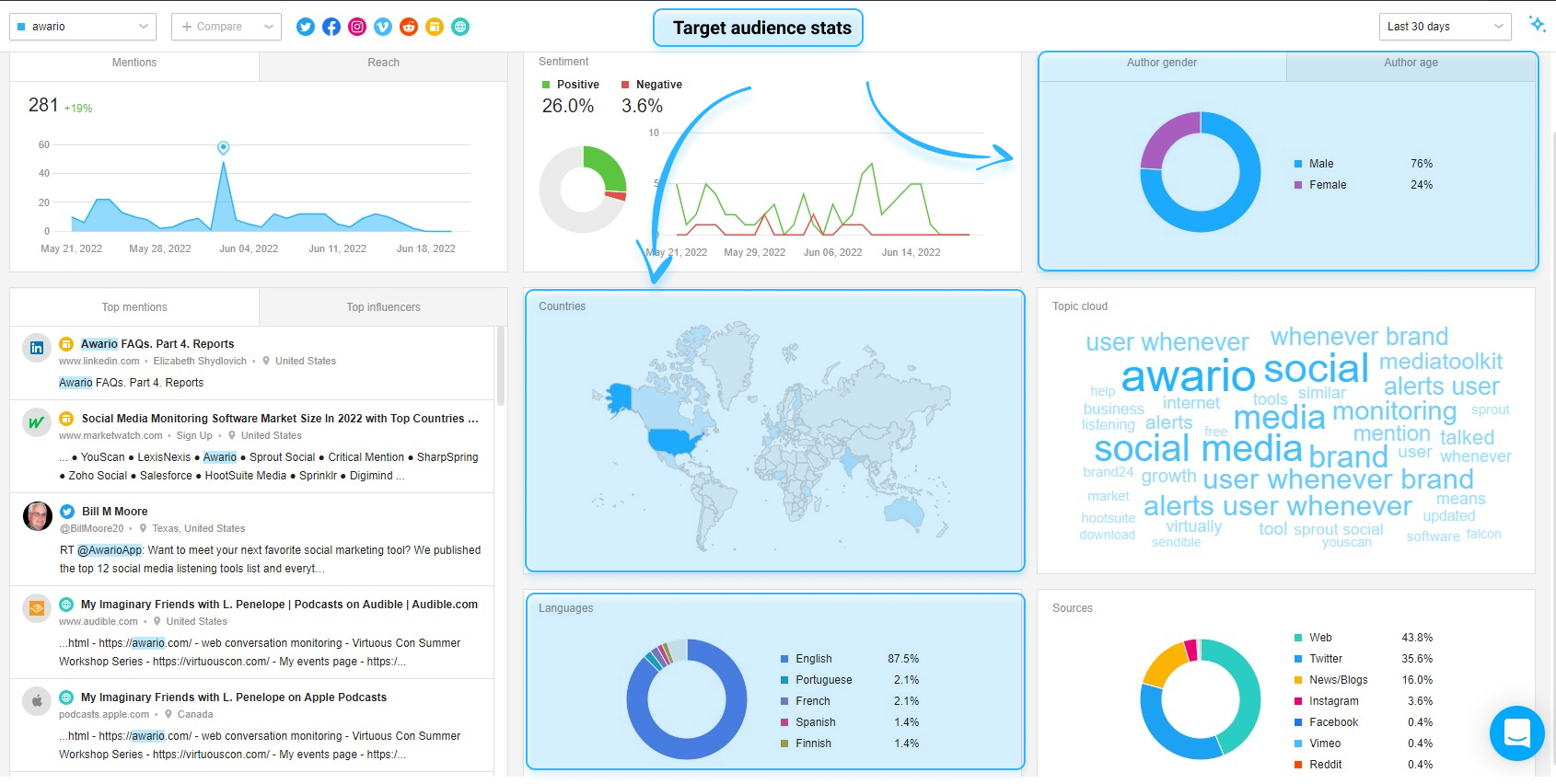 By blending these characteristics together, you can understand who your average customer is, what type of content they prefer, which their favorite communication channels are, and much more. Based on this data you'll be able to better adjust your marketing campaigns to the wants and needs of your existing customers as well as effectively attract new ones.
Step 4. Follow your industry leaders
By following the leaders in your industry niche, you can learn a lot. Tap into their success and discover how they build their empire. But how to transform their experience into your marketing success?
Perform a detailed competitor analysis — monitor their marketing campaigns on various social media platforms, and target audience, examine the characteristics of their product and services, and more, to understand what and how they post.

Next, create a project and carefully pick all the keywords. How? The app will help you to automatically monitor your industry leaders' activities and process them into neat and detailed analytics to catch those all-important terms.

Finally, it's time to move on to creating your own industry-leading content.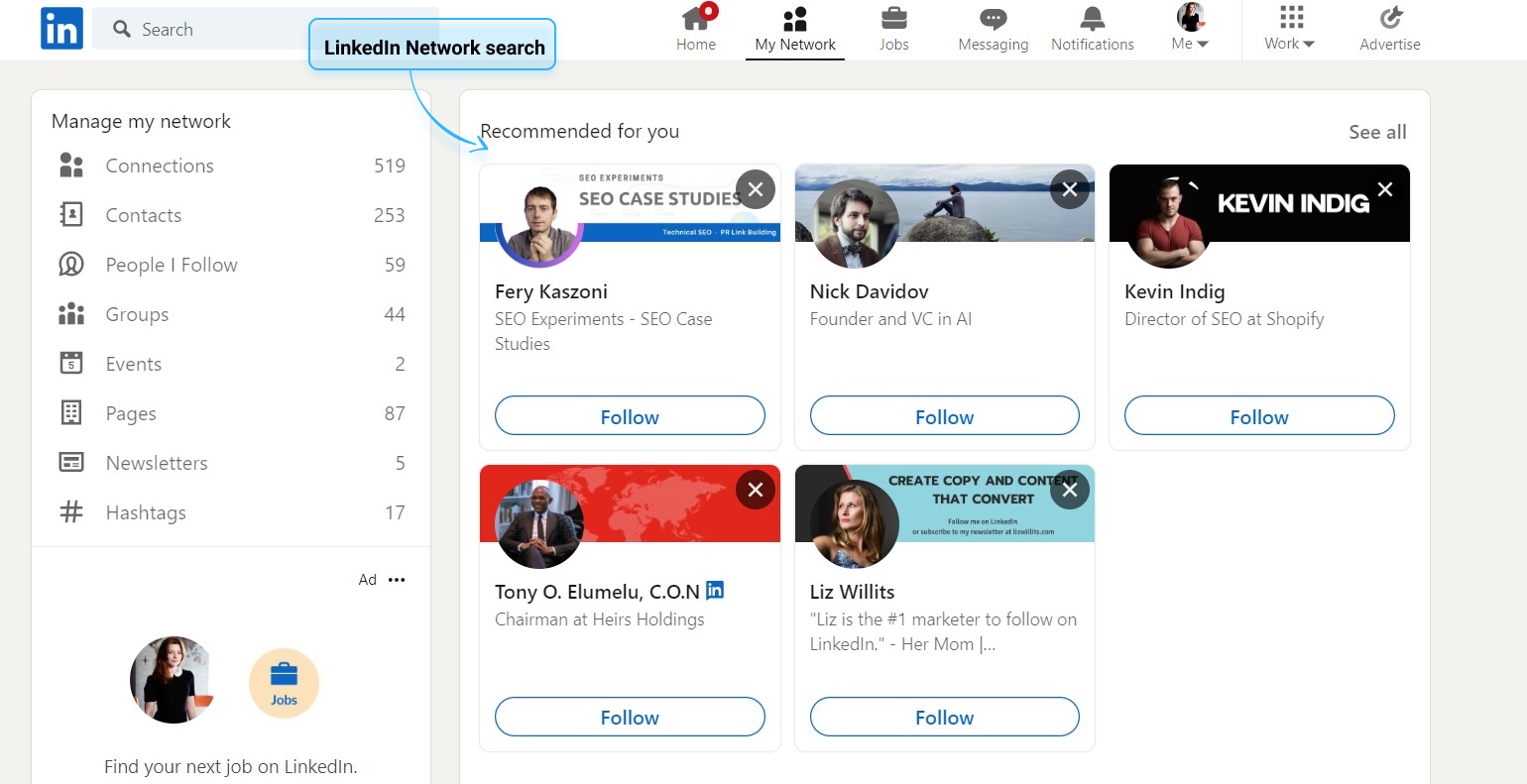 By doing this, you are likely to not only catch the reasons for their popularity and will be able to implement some elements in your marketing campaigns to make them more effective but to present your brand as a thought-leader in the industry.
Step 5. Follow influencers in your industry niche
Now you've got the business leaders down. It's time to turn your attention to influencers and opinion formers in your sphere to expand your circle of followers and potential leads.
The biggest task here is finding out who they are and their reach. Of course, you could spend hours doing this manually—sifting through profiles, checking the subscribers, followers, and more or…you could optimize the process and get results a whole lot faster.
Clicking on the "Follow/Connect" button isn't always enough to learn what content the influencers provide and where they really connect to their followers. However, by using social media monitoring tools, you can monitor their social media profiles apart from LinkedIn and look at their current content, partnerships, and connections. You can even configure your social listening app for a particular advertising campaign and get the latest updates on it.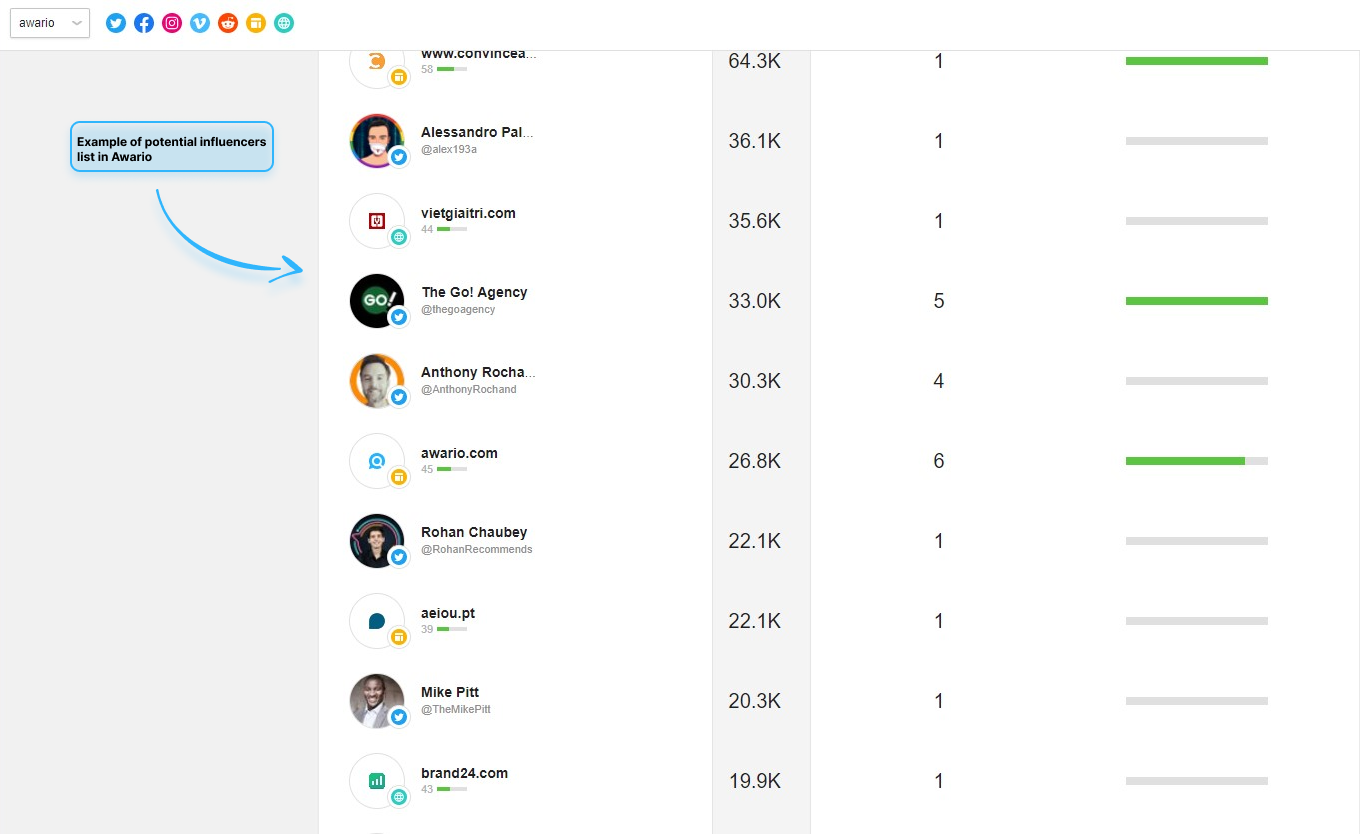 From there you can easily find influencers you'd like to partner with or ones your competitors are using and create interesting and tailored content together for future campaigns. In case you want to get in touch with your potential partners, you can simply export email lists directly from LinkedIn.
Step 6. Subscribe to LinkedIn newsletters
Now, we've got influencers and thought-leaders covered. It's time to turn our attention to LinkedIn newsletters. These handy little things significantly make life easier for lots of marketers and help them stay updated on the latest news.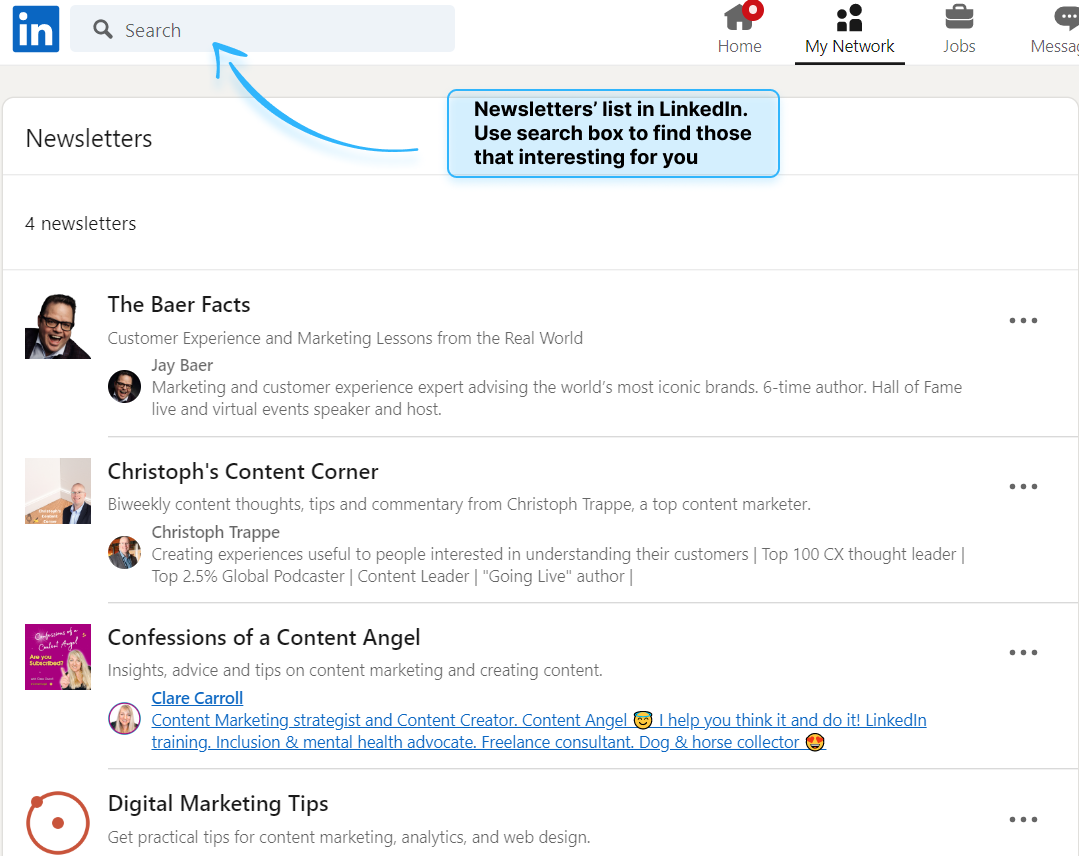 Social monitoring tools won't help you much with this one if you just subscribe to the newsletters. But, if you want to start sharing your expertise, then social media listening tools are to the rescue.
With social media listening tools, you'll be able to make the most relevant and useful content plans for your newsletters. You can do this by monitoring the hottest topics and most heated discussions in your industry niche. Based on this knowledge form and share your opinions and facts in email distribution.
People will be more drawn to your brand and more likely to trust it as an industry expert.
Step 7. Dive into your LinkedIn company's analytics
Now it's time to move on to more analytics. You can reach the most detailed data on your business performance on LinkedIn using a free embedded LinkedIn analytics tool. It'll help you estimate the efficiency of your marketing strategies, e.g. advert performances, the effectiveness of updates, influencer marketing campaigns, and others. From there you can tailor your campaigns to get better results.
With the LinkedIn analytics tool you can measure the following parameters:
Demographics – measure your visitors and followers' demographics, including their location, job, the industry they work in, seniority, devices used to view pages, and others

Post engagement – this involves the quality of the topics and content, post impressions, number of clicks, and much more

Employee advocacy – shows how many employees shared your content via the platform

Talent brand – for those who are interested in making their organizations more attractive to potential employees stats.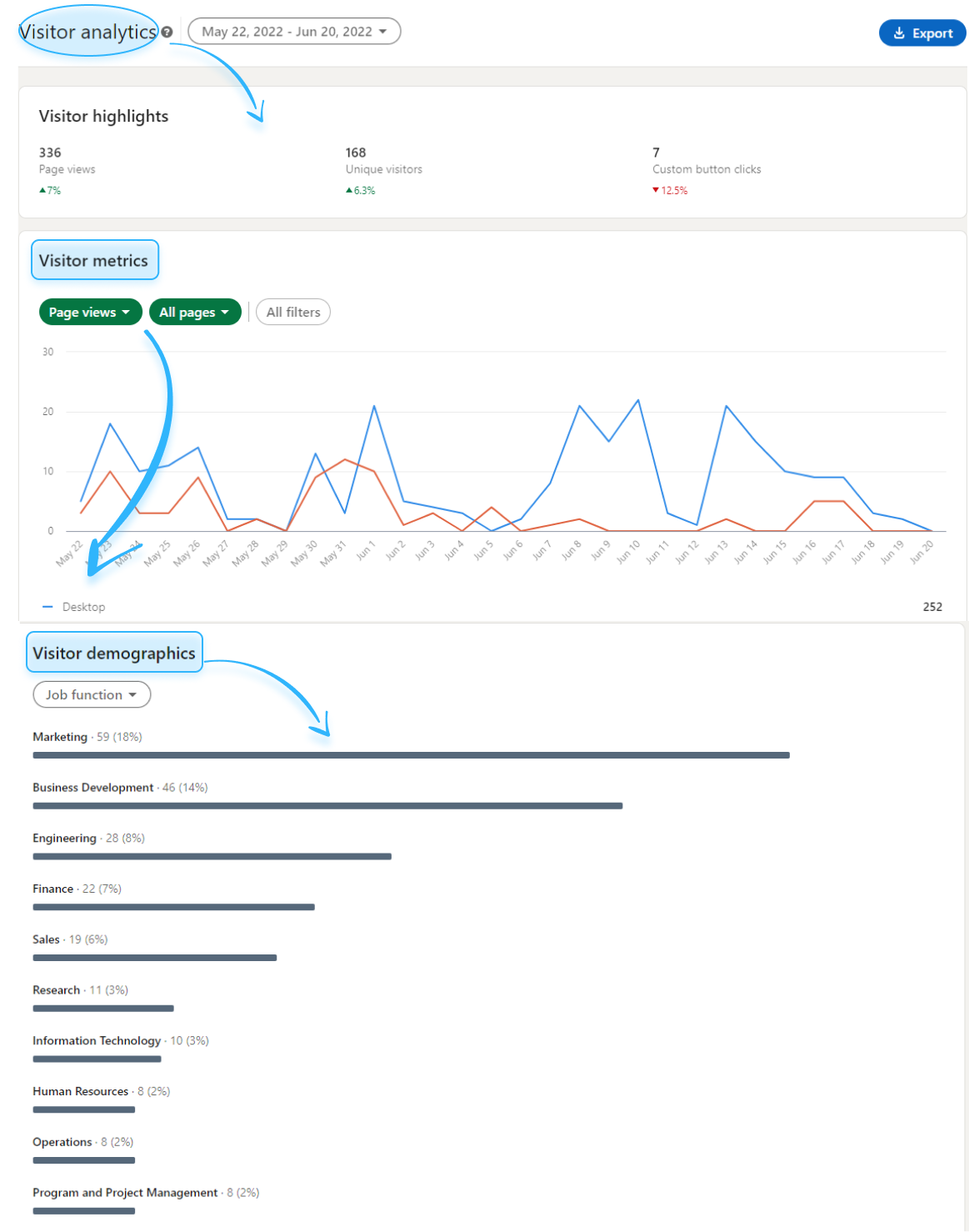 Compare the stats you gain from LinkedIn and your social media listening tools and obtain more insights on how to improve your company's performance on the social network. By merging these two sets of data, you're more likely to create a winning strategy.
Step 8. Take a look at your Google analytics
Google Analytics is another free tool that can share some valuable knowledge on how well your company is doing online. The tool shares data on top sources of user traffic, it evaluates the success of marketing campaigns, discovers patterns in user engagement, and so much more.
Google Analytics tracks where your website visitors have come from, including LinkedIn, who they are, and how they behave on your website. You can better understand if your marketing campaigns are working well on LinkedIn and if your LinkedIn articles or adverts direct potential buyers to your website.

Essentially, Google Analytics is the gold standard in data. But like all data, you have to know how to use it right. By combining your social listening analytics, and hard data, you can tailor your social media strategy to your audience and ensure it gets you results.
Social listening mistakes to avoid
Now, as you've learned how to effectively perform social listening on LinkedIn, let's flip that and learn what NOT to do when trying to build a campaign on LinkedIn. Listen up, these are some areas you will definitely want to avoid if you want to connect on LinkedIn.
Not having a clear plan
LinkedIn contains terabytes of useful data for your business but you should know how to use this data. For this, you need to focus on the results you actually want to achieve. That's why, before going to your LinkedIn business profile and launching a social media listening tool ask yourself several questions. For example:
What is your social listening aim?

What are you hoping to discover?

How are you planning to discover this data?

How far back in time do you want to search for the results?
These questions will help you to define the purpose of your search and focus on certain parameters you want to look for.
Failing to adjust your marketing strategies
Making conclusions after performing social listening and not using them is the least useful and the most time-wasting activity. Think about how you could enhance your marketing campaigns with the knowledge you get from the social listening activities. Your audience should know that you listen to them and change for the better.
Being too slow to respond
Social listening tools offer businesses the power of time. It means that you can swiftly respond to any posts about your brand or product on any social media platform. Although customers' feedback can be negative at times, it doesn't always pay to let fear win and avoid difficult discussions. Instead, carefully tailor your strategy and aim to solve any occurring problems quickly. This shows your customers that you care and lets you save your brand reputation.
LinkedIn to LinkedUp: Making your network work for you
LinkedIn is a professional and one of the most trusted social media platforms in the US today that provides a great deal of useful data for businesses. Though to process all this information quickly and efficiently you'll certainly need social media tools.
They help marketers become capable of appearing at the right place at the right time and with the right recommendation across hundreds of interest groups on LinkedIn. As a result, brands gain new followers and dramatically expand their customer base there.
Enjoying the post? There's more.
Sign up for our newsletter to get our best content by email.