How to host a social media contest

Social media contests have proven to be exciting and engaging for both the company and its customers. Brands that have hosted a social media contest were able to drastically grow their email leads, social media followers, and website traffic. All within a short space of time.
There are massive benefits that a business can capitalize on after they have hosted their own contest. It might be just the boost your business needs in acquiring new leads and gaining maximum exposure online.
Are you excited about social media contests? Let's look at some real stats.
Social media contest case study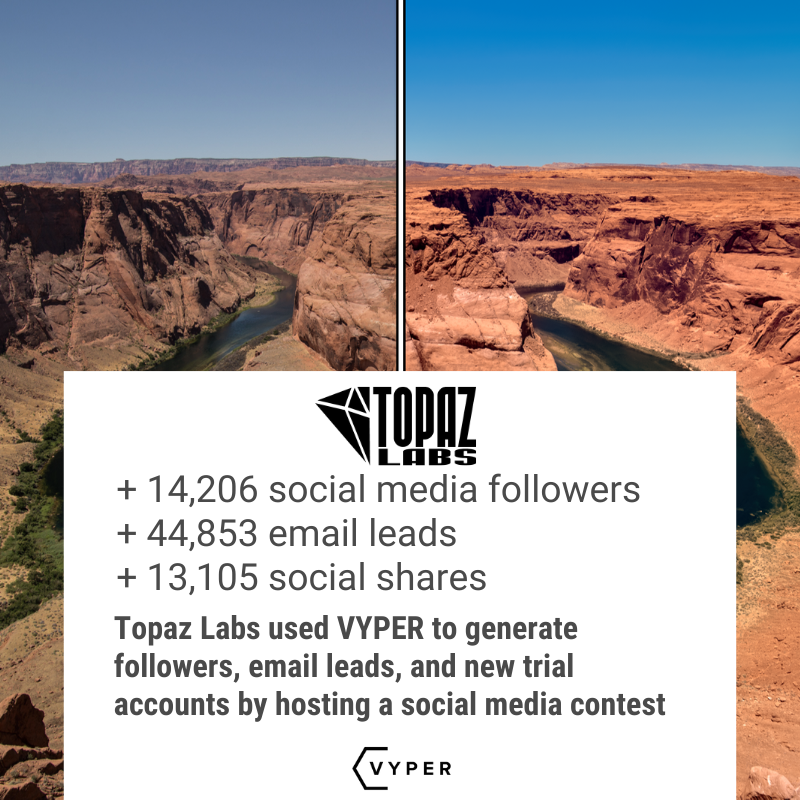 Topaz Labs is a photography software company that managed to achieve insane results from a single social media contest.
14206 social media followers
44853 email leads
13105 social shares
3973 new trial accounts
1k user-generated stories
A lot of the success of this contest is attributed to the prize that was able to draw tons of high-quality leads.
First place prize was a photographer's dream kit that included photo editing software, a photographer's backpack, and a drone.
The products that made up the prize are products that are meant for photographers, the target audience of Topaz labs. The majority of this contest was made up of photographers who gave Topaz Labs their emails and engaged with them on social media.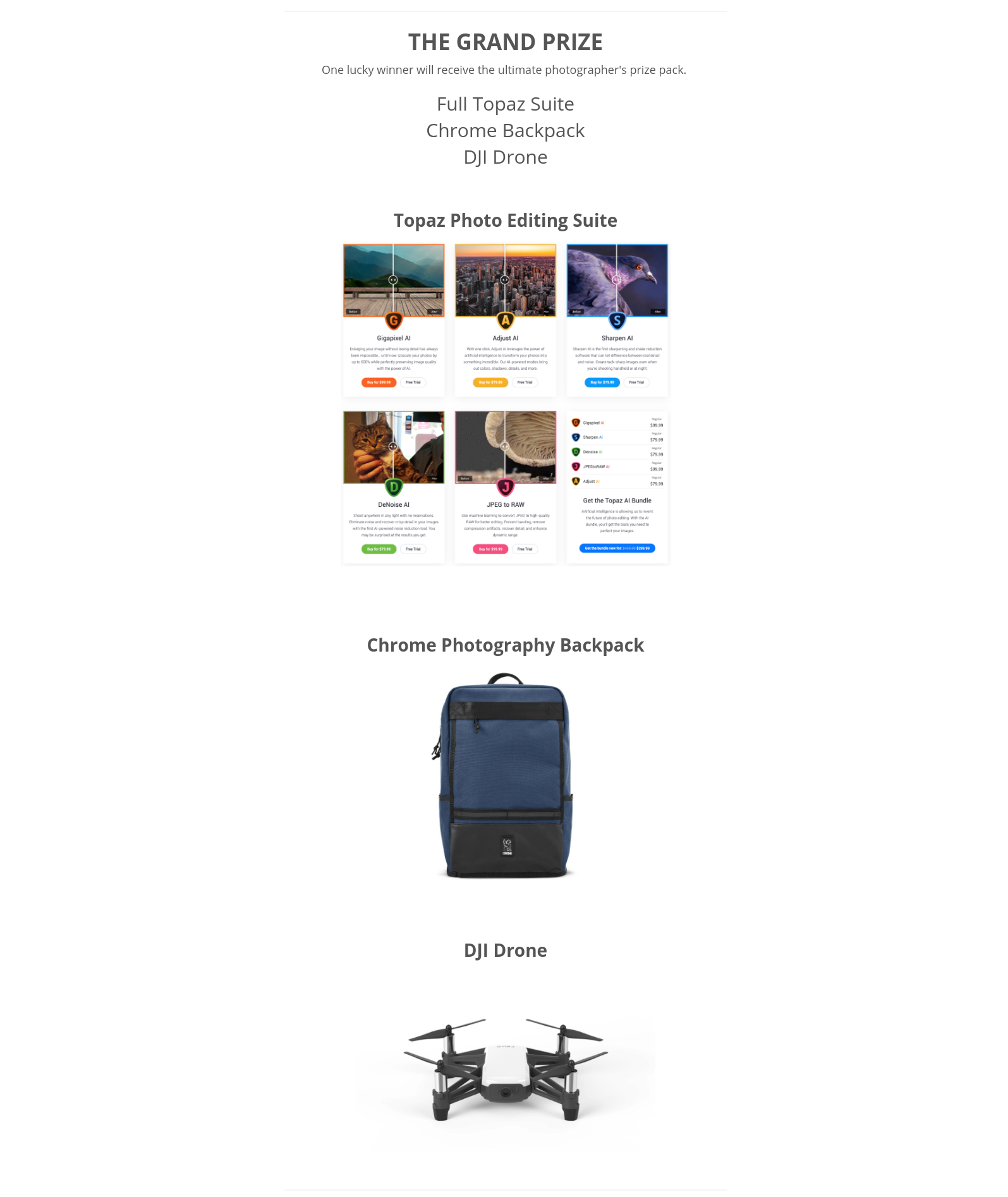 This truly is the power of a social media contest!
Do you want to learn how to host your own contest? Read on.
How to host a social media contest
The concept behind a social media contest is simple. Put up a prize and get people to compete with each other to win that prize.
Easy right?
Well, there is a little more to it than that. Here are three steps to hosting a successful contest:
Plan your contest
Choose a prize
Launch and promote the contest
There are no set rules or methods of hosting a social media contest. However, If you really wish to host a successful contest, you will need to spend some time planning your contest and picking out a prize.
Plan your contest
Planning is essential for any social media contest. The way brands host social media contests differ a bit according to industry or niche. Planning can help you identify with the type of contest that you should host.
If you feel that you have made a mistake halfway through your contest, it will be impossible to fix and you will have to live with it. This can have a negative impact on your brand.
Carefully plan your contest to avoid as many issues as possible. The best place to start is to determine the goal for your contest.
Choose a goal
Having a clear goal for your contest will allow you to build your contest like a pro. The most common goals for a contest are:
Build an email list
Drive traffic to your website
Produce user-generated content (UGC)
Get referrals
If your goal is simply to build your email list, you can request users to submit an email address to enter. When the contest is over, you will have the email addresses of all the contestants.
Bonus actions
Hosting a contest with bonus actions is an excellent way of achieving multiple goals in a single contest.
For example, if your contest has a leaderboard system, contestants can perform bonus actions to earn points. The contestant with the most points will be placed first on the leaderboard. The bonus actions that you set can be as simple as 'refer a friend,' 'follow us on Facebook,' or 'visit our website.'
If set up correctly, your contestants will be battling it out to find you new leads, grow your social media, and more.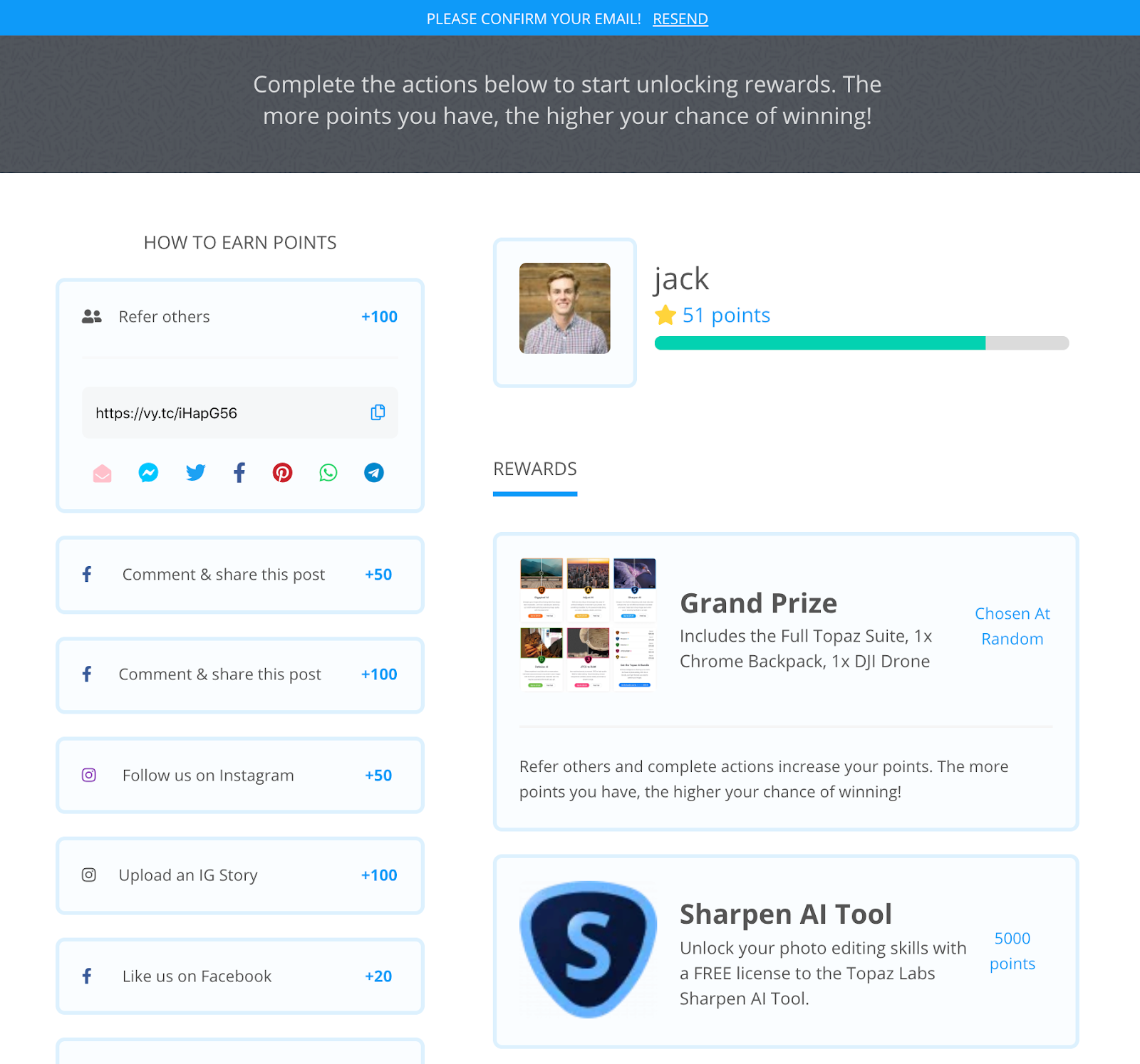 Brainstorm contest ideas
If you are looking to achieve multiple goals from a single contest, a leaderboard contest (as mentioned above) will be your best bet. Leaderboard contests will allow you to get contestants to compete with each other to complete bonus actions that your brand can benefit from. If you are looking to produce user-generated content with your brand name attached to all contest entries, then you can host a UGC contest.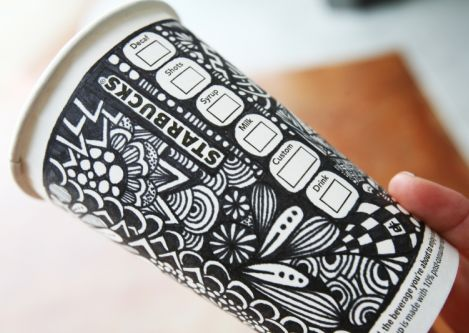 Starbucks hosted a UGC contest that had customers doodling all over empty coffee cups. The contest was a success for a few reasons:
It got people to go into Starbucks coffee shops to buy a coffee so they can use the empty cup to create their entry.
Contestants shared their works of art on social media giving Starbucks tons of exposure on different online platforms.
They used the winning entry to manufacture limited edition coffee cups and other merchandise.
More contest ideas:
Back2School contest
Recipe contest
Selfie contest
Next model search
Live game streaming contest
Name our product contest
Choose a prize
The prize is the most crucial factor in your contest. People are mostly drawn to a contest because of the prize. Logic dictates that the better (or more valuable) a prize is, the more people you will have taking part in your contest. This translates to more emails, exposure, etc.
So by that logic, the best prize should be an iPhone, right? Everyone wants an iPhone. If the prize for your contest is an iPhone, then you will have tons of entries and your contest will most likely go viral. This is great news!
However, the major downside to this is that the majority of leads you acquire will only be interested in the phone and not your brand and its products. This means that you will have to spend endless hours sorting huge amounts of poor quality leads with the hope of finding good leads.

Topaz Labs got users to download pictures from their Instagram account, edit it, then reupload with #Topazlabs. All contestants were required to follow Topaz Labs on Instagram. This allowed the contest to instantly boost Topaz Labs' Instagram followers and their hashtag.
Choose a prize that suits your brand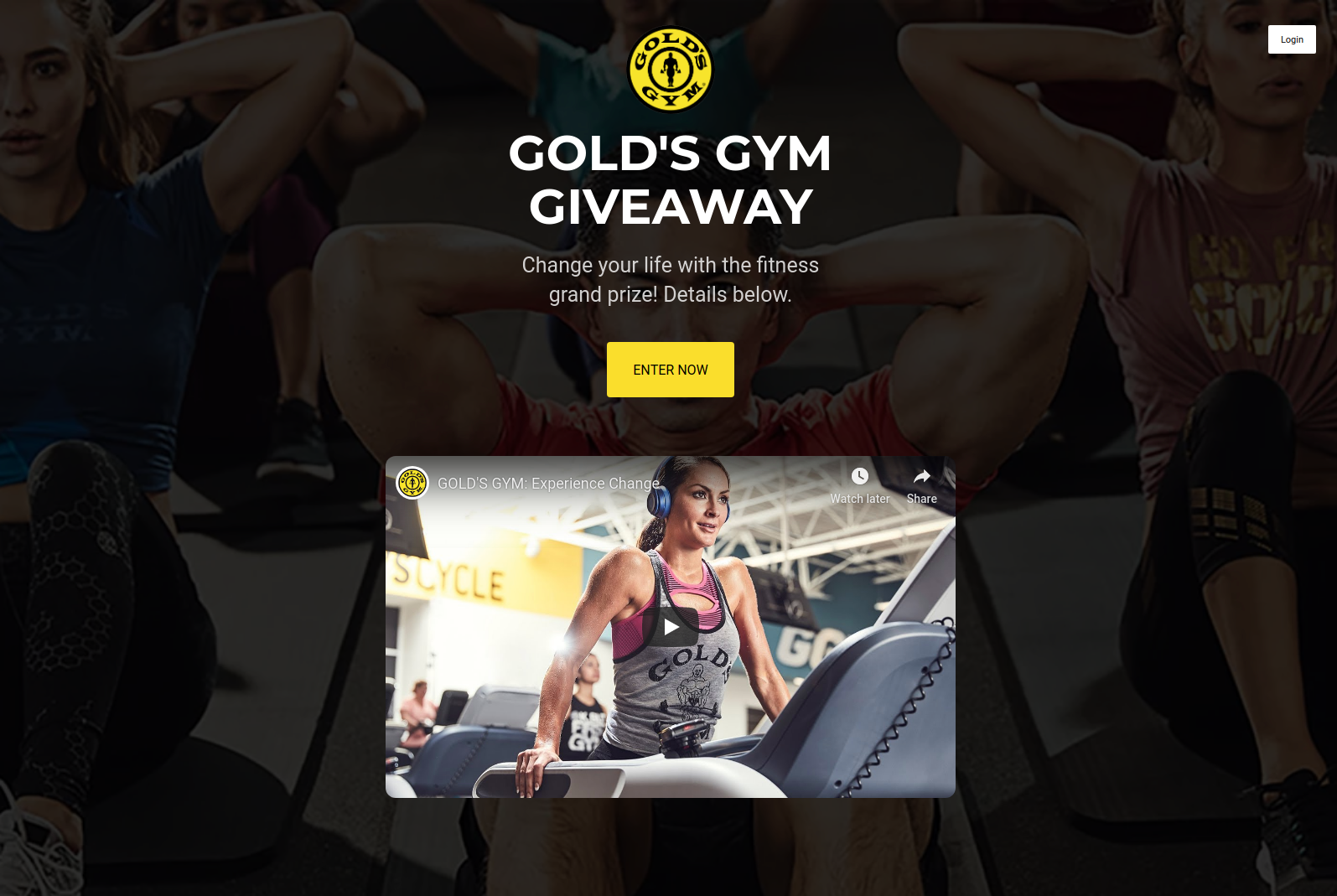 It's best to have a prize that will attract your brand's target audience. If a gym hosts a contest, an ideal prize can be '6 Months Free Membership To Our Gym'. Such a prize will attract people who are into health and fitness. If the prize was an iPhone, the gym would attract a ton of people with no interest in working out.
You can also use prizes that compliment your brand or attract a similar audience. A contest that's hosted by a gym can use health supplements, workout gear, and sports apparel as a prize. These products might not be sold by the gym itself, but they will still attract people that are into health and fitness.
Launch and promote the contest
After determining what contest you will host and the prize you will offer, you can now launch and promote your contest. The first step should be to create a post for your contest to share on social media. Contests are considered as viral content on social media. If your contest post gets plenty of likes, comments, and shares on social media, the post will become popular on the platform.
This means that it will climb up the rankings and become more visible to users on the platform. Because of this, you should encourage people to like, comment, and (especially) share your contest post. If a user on Facebook shares your post, it will become visible to their followers as well.
This will instantly increase the reach and exposure of your post. So try to get people sharing!
Keep on promoting!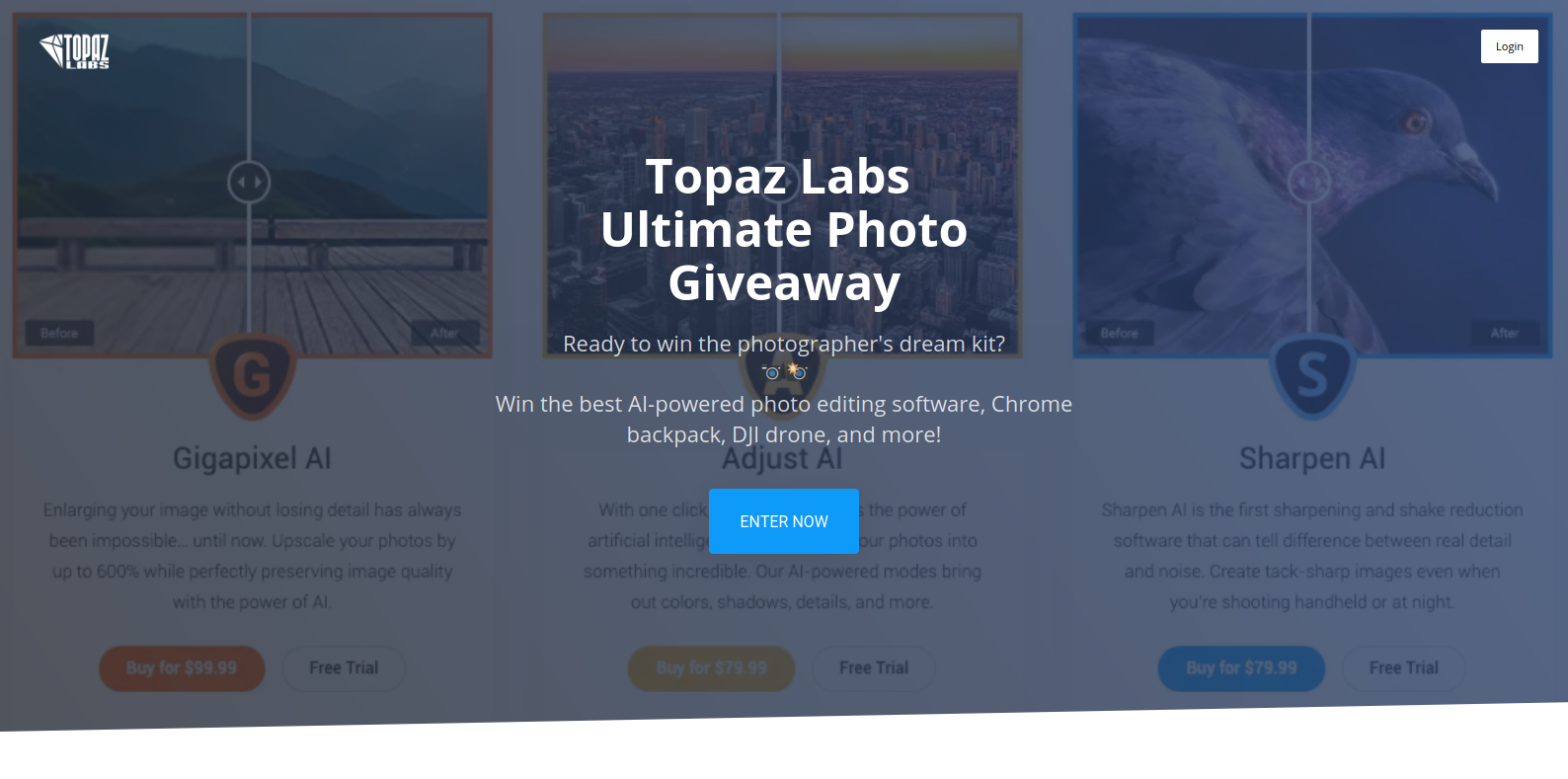 Don't rely on just a single post on Facebook or Instagram to promote your contest. Your contest can be considered as a massive marketing event for your brand. You can use your contest as an opportunity to reach out to people on all marketing channels. Promote your contest the same way you would promote a new product.
Email - Send out an email to your subscribers to announce the contest. You can also send out another email to let people know that they have just a few more days left to enter.
Website - You can create a page or blog post on your website with all the information related to the contest such as end date, prize details, winner announcement date, etc.
Sponsored posts - If you host a contest on Facebook, you can apply to boost that post for the first few days. This will allow your content to be seen by a larger audience early on.
Traditional marketing channels - You might be hosting a social media contest, but there is nothing wrong with promoting the contest on TV, newspaper, magazine, and radio/podcasts. These channels can still provide additional exposure to your contest.
Influencer marketing - Seeing that you are hosting a social media contest, it will be a good idea to get help from a popular figure on the social platform to promote your contest. They can share your contest posts with their followers to instantly get your contest to a much broader audience.
Chatbots - If you want your first-time website visitors to know about your contest. you might want to create a free chatbot that will automatically inform everyone coming to your page about this opportunity.
TL;DR
Social media contests have proven to be a fun and interactive way for your brand to grow its online presence. The benefits from a single social media contest are massive, which is why hosting one yourself is totally worth it.
The concept of a contest might seem simple, but you will still have to carefully plan and execute your contest if you want to get the most out of it.
Have you hosted a social media contest before? Let us know how it went, in the comments below.