Samsung Galaxy Note 10 vs. iPhone 11 Pro: Social listening analysis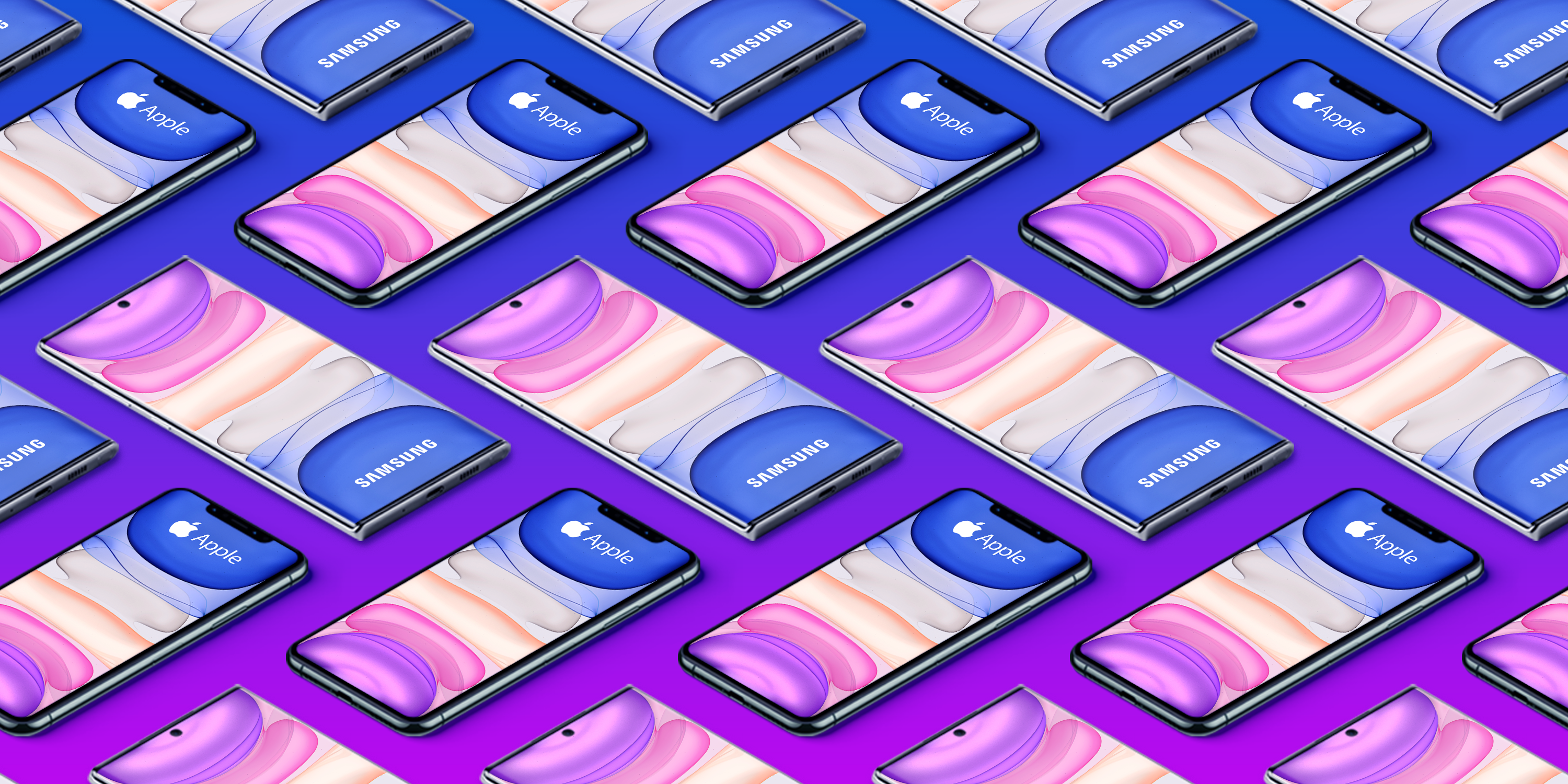 B
atman vs. Superman
Tesla vs. Edison
Meters vs. feet
Cats vs. dogs
These were some of history's greatest rivalries...until iPhone vs. Samsung rolled around.
Since then, the tech giants' rift has been dominating our feeds, uniting and dividing people across continents and demographics.
Which of the two boasts more impressive designs? What about battery life/cameras/displays/value for money? Those are the questions we ask ourselves (and everybody else on the Internet) with each new arrival on either side.
This fall was no exception: the release of Samsung Galaxy Note 10 and Apple iPhone 11 Pro sparked up a new wave of online debates.
As per usual, the Internet had a lot to say: people be talking, and we at Awario be listening closely.
Let's have a look at these conversations — and see which handset won more hearts and minds this time around.
Groundwork
Due to the difference in release dates (August 7th for Samsung Galaxy Note 10 and September 20th for iPhone 11 Pro), we started tracking mentions of both around the buzz peak — September 16th, 2019.
Specifically, we created alerts for multiple name variations of each phone, including hashtags and numbers spelled out. Mentions were pulled from both social media (Twitter, Facebook, Instagram, YouTube, Reddit) and news/blogs.
As of November 11th, 2019, iPhone had the lead in the overall number of conversations. We're talking 355.2K mentions of iPhone 11 Pro against 96.5K mentions of Samsung Galaxy Note 10.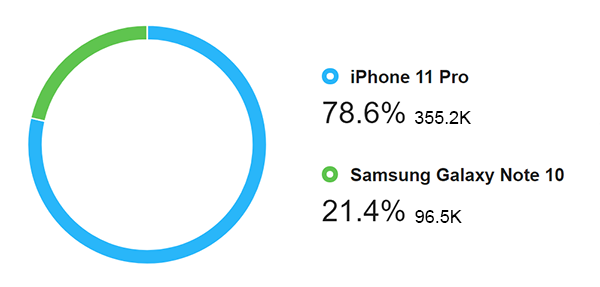 Screenshot taken from Awario
Is anybody surprised by iPhone boasting a bigger Share of Voice? Not exactly. Is all of the buzz around it good buzz? Let's find out — with Awario, we can look past the numbers and right into the sentiment behind them.
Both phones inspired more positive conversations than negative ones. With 355.2K total mentions, iPhone 11 Pro has 48.1% positive mentions, while only 15.3% are negative.
For 96.5K mentions of Samsung Galaxy Note 10, the ratio is 57.7% to 10.1%.

Screenshot taken from Awario
Methodology
To compare iPhone 11 Pro with Samsung Galaxy Note 10, we analyzed user feedback on each phone's performance in 5 separate categories:
Design
Camera
Screen
Battery
Price
To determine a winner in each category, we looked at % of mentions of each feature within the conversations about the phone, as well as net sentiment — the ratio of positive to negative mentions.
For calculating net sentiment, we won't be taking neutral mentions into account.

Analyzing the volume of mentions allowed us to see how many discussions any given feature generated. Meanwhile, looking at the net sentiment helped us understand how much of the talk was good talk.
We then were able to normalize the data and then calculate both iPhone's and Samsung's social listening scores (0 to 100) for each category, as well as the average scores for all 5 categories.

That was your share of mathematics for today. Now let's go and have fun with more percentages and scores!
Design
Samsung must have done a good job designing Galaxy Note 10, as the phone enjoyed a 69% net sentiment around its design. In the meantime, Apple's design efforts earned iPhone 11 Pro a 47.6% net sentiment.
With the share of design-related mentions nearly the same for both phones (slightly exceeding 1% of all conversations), Samsung outperforms iPhone in social listening score for this category by 25 points.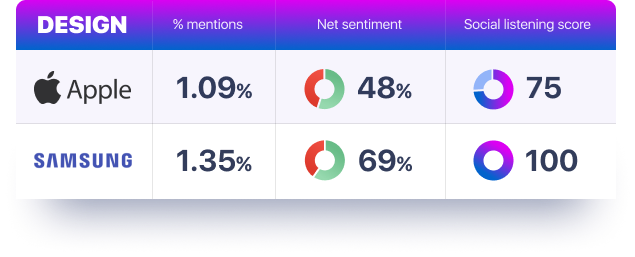 Winner: Samsung.
Camera
Against multiple trypophobia trigger allegations, iPhone 11 Pro's triple-lens camera won more than it scared off. Somewhere along the way, it was even assigned borderline X-ray properties, which resulted in 15% of all iPhone mentions featuring its camera.
Guys see, the iPhone 11 Pro Max camera is so clear you can just take a picture of a man and see all the fucking lies ??

— YourWCW ?❤️(@Ra__kiia) September 29, 2019
X-raying isn't the only unannounced feature discovered by the flagship's users.
bought the iPhone 11 pro we're not taking dick pics anymore we're taking richard photographs

— Derek™ (@ProdigyNelson) October 4, 2019
Samsung, while retaining a higher net sentiment (83% vs. 73.6%), bows out to iPhone's camera in social listening score by some 22 points.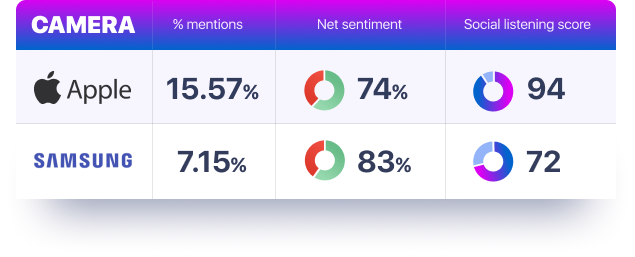 Winner: iPhone.
Screen
Small wonder, screen is where Galaxy Note 10 strikes back. Whether or not the handset's Cinematic Infinity-O Display delivers on its hopes is for users to decide in the long run. For now, Samsung's net sentiment is 30% higher than iPhone's.
Out of all conversations around Galaxy Note 10, over 5% are focused on the display. For iPhone 11 Pro, the share is much smaller — just under 1%. Hence, Samsung's social listening score in this category turned out bigger by an impressive 64 points.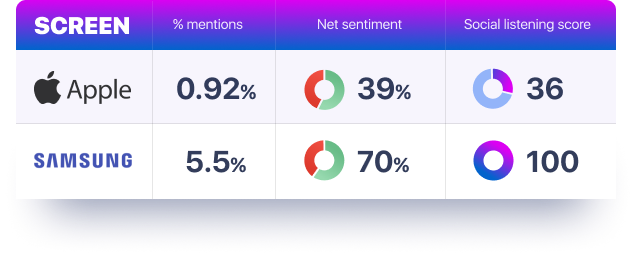 Winner: Samsung.
Battery
Both iPhone and Samsung held the promise of long battery life, and both seem to be living up to it. Therefore, most battery-related conversations are far from charged (wordplay intended), and the shares of mentions are about the same.
With a net sentiment of 56% for iPhone and 68% for Samsung, the scores get closer to even. Owing to the advantage in net sentiment, however, Galaxy Note 10 takes the lead in battery talk, winning by 26 points.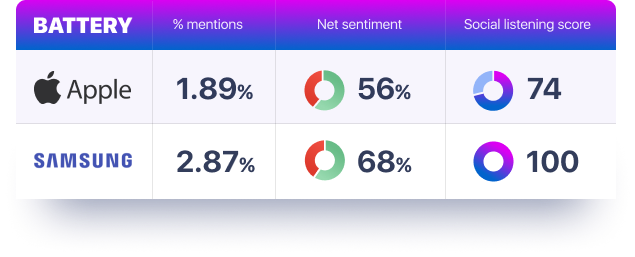 Winner: Samsung.
Price
While the features parade is all fine and dandy, the question remains: is either of the gadgets worth the investment? After all, in the league of $1,000 phones, talk (however abundant) is cheap.
As per usual, iPhone took the heat of cost-related criticism, resulting in a 44% net sentiment against Samsung's 72%. And with the share of price mentions lower than Galaxy Note 10's, iPhone lost the fight — not without sparkling user creativity.
Me entering apple store to buy iphone 11 pro max after selling my kidney
pic.twitter.com/YlFgd9dhkI

— Akeel✨ (@akeelll3) September 27, 2019
Not at all a far cry from iPhone, Samsung didn't seem to have gotten quite as much price-related criticism. As a result, the phone scores yet again — this time by 35 points.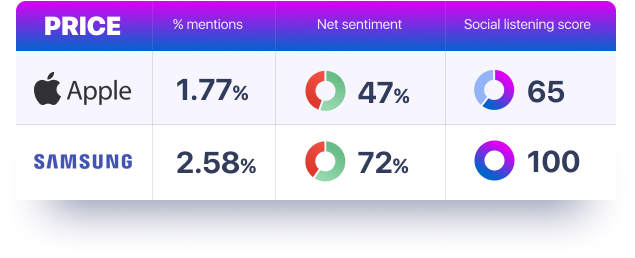 Winner: Samsung.
Category by category, we came to determining the ultimate victor features-wise. By calculating an average of social listening scores for both handsets, we have a winner! At 94 vs. 69, Samsung Galaxy Note 10 takes the Audience Choice Award, dominating 4 out of 5 categories.
The verdict: which phone is better?
As is evident from the comparison above, Samsung is winning the features game by a substantial margin. Here's a quick recap:
category
social listening score (0-100)
iPhone
Samsung
design
75
100
camera
94
73
screen
36
100
battery
74
100
price
65
100
average for features
69
94
We also keep in mind that iPhone inspired more conversations and user witticisms around it, cause, you know, iPhone.
So, was anybody surprised by iPhone boasting a bigger Share of Voice? Not exactly. Was all of the buzz around it good buzz? We found out.
This leaves us with two rightful winners. In case you enjoy using your phone as a conversation starter, you might be better off with iPhone 11 Pro — the phone generated 3 times as much online buzz as Samsung Galaxy Note 10.
If you're watching out for specific features, take a closer look at the side-by-side comparison: unless under the spell of iPhone's triple-lens camera that looks like so many things at once, Samsung Galaxy Note 10 might be your best deal.
With this battle over, the war is very much ongoing. It's still not the end of iPhone vs. Samsung history, which means we're in for more face-offs on the horizon.