What features should I look for in a social listening tool? A detailed guide with tips for social media marketers

Summary
How to find a social media listening tool that can greatly benefit your business? In this article, we gathered s set of must-have features any effective social listening tool should have.
Any marketer knows that social media is fertile ground for effective brand promotion and lead generation. A well-built business page on Instagram or TikTok brings thousands and thousands of followers that can eventually turn into a couple of hundred loyal consumers and brand advocates. To build a strong brand image and enhance their social media presence, a lot of businesses use social media listening tools.
Social media monitoring tools allow businesses to gather in-depth insights on how effective their brand on social media is and what they could do to improve its further performance. But, how to choose the best social listening tool that could effectively address all the social media marketing issues posed to a brand? Let's figure this out.
What is a social listening tool and why do you need it?
The effectiveness of any social listening tool depends on the features it holds. Though before we get to the features, let's recap what a social media listening tool is specifically and who can benefit from using it the most.
Social media listening tools are special digital solutions used for tracking diverse brand metrics on social media in real-time. These metrics include brand mentions, followers' engagement, customer attitude to the brand or a product, target audience segmentation, and many others.
Marketers extract all these metrics by gathering and processing social media conversations with social listening analytics and use the data rundown for various marketing purposes.
Here is how you can use social media listening results:
Evaluating the success of your marketing campaigns on social media

Tracking activities and marketing campaigns of your competitors

Discovering effective social media marketing strategies

Finding top influencers in your business area on various social media platforms

Learning about how to improve your product or marketing campaigns

Performing effective and timely brand reputation crisis management

Enhance SEO performance on your website

Learn about the latest trends in your business niche

Better adjust your content to your audience

Market research
How to choose a social listening tool?
When choosing a social media monitoring app you can easily find yourself like a kid in the candy store not knowing where to look first. We've gathered the most essential features that top social media listening tools should possess. Here is what to look for.
Sign up for a free Awario trial
See Awario in action with a free 7-day trial. No credit card required.
By signing up I agree to the Terms of Use and Privacy Policy
Boolean search
A search feature is the heart of any media monitoring platform. With its help, marketers gather raw conversation data from various media sources. All you need is to type in some keywords and hit the search button. The result will include all the mentions of your keywords on the web.
You can adjust your search using filters to some extent to make the gathered data more accurate but the outcome will still be rather unrefined. How about searching for the most relevant data from the start? For this, you should use a Boolean search.
Boolean search allows you to tune your searching requests in the most precise way. For example, if you want to include collocations with specific punctuation, exclude some words, or search for the data in a certain area using certain languages–all these you can do with a Boolean search option.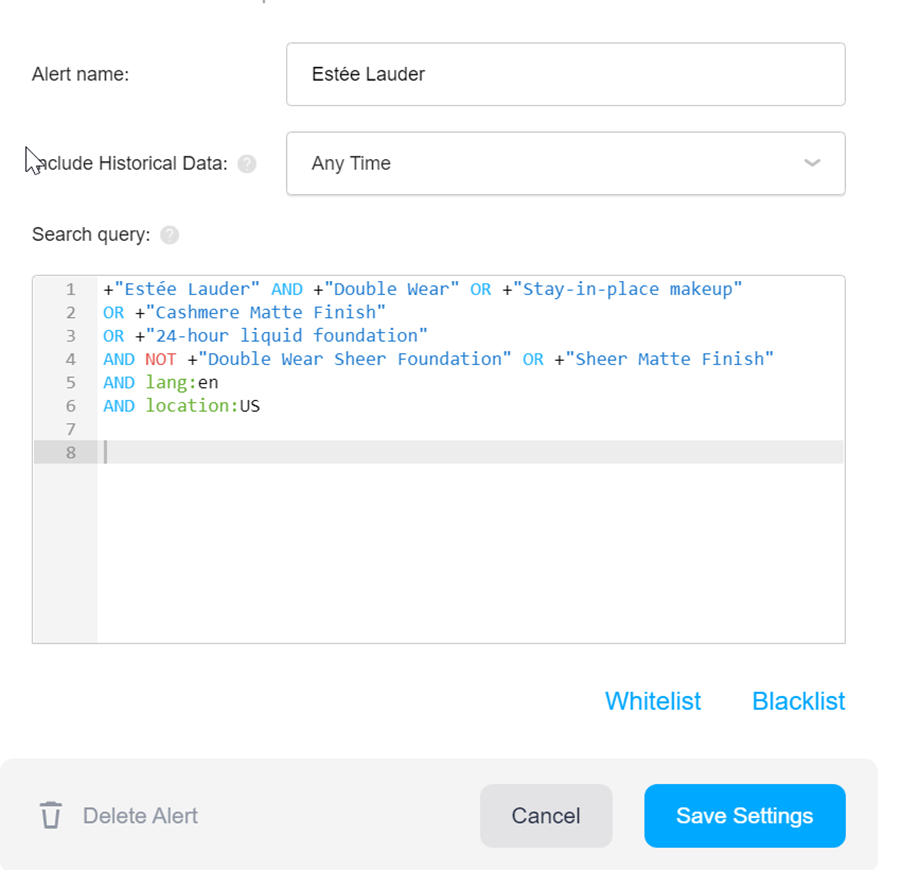 Although it requires some training, the result is worth it. Read more about how to use Boolean search for collecting data on social media platforms.
Mentions insights
Advanced social media monitoring platforms provide their users with an insights feature based on deep analytics. The feature detects any unusual activities in the created mentions and focuses users' attention on them. This can be a sudden rise in the number of followers mentioning your brand, shifts in product perception, and as a result change in sentiment, and other unusual behavior.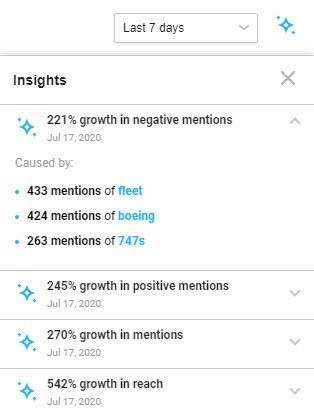 Mention insights are super-useful for businesses that care about their brand reputation and for them this feature is a real lifeline. Using mentioned insights you can predict and timely prevent any brand reputation crisis and stay in the know of the latest social media trends.
Historical data
Viewing data by history is another important feature any social media listening tool should possess. It allows users to track social media posts in certain time periods. This can be useful when you run your marketing campaigns and want to track their success or find out how effective your previous campaigns were.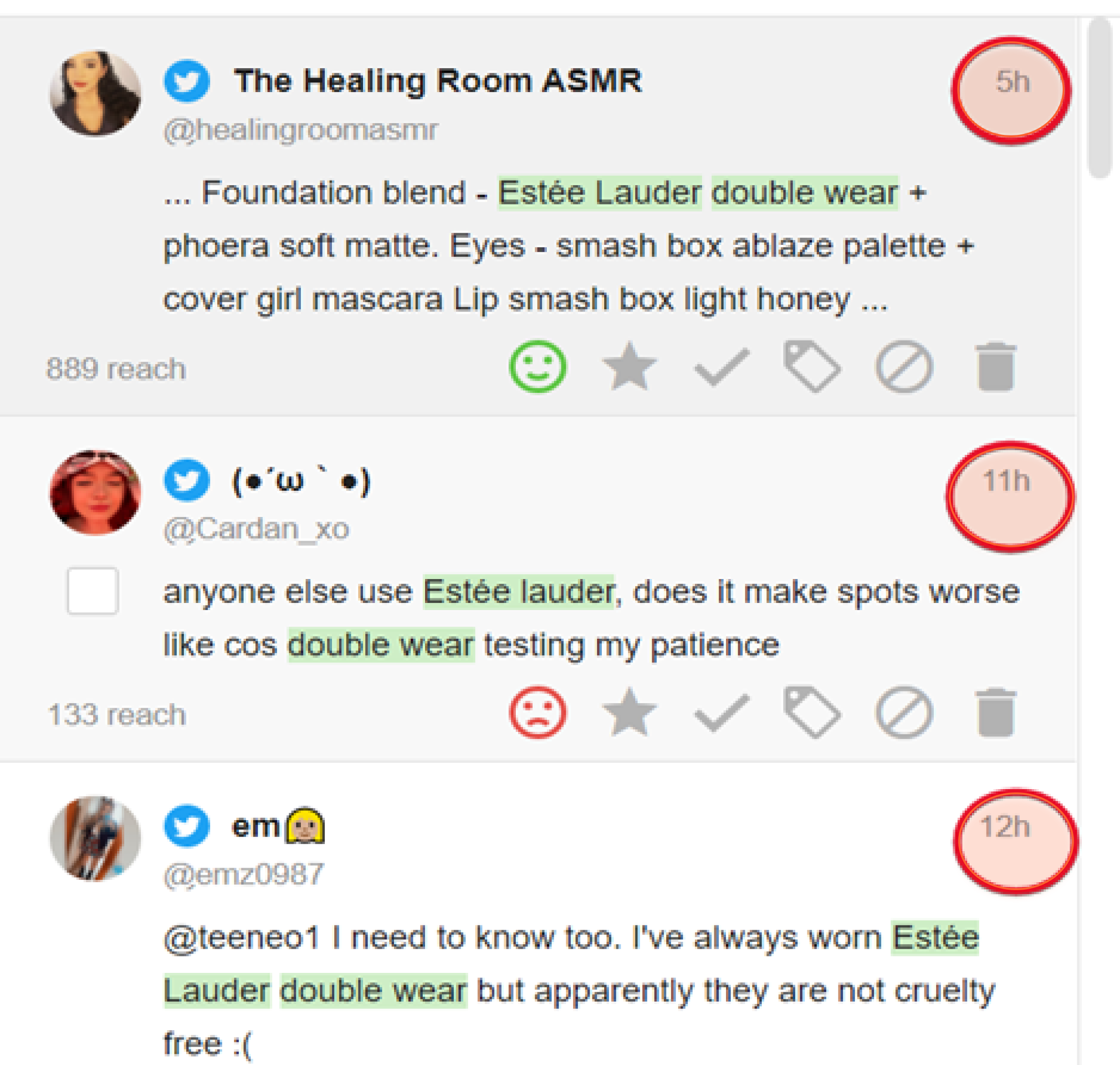 Moreover, if you set your filters at the week of the last month, you'll get the freshest results in data feeds or analytical reviews.

If a social media listening tool is empowered with advanced analytics, it will provide you with detailed results on the demographics of your target audience. This way, you can get a better idea of who uses your product and the products of your competitors.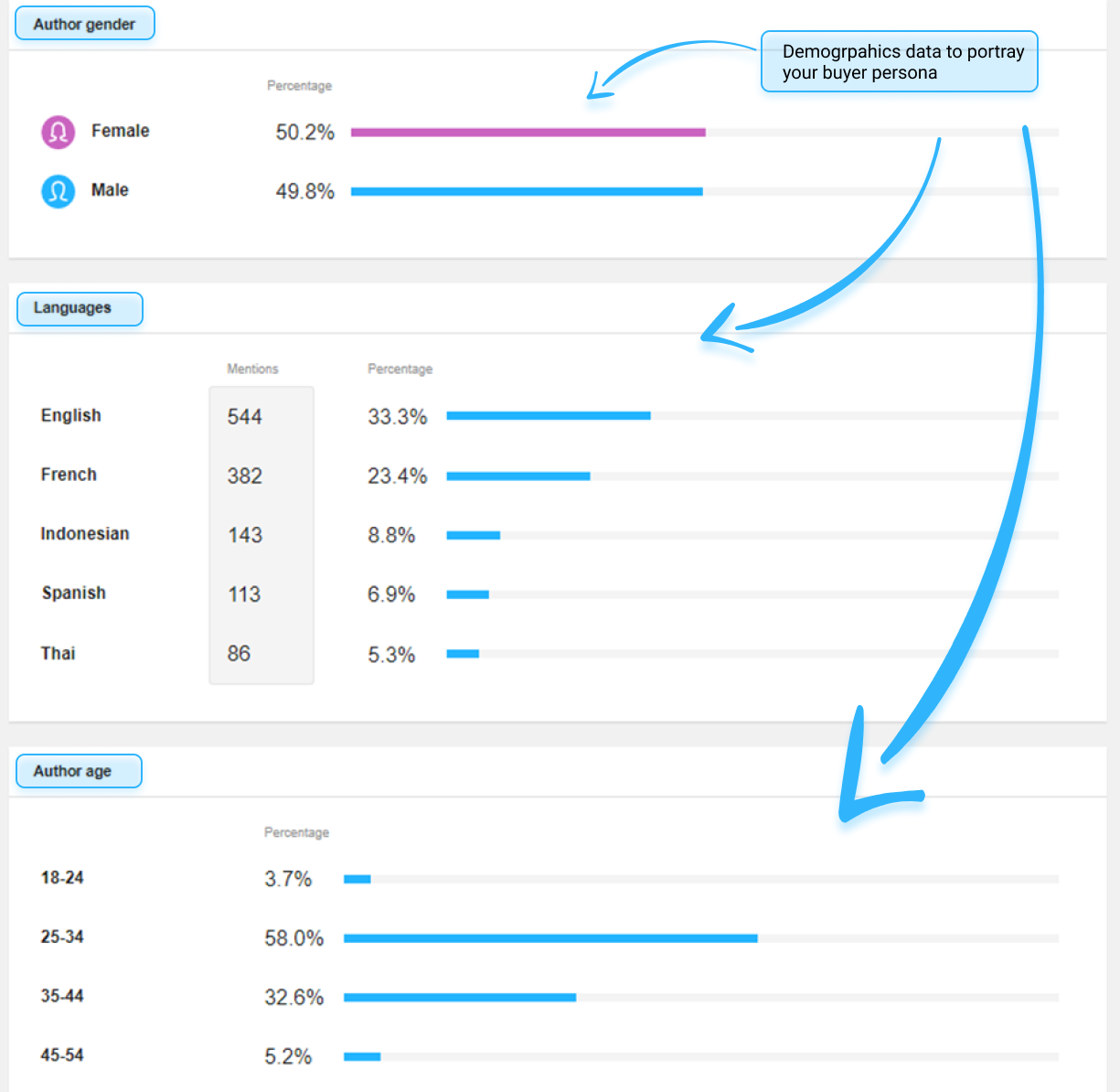 Based on the demographics data that includes such metrics as age, gender, language, location, and others, you'll be able to exactly portray who your buyer personas are. This will help you to compare your and your competitors' audiences and better adjust your product lines and marketing campaigns to the wants and needs of your customers.
Alerts comparison
It's great when a social media listening tool can provide you with detailed statistics on your brand performance and marketing campaigns success. However, data analysis becomes even more valuable when you are equipped with cross-brand analytical tools. This way, you can perform a deep analysis of your and your competitors' brands and compare them by various metrics starting from mentions to author gender and age to sources, and much more.
By comparing your data with your rivals', you can gain insights into how you can position your brand on the market, make your offering stand out, or how to enhance your marketing campaigns to attract even more followers to your brand.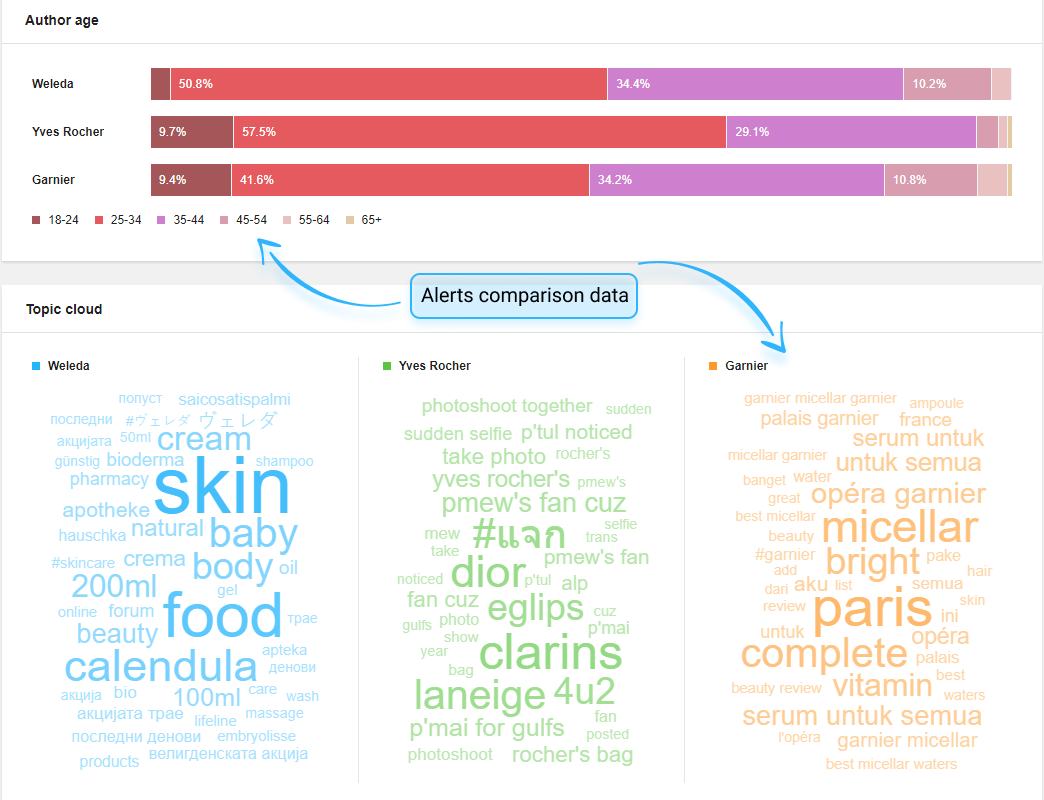 Sentiment analysis
It's essential for brands to know what their customers and followers think about their products. For this, social listening tools provide their users with sentiment analysis features. They analyze customer attitudes to your brand, product, marketing campaigns, and others and wrap up this diverse feedback into simple and visual statistics.
Sentiment analysis can help you improve your brand positioning, quickly address negative mentions, heighten your followers' interest and increase engagement in conversations as well as analyze what you and your competitors are doing right and wrong in your and their marketing campaigns.
Social media listening apps can label standalone posts with positive/negative sentiments or display them in overall stats gathered from all the search results posted.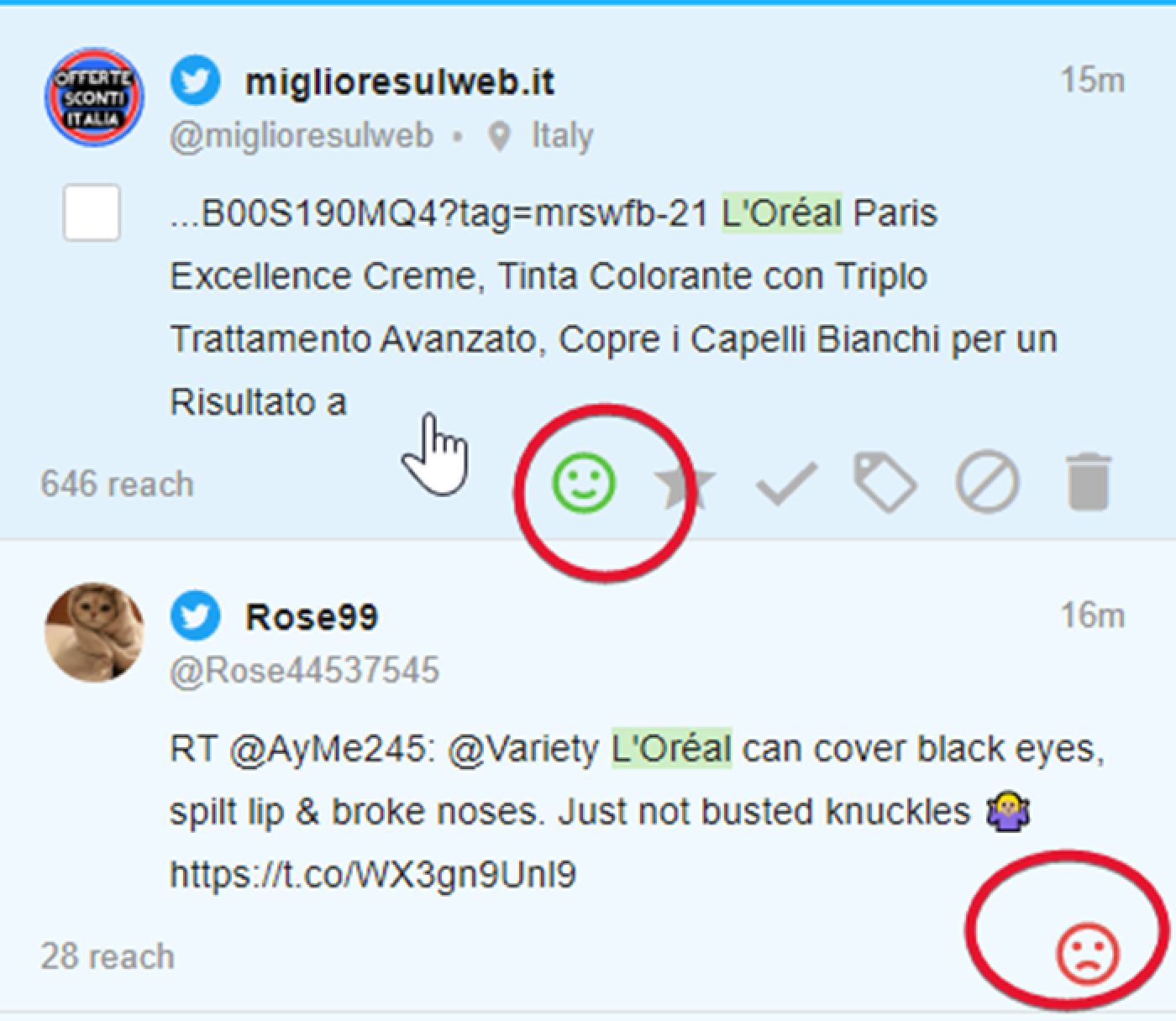 Share of voice
Share of voice is a compound measure that shows how much of the market share your brand owns in comparison to your competitors. You can measure it by comparing various metrics such as sentiment, mentions, hashtags, organic keywords, reach, and others. Professional social media listening tools can compare several brands and view the results in visual diagrams and graphs.
Using social media monitoring apps with robust stats will allow you to compare your brand with competitors by diverse parameters. This will provide you with insights on where and how you need to improve your social media performance.
Start monitoring your brand today.
You should've been doing it yesterday – but the next best time is now with Awario.
By signing up I agree to the Terms of Use and Privacy Policy
Image & video recognition
In the social media world where visual content is the king, image and video recognition features can become a really handy instrument for enhancing your marketing campaigns.
A visual content recognition feature analyzes images, emojis, logos, videos, and other media formats and can provide surprising and unexpected results. Using this feature you can find out how content makers and customers perceive your brand, gain inspiring
insights on how to improve your visuals, learn if your brand logos were used in positive or negative content on images or in videos, and others.
Whitelist
Sometimes you need to monitor only certain profiles or websites instead of gathering data from the entire web. For this, social media listening tools provide a Whitelist monitoring mode. It restricts the search only to whitelisted web pages or social media profiles, focusing your attention on them. The feature allows tracking only your brand activities, important social media influencers, brand ambassadors, or competitors online.
Just like the whitelisting feature, some social media listening tools also include a Blacklist for the app to ignore particular usernames, domains, etc.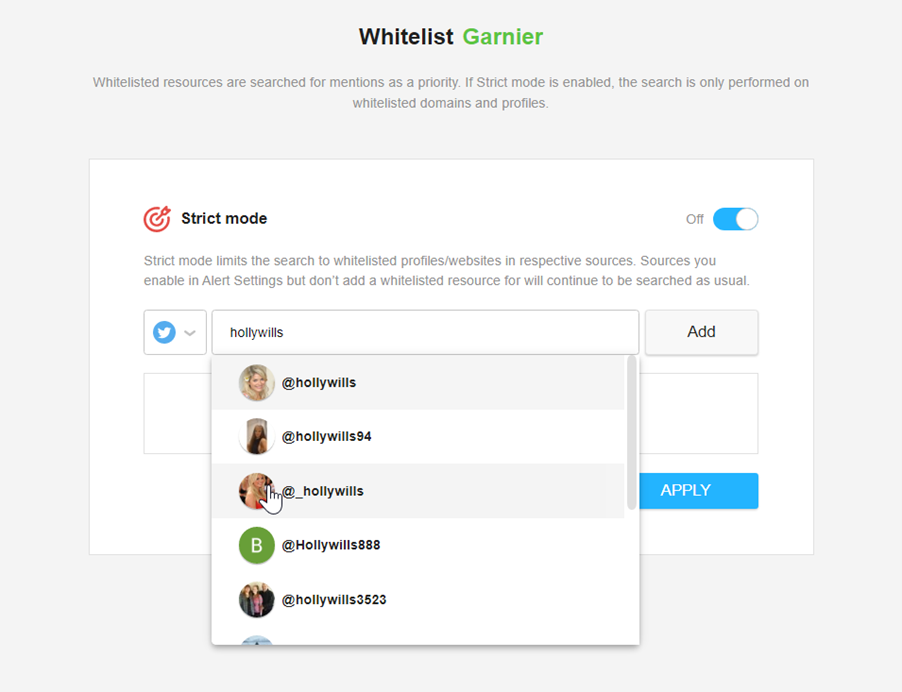 Reporting
Imagine that you're running a marketing campaign but the results aren't as obvious as they could be, yet–the leads get generated slowly, or maybe everything just works smoothly, though you've just resolved a looming crisis. How to show your company's head managers that you and your marketing team really put a lot of effort into supporting your brand image and results are just pending? For this, most social media listening tools provide detailed reports with statistics and everything that's going on with the brand.
With social media monitoring reports, you can show how much your brand has developed by comparing key metrics, e.g. how much awareness has grown or how customers' sentiment has changed over time.
Social selling opportunities
Social media listening tools help marketers discover how to create relevant content for their social media, who are their potential buyers, and how to work with their followers. All these create the conditions for effective social selling.
By closely monitoring what's happening with your brand on social networking sites, you'll be able to keep up with the latest trends and stay on the same page with your audience, offering them exactly what they need and want. Apart from gathering valuable stats, some social monitoring tools provide their users with an opportunity to quickly find and generate leads–what our efforts are all about.
Enjoying the post? There's more.
Sign up for our newsletter to get our best content by email.
API integration
Marketers and business owners usually use several digital tools united into an integrated environment. The social listening tool you choose should easily connect with any of the tools you're currently using for your business development whether it's a custom-built CRM or a ready-made solution.
A lot of the social listening tools offer their clients integration with other digital systems via API. This way, you don't have to use social listening tools' UI's to access and use their functionality.
Cost
The cost of a social listening tool largely depends on the functionality it provides. If you have a small business, a start-up, or a large enterprise, one thing is for certain–before buying or subscribing to your social monitoring tool, calculate the potential ROI and use its free trial for several days before committing. This way, you'll define if you really need this solution and if it is the right solution for you.
Before you go
There is a wide variety of social media listening tools and platforms that offer diverse marketing services. Though, before opting for any of them, you need to consider all your marketing goals and objectives and understand what you're going to use this solution for. By doing so, you'll make the most profit from the application and it'll be an effective instrument in your business development kit, and a worthwhile spend in your company's budget.