TikTok or Instagram Reels: the best marketing choice for your brand

Article summary
We compare two platforms for vertical video: Instagram Reels and TikTok to find the most beneficial to your brand in this infographic. We cover features, audiences, and marketing benefits.
12 minutes read
Want your business to go viral? Creating memorable content is step one. But what's next? Finding the best place to post it. Instagram Reels Vs. TikTok are the two of the top competitors in today's market, but which one is best for your brand to make that all-important impact? That all comes down to your social media marketing strategy.
The facts and stats
For 86% of businesses today, video is a key marketing tool (among marketers that number rises to 92%), helping them to inform, connect with and market to their audience.
With most brands (40%) spending between $0-$500 per video (only 3% spend over $10,000), it's a relatively cost-effective way to build that connection with users in an entertaining way.
Predictions estimate that by 2022, the average user will increase their online video watching time to 100 minutes per day, making video marketing a powerful method of communication for all types of companies.
Research shows that consumers are interested in seeing brand generation content. With video coming in at the top for all generations except the 55+ who prefer emails to video. So, if you haven't built video into your marketing strategy yet—what are you waiting for?
Start monitoring your brand today.
You should've been doing it yesterday – but the next best time is now with Awario.
By signing up I agree to the Terms of Use and Privacy Policy
Instagram Vs. TikTok: the platforms uncovered
Before you can hit go on your social media strategy, you'll need to know a little more about the platforms out there. Let's take a closer look.
Instagram
Founded by Michel Krieger, a software engineer, and Kevin System, a computer programmer and ex-Googler in 2010, Instagram has grown into a worldwide popular platform for photos and now video. Sold to Facebook (now Meta) in 2018, the app is now under the command of Adam Mosseri (CEO) and accounts for 44% of Meta's overall revenue.
No. of users: 2 billion (2022) (on track to reach 2.5 billion by 2023)

Age demographics:

70% less than 35 years old (2022)

8.9% 13-17 years old

30.2% 18-24 years old

31.7% 25-34 years old

Most popular regions: Asia-Pacific, Europe, South America

Best for: Increasing engagement, working with celebrity endorsements, marketing campaigns that include sound in the video, getting shares.

Total potential reach: Meta estimates that Reels can reach 675.3 million users
Fun Fact
The most viewed reel on Instagram was viewed 289 million times
Content features:

60-second videos

Huge audience

Filters and effects
Reels' analytics
Reels' analytics takes place right inside your Instagram. You can find it in a section named "Reels Insights." Here you can learn about your audience, their actions after seeing your reels — likes, comments, shares, saves — and more. This can go on to inform your content strategy.
Algorithm: how to make Reels work for you
As Reels are reasonably new and gaining popularity, creating viral content can be a challenge. To help your videos gain traction, it's important to discover the right combination of length, days/time of posting, content styles, and more for your particular audience. This can be done by reviewing your general analytics and applying it to Reels.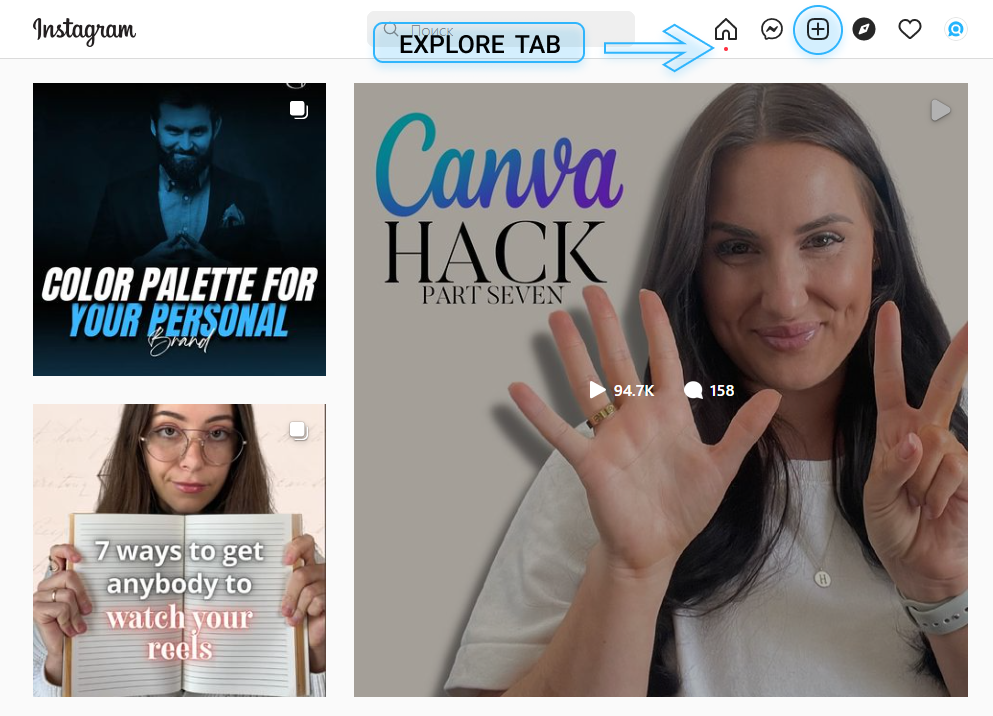 The Reels algorithm works in two parts—Reels Tab (like TikTok's for you tab) and the Explore Tab (featured pieces). These take into account your Instagram relationships (who your audience interacts with), and relevance by tracking user affinity, timeliness, and popularity.
The more of these factors you rank on, the better you'll be able to connect with your intended users.
TikTok
Founded in 2016 and finding popularity during the start of the pandemic in 2020, TikTok is a video shorts platform that allows users to post short videos. The platform was developed by ByteDance, and initially shared as a platform where people would lip sync and share videos. It has since evolved into a creative platform that generated $4.6 billion in revenue in 2021.
No. of users: 1.2 billion users (2021) (expected to reach 1.8 billion by Q4 2022)

Age demographics: 81% of users are less than 40 years old (2022)

28% 10-19 years old

35% 20-29 years old

18% 30-39 years old

16.3% 40-49 years old

Most popular regions: Asia-Pacific, North America, Europe

Best for: allows for ads, connecting with new users, engaging the audience and creating brand relevance

Total potential reach: 6th most-used media platform in the world with their platform's ads reaching ~18% of all internet users aged over 18.
Fun Fact
90% of TikTok's users open the app daily meaning tons of potential interactions for your brand.
Content features:

Longer videos — Up to 10-minute in length

Stitch — play your video after someone else's in one TikTok

Video Responses — create videos that feature comments on your videos

Duet — feature other videos alongside yours

Filters and effects — add creativity to your videos
TikTok analytics
If you have a business account with TikTok, you can access the analytics in the "Creator Tools" areas. This lets you discover more about your content and audience via account overview, content insights, follower insights, and live overview sections. From this, you can adapt your content and tailor it to your audience's preferences.
Algorithm: how to make TikTok work for you
TikTok's algorithm uses a complex AI (artificial intelligence) to ensure that users get the content they want. So how does a brand connect with its audience? The TikTok algorithm draws upon user activity (likes, comments, shares, etc.), subject (hashtags, sounds, keywords, etc.), location and language, audio, and feedback (skipped, hidden, etc. videos). That means for your content to connect it needs to have genuine relevance to your audience not just be sent out to the ether.
Reels Vs. TikTok (Short Version)
Reels

TikTok

60 seconds
Up to 10 Minutes

Effects

Yes
Yes (plus a publishing experience)
Audio and Subtitles
Yes (text-to-speech)
Yes (text-to-speech plus voice effects)
Music Collection
Yes (Audio)
Yes (Sound)
Stitch
No
Yes
Responses
No
Yes
Duet
Yes (Remix)
Yes (Duet)
Benefits of social platforms like Reels and TikTok for your business
No matter which one you choose video has some major advantages over still marketing. Let's take a look at how the medium can benefit you and what you can get out of it, no matter whether you choose TikTok, Reels or both.
Enjoying the post? There's more.
Sign up for our newsletter to get our best content by email.
Growth and brand awareness
With the majority of the platforms' users making up the Millennial and Gen Z generations, who have $65 billion and $100 billion spending power respectively, you stand to engage a very powerful consumer audience that favors video content. This will allow you to grow your brand and create awareness in a more appealing way.
Educate Target Audience
But these platforms aren't just about entertainment. Instead, both Reels and TikTok have huge educational potential. For instance, the FinTok movement is set on educating people about finances in 60 seconds or less—imagine what your brand could do.
Increase Website Clicks, Leads & Prospects
Both Reels and TikTok have proven to have decent (above 1%) click-through rates, meaning that both deliver the potential for your brand to build traffic and potential sales.
Target Future Clients
Smart tools in both Reels and TikTok allow your brand to tailor its ad content so that it reaches the audience you want. Select more closely your target audience more closely and build prospects for your business.
Grow Conversions
What does it take to make that step from viewer to client? Video platforms allow you to build a connection with your users and not only inform them about your brand but make them feel like they are a part of it. With this approach you could gain a higher conversion rate.
Engage With Potential Employees
What's cooler than buying from a big brand? Being a part of it of course. Video platforms are a great source to find influencers and also build your credibility as an organisation. For example, some companies even have employee pages to show their cred as a 'good' place to work. In turn, this makes the brand's end clients more comfortable using the product or service as it is a reputable company.
The ultimate question: which one should you choose?
With TikTok and Reels targeting the below 40 years old audience, both are excellent platforms for engagement, especially if you are focusing on this demographic. If your audience is a little older, these platforms can still work but you should adjust your strategy to focus more on other mediums.
The trick with video platforms is to make your creations a little different for each and engage based on the platforms' more specific demographics and audiences — aka. Know the vibe.
Vibe
For aesthetically-pleasing content: Choose Reels
For trendy, authentic vids: Choose TikTok
Meanwhile, TikTok is all about authenticity and being yourself. While there's no need to turn the filters off just yet, instead focus on creating your brand's story and visuals that define it so your audience gets that deeper level of engagement.
These platforms can co-exist in your marketing strategy, the key is not to mistake one for the other and, instead, focus on the benefits of both.
Reels Vs. TikTok in a nutshell
Today's audiences are watching more than 100 minutes a day of video online making short-video platforms a key marketing tool. Both TikTok and Reels allow you to engage your audience in slightly different ways. Build connection and brand trust by effectively engaging the platforms. Want to know more about what your users want to see? Check out Awario and listen in on what your users are saying.