Twitch vs Youtube Gaming: who's the boss?

Summary
This article aims to offer marketers a perspective on how two of the biggest online broadcasting platforms — Twitch and YouTube Gaming — compare in terms of their features, popularity, and marketing appeal.
This article aims to offer marketers a perspective on how two of the biggest online broadcasting platforms — Twitch and YouTube Gaming — compare in terms of their features, popularity, and marketing appeal.

Given how dynamic the digital landscape is, one thing is certain — live streaming has secured its spot as one of the major pillars of modern content. With the popularity of services like Twitch ever on the rise, it is only natural that other players would want a piece of the online broadcasting pie. This prompts a few questions — what platforms are out there and how can a marketer use them.
Let's take Amazon's Twitch, the original mainstream broadcasting platform, and Google's response, YouTube Gaming as examples. Comparing the two should give you a clearer picture of which one is a more promising option for your campaign.
What are Twitch and YouTube Gaming?
It would be fair to say that both Twitch and YouTube Gaming are competing for the same audience, so it makes sense that they seem nearly identical at a glance. But in fact, these platforms are very different upon a closer look. With that in mind, understanding points that set the platforms apart will require looking at their historical backgrounds and underlying concepts first.
Sign up for a free Awario trial
See Awario in action with a free 7-day trial. No credit card required.
By signing up I agree to the Terms of Use and Privacy Policy
Twitch
The best way to sum up Twitch in a few words would be to call it the broadcasting platform built by streamers, for streamers. Despite a popular belief, it wasn't always about video games. Justin.tv, Twitch's predecessor, was focused on what is now known as "variety streaming" back in 2007, broadcasting mostly real-life content (which would later become known as vlogs).
Considering the rapid growth of their "Gaming" subcategory, Justin.tv split it into a separate website called Twitch in 2011. In 2014, a lot of sources started speaking of a slated acquisition by YouTube, which was underpinned by serious technical changes and overhauls of Twitch. Ultimately though, the platform was acquired by Amazon that same year, and it remains a part of the Amazon group today.
Since the service was launched in 2011, the content brought to the platform has evolved to include all kinds of activities besides video games. One could argue that Twitch's content focus made a full circle, essentially returning to the initial concept of Justin.tv. Over the years, Twitch has grown to be arguably the largest online broadcasting service in the world.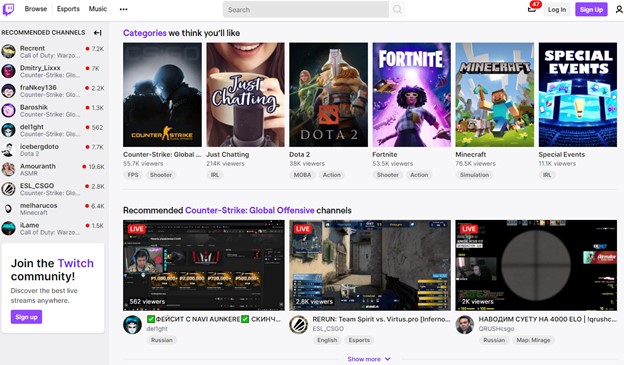 YouTube Gaming
Even though video games are a big part of YouTube since its creation in 2005, we need to acknowledge that YouTube Gaming is only a subcategory of a much larger ecosystem. Throughout its history, YouTube has remained primarily a video-hosting service built to span across all content themes under the sun. Unsurprisingly, YouTube is the biggest video hosting in the world, but live streaming is just a small branch of its operations. Given these fundamental differences, a direct comparison with Twitch might seem improper or even unjust.

At the same time, the rising popularity of online broadcasting has spurred many companies to try and incorporate it into their platforms. YouTube is no exception, it was even rumored to acquire Twitch back in 2014 to jumpstart the up-and-coming live streaming aspect of their platform. Seeing as that didn't go through, YouTube was left to build the broadcasting part of its service on its own. Like all the other companies trying to hop onto the streaming train, YouTube was just playing to catch-up with Twitch.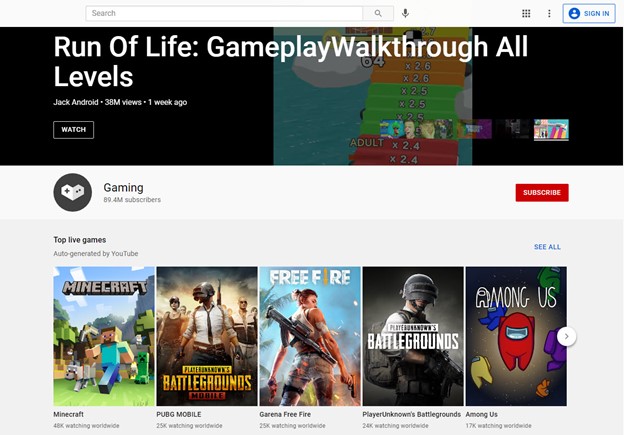 How different are they?
Arguably, we can say that we've already established the fundamental difference-maker between Twitch and YouTube Gaming. This difference is conceptual in nature — on one side we have an online broadcasting platform focused on video games, routinely matched against a thematic branch of the largest video-hosting service in the world.
From statistical and content points of view, Twitch can offer a variety of numbers on the performance of their single content type — live broadcasts. Everything is a bit more complicated with YouTube Gaming, as their content is split between uploaded non-live videos and live streams. This makes comparisons difficult, as we can only directly compare the streaming portions of both.
Nevertheless, the two platforms do compete for a very similar audience. Therefore, a closer look at finer details will help us understand their current positions on the market relative to each other.
Audience and Popularity
The number of viewers for each platform indicates how relevant it is at the given time and how the platform ranks amongst its competitors. Essentially, it defines a platform's popularity.
It is worth remembering that we can directly compare viewership for identical content types only. That means that we'll take on viewership for streams alone, excluding pre-produced videos on YouTube. For the sake of this comparison, we'll go over the average concurrent viewers and hours watched throughout all of 2020.
Average concurrent viewers:
According to Twitchtracker, Twitch has averaged 2,1 million concurrent viewers in the year 2020. The viewership peaked at about 6 million in June.
YouTube's data is not as available or detailed as Twitch's, going by financial quarters or years only. However, a report by Statista suggests that YouTube Gaming's live-stream segment has averaged at about 705,9 thousand concurrent viewers in the same time period, peaking at 871,42 thousand viewers in Q4 of 2020.
Hours watched:
Twitchtracker reports that Twitch has amassed an enormous 18,46 billion hours watched in all of 2020.
In comparison, YouTube's own blog post reports that live streams on YouTube Gaming have accounted for more than 10 billion watch hours.
As we can see, the data at hand shows the absolute domination of Twitch on the live streaming landscape with 2,5 times the average viewership and almost double watch hours compared to YouTube. This shouldn't be surprising considering Twitch became the first mainstream platform for online broadcasting, while other IT giants were slightly late to the party.
The number of recent social media mentions Awario has captured for both platforms further cements Twitch's supreme position on today's online broadcasting arena:

As it stands today, YouTube Gaming and other competitor platforms are still only playing catchup. However, it is worth noting that YouTube Gaming and some other competitors in the streaming niche have seen a steady increase, especially throughout 2020. While the pace of this growth may not be particularly outstanding, Twitch cannot ignore its competition anymore.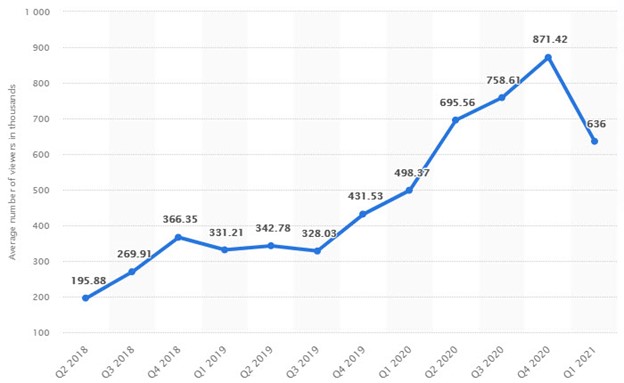 While Twitch clearly wins in terms of audience and watch-hours numbers right now, YouTube Gaming has some very impressive numbers, too. Therefore, dismissing YouTube over pure statistics wouldn't be smart as they're steadily catching up.
Exclusive content
Exclusive streaming rights and affiliated content creators play a key role in forming a platform's appeal and directly influence its overall popularity among its audience. After all, the audience comes to online broadcasts for entertainment.
Arguably, this is the area where there's no clear-cut winner as both Twitch and YouTube Gaming support some serious heavy-hitters on the online content production landscape. Not only on the individual content creator level but on the level of companies and organizations too.
Being the first mainstream online broadcasting platform, Twitch is a part of establishing the majority of prominent streaming personas, including broadcasting superstars as well.
Start monitoring your brand today.
You should've been doing it yesterday – but the next best time is now with Awario.
By signing up I agree to the Terms of Use and Privacy Policy
For example, one of the most widely-known streamers, Ninja (16.8M followers), signed a second exclusivity deal with Twitch after his brief detour onto a now shut-down Microsoft streaming platform, Mixer. Another highly popular streamer, Shroud (9.29M followers), has essentially followed in Ninja's footsteps.
You can be sure that many more content creators partner with the platform and resign their ability to stream elsewhere.
On the organizational level, Twitch holds exclusive rights to hosting a plethora of major esports events across many games. Events from the titans of Dreamhack or ESL caliber included, along with giant international tournaments like The International (DotA 2) or The Invitational (Rainbow Six: Siege).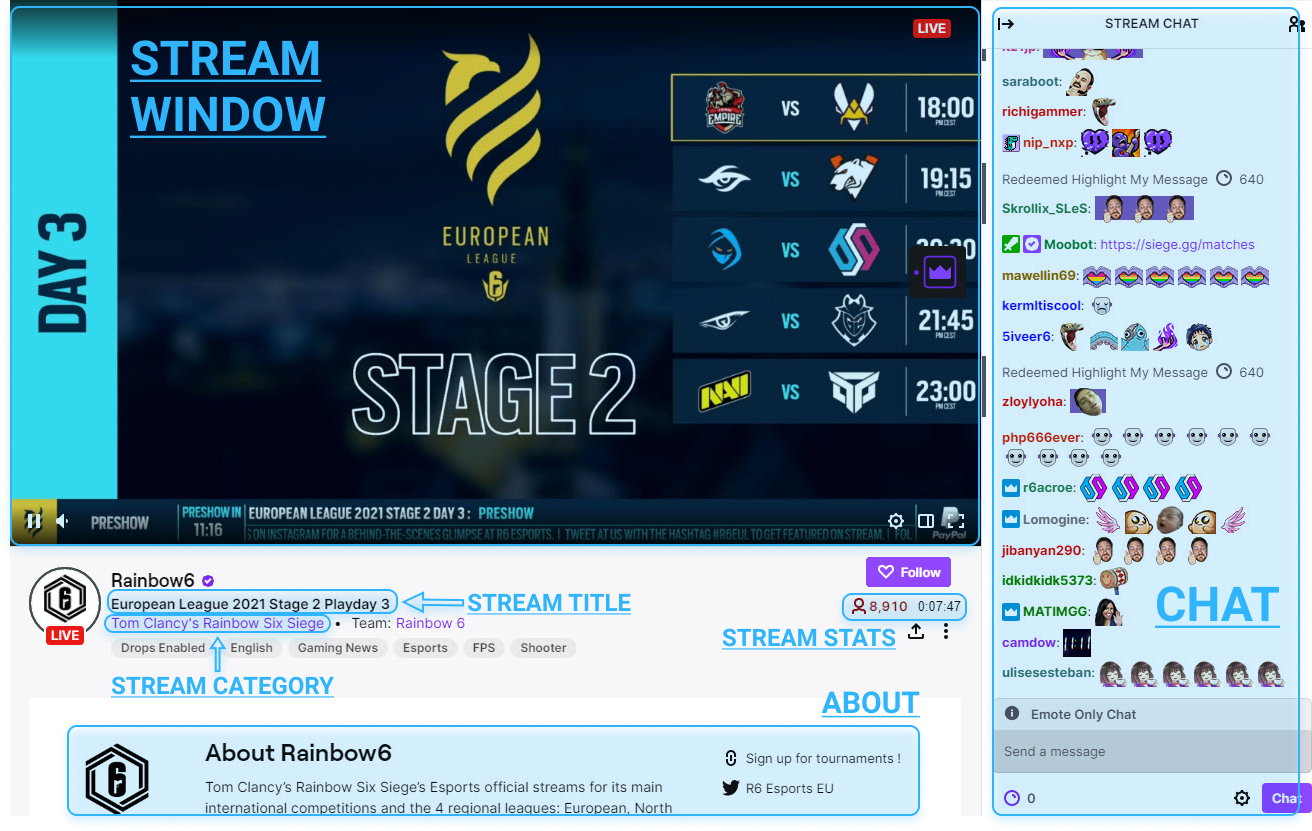 On the YouTube side, there's a lot of well-known content creators as well. For example, PewDiePie, arguably the most popular YouTuber in the world, has an exclusivity deal with YouTube. Although his content has long since branched out and away from video games and is mostly pre-recorded videos, he does stream every now and again.
If we zoom in on YouTube Gaming specifically, we'll see YouTube's rising star in Valkyrae (3.48M subscribers), as well as some prominent "refugees" from Twitch, like Dr DisRespect (3.4M subscribers).
Aside from individuals, YouTube Gaming can boast exclusive streaming rights for esports events for ever-popular Call Of Duty games as well as the Overwatch League — an ambitious American esports series striving to bring esports closer to traditional sports. And many more.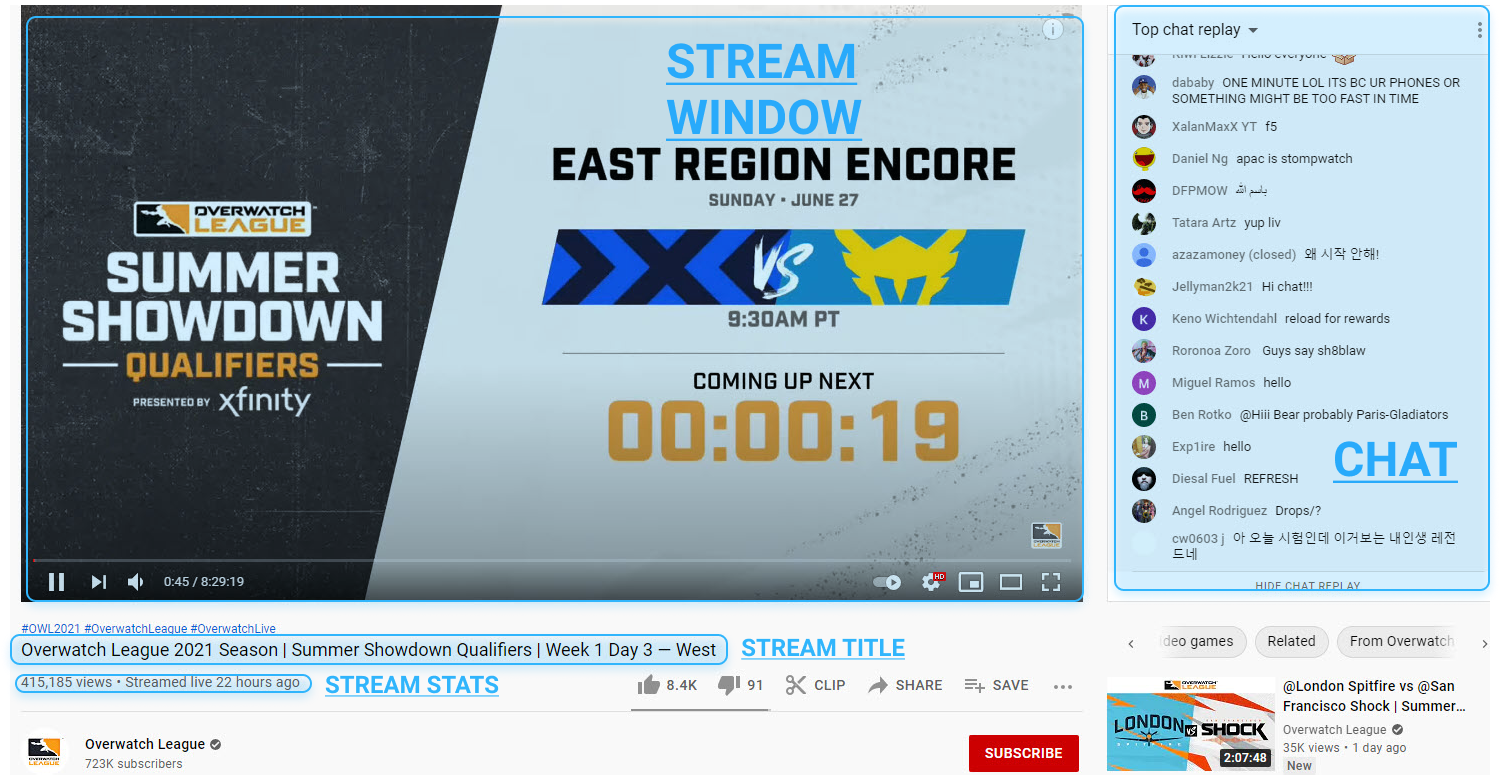 For all these reasons, there's no clear winner. At the end of the day, both platforms have loads of exclusive content to offer. And since there's no harm in watching both, you can be sure that both platforms share a lot of their audience.
User Interface and Usability
The interface on Twitch and YouTube is equally designed to be intuitive and accessible regardless of the screen size or device used.
Twitch's homepage is fashioned to get you to watch something very quickly. It is filled with recommendations on general categories, currently trending broadcasts, as well popular streams in your language or internationally.
After signing up, one can expect the recommendations to get more precise and personalized as one uses the platform.
The stream interface is extremely straightforward too, with basic controls found at the bottom of the video window, streamer information under it, collapsible live chat on the right side, and some more recommendations on the left.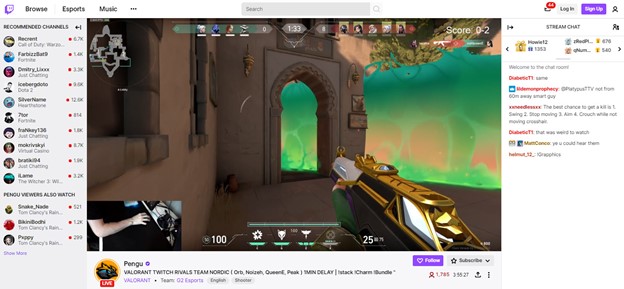 On the opposite camp, YouTube has successfully scaled its recognizable and very well-known interface scheme on the live stream segment as well. Their biggest edge over Twitch on the UI and UX side of things, though, is in the ability to pause and rewind the ongoing broadcasts, while on Twitch this is available for a limited time and for finished streams only.
For that reason, a poor connection or an unexpected break won't impact a viewer's enjoyment nearly as much.
Video quality is another point YouTube scores in its favor. While streams on Twitch are limited to 1080p at 60 FPS (frames per second), YouTube can offer up to 2160p (commonly known as 4k) at 60 FPS.
The interfaces are quite similar otherwise. Control buttons at the bottom, live chat window on the right, subscribed channels on the left. The recommendations, however, will be to the right of the chat window, in line with the rest of YouTube's interface.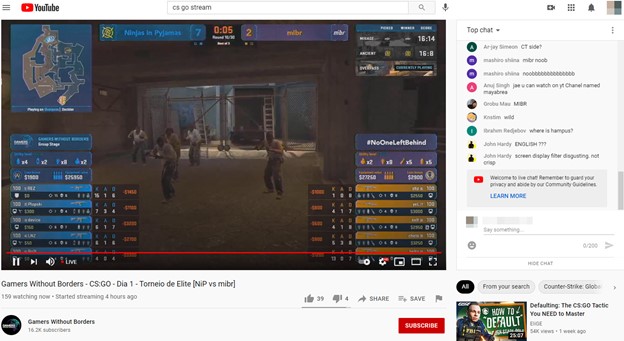 Both platforms have fairly straightforward interfaces. However, YouTube Gaming edges Twitch out on the UX arena by giving its users the ability to pause, rewind, and watch streams in much higher quality.
Chat and Moderation Policies
The live chat is an integral part of any live stream. This is where most of the interaction takes place, be it between viewers and streamers or among viewers themselves.
Naturally, the importance of timely chat rules enforcement and process automation grows at the same pace as the streamer's channel, so it falls upon the platforms to provide their content creators with moderation tools.
Speaking of Twitch, its chat is arguably the most infamous part of the platform. Depending on the streamer you watch, it may not always be easy to keep track of it or find a coherent conversation, but you can be sure that the tools to work with the chat are plentiful:
Chat commands help streamers focus on their content by automatically answering the most popular questions.
Automatic policy notice pop up whenever a user enters a streamer's chat for the first time.
At least one bot is always present in a Twitch chat. It can post scheduled messages throughout the length of a stream, automatically delete messages based on the language used, and even time-out or ban people for repeated violations of chat's policy or spamming.
Another feature is chat modes: subscriber-only mode is designed to keep passers-by away from the discussion; the slow mode is designed to mitigate the flying pace of the chat during activity spikes; there's even an emote-only mode!
Last but not the least, larger streamers will often employ the services of human moderators to carry out chat policies when the automation is just not enough.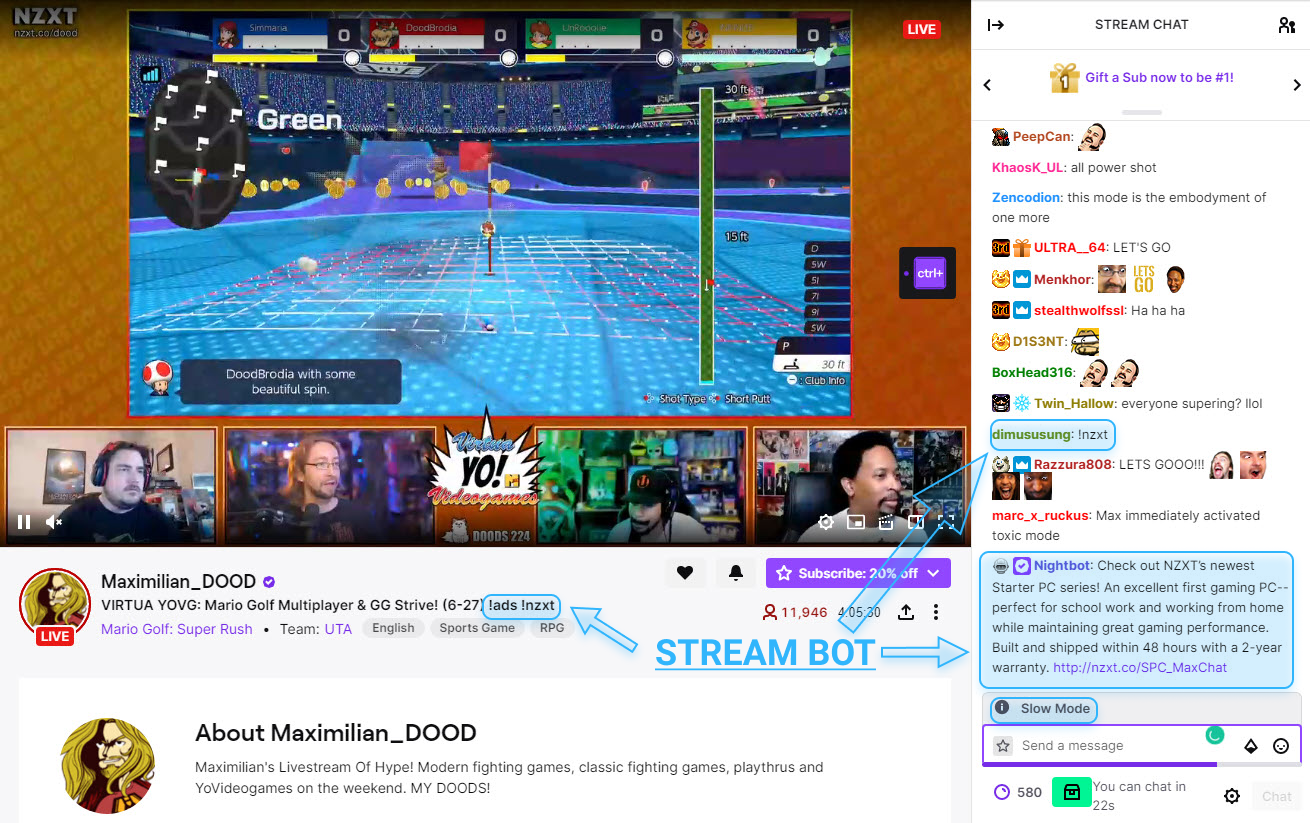 While YouTube offers many of the same things, such as chat modes, live moderators, or word filters, overall there are fewer tools for live chat moderation. In fact, by default YouTube chat is not actually live — both the viewer and the streamer need to switch to the "Live" mode first.
Its default "Top" mode essentially guesses what part of the chat is currently relevant and shows these messages in seemingly random order. While the purpose of this mode is to combat chat spam, it makes the chat seem to consist of people in isolated chambers, as conversations seem unconnected and incoherent.
Add here the ability to rewind the broadcast, and people can also chat about different parts of the same stream, making the chat seem even less connected.
Twitch is the clear winner here. Being the first mainstream online broadcasting platform, it had a long while to perfect the tools available for controlling the chat. YouTube Gaming, however, still has a bit of catching up to do.
Marketing opportunities
Despite all the differences between Twitch and YouTube Gaming, partnering up with a content creator from any of these platforms is going to be quite similar provided you're no stranger to influencer marketing.
And if you've already worked with a YouTuber, perhaps you wouldn't notice any meaningful difference at all. The majority of methods described in our guide for marketing on Twitch mesh very well with YouTube Gaming too, and are used there just the same way.
One notable difference is that YouTube itself seems to focus more on dynamically inserted ads, while the content creators mostly do sponsorship deals and shout-outs.
On the other hand, Twitch tries to diversify its marketing appeal as much as possible, providing unique tools like Bounty Board and not putting too much emphasis on any particular method.
Given how actually different Twitch and YouTube Gaming are, the fact that marketing opportunities and methods are roughly the same might sound surprising. However, there's really not much of a difference right now, which might be down to heavy audience intersection for both platforms.
At the end of the day, marketing success on both platforms will hang on you researching the best influencers to partner with for your campaign.
Twitch and YouTube Gaming regulars are a diverse crowd with a lot of variety in their interests and hobbies, so winning their heart via the help of their favorite content creators is the way to go.
Enjoying the post? There's more.
Sign up for our newsletter to get our best content by email.
Choosing the platform for you
In the title of this article, we've written a question — "who's the boss?". With all of the above taken into account, the best answer to give would be it depends.
It depends on many finer details — your goal, desired reach, how easy it is to be visible in the content stream, where your real audience is, and many more similar questions.
While Twitch and YouTube Gaming have some fundamental differences, you can expect to see a similar audience using both at the same time. Twitch's sheer size and laser-sharp content type focus make it look the more appealing option if you are considering advertising via live streaming.
With that said, the other platforms, such as YouTube Gaming, are definitely catching up, so venturing forth onto smaller pastures of YouTube's streams might very well be a viable option.
Ultimately though, you're the one to make a call on which platform you're going to use in your work. And both of them can definitely work wonders for you.