29 ways to use your social listening tool
Social listening is a buzzword these days, and it's being adopted by more and more businesses. Strangely enough, the focus on the actual use and benefits of the process remains narrow: in most cases, when people talk about social listening, they actually mean brand monitoring. In this article, we wanted to show you that social listening can be used in dozens of ways, and brand monitoring is just one of them. We singled out 10 groups of tasks made easy with Awario. Want to download this cheat sheet for keeps? Click the button below to grab your free PDF copy.
Brand monitoring
Competitive analysis
Brand health & share of voice
Customer care
Market research
Link building & SEO
Lead generation
Influencer marketing
Content marketing
Reporting & analytics
Brand monitoring
This is the most obvious case of using a social listening tool. With Awario, you'll be able to monitor your brand, competitors, campaigns, or industry keywords.
Create flexible queries
Awario offers a few ways of creating alerts. You can set up a search in a click by entering your keyword(s) and clicking Go, or switch to the advanced search mode and filter your mentions by location, language, or date. You can also exclude retweets and add a couple of negative keywords.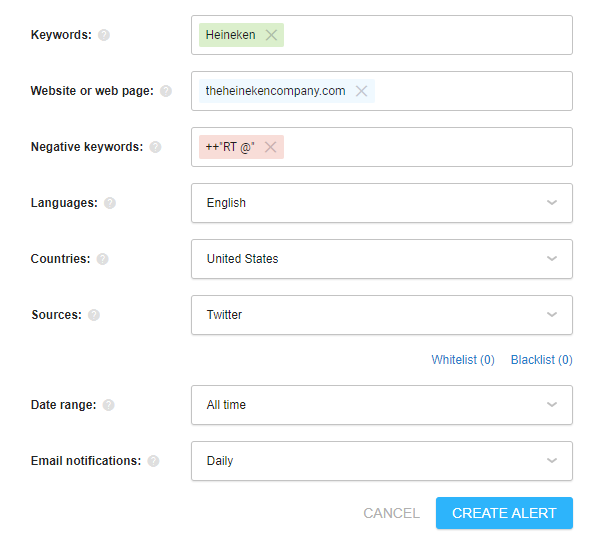 Advanced alert settings for Heineken
But sometimes that's not enough. If you want to monitor an international brand with numerous products or a company with an ambiguous brand name, try Boolean search. This mode lets you create really flexible and complex queries by combining groups of keywords.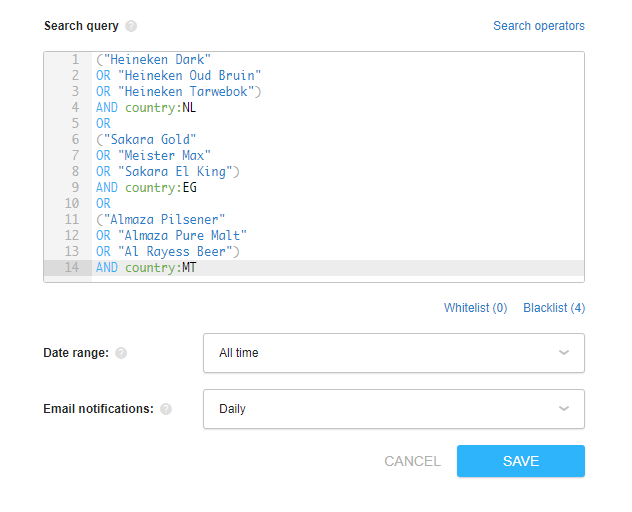 International products of the same company in one query
Pinpoint mentions that matter with smart filters
After the first results appear, it's easy to get lost in them if there's a lot of buzz around your brand. To pinpoint the results you need right now, you can apply various filters, such as reach, sentiment, date, etc. Let's say we want to display only positive reviews from the last week. We'll use the Time period and Sentiment filters for this task.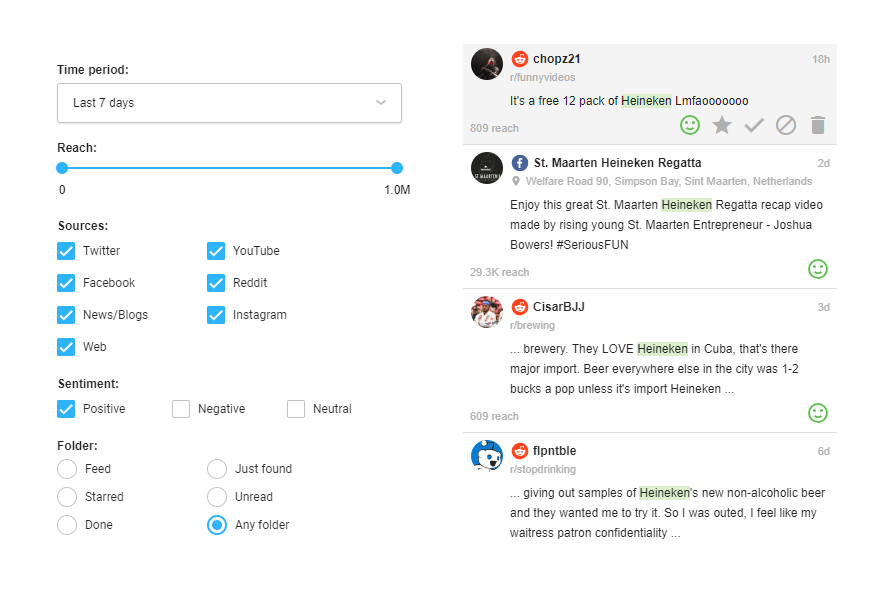 Advanced filters and results they produce
Get notified about important mentions daily
Awario is equipped with email notifications that deliver only important mentions to your inbox — daily or weekly. More than that, you can work on your mentions on the go, using the mobile version of the platform. This will let you react immediately from anywhere in the world.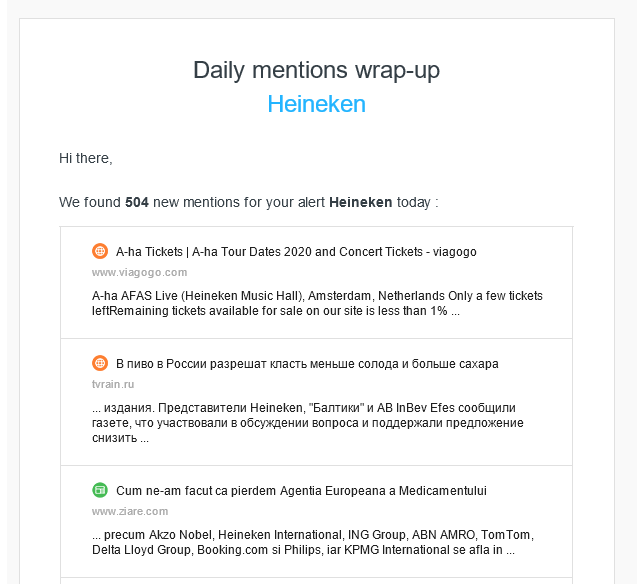 Email notification for Heineken
Monitor campaigns
You can use a social listening app to monitor the performance of your brand's marketing campaigns. The data you'll get with a tool can be used to conduct a thorough social analysis of your target market, consumers, and past campaigns to deliver the right messages to the right audiences. Set up an alert with campaign-related keywords and/or hashtags. You'll see which social media platforms the campaign performs best on, what countries it resonates with the most, and what the most used words and phrases are in posts mentioning your campaign — all in one place.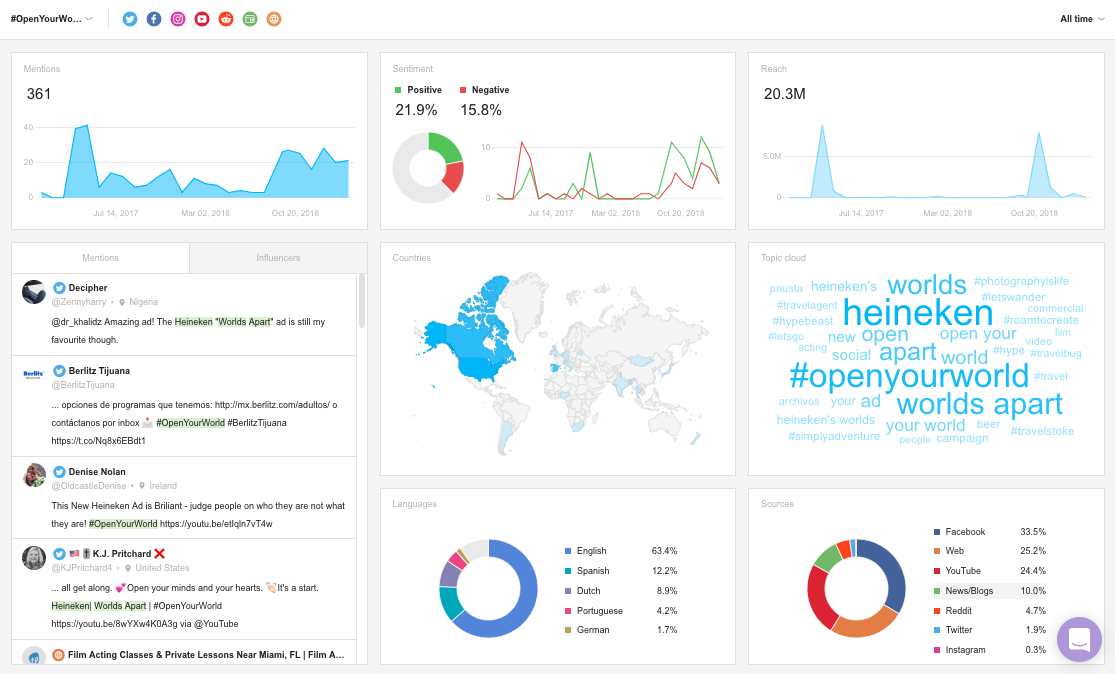 Dashboard for the #OpenYourWorld campaign
Competitive analysis
Monitoring your competition is another important task for a social media listening platform. Awario helps you monitor competitors' online presence and compare your social media performance to theirs.
Track what's said about your competitors online
To get a better idea of what your competitors are doing online, set up a few alerts with their brand names. After the app picks up some results, you'll see what people say about your competitors on social media.
Spotify and its competitors
If you want to learn more about a certain product, campaign, or hashtag your competitors promote, add these keywords to your settings. Make sure you add their social media pages to the Whitelist to be the first to receive updates from these particular pages. Don't forget to add their brand name alternatives, common misspellings, and key figures of their companies as keywords to the alert settings.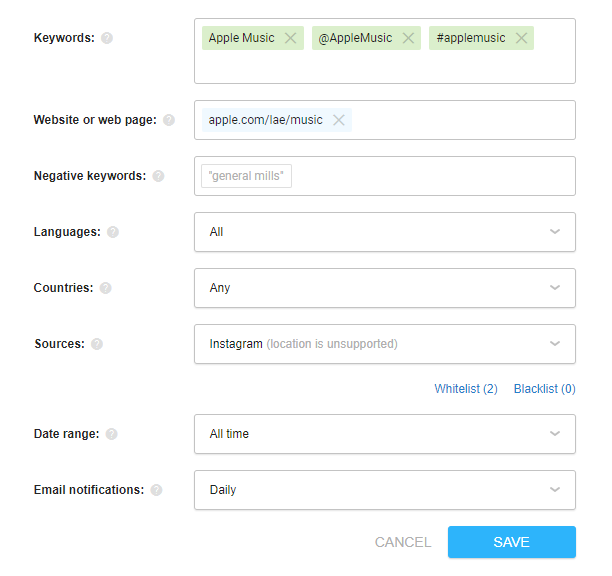 Alert settings for Apple Music
Learn from their social media performance
Considering a company as your competitor means accepting that it carries a certain weight in your industry. But accepting this fact is not enough: social media monitoring tools collect all the necessary analytics that lets you see your competitors' plans, their marketing strategies, wins and losses. With Awario's reports, you'll be able to compare stats on share of voice, sentiment, geography, etc.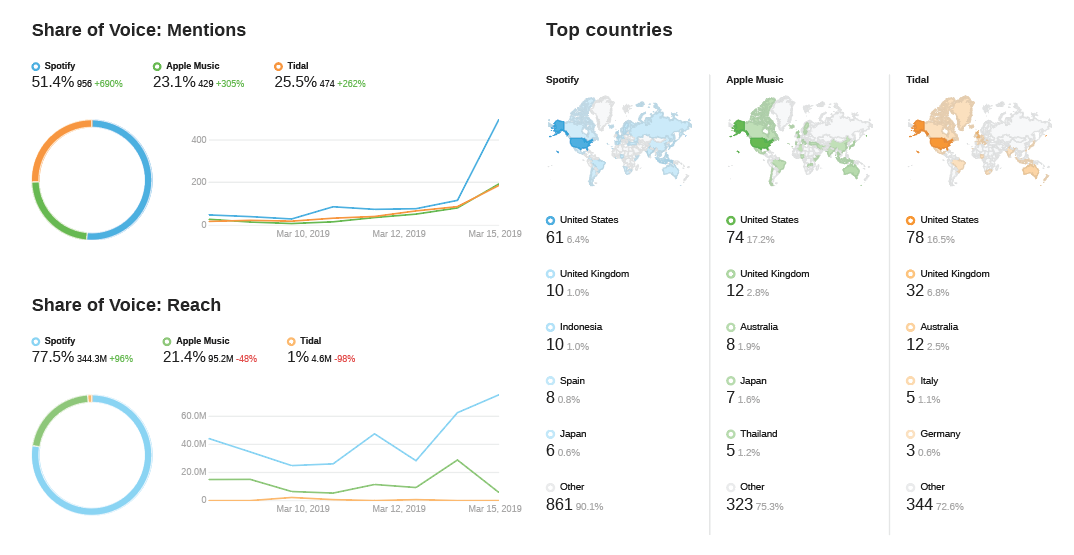 Share of voice and mention maps for Spotify, Apple Music, and Tidal
Monitor who they're hiring
By tracking job openings for your competitors, you'll learn tons of useful data. For example, job postings may include information on what competencies are required of candidates. By looking at what positions they're hiring for, you'll learn if they're working on expanding their companies or starting new projects.
To get insights on competitors' job openings, set up a Boolean query that contains their brand names combined with phrases frequently used in job postings.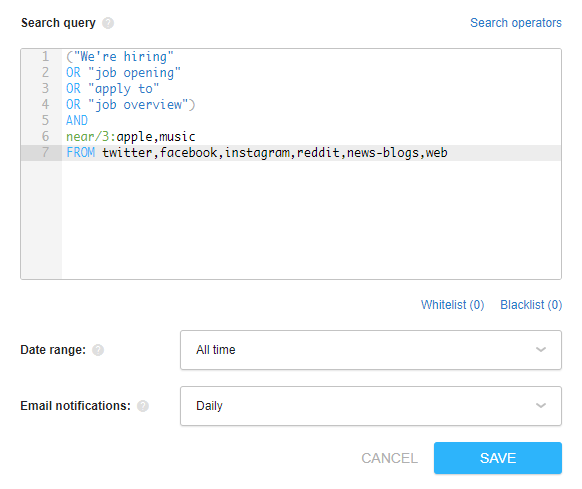 This query will show you who Apple Music is hiring at the moment
Find negative feedback about your competition
Knowing when your competitors did something wrong may be priceless. With Awario, you'll find unhappy customers of your competitors and get the opportunity to pitch your product to them. All you need to do is open their mention feed and filter the results by negative sentiment.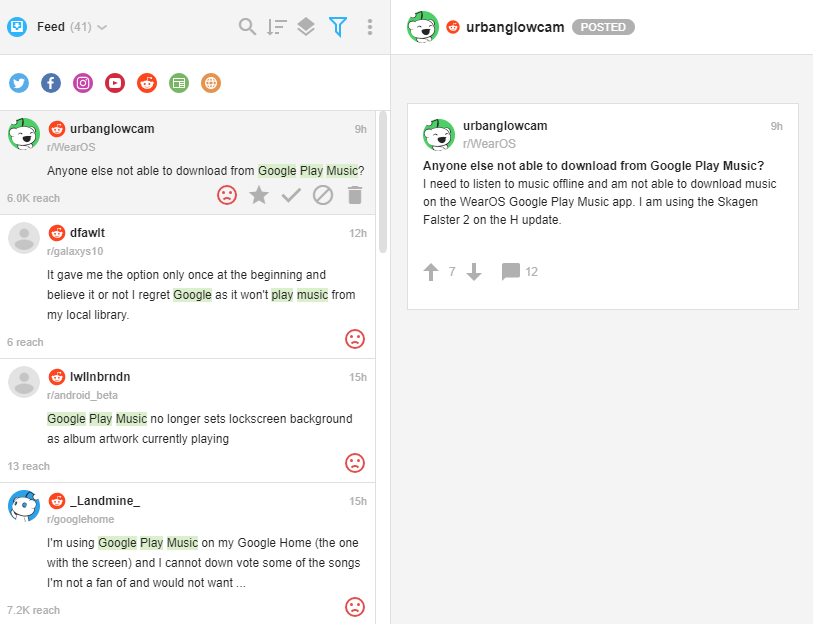 People posting negative feedback about Google Play Music
After you get the list of negative reviews, you can join these conversations and respond to unhappy customers immediately, solving their problems and promoting your product. Connect your social media profiles to Awario to interact with these mentions without leaving the app.
Uncover new markets for your business
Looking at the geography of your competitors' mentions will let you figure out which markets they are focusing on the most (and find an area that isn't too saturated yet). You'll find a map of each brand's mentions in Awario's dashboard and reports, along with the breakdown of mentions by language. Try adjusting the date range in the report to see if there've been any changes in languages/countries recently. This could mean that your competitors are focusing on a new emerging market — an opportunity you might be interested to explore. Just like with geography, examining the social media platforms competitors' mentions come from will give you an idea of where your competitors' audience hangs out so that you can use these findings in your own marketing strategy. On top of that, if you see platforms that appear to be heavily underused (but look relevant), those may also be worth experimenting with.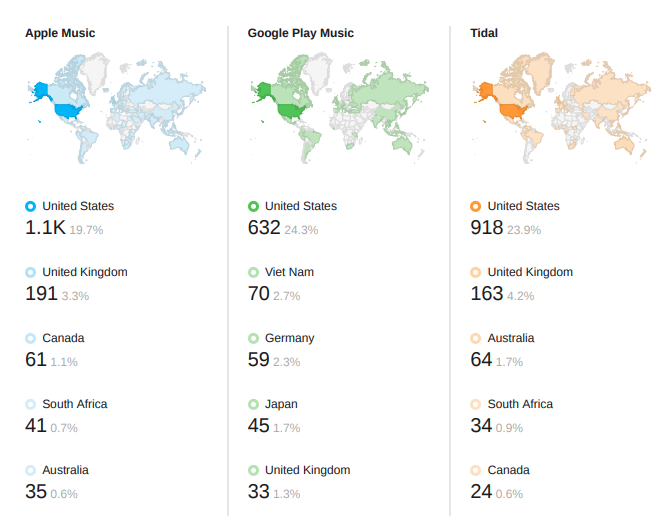 No surprise that all three companies are primarily focused on the US market
Brand health & share of voice
Measuring your brand health is a strategic instrument that lets you understand if your brand is stagnating or rapidly developing. For this task, you'll need some historical data from a social media monitoring platform.
Share of voice
To measure brand health, you'll need to collect stats for your brand and compare them to your competitors'. And getting data from a while ago plays an important role here: it lets you see how you brand evolves. Make Awario your go-to instrument for tracking the volume and reach of your mentions versus competitors'. We offer reports that let you measure the share of voice, the number of conversations around your brand compared to your competitors, and the impact of those conversations.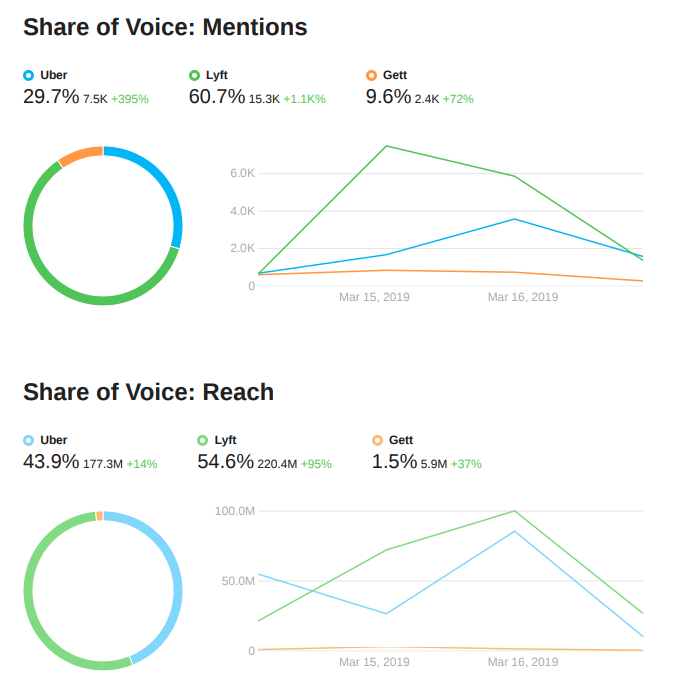 Share of voice stats for Uber, Lyft, and Gett
Protect your brand image
An important benefit of social listening is being notified about potential reputation crises quickly so you can step in and react to negative feedback before it spreads further. The most apparent technique for detecting possible crises is to regularly monitor the volume of conversations about your brand online. After these conversations are collected, take a look at the Topic cloud to see if there are any keywords that will show you common problems or frequently discussed topics among your audience.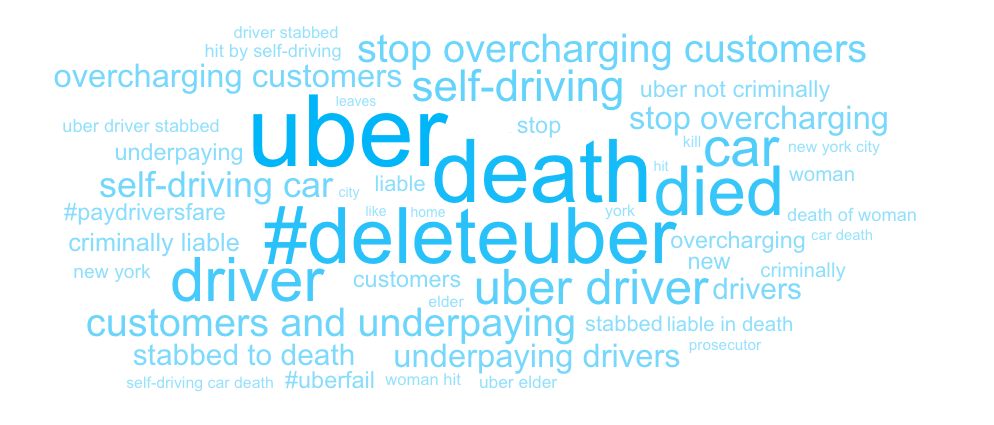 You can find out what your customers are concerned about
Get benchmarks for your own metrics
If your volume of mentions and reach are growing over time, how do you know the growth rate is good? If 40% of your mentions are positive, 20% are negative, and the rest are neutral, how do you know if that's a good thing or a bad thing? You can ask a million similar questions about every metric you're measuring, and there's a single answer to all of them — you need a benchmark. Comparing the stats on your competitors' mentions to your own results is extremely useful for understanding where you fall within your competitive landscape.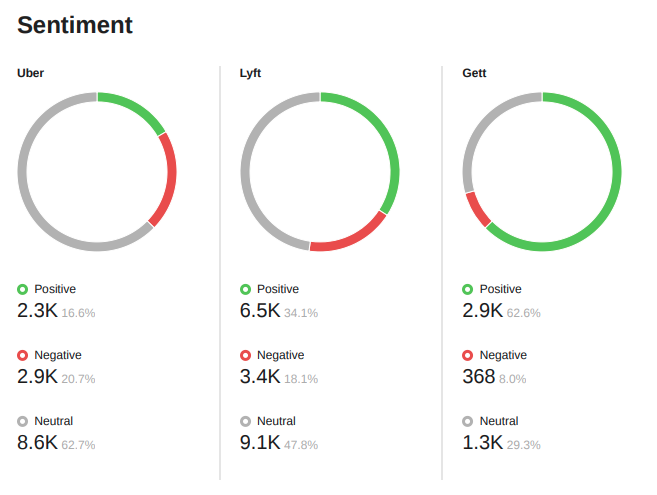 Uber seems to lack positive mentions compared to Lyft and Gett
Customer care
Social media is a common place for people to complain about products, look for solutions to problems, and ask for advice. It's the place where people leave reviews about businesses, and those are exposed to other potential customers.
Reply to customer questions on social
A survey from Clutch shows that 83% of people expect companies to respond to their requests on social media within 24 hours or less. Find people asking questions about your brand and respond to them from Awario. Additionally, you can sort these conversations by date or authors' impact and respond to the more recent or more influential ones first.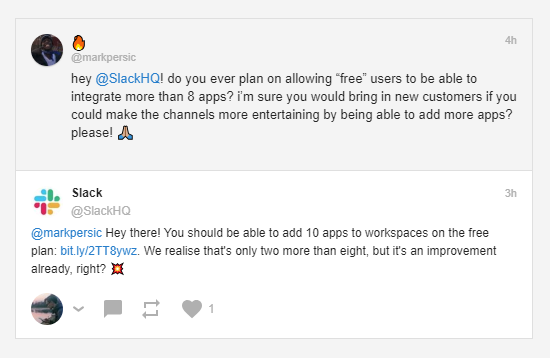 Awario lets you interact with mentions from different platforms in one place
React to positive and negative reviews
Use the power of social intelligence to collect all feedback from people who've used or heard about your product to create a unified inbox for those mentions. Show gratitude for praise from your users and leverage these reviews to show how much people like and use your product or service. Respond to negative reviews as quickly as possible to help people solve their problems.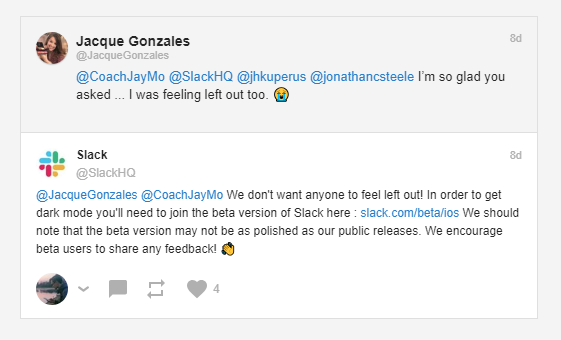 Collecting positive and negative feedback is easily done with Awario
Market research
Data collected by a social listening platform is a valuable source of customer insights to help you audit your brand's performance and design the most effective marketing strategy. It also helps with understanding customers' expectations and behaviors through gathering and analyzing key discussions on the web and social media.
Monitor trends
One of the key goals of a marketing and communication strategy should be to keep your brand in line with consumer trends. To uncover the latest trends, you'll need to listen to conversations of users and influencers in your niche and analyze the sentiment around them. In Awario, you can identify trends by using the Topic cloud, which shows the most popular words among your alerts. But first, you'll need to create an alert with keywords relevant to your industry.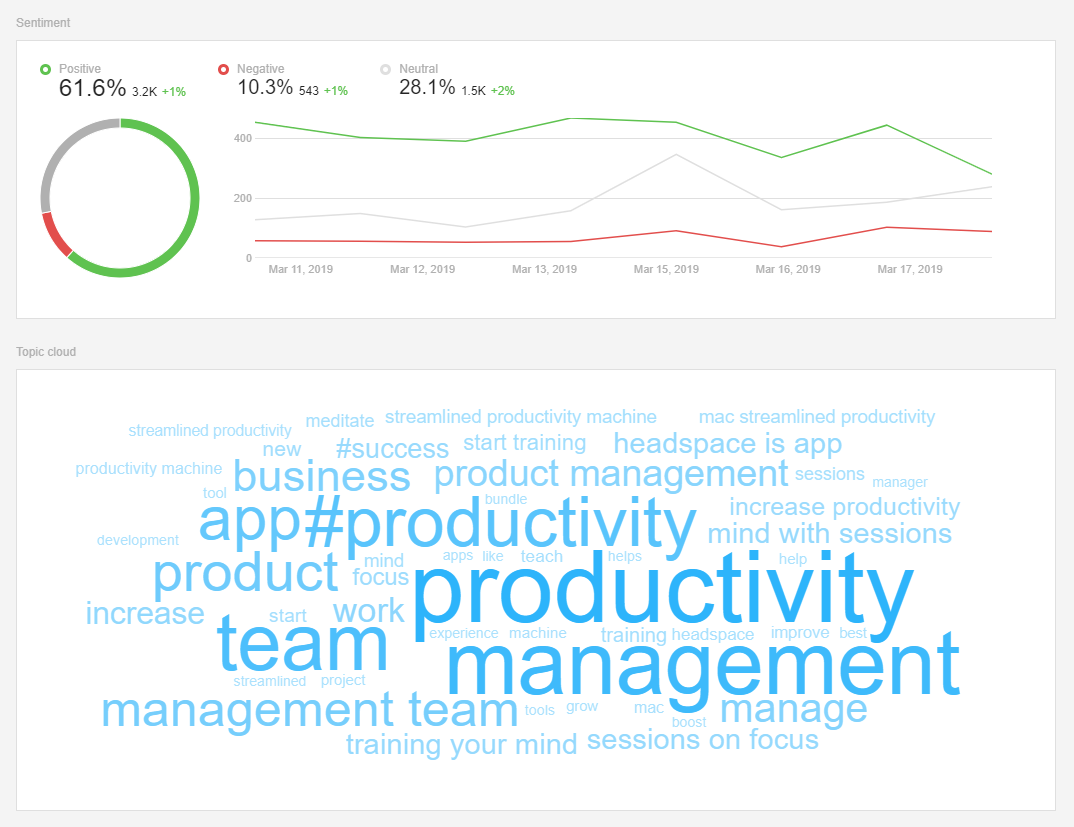 Topic cloud and Sentiment help you identify trends over time
Analyze your audience
Social intelligence helps you get to know your audience by learning what they say online. Look at the questions they ask, the topics they discuss, and what they value. It also lets you uncover the right channels for your ads. You'll see not only what your target audience says, but which segments of the audiences are the most valuable in any given context. Set up an alert for your brand and find out which social media platforms your audience hangs out on, and who the most active and influential people mentioning your brand are.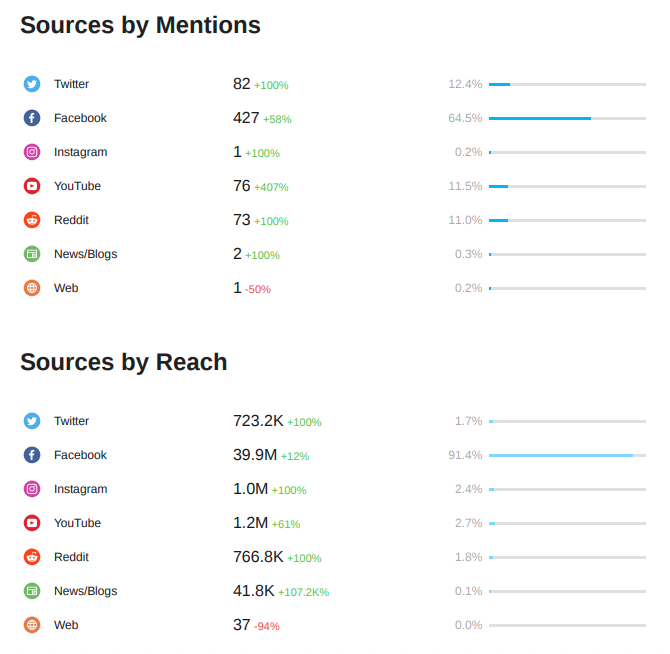 Audience of this brand mostly spends time on Facebook
Research the market for employees
Using job aggregators may not be very efficient if you're looking to find that special employee. So if you have a social media monitoring tool with Boolean search, you can compile your own list of candidates from social media platforms and the Web in one place. You can create a Boolean query that will include the most common phrases people use to say they're looking for jobs. Then you'll need to filter these posts and start an outreach campaign.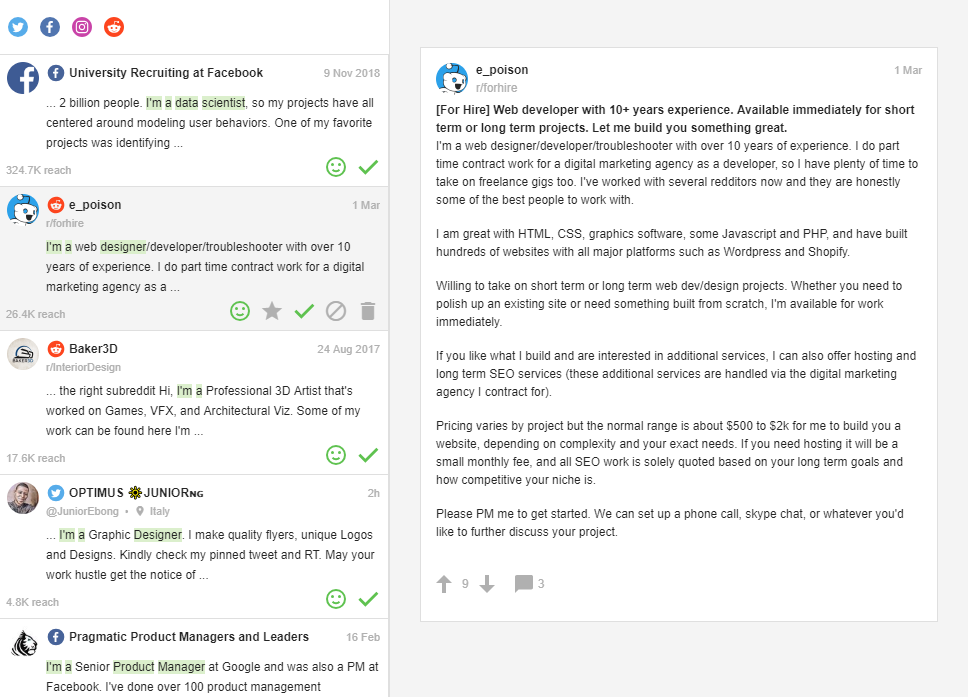 Feed with people posting their job description on multiple platforms
Link building & SEO
As weird as it may sound, social media monitoring tools aren't just about social media platforms. As mentioned above, some of them search for mentions on blogs, forums, and news sites. You can use these mentions for various SEO purposes.
Monitor links to your site
With a social listening tool, you'll be able to track new links pointing to your site. Set up an alert that will search for links to it: add your website to the Website or web page field (e.g. link-assistant.com/*) and in Sources select News/blogs and Web. Then take a look at analytics in reports to see how the number of links changes and what the most influential websites linking to you are.
This widget shows that posts with links decreased since March 13
Find linkless mentions and turn them into backlinks
With a social media monitoring tool, you can find linkless mentions and turn them into backlinks. All you need to do is create a Boolean query that will search for the name of your brand, but exclude any links. You'll get the list of mentions where people are already talking about your brand, so convincing them to add a link shouldn't be a problem.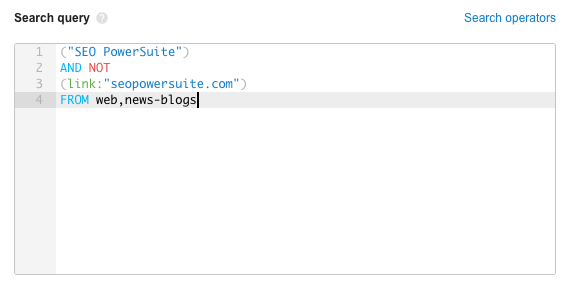 This query will fetch web pages that don't have links to seopowersuite.com
Discover guest blogging opportunities
Searching for guest blogging opportunities is used to raise your brand awareness, grow your personal brand, or build backlinks to your website. You can use social listening to tackle this task. To find relevant blogs, create an alert with keywords for your niche, and set it to show results from news and blogs only. Group results by authors and sort them by reach to get a feed of blogs that are relevant to your industry. You can export these websites to a CSV file to start an outreach campaign using dedicated outreach software.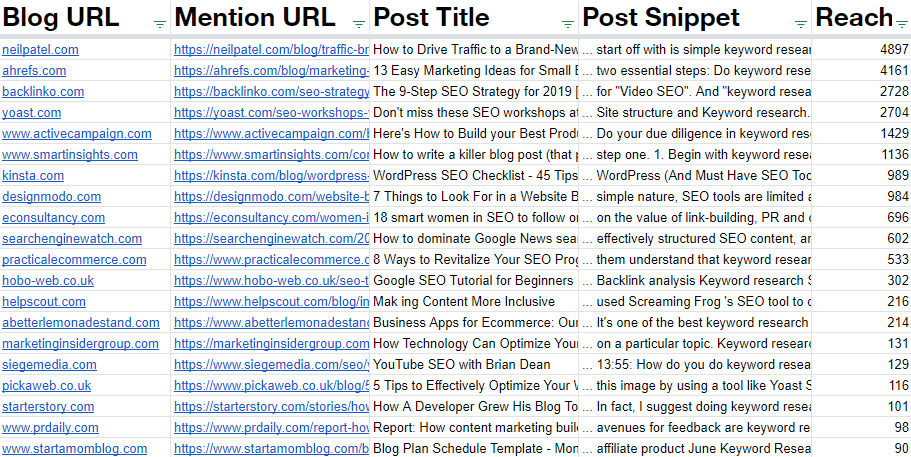 The CSV file that provides data about blogs relevant to your industry
Lead generation
People leave tons of social media posts daily asking about various products. Using the right social listening tool helps you find those prospects and connect with them, offering your services.
Find sales prospects online
At Awario, we see sales prospecting on social media as one of the most promising ways to use social media monitoring. That's why we've added a dedicated Leads module to the app that lets you create an alert for sales prospecting in a couple of clicks. Start with describing your product and specifying your competitors. Indicate your country to get leads from a particular region. Based on the data you provide, Awario Leads will give you a feed full of prospects asking about a product like yours or complaining about your competitors.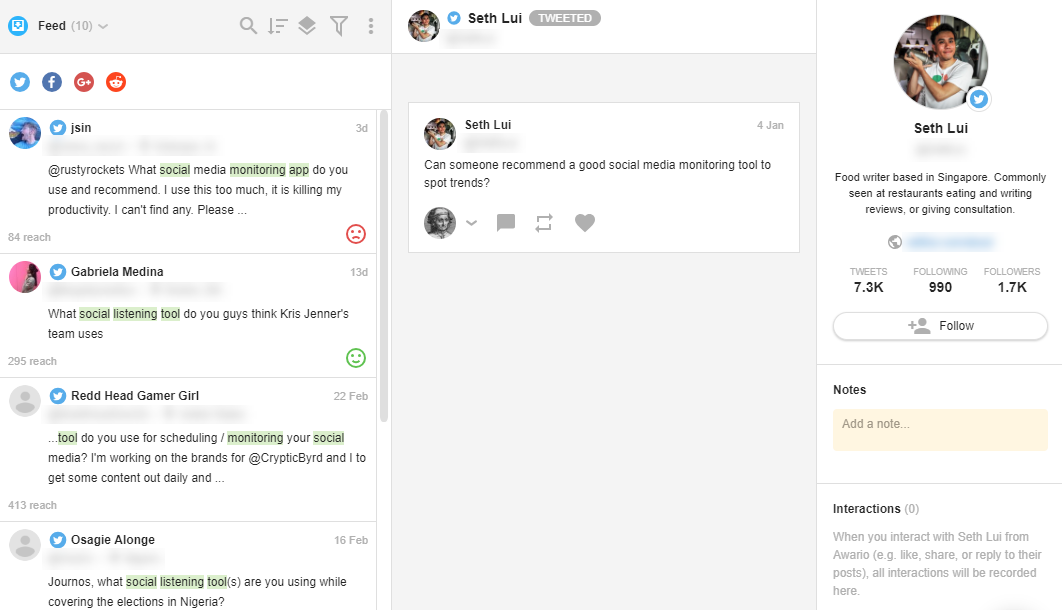 Leads alert feed for social listening tools
Take lead generation further with Boolean
Social listening can help you find sales prospects who aren't necessarily actively looking for a product like yours — with the help of Boolean search. Imagine that you're looking for sales prospects for an insurance agency in, say, New York. You can use monitoring software to find people who've just moved into the city and posted the news about it online. These people likely don't have an insurance yet, so you can pitch your services to them. Create a Boolean query that will search for posts mentioning phrases like excited to move, moving out of my apartment, moving to, bought a new house along with your location.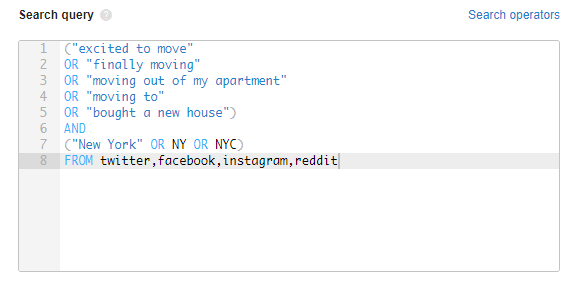 With this query, you can offer insurance services to people who just moved into the city
Influencer marketing
Online influencers are individuals who've become popular in a specific category. Influencers have the power to affect the purchase decisions of others because of their authority and expertise in your niche. That's why finding relevant influencers is a great idea for product promotion.
Find influencers for your brand
When you search for industry keywords with a social media monitoring tool, you get a list of people that the tool considers to be influencers. These are the people with the largest following who have mentioned your keywords a number of times. To lay the ground for a future influencer campaign, first, you'll need to create an alert with niche-related keywords. The app will do the job, and you'll just need to grab a list of influencers in the corresponding report. You can either share this report as PDF or HTML, or start your outreach campaign right away.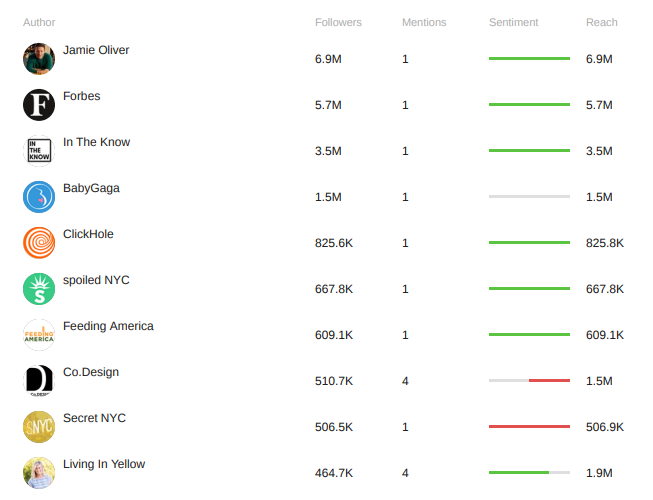 The top 10 Facebook influencers for Brandless, sorted by the number of followers
Discover micro-influencers for your brand
Although obtaining celebrity endorsement is a great way to grow brand awareness, people are more likely to believe their peers, since they aren't paid for their feedback. So look for people who mention your industry, collaborate with them, and share their feedback with your audience. To find these people using Awario, set up an alert for your industry keywords. Group your mentions by authors, and narrow down to those who have up to 20K reach. You'll see the list of micro-influencers for your brand.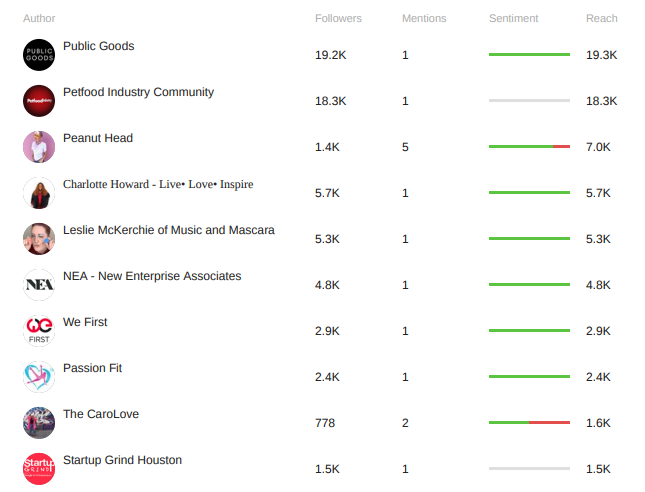 The top 10 Facebook micro-influencers for Brandless, sorted by Reach
Content marketing
Social media analytics can bring you powerful insights for developing an efficient and better-targeted content marketing strategy. Here's a how-to:
Find out who shares your content
Knowing who shares your content is great for measuring the impact of your work. And the good news is that it is really simple: just paste the link to your article into the Website or web page section of your alert settings. The app will display the list of people who've shared it.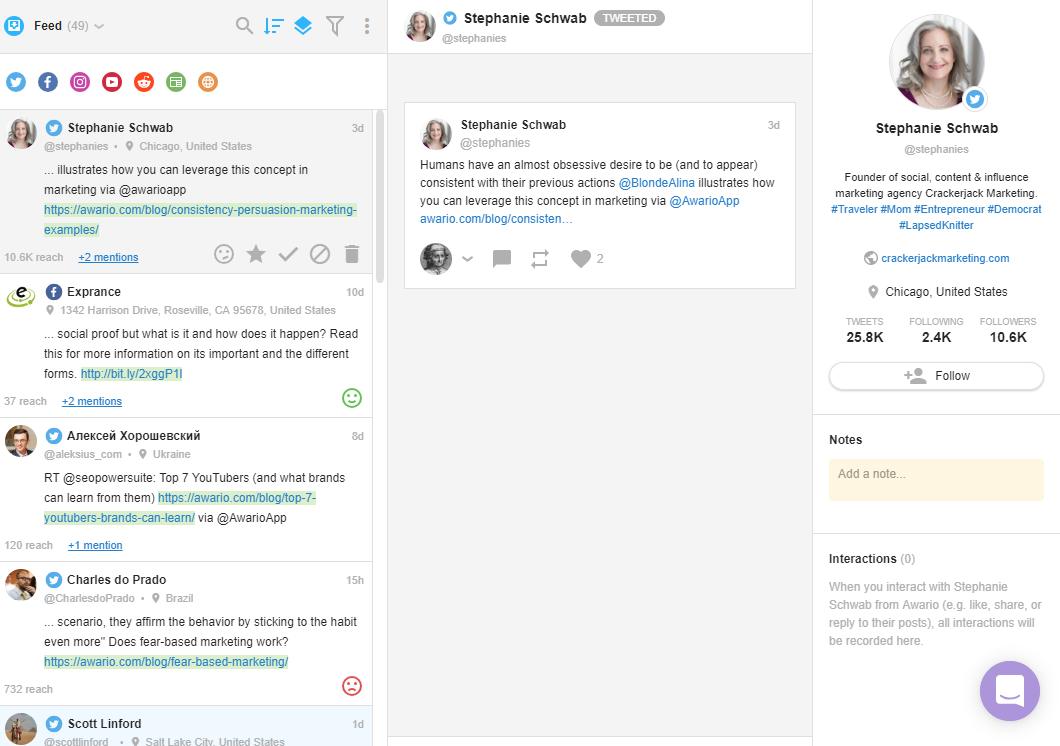 The list of people linking to Awario blog
This is also a great way to discover fans of your product. Add a link to your blog to the Website or web page field of your alert settings, and don't forget to add an asterisk, so that the app picks links to all pages on your blog (e.g. awario.com/blog/*). This will help you identify accounts that have shared them multiple times. Sharing your users' feedback with your audience is another great way of improving customer loyalty.
Find the best time and channels for your content
High-quality content helps you bond with your customers. But even if your content is engaging and useful, it may easily get lost if published in the wrong place at the wrong time. Luckily, social listening tools have all the necessary analytics to help you tackle this problem. First, create an alert that will start collecting data for keywords related to your competitors. Take a close look at repetitive peaks in the volume of mentions. This is most likely the time they publish new content. After that, you can take a look at which platforms their users hang out on and use it for your own gain. Take a look at the Sources by mentions stats in Awario's reports.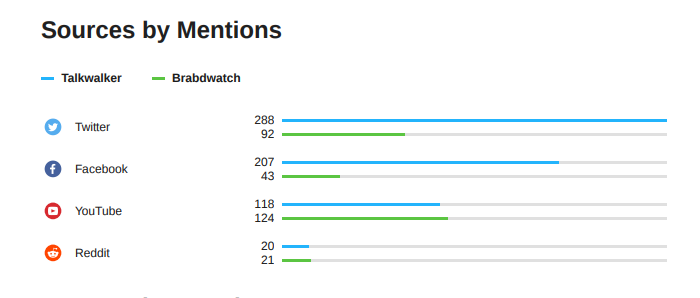 The Sources by mentions widget shows where audience of Awario's competitors spends time
Detect plagiarism
You can set up a query that will search for exact matches of pieces of your content across social media platforms and on the Web. This will let you see if someone is infringing on your copyright. Unlike most social listening tools, Awario doesn't have any limits for a number of available keywords. This lets you set up an alert with excerpts of your post(s) and, therefore, protect your website and reputation.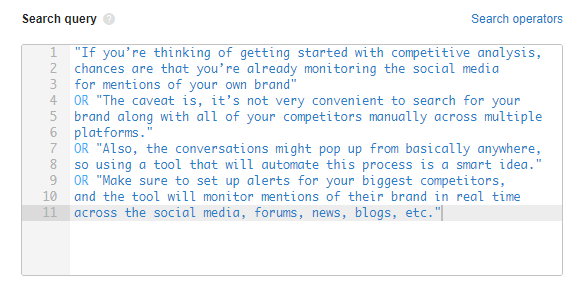 A Boolean query with excerpts from the article divided by OR
Reporting & analytics
For all data Awario collects, it provides analytics that can be used for improving your marketing strategies. From content planning to qualitative audience research — social data can be a dynamic source of actionable business insights.
Monitor your stats in real time
To deliver data in real time, Awario has the Dashboard that measures the impact of your work as consumers are mentioning your keywords. You can watch how your metrics are growing and how your mention map is expanding. The most important mentions and influencers are also stored in the Dashboard. With the Topic cloud widget, you'll see new trends sparking out in your mention feed.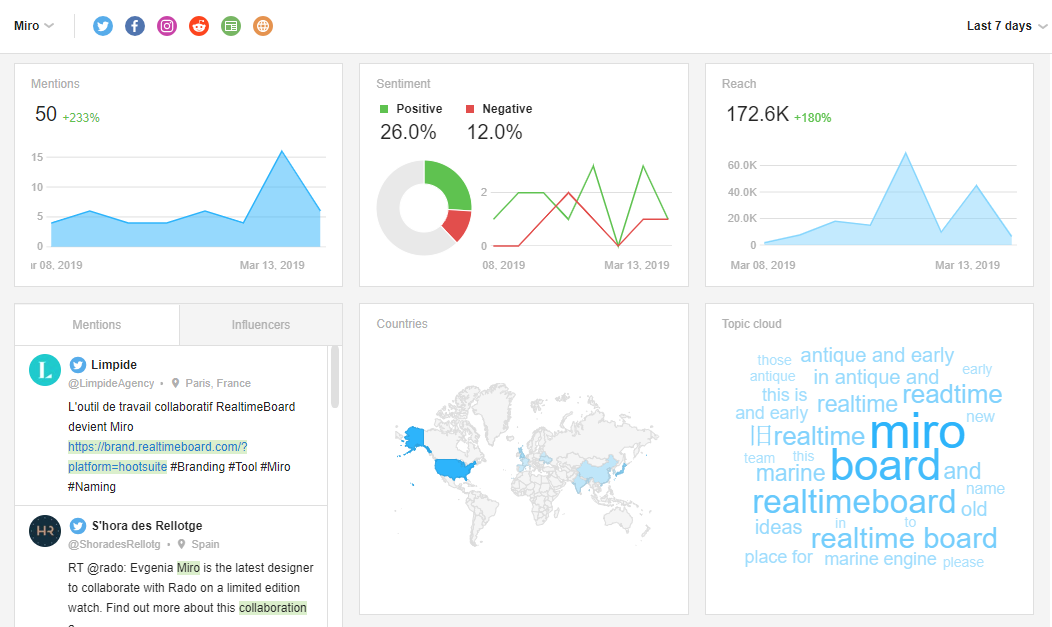 Dashboard lets you monitor stats in real time
Present your results to a client
Reports are great for showcasing results of your work to your client or boss. Awario lets you generate reports on social listening, share of voice, and influencers. And the greatest part is that your teammates or clients don't need to log into the app: you can share a link to the report or download a PDF version of it, in just a click.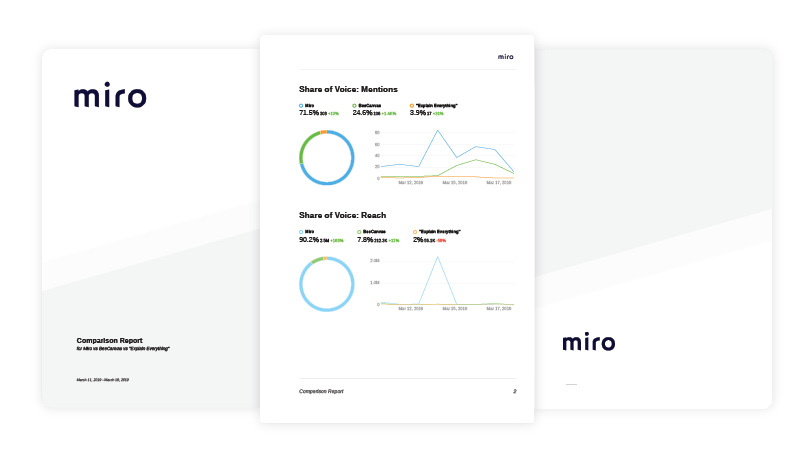 A branded report for Miro
Filter and export raw data
To build your own custom charts and reports, you can use the CSV export feature. You can either export your entire mention history or filter your mentions in Awario and export only those you need. The exported file will contain all information about your mentions: sources, URLs, dates, reach, sentiment, etc.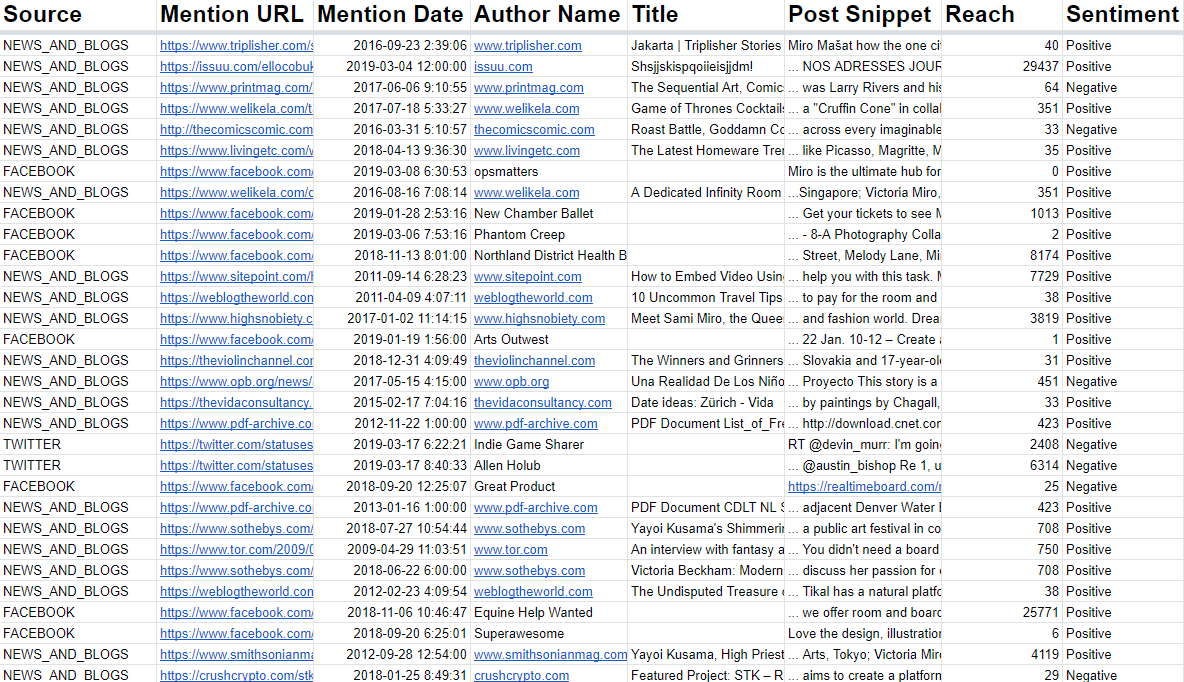 The CSV file with filtered mentions for Miro
Final words
Obviously, this list is not complete, as the growing capabilities of social media monitoring tools give rise to new applications for social listening. Join Awario if you haven't yet, and help us explore other ways to use the tool. Or, if you already have some in mind, do share them in the comment section.