29 ways to use your social listening tool: top benefits for your brand
Article summary
Social listening can improve almost every aspect of your business! Check out how it can help your social media strategy, lead generation, market research, and more. Find new benefits of social listening in this article!
Social listening is a buzzword these days, and it's being adopted by more and more businesses. While we all know that social listening is important, strangely enough, the focus on the actual use and benefits of the process remains narrow: in most cases, when people bring up social listening in a conversation, they actually mean brand monitoring on social media. The many benefits of effective social listening tools are rarely discussed in full.
In this article, we wanted to show you that social listening can be used in dozens of ways, and brand monitoring is just one of them. We singled out 10 groups of tasks from social media strategy related to lead generation that are made easy with Awario. Check them out!
Brand monitoring
This is the most obvious case of using a social listening tool. With Awario, you'll be able to monitor your brand, competitors, campaigns, or industry keywords. The results will enrich your social media strategy, reputation analysis, and community management activities.
Create flexible queries
Awario offers a few ways of creating social listening alerts. You can set up a search in a click by entering your keyword(s) and clicking Go, or switch to the advanced search mode and filter your mentions by location, language, or date. You can also exclude retweets and add a couple of negative keywords.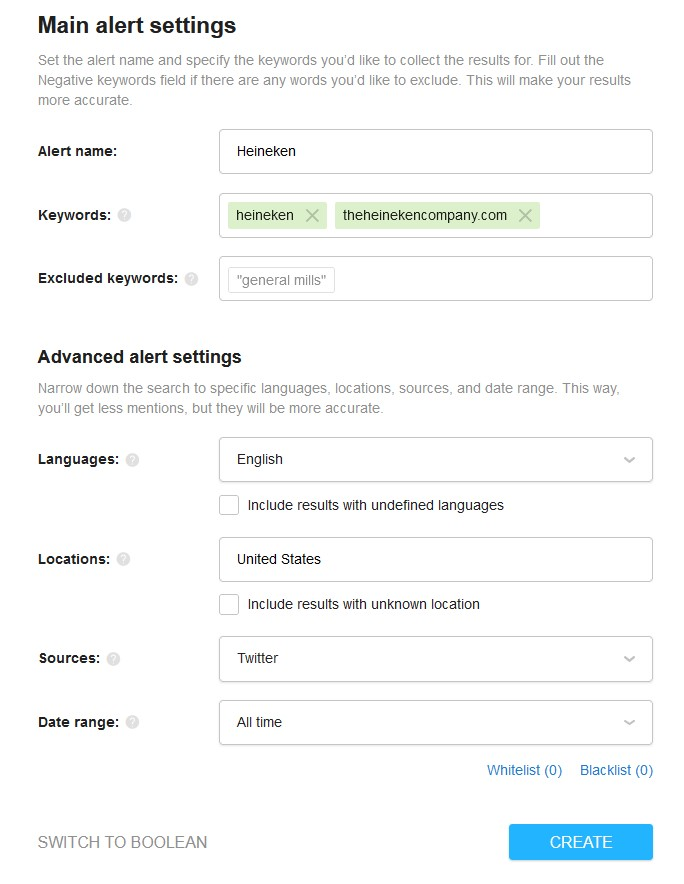 Advanced alert settings for Heineken
But sometimes that's not enough. If you want to use social listening to monitor an international brand with numerous products or a company with an ambiguous brand name, try Boolean search. This mode lets you create really flexible and complex social media monitoring queries by combining groups of keywords.
Continue editing your query if you notice that you get a lot of irrelevant conversation in your mentions or come up with new keywords.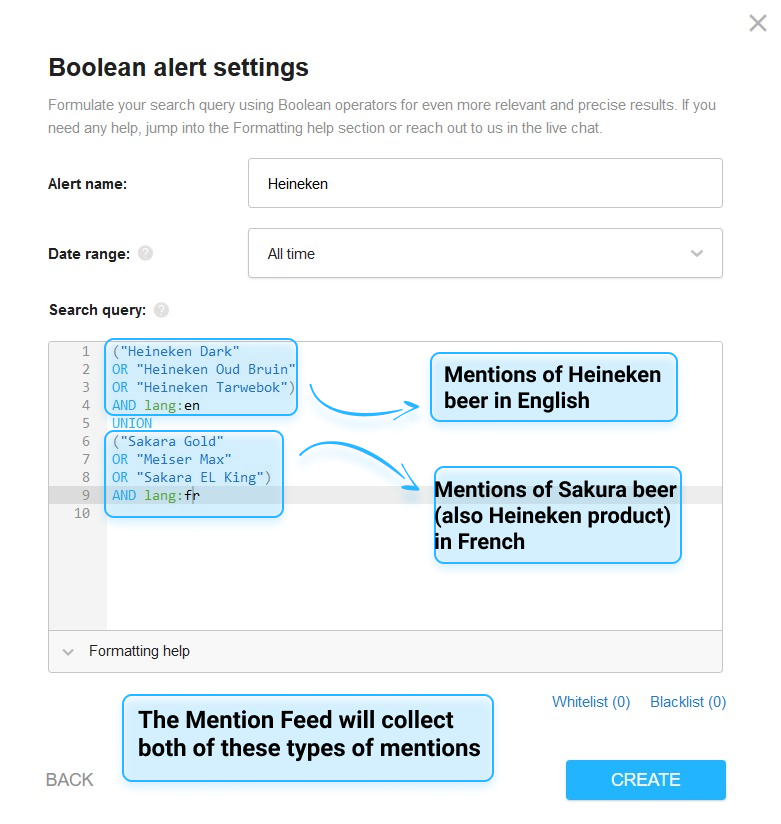 Boolean settings for different Heineken products in different languages
Pinpoint mentions that matter with smart filters
After the first results appear, it's easy to get lost in them if there's a lot of buzz around your brand. To pinpoint the social media monitoring conversations you need right now, you can apply various filters, such as reach, sentiment, date, etc. Let's say we want to display only positive reviews from the last week. We'll use the Time period and Sentiment filters for this task.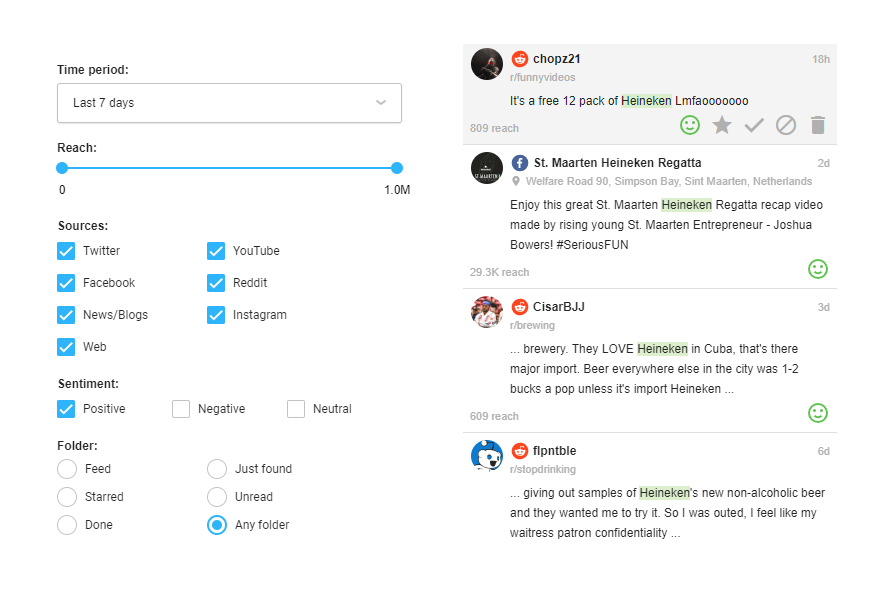 Get notified about important mentions daily
Start monitoring your brand today.
You should've been doing it yesterday – but the next best time is now with Awario.
By signing up I agree to the Terms of Use and Privacy Policy
Awario is equipped with email notifications that deliver only important mentions to your inbox — daily or weekly. More than that, you can work on your mentions on the go, using the mobile version of the platform. This will let you react immediately and get involved in the conversation from anywhere in the world.