Top 9 Valentine's Day marketing campaigns to get inspired

Article summary
In this article, we compiled a list of inspiring examples of marketing campaigns for St Valentine's Day and examined why they performed so well.
12-minute read
For some companies, the holiday season ends at New Year's. They pack away pumpkin candies, Christmas trees, and Santa Clauses, breath in, breath out, and get back to normal everyday marketing.
The closer it gets to February, 14th - another great commercialized holiday - the more they feel like they're missing out. But for one reason or another, these brands can't simply paint their stores pink, give out candies, or start selling jewelry out of nowhere. But should they?
If you've always wanted to jump in on Valentine's marketing bandwagon but weren't sure how to do that, this post is for you. We've gathered 7 Valentine's Day marketing campaigns from 2020 to show how you can benefit from this holiday without pivoting to pink and using banal and corny messages.
1. Pandora: Little Acts of Love
In 2022, jewelry company Pandora presented its "Little Acts of Love" placement, which aimed to address a common criticism of Valentine's Day – that appreciation for loved ones should be expressed all year round, not just on a single day. The advertisement depicted couples performing small acts of kindness towards each other, demonstrating that these gestures of love can be appreciated at any time.
The message of the ad is clear: even the smallest acts of love can have a profound impact and create lasting memories. This could be anything from making a cup of coffee for your partner in the morning, to surprising them with their favorite candy, or simply taking the time to listen to them when they need someone to talk to.
The ad encourages individuals to embrace the idea that acts of love do not need to be grand gestures, and that it is the thoughtfulness and sincerity behind the act that truly matters.
Marketing takeaway: join the public discussion
Pandora new what's the most common critiscism of the holiday was and wanted to adress it.
Pandora's "Little Acts of Love" placement serves as a reminder that love and appreciation can and should be expressed throughout the year, not just on a specific holiday. By highlighting the impact of these small acts of kindness, Pandora encourages individuals to take the time to show their loved ones how much they care and to make every day a day of love.
2. 1-800-Flowers: Galentine's Day
Flower vendors have it easy during this holiday, but there's still some room for creativity.
1-800-Flowers recognizes that Valentine's Day is not limited to romantic relationships and wants to emphasize the importance of celebrating friendship as well.
The ad features a touching scene between two friends reflecting on the bond they share and how their friendship has evolved over time. The friends engage in a heartwarming conversation, asking each other meaningful questions about their friendship and the impact it has had on their lives.
The advertisement is designed to evoke strong emotions and inspire viewers to reach out to their closest friends.
Marketing takeaway: show a classic in the new light
While the ad still shows us loving relationships, they are friendly, not romantic.
Whether it be through a phone call or a bouquet of flowers, the ad encourages individuals to show their appreciation and love for their platonic relationships. It highlights the idea that friendships are just as important and deserving of recognition as romantic relationships and provides a reminder to cherish and celebrate these connections.
3. Coors Light: Skipping Cuffing Season
Who are the people who feel most left out on Valentine's Day? You are right, single people! When everybody around you is talking about the importance of romance, it's pretty easy to be frustrated or irritated if there's no one around you to share this romance with. Coors Light targeted single people with a funny and heartwarming message and succeeded.
As the company explained, cuffing season is "a cultural phenomenon where people couple up to stave off the weather-induced blues," that reaches its zenith on Valentine's Day. Coors Light decided that it doesn't have to be another person who saves you from the winter chagrin — it can always be a four-pawed friend. Moreover, you save each other.
In addition to the series of short video ads that showed people cuddling up with their canine bodies, Coors Light pledged to cover dog adoption fees of a thousand shelter dogs. So you can be getting a new friend, drink your favorite beer, and help animals at the same time.
Marketing takeaway: Be bold and pay it forward
Don't be afraid to go against the mainstream. Coors Light named their campaign "Skipping Cuffing Season" to present it as something bold and unexpected — and won! In February, when everyone is talking about love, couples, and relationship, looking at love from a very different angle — like the love for our pets — makes you stand out.
In addition to that, Coors Light added a charitable dimension to its campaign. They didn't just ask you to buy beer because you love your dog, they promoted pet adoption and even promised to make donations to animal shelters.
If you want to copy Coors Light success, create a campaign that will make you stand out. Look at the holiday theme from a different angle and add an altruistic twist to it.
4. Gü Desserts: Love notes
Nobody wants their marketing slogans to be repetitive, right? Well, what if we took something that we love for its repetitiveness and made it even better? I'm talking about famous love songs. People are ready to listen to L.O.V.E. by Frank Sinatra day after day because it's a classic and a great tune. But how do we turn this love into brand recognition? Gü Desserts' marketing team found the answer.
In their social media marketing campaign, they offered users to come up with romantic tweets inspired by the lyrics of iconic love songs where they confess their feelings to... desserts. The best wittiest tweets were featured on a giant screen in the middle of London along with a personalized video message.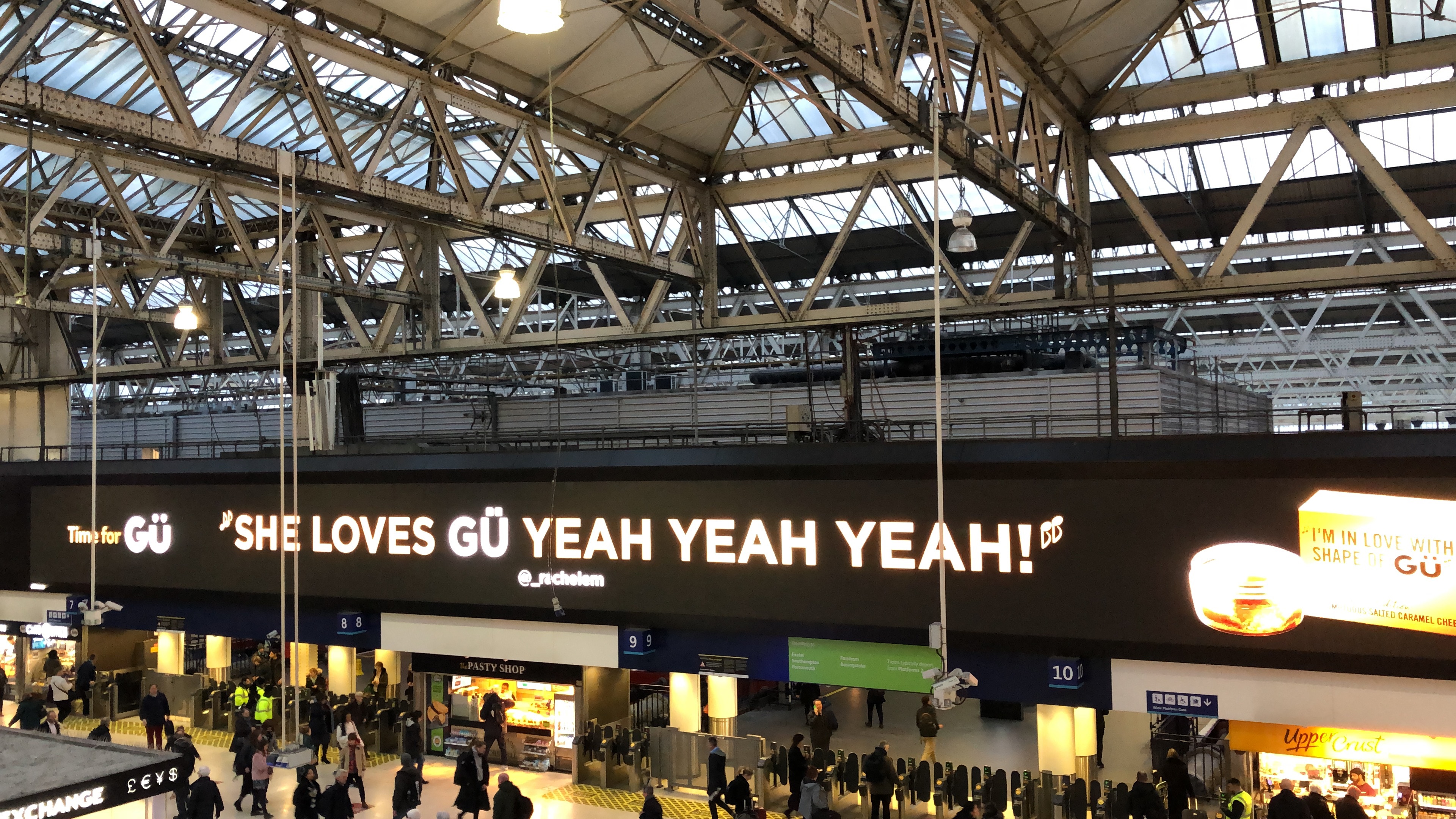 The campaign also includes a limited-edition Valentine's Day packaging refresh across the Gü cheesecake range, featuring tweaked lyrics from some of the most iconic love songs, such as "I can't help falling in love with Gü" for Zillionaire cheesecakes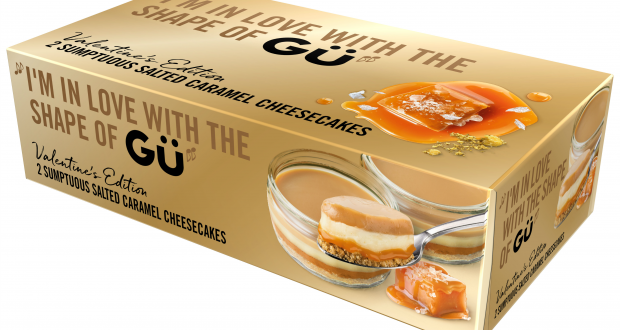 Start monitoring your brand today.
You should've been doing it yesterday – but the next best time is now with Awario.
By signing up I agree to the Terms of Use and Privacy Policy
Marketing takeaway: Make your campaigns interactive
We already wrote about the power of user-generated content. When you involve people directly in the process of creation, they feel like they are a part of your brand which raises brand loyalty. Your customers see that what they say is appreciated — in Gü's case they see it on a giant screen at London's Waterloo railway station.
By the way, to find all the user-generated content and make sure you haven't missed anything, you can use social listening. Awario lets you find all the social media posts featuring a hashtag or a specific phrase and organize them/
Another hit was to turn to classic songs for their slogans. You add an element of playfulness by encouraging people to guess what song was reinterpreted in the campaign and make them laugh when they see how you can work in a dessert name into a well-known lyric.
5. Budweiser China: Qixi Festival
Valentine's Day is not the only day to celebrate love in the world. Budweiser China chose a more culture-appropriated holiday and created a video ad dedicated to Qixi Festival, which is similar to Valentine's Day in the West but takes place in the summer.
The ad shows different couples sharing their stories: how they met, what made them attracted to each other, how they are growing in this relationship, and so on. Budweiser invited and filmed real couples, no hired actors. The couple's faces were covered throughout the film and only revealed at the very end of the clip, highlighting what matters is that the two people in the relationship are in love. The film featured same-sex couples, couples with big age differences, and couples that stayed together for more than 15 years.
Marketing takeaway: Tell an authentic story
The campaign targeted the Chinese market and included a culturally appropriated message. It spoke to its target audience in their own language: literally and figuratively.
It also showed all the different kinds of love, which is beautiful and also appealing to a much wider audience than if they depicted one couple. The ad is quite traditional, but it does make you tear up and crack a smile without thinking "Ughh not this Valentine's BS again"...
Moreover, it turned to the stories of real people to highlight its authenticity. Your customers are more likely to connect with personal stories rather than a script: so think about how you can add authenticity to your next campaign.
6. Twitter: Love Twitter
Speaking about real people, here's another example of amplifying user-generated content. Twitter, of course, is the king of user-generated content — lots of their marketing campaigns include tweets from regular platform users. And Valentine's Day 2020 wasn't an exception.
They placed billboards around the city with tweets dedicated to love, relationship, romance, and dating: however, the tweets themselves were quite unexpected. They showed relationships from different angles. Take the cheerful "I said no" with an empty ring finger: in most cases, we expect someone to boast about their engagement, not the other way around.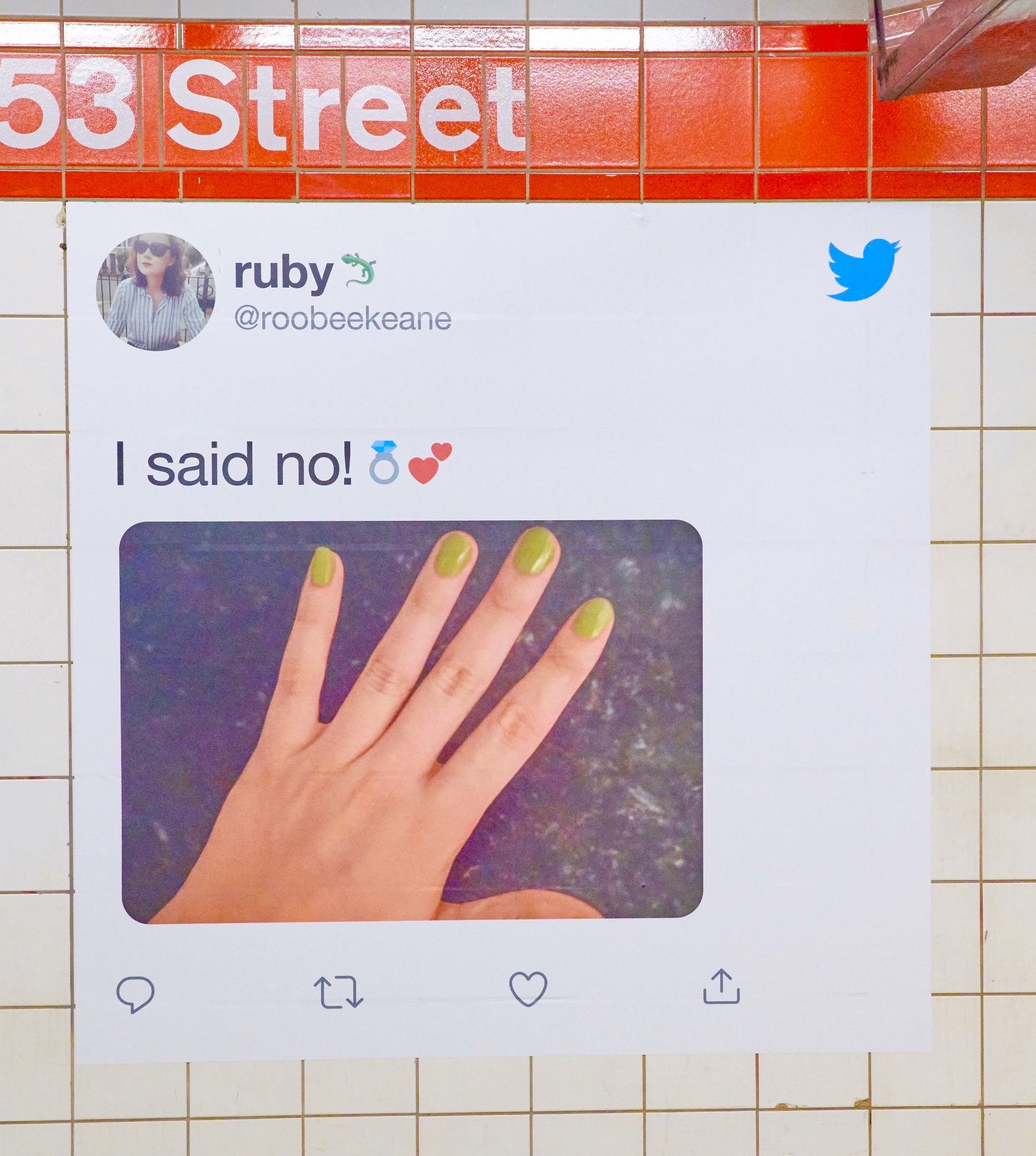 The tweets showed the funny, awkward, and sometimes clinical part of dating we usually don't see: at least, not in the soppy marketing ads.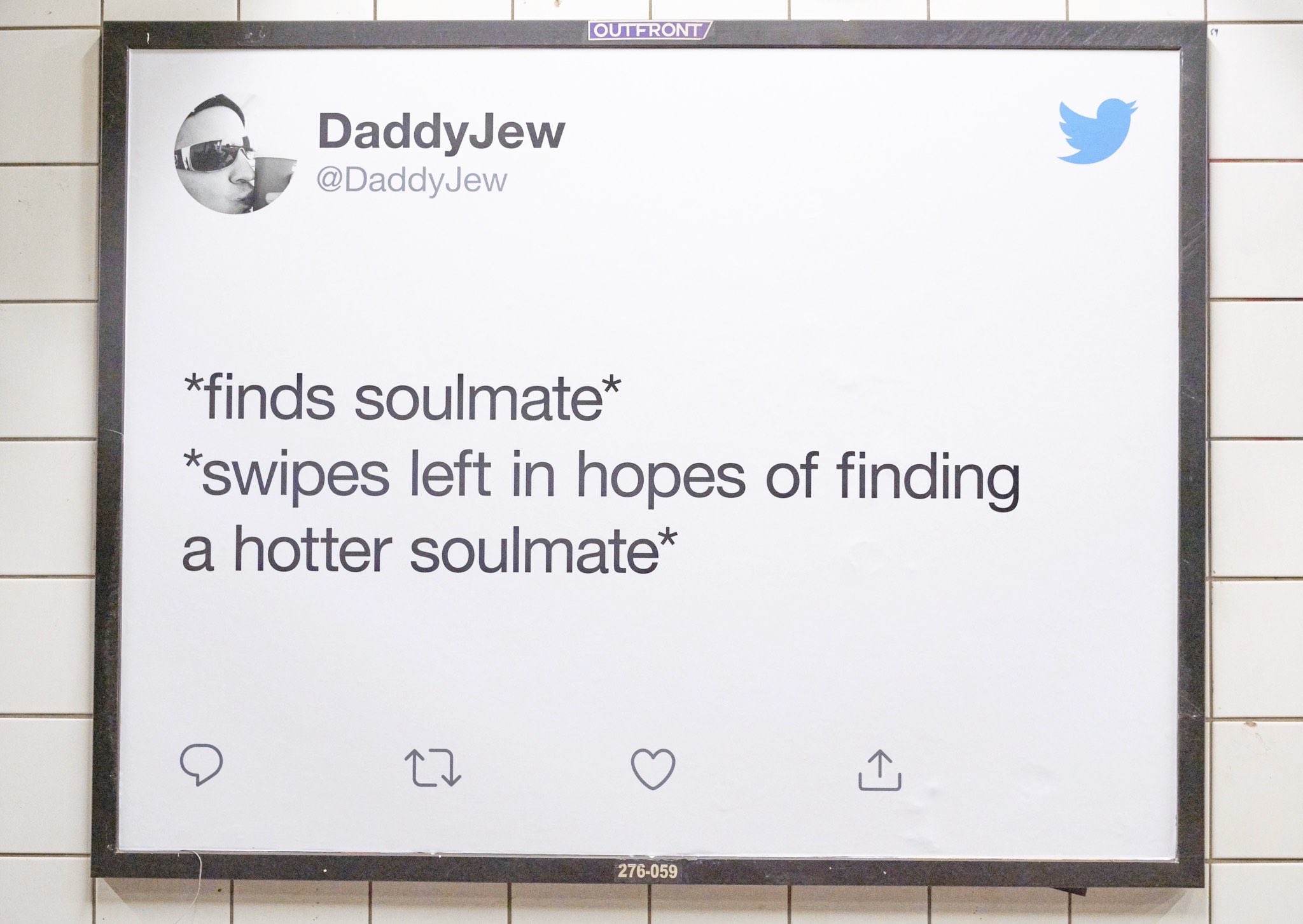 Marketing takeaway: Understand your audience (and engage with them)
Twitter knows that its audience doesn't see romance as getting on one knee and singing love ballads. And it knows that because they listen to their audience, they actually look at and engage with the content on the platform. Social listening is at the core of this campaign: they found the content thanks to monitoring Twitter and they knew the campaign would work because they saw the reaction to this kind of content.
If you know, your audience is not the one looking for Prince Charming, figure out what they find romantic — and give it to them. Even if it's cheese.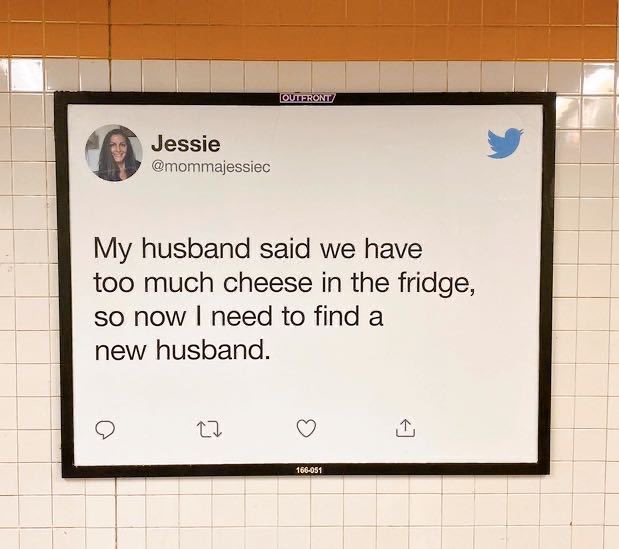 7. Junk King: DumpTruck or Lovestruck
Do you know who hates Valentine's Day more than single people? People who just broke up with someone. Indeed, if you just came out of a relationship (especially if it was not a good relationship) all these pink hearts around you are guaranteed to make you angry. Luckily, there are brands that understand that and want to connect to those people.
Junk King found a way to tie in a holiday of love to junk removal to the most common human experience of hating your ex. The junk removal company is sending bright red dump trucks to several major US cities, where people can dump the junk left behind by their exes for free.
At the same time, the company took a more positive spin, with a social media competition for couples who were moving in together. They had a chance to win a free dump truck service to get rid of all those things they don't need after the big lovestruck move.
Heavy hearts deserve a junk haul. Whether you're full of love or loveless, Junk King will win you over this Valentines season. Contact us to see whether the Lovestruck or the Dump Truck will roll up to your local Junk King. pic.twitter.com/13RIMrJqOy

— JUNK KING (@JunkKingCorp) February 9, 2020
Marketing takeaway: Spin the story
Junk King is an amazing example of a company who has nothing to do with Valentine's Day at first glance finding a marketing opportunity. The way we feel about love and romance can be so different and many brands that don't sell jewelry, flowers, or chocolate still have a chance to take part in this holiday in their own unique way.
8. Pip & Nut
What's the best gift a brand can give on Valentine's Day? An idea for an awesome date!
Pip & Nut is a nut butter company selling different blends of butter. For Valentine's Day 2020 they came up with an idea for a pop-up store where couples could come and make up their own nutter bland with the ingredients at hand. As a result, you get a personalized taste of your relationships — what could be sweeter (pun intended).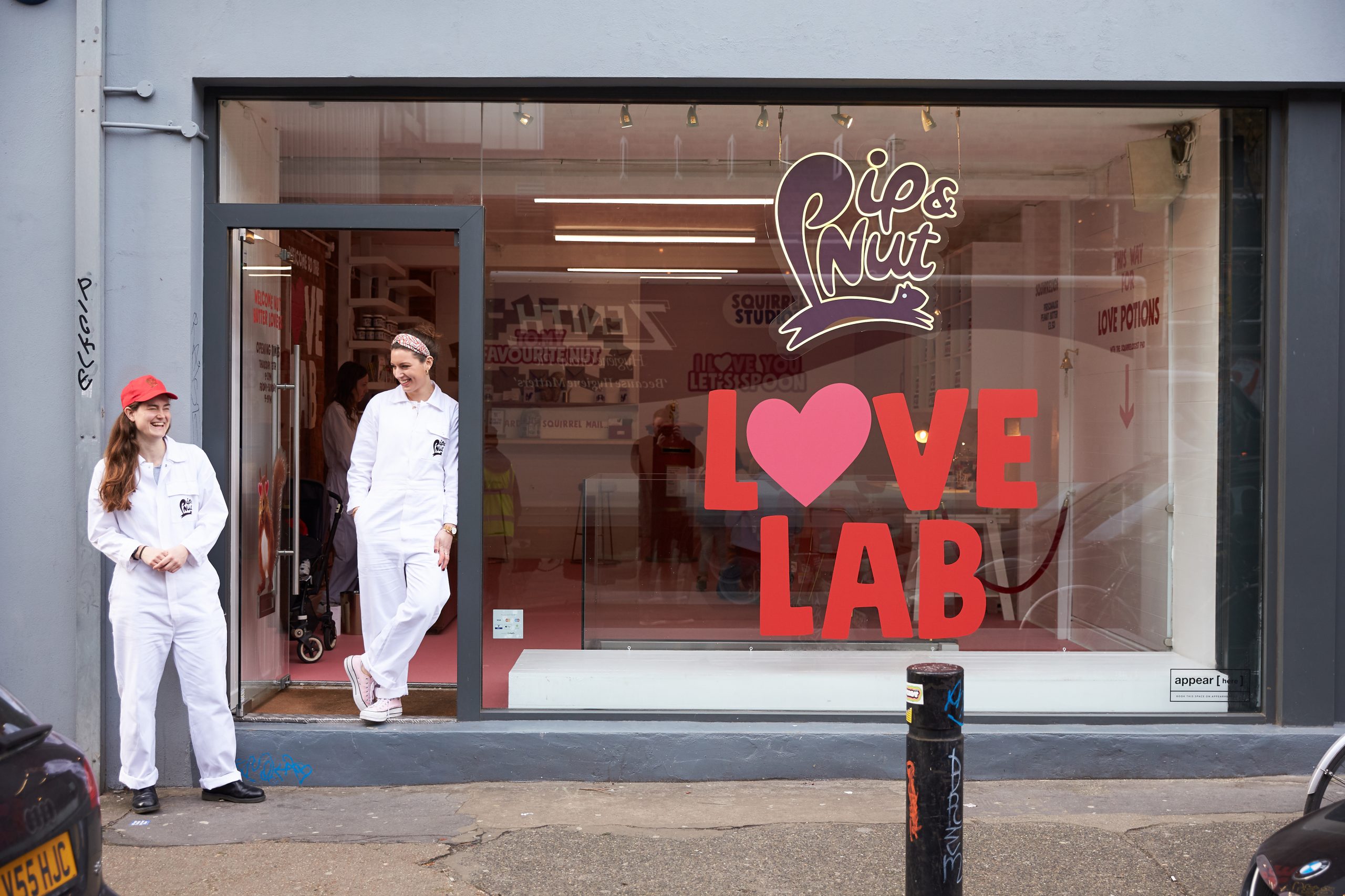 Plus, the company is donating one jar of nut butter to a local food bank for every jar created during the campaign – thus sharing love with those who need it the most!
Marketing takeaway: make it personal
This campaign allowed couples to personalize Pip&Nut's product in their own unique way. It's a great example of an interactive pop-up store experience that drives brand awareness and engagement and enables the brand to get face-to-face with customers.
9. DoorDash: Mr. Cartoon
This is another campaign that addresses getting over the past. DoorDash decided to help those people who thought their relationships were worthy to be permanently inked on their bodies — and regretted it. They partnered with a celebrity tattoo master Mr. Cartoon and launched a contest to get a cover-up from him. The artist would cover your ex-related tattoo with something that will never disappoint you — food.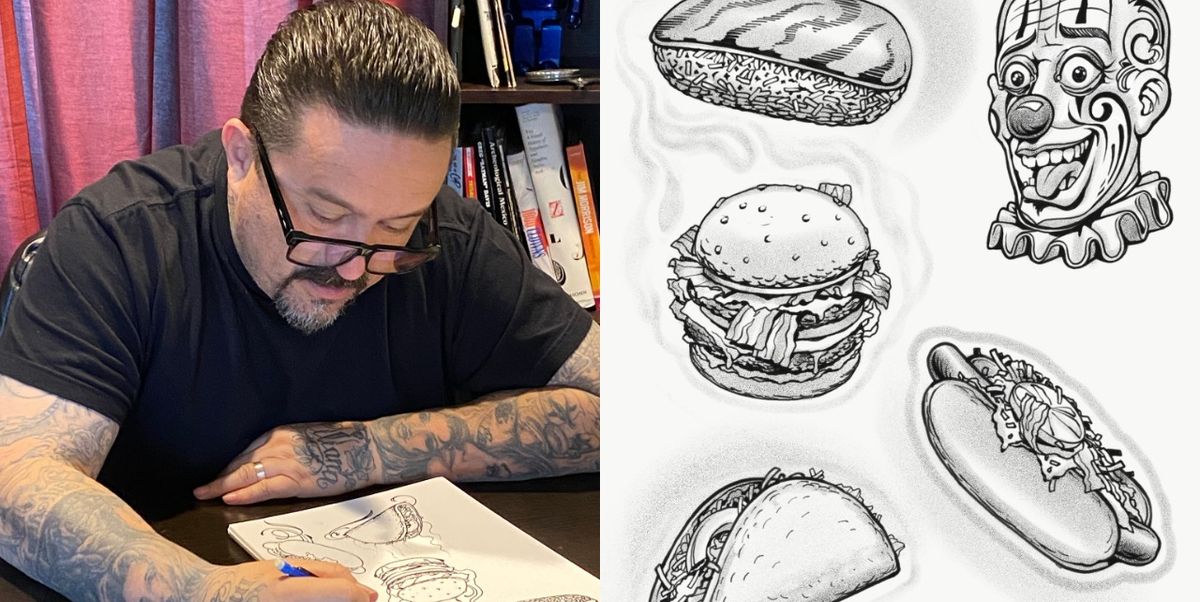 As explained by the Head of Consumer Marketing for DoorDash:
"Obviously we knew we wanted to do something for Valentine's Day. You can fall into all the tropes that everybody knows like roses, dating, dinner for two, can we deliver something special to a couple? We took it to the other end. What about people that aren't in relationships on Valentine's Day? What do we do for them?'" he says. "Then we had this broader thought of, 'How do we make something that's gonna have that talk-ability factor, that's funny, that everybody will be attracted to but also is a bit more universal?' So very few people have their exes tattooed on them. Even fewer people are gonna cover up their exes' names with a food item. But I think everybody understands what it's like to go through a breakup. Everybody understands that pain."
The campaign gathered a lot of buzz on social media and websites such as Forbes and People, which shows that DoorDash really hit on the nail with this one. Of course, collaboration with one of the most famous tattoo artists in the world also played its role.
Marketing takeaway: The power of an influencer
The idea behind the campaign was funny enough to get a lot of attention, but what took it over the edge is the main character - Mr. Cartoon. He tattooed such famous artists as Beyonce, Justin Timberlake, and others, so his star power companies with an original idea led the campaign to this overwhelming success.
By the way, with all this talk about killer marketing campaigns, you might wonder how you measure the success of your campaign. How do you make sure it performed well and brought you sales?
How to track your Valentine's Day campaign?
Perhaps you got inspired by these campaigns and came up with your own awesome idea, Valentine's campaign that will be original, out-of-the-box, heartwarming, and genuine, and bring you a lot of new clients. But how do you evaluate it?
How do you figure out if your campaign is successful?

How do you uncover what people resonated with?

How to understand why exactly it worked?
You can use social listening! Awario (or another social listening tool of your choice) can help you track your campaign from its very beginning till the end and reveal how many people it reached, whether people loved or hated it, what sparked their interest, and what unites the people who were reached by your campaign.
We wrote a whole guide on campaign monitoring, but here are a few tips specifically for Valentine's Day.
1. Set up an alert
Add everything related to your campaign: name, hashtags, a dedicated landing page if you have one, influencers you work with, and so on.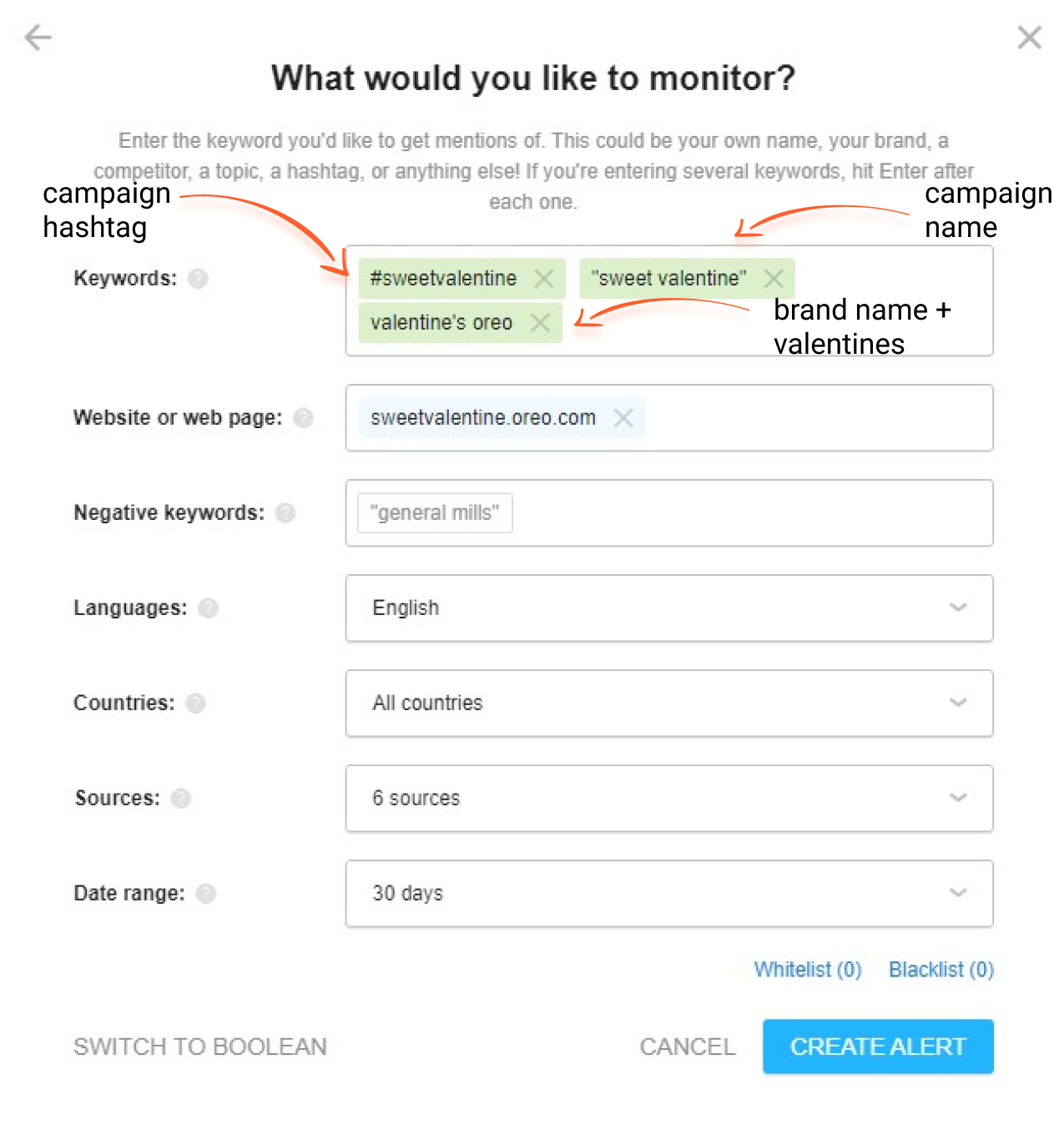 2. Look at the volume and reach of mentions, the sentiment of the mentions
Go to Awario's Dashboard and see how many people talked about your campaign.

This and Sentiment Analytics can help you determine whether your campaign was successful or not.
3. Look at the demographic data and mentions
To figure out, why your campaign worked (or didn't) look at the Topic cloud and individual mentions. See what people mention when they talk about your campaign and which aspects touched them the most. Use these findings to guide your next marketing campaigns.