Failed Christmas: 6 marketing lessons to learn (X-mas soundtrack inside!)

Article summary
Ho-ho-ho! Santa is watching you, so make sure the strategies you use to market your brand this holiday season have something exciting for your customers. This article helps you avoid the common mistakes in Christmas marketing on socials.
The holiday season is not only the most profitable but also the most stressful period for companies. They need to meet the increased demand of customers and retain them before their competitors do.
Even marketing pros who operate at their peak performance levels this time can bark up the wrong tree. No brand is immune to it.
Luckily, you have found this article with six lessons you can get from Christmas marketing fails.
Attention!
There are seven Christmas hits hidden in this article. Reading to the end of the text, you will find and listen to all of them!
Play this short clip to put yourself in the holiday mood, and let's start!
Lesson 1: Activate your campaign at the right time
Though Christmas is probably a major event in the series of holidays people celebrate in fall and winter, in terms of marketing, there is a kind of competition between all these fests.
For instance, in the US and Canada, the holiday season refers to the period from Thanksgiving until the New Year, including Hanukah and New Year's Eve. People from the UK and other English-speaking countries talk about the festive season, which covers a few weeks before Christmas until the start of the New Year. Additionally, there is Halloween, Cyber Monday, and Black Friday on the calendar!
Sign up for a free Awario trial
See Awario in action with a free 7-day trial. No credit card required.
By signing up I agree to the Terms of Use and Privacy Policy
Companies often prepare special offers for each of these fests. Usually, holiday marketing hits full stride from the middle of October. As a result, we have almost three months of endless sales and deals!
What is the problem? Letting a campaign after a campaign down the holiday stream, you can overdo it.
Developing a best-laid content strategy is what you need to reach the shores of Big Dollars with all your ships unharmed.
Denying this marketing truth, Chocolate Trading Company mixed all holidays on Twitter. They published two different offers dedicated to Halloween and Christmas on the same day. Besides, they did it early in October. Although it is a great time to start a Halloween campaign, it is too soon for Christmas social activities.
As a result, both posts got just a few reactions. It's a double failure!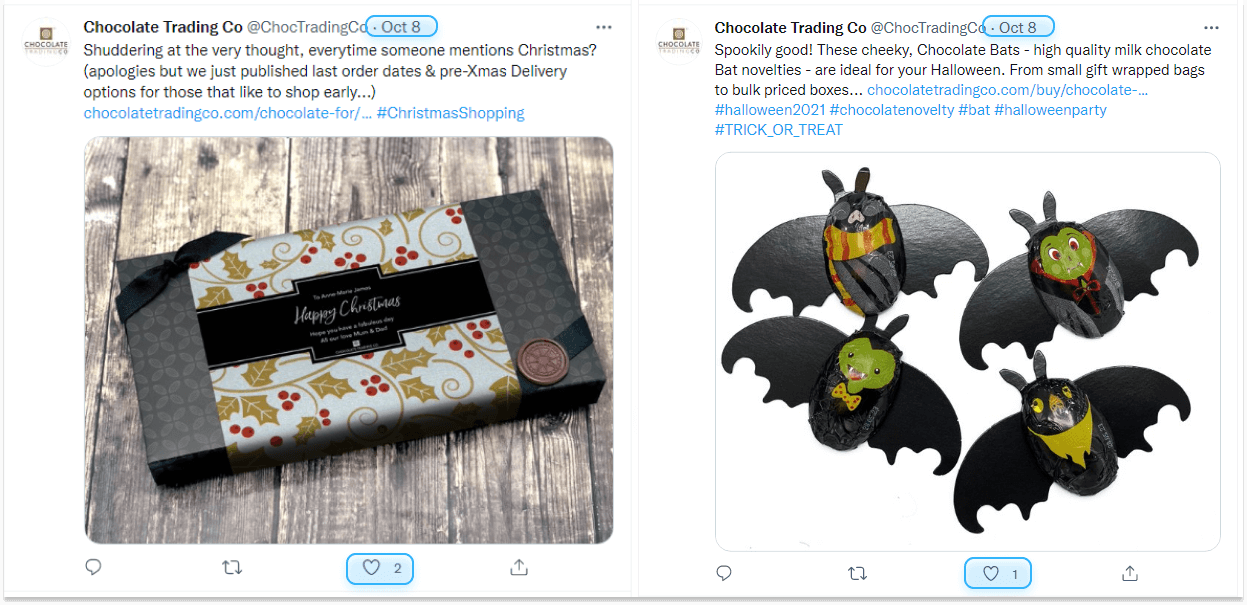 How to avoid: Sticking to a schedule
Chop the holiday months into short intervals when you will launch your next social campaign. Here is what your timing might look like for three major holidays:
Holiday
When to start
When to intensify
Halloween
The second half of September/Early in October
The last two weeks before the day
Thanksgiving
The end of October/Early in November
Christmas
The last week of November/Early in December
Lesson 2: Keep your customer support team prepared
Is your support team ready for the Holiday Rush? It seems many businesses hardly give this question any thought. Probably, they consider no one can be dissatisfied and too demanding in the last weeks before Christmas because, you know, there is jingle bell, jingle bell, jingle bell rock everywhere.
However, looking for the zillionth gift and waiting for the delivery of their items, your customers are not as patient as they were in November. Be sure poor social customer service can fuel their anger.
Since commenting on social platforms is the easiest way to communicate with a brand, if your customer support team does not work well enough, you will find a lot of negative comments on your holiday posts. Ignoring these messages turns your followers into Grinch-ish guys who can steal the Christmas spirit from your social pages.
House of Fraser, a British department store, has probably got a lump of coal as a Christmas 2019 present which Santa is known to give to all naughty brands.
Having problems with the items delivering and refunding, they didn't inform their followers about those difficulties and didn't reply to their negative comments on Facebook. However, customer dissatisfaction is not a thing to take lightly.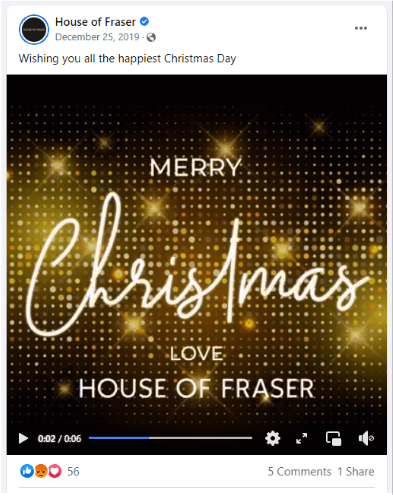 Although angry emojis are not natural reactions to Christmas congratulating posts, this is the feedback House of Fraser got. Moreover, the brand excluded Christmas 2020 from its social calendar at all. It looks like a weird tactic because their Facebook page is still full of holy anger.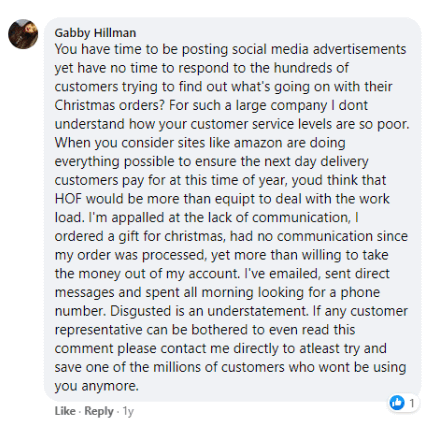 How to avoid: Sentiment analysis
Checking your brand sentiment on social platforms saves your Christmas campaigns. Also, it helps you detect problems your customers face interacting with your products or services.
You can use social media monitoring tools such as Awario to do sentiment analysis of your brand automatically. (As a quick point, you can do it for free within the first seven days.)
Awario scans news sites, blogs, and social media networks. Then, it calculates the percentage of negative, positive, and neutral mentions of your brand on the web. You can choose the date range, location, language, and social platforms to get more accurate results.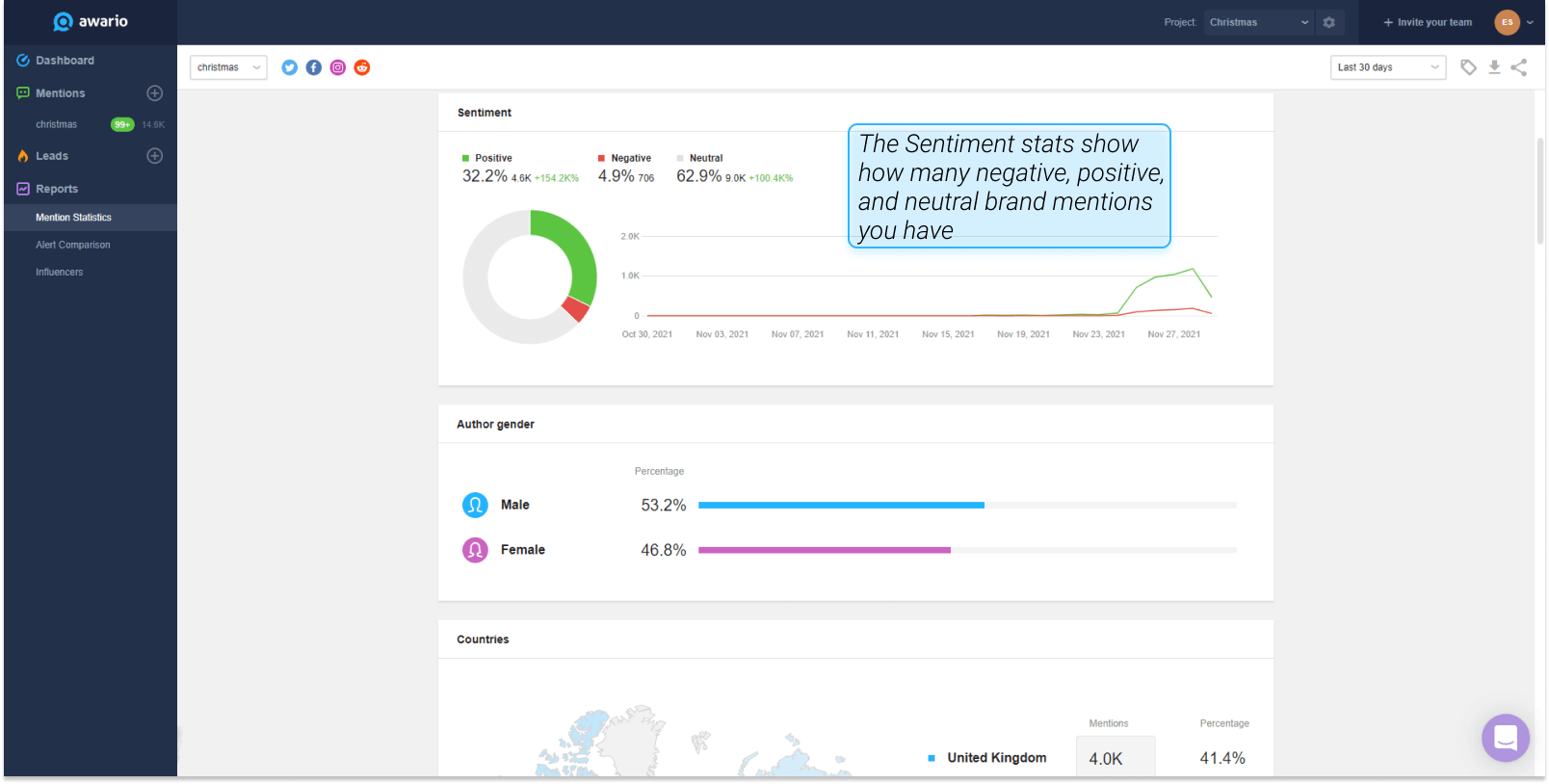 Also, you can manage all negative mentions in-app replying to each user who dislikes your products or services. In the Mentions feed, there are different filters, including sentiment and reach, that help you sift through thousands of messages in a matter of seconds.
Don't hesitate to engage in online discussions where your brand is mentioned. Believe people are ready to be all-forgiving when their concerns and complaints are not ignored!
Meet your personal social listening assistant.
Try fully automated, 24/7 brand monitoring with Awario for free.
By signing up I agree to the Terms of Use and Privacy Policy
Lesson 3: Start with a content plan
In marketing, there is a particular goal behind any activity. Otherwise, you shoot in the dark.
Ushering in the holiday season, set up a content plan for your Christmas campaigns (here is a Google sheet template for you). You need to choose what and when you are going to publish, the frequency of your holiday posts and their formats — video, image, audio, text. Additionally, determine key metrics to measure the performance of each campaign.

Many brands still act without a plan. They are convinced that all we want for Christmas is shopping with discounts.
For example, this jacket store publishes almost identical messages, visuals, and hashtags on Twitter, keeping the followers totally unengaged during the holiday weeks.
Probably, one day somebody who is searching for a jacket as a Christmas gift will find its tweet. But let's face it: this marketing approach is ineffective.
#Christmas Hot offer Get 70% OFF on Fucking Awesome Varsity Cotton Jacket.
►Shop Now Click on Link◄https://t.co/vbP3Zxdn5Z#ChristmasSale #ChristmasGift #Gift #Sale #Style #Cosplay #Costume #Fashion #Jacket
#Mens#discount #ChristmasCostume #ChristmasClothes #Christmas2021 pic.twitter.com/k6gIijehec

— Jackets Masters (@JacketsMasters) November 13, 2021
Then, have a look at this page on Pinterest. What kind of jacket has opened the Christmas season? Avoid showcasing your products this way!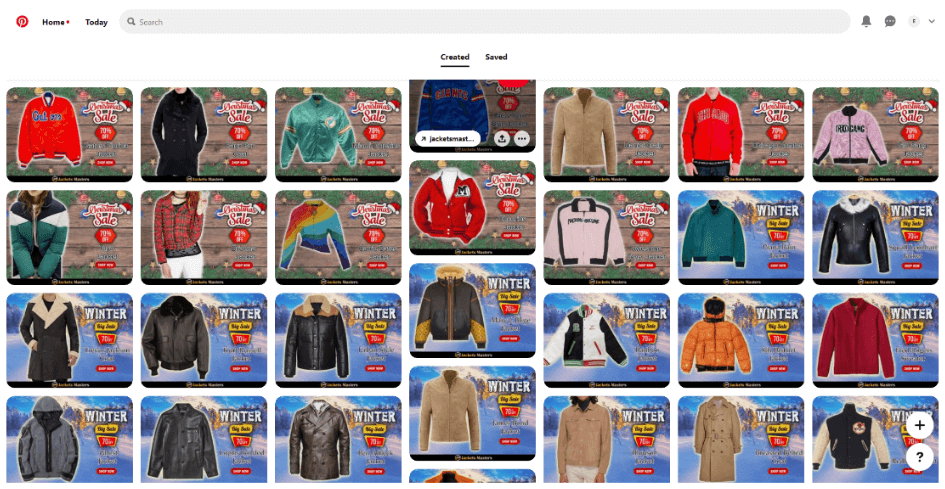 How to avoid it: Social media monitoring
When you are out of content ideas, harness social media monitoring tools to get inspired! Awario is full of Christmas content examples.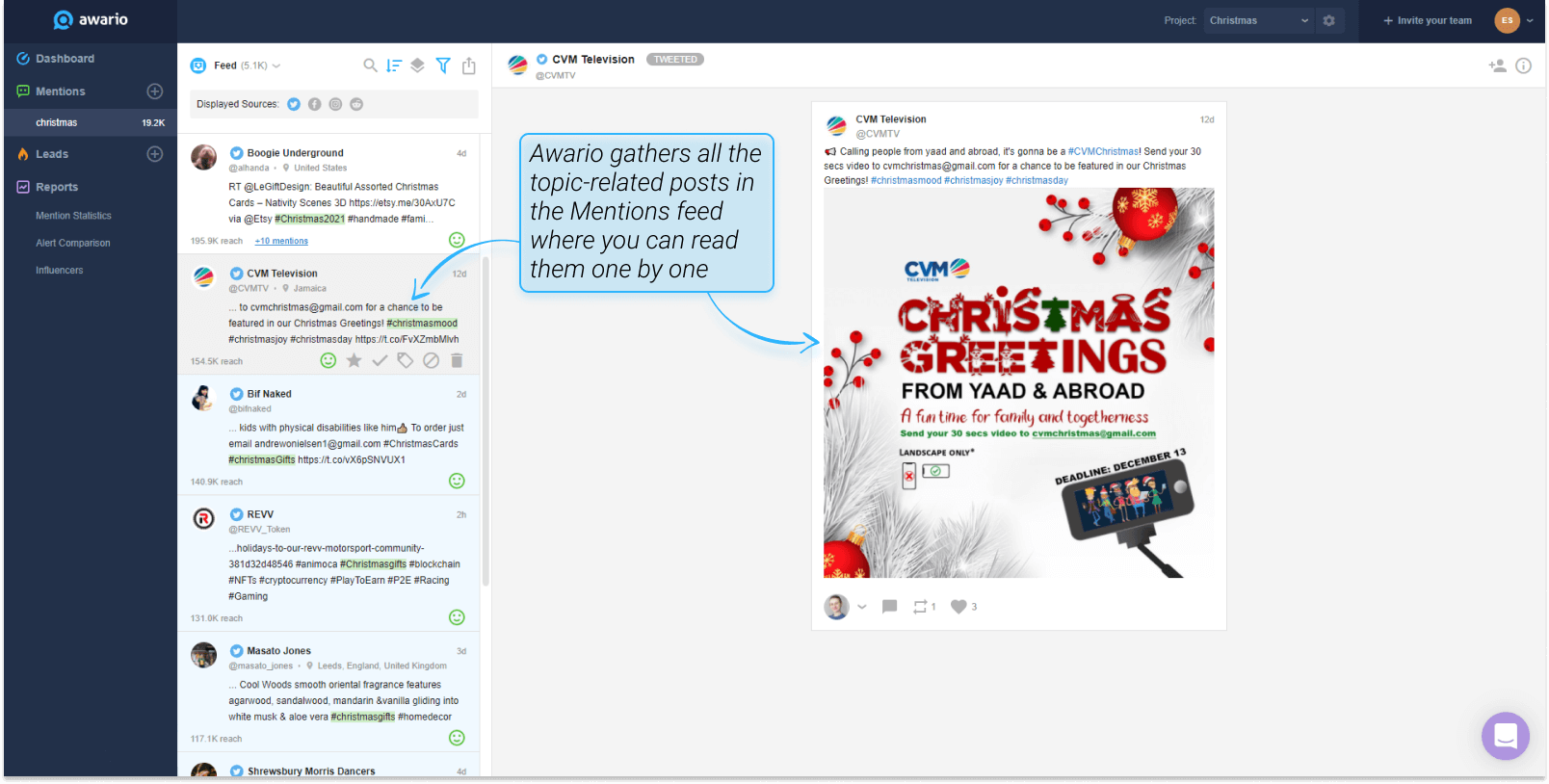 You can track Christmas keywords to see what brands in your niche are doing, monitor last year's campaigns, and check user-generated content around the holiday.
It helps you create a data-driven content plan that includes actual topics, trending visuals, and viral social media challenges.
Lesson 4: Be careful with Christmas hashtags
When it's beginning to look a lot like Christmas, social media users react the first. They generate gigabytes of Christmas-like photos, Reels, and TikTok videos every day. To navigate the sea of teddy bears, smashed potatoes, and garlands, both people and brands use hashtags.
Now put yourself into your customer's shoes to understand why using the following trick is a bad idea.
Imagine you are preparing a Christmas party with family and close friends. You need to find holiday dishes recipes, decoration ideas, and maybe choose an outfit for you. On Instagram, you can search for posts hashtagged #christmasdecor, #christmasdecorations, #christmasoutfit, and #christmascookies.
Scrolling down the feed, you suddenly see this post! It is a pretty relevant result, in case you put vengeance on your wish list. However, there is no connection between this knife set and some hashtags used in the post.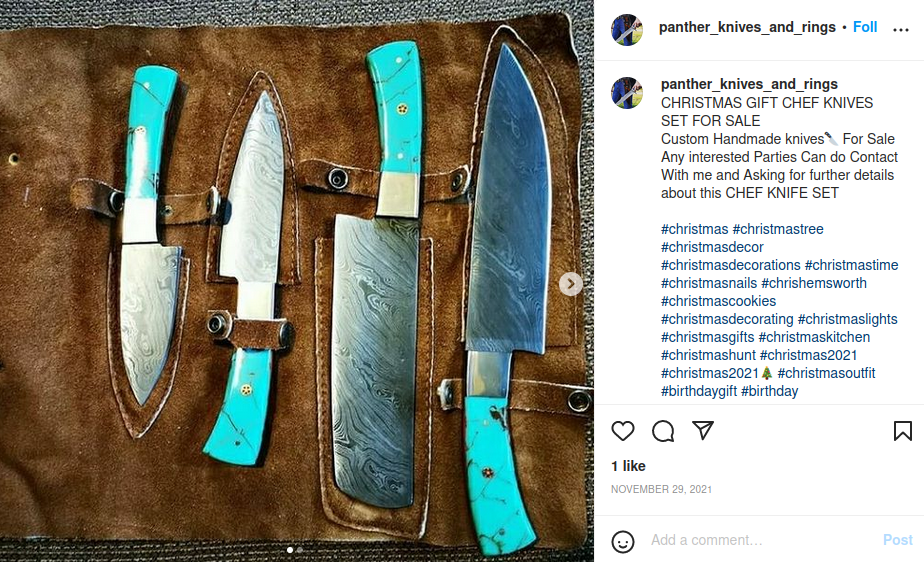 Let's try again with a more accurate query — #christmastree. And... we have missed again!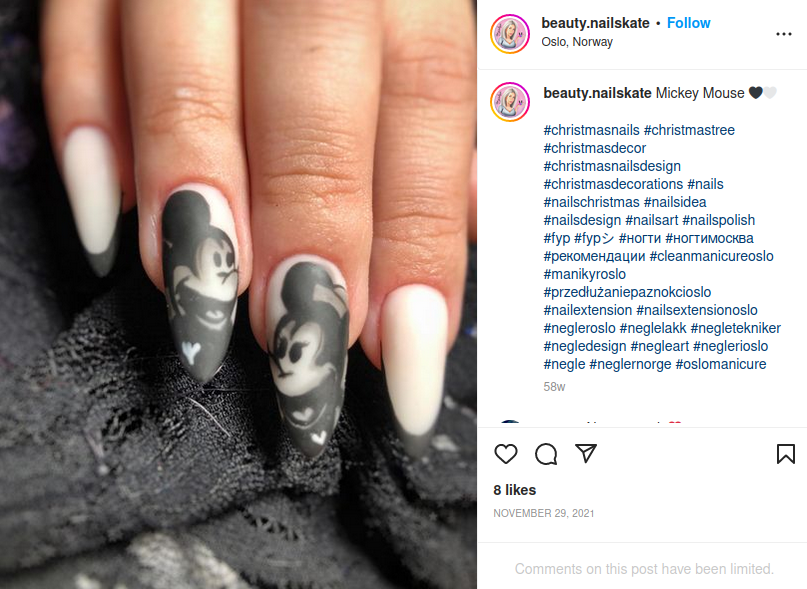 Adding popular Christmas-related hashtags to your Instagram posts can push them to the top of the search results. However, you mislead and deceive your customers using this trick. They have particular search intent — for instance, to find decorations for their Christmas tree. The photos of Christmas manicures, gift boxes, or holiday mugs hashtagged #christmastree are irrelevant for them.
How to avoid: Hashtag tracking
I found this post with the other ones using the same #christmastree hashtag. Take a look at the number of hashtags in the caption. They are relevant. They describe the photo. Besides, four hashtags can be enough for your post.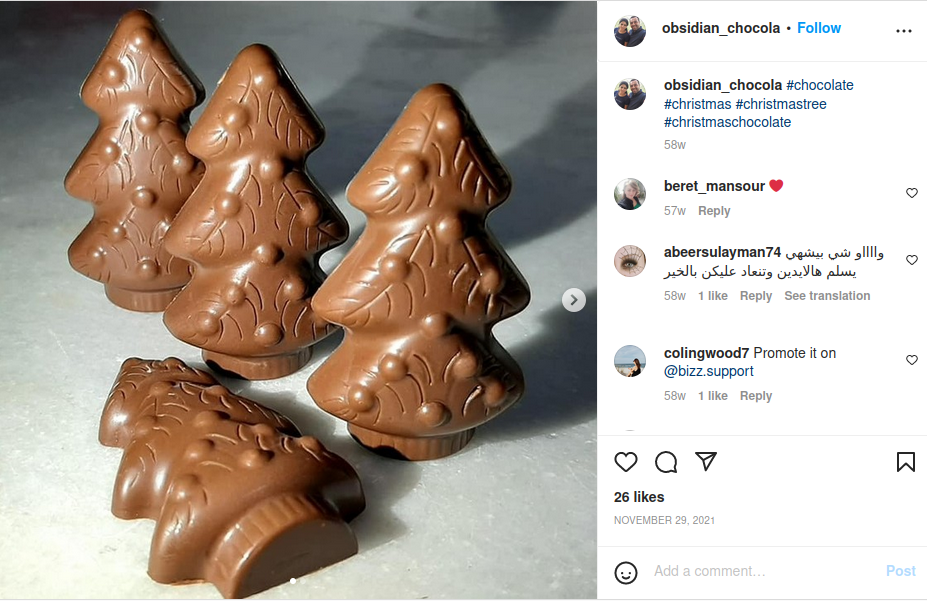 It means a few relevant hashtags can work even better for your content discoverability.
You can go to Awario for a quick hashtag search. The tool creates the Topic cloud where all Christmas (or any topic you want to study) keywords, events, and hashtags are gathered. The bigger hashtag is, the more popular it is on the web.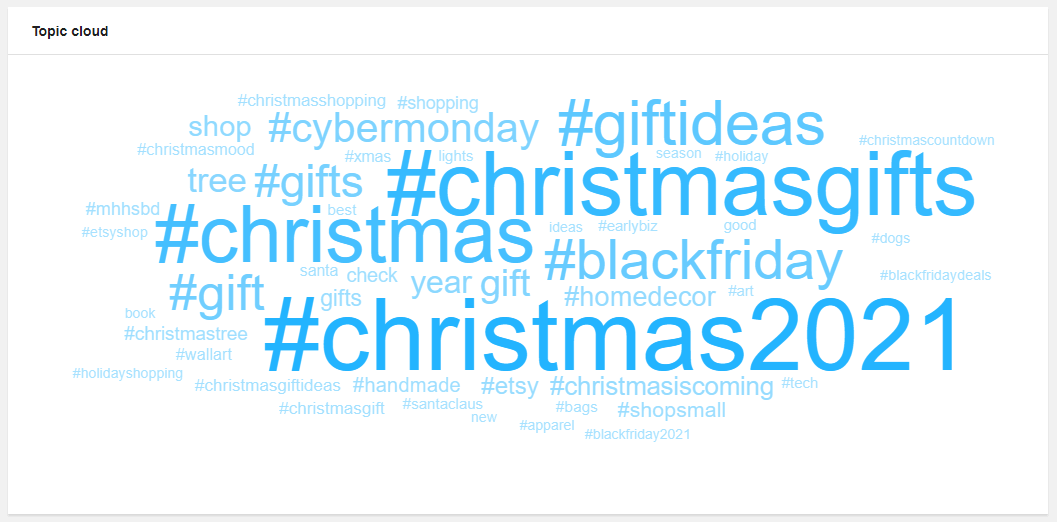 Of course, you can use common hashtags dedicated to the most wonderful day of the year, such as #Christmas2021 or #Christmas. Do not overdo it!
Speaking about the optimal number of hashtags, this is a short cheat sheet for you:
Social platform
The recommended* number of hashtags
The optimal length of hashtags
Twitter
2
18 characters
Instagram
11
21-24 characters
Facebook
1 for events or promotions, 0 for the rest of the posts
6 characters are the magic number, pros said. However, you can use 10 characters as the average number
*
According to the TrackMaven research.
Lesson 5: Turn off loudspeaker mode in socials
Lack of original content and authenticity is another common mistake in social Christmas campaigns. On social pages, you need to communicate with your audience, not announce your sales offers all the time!
However, many brands simply repost the same content during the holiday season. This company that sells heating oil is doing this way on Twitter. To grab people's attention, they prepared this quite convincing ad post.

It could perform well as a promo post boosting with Twitter Ads features. But the shop uses another tactic: they have been publishing it every day since November. Is it annoying? Indeed, and it's also not effective!
How to avoid: Audience analysis
In the holiday season, people are not lacking in exclusive, favorable, and best offers. Besides, they have probably already bought Christmas gifts. Now they want to be in Winter Wonderland (with no lockdowns and masks) and have fun. The guys from Trend Watching called this new customer's need FREEDONISM.
It means you can launch a couple of last-minute purchases campaigns in the second half of December. However, for this time, your core content is entertaining and educational posts.
To hit the marketing goals with your messages, you need to learn your prospects to a T first. Here is where social media monitoring comes in handy again.
Using Awario, you can analyze who mentioned your brand or competitor names or industry-related keywords on social platforms. The tool shows you essential demographics such as Gender, Age, Location giving you a hint what kind of content the audience will appreciate.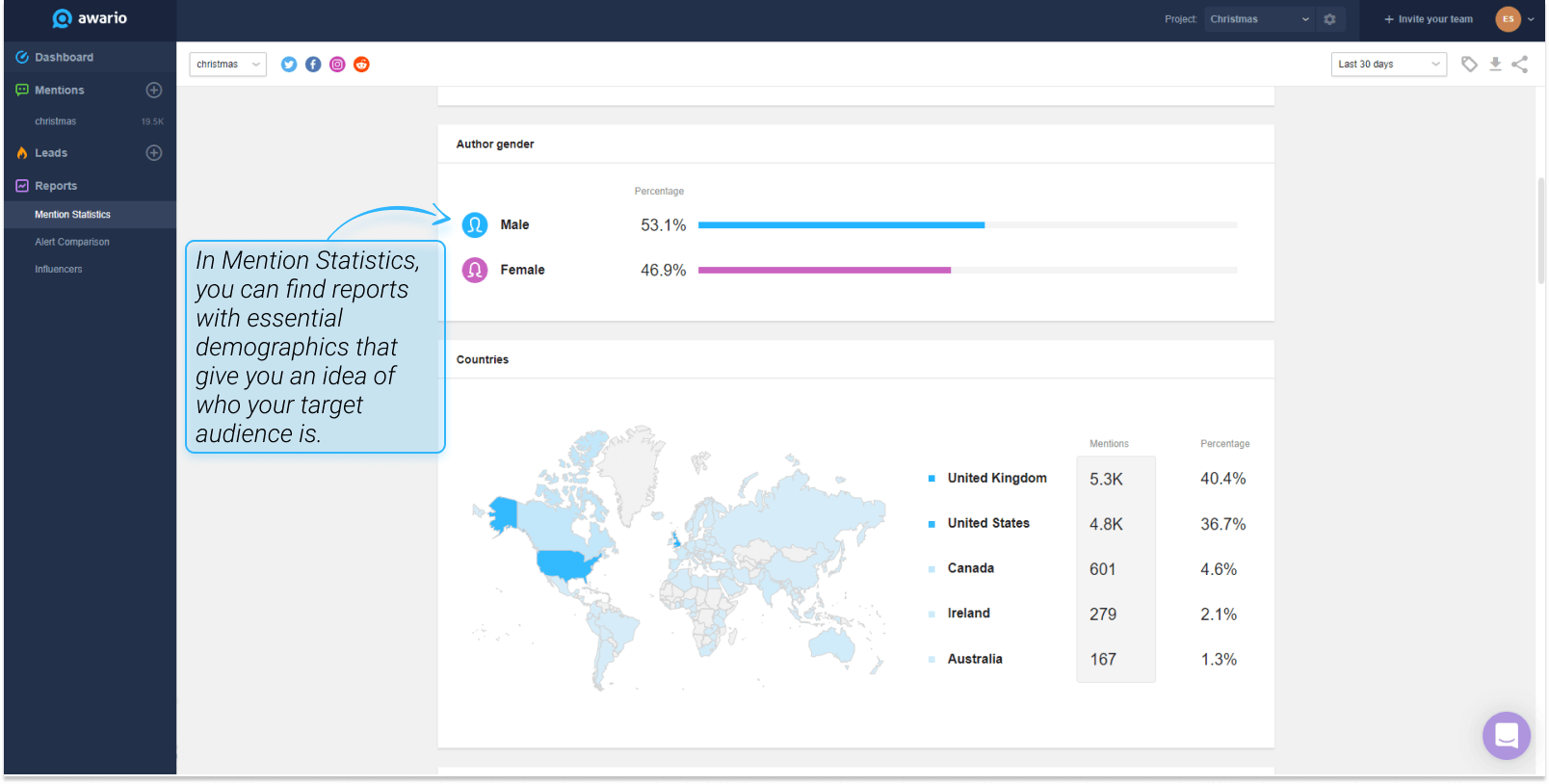 Additionally, you can check which social networks your audience loves most to intensify your marketing activities there.
By the way, this is a detailed guide to a thorough audience analysis with Awario.
Lesson 6: Measure your results
Marketing pros are always ready to give out advice all day and night. However, the best advice you can get from us — measure all stuff around your campaign to reveal what works best for your brand.
If stats from social platforms is not enough for you, Awario will help you again! Set up alerts that contain your brand name, campaign, or branded hashtags, choose the date range, sources, location (you can specify it, pointing to the city and state), and language. Add minus words to have more accurate results, or switch to the advanced Boolean search.
Use this video tutorial to do this right.
The tool can bring you the first results the very next day. Go to your Dashboard to check the following stats:
The number of mentions and reach to estimate how many people are aware of your campaign and brand.
The age, location, and gender of users who mentioned the keywords you track — your target audience demographics.
Top influencers who you can involve in your next campaigns.
The online sentiment of your brand — how many lovers and haters you have.
Trending topics and hashtags people are using on social networks right now.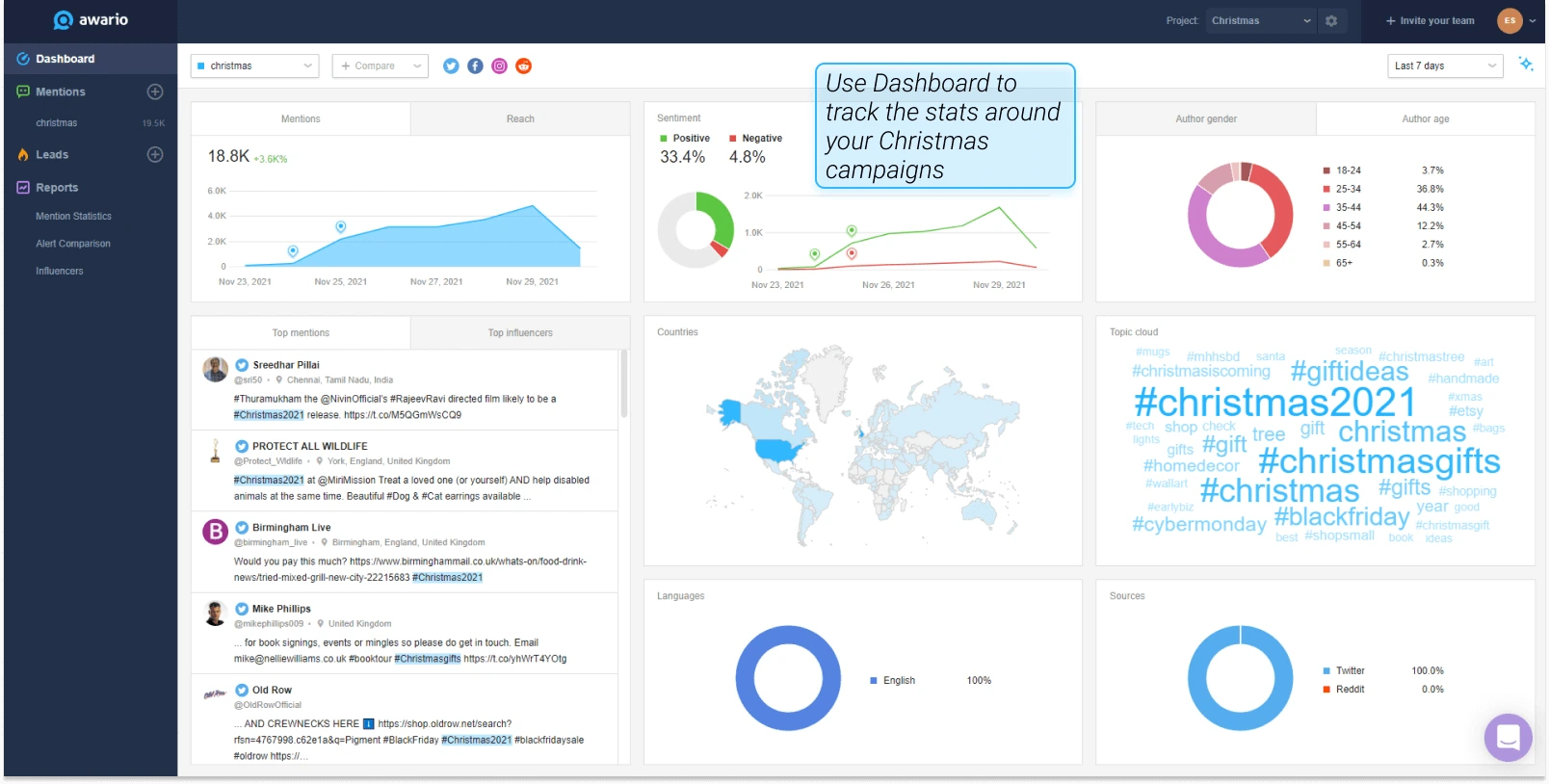 The data from Awario reports helps you better understand your customers and your niche. In the end, effective campaigns are always based on reliable stats about the audiences.
Enjoying the post? There's more.
Sign up for our newsletter to get our best content by email.
Final words
We won't play bad Santa even you made some marketing mistakes this year (we did it, too). Grab your free Awario trial anyway to improve your marketing strategy in the new year. Merry Christmas, Happy Holidays!