4 things marketers should know about Instagram Reels

Summary
In this article, we will answer a topical question: what are Instagram reels? You will learn how to upload IG reels and how to use reels. We will cover the tips and tricks of the feature, and marketing lifehacks that help boost your profile visibility and increase conversion rate.
About six months ago Instagram rolled up Reels – the feature for creating and sharing short clips. The majority of experts connected the launch of this viral video platform with the growing popularity of TikTok. In December 2020, the Chinese-owned app had been downloaded over 2.6 billion times. 62 million new users joined the TikTok community only in January 2021.
How did Reels launch change social media marketing on Instagram? How can marketers, entrepreneurs, and bloggers use the feature?
Let's enter the Instagram Reels video world to discover opportunities for your marketing efforts.
1. What are Instagram Reels? A short overview.
Basically, Reels are like TikTok videos but on Instagram. These are short clips (from 15 to 30 seconds) with audio, music, and visual effects (filters, stickers, overlaid texts, and the like). According to the official press release, the feature "allows people to express themselves" through creating entertaining clips whether it is a dancing tutorial or a personal diary about your Roman holiday.
Where is service available now?
The service is opened for users from over 50 countries. Instagram Reels first conquers the key international markets like the US (where TikTok has an uncertain future now), India, Australia, Japan, France, Germany, the UK, Spain, Mexico, Brazil, and Argentina.
What are the differences between Instagram Reels and Instagram Stories?
At first glance, Instagram Reels is a more complicated version of Instagram Stories, but it is wrong. Let's get into the details:
Instagram Stories
Instagram Reels
Type of content
Photo and video
Video is preferable but the photo is available too
Sound
Original audio and music from the Instagram Library
Video length
Up to 15 seconds (if you upload a longer video, it will be chopped into 15-second pieces)
From 15 to 30 seconds
Visual elements and effects
Overlaid text, Filters, Instagram stickers ("Ask me a question" forms, quiz forms, polls, GIFs, and the like,) doodles
Filters, some part of Instagram stickers, AR effects
Caption
No
Yes (up to 2200 characters as in a regular Instagram post)
Hashtags
Sticker hashtags (up to 10)
Regular hashtags in captions (up to 30) and comments
Clickable links
Location tags, Instagram profile mention tags
Profile mention tags in captions only
Additional editing tools
No

Timer (for hands-free recording);

Speed (to speed up and down any part of a clip);

Align (to line up multiple clips and adding seamless transitions between them).


Uploading content from your smartphone
Yes
Places for sharing
Instagram Stories tab, Stories Highlights
Feed, Instagram Stories tab, the Instagram Reels tab (similar to TikTok videos tab)
Purpose
To nurture your relationship with people who are already following you
To get your brand in front of new people
Lifetime
24 hours
Generally, until Instagram's last breath, but you can delete your Reel anytime
Cross-posting to other social media
Yes (automatically to Facebook, manually to Pinterest, LinkedIn, TikTok)
There are no embedded tools for cross-posting in Reels. Although you can manually upload your Instagram Reels video from your smartphone to other social channels.
There are a few words about the music in Instagram Stories and Instagram Reels. In both cases, you can add tracks from the Instagram music library (earlier Facebook has signed the licensing deals with Sony Music, Warner Music Group, and Universal Music Group).
Note: If you record a Reel through a business profile on Instagram, you cannot use the Instagram library. It has to do with copyright rules.
Also, you can take audio as well as any effects from someone else's Instagram Reels to yours.
Start monitoring your brand today.
You should've been doing it yesterday – but the next best time is now with Awario.
By signing up I agree to the Terms of Use and Privacy Policy
How to make Instagram Reels
Developers added the new video feature to Instagram Camera. You can easily find the Reel button at the bottom of the screen in the camera mode.
Here is a detailed tutorial of how to use Instagram Reels Camera and make your first Reel for beginners:
2. Why Reels are more popular than regular Instagram posts?
The videos can be published in Feed (check if the new icon appeared above the grid on Home Screen), Instagram Stories (for 24 hours), and send to the Instagram Reels tab.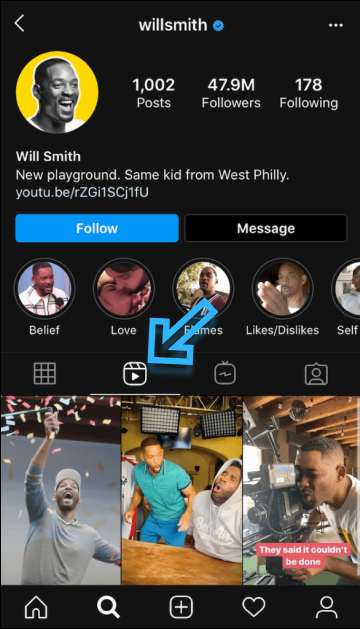 The Explore tab is an open space for every Instagram user, not only for your profile's followers. There are higher chances that your Reels may be visible to a larger audience. Besides, Instagram pushes up Reels to the top of the Explore tab and increases their preview size.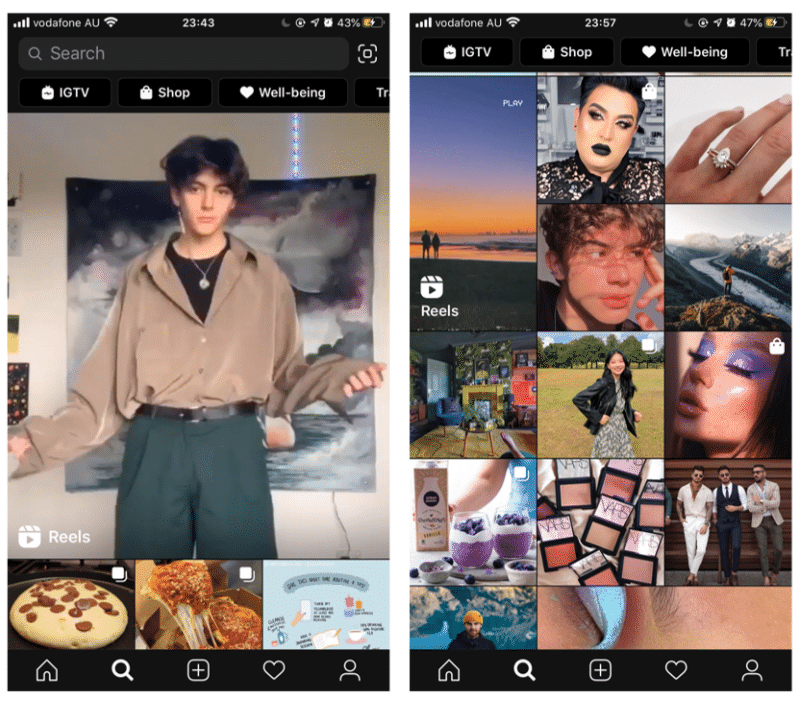 Once you open any clip you will get the endless Instagram Reels feed (the same as on TikTok).
In addition, Instagram marks potentially viral clips with a Featured label that explodes their reach because users will see them more often.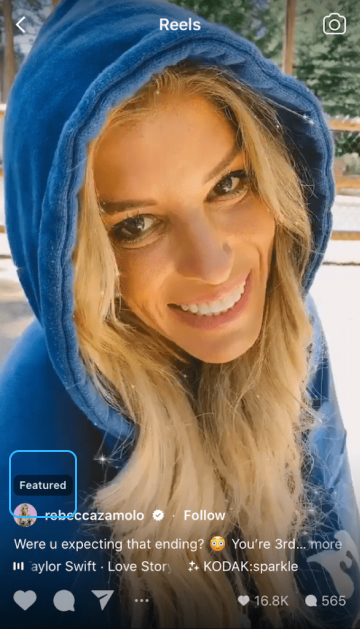 As a result, many brands admit that Instagram Reels work more effectively than photos, Instagram Stories, or IGTV content. They have more views, comments, and likes increasing users' engagement with a company.
To prove this point, I checked the Instagram accounts of several brands. Let's see Dior's profile. They have almost 7 million followers. A regular post with a photo gets about 7-10 thousand likes and up to 100 comments on average. А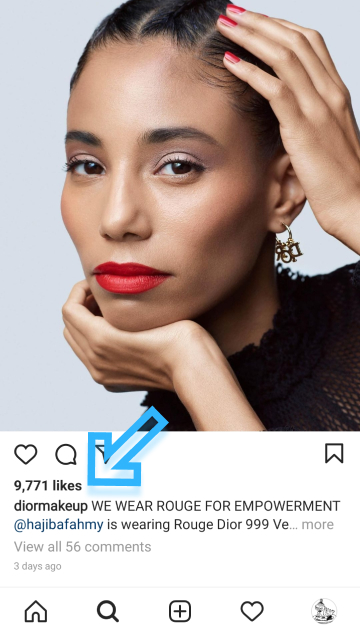 And what about a Reel?
This post is a random one. If you dive into the Instagram Reels tab, sure, you will find clips with 300+ thousands of likes easily.
3. How Instagram Reels can benefit your business?
Creating your Instagram Reels regularly may look like a waste of time. However, if the marketing team does it well, clips can help businesses to grow.
Marketing tasks you can solve by using Instagram Reels:
improve engagement rate on Instagram (it works best!);
increase the reach of your content;
receive large following;
find customers;
present new products and services;
provide seasonal ad campaigns;
spread useful information related to your brand.
After watching loads of Instagram Reels examples, I believe, it works best for B2C than for B2B companies. Short-form videos are posted by famous brands, local manufacturers, solopreneurs, and bloggers.
There are three ways how you can highlight your company on Instagram Reels:
Educate your audience
People love to learn something new (especially, without much effort). That is why how-to videos, hacks, and tutorials are getting popular on Instagram Reels.
For example, food bloggers oftentimes shoot quick & easy recipes in the format of how-to clips.
Sharing tips & tricks on a specialized area is a great idea to educate the Instagram community and, in the end, recruit new followers of your brand.
For example, Marissa Mullen promotes workshops, books, and other items for cheese lovers. Her profile is rife with fascinating facts about cheese. In this delicious Instagram Reel, she talks about mixing cheese with other products. Everybody who wants to learn more can find a link to her website on the Instagram page.
The educational content on Instagram is not only about food, of course. You can educate people in Reels about interesting places, rare animals, and sights like guys from @EarthOfficial. Replicate this approach when promoting a travel business (once pandemic will end!).
Famous cosmetics brands like Sephora actively create Instagram when educating their followers about makeup tricks. In the one below, the company shares a useful hack on how to match eye shadow colors.
Outline your brand personality
If you are a coach, consultant, or psychologist, show your personality while promoting the service or products you offer through Instagram Reels. How can you do it? Don't hesitate to introduce yourself, tell your business story, or show your daily workflow. People always notice emotional and sincere content on social media.
This Instagram strategist does this way in her self-presentation clip. In the Reels video, she introduces herself briefly left all the details about her offer in the caption.
While presenting her small business, this accessories shop owner demonstrates roles she plays as a biz woman – from a CEO to a delivery manager. The clip builds an emotional connection between watchers and a brand. And it is always a pleasure to buy something from people we like and admire.
The creator of handmade earrings and other jewelry aims to the same – to be emotionally closer to her audience. She shows the daily work routine of her team to tell users about her small business.
Showcase your products or service
You can create Instagram Reels to demonstrate the perks of your goods and service. Big companies and solopreneurs come up with different tricks – record before and after videos, behind the scenes, engage influencers, share Instagram Reels with gift ideas, etc. Let's take a look at several good examples.
Before and after Reels video enables to show the result of a long process in dynamic. This interior designer filmed an impressive 15-second clip about one renovation. People like this kind of magic!
World-famous giant Amazon uses Instagram Reels, too. In this "behind the scene" Instagram video, the company highlights its reliable shipping service. "Keep calm and buy at Amazon – thanks to our automatic fulfillment center, we will deliver your order just in time," they say. Using human curiosity as the basic trigger, you can spread ideas valuable for your business.
Also, you can use Reels to showcase your products through profiles of Instagram bloggers with big following.
A brand "We are knitters" engaged a knitting and sewing blogger for promoting its yarn. This funny Reels video on her page does succeed. Look at the caption where she left the brand mention and a discount proposal.
You can also create Instagram Reels presenting your products as gift ideas before consumer holidays like Christmas or St. Valentine's Day. This French photographer shot a video with an intriguing final. As you can see, she published this Reel a few days before February 14.
4. How to measure your Instagram Reels success?
Now the platform shows only how many likes and comments the clip has. Additional statistics are available in your IG profile. Open it and choose the clip to see its results.
Every time your Reel is marked as Featured, Instagram will send you a notification.
The results, incidentally, depend on the originality of your content. Bear in mind, all videos with logos or watermarks of other similar services (first of all, TikTok) are deprioritized in the Reels tab by Instagram's algorithm.
To beat the algorithm, you can use dedicated sites and apps for removing watermarks from video. Repurpose good content!
Don't miss our next story!
Join our blog community and have the freshest content emailed to you.
Final conclusion
It seems Instagram is going to refine Reels until they succeed. That is why the platform will reward your efforts to play with the feature by pushing your Reels at the top of the Explore tab faster than your everyday posts.
That is why you should strike while the iron is hot!