4 ways to brand your YouTube channel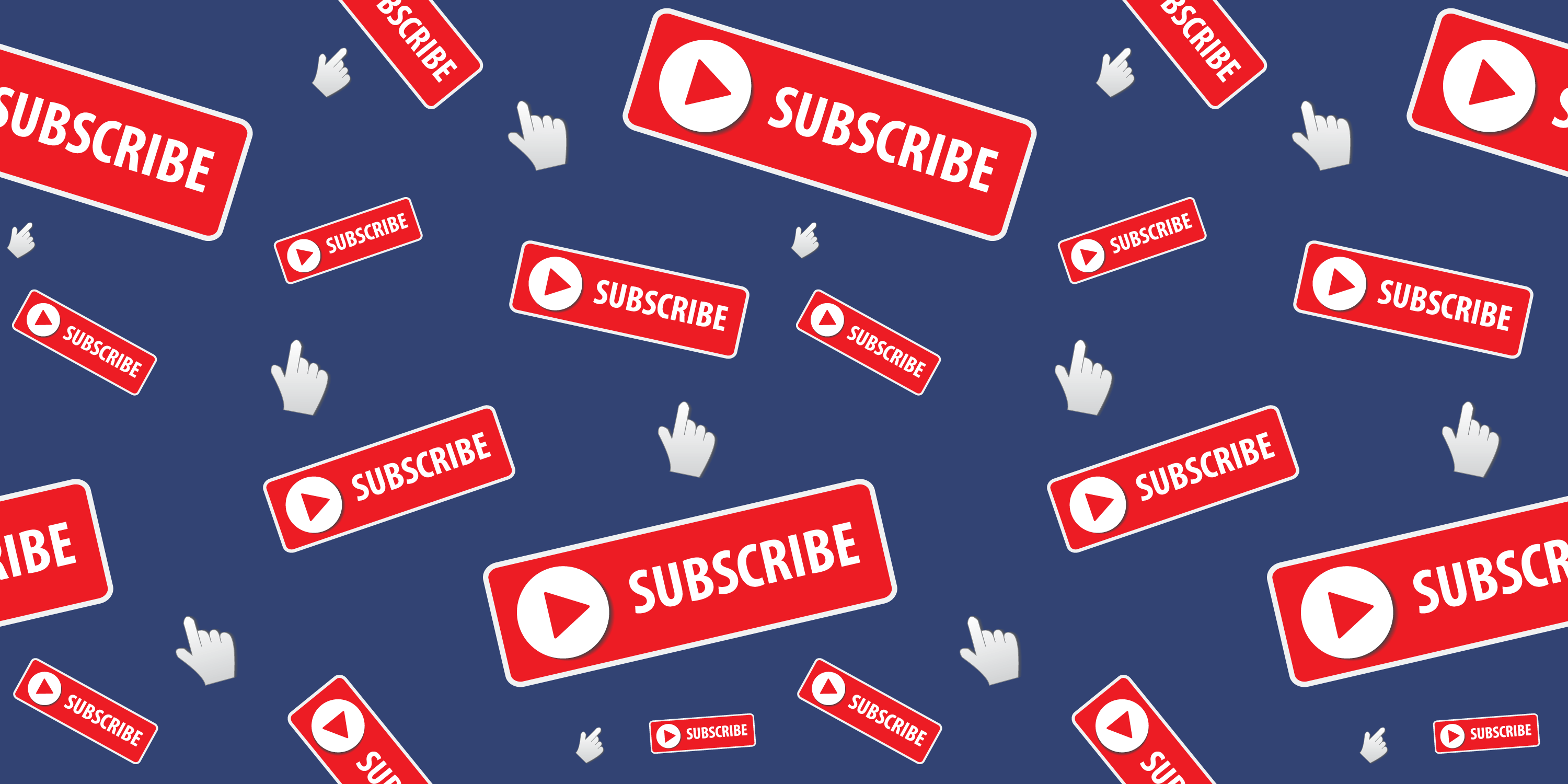 What do all the top channels on YouTube have in common?
They are all consistent. I am not just talking about the way the videos are made. I am talking about everything from the way the profile is set up to the images used.
This level of consistency helps the channel build a brand that people trust. People subscribe to these channels and watch their videos again and again because they know what to expect.
This is why if you too want to build a successful YouTube channel that attracts subscribers and views, you should determine what your brand is early on and take steps to reflect it on your channel.
So, today I am going to show you how to brand your YouTube channel….
#1 Verify your account and name:
The first thing you must do is verify your account. When you verify your account, you will be able to upload videos longer than 15 minutes and you will also be able to upload custom thumbnails (which are an important aspect of branding). Verifying your account is simple. All you need to do is choose the country you are in and submit your number and they will message you a verification code.
You just have to submit it on YouTube to verify.
Next, apply for a verification badge. This is the tick mark that appears next to your channel's name on YouTube. You can see it in the below screenshot from the Netflix Channel. It makes your channel and brand look more credible.
Google's rules state that your account needs to have a minimum of 100,000 subscribers before you can apply for a verification badge. But there are some accounts that get a badge even before they reach that figure. So, you can always try even if you have fewer subscribers.
#2 Stay consistent with all images:
YouTube isn't just about creating videos, the images you use here play an important role too. There are mainly 4 visuals you need to get right. These are the profile image, banner, thumbnail, and end card.
Profile picture: If you are a company, you should simply just use your logo or an image with your business name on it. While if you are a vlogger, you can use your headshot. Make sure you use the same logo/headshot you use on your other social media channels and your website to maintain brand consistency across all social media.
Banner: You can brand your banner by either adding your logo to it or creating a unique image that is made with the same colour palette that you use in your other marketing material. If possible, you should change this banner every week or month to promote your latest videos or products.
Thumbnail: The thumbnail is probably the most important image on your YouTube channel. The better it looks, the greater the number of people who will click on your video and watch it. So, place a good deal of emphasis on this. For best results, you should make sure that the background image you pick for your YouTube thumbnail is 1280 by 720 pixels.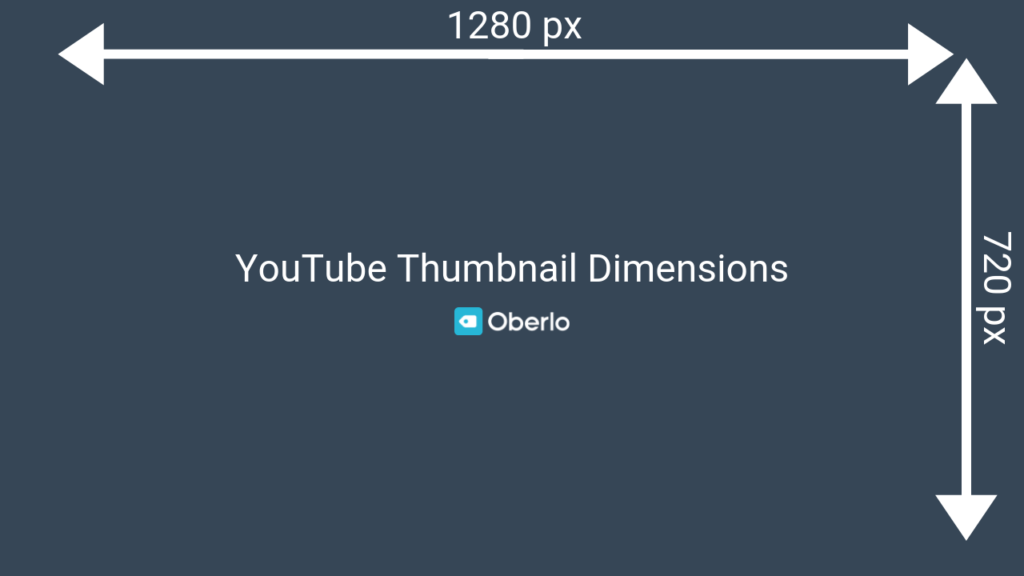 Then place details like your logo and the title of the video as overlay text over this background. Make sure the colours you use are the same ones from your branding colour palette.
Then upload it by clicking on the 'Custom thumbnail' button on YouTube's editor.
If this button isn't visible in your editor, it is probably because you haven't yet verified your channel.
End Card: The YouTube end card can be added to the last 5 to 20 seconds of your video. You might have noticed it when a video is nearing the end. A few popups appear on the video asking you to either watch another video, a playlist or subscribe or visit a website (or do all of these). This is the end card. You can either place it over the moving video or over a still image. I recommend that you use a still image as it reduces distractions. This can increase the conversion rate.
For some ideas on how to create the right images check out Netflix's YouTube channel. They get everything right.
As you can see they used their logo for their profile picture. The banner is designed mostly with red and black which are their brand colours. And they are promoting one of their latest shows.

They also use good thumbnail and end card images that have their brand colours.
#3 Fill in all details:
Make sure you fill in all the details for your channel. These will help people learn about your brand. This should include a link to your website and social media channels.
Also, write a clear description on your 'About' page. Include everything you can about what you cover in the channel and why people should subscribe to it and follow the advice you share. You can add your email address here to make it easy for people to contact you.
Write just like you speak in your videos here to maintain consistency.
You should also follow the same writing style in your video descriptions. In this description too you should include links to your website and social media channels to get people to learn more about your brand.
Someone who gets this right is Mike Chen of Strictly Dumpling. If you check out his videos and his about page you will notice that he writes the descriptions in first person, just like he speaks in his videos.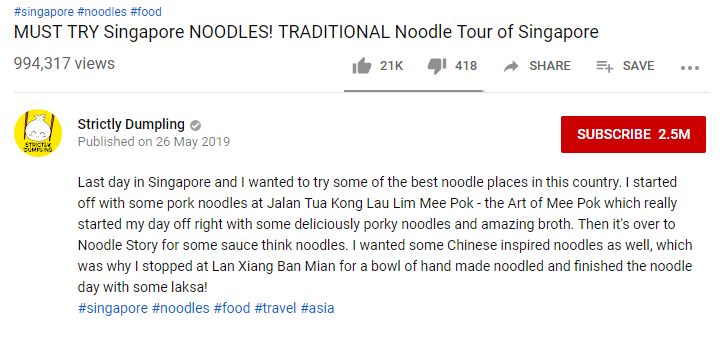 #4 Create a channel trailer:
Another important addition that can help you better brand your YouTube channel is a trailer. The trailer is the video that appears when someone visits your channel. People usually only visit your channel home page once. This is the first time - before they subscribe. So, create a short video keeping first-time visitors in mind. In it tell people what your channel is about and why they should subscribe. Also, write a good description for the video as it will be displayed alongside the video on the channel page.
You can also just display your most important or popular video here to get more views as Netflix did…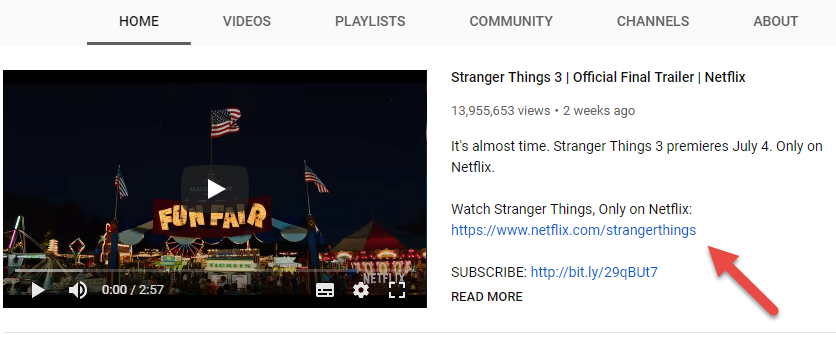 As you can see they are displaying a trailer for one of their most recent shows (the same one they promoted in the banner) and they included a link in the description that takes you directly to the show.
Now begin branding your YouTube channel…
These are the 4 ways you can brand your YouTube channel. Implement all of them today. They will help you stand out and attract more views, subscribers, and traffic. Begin by verifying your account, creating your images and filling in all your details. After that, you can work on a channel trailer that reflects your entire brand. And make sure this brand resonates in every video you create in the future.
How do you brand your YouTube channel? Did I forget to add anything important? Please leave your comments below.