8 tactics to boost your e-commerce sales with social media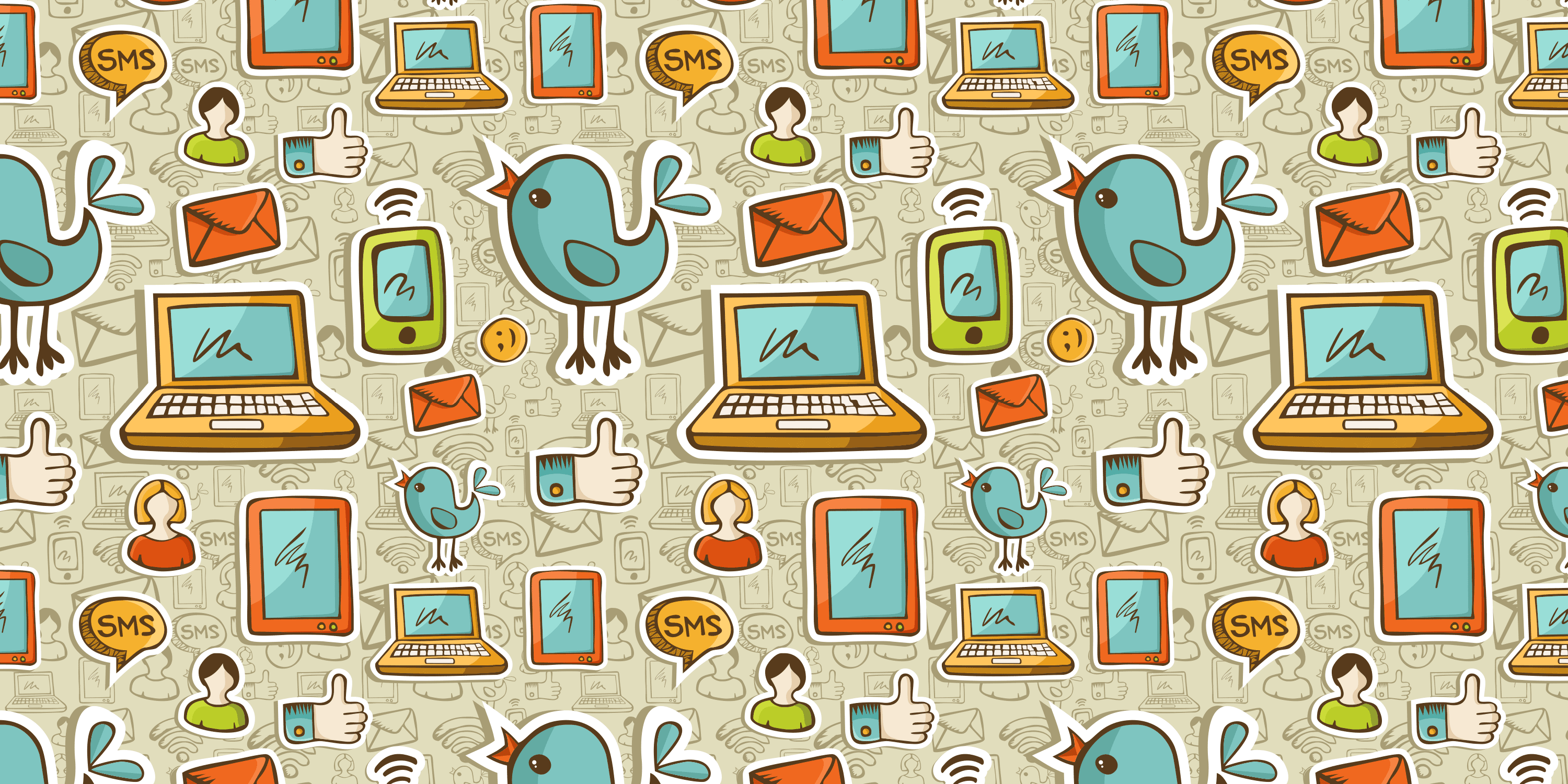 Social media is not a media. The key is to listen, engage, and build relationships.
David Alston (VP Marketing, Radian6)
Social media platforms have emerged as powerful tools for entrepreneurs and marketing pros to promote their brands and grab quality leads. Specifically, for e-commerce ventures, these channels are one of the best ways to market the products and services efficiently.
Marketers have understood the significance of social media and are leveraging these platforms for soft selling where they guide the prospects all the way through the sales funnel by building brand awareness, developing relationships, and finally closing the deals.
A website is a backbone to your e-commerce business and with the help of social media platforms, you can easily get a link back to your portal. But in order to exploit the complete potential of social channels, it's mandatory to have a high-converting online store which can be built by following a precise website design process.
In addition to getting quality links to your website, social media platforms also have a significant impact on the purchasing decisions of consumers. According to a survey performed by Statista in 2017, 39% of respondents said they had been influenced by social media ads to make purchases.
Moreover, by leveraging these platforms, SMBs have acquired perks in the short-term as well as over the long haul.
Let's take a look at eight key social media marketing tactics which you can use to drive more sales for your e-commerce business.
1. Establish your integrity & boost brand awareness with social media
In order to grab as many followers as possible, you must make your business page on each of these platforms visually appealing as well as enriched with fresh content. Also, you should strive hard to build a robust image for your brand which your prospects can feel connected with.
Post quality pictures of the products which you have under one roof. Make a habit of participating in discussions and asking your target audience questions. Set up different polls for your followers where they can express their thoughts freely. Also, share content from reliable external sources which you think can add value and can keep your customers engaged.
2. Use social sharing buttons
In order to make visitors able to promote your products or content on their social media profiles, it's mandatory to integrate social sharing buttons on your custom-built e-commerce website. Be active on multiple social channels and build a community of loyal followers who can be your indirect promotion agents.
Social sharing buttons make it easy for the audience to share the content with their peer network to help you acquire new traffic to your portal.
3. Post/share informational and interesting videos
Interesting as well as educational videos on your e-commerce store or social media pages can be the best tool to grab more eyeballs and ears. But make sure that these videos are well connected with your business niche. Post or share relevant videos from external sources on your website or social media platforms.
For example, go to YouTube and find videos that can have a great impact on your prospects. Share one of these and try to acquire more leads. But remember to keep these videos mobile-friendly so that you can connect with a diversified and global customer base.
4. Use social media platforms for direct selling
You can leverage your social pages on platforms such as Facebook, Instagram, and Pinterest to sell your offerings directly to the targeted customers. They can complete the checkout process without even leaving these pages. You have to only keep the specific requirements of the concerned platform in mind.
According to Superoffice, social selling is helpful to the marketing pros and allow them to close more deals. Let's look at how social selling helps contemporary marketers in meeting individual as well as team goals.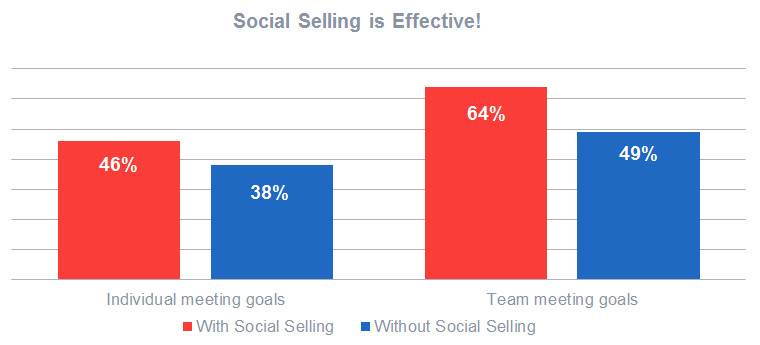 Build a page for your e-commerce venture on these platforms and integrate a catalog comprising quality images and descriptions of your products which you can link back to your account for receiving payments. But make sure to do your homework and understand the limitations as well as perks provided by each platform before starting to sell your products.
5. Use relevant hashtags
With the help of relevant hashtags, a wide range of posts on social media platforms gets classified into different sections. This can help you improve the organic traffic to your web portal as your products would be visible to the target audience.
Just make sure to spot the trending hashtags in your niche and integrate them into your posts for expanding the reach of your brand. Also, include a few in your comments section in order to prevent your posts from getting labeled as spam.
6. Improve your customer service to get new leads
Online chat opportunities through social media platforms can be the biggest asset in your marketing arsenal. Also, you can connect with potential buyers and respond to their queries promptly to build the foundation for a robust relationship.
As per Advicelocal, social customer services can help entrepreneurs in providing their customers with easy, prompt as well as live support which are the three top-most demands from the users' end. Let's explore the stats: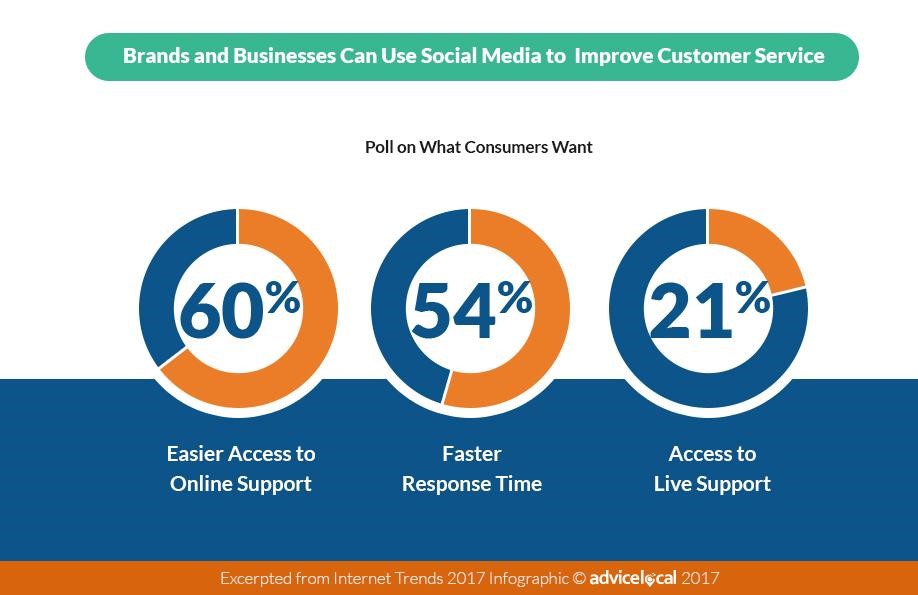 Moreover, social media chats give your prospects a chance to seek real-time and quick support from your team which can bring in many more leads to your pipeline. You can look after these quality leads with a startup-friendly CRM software.
7. Organize flash sales
Organizing flash sales can help you create awareness for your products as you will be offering some of your products at a discounted price but for a shorter timeframe. With the help of engaging and unique posts, you can easily promote this offer on multiple social media pages.
These posts can encourage more visitors to at least explore your brand and consider giving specific products a try. Also, they will boost your brand visibility and let you provide returning customers with something very special and of great value.
8. A/B test online ads
Nowadays, analysis has become crucial for marketers. It provides them with useful insights into developing future strategies. Similarly, you must A/B test online ads which you have put on social channels such as Facebook in order to recognize the groups or categories of end users which your business resonates most with.
Adobe Target, Optimizely, and AdEspresso are three of the most popular platforms which you can use to evaluate the customer data in regard to your online ads. Based on the insights you can easily come up with strategies to implement in the future.
Social media platforms still have immense untapped potential which can be exploited to drive sales and conversions for your e-commerce business. Remember to follow the best social media marketing practices which can tenfold the organic traffic and improve visibility of your online portal.