Here's how B2B companies can use YouTube marketing

YouTube is a great platform for brands that want to showcase their expertise and take advantage of the opportunity to rank their video content.
However, brands still shy away from YouTube. In fact, 43% of brands cite that consistently producing visual content is their biggest frustration. Others still lack a working strategy for YouTube, as well as ways to measure the effectiveness of YouTube marketing.
If you plan on investing resources into YouTube marketing, you need to be smart about it and handle it correctly.
In this post, we'll walk you through three steps to producing an excellent YouTube marketing strategy. We'll also show you examples of great YouTube marketing from unique brands you can use. But first...
What is YouTube marketing? And why should your brand care?
YouTube has turned into an essential tool for marketers for two reasons. The first is the growth of YouTube influencers, content producers, and digital asset management (DAM) tools that make the production of video content a breeze. The second reason is our need to consume more video content.
YouTube marketing is a video marketing strategy that marketers, brands, and influencers use when they want to sell their products and services to their subscribers (and beyond) via YouTube's platform. Marketers accomplish this goal by leveraging videos, ads, and viewership that comes from a YouTube search.
So why should your brand care about YouTube marketing?
First off, YouTube's robust platform (plus its two billion monthly active logged-in users) gets results. The traffic it generates could help improve your SEO.

YouTube can help improve your brand presence through continuous customer engagement. This tactic involves using videos to share your brand's story and demonstrating your expertise while solving customers' problems.

YouTube provides brands and marketers with a convenient way to monetize their audience, in order to increase their bottom line.
How to come up with a YouTube marketing strategy
To develop a YouTube marketing plan, you need to do more than just shoot and share your live daily activities anytime you can. This process extends beyond which content to create, how to promote, and how to measure results. For many users, the multiple issues involved are often a big problem. Here are ways to come up with a YouTube marketing strategy for any year's worth of content...
Dig into YouTube's environment
Of course, we know the first thing you should have at your fingertips is a functional goal. Likewise, your customer profiles (or avatars) should be ready. These two tactics form the building block of every social media marketing strategy.
However, it is more crucial to make sure YouTube understands your content and knows why it appeals to a specific audience (or niche).
We know this platform thrives on content that keeps viewers engaged. So every time someone searches for your video, YouTube shows users a store of well-crafted relevant videos on their homepage.
Digging into YouTube's environment may involve ticking these boxes:
Using keywords
Naming your file
Using the description field
Tagging
Adding integrated cards and end screens
Choosing a category
Adding subtitles
Making use of the thumbnail feature
Generating ads
"So why are we checking these boxes?" you may ask. YouTube is not merely a social media platform, but also a search engine. Therefore, marketers need to optimize their content, in order to find it on YouTube (and even Google). These two platforms are intertwined. In short, understanding YouTube's ecosystem will greatly assist with your SEO ranking.
Go omnichannel with your distribution strategy
On other social media platforms, your distribution strategy can rely on the platform's interface. Most users hang out there. But with YouTube, things are a little different. You need to uncover the places your audience hangs out when they aren't on YouTube.
In other words, you need to identify other avenues, in order to promote your videos without solely relying on YouTube's interface.
For example, consider Awario. It has many video lessons on its learning center and YouTube channel, including how-to videos for using their product. These videos are subsequently shared on other social media channels, and links to them are added to potential subscribers in their email marketing campaigns.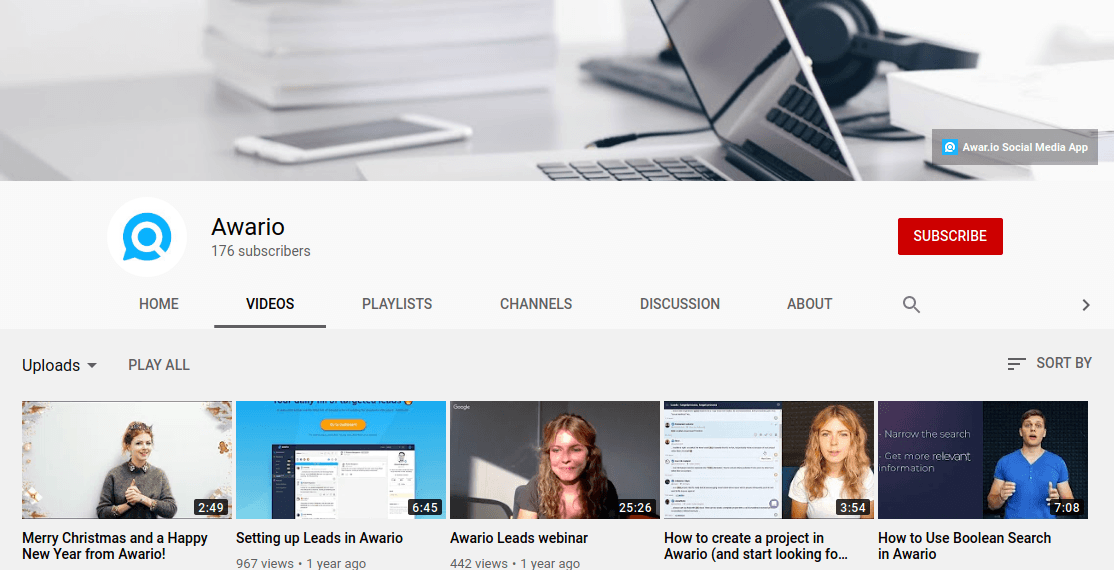 Thus, make your channel discoverable by seeding your content on other channels (such as Facebook), asking and answering queries on Quora, and even posting on Reddit forums. Also, don't forget to utilize the power of dark social shares by including links to your videos in your email and chat campaigns.
The aim here is to join other communities and make sure your audience regularly watches your content as you engage other content creators. It will also help you perform competitor analyses and measure other metrics (such as share of voice).
Craft a standard operating procedure for video production
As mentioned, consistently producing videos is the most time-consuming activity in the content production process. However, this process is usually influenced by a brand's marketing operations.
A workable video production system must adhere to a standard operating procedure (SOP). Then there will be consistency in the way you create and post videos.
Also, consider writing a statement of work (SoW) before you produce your video. SoW will eliminate indecisions, and it will show you whether the production system will work before you spend any resources.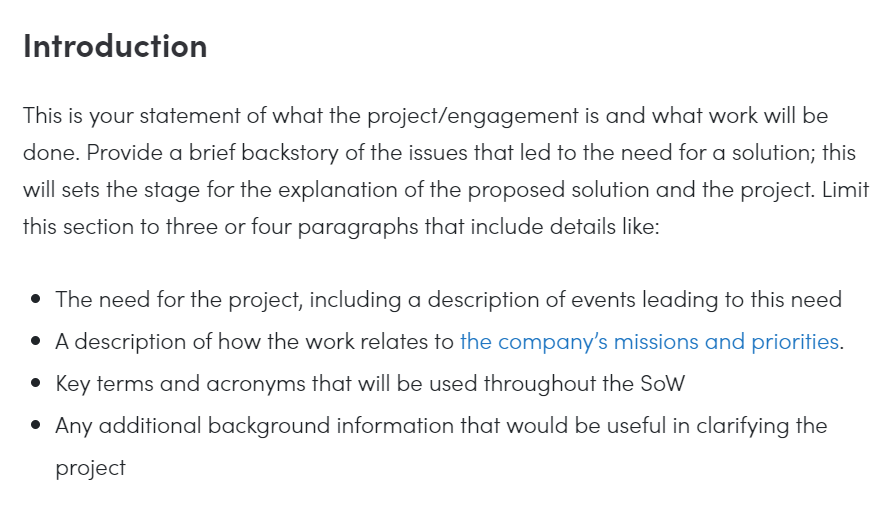 With your systems and processes in place, you may now create your editorial calendar, which is similar to planning a series of blog posts.
By planning out your content as a larger collection, you stay on track and eliminate time constraints that happen due to the occurrence of unfortunate scenarios.
Examples of great YouTube marketing
As you can see, successful YouTube marketing is complex and demands hard work. But it is doable. To give you the inspiration to get started, check out these five brands. Find out how they're rocking their YouTube marketing strategy.
The trick here is to learn from them, not to imitate them.
1. Help your audience reach their goals
Since every individual has some goal they want to achieve in life, sure way brands can increase trust and support from an audience involves helping them reach that goal.
Bodybuilding.com uses its YouTube channel to help its audience accomplish their health and fitness goals. Their playlist not only features workout themes, but also has motivational content, nourishment, and guidance from experts. All of these tools aim at ensuring their audience members meet their fitness, health, and (most importantly) appearance goals.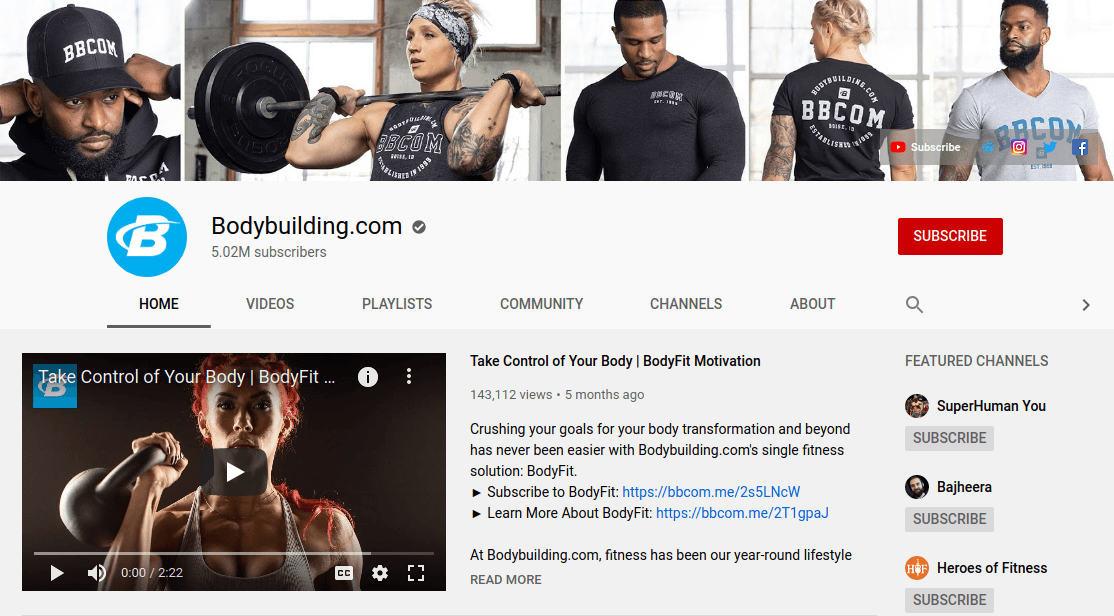 By helping subscribers fulfill a personal goal or challenge, you can make them feel like a part of the brand—instead of feeling like the brand is out to make money from their efforts.
2. Test paid ads with a targeted audience
There's a reason people love videos from Purple. They are insanely cute, and they have eye-catching visuals and distinctive purple colors. And they go viral.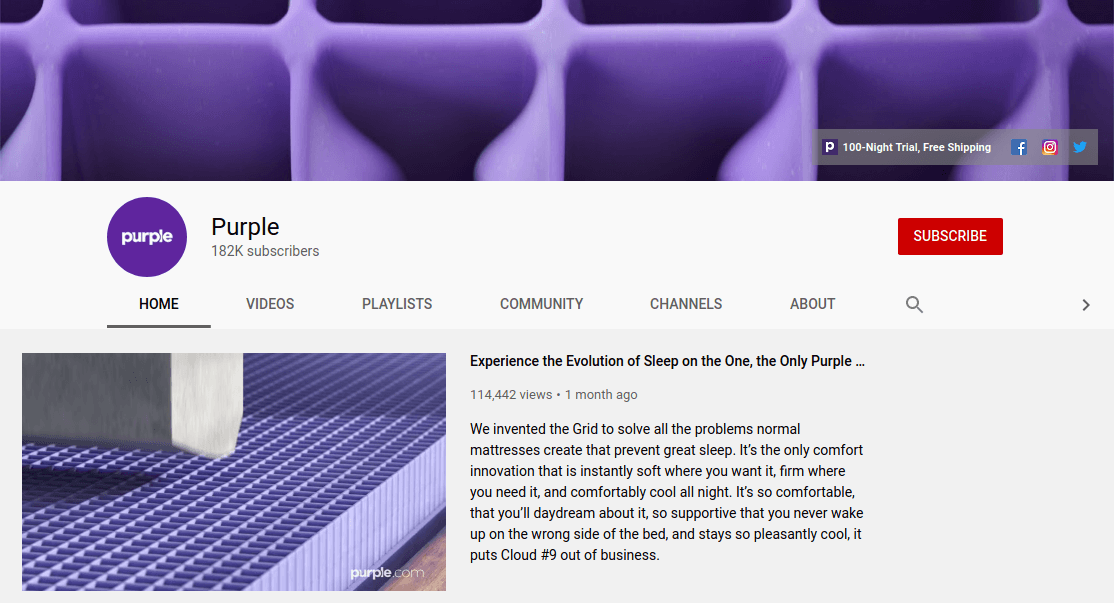 Purple uses various tricks that draw viewers' attention to their ads. One of these tricks involves pattern interruption, product comparison, the benefit method, and even explainer videos. But the biggest advantage is that most videos from Purple move away from the do-it-yourself feel that comes with many YouTube videos.
Purple's strategy is a marvelous way to make an audience feel understood and ensure viewers are glued to your content. This benefit prevents them from constantly scrolling their phones or clicking the back button.
3. Partner with сontent сreators
Content creators and brands can help one another in distinct ways. Influencers often have a large audience that they don't know how to monetize. And brands lack an audience to advertise to.
Thus, content creators and brands can find partnerships and endorsements that include the placement of products on the influences sites. For example, ViralHog both distributes viral content and connects content creators and brands who want to broaden their reach.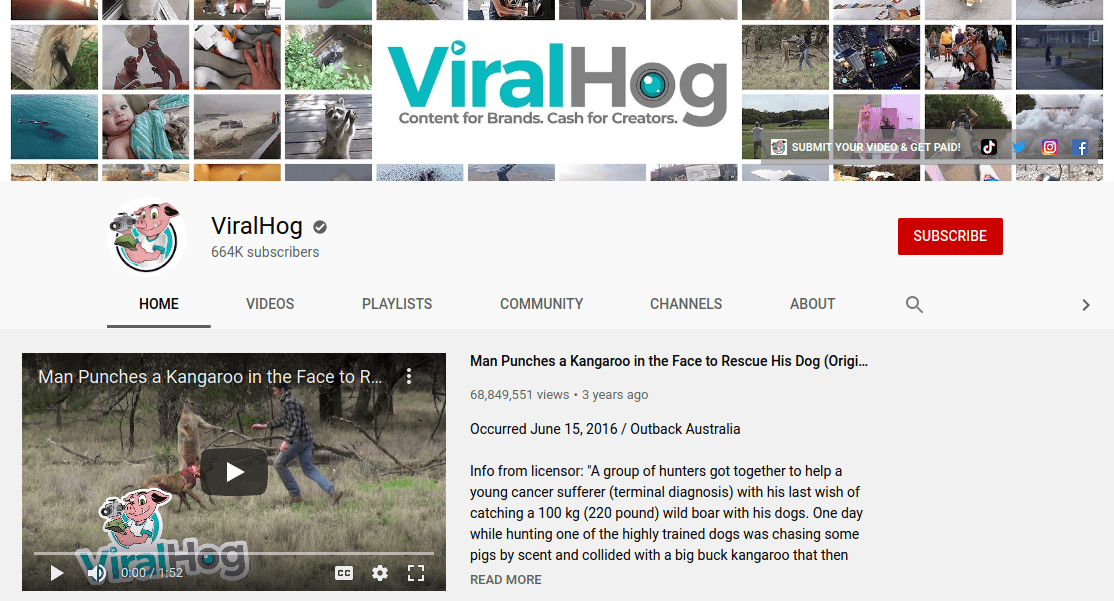 Partnering with content creators not only helps content creators expand their reach, but also provides them with ways to monetize the influence they have established. In addition, it encourages businesses to learn and test content producers, which results in more branded content opportunities.
4. Wearing or using the merchandise
Wearing or using merchandise is a ploy that brands have used since time immemorial. Though this tactic has largely been dominated by sports brands, fitness brands and other companies have hopped on the bandwagon. When subscribers wear or use their products in the videos, it elevates this impact.
In the video below, you can see an artist playing the guitar. Guitar Center has an extensive selection of popular guitars, keyboards, workstations, drums, basses, and studio gears that draw in music lovers and help build brand awareness every time someone uses the items in their collection.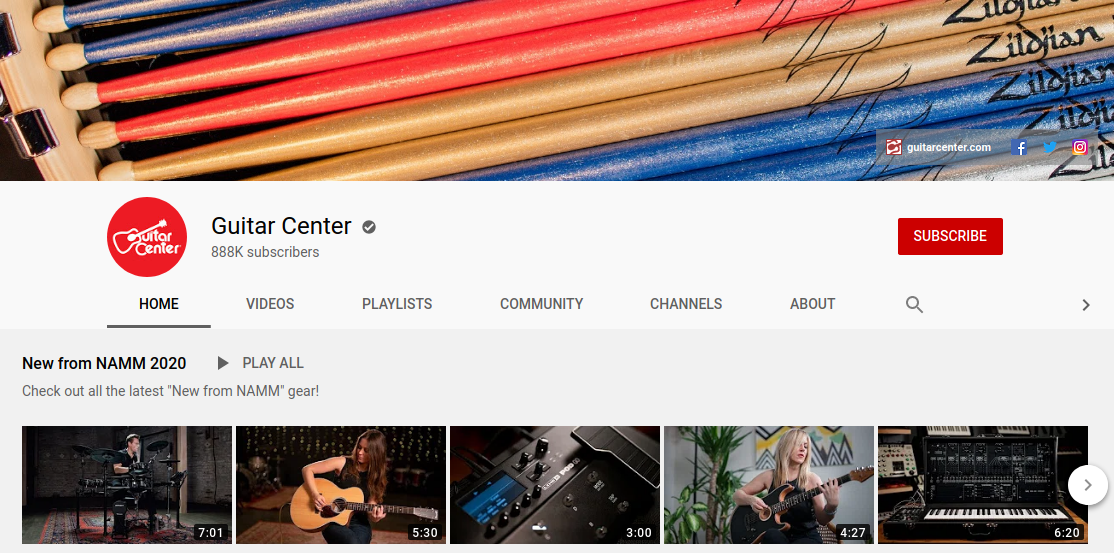 Wearing or using merchandise is a perfect way to explain quality or style choices, as well as add new items to your store. It also helps keep your audience attached to your products and allows them to continuously buy from you!
5. Collaborations
The benefit of collaborations is that followers are introduced to followers on another brand. This benefit is especially important for a new brand trying to break into a niche.
Often, collaborations bring in more engagement than other methods. And this benefit isn't limited to the form of introductions. It also includes tutorials, fun activities, interviews, contents, challenges, and other activities YouTubers in the same niche share.
GoPro not only encourages fans to submit a video to their channel but also allows them to enter contests. In these challenges, fans are compensated with GoPro Awards when they share videos of their products.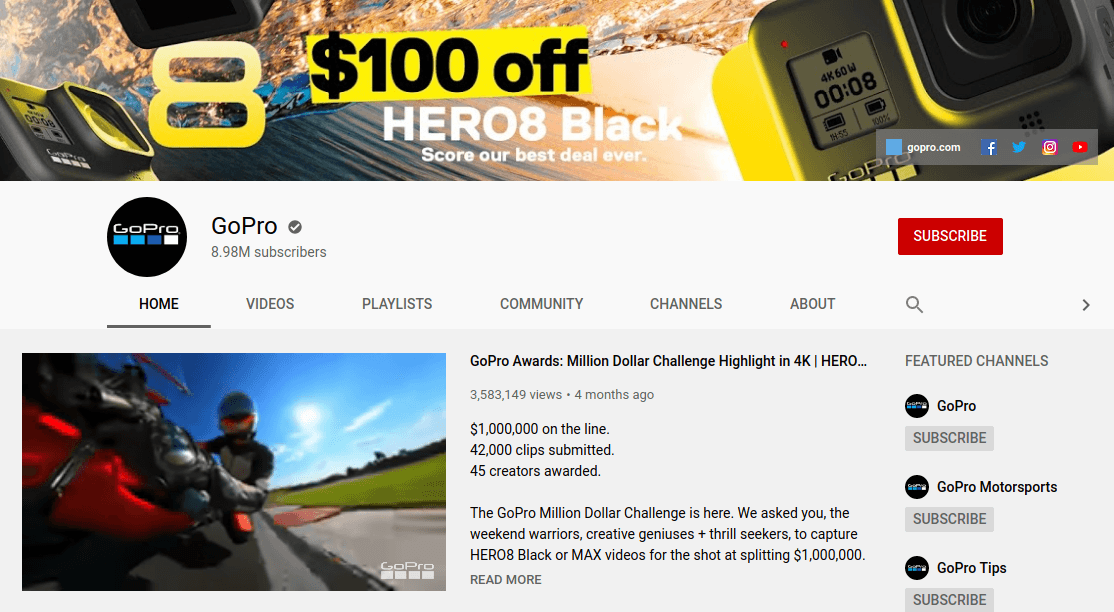 Collaborations build loyalties among followers and generate interest in a niche or topic.
Conclusion
YouTube has truly moved away from being a place where people and brands produce dumb videos for an extensive search engine. Today, it is a platform where you can provide your brand with an opportunity to distribute engaging visual content.
With more resources designed to make YouTube easy to use, marketing on this platform should no longer be just a side project where you can underserve your audience. Keep your audience engaged and entertained. And don't forget to keep tabs on the changes involved in your strategy.

Enjoying the post? There's more.
Sign up for our newsletter to get our best content by email.