How social listening can help building B2B digital marketing strategy

Summary
In this article, you'll discover the power of using social listening tools for building effective B2B digital marketing strategies in 2022 on practical examples from Awario. So, without further ado, let's get started
A digital marketing strategy is something any business needs to start with to have a strong online presence. However, building a marketing strategy is not always easy. You'll have to deal with lots of aspects from budget allocation to channel promotion decisions. Still, one of the most important goals is to establish a strong connection with your audience.
In B2C marketing, companies reach out to individuals, B2B marketing relationships can be more complicated. They often involve numerous stakeholders who will examine your proposal, hold different opinions of your brand, and finally will collectively make a decision whether to buy your product or not.
Businesses have to invest double the effort into the development of their brand image online to convince an entire company to purchase from them. This requires a lightning-fast reaction to any negative feedback found online, providing super-quick customer support, staying tuned into the news about their rivals' offerings as well as their marketing campaigns. But how to do this effectively while building a successful strategy and driving it forward? The secret is a handy social listening tool.
Why do you need social listening for B2B?
Just like carefully crafted communication with your target audience builds a solid foundation for effective lead generation, social listening tools underpin a successful online marketing strategy. With its help, you can clearly understand who your target audience is, better cater to their wants and needs, effectively address their pain points, firmly position yourself on the market, and much more.
For many B2B businesses having a social listening tool at their disposal is a must-have. It allows companies to avoid many uncertainties and quickly adapt to the rapidly changing customer demands as well as global politics and economic crises, happening more frequently than we would like.
At the same time, by using social media listening tools, companies can catch the newest trends as they emerge and be among the first to incorporate them into their marketing strategies.
Essentially, social media listening tools help companies hear what's happening with their brand, competitors, and target audience online and apply this knowledge to their business development.
So how can you harness the power of social listening tools for developing your digital B2B marketing strategy?
Sign up for a free Awario trial
See Awario in action with a free 7-day trial. No credit card required.
By signing up I agree to the Terms of Use and Privacy Policy
Finding your target audience
With social media listening tools, it's easy to identify who—your users or potential users—is interested in your brand and services. You can even go further than just scrolling the feed with the latest posts on various social media platforms about your brand.
Professional social media listening solutions offer their clients advanced analytics tools that can sort out your potential buyers by a variety of categories, including age, location, interests, etc. That's why, social monitoring tools with deep analytics are great for building digital personas.
Digital personas can tell you more about how your potential customers make their purchase decisions, which communication channels they use to search for your services, which region they come from, and much more.
Awario has already helped many businesses develop their digital personas by providing them with precise analytics tools. They analyze target audiences by many categories, including mentions, reach, language, age, gender, country, and much more.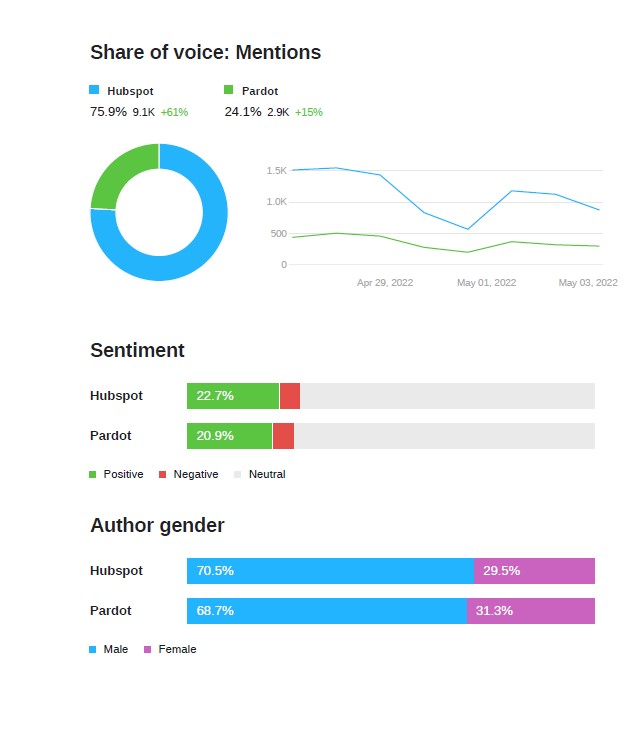 Here we can see that the company has established strong awareness of their brand. Most of their clients speak English, though they could expand their market to Spanish-speaking locations as well.
For example, a user persona from this company may be more likely to be fluent in English, and middle-aged male. Marketers can, of course, create more than one buyer persona using this data. You can see that 30% of females use the company's services, so diving deeper into the female audience and its needs could be a good place to start to build a targeting strategy.
Determining your brand positioning
Creating a strong brand position is a method that differentiates your brand from your competitors—placing it in the spotlight with your market area. That's why, when developing your brand image, you've got to consider a number of aspects, including tone of voice for messaging, appropriate content strategy, visual representation, etc.
Using social listening tools you can track how your customers percept your brand and the emotions it evokes for them. For this, you need to utilize a sentiment feature that shows customers' positive or negative attitudes toward your brand.
Let's get to some practical examples to find out how the sentiment feature works.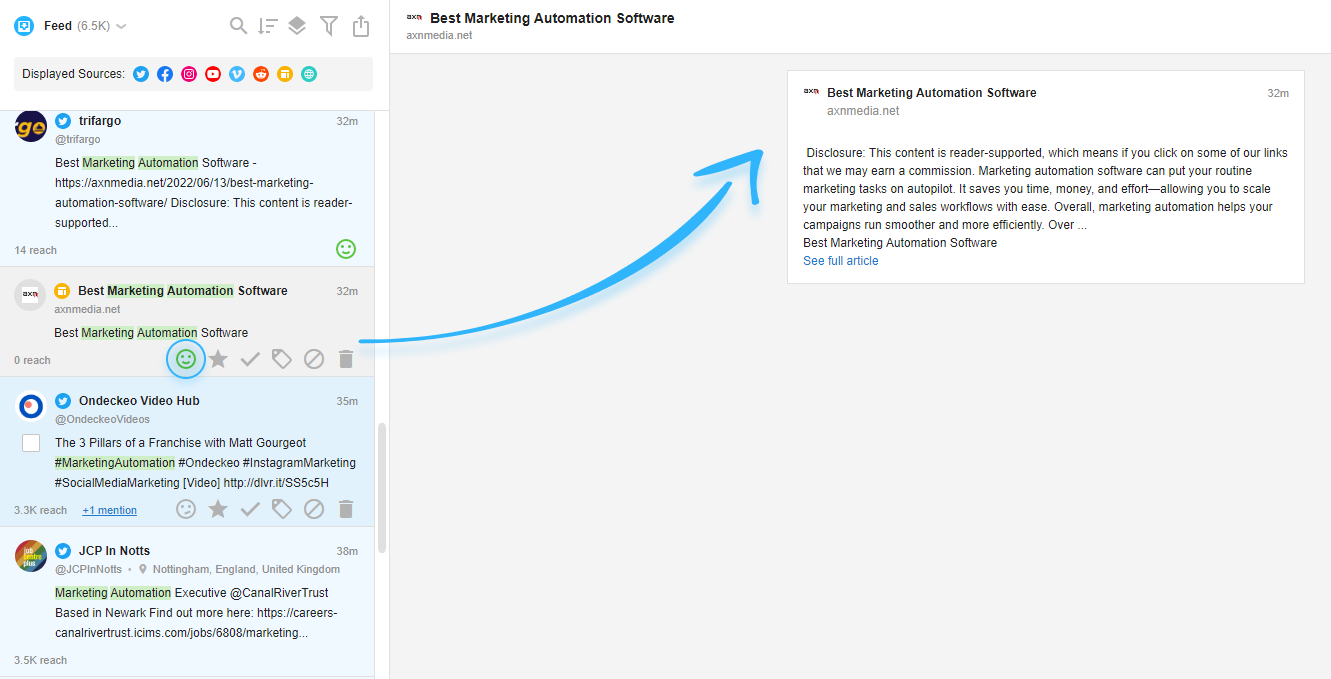 When you see positive feedback with a happy green face, you can always check who said that, what type of social media they used, and the content of that message. The same thing works with negative reviews—the green face then will turn to red and the content of the message won't be positive either.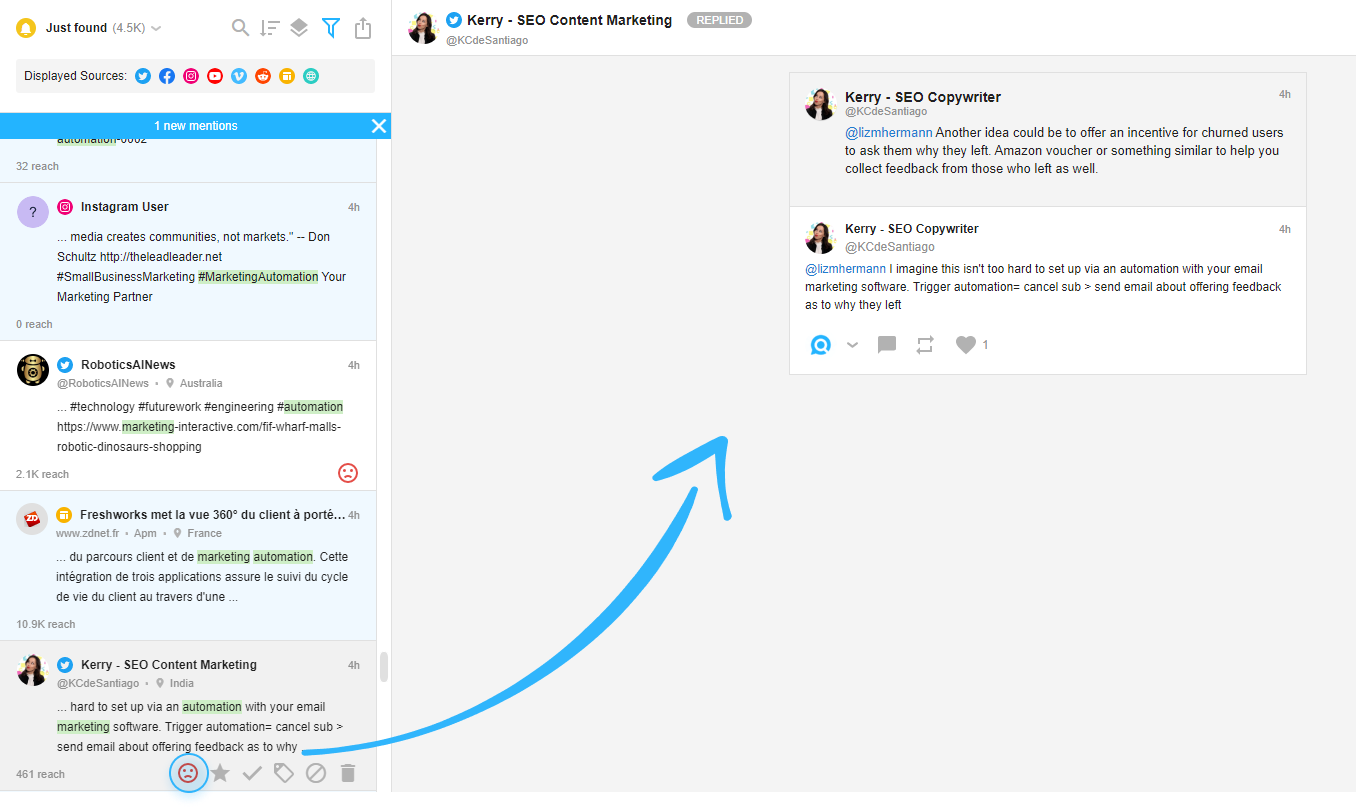 Even if you or your team don't speak the language the text is in, the message—like or dislike—is still clear. To get the details, you can always translate it and reply. Alternatively, for more positive messages, you can re-post or even put "like" for the message. This way, you can respond to any feedback and improve the reputation for your company.
Apart from showing how your customers perceive your brand, social monitoring tools can help you find out which new trends have recently appeared in your industry niche. For this, these apps use word clouds where they gather the most essential words and topic starters.
Here is how it works.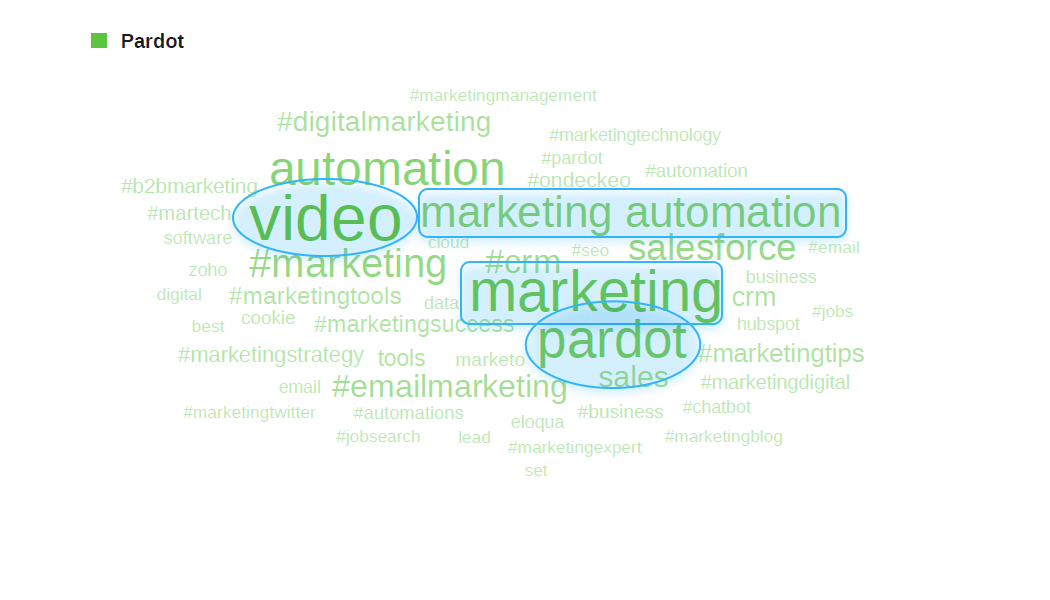 The biggest words have the most mentions in the topic cloud. By clicking on one of the words, you'll get to the feed with the topic word mentioned.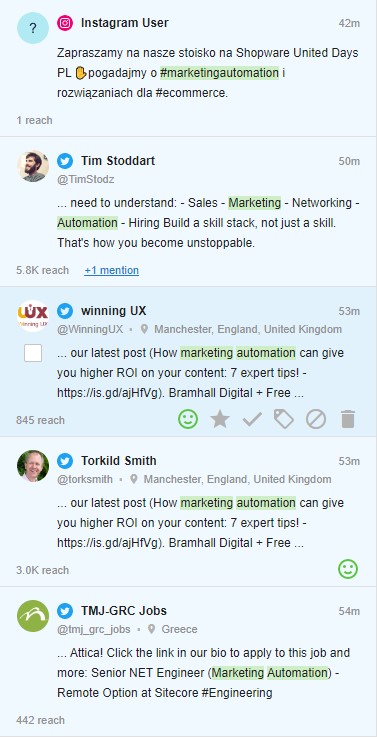 This way, you can learn more about how your brand positions itself, what your potential customers think about it, and get new ideas on how to strengthen its image online.
If we go further and open the message from Stellaxius, we'll see that Pardot managed to position itself in the market as this post on Twitter correctly defines the purpose of the product—"automation of marketing efforts." Knowing this helps its competitors rank for similar keywords and target this audience.
Enjoying the post? There's more.
Sign up for our newsletter to get our best content by email.
Running competitive analysis
Social listening apps with detailed analytics tools work great for competitor analysis. All you need to do is just to indicate the companies that provide similar services in the Alerts or when creating a new project. This tool will gather the latest mentions of your competitors and you'll be able to compare them in your marketing strategies.
Here is the information you should look for in the social media posts feed:
Product offerings

Sales strategies and tactics

Digital content marketing and media presence.
By comparing your and your competitors' brands using statistical data, you'll be able to discover the strengths and weaknesses of each brand and see the development prospects for your business.
To highlight this, let's take a look at two brands below: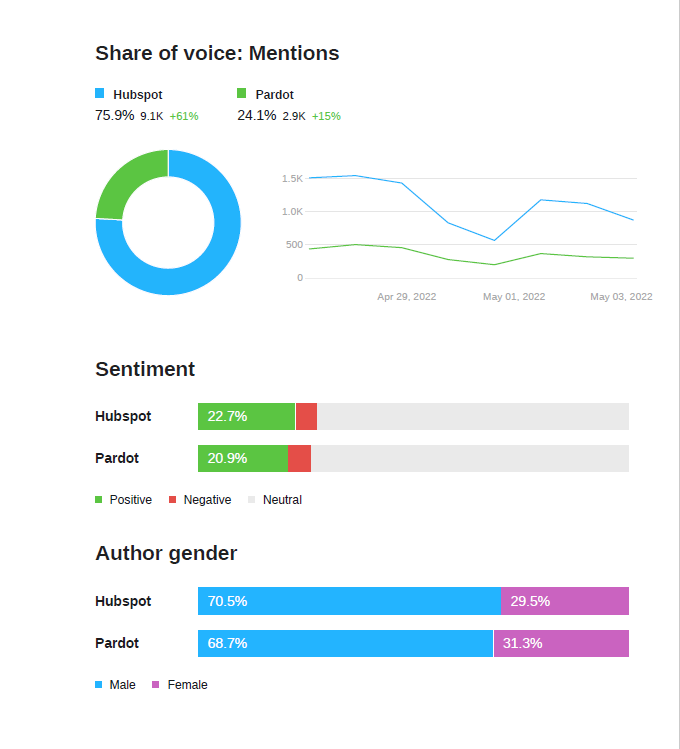 Here we can see that one of the companies has a bigger and stronger digital presence online with 75.9% of mentions on social media whereas its counterpart has a weeker presence with 24.1%.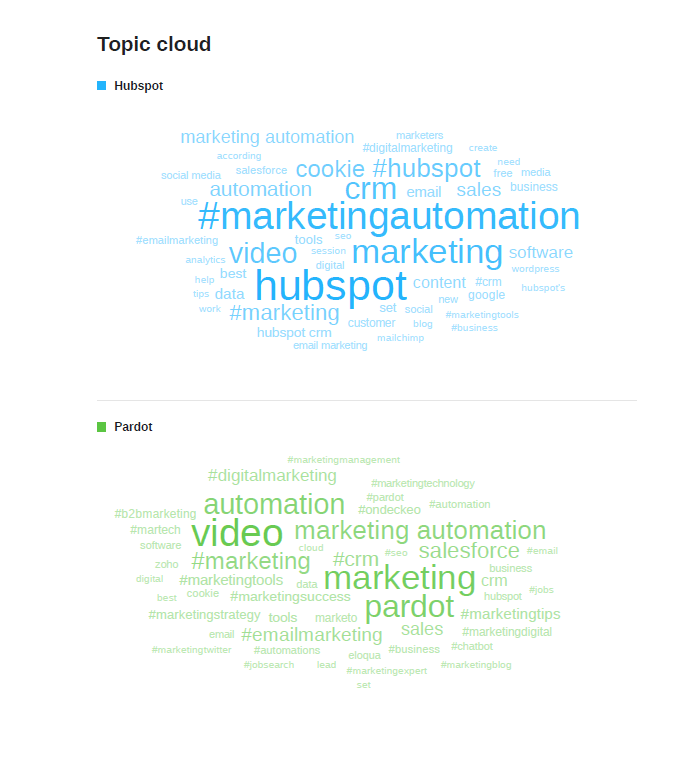 From the results above, it's obvious that Hubspot works heavily on its digital presence and online promo strategy. Topic cloud gives some clues, Hubpost's marketing team puts in the extensive effort into the growth of branded traffic, i.e. SEO takes the lead in their digital marketing. At the same, Pardot's topics cloud shows a lot of hashtags, meaning the marketing team invests in social media a lot. It's actually a great example of competitors' research. We managed to find out what channels work as marketing and lead generation resources for both companies.
Exploring marketing channels
For an effective digital marketing strategy, it's essential to use a multi-channel customer approach. It means that your business should be available on various social media sites, blogs, messengers, and other convenient for your customer online sources.
To understand which marketing channel your customers use the most to interact with your brand you can use the mention stats report or alert comparison report to identify which source brings most brand mentions. Awario has a rich set of media sources, including Twitter, Facebook, Instagram, YouTube, Vimeo, Reddit, News/Blogs, and other websites.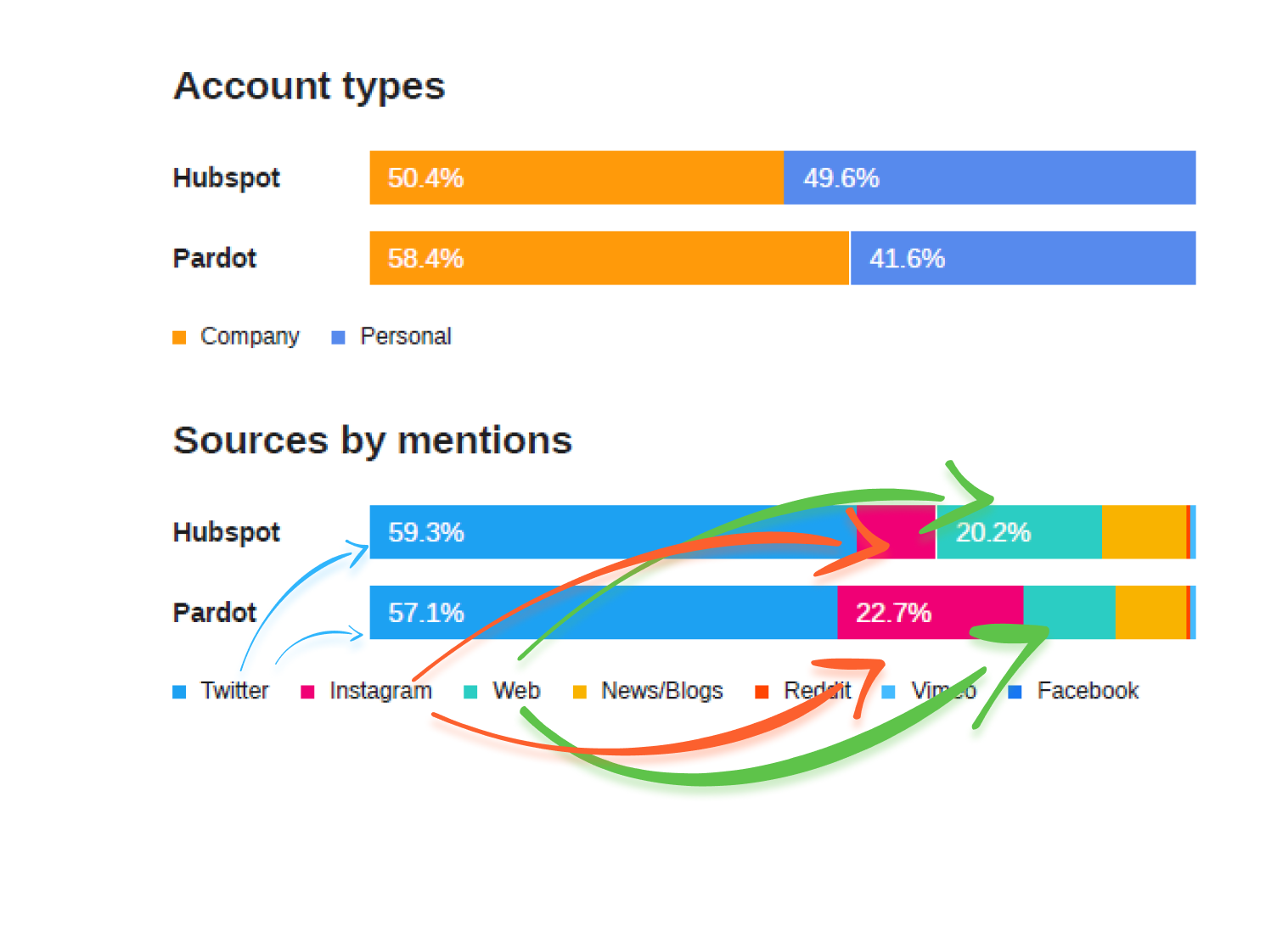 Moreover, each post is labeled, highlighting which media source Awario took the data from. This helps businesses to find out which channels are the most popular among their customers as well as gain insights on which ones require more digital marketing effort.
Optimizing your digital presence
For any B2B business, a corporate website is an essential attribute that reveals its identity. That's why potential customers will judge the work of an entire company by how nicely and neatly it looks. For this, marketers usually turn to the help of SEO specialists.
SEO usually involves data structuring, finding and fixing broken links, adding keywords to website content, site speed optimization, and much more. By utilizing software listening tools, you can help your SEO specialists to do their work much faster and with better quality. For example, they can use topic clouds to generate keywords for copywriters or build new links.
In Awario, you can check which words users associate the most with your brand and company by checking the topic cloud. Remember the rule of thumb? The bigger the word is the more popular it is among your potential clients.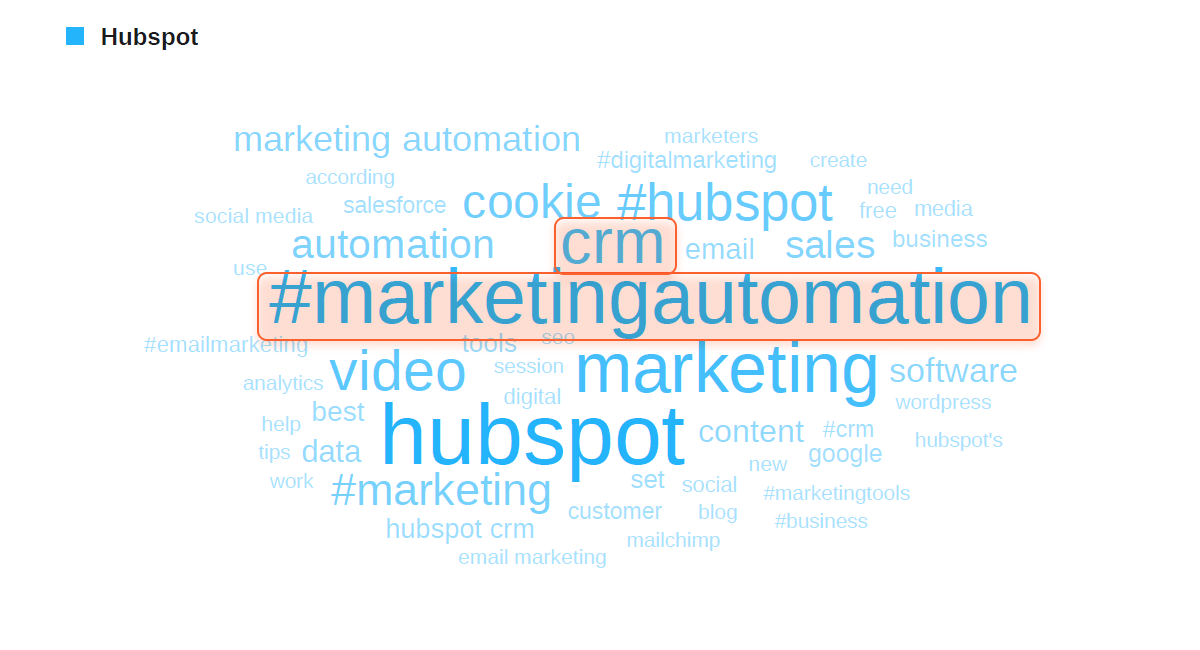 Effective digital influencer marketing
One of the most effective marketing strategies for a business is to be recommended by an opinion former. Endorsers and social media influencers usually have a well-formed audience who listens to their views and follows their advice. In the case of B2B, the major influencers are the experts in a particular industry segment not necessarily known to the rest of the world. A modest game developer would be over the moon if Hideo Kojima recommended their product, though a lot of netizens have no idea who he is.
While having a list of influencers and partners is always a good thing for a business, it can be a serious challenge to find them. This task becomes much simpler when you use a social media listening tool. Awario provides separate reports on influencers for any of your alerts.
Start monitoring your brand today.
You should've been doing it yesterday – but the next best time is now with Awario.
By signing up I agree to the Terms of Use and Privacy Policy
Using lead generation channels
Generating lots of leads is the most desirable dream for any marketer. Leads are the people who are ready to obtain your product and are searching for it online. Some social media listening tools like Awario gather potential leads in one place in the Leads section.
The Leads section contains social media posts where people request information about your product or mention it. All you need to do is just enter the game and start replying to them.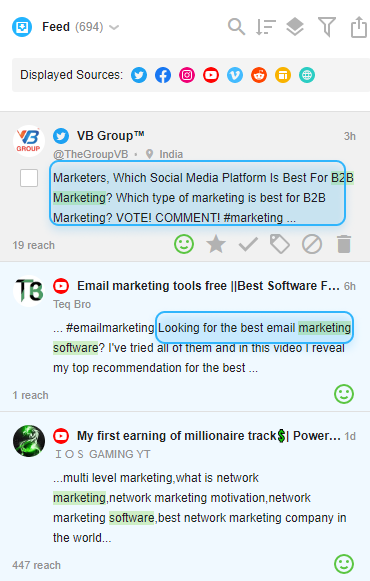 The only thing to consider is that you need to carefully align your lead search request. Read more about how to handle the Leads section in Awario and get the hottest leads ready to buy for your brand at the moment.
Next steps to a successful brand positioning strategy
A digital marketing strategy is what you should start with if you want to establish a strong online presence and start selling your services. Social media listening tools, such as Awario can help you enhance your marketing strategy in many ways from defining your target audience and niche influencers to running competitive analysis.
If you're still hesitant about using social media tools for your business, then try our free 7-day trial and make the most use of Awario to create your B2B digital marketing strategy.