Lead Generation guide: how I used Leads to find clients for agencies
Awario was invented to help marketers. So when we evolve our tool (it's quite new, so we do it all the time), we first have an idea of how marketers could be using the tool, and then come up with features that would bring the idea to life. At all stages, we test whether our marketing ideas were good in the first place and whether the tool works the way it should.
As an experiment, I decided to find leads for marketing agencies using Awario Leads feature. In this post, I'll take you through the process, so that you could understand the workflow, see what kind of results Leads brings, and later repeat the process for your own industry.
1. Open Awario Leads.
First, I went to Awario and found Leads in the left-hand menu.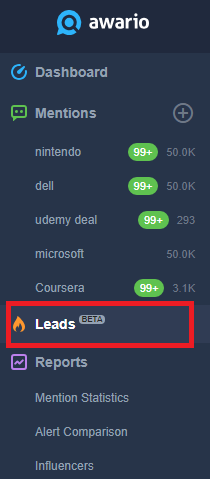 I clicked on Leads, looked at the description of what the feature does, and clicked on TURN LEADS ON.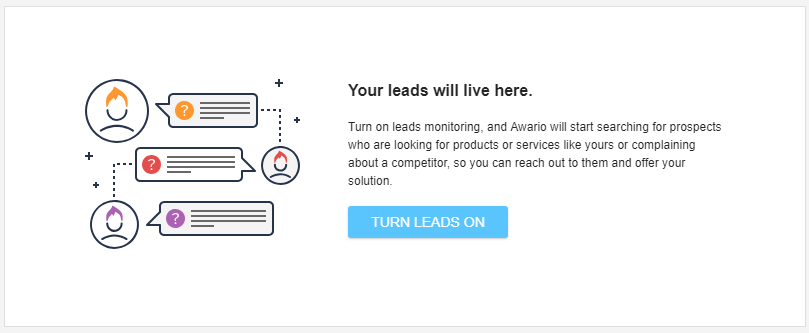 2. Fill out the form.
After I clicked on the button, that's the form that appeared: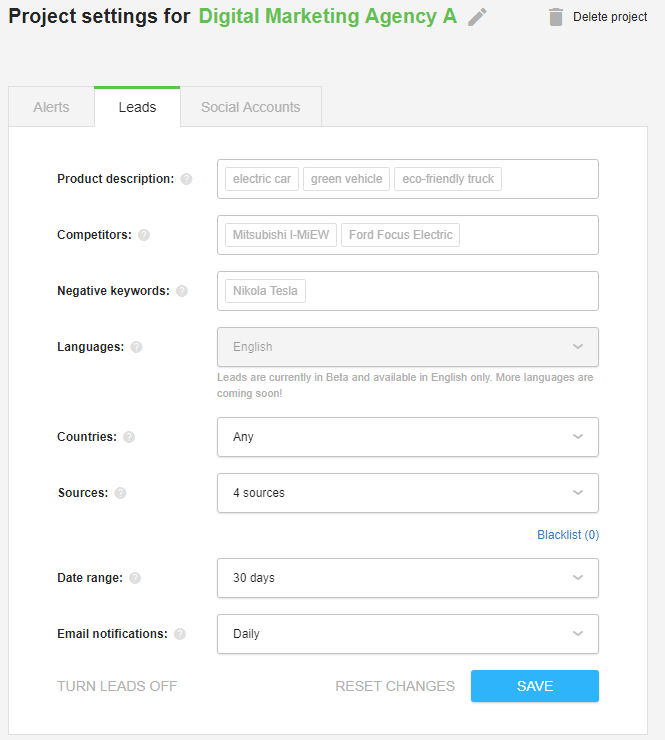 Filling out the form required some consideration. Which kinds of clients was I targeting?
I figured, these will be small businesses and enetrpreneurs looking for the online advertising and SEO services. This means I had to include keywords in the product description that would reflect the way people ask about such services online. For example, "SEO help" would be a good keyword, because people could use it in phrases such as "Can anyone help me with SEO?".
I came up with a number of word combinations and entered them as keywords. That's what I got as a result: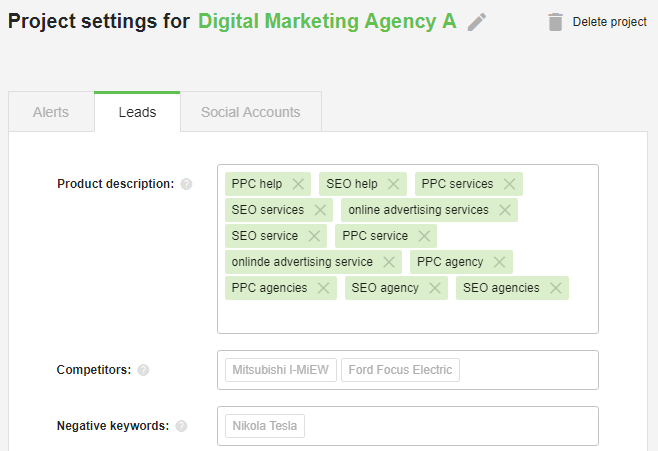 I did not add competitors as this is a hypothetical digital marketing agency. However, I highly advise you to add a couple of your main competitors, if you'd like to get mentions with complaints and problems directed towards them. You can then respond to these problems with your own solution and win over your competitors' customers.
Other things to fill out are:
negative keywords (words that signal that you don't want to see a mention)
countries: choose the country you want to get mentions from (e.g., the U.S.) and "unknown" to get mentions from sources that don't let you know the location (e.g., Reddit.)
sources: I went with the pre-built option (Facebook, Twitter, Google + (it worked back then), and Reddit. Now I can say that it's better to choose Twitter and Reddit since they are the most popular spaces for such queries.
date range: I wanted to find recent posts, so I went with the pre-set 30 days.
Awario Leads only works in English so far, so you'll see that the language option is disabled.
After you've filled everything out, click Save and wait for the tool to find leads. That's exactly what I did.
3. Clean up.
Awario Leads is not perfect yet. It may find not only leads, but also businesses that offer the same services as you do, and use similar phrases to promote themselves online (e.g., "Looking for SEO services? Look no more!"). That's what happened in my case: a bunch of digital marketing agencies showed up on my feed offering SEO and PPC services. To not have them crowding the space, I blacklisted all of them. To do that, take any mentions of an author you don't want to get mentions from in the future and click on the crossed circle icon.


4. Look through the mentions and reply to leads.
Here's a print screen from my first search for leads for digital marketing: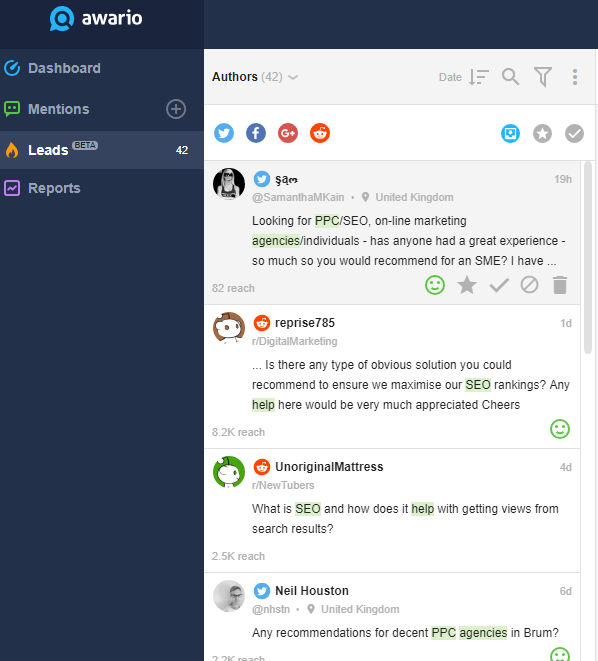 As you can see, even in a couple mentions out of forty-two that arrived within the first hour (the tool collected mentions from up to thirty days before, as you might remember), there were mentions worth replying to. In Awario, you can hit Reply, and the tool will open a Twitter/Reddit window where you can start a conversation. You can reply to leads that come from Facebook straight from the dashboard.
As you can imagine, I didn't go through with replying to leads, because, well, we're not a marketing agency. However, I think this case shows how working with Leads should be done.
Try it for your industry and let me know in the comment section how it went. Or ask questions - I'll be happy to answer all of them!
The web is talking about your brand. Start listening.
Sign up for Awario to never miss a mention of your brand.
Free 14-day trial, no credit card required.
By signing up I agree to the Terms of Use and Privacy Policy
P.S. If you want to try out Awario Leads, but the process seems too time-consuming or too complicated, leave a comment with your brand name, and we'll create a project for you.