Lead Generation guide: how I used Leads to find clients for agencies

Article summary
In this article we'll show you how to launch lead generation for social selling with Awario. The examples provided below will help us learn more about both useful and misleading practices you can face while trying Awario Leads among your social selling techniques.
Awario was invented to help marketers. So, when we evolve our tool, we first have an idea of how marketers could be using the tool, and then come up with features that would bring the idea to life. At all stages, we test whether our marketing ideas are good in the first place and whether the tool works the way it should.
Today social selling is a major ground for marketers and salespeople. 84% of C-Levels tend to purchase via social media proving social media sales extremely powerful. 78% of sales managers who switched to social selling are surpassing their colleagues who don't use it yet.
Lead generation for social selling
It is important to address social media selling in your everyday business processes. Social listening tools are good for assessing a brand's social media selling potential, as they allow companies to learn what people say about their products and those of their competitors. Your accounts' user engagement on social media mirrors your success in social media selling as well as inspires you to interact with users more ensuring productive workflow and supplying your brand with highly efficient concept of social media selling.
Awario tool pays special attention on monitoring social media, as many users' opinions and discussions are centered there. Awario Leads is created to help you raise your social selling level.
As an experiment, we have launched lead generation for marketing agencies using Awario Leads feature. In this post, we'll take you through the process, so that you could understand the workflow, see what kind of results Leads brings, and later repeat the process for your own lead generation for social selling strategy.
How to conduct lead generation marketing step by step with Awario?
1. Create a Leads alert
Open Awario app and go to the left panel. You will see Leads below your Mentions tab.
Click Leads and fill out the fields.
Which kinds of clients will we target here?
Let's try to search among small businesses and entrepreneurs looking for the online advertising and SEO services. This means we had to include keywords in the product description that would reflect the way people ask about such services online. For example, "SEO help" would be a good keyword, because people could use it in phrases such as "Can anyone help me with SEO?".
Here's a number of word combinations entered as keywords. That's what we've got as a result: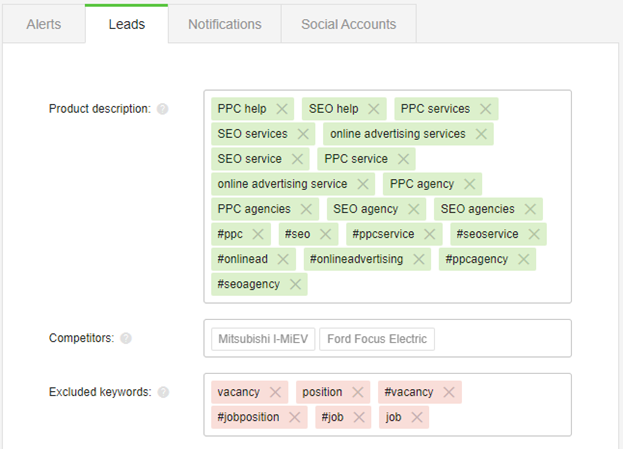 We highly advise you to add a couple of your main competitors who just can't be overlooked in lead generation marketing and social selling, and to get mentions with complaints and problems directed towards them. You can then respond to these problems with your own solution and win over your competitors' customers. Filling out the Competitors field is essential when it comes to lead generation strategy.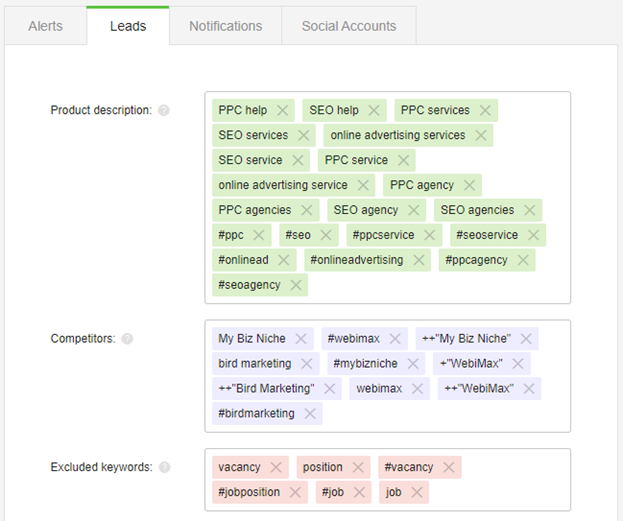 The list of keywords and competitors has been altered a couple of times to receive more relevant leads. Here's how it looked later: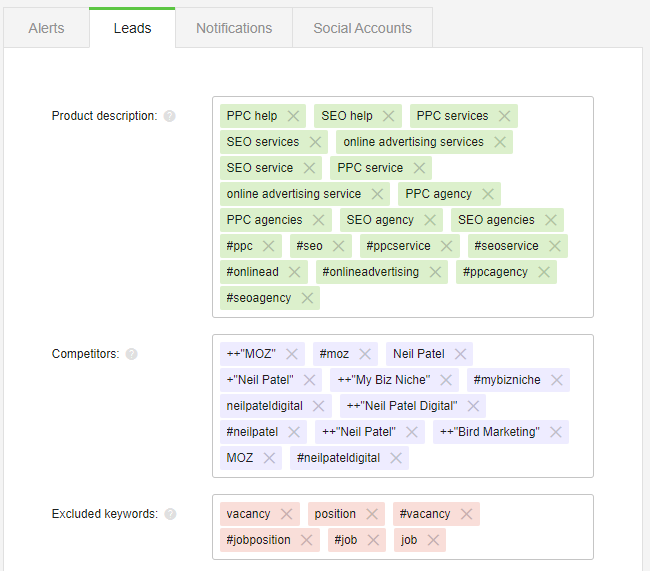 The search will also find which problems pose competitors in their publications.
Other things to fill out are: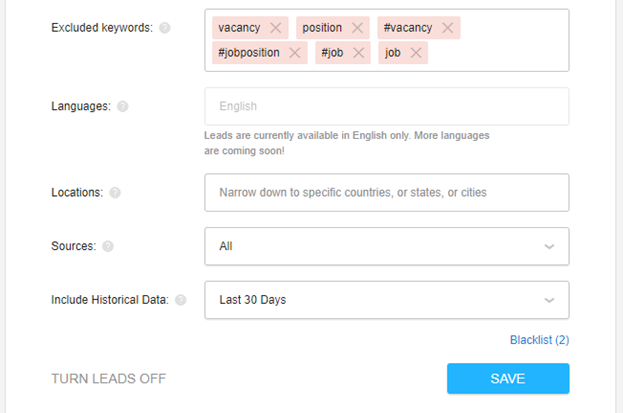 Excluded keywords (words which you don't want to see among your mentions)
Locations: choose the country you want to get mentions from (e.g., the U.S.) and "unknown" to get mentions from sources that don't let you know the location (e.g., Reddit.)
Sources: here we choose all source just to begin with. In case the leads begin to get accumulated in large amounts, we can decide which sources to choose as priorities. You can also analyze which sources bring you more useful queries from users and pick only them next time. Focusing on particular social networks is part of your own developed social selling strategy.
Include historical data: preset 30 days are somewhat standard for receiving fresh results, although the received leads might not be enough, and some interesting insights are hidden within a longer period (6 months ago, last year, etc.)
Unfortunately, the language option is disabled, as Awario Leads only work in English.
After you've filled everything out, click Save and wait for the tool to find leads.
2. Clean up
Awario Leads is not perfect yet for pure social selling. It may find not only leads, but also businesses that offer the same services as you do, and use similar phrases to promote themselves online (e.g., "Looking for SEO services? Look no more!") which can't be part of your lead generation strategy. A bunch of digital marketing agencies showed up on our feed offering SEO and PPC services. Besides, there appeared some facts and tips concerning the topic, users' recommendations, general questions about the researched topic.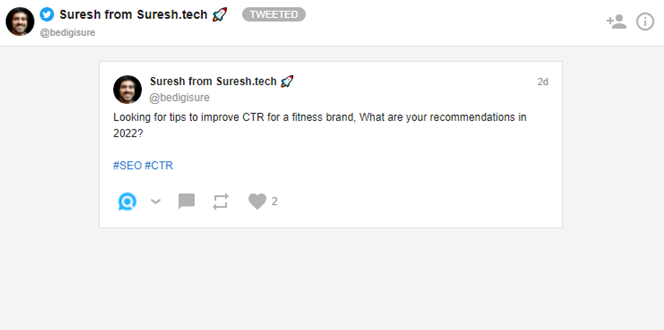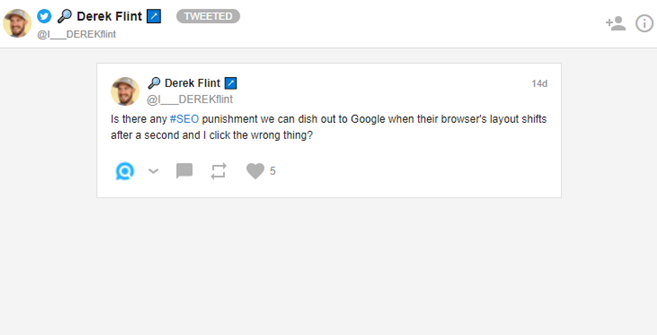 However, we've successfully managed to avoid loads of results with people looking for a job thanks to indicating the excluded keywords during the Leads alert creation, eliminating "vacancy", "position", "job position", etc. mentioning from the very beginning. These are definitely useless when it comes to the core of social selling.
To prevent crowding the Leads space with unneeded results, blacklist authors. To do that, take any mentions of an author you don't want to get mentions from in the future and click on the crossed circle icon.
Here are some helpful results we received which can be important in your social selling endeavors and considered as Leads depending on your average customer profile.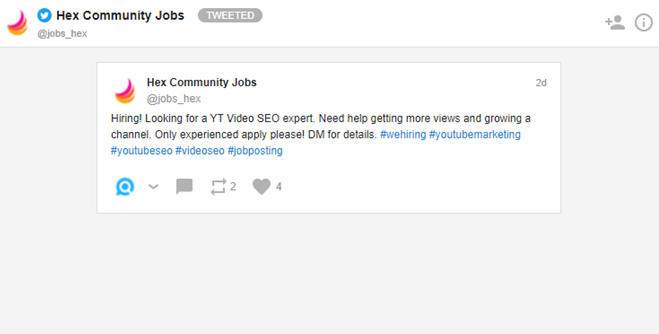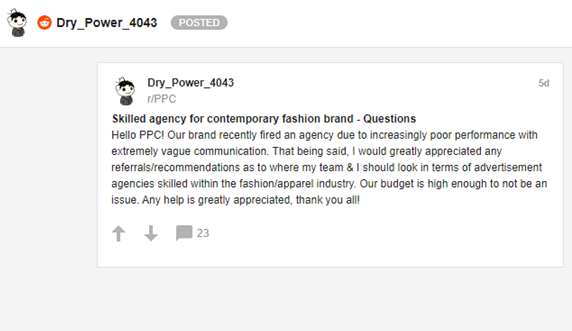 Here we have even a poll posted on Twitter, comprising a number of potential competitors within our topic search. It could have been a good example of what you can find after you enter competitors' brand names, but these brands just weren't featured in our list in Competitors field.
Which SEO tool would you recommend #SEO #DigitalMarketing #seotools

— 🇺🇦 Going into SEO (@ImGoingIn12) May 17, 2022
As for the competitors we actually entered in the field, here are the results which mentioned the brands we've added to the Leads alert: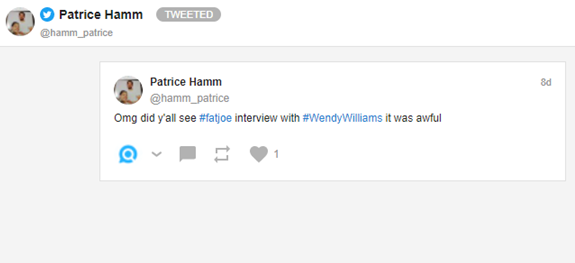 #fatjoe mentioned here is an American rapper and definitely not a FATJOE marketing agency. So, now we can go to our alert's Settings and add at least one more excluded keyword.
Important
Remember, that the more time you give Awario for monitoring, gradually adjusting your search by adding new and excluded keywords based on your interim leads, the more chances there are that your leads will become more appropriate and closer to your social selling needs.
You might see competitors mentioning themselves in your feed and see what activities they conduct within their social selling strategies, as Awario Leads can detect some negative experience and recommendation which is mentioned in a company's publication (here by a digital marketing agency My Biz Niche):
Here a Vimeo user criticizes a number of companies we've added as competitors for our Leads monitoring. Mentions in such self-ads might be useful in finding possible weak spots of your competitors. Also, they can drop a hint at what people want or how professionals in your niche present themselves.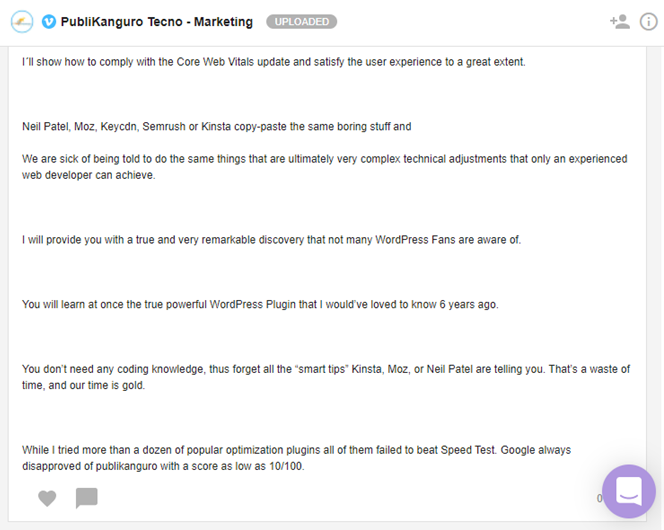 Analyze this, analyze that.
Grab Awario's free trial and run a social listening analysis of your own.
By signing up I agree to the Terms of Use and Privacy Policy
When searching for particular mentions, from a specific source, location, or within a specified reach range, go to Filter mentions at the upper panel of your feed and narrow down your search contributing to correct lead generation marketing.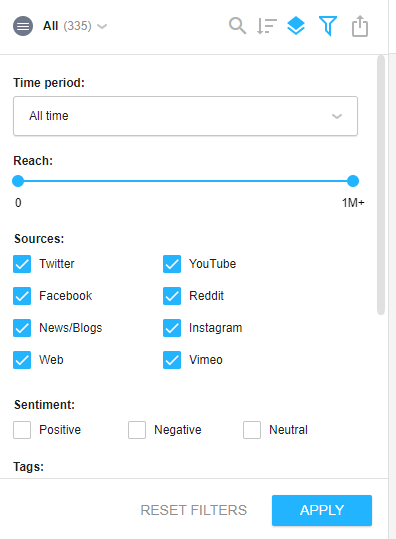 When looking for the most important and resonant Leads sort your feed by Reach making the most popular mentions pop up at the top of your possible social selling opportunities.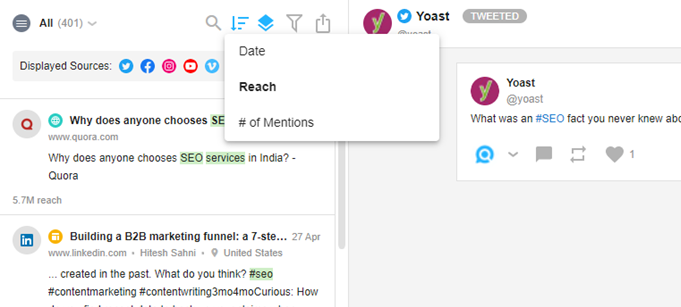 Keep coming back to your Leads alert settings and add excluded keywords taking in consideration your results. Based on our output reviewed above we need to exclude mentions containing the content we didn't mean. Many brand names of the picked competitors refer to other context (e.g., Moz can be found not as a SEO software, but as a nickname of Morrissey, the frontman of the Smiths). We would advise you to exclude such words, as seo expert, seo job, seo work, because there are lots of users who promote their services, and this has little in common with your social selling strategy.
3. Lead generation do's and don'ts
Let's revive helpful points and steps which led to confusion.
Do:
Allocate at least a week or two for your lead generation. Awario will grant you with more precise results if you give it some time to properly explore the subject of your social selling.
Open the Leads alert settings to tweak some inputs for better outcome. Pay attention to what you don't want to see in your feed and blacklist it or add new excluded keywords.
Remember to add hashtags among keywords to cover as many useful social media posts as there's offered. Type in a number of your search subject variations, as people can put your query in different words (SEO advice, SEO product, SEO help, PPC agency, PPC agencies, PPC help, etc.).
Don't:
Put to many competitors and their brand name variations, as the app will ask you to keep it concise. It concerns keywords as well, don't add to many words for search, delete the ones you don't need anymore, and substitute new ones for them. Make sure you have a clear and accurate social selling target.
Get discouraged if you can't achieve the best lead generation which can generate sales straight away and the results don't meet your expectations straight away. Sort your feed, enter a keyword you're curious the most about and search across your feed. Go through these leads and read them. You will realize quick in which direction to continue your search and what keywords should be changed.
Got an eye for data?
Subscribe for more Awario research, analyses, and how-tos.
In brief
Lead generation for social selling purposes is a delicate process. It is designed to bring you customers based on their posts where they look for recommendations, advice about a product or service. To filter these valuable leads you can direct Awario indicating what you want to be found and which results are out of your searched context. You will start to receive your first leads within a few minutes, but make sure that you give Awario some time to dig deeper and provide you with the most fitting catch to ensure better social selling performance.