The ultimate guide to competitor analysis (with template)

Article summary
Competitor analysis can be hard. In this article, we will share the competitive analysis framework the Awario team has developed, with plenty of social listening tips to help you through the process.
Competitor analysis can be hard. It's particularly hard (and confusing and incredibly time-consuming) if you're relatively new in business. Most of the data is ridiculously difficult to get. Even if you manage to dig something up, you always seem to be left with more questions than answers.
How did they manage to get $10M in funding?
Did that absurdly expensive ad campaign pay off?
Did their CEO leave because things aren't going well at the company?
What does it all mean?
At least that's what we felt when we were just getting started with competitive analysis. Whether you're facing a similar struggle or just aren't sure where to start, we hope this article will help you navigate through every step of the process.
In this article, we will share the competitive analysis framework our team have developed (through weeks of research and dozens of iterations), and give you some tips on where to look for data that isn't publicly available.
But before we start…
What is competitor analysis?
Competitor analysis is the process of evaluating your competitors' companies, products, and marketing strategies.
To make your analysis truly useful, it's important to:
Pick the right competitors to analyze
Know which aspects of your competitors' business are worth analyzing
Know where to look for the data
Understand how you can use the insights to improve your own business.
This brings us to why competitor analysis is worth doing in the first place.
Start monitoring your competitor analysis today.
You should've been doing it yesterday – but the next best time is now with Awario.
By signing up I agree to the Terms of Use and Privacy Policy
Who can benefit from an analysis framework?
This framework will work well for entrepreneurs, business owners, startup founders, product managers, and marketers.
It covers business metrics, a product analysis, and a marketing assessment, with the marketing bit being a little more in-depth. Feel free to skip certain parts if you're only interested in one aspect, or better yet, delegate some steps to respective teams if you can.
It doesn't matter much what kind of product you're selling or how mature your business is. To use this framework, you may already have a fully functional product, an MVP, or even just a product idea. We'll be using certain tools to facilitate and automate certain bits of the process. Most of them are either freemium or have a free trial available, so all that you'll need to invest into the analysis is your own time.
Why do it?
Done properly, competitive analysis will give you plenty of quantitative and qualitative data to back your own business decisions (and no, we are not talking about cloning your competitors' strategies to come up with a second best product, although this can sometimes work ).
f you need more data from either quantitative or qualitative research, employing mixed method research can be highly beneficial. This approach will aid you in identifying your customers and understanding their demand for your products effectively. By combining various research methodologies, you can gain deeper insights and make more informed choices for your business.
Namely, it can help you:
Develop (or validate) your Unique Value Proposition
Prioritize your product development by focusing on the aspects of competitors' products customers value the most
Improve your product by capitalizing on competitors' weaknesses customers complain about
Get benchmarks to measure your growth against
Uncover market segments that aren't fully served by competitors
Create a new product category by identifying gaps between what your competitors offer and what the customers need
Who even are your competitors?
We can sense you rolling your eyes at me, but hear me out.
If you're serious about competitive analysis, it's not enough to just evaluate the two Industry Leaders everyone's talking about (that kind of analysis will likely get you depressed real quick).
The competitors you pick for the analysis determine the insights you'll get at the end, and the decisions you'll make, based in part on those insights. That's why including different kinds of competitors (big and small, direct and indirect) into the analysis is critical if you want the results to be comprehensive.
Here's a handy way to think about your competition that's based off of Myk Pono's classification: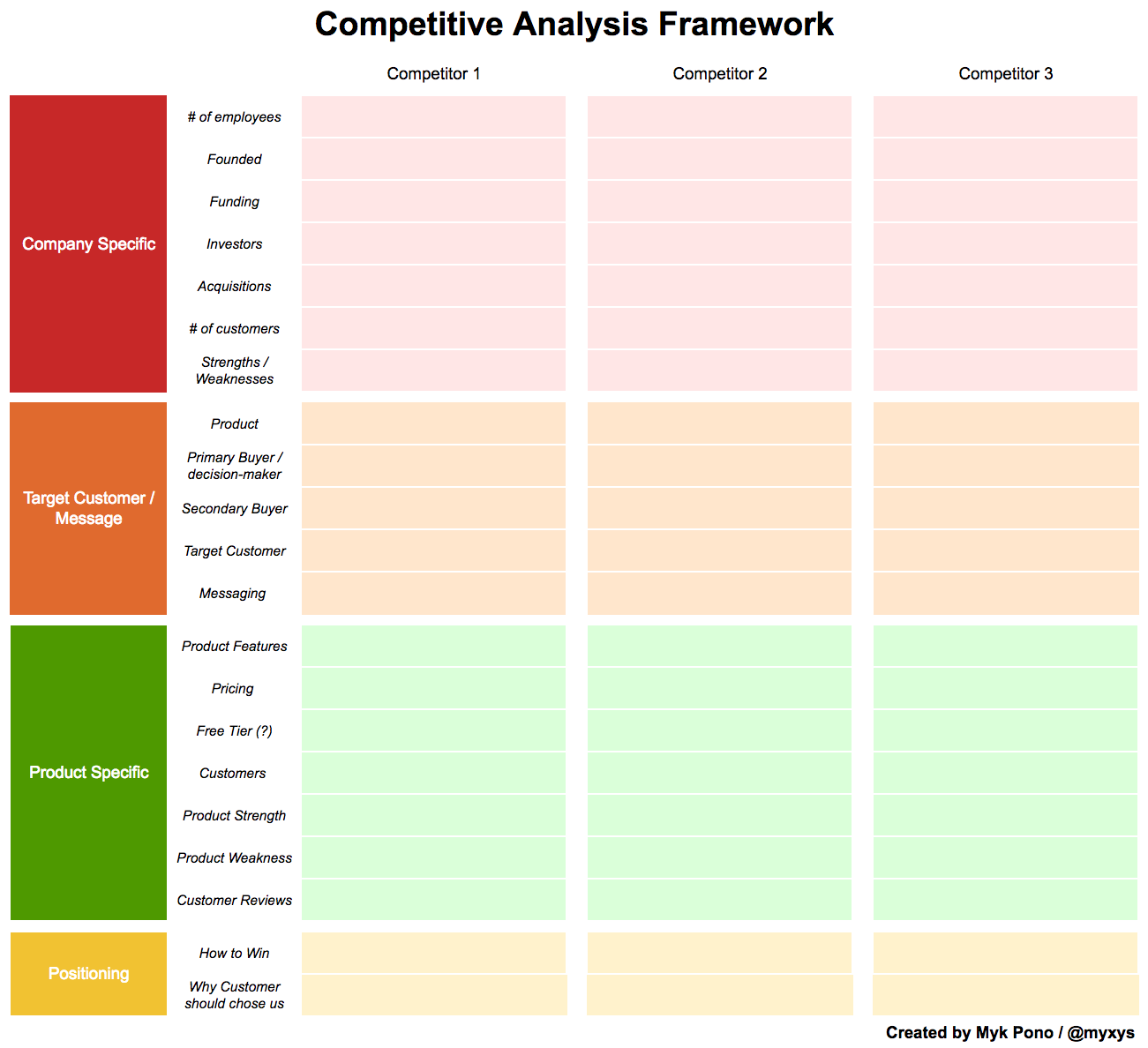 It's best to include at least one competitor from each category into your analysis to make it truly comprehensive.
Whether you can instantly think of over a dozen competitors or can barely recall five, it's a good idea to turn to Google or a different search engine (DuckDuckGo, anyone?) and look up your product category. Examine the products within the top 50 results, along with the ads that are displayed in response to your query — more likely than not, you'll come across companies you've forgotten about, or maybe even learn about a few newcomers.
To give you an example, we are going to imagine we are launching a vacation rental website — an alternative to AirBnB. Here's what my list of competitors may look like broken down by categories:
Competitor
Direct
Different solution
Different customer
AirBnB
V
HomeAway
V
Homestay
V
Booking.com
V
Hotels.com
V
OneFineStay
V
Now that you have a comprehensive list of your competitors, it's time to start the actual analysis.
As you go through the process, feel free to use this Google Sheets template we've created.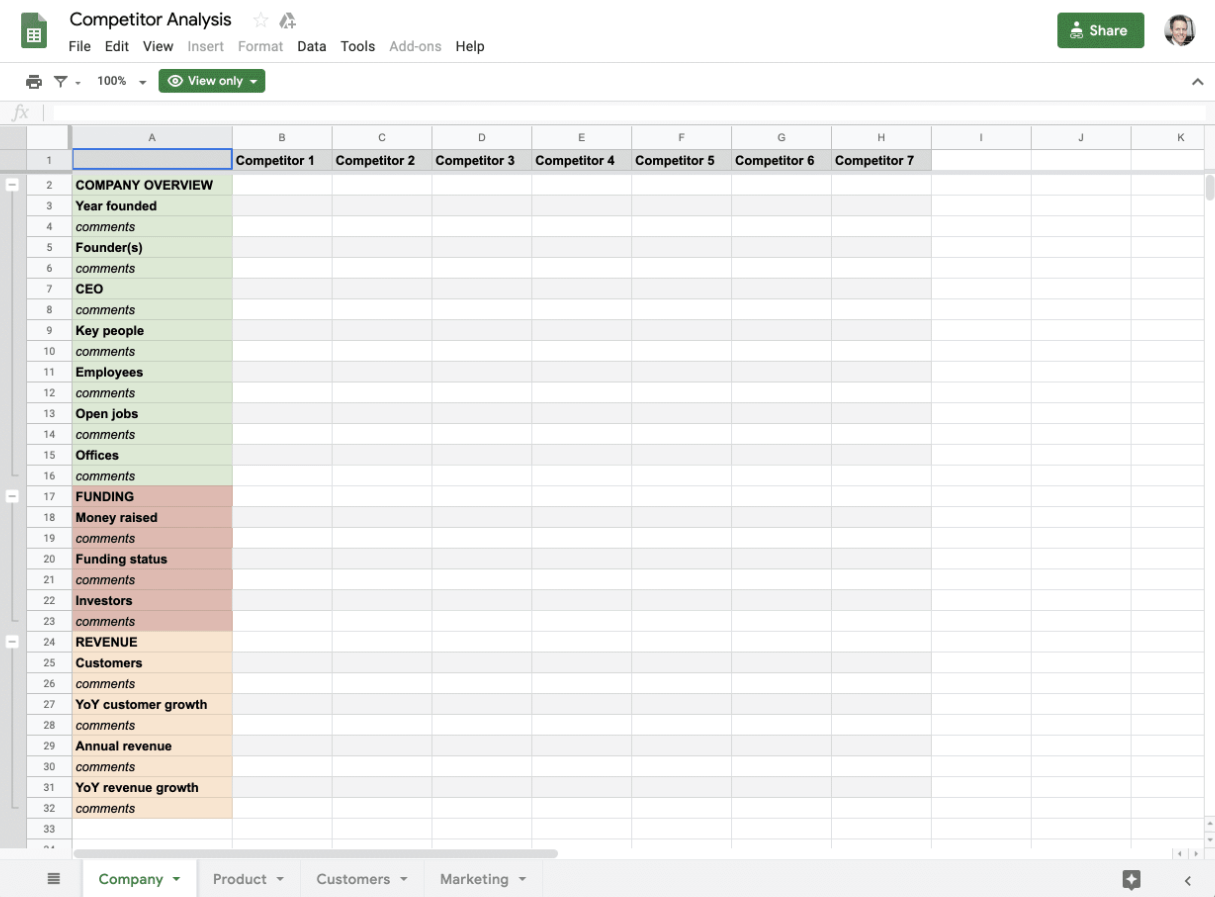 In the spreadsheet, we like to divide the factors into collapsable sections (yes, these do get pretty lengthy). We also tend to add comments under each aspect with details or links that provide more info. Depending on the stage you're at with your business, you can also add in a column for your own product to quickly see how it compares to competitors.
What's included in a competitor analysis framework
We'll go into depth about each section below, and again feel free to grab this competitor analysis template to follow along.
1. Business & Company metrics
1.1. Company overview
Your analysis should start with digging up the basic info about your competitors: things like the company's founding year, the names of the CEO and other key people, locations of the company's offices, how many employees work there, etc.
You'll usually find bits of this information on competitors' websites.
The company's LinkedIn profile is often useful, particularly for employee counts.
And for info on key people, offices, and founding date, CrunchBase is a great resource.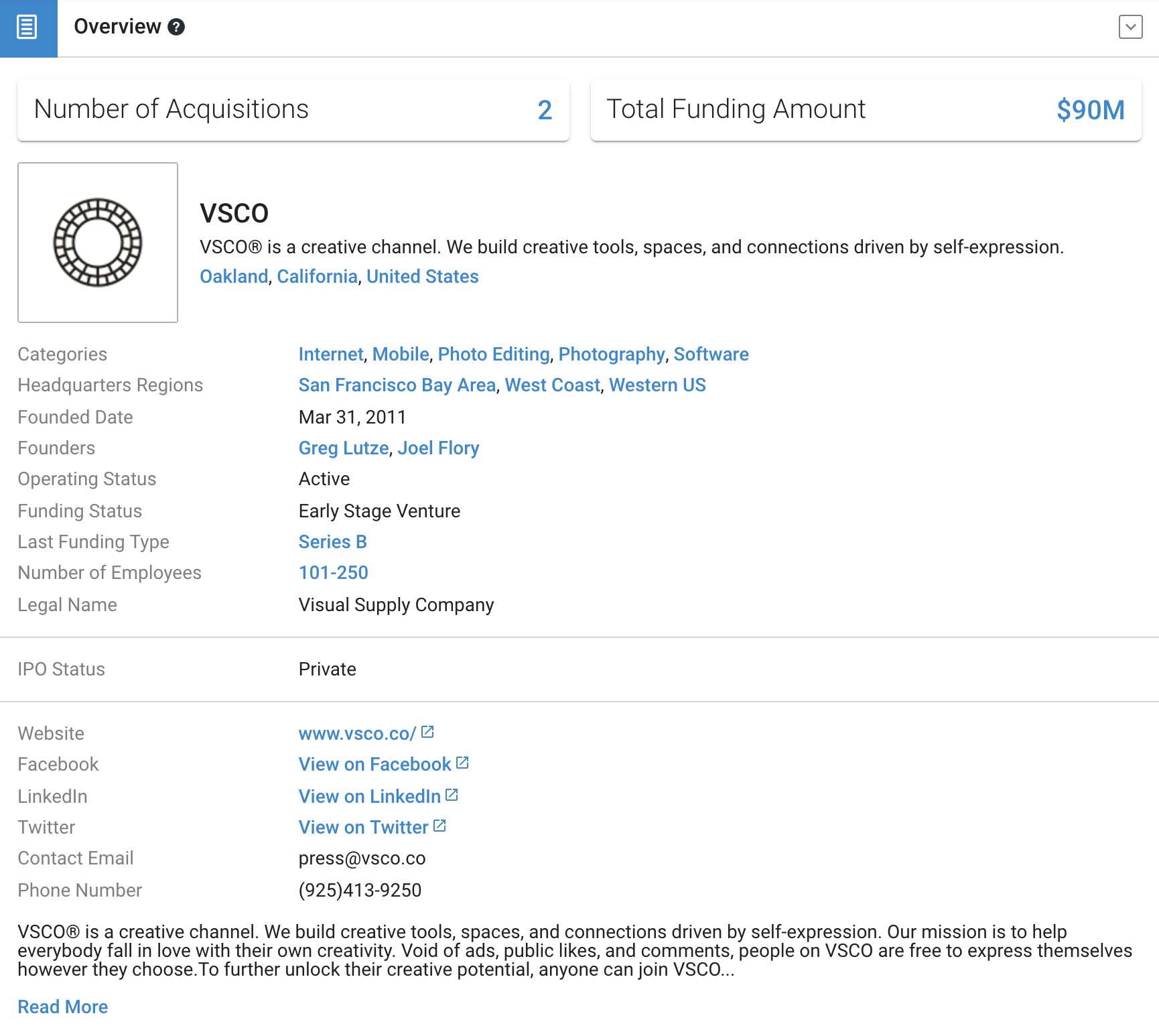 Your competitors' job openings can also be found on their websites, LinkedIn, and job search sites like Glassdoor and Indeed. Knowing who they are hiring and which teams they are expanding will give you an idea of what steps they're about to take, both product- and marketing-wise. Are they about to hire their first sales rep or content marketer? Are they looking to hire a remote developer with a specific skill set? Combined with what you know about your industry, your competition's job openings will tell you a lot about where they are going with their business.
You could also take things one step further and see if you can get an understanding of competitors' corporate culture. The best place to dig through employee reviews is Glassdoor. There, you can find out what employees think about the culture, the team, the pay, the management – and those are often honest opinions because a lot of the feedback is anonymous.
1.2. Funding
Knowing when, how much, and from whom your competitors received funding can also be important, particularly if you plan on raising capital yourself. It will give you a solid idea on how much funding you can expect to get.
On top of that, venture capitalists (VCs) tend to invest in only one company in a given category so as not to cannibalize their own investments. If an VCs' name is missing from your competitors' funding history, they might be a good candidate for you: they missed out on the chance to work with a successful competitor, but now they have the opportunity to invest into a promising startup in the industry (you!).
1.3. Revenue & customers
Your competitors' revenue and number of customers deserve a separate section in your spreadsheet. For some companies, you'll be able to find estimates on Owler , but those will often be very rough. A Google search for the name of your competitor combined with the words "revenue," "customers," etc. might lead you to interviews or press releases where the companies share this information (because, well, everyone likes to brag).
That said, we bet you won't be able to find every competitor's revenue figures this way. To help you dig deeper, we have two hacks to share that go beyond a simple Google search:
Hack #1: Set up alerts for competitors' interviews and conference presentations.
This one requires some time, but it's very effective in the long run: you'll be surprised at just how much your competitors give away at event presentations and in interviews, without being aware of you listening. All you need to do is sign up for Awario (there's a free 7-day trial available), create an alert for the names of your competitors' CEOs or other key figures (don't forget to put the names in double quotes to search for an exact match), and select YouTube as the source for the search. And that's it! You can now binge-watch those videos right in Awario, without having to leave the tool for a minute, noting your findings along the way.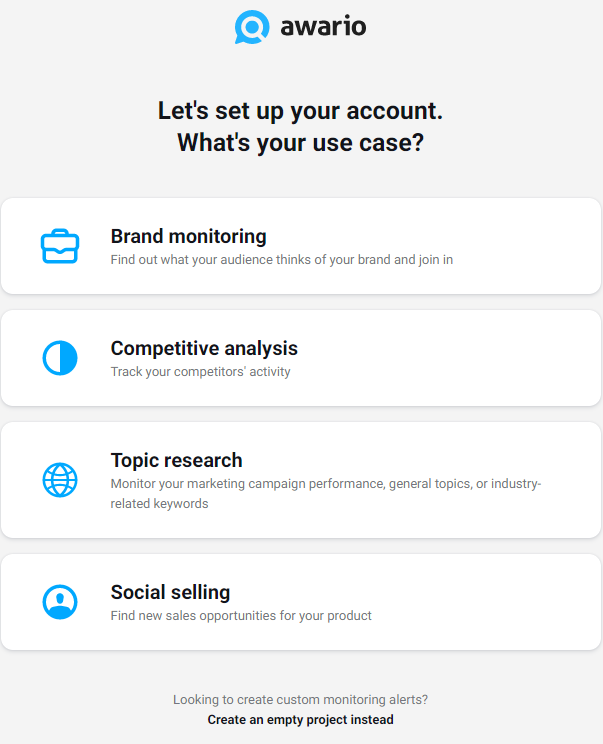 Hack #2: Use this revenue formula
Jason Lemkin of SaaStr offers a simple formula you can use to calculate a competitor's revenue estimate, provided you know how many people work there. Take the number of employees the company has listed on its LinkedIn profile and multiply that by $150,000 if well-funded ($200,000 if modestly funded). This should give you an estimate you can work with.
Employee count * $150,000 = Revenue estimate
These details, combined with company info like founding year and employee counts, are important so you can use them as a benchmark against your own growth. How much time did it take each of your competitors to get to the revenue figures they have today? Are you doing as well as a current market leader back when it was an early-stage business?
2. Product
It's time to evaluate your competitors' products or services, the actual things they're selling. What kind of technology are they using to build it? What is their core selling point? Are there any perks that come with the product: a freemium version, complementary free tools, or services?
2.1. Product features
Let's get down to the core of your competitors' business – their product and its key features. A word of caution: this will likely be the longest bit of your spreadsheet.
It's a good idea to divide the features into groups of related ones to keep things organized.
2.2. Pricing
Assessing competitors' pricing pages is another crucial step in your analysis (if pricing isn't available on their website, try reaching out to their sales team).
Here are some questions to consider:
Can you uncover a segment of the market that doesn't seem to be fully served by competitors' plans?
Say, do they have an affordable plan for startups or small businesses? Discounts for students or non-profits?
Are there data-heavy options available for agencies and big brands, with Enterprise features like an API or white-label options?
Another thing you can draw from competitors' pricing is great ideas for A/B testing. Do they offer monthly or annual plans? (If it's both, what is the default option?) How many packages have they got? Identify the opportunities for your experiments, and prioritize the ones that are common for several competitors.
2.3. Perks
Dig through your competitors' websites to see if they offer something complimentary with their product. Do they have a free trial or a freemium version? Are there any "free" tools their customers get access to, or perhaps a perks program in partnership with other tools?
2.4. Technology
Competitors' technology is an important aspect to assess for tech companies. BuiltWith is a great (and free) tool to figure out the tech stack that a competitor uses. Just type in the URL, and you'll be able to see what technology the website runs on, along with any third-party scripts and plugins it uses, everything from analytics systems, email marketing services, to A/B testing tools, and CRMs.
A lean alternative to BuiltWith is What Runs, which is a browser extension that analyzes any webpage you're on.
On top of that, looking at competitors' job postings (yes, again) is a great way to see what kind of technology stack they're using by analyzing the skills they require from candidates. To look for job openings, check your competitors' websites and job search sites like
Glassdoor
and
Indeed
.
---
3. Customers & awareness
Your next big step in analyzing the competition is looking at what their customers have to say about them. In this section, you'll look at each brand's Share of Voice, the sentiment behind their mentions, the key topics customers bring up when they talk about your competitors, and more. To measure these, you'll need a social listening tool like Awario or Mention.
3.1. Share of Voice
Ideally, you'd want to measure the market share for each of your competitors. But alas, it's nearly impossible. One substitute metric you could use is Share of Voice – the volume of mentions your competitors get on social media and the web compared to each other.
To measure share of voice, create an alert for each competitor's brand in Awario, give the tool some time to collect the mentions, and jump to the Alert Comparison report to see how much each competitor is talked about on social and the web.
It's a good idea to keep these alerts running for the long-term (as opposed to just looking at Share of Voice once). This way, you'll be able to see spikes in their volume of mentions, track what their customers are saying, and see how their (and your own) Share of Voice evolves over time.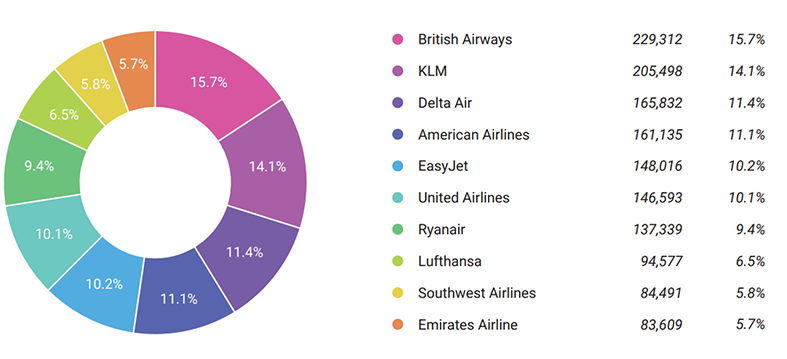 3.2. Sentiment
The caveat of measuring the level of awareness a competitor has is that awareness isn't always a good thing. What if there's been a data scandal one of the competitors is involved in? What if their customer service is horrible, causing an influx of negative mentions?
That's not the only reason why measuring the sentiment behind the mentions of your competitors is important. It will also help you understand what these companies' customers love and hate about their product the most.
On top of that, it can also serve as a benchmark when you analyze the sentiment behind the mentions of your own brand and product. Let's say, 40% of your mentions are positive, 20% are negative, and the rest are neutral. How do you know if that's a good thing or a bad thing without a benchmark?
Meet your personal social listening assistant.
Try fully automated, 24/7 brand monitoring with Awario for free.
By signing up I agree to the Terms of Use and Privacy Policy
3.3. Key topics
What do your customers focus on when they mention your competitors' products?
What do they love and hate the most?
Identifying the key topics within your competitors' mentions will give quick answers to these questions so you don't have to dig through mentions by hand. You can find these topic clouds in a social listening dashboard. From there, you can click on any topic to explore the mentions in-depth.
Interestingly, these topic clouds can also offer insight into various aspects of your competitors' business – and they may help you fill the gaps in other sections in your competitor analysis spreadsheet. Here's one example: those are the key topics for Loom, a screen recording app, from which you can learn a few useful things if you look closely.
Looks like the company a) has just raised some money, b) offers remote jobs, and c) has just announced a new feature they're building. And you discovered all that at a glance! Of course, you can further explore any topic by clicking on it to see all the mentions that contain the word/phrase.
3.4. Geography
Looking at the geography of your competitors' mentions will let you figure out which markets they are focusing on the most (and, with any luck, find an area that isn't too saturated yet). You'll find a map of each brand's mentions in Awario's dashboard and reports, along with the breakdown of mentions by language.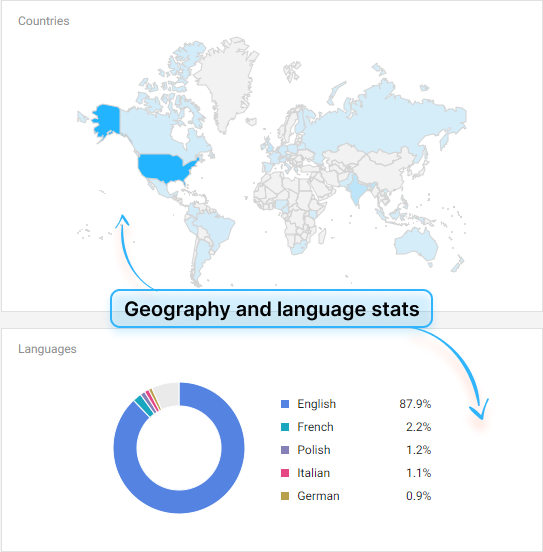 Try adjusting the date range in the report to see if there's been any changes in languages/countries recently. This could mean that your competitors are focusing on a new emerging market – an opportunity you might be interested to explore.
3.5. Social media platforms
Just like with geography, this one will give you an idea on where your competitors' audience hangs out so you can use these findings in your own marketing strategy. On top of that, if you see platforms that appear to be heavily underused (but do look relevant), those may also be worth experimenting with. Just like with the previous factors, you can compare the platforms side-by-side using Awario's Alert Comparison report.
---
4. Marketing
4.1. SEO
From the SEO perspective, there are two most important things about competition you should focus on: the keywords they rank for and the backlinks they've got. The former will give you a solid idea on what type of search terms bring them traffic and sales (so you can shape your own keyword strategy), and the latter will show what authoritative websites in your niche link to them (those will likely be relevant to your website too).
For both tasks, you can use SEO PowerSuite (you can get the free version here ). The toolkit includes 4 apps for different aspects of SEO, but we'll only need 2 of those to analyze competitors.
Rank Tracker will help you with the keywords. Navigate to the tool's Ranking Keywords module and type in a competitor's URL. You'll see a list of terms they rank for, along with the search volume for each term in your country of choice. It's a good idea to move the most popular terms to Target Keywords right away so you can keep them for your records. Repeat the process for every competitor, noting their estimated search traffic and top keywords they rank for.
For backlink analysis, you'll need SEO SpyGlass. Launch the tool and create a project for one of your competitors. Next, jump to Domain Comparison . One by one, specify your competitors' websites and take a look at how they compare.
Next, jump to Link Intersection – a module that shows you the domains that link to more than one of your competitors. You can sort them by InLink Rank to see the most authoritative websites on your list. Those are likely relevant industry websites that will make a great addition to your backlink profile – make sure to save them so you can reach out and see if you can get a backlink from there.
4.2. Social media
The next step is analyzing what, when, and how your competitors are doing on social media. Rival IQ is a useful tool for this task, and they have a 14-day free trial available. Once you've signed up for the tool, specify your competitors' websites, and the platform will automatically pull their social media profiles.
From there, you'll be able to see which social networks they're active on, how many followers they have, how much engagement their posts get, etc. Those insights will be handy to benchmark your own strategy against. The tool will also show you the best times and days of the week to post, based on the engagement competitors' posts get.
On top of that, it may be a good idea to research if your competitors have a community on social media – a Facebook group or a subreddit dedicated to their product. How big is the community? Are the users engaged?
4.3. Advertising
To get an idea of your competitors' ad strategy, SimilarWeb is a great (and free) starting point. Enter the URL of a competitor's website and navigate to the Search section – it will show you if your competitors have any search ads running, and, if they do, what their target keywords are.
The Display section below will show you whether a competitor is running any display ads, and, if they are, which platforms bring them the most traffic.
For Facebook ads, simply open a competitor's Facebook page and click on Info and ads .
Alternatively, you can use Facebook's Ad Library to search for your competitors' ads. Similarly, Twitter Ads Transparency lets you search for the ads your rivals are running, although they limit the search to the last 7 days. Unfortunately, these tools won't reveal targeting rules your competitors use, but you'll still get a solid idea of how many ads they're running, and perhaps get inspiration for your own advertising efforts.
If native ads or other kinds of paid content are a thing in your niche, you can also try searching for "sponsored by [competitor]", "author" "[competitor]", etc. in a search engine of your choice (the quotes will make sure you're looking for an exact match, and all of the words in the query are taken into account). Take note of authoritative platforms you come across and try reaching out to them to inquire about sponsored posts.
We got content.
Subscribe and we'll be delivering new posts to your inbox for free.
4.4. Influencers and other partners
At this point, we're interested in exploring the partnerships your competitors have that help spread the word about their products. We'll look at influencers endorsing your competition, publishers they work with, and media platforms they guest blog on, if any.
For the analysis, you'll need the same social media monitoring alerts for your competitors' brand you've already created in Awario. In your feed, make sure to group the mentions by Authors and sort them by Reach to see the most influential posts first (Reach is calculated based on the number of followers and engagements on social media, and based on the site's estimated traffic for results from news, blogs, and the web).
This will let you see the most influential posts that mention your competition, including social media posts and blog articles from around the web. Take note of the influencers or publishers they work with – chances are they will be happy to work with you as well.
On top of that, you can also turn to SimilarWeb to see what referral sources are bringing the most visits to your competitors' websites. Chances are you'll also find a bunch of blogs and media platforms that generate substantial traffic to their sites.
4.5. Content Marketing
If content is part of your competitors' strategy, it's important that you analyze their blog and what they tend to write about. Are the readers engaged? Do the posts get shared around social media a lot? Does the competitor accept guest posts?
BuzzSumo is a great (and free) tool to help you out. It will show you the most shared posts on any blog within the past year, so you can get inspiration for your own posts and a better idea of what kind of content resonates with your target audience the best.
4.6. Customer acquisition
I know, a lot of the points above were actually customer acquisition techniques; but this section is reserved for the ones that weren't outlined before. Do your competitors have a referral strategy? Do they have an affiliate program? Do they sponsor or exhibit at industry conferences? Do they acquire customers in any other creative way?
4.7. Sales
If applicable, it's also important to analyze your competitors' sales strategy. Do they do product demos? What does contacting a rep look like? Is there a phone number you can call?
The best thing to do is try and book a demo (or a call) with every company yourself, taking careful note of every step. Do they require filling out dozens of fields for you to talk to sales? Will they refuse to hold a demo just because your company is "too small"? Is their time zone convenient? How long does it take them to reply?
All of this will help you spot strengths and weaknesses in your competitors' sales strategy to help you shape your own.
4.8. Customer service
Does every competitor offer Customer Support for all customers, or does it start with a particular plan? What channels do they provide support on: is it email, live chat, phone, social media, or all of the above? What is their response time? Do they offer Account Management for Enterprise customers?
Analyzing your competitors' customer service will help you improve your own. The truth is, in large companies, customer care is often almost non-existent; for a new business in the industry, that's a great area to capitalize on. If that's true in your case, make sure to highlight the quality of your customer service on your website.
4.9. Unique strengths
Is there anything else that gives a competitor on your list an unfair advantage over everyone else? For example, is their CEO or somebody else on the team an industry influencer? Does the company publish amazing books that are also free? Have the founders launched successful products before? Make note of each competitor's unique strengths that are hard to emulate.
What's next?
Once you're done with every step of competitive analysis, I'm sure you've got a clear understanding of the market and more than a handful of ideas on how to improve your own product. While the research is still fresh in your mind, one bonus step I'd highly recommend to everyone performing the analysis is to map your competitors on a Strategy Canvas (from the book Blue Ocean Strategy ).
A Strategy Canvas is a chart that breaks down your competitors by various aspects of their businesses and products (the pricing and other aspects specific to your product category).
The easiest way to plot this is a line chart, with each factor assigned a score depending on how well it is executed.
Here's an example from the book: a Strategy Canvas for Southwest, one of the first low-cost airlines in the US, compared to the 2 categories that could be considered its competitors: air travel at the time and car travel.
Depending on the kind of competitors you've analyzed, you'll likely see that most of them follow one or two distinct patterns: those will be the major categories you're competing with (though they may not be as different as cars and airplanes). It's time to plot your own product on the canvas and see how it compares to the competitors.
Finally, think of ways to make your product stand out. From your research, recall the things your audience needs more and less of. Blue Ocean Strategy offers a nice way to think about the factors on the canvas in terms of applying them to your own product, called the Eliminate-Reduce-Raise-Create Grid.
Think of features you could eliminate to lower the cost of your solution : the ones that seem superfluous, are rarely mentioned by customers, and are particularly costly. For Southwest vs. traditional airlines, those were seating class choices and hub connectivity.
Think of the factors you can reduce way below the industry standard : the ones that need to be there, but can be leveled down significantly. It's great if price is going to be one of them! For Southwest, those were the prices, meals, and lounges.
Time to think about the aspects you'll raise well above the industry standard , especially if they won't cost you a fortune. What do customers wish they'd get more of? For Southwest, that was the friendliness of the service and the speed of travel.
Lastly, try and create new features that your closest competitors don't offer (or borrow them from another product category). With Southwest, it was the frequent departures that traditional airlines didn't have – but car travel did.
Conclusion
Remember: the idea of a competitive analysis isn't to steal what they're doing, it is to understand where your business falls in the market and find new opportunities to make your product stand out.
Eventually, focusing on your customers and gaps between supply and demand will serve you much better than focusing on the competition. And that's what competitor analysis is for – finding ways to serve the customer better.
---
This article was originally published on Buffer, created by Maria Marksimova; edited by Elizabeth Shydlovich.