Deliver Excellent Customer Service On Twitter In 8 Ways

The customer service landscape has evolved exponentially in the last several years. Apart from the advances in technology, social media, of course, has a huge role to play in those improvements. A Lyfe Marketing study states 71% of consumers who have had a good experience with a company on social media are more likely to recommend it.
Out of all the social media platforms, Twitter is ideal for all kinds of businesses to drive their customer service efforts. Here are a few reasons (read: statistics) why:
353 million people use Twitter every month
67% of customers have connected with a company for support
The average Twitter user follows at least five brands on the platform
Moreover, Twitter provides real-time engagement. It is fast and dynamic. Refresh your Twitter feed, and it will be filled with new tweets every time you do that. Everything is in the public eye, which means companies are more cautious about dealing with customers on Twitter and ensuring that their queries are handled promptly and adequately.
If you are thinking of leveling up your customer service game on Twitter but need help, check out these eight fantastic tactics to follow:
1. Have a separate Twitter handle for customer service
If your customer service team deals with large volumes of incoming questions or if you are in an industry that requires an immediate response (e.g., public transport, tech, or aviation), then by all means, you must have a separate Twitter profile to deal with unhappy customers.
That would serve three primary purposes. First of all, it shows that you care and are serious about offering support to those in need. Secondly, it drives the hostile activity away from the primary Twitter account, dedicated to providing company news and meaningful content.
LinkedIn is one of the companies to take this approach and has a separate Twitter handle, "@LinkedInHelp" to resolve support inquiries.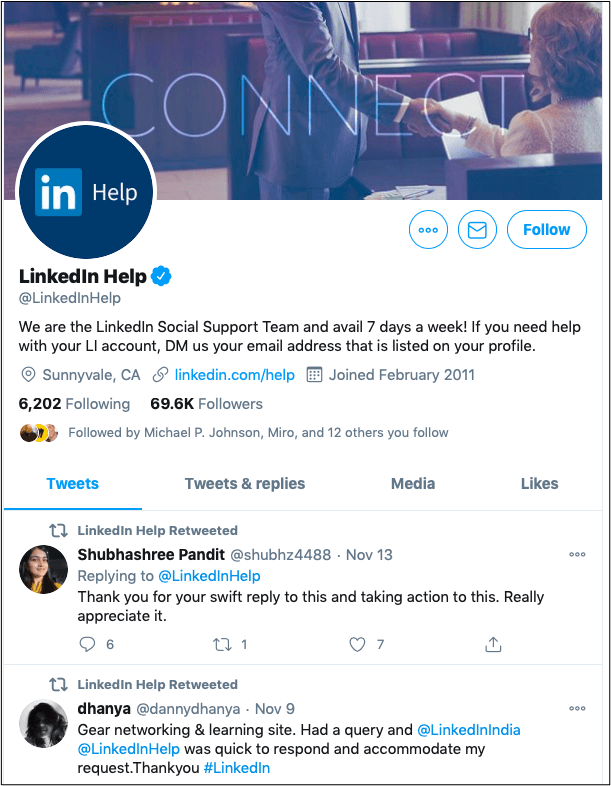 Lastly, it would make it easier for your customer service team or employee to track brand mentions and respond to inquiries quickly without sifting through the company's usual tweets on the social media platform.
Sign up for a free Awario trial
See Awario in action with a free 7-day trial. No credit card required.
By signing up I agree to the Terms of Use and Privacy Policy
2. Set up a dashboard
Having a central system to monitor every mention, and interaction with a customer is not a privilege; it is a necessity. Find a CRM like SuperOffice that can integrate with Twitter and help you better keep track of mentions so that your customer service team can address each one of them at the earliest.
After using such CRMs over time, you can also gain insights into commonly asked questions, the average response time, the resolution rate, and so on. The key is to keep learning from your actions and improve your customer service (and business offerings), which indirectly influences your bottom line.
Moreover, we live in a world where people are quick to form their opinion or start a "cancel culture," which could be detrimental to your brand image if simple customer service tactics are not correctly followed.
3. Be prompt to respond
Although this may seem obvious, only 12% of companies prioritize responding to social media complaints quickly. According to a CMO Council, 75% of consumers believe valuing time is the most critical thing that any company can do for good customer service.
No wonder 37% of consumers expect a response to their social media complaints within an hour, while 28% want the brand to get back to them in under 60 minutes! That may put a lot of pressure on companies if they are not well-prepared.
Twitter is a dynamic platform built for conversation. If your company cannot react and respond promptly, any agitated consumer would form a negative opinion about you and may further troll you on social media.
You have to avoid that situation. Hence, the response time is such a critical metric for measuring customer service effectiveness on Twitter.
Many huge companies have focused teams for resolving social media complaints and queries quickly. Check out UPS' tweets, and you will notice how every response goes out no more than 30 minutes after the initial contact!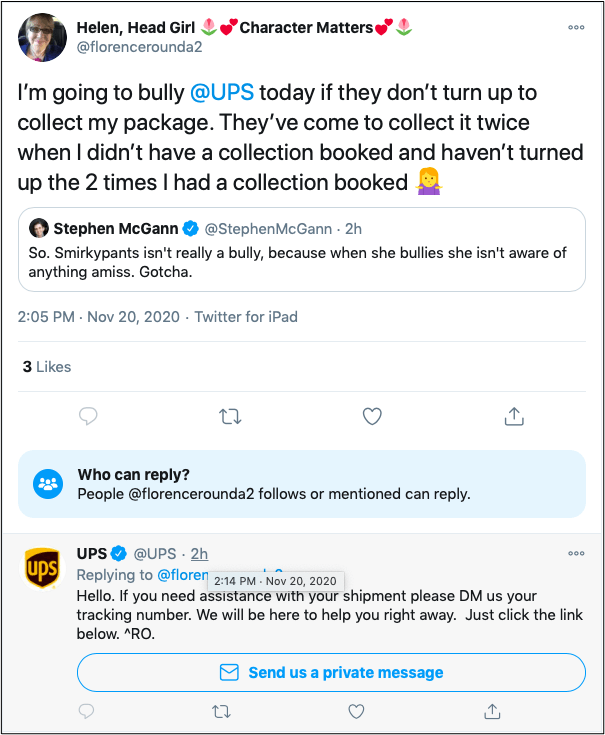 Depending on the footfall on your Twitter profile (and budget), assign a full-time employee or a team to handle consumers reaching out to your company to appraise, complain, or receive information on Twitter.
4. Listen to what people say about you
Brand monitoring is much more than just keeping an eye on your Twitter notifications and responding to inquiries. In fact, it is the process of monitoring the platform to find mentions of your company and assess what is being discussed about your company.
Do you want to know the chatter? Type in your @companyhandle in the Twitter search and your hashtags if you use anything specific. Also, check for any variations of your brand name or any potential misspellings.
Sometimes, an agitated customer would drop a complaint about your service without actually tagging your handle in the tweet. You must find out such untagged brand mentions on Twitter. If some mentions are not related to an issue, get in touch with those consumers anyway. That will give you a chance to build a relationship with them.
5. Names matter - use yours and your customers'
Customers want to know that they will get help, and the best way to assure them of the same is to talk to them like a real person. A simple way to personalize an interaction is by signing your tweets with your initials. And if the character limit permits, use your first name.

Similarly, include the customer's real name in the response. Suppose you are dealing with a Twitter handle that does not comprise a name. In that case, head to their profile to check out the name.
A study suggests 31% of tweets containing a company name don't include their Twitter handles. This is such a simple tactic; however, 92% of the time, it is not applied.
It is like receiving a phone call from a customer-in-need. What is the first thing you do? You say your name and ask theirs? It does not have to be any different on Twitter!
6. Keep your tweets personal
Today's customers want to communicate with companies on social media they use every day. By communication, they don't mean a robotic, transactional interaction but a casual, to-the-point conversation.
The best part is Twitter only allows 280 characters, which does not leave you a lot of room for all the formalities that you would typically ensure via a phone call or email.
Therefore, tweet as if you are talking to a person in front of you. An old example, but we can't help appreciate Comcast's response to a customer. The tweet has been drafted in a way that is humane, personal, yet helpful. Add emojis in moderation.
In addition, use an avatar instead of the corporate logo - that is more appealing and would make the Twitter users think they are talking to a person, not a company.
If several employees run the Twitter support account, include their handles in your company's Twitter bio. Or best, use the team's photo for the Twitter header.
7. Know when to move to DMs
In some cases, your Twitter interaction with a customer may need to be dealt with privately if you need to resolve a complicated matter or ask them to share personal information with you. If that is the case, move to Direct Messages or, best, add a CTA button to your tweets, inviting the customers to start a Direct message thread.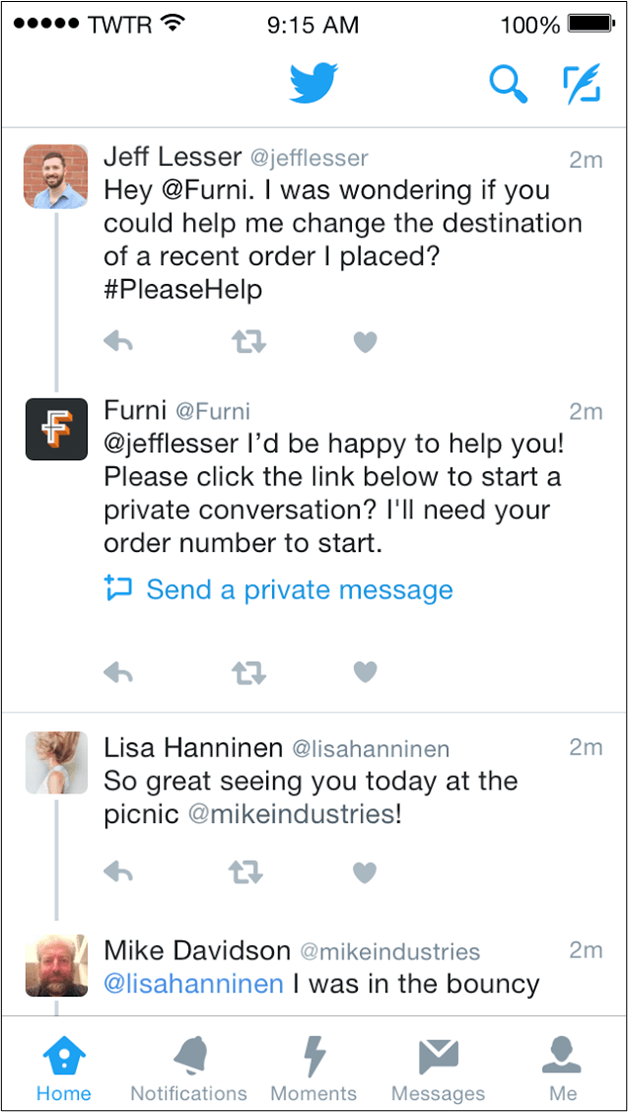 This feature can enable you and the consumer to quickly move over to a private space and continue the chat without interruptions. Transitioning to DMs also de-clutters the feed and helps your customer service team to identify and respond to incoming questions without any distraction.
8. Follow up to ensure the problem has been resolved
Not every customer complaint on Twitter will get resolved in 280 characters. You might have to connect with such customers on call or via email to understand the problem and explain the solution to them.
However, that does not mean the job of those manning your Twitter handle is done. Out of all the customers who reach out to companies on social media, only 30% of them resolve. Therefore, you must ensure your customers' complaints have been not only heard but also resolved.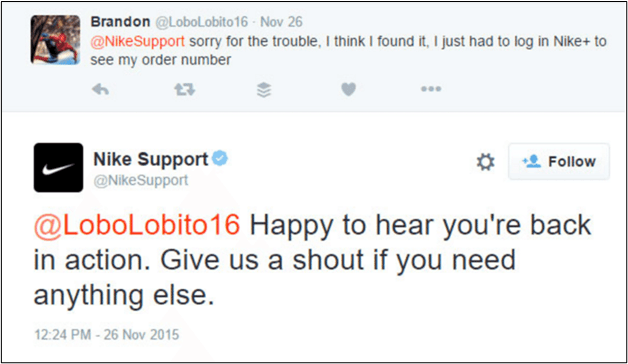 Twitter is a live and conversational platform that has made companies (and customers) more accessible than ever. Customers who received a response from social media and got their issue resolved are 31% more likely to recommend the latter. Don't miss that chance!
Get cracking on Twitter
Since customers don't want to deal with complex, long processes to file their complaint, wait for the team to get in touch with them, and get a resolution, Twitter is undoubtedly the best platform for customer support. It is fast and personal!
If you are starting, create a proper customer service strategy for Twitter and ensure your team is on the same page - understands what is expected of them and is appropriately trained to deal with customers promptly. All the best!

Enjoying the post? There's more.
Sign up for our newsletter to get our best content by email.