How to detect a hype topic using social listening tools

Article summary
We will speak about the essence of hype. We'll discuss how to use this phenomenon or trick in your favor. You will find here some practical advice on how to avoid harmful spotlight and detect trending topic which you can be part of – all with the help of the same toolset.
Your mentions are almost here!
Fire up brand monitoring and see Awario fetch social data in real-time.
By signing up I agree to the Terms of Use and Privacy Policy
Should you surf the wave of hype?
Hype is an artificially created importance of a person, event, or product. It is meant for receiving maximum profit by targeting big audiences as fast as possible, often via social media – a true hype accelerator.
Anyway, hype is not necessarily something unworthy if treated right. Showing up at an open door spare you the trouble of knocking, "and fake it till you make it" approach works just fine.
Appearing in the right place at the right time is half of success. And that's what we will pay attention to – we'll study how to catch that spotlight and use hype to improve reputation and make people buy your product.
Starting your own hype depends on luck, research, and experience. You need to be a market giant, ensure sponsorship with potent brands, or at least conduct an established affiliate program. Otherwise, you have to rely on a tipping point as the only game-changer. Here is an example of a naturally started and surprisingly persistent hype we all know: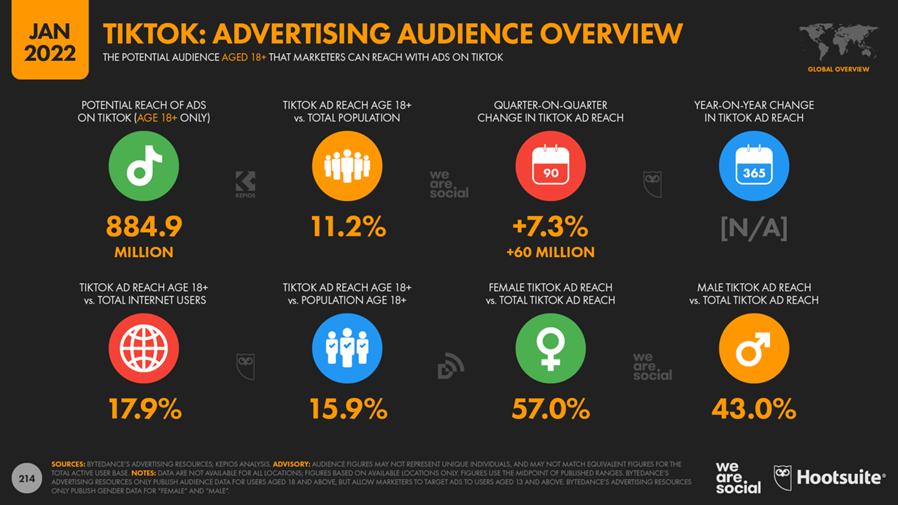 But we're here to help you invent a hype policy, provide you with practical tips any brand can follow and guarantee results.
Sounds inspiring? If we go fishing, we need to know where it pecks the best.
Topic cloud in Awario will help you navigate among words people use alongside your topic. You will see Topic cloud widget in Dashboard with other statistics. If you hover your mouse over any word, you will see the number and percentage of mentions with this word. Tap on it and get redirected to the feed to read all the mentions with it.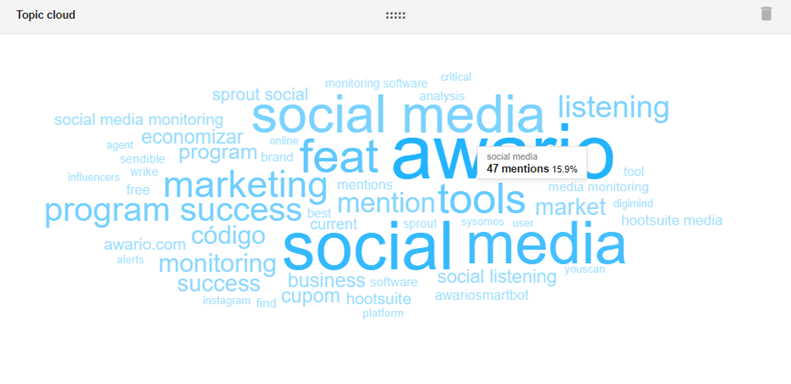 Pay attention to topic deviations – words which you didn't expect to be related with the subject, as these are probably the indication of some fresh impact lively discussed among users.
When to join a hot topic?
Plunging into a hype might be as tricky as trainhopping – not illegal but must be done properly to avoid harm.
According to Gartner, there are five phases of a hype cycle the names of which speak for themselves: innovation trigger, peak of inflated expectations, trough of disillusionment, slope of enlightenment, plateau of productivity.
If you enter the hype during the early phase, you will get lots of attention, if you board late, you might get severely criticized. Awario shows you the number of people discussing the subject, their happiness and discontent with it.
To learn what people say about a hype topic, create an Alert, enter Alert name and keywords, indicate the timeframe for mentions search. Go to Dashboard, choose the created Alert, and see Sentiment segment of your stats.

To discover major changes in sentiment dynamics, click any Insights icon you see above a spike on the graph. You will be offered information explaining why a change occurred.

Analyze spikes of negative and positive sentiment towards the topic. You can learn and make some conclusions and based on the number of mentions and the matter which gets mentioned.
As we've approached sentiment...
How to tell bad promotion from good hype?
Which buzz can uplift your status, and which can harm your reputation? It's disappointing, but COVID-19 was the most hyped up matter of 2021 in the United States, also featuring Capitol, Meghan Markle, NFL, Olympics and Amazon among the most discussed.
To know what can impact your brand image, let's have a look at the most common promotion techniques:
Repetition
Endorsement
Testimonials
Exclusivity and scarcity
Although, all of these techniques bring you attention, you should be careful with bad publicity. Fast Company, for instance, suggests that we think critically and try not to swoop into discussing the most overhyped trends in 2022, including NFTs, Metaverse, sustainability and remote work.
Try to notice if repetition begins to annoy people. Make sure that testimonials aren't met with loads of criticism from other customers. Remember that the number of endorsement scandals has risen, according to Harvard Business Review.
One lingering question regarding the Novak Djokovic vaccination saga in Australia: how will his sponsors react?

In a statement, his apparel sponsor Lacoste says "ASAP we will be in touch with Novak Djokovic to review the events that have accompanied his presence in Australia." pic.twitter.com/WQOumoM9nB

— Ben Rothenberg (@BenRothenberg) January 17, 2022
Sometimes a campaign gets mocked and ridiculed by millions of users ending up as a viral meme (see the SNL parody based on the Danone commercial with Jamie Lee Curtis below):
Meet your personal social listening assistant.
Try fully automated, 24/7 brand monitoring with Awario for free.
By signing up I agree to the Terms of Use and Privacy Policy
Awario allows you to read positive and negative topic mentions in the Sentiment segment of Dashboard.
Tap on the percentage of Positive feedback and get forwarded to the feed with positive mentions, which you can filter in accordance with your preferred search terms.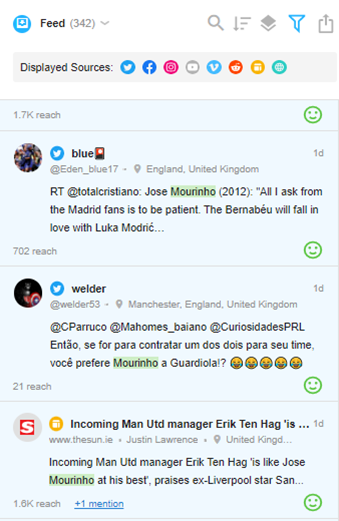 Take the surge in good mentions into consideration and try to relate your planned campaign or any other activity with them in case they suit your purpose.
Tap on the Negative stats and get redirected to the feed with negative mentions. Try to avoid problematic issues in your brand promotion. Otherwise, use this opportunity to detect unwished comparisons and connections and fix it or even contact the upset users.
We've discussed the best timing for joining the hype, what techniques to use, and which mistakes to keep away from.
Now let's focus on good hype examples and see how to follow them with the help of Awario.
Healthy hype goes a long way
Participate in some latest trend which encourages some good deeds, supports artists, athletes, schools, or locals:
Create an Alert in Awario, enter the keywords which suit your brand, indicate Locations, Languages and choose the timeframe to find relevant organizations and promising talents to collaborate with.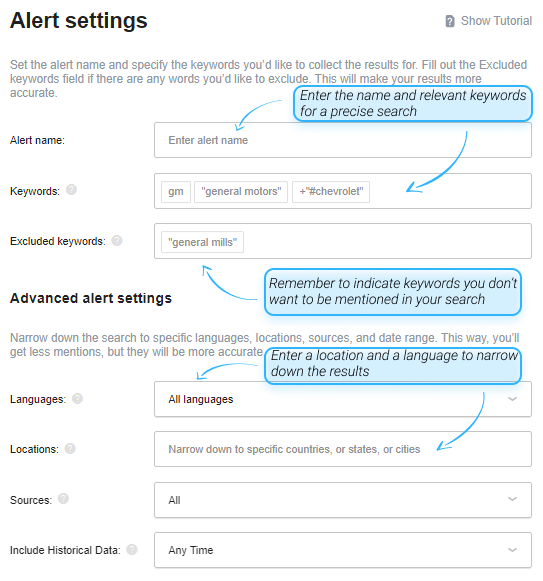 Find common grounds with other brands. While both parties profit from the project, people receive bonuses. It's a win-win!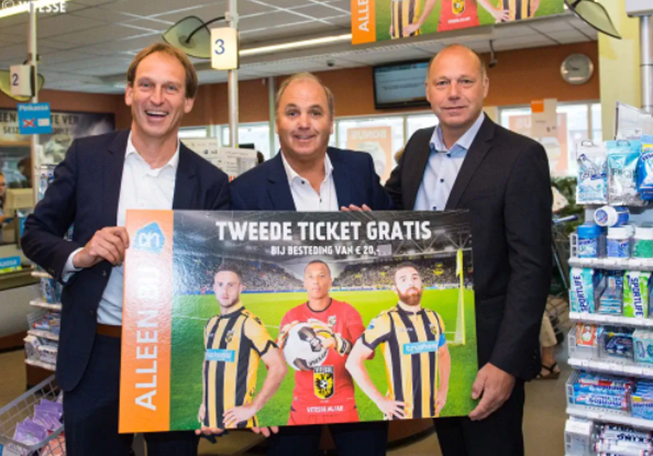 In case you know there's something audiences already can't wait for, a good old sneak peek can always come as news and heat up their curiosity.
Successful funny or witty content will turn viral and will be shared until everyone knows that joke (don't mistake for a viral brutal meme your creators had nothing to do with):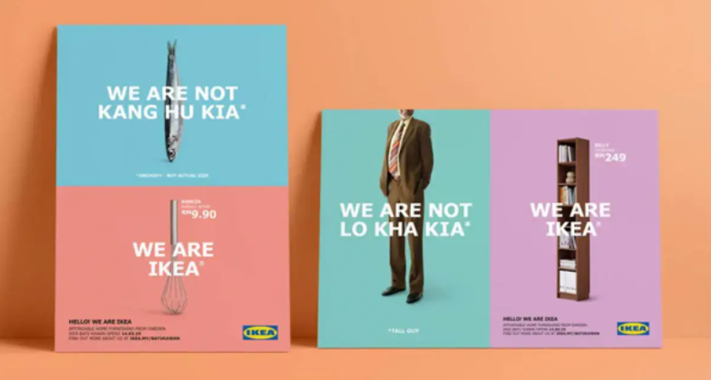 Using Awario's Topic cloud will help you detect opportunities to engage into some hype topic which will be beneficial for you and your audience.
Go to Dashboard to see the metrics for your Alert, find Topic cloud section and scan the cloud for:
A person's name – he or she might be a popular influencer or expert in your field who you can cooperate with and bring yourself more exposure.
A foreign language – why not dig deeper and find out what made your subject so popular in a certain foreign region? Maybe it's your new target market!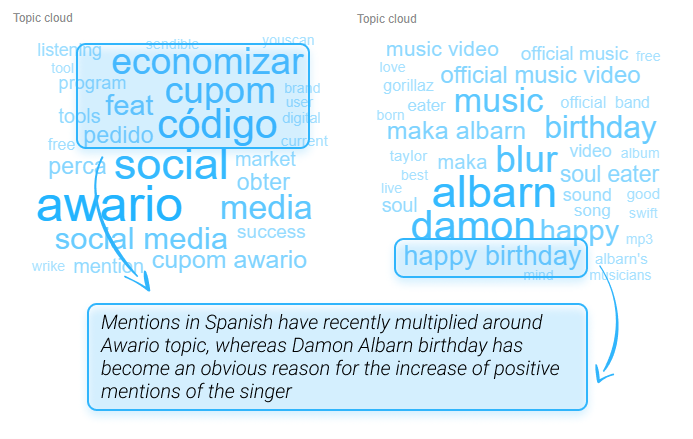 A word clearly stating some problem or situation – you might be familiar with what caused the recent rise in mentions. Join the hot topic, if it's a problem – come with the best solution, if it's something nice – just detect the reason why the topic got on top of online discussions.
A feature of your product, service or a person from your team – do some research based on the mentions in Topic cloud. If the most discussed quality or team member appears to be mentioned in a negative context, work it out; if they are praised – bring them to the forefront, let the public get more of them.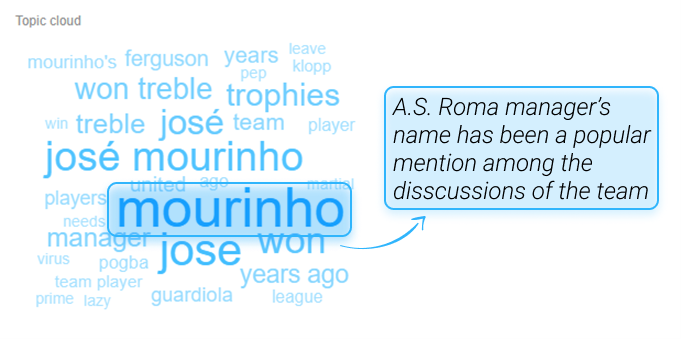 A typical search engine query – people's demand is highly variable and can refocus very quickly. Know what people want and be the first to offer it.
We got content.
Subscribe and we'll be delivering new posts to your inbox for free.
In conclusion
Joining a hype topic will bring you publicity everyone needs. The task is to find trends which will make your reputation increase. Here we've given a few Awario features which make the picking process automated. You can track down the sentiment around the analyzed subject, learn the reasons for positive and negative mention spikes. And thanks to Topic cloud you might want to find out what are the most talked about subjects which accompany your brand.