7 best online reputation management tools for your business (+3 new)

Article summary
Online brand reputation is essential for any company now. People do not trust brands that get negative feedback in media, on social networks, or review sites. In this article, you will find online reputation management tools that will help you take care of your brand.
Online reputation management is something no brand can ignore. Online posts, comments, reviews, and rankings are what makes or breaks a brand's reputation.
It won't surprise you that 75% of customers trust a company more if it has positive reviews, and 60% will hesitate to purchase from a business that has negative reviews, this study finds.
And then there are social media crises: negative posts about a brand spread on social media, letting more and more people know that the customer service/the product/the marketing is terrible, offensive, or wrong.
Social media crises come and go, leaving dozens of broken businesses behind. Online reputation management can stop such disasters when they are just unfolding.
Whether your brand is new to the market, or has been building a reputation since the 1980s, keeping an eye on what's going on online ― social media, review sites, search rankings, etc. ― is essential in the world where public opinion is inspired by the Internet and expressed on the Internet.
With this in mind, we gathered online reputation management tools that will help you take care of your brand and save it from possible troubles.
Sign up for a free Awario trial
See Awario in action with a free 7-day trial. No credit card required.
By signing up I agree to the Terms of Use and Privacy Policy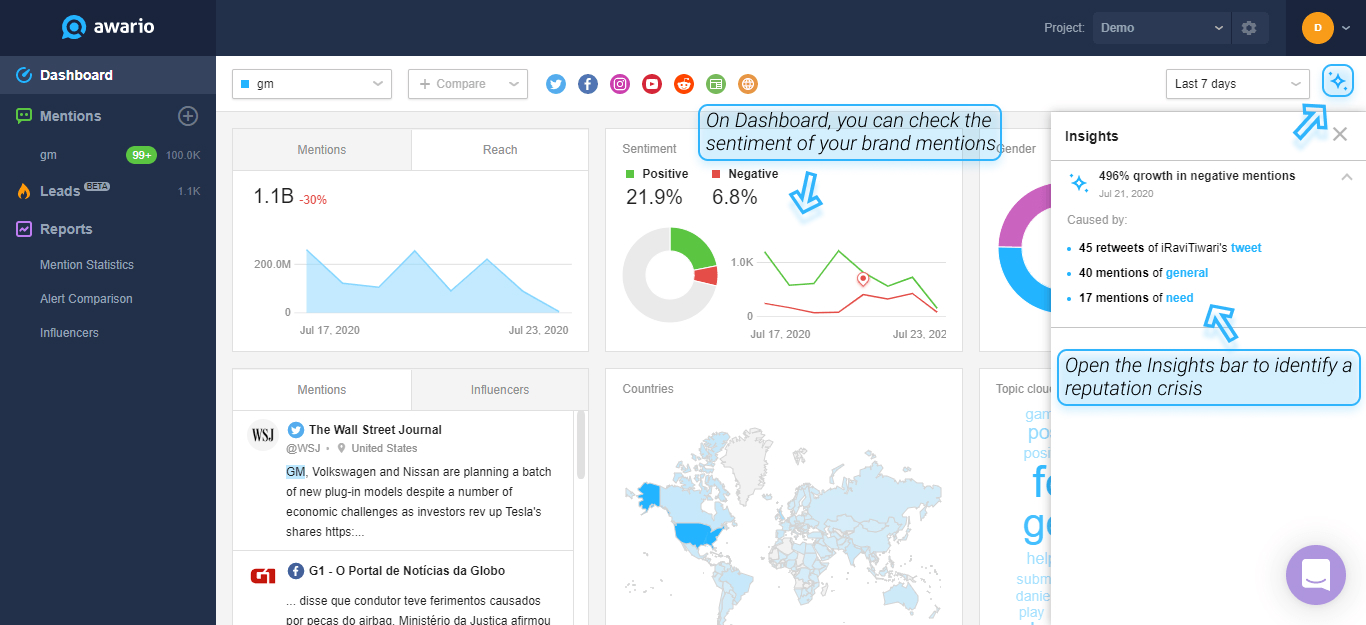 Yes, including our own tool, especially as number one, is tacky. But we're not here to do tricky marketing: we're here to list awesome reputation management tools, and Awario is one of them.
In case you're new to the blog, Awario is a social media monitoring tool: it finds mentions of any given brand on social media networks, news sites, blogs, forums, and the web. With Awario, you can see how many people are talking about your brand, where they are, who they are, and what they say.
Built-in sentiment analysis breaks down all mentions into positive, negative, and neutral. At any time you can open the app and see how your brand's reputation is changing.
If there is unusual activity regarding your brand online, Awario lets you know and shows you what might be the underlying cause for the activity with the help of Insights.
Of course, for the tool to do that, you have to create an alert for your brand (as a matter of fact, you can do that for any other keyword, e.g., your own name).
Pricing: Awario's Starter is $29/mo, Pro is ($89/mo), and Enterprise starts from $299/mo. An annual plan saves you two months.
Trial: Awario offers a 7-day free trial.
Start monitoring your brand today.
You should've been doing it yesterday – but the next best time is now with Awario.
By signing up I agree to the Terms of Use and Privacy Policy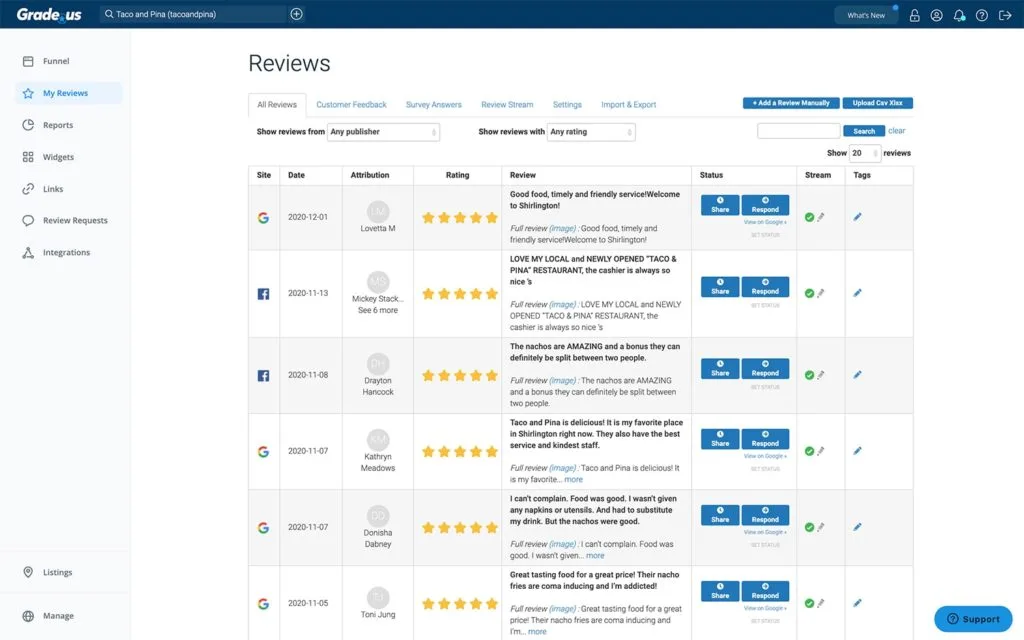 The name Reputology signals reputation management ― and that's exactly what the tool does. However, it does it in a much different way than Awario.
Reputology is now a part of ASG MarTech's suite under the Grade.Us brand. It helps businesses track their online reviews on common and uncommon review sites. This includes such popular platforms as Google Reviews, Facebook Reviews, Yelp, Better Business Bureau, etc. Also, Reputology monitors industry-specific review sites that focus on real estate, education, hospitality, healthcare, and other industries.
Reputology lets you reply to reviews straight from the app. It's also integrated with Hootsuite, so if you have one social media manager for all the online marketing tasks (this happens quite often, doesn't it), connecting Reputology and Hootsuite accounts will massively simplify their work.
Pricing: Reputology charges from $110 to $2500/mo.
Trial: You can sign up for a 14-day free trial before you settle on a plan.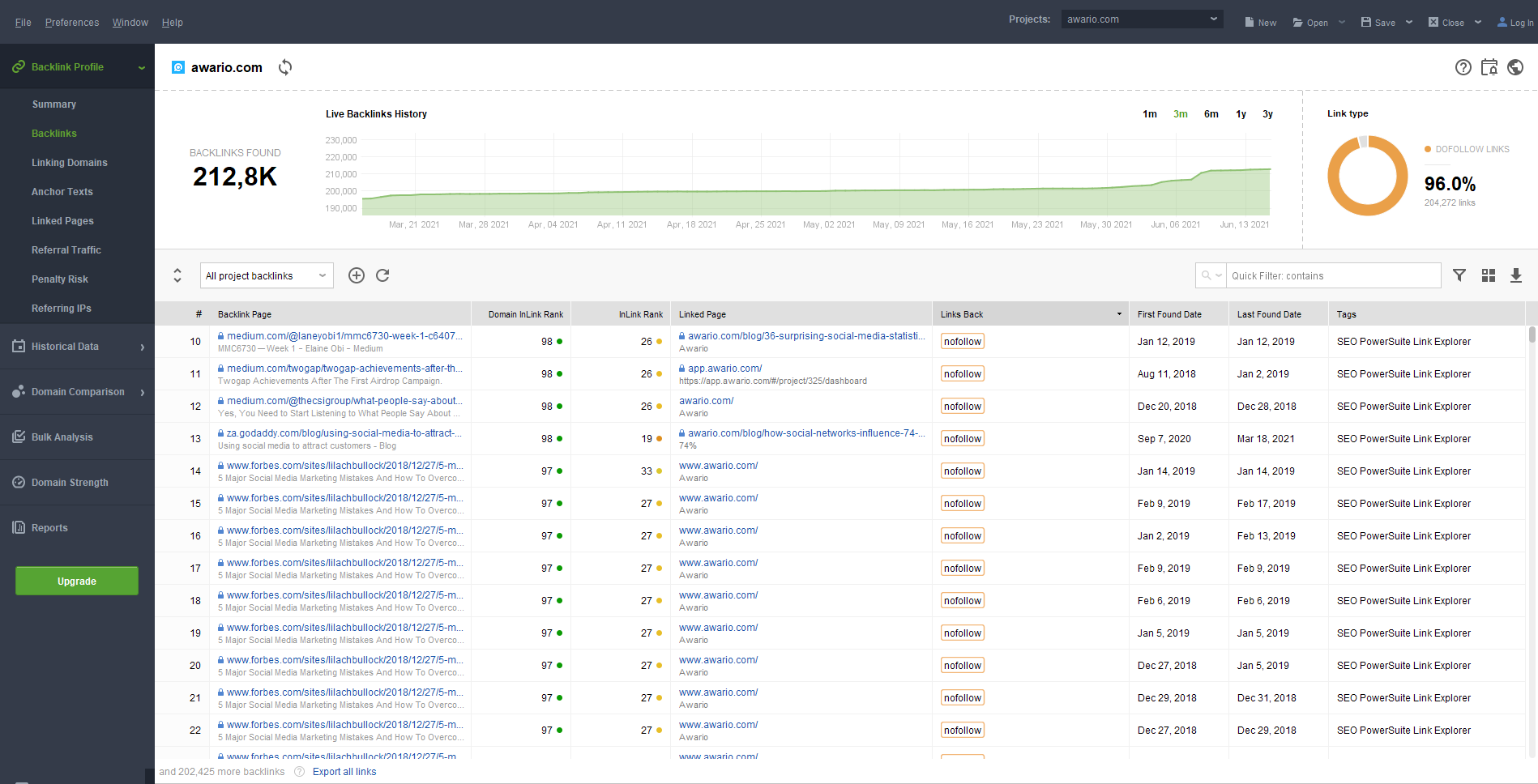 You might think: what does a boring SEO tool do in this list of fun social tools? The fact is, online reputation has a lot to do with how your site and your backlink profile look, and what your Google rankings are.
SEO SpyGlass, therefore, is here to monitor your backlink profile and not let any spammy links get associated with your website and ruin your rankings.
SEO SpyGlass claims to have the most up-to-date link index on the market, and we have no reason not to trust them. But that's not the main advantage of this tool: it also analyzes the authority of each of your links and measures the Penalty Risk of your backlinks, saving your website from possible algorithmic and manual search engine penalties.
Pricing: Paid plans range in price from $99 to $199/year.
Trial: No, but there's a free version available with a limited number of backlinks to analyze.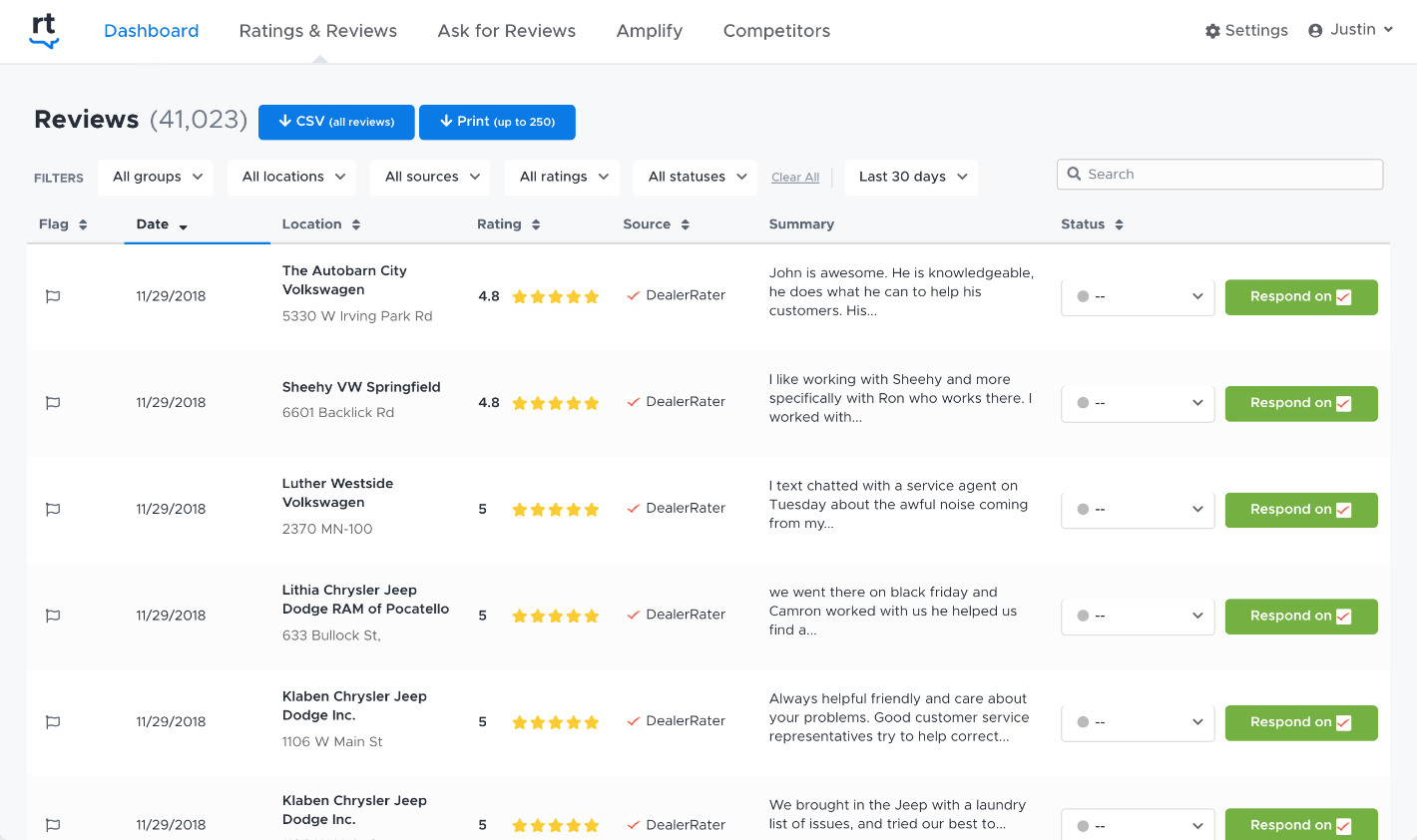 Back to tracking online reviews: as you might imagine, this is one of the most important and most requested processes of reputation management.
If Reputology didn't cover whatever review sites you're interested in, try ReviewTrackers: it covers more than 85 review sites, including TripAdvisor, Foursquare, Healthgrades, Facebook reviews, Google Maps. The tool also emails you important reviews so that you don't have to constantly check the app if you're getting tons of reviews.
ReviewTrackers analyzes the ongoing customer feedback and presents you with some conclusions as to which aspects of your business are mentioned the most and might require your attention.
Pricing: ReviewTrackers' paid plans cost $69 to $199/mo.
Trial: A 30-day free account is available on request.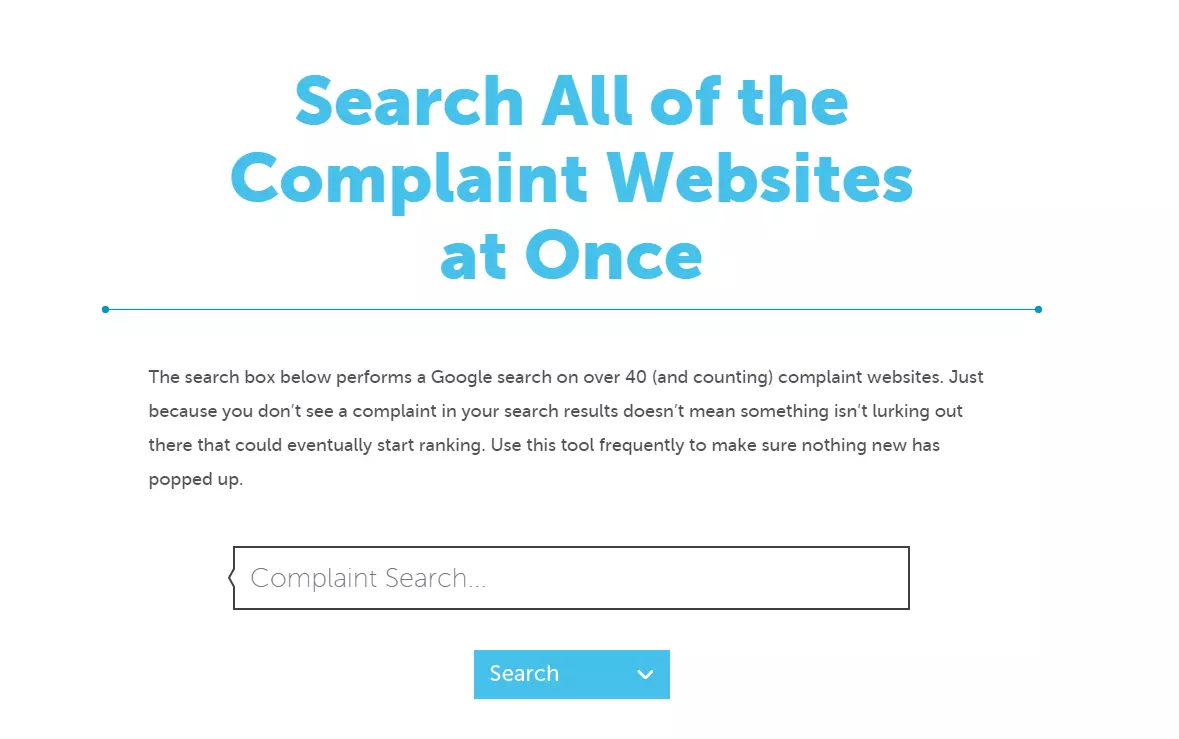 Surely, searching for complaints about your own brand might not seem like a pleasant task. But it's the minimum of what you've got to do if you don't have the resources to monitor the online world 24/7.
GoFishDigital Complaint Search covers more than 40 complaint websites. You can find the complaints, respond to them, and fix the problems before they turn into disasters, i.e. start ranking in Google for your branded keywords. In some cases, you can also remove the reviews that are damaging your reputation. Of course, you'll also see the most popular complaints, reviews, and your brand's overall rating.
Pricing: Free.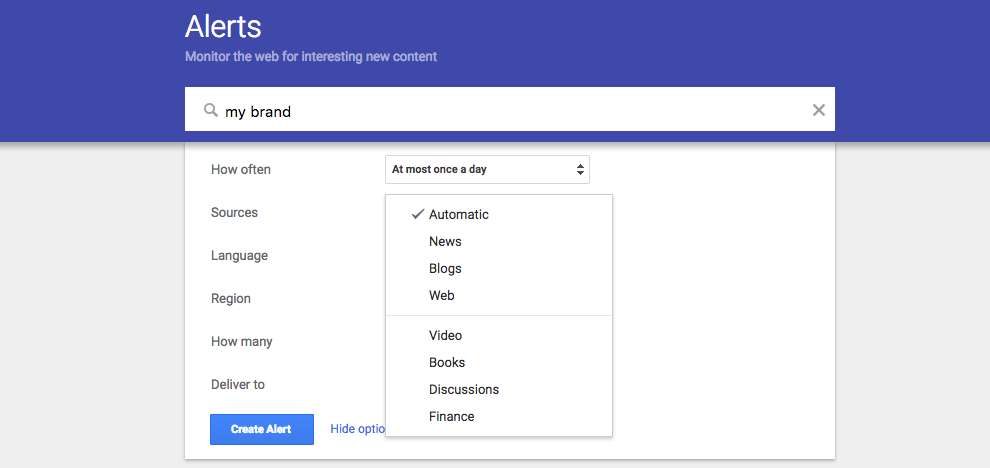 Another free and effective tool for reputation management is Google Alerts.
All you need to start is a Google account. Then, set up alerts with keywords you want to track. You can monitor your brand or CEO's name, your competitors, or industry news. All mentions will be sent to your email daily or weekly.
Google Alerts monitors news, blogs, videos, books, and the web at all. Setting up the alerts, you can choose your language and location to get accurate results.
The tool is often used by PR specialists, journalists, and content makers overall. However, brands can harness it, too.
Of course, there is no in-depth analysis behind the alerts. This is only a list of sources where your company was mentioned. Maybe beginning with Google Alerts, you will end with regular brand monitoring and social listening in the future.
Pricing: Free.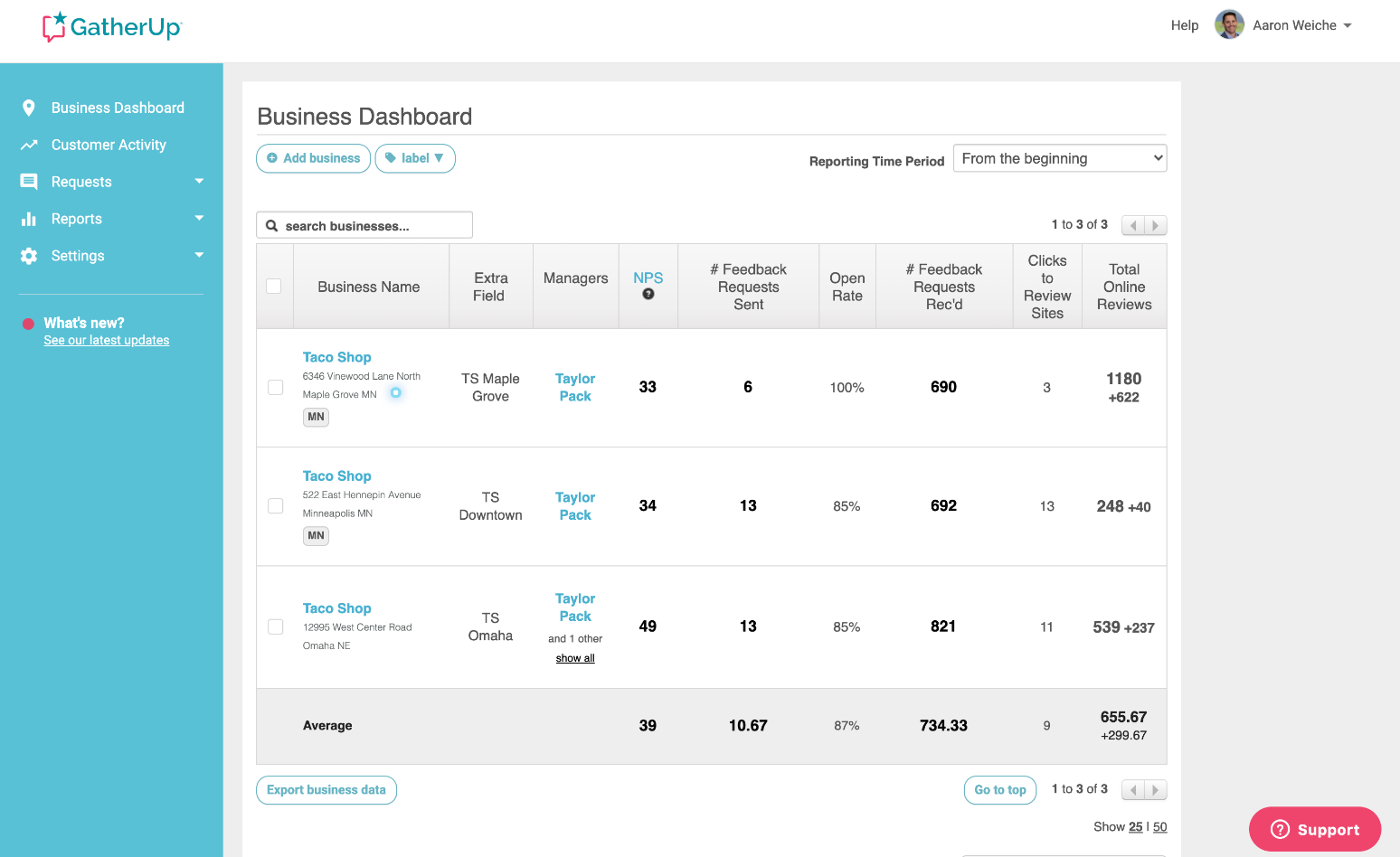 Sometimes, reputation management is also about tweaking the online image of your brand.
The problem with online reputation is that people tend to leave negative reviews and ignore their positive experiences. When the product or the customer service is satisfactory, but not outstanding, people ignore this fact as something obvious. On the other hand, if there is even a minor problem, unhappy customers turn to the Internet to leave their angry reviews. As a result, the final image is usually skewed.
To fix that, you need some way to encourage your customers to leave reviews. GatherUp is such a tool: it allows you to actively ask customers for a review of your product. The tool sends a personalized request to your customers. In such a case, your existing customers don't have a reason not to leave a review.
Pricing: GatherUp's paid plans cost $45 to $99/mo.
Trial: A free 14-day trial is available.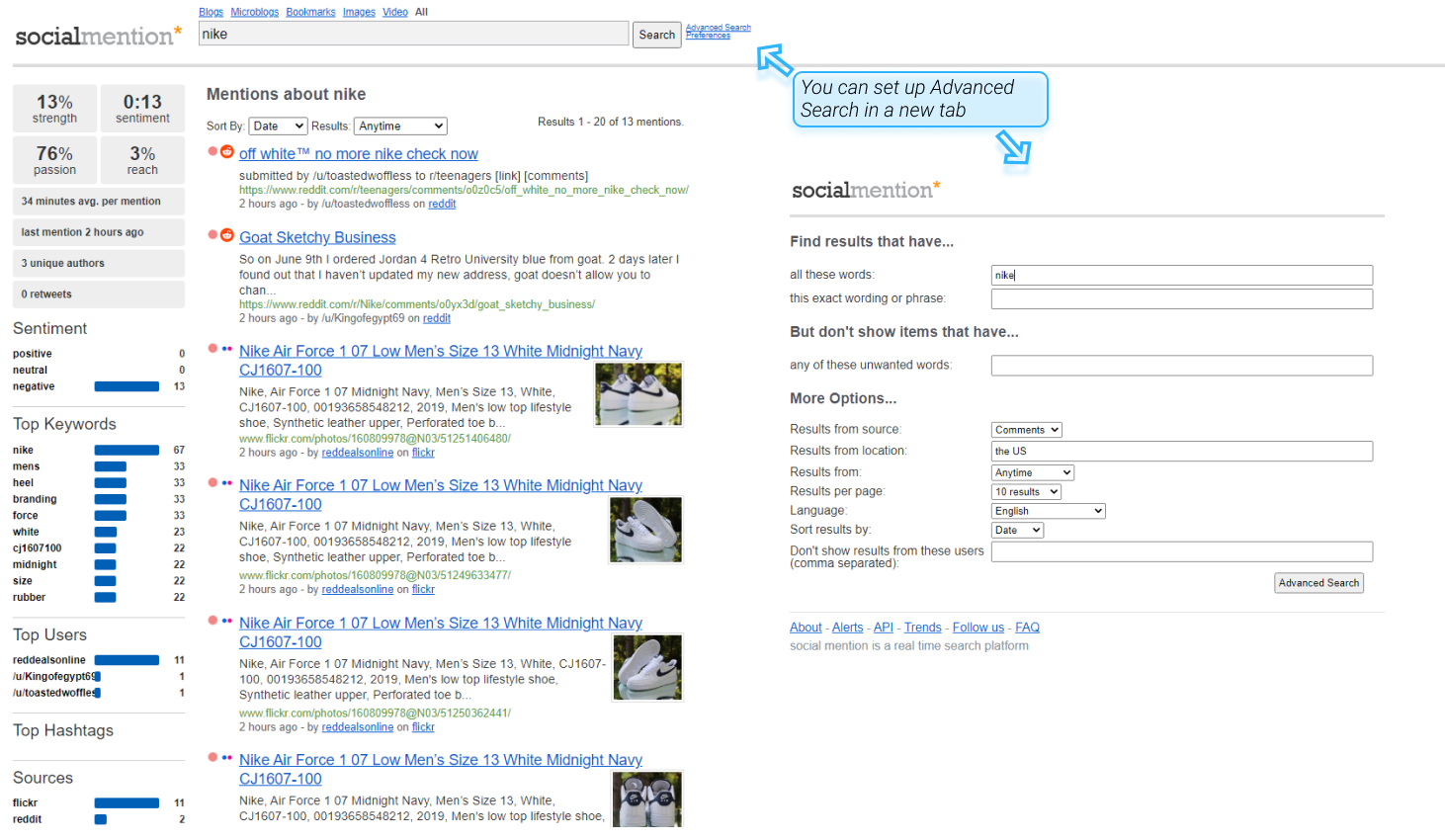 At first glance, Social Mention is a more complicated version of Google Alerts. However, this tool is not just a free news analyzer. It finds your keywords – a brand or CEO's name, branded or industry hashtags – in blogs, for instance, on Flickr, news, Q&A, and discussion sites like Reddit.
To narrow down the search results, you can set up Advanced Search by choosing a language, location, etc.
The tool shows mentions' sentiment (negative, positive, or neutral), makes lists of top keywords associated with your topic, users, hashtags, and sources that mention you the most. It helps you find discussions and reviews around your product or brand.
Additionally, Social Mention detects your brand's passion and strength. These indicators reveal whether your company is a popular topic in public discussions. For example, you will have a higher Passion score if your brand has advocates who talk about it online.
Using Social Mention, you can track your competitors, identify industry trends and popular topics as well.
You can filter the search results by date or source and export them into XLS files for further analysis.
Pricing: Free.
If you want to dive into not only into reputation monitoring but also social listening, take a look at SentiOne. The tool monitors your company mentions on blogs, websites, news portals, review sites, and social media like Facebook, Twitter, Instagram, YouTube, Reddit, Tumblr.
SentiOne gathers and analyzes tons of information. You will see the sentiment of your brand, statistics about your customers (audience demographics, top hours of online activity). Also, the tool calculates Brand Health Index and Influence Score that serve as indicators for your brand reputation.
To stay informed about public opinions, you can set up alerts and notifications. The AI-based algorithm detects abnormal events around your brand online. So, you can prevent social media crises.
Like other social listening tools, SentiOne generates various reports. For example, you can see your results against other companies.
Pricing: A starter plan is $299/mo. To know the price of the Enterprise plan, contact their support team.
Trial: No.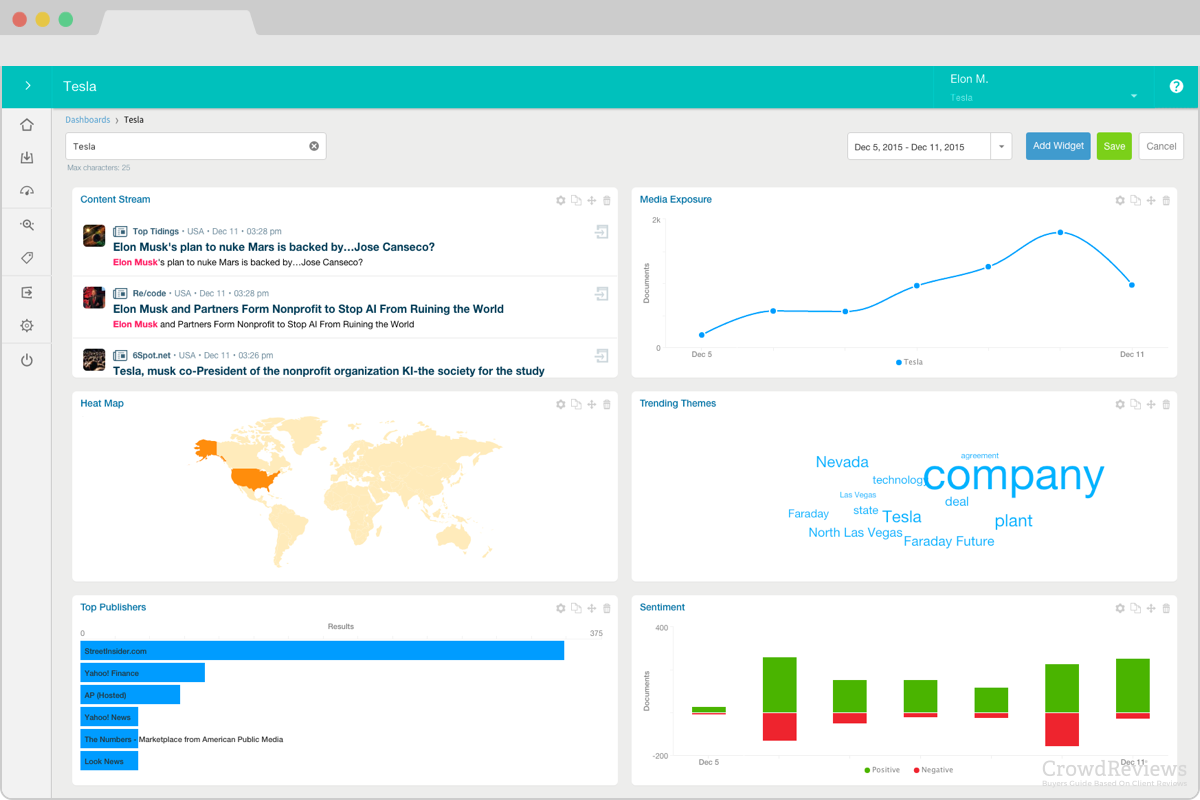 Sometimes, editorial content matters even more than public discussions. To track what media talk about your brand, you can use Meltwater. The tool scans 270K news sources globally, including print media. Also, it has TV and radio monitoring features. Additionally, Meltwater "listens to" 25K podcasts to find any mentions about your company.
Social media can be the tool's source of data, too. You can track customers' comments and product reviews.
All picked information is the base for various reports. Using Meltwater, you can see your share of voice per platform, the volume of mentions and their potential reach and sentiment, top publications, journalists, and influencer who discuss your brand more often. Also, the tool performs trends analysis to identify hot topics associated with your company.
In other words, Meltwater can be a personal media assistant for enterprise-level brands, marketers, PR specialists, and agencies. However, it costs money to do this job.
Pricing: An average cost of the tool is $4000/year, public records find. To know Meltwater's current pricing, you need to contact their support.
Trial: No.
If you are checking out your business reputation, then The Brand Grader can provide you with useful information about how your brand performs online.
It is free and straightforward to use. All you have to do is to enter the name of your brand and provide an email account.
The Brand Grader sends you a report on your company. It provides a quick overview of the brand's online presence. The report includes details from the last seven days relating to:
Your biggest web influencers – blogs and news sites who have talked about you

Your top sources – the web and social sources who mentioned your brand most

Sentiment detection – whether most of your mentions are positive or negative

Mentions overview – how many mentions your brand received on websites, blogs, and forums

Mention Locations – where conversations about your brand came from

Social Following – your follower count on different social media platforms
Pricing: Free.
Trial: No.
12. Review Push
You can use Review Push to collect all your online reviews in one place. It offers multi-site monitoring and unlimited locations. This makes it particularly useful for firms with branches in different areas.
Also useful for multi-site businesses is the ability to compare how your stores rank against each other.
Whenever your business receives a new review, Review Push notifies you via email. The email gives you the option to respond to your online reviews.
Pricing: Prices start at $99.
Trial: 21 days.
BrandYourself is online reputation management software for individuals and businesses. BrandYourself builds a free reputation report so you can see how you look online. It calculates your score, which will put you somewhere at a level between Very Poor and Excellent.
Your report explains to you how you can improve your Reputation Score. It also highlights your risk factors – flagged social results, flagged social posts, and flagged images. It also looks at your personal brand and the properties that affect that.
You can work through an action plan to improve your scores.
You are given the option to improve your results yourself or to pay BrandYourself to do the necessary changes for you. You only have access to limited data with the free report, however.BrandYourself uses a 4-step suppression process when they try to improve your online reputation:
Remove any Google results that can be taken down (this is relatively rare)

Build an impressive online presence to suppress your negative results in Google

Continually create positive content to protect your good name from any future damage

Monitor your online presence and ensure it's maximizing your career opportunities
Pricing: Available at request.
Trial: No but there's a free reputation report.
Enjoying the post? There's more.
Sign up for our newsletter to get our best content by email.
Over to you
Are there any other tools that you like? Let me know in the comment section.