How to find social media influencers

Article summary
Finding industry influencers isn't an easy marketing task for the majority of companies. The best way is networking. But who is good at it? Fortunately, our introverted society came up with a whole range of marketing software. In this article, you can find 12 influencer marketing tools.
According to tons of research, the hardest thing in influencer marketing is to actually search for influencers. This seems surprising: it's not like they're hiding in the depth of the dark web. On the contrary, possible influencers seem to be everywhere, especially if you work for a popular niche, be it marketing (yes, personal experience) or clothing. LinkedIn, Twitter, Instagram... Every n-th person has the #influencer hashtag in their bio, boasts a publication on Buzzfeed, and seems to be getting all their stuff for free. So, how hard can it be to find niche influencers?
As you might imagine, it's not about any social media influencer. It's not even about finding the best influencers or a decent free influencer. It's about finding the one. Well, or the ones. (still a better love story than Twilight)
And this isn't an easy task indeed. You've got to discover and identify social media influencers who are experts or who are considered experts in your niche; people who will fit in your budget or work for some benefits other than money; people who will be interested in promoting your product.
So, how to find niche influencers?
Sign up for a free Awario trial
See Awario in action with a free 7-day trial. No credit card required.
By signing up I agree to the Terms of Use and Privacy Policy
One of the ways to discover and identify the influencers that are perfect for you is to be amazing at networking and relationship building online as well as offline. But who is good at networking? No one, I always knew that.
So, our society, being clever and blissfully introverted, came up with a whole range of influence marketing software that does a lot of influencer searching for you. At the next step you would need to track your influencers contributions and that's where affiliate software comes into, offering much more than Google Analytics can. Don't get me wrong, these aren't incredibly human-like, sociable or charming robots who talk to the possible influencers and make them collaborate with your brand. Instead, the tools just do the hardest part of influencer marketing — search for influencers. The rest is still on you. So far.
So, let's go through the types of paid and free influencer marketing software or software that can be used to target and identify social media influencers among their other features.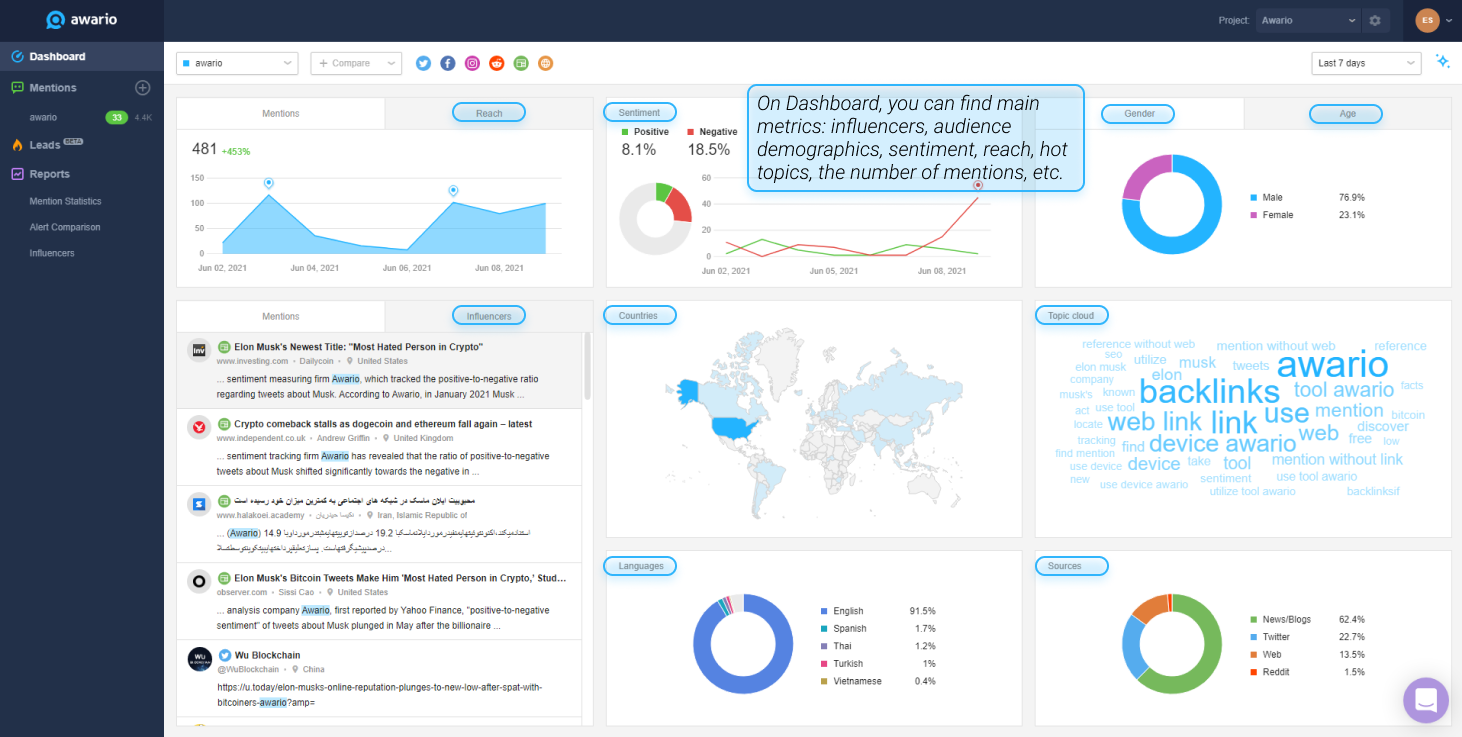 Yes, we start with our own mentions monitoring and influencer tool because finding influencers on social media is one of its main tasks. Not the main one, though.
Awario is a social media listening tool that monitors mentions of brand, company, CEO, product, or, indeed, any other keyword on social networks (Twitter, Facebook, Instagram, YouTube, Reddit), news sites, blogs, forums, and the web.
Awario's main goal is finding relevant mentions for you to react to them one by one, improve your customer service, content strategy, and generate leads.
Its second important goal is to analyze the whole pile of mentions so that you could get a picture of how your brand, product, or person is perceived online, take care of its reputation, and see the effect your marketing or other campaigns have on the conversation online.
Start your search for influencers today.
You should've been doing it yesterday – but the next best time is now with Awario.
By signing up I agree to the Terms of Use and Privacy Policy
Finding influencer profiles is just one of the features that Awario has; however, the tool does this differently (and better, we argue) than most specifically free influencer marketing tools. This is because Awario searchers for relevant keywords through all of the social media before coming up with the influencers list, while most tools simply have a database of influencers. Databases are rarely up-to-date and are limited by their nature, while keyword research isn't.
There are two ways you can do influencer marketing with Awario.
First, you can find the already existing brand advocates (again, something you can't do with a database).
To do that, create an alert for your brand for the social media platforms you're interested in, for example, influencers on Twitter. Don't forget to include misspellings and abbreviations as keywords as well as the brand's website. After leaving the tool for a couple of hours to collect the mentions, go to the Influencers tab and discover the list of brand advocates - people with the large social media following who have mentioned your brand or linked to your content already.
Collaborating with these people will understandably be much easier than with the ones who haven't heard of your company before. You can point to your content that they've shared and generally have a more logical and personal start to the conversation.
You can also find your competitors' brand advocates. This will save you a lot of trouble: these will be the people that are relevant to your niche, that have a large following, and that obviously work with the brands.
True, they might be loyal to your competitors, but it never hurts to ask.
And finally, here's how you use Awario to discover influencers:
1. Create an alert for your industry using all kinds of keywords that are associated with your niche. Identify the languages, locations, and social media platforms you're interested in.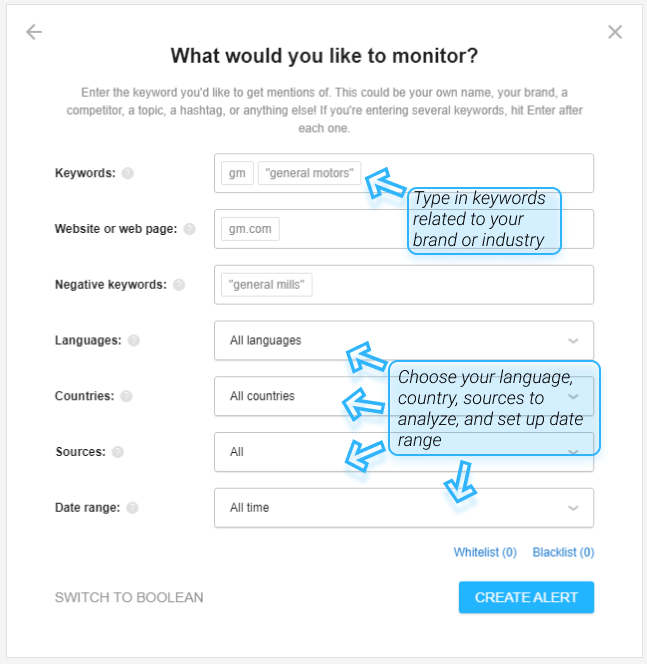 2. Wait for a couple of hours for the tool to collect the mentions and go to the Influencers tab. There will be a list of your influencers in the hierarchical order.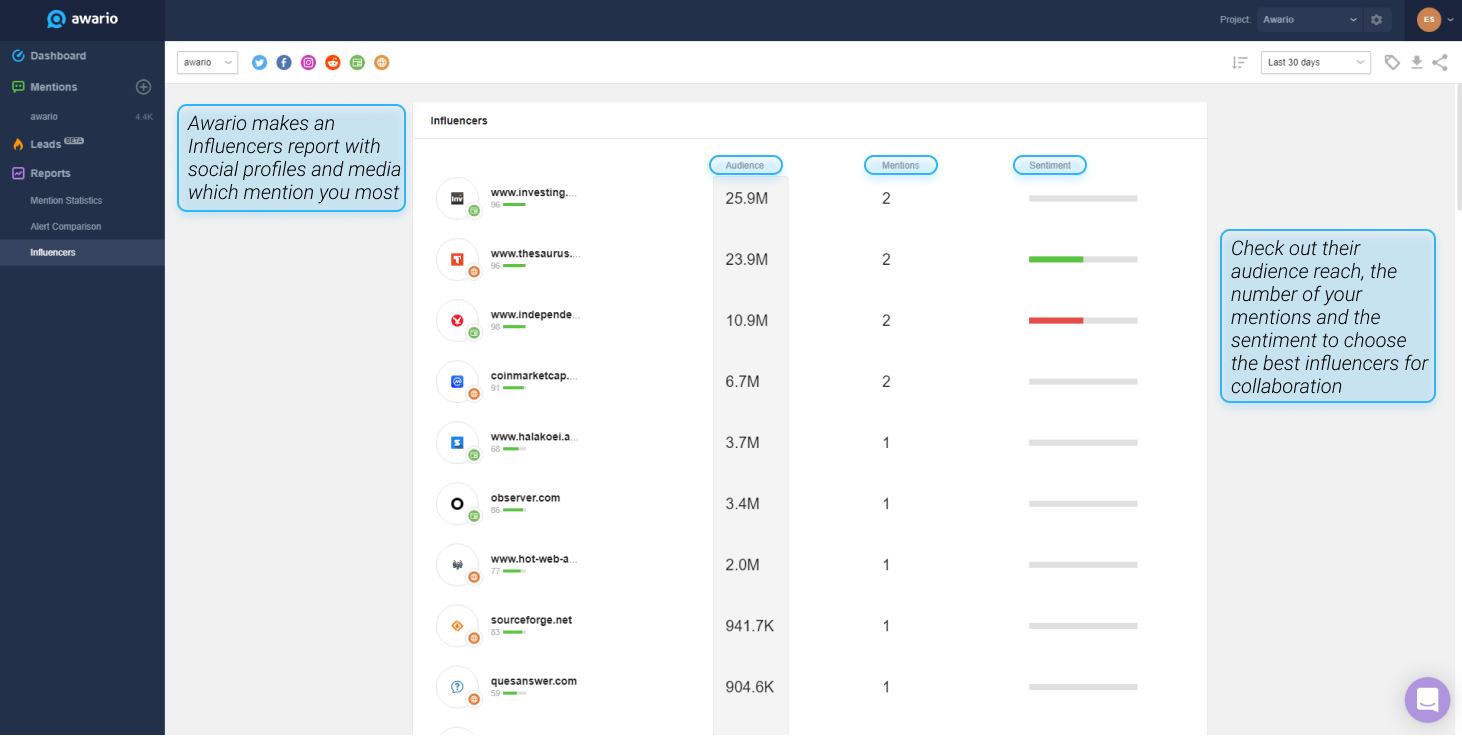 After you've collaborated with some of the influencers, you can use Awario to keep an eye on how the campaign is going. Creating an alert for your brand will ensure you see how the popularity of your brand is growing as a result of the campaign, how many people are reached by the influencer, and whether the buzz online is positive, negative, or neutral.
You can sign up for a free 7-day trial and switch to paid plan in future. Pricing starts at $29/mo. In case you have any questions, you can contact our support or leave a comment on this highly unbiased article.
In case you got bored and on a spur of moment decided you don't need influencer marketing, here's a motivational reminder:
According to to the study that the Influencer Marketing hub conducted in 2017, every $1 you spend on influencer marketing brings $6,50 with the top 13% of businesses receiving a return of at least $20 per $1 spent. Therefore, influencer marketing is one of the most cost-effective forms of marketing so far, not to mention social media marketing.
Now let's move on to other influencer marketing tools.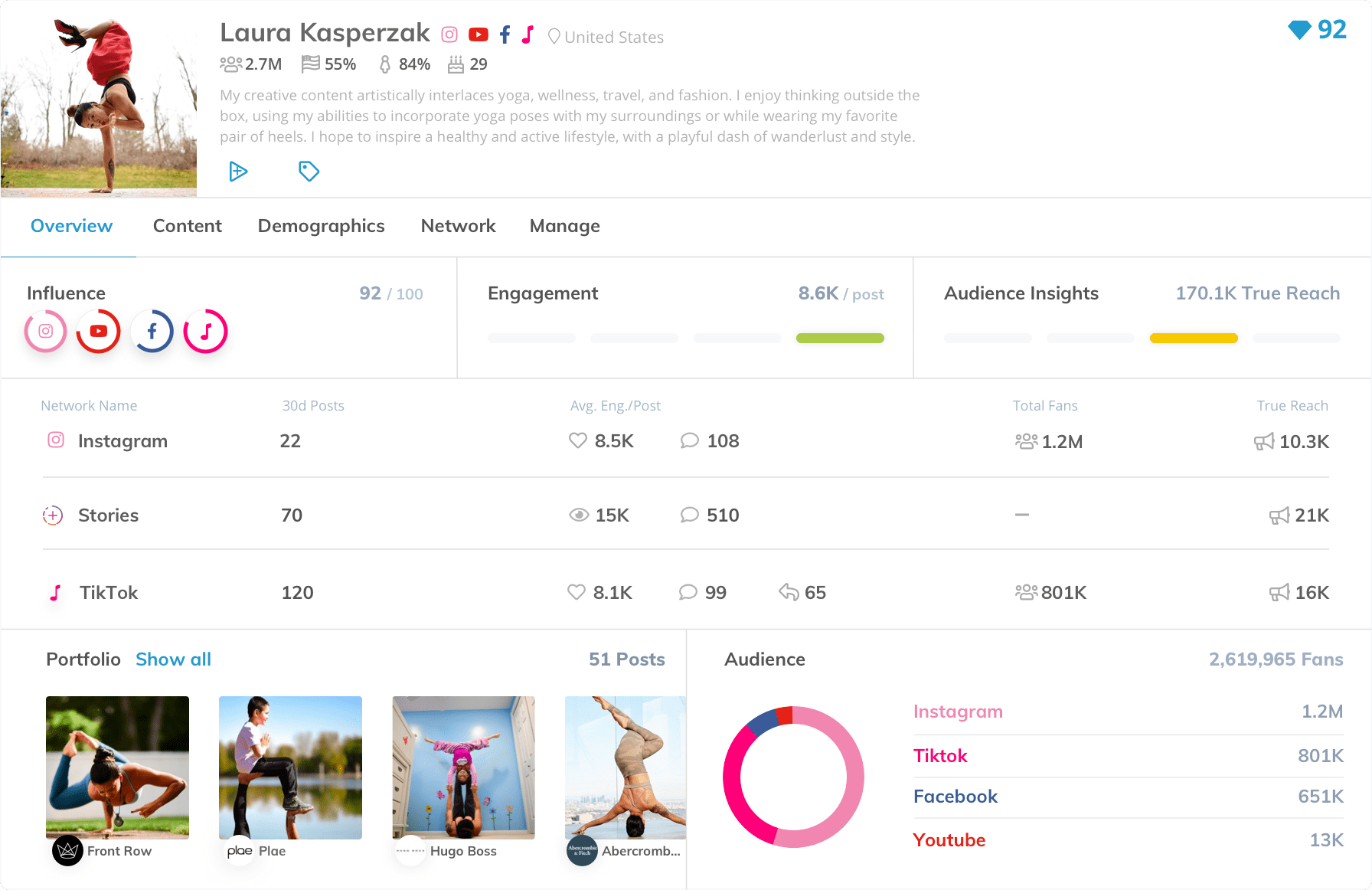 Klear is a database of influencers and a popular quality platform for influencer marketing. You can not only identify a potential influencer that fits you best but also carry out the influencer marketing campaign using Klear.
You can use the platform for influencer analytics: a potential influencer profile includes useful metrics, brand collaborations, target audience demographics, and influencers' top content. This helps to analyze an influencer and choose the right one: to get the best results, filter the influencers by the social media network you're interested in, the size of the influencer's audience, their skills, location, as well as by the demographics of both the influencers and their audiences.
You can then use Klear Connect, an in-platform CRM, that substitutes email threads and makes reaching out to influencers a more organized process. You get to share campaign briefs, approve content, bulk message, send payments, track links, get stories authentication, and all that other stuff a decent marketer craves in their daily life. Finally, you can measure the results of your influencer marketing campaign: the data will include engagement, reach, and ROI.
Klear has a free plan with limited features. A basic plan is available for $249/mo.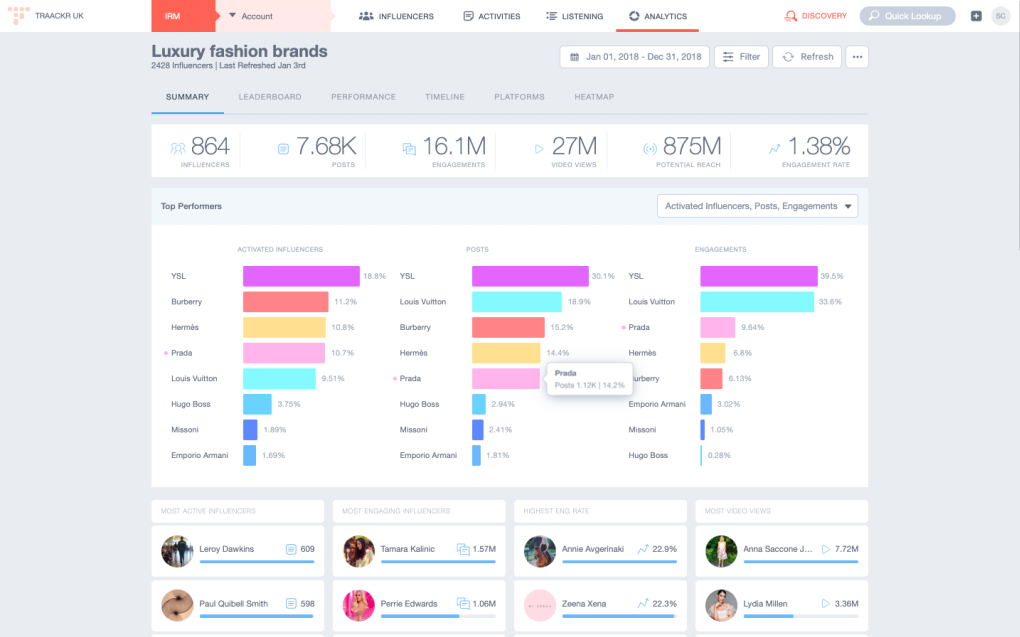 Traackr is another influencer database that can help you do all of the influencer marketing from finding the influencers to measuring the results. The search of influencers is quick and straightforward: you'll never question how to identify social media influencers on this platform.
You can filter the influencers by type of the social media platform, niche, language, location, age, gender, and brand affinities. You can apply the same filters to the influencers' followers.
Traackr also reports on the influencer campaign's performance and shows how the campaign affected your market share.
For new customers, Traacks offers a demo. To get pricing, you need to contact the support team.
Influence.co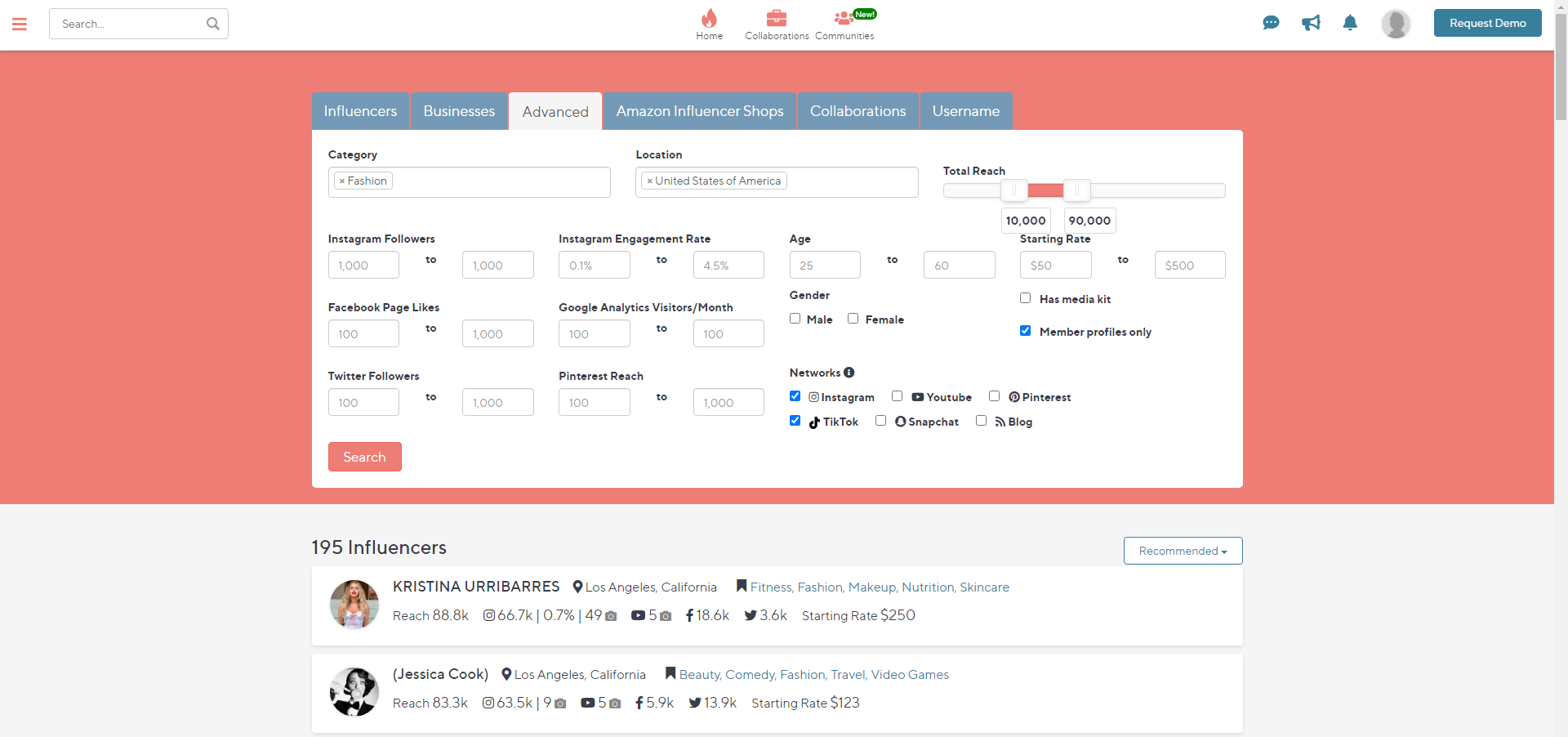 The Influence.co creators provide a partly free database of influencers on Facebook, Twitter, Instagram, TikTok, Snapchat, and Pinterest. However, the tool primarily is a good assistant for analyzing Instagram influencers.
Setting up the search, you can choose the type of influencers (for instance, fashion), location, and the number of followers. In advanced search mode, you can also specify the number of likes, the engagement rate, reach, and so on.
Analyzing profiles picked Influence.co, you can see the post's price, popular topics, the target audience demographics, last Instagram posts with the number of likes, comments. Also, the database contains information about each influencer's accounts on other social networks. You can save influencers to your list, follow them, or invite them to your campaign.
Another helpful feature is the search for collaborations. Influence.co helps you find influencers brands work with. You can see branded posts with their engagement rate and get inspired by the ideas.
Influence.co offers free and paid plans for individuals and businesses. Pricing starts at $349/year.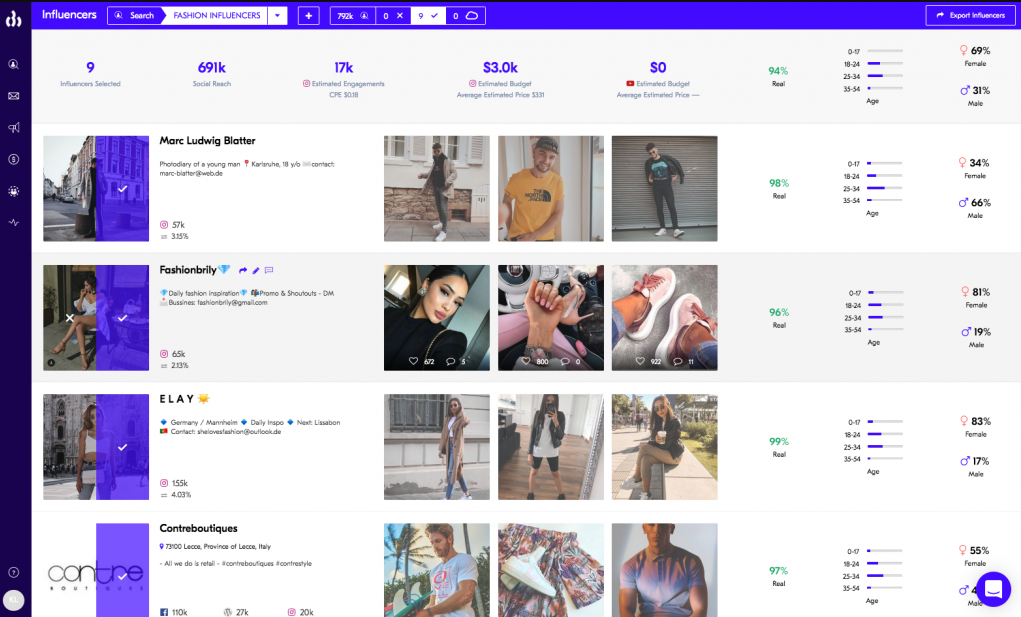 Upfluence calls itself "the smartest influencer marketing platform". Well, we doubt that one, but the Ufluence's influencer database is definitely huge. It includes three million influencers. For each, Upfluence analyzes niche, reach, engagement, location, and demographics. It also reveals the influencer's usual post times and top content (the content they post most often).
Upfluence is determined to distinguish between fake and real followers, doing its best to stop you from targeting "fake" influencers.
Besides, you can see the influencer's price for a post on either YouTube or Instagram influencers, discover brand affinities, cultural interests, and some other information that might help you decide on the influencer before starting the outreach or even opening their social platforms.
To know Upfluence pricing, you'll have to contact their support.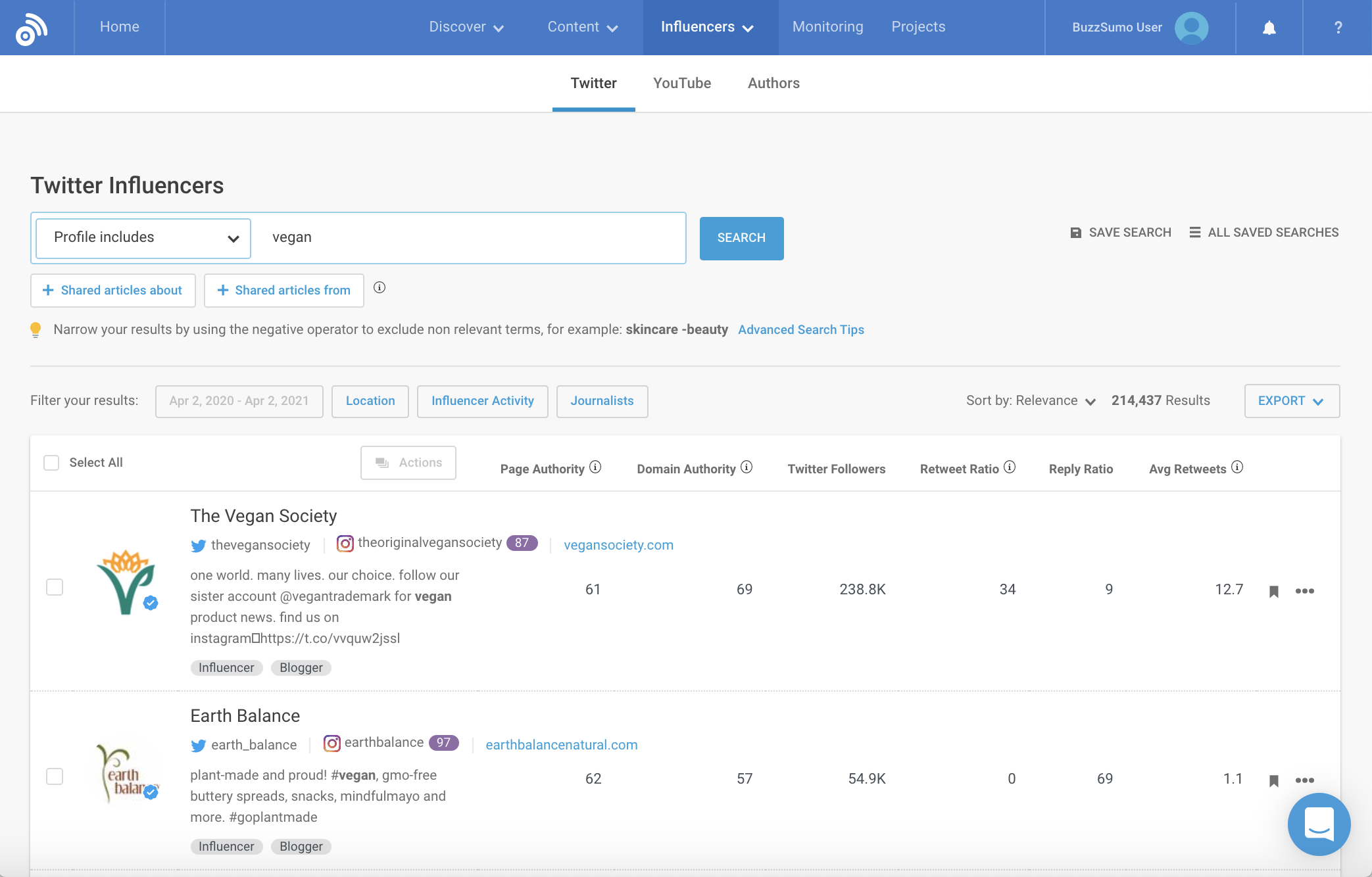 A bit of change in the never-ending narration of influencer marketing platforms, here we have Buzzsumo.
Refreshingly, the app is used for content and influencer discovery. The idea is that discovering popular content often leads to discovering influencers: the people who've created the popular content.
However, that's not the only way Buzzsumo discovers influencers. You can find the people you're after on Instagram, Twitter, Facebook, and the web. Buzzsumo analyzes the engagement of the authors' posts to determine their significance and breaks them down into bloggers, influencers, and journalists, which might be helpful for your PR as well as social media marketing and content marketing (exchange content with other bloggers, for example?).
Buzzsumo pricing starts at $99 per month. Also, they provide a free plan.
And we're back to the influencer databases with Heepsy that counts up to seven million influencers. None of the influencers has less than 5,000 followers, which, by the Heepsy's idea, is exactly what makes them social media influencers. Having said that, it also filters out suspicious and obviously fake accounts and shows influencers' post frequency and growth rate.
The app lets you filter by category, area, and engagement level shows the audiences demographics and estimates the influencer's cost.
After you've chosen your influencers, it's time to organize the information you have and reach out. You get help with these two tasks as well. You can create TikTok, YouTube, Instagram influencers lists, export data and start a conversation without leaving the platform.
You can use a free account with limited search results. Heepsy pricing starts at $49/mo.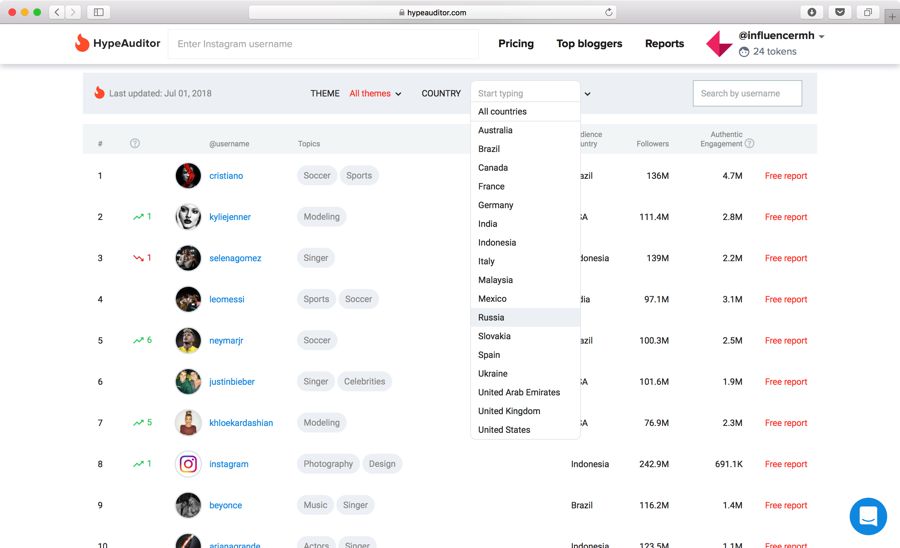 Instagram and YouTube are the most popular platforms for social media influencers, so, as we've noticed before, some tools are covering only them.
HypeAuditos is one of them: it's was made to primarily work with influencers on Instagram and YouTube. Now, Twitch and TikTok is available, too. So, if these are the platforms you're interested in, keep reading.
HypeAuditor analyzes influencers' reach and demographics, as well as language, location, age, gender, and engagement of their followers. The app also filters out fake and suspicious accounts.
The tool offers multiple pricing options: you can use it for free influencer search (with huge limitations, obviously), pay as you go, and create a plan. Pricing starts at $ 399 /mo.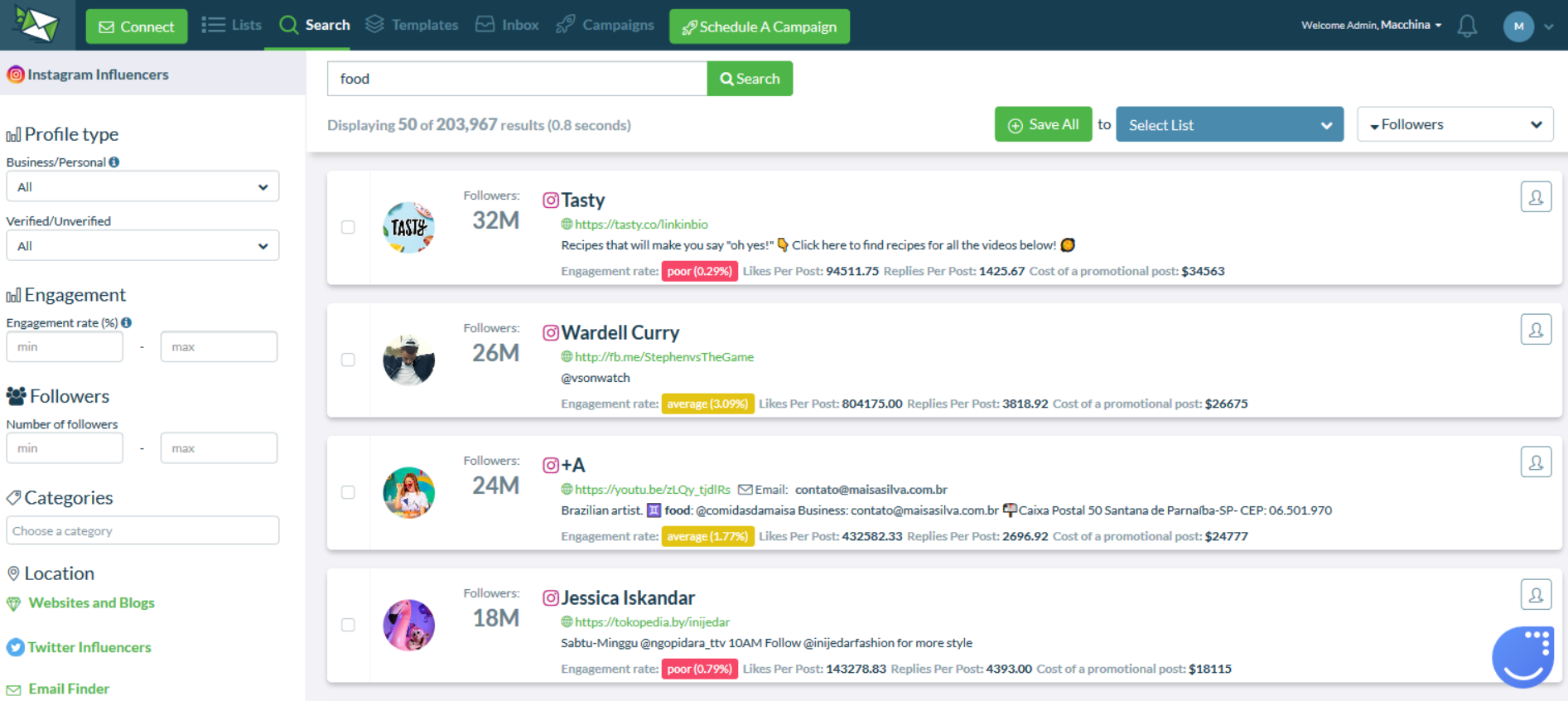 These guys chose a quite different approach: when searching for influencers, they focus on Instagram and YouTube only. In fact, it's another database of social media influencers that is limited to YouTube and Instagram.
The tool asks you for your niche and location and finds potentially relevant influencers based on this information. For each influencer, you get their social media profiles and emails, their engagement level, and the estimated cost for a post. All the information you need to build a relationship.
NinjaOutreach is true to their name: they don't stop at showing you the influencer. Instead, they focus on making the outreach a smooth process. You can start a conversation straight from the platform, track conversation history, email opens, clicks, replies, and so on.
The tool offers a 7-day free trial. Pricing starts at $119/mo.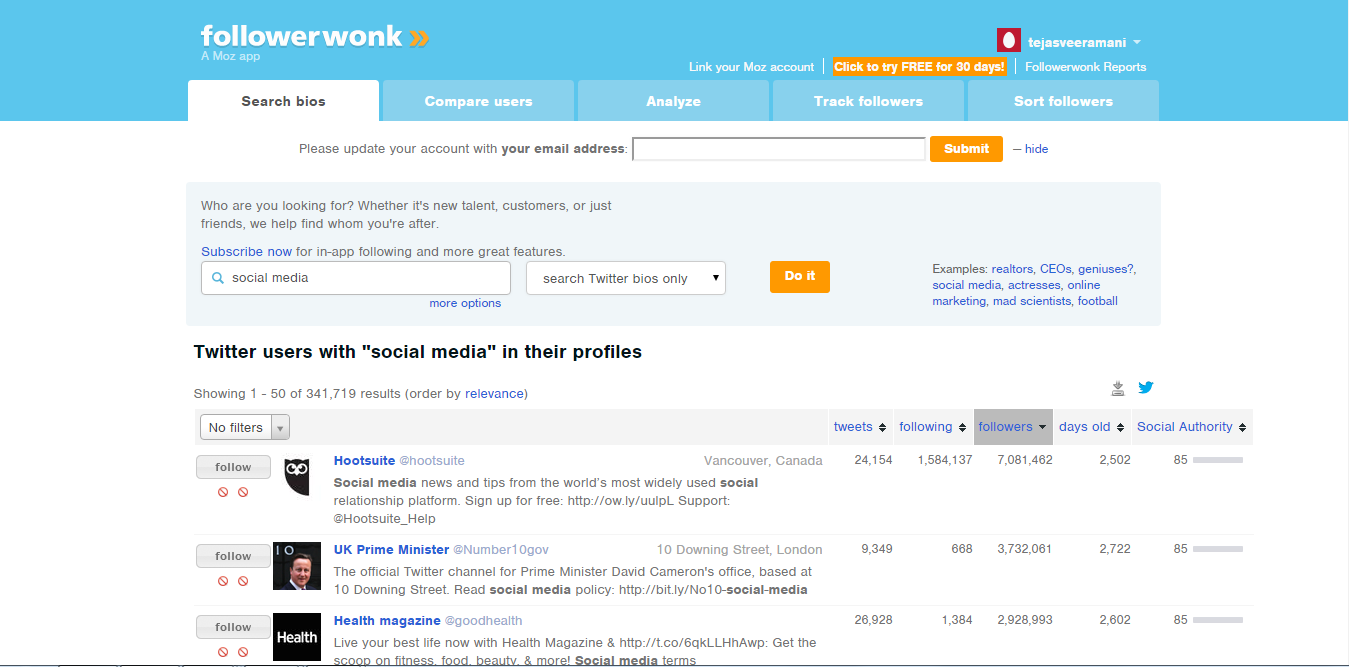 And finally, we have Followerwonk that focuses on a single platform - Twitter. It analyzes the author's bios, names, URLs and locations according to your keywords to find relevant and influential authors.
Additionally, the tool analyzes your Twitter followers and breaks them down by their bio, location, and who they follow.
The tool has a free option with limited access to the data. For example, you can't see engaged tweets. The cheapest paid plan costs $29/mo.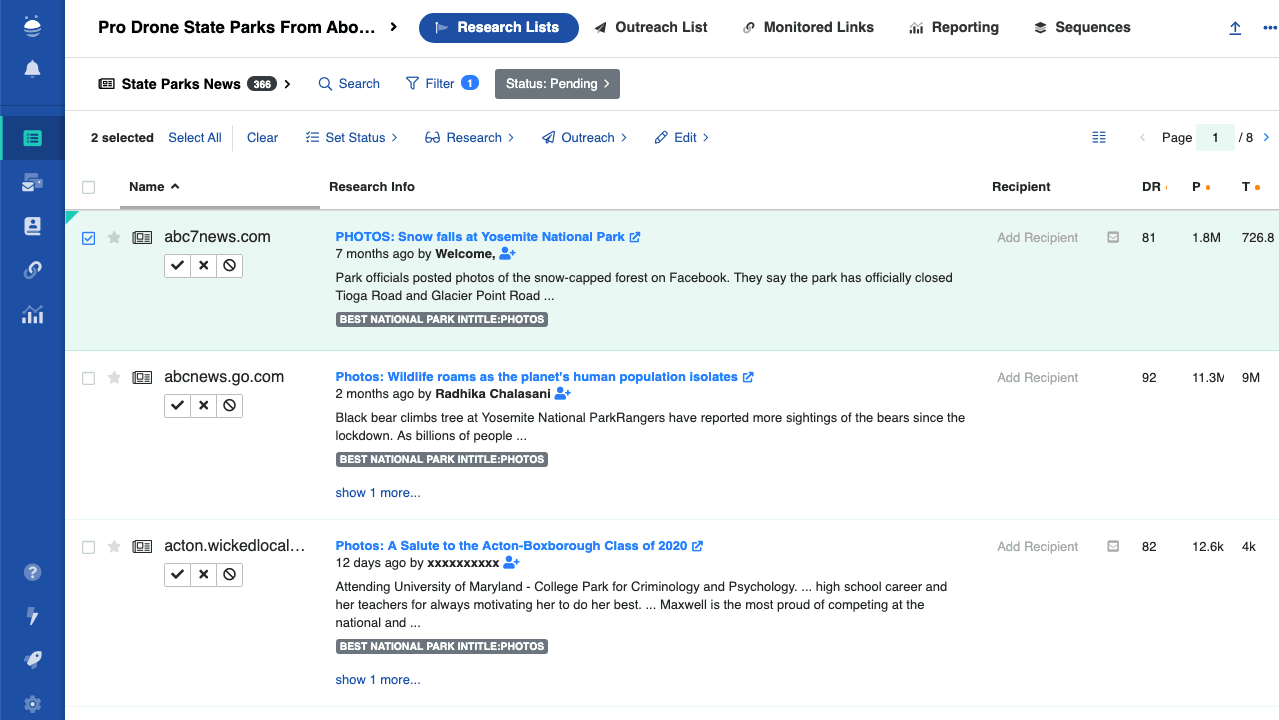 Buzzstream managed to grow from a link-building tool into a prospect searching tool. However, you can use it for influencer marketing, too.
Buzzstream searches for relevant influencers based on the online content that it gathers and analyzes. It shows you the influencers' social media profiles and contacts.
When you have a list of potential influencers you want to build a relationship with, the tool helps you prepare an effective outreach campaign via email.
As a "relationship building" platform, it obviously doesn't stop at that. Buzzstream keeps track of all conversations, makes it easy to follow up the influencers once you've reached out, and measures the results of each campaign. Based on this data, you can improve your influencer marketing strategy.
The tool is paid. The starter plan costs $24/mo.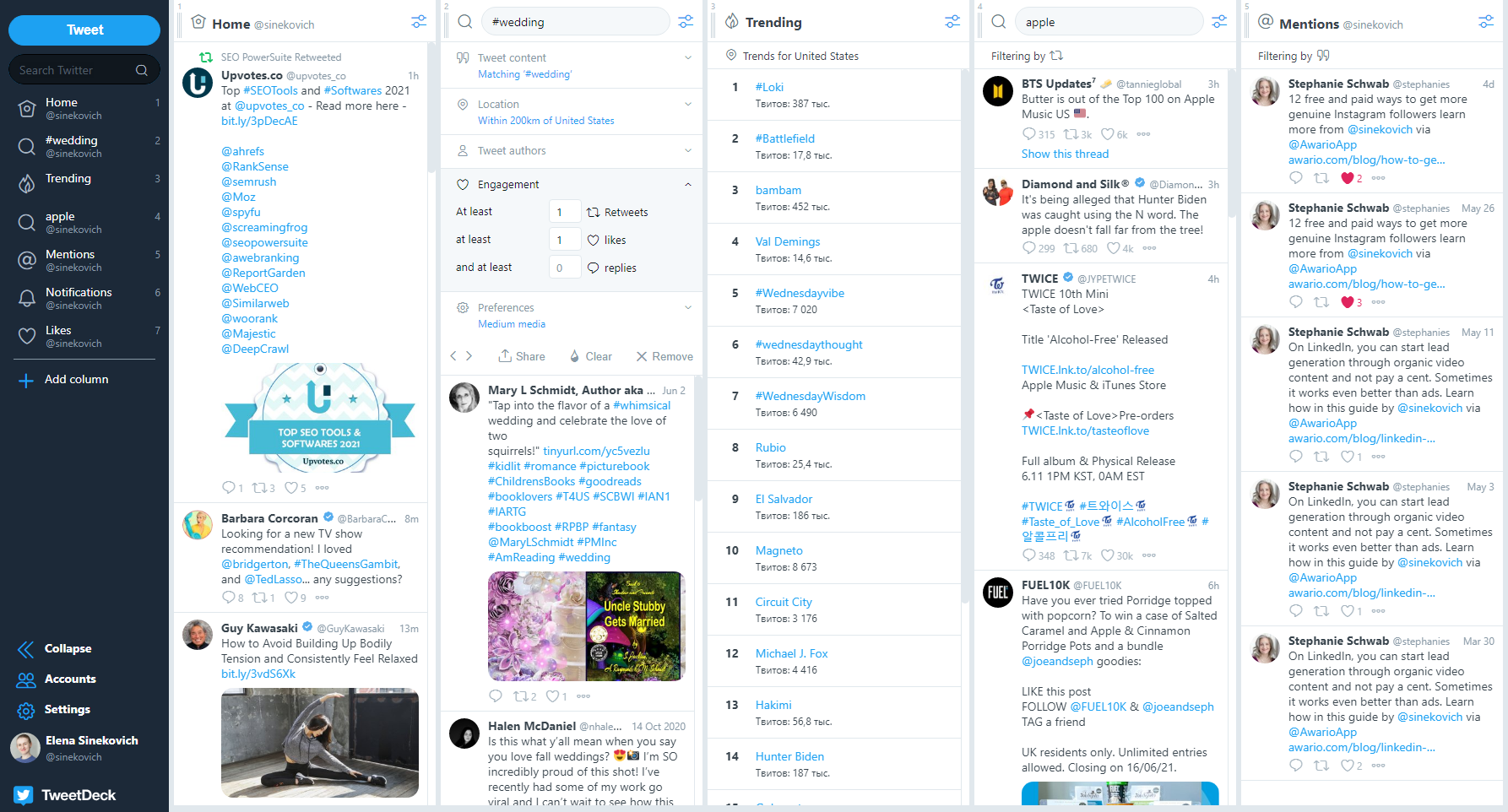 If you want to develop your influencer marketing strategy on Twitter, pay attention to this free tool. The tool is owned by Twitter, so all you need to use it is to log in to your account on the platform.
Tweetdeck enables you to tweet, monitor mentions, track trending hashtags and topics, schedule tweets in one window. Many companies and bloggers use it to manage their Twitter activities.
However, it can help you build a relationship with influencers. The tool picks them by a keyword, a hashtag, or a Twitter handle. Additionally, you can choose location, language, the number of retweets, likes, replies to their tweets and set up the date range.
Then, you will see the feed with relevant tweets for analysis. To work with it, you do not need to leave Tweetdeck. You can like, retweet, or reply to the authors, follow them, or send them direct messages. Sounds perfect, right? Unfortunately, Tweetdeck is inconvenient to work from mobile devices, but this is the only drawback of the tool.
Tweetdeck is a completely free influencer tool.
Enjoying the post? There's more.
Sign up for our newsletter to get our best content by email.
Conclusion
Ready to go out there and look for the right influencers for your brand or maybe invite celebrities to your campaign? Don't let anything stop you! And let me know how it went.