How to set up Google Alerts: easy brand monitoring for your business

Article summary
In this article, we explain what is Google Alerts, how your benefit can benefit from it, how to set it up, and what to do when your business grows out of it.
11 minutes read
In 2022, there's no need to explain why it's important to track your brand online. It's not even as new of a concept as it may seem - online brand monitoring has been with us since the early 2010s.
And while there are many marketing tools on the market now, one of the pioneers was Google Alerts. It remains one of the most straightforward apps for online monitoring and also it's free, which certainly adds some points.
As I said, Google Alerts' setup is pretty straightforward. Nevertheless, there are some aspects you need to pay attention to. Let's go through the process of how to use Google Alerts step by step and break it down together.
But before that, let's discuss one more time why you would need Google Alerts.
Why do you need Google Alerts?
No matter how small your business is, if you're trying to reach any audience on the Internet, you need to track how they talk about you. In other words, every mention of your business gives you a chance to engage, drive publicity, or simply to learn more about your customers.
In addition to that, it's not just your business that you can track. You can set up Google Alerts for industry publications, and specific journalists you want to keep an eye on your competitors, or your industry in general, to be aware of the innovations and developments inside of it.
Google Alerts does the job for you. Instead of occasionally googling what you need, you get notified every time this topic is brought up on the Internet, which is much more effective.
What to expect from Google Alerts?
So how exactly you can set up Google Alerts to track your brand or any topic of interest on the Internet?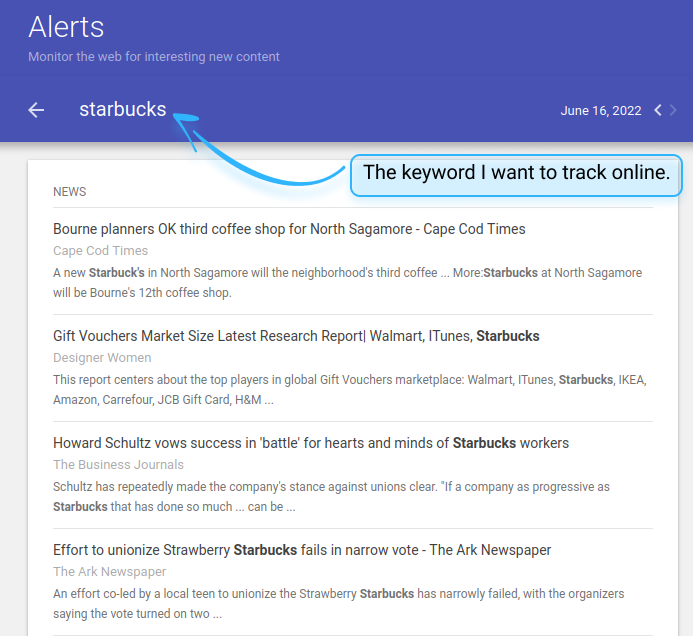 Well here's what you can expect with this tool:
Email notification of new mentions which frequency you can set up.
Some filters which allow you to make your tracking more precise.
Accessible settings and interface.
Real-time tracking.
By the way, all these aspects are customizable. If you don't want to receive the notifications of new mentions in real-time, you can choose to get them once a day or even once a week.
So now that we understand what is Google Alerts, let's talk about the setup process. As with any marketing activity, it begins with setting goals.
Establish your marketing goals
First, you have to decide why you need Google Alerts.
Tracking the mentions of your business is extremely important, but why is it important to you? Do you want to keep an eye on your reputation and get notified about the reviews, good and bad? Do you want to improve your PR and see if your brand awareness raises with time? Or maybe you want to engage with people on forums and blogs talking about it?
Of course, you don't have to settle on one goal, you can choose multiple. Plus, Google Alerts allows you to set up several alerts, as many as you want in fact. So there's no problem if you want to monitor your company and the competitors at the same time.
Sign up for a free Awario trial
See Awario in action with a free 7-day trial. No credit card required.
By signing up I agree to the Terms of Use and Privacy Policy
Google Alerts set up: what should you know about it
Finally, we are on the most exciting step of this process: setting up the alert(s).
As I mentioned several times here, Google made this process as easy as possible. Yet, there are still some things we should go through.
How to choose keywords
This may seem like an unnecessary question. The topic you want to monitor is your keyword: the name of your company, your competitor, a specific person, or an industry term.
However, if your keyword is a common word, this may pose some problems. You will likely get a ton of irrelevant results that will muddy your search and will make it harder to find useful info. This can turn Google Alerts useless.
What do you do in this case?
Well, you can try using one of the filters Google Alerts' set up offers. For example, if the name of your company is Starz, but you're based in Cyprus, you can choose to only receive publications from that region.
An alternative is to add words that would specialize the monitoring. For example, instead if simply putting in "starz" you can add a key phrase "starz watches" and Google Alerts will know to look for the mentions of a watch company.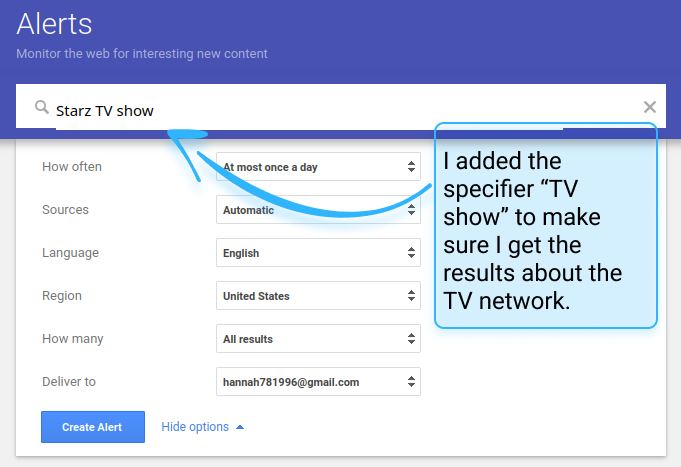 You can also search for the mentions of your website instead of the brand itself. This will eliminate some results but you surely won't be getting any spam that way.
How to use filters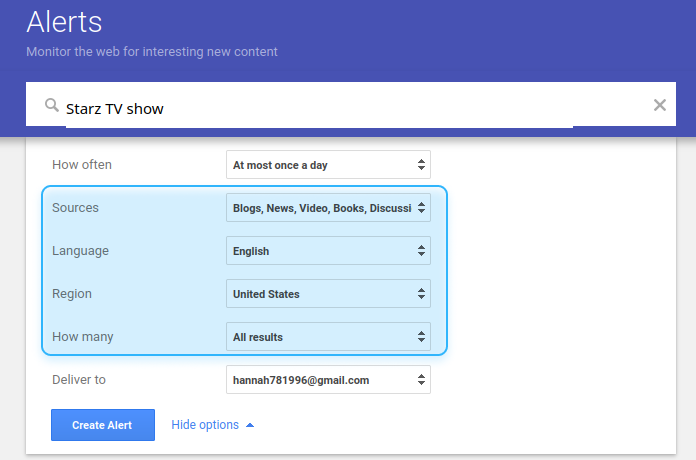 Google Alerts offer you several filters to add to your search to make it more focused:
Sources. You can choose where the mentions come from - news, blogs, forums; and whether to include videos and books.
Languages. You can choose the language of the publications. Perfect if your company targets an audience that speaks one specific language.
Region. I already talked about that one, you choose what country the posts come from.
How many results. You can choose whether you want to get notified about all the mentions or just the most relevant/popular of them.
Unless your company has an extremely unique name and is very small, I suggest you use filters to improve the results of your search. You can set up an alert, look through the initial result, and see what setting you need to change to make them more relevant.
Set up multiple alerts
Since Google Alerts gives you no limitations, why not use it to its full potential?
Setting up multiple alerts allows you to achieve several goals at once. You can track your brand mentions, monitor competitors, get updates from your industry, follow the work of specific journalists or bloggers that you can establish relationships with, and more.
Carefully consider the keywords and phrases you will use for each of the alerts and the filters you might want to use with them.
You can also select a different amount of notifications for different alerts: receive competitor mentions once a day, industry news once a week, and brand mentions as soon as they arrive.
Be prepared to miss some online data
So now we need to talk about the elephant in the room - social media.
Social media networks are major sources of brand mentions and tags. They are great for talking to your customers directly and seeing what they talk about.
Unfortunately, Google Alerts doesn't cover social media. There are valid reasons for it: social media monitoring requires access to their API which is not easy to obtain. However, it doesn't make neglecting those sources any more disappointing.
There are tools that can solve this problem. As I mentioned at the beginning of this article, there are many brand monitoring tools on the market that were inspired by Google Alerts but took its functionality further.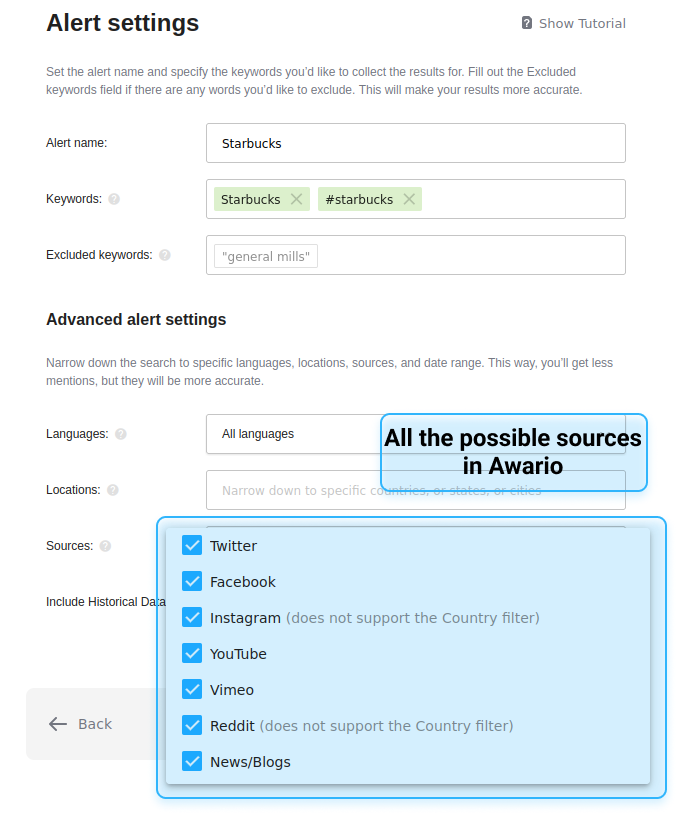 For example, let's take our own tool Awario. It monitors news, forums, and blogs, just like Google Alerts do, but its sources also include Facebook, Instagram, Twitter, YouTube, Vimeo, and more.
It also has all the filters Google Alerts has to offer but adds more. You can add negative keywords to eliminate from search, block or prioritize specific websites and pages, or even switch to Boolean mode and completely customize all the conditions for your search.
Most importantly, it doesn't just send the notifications to your inbox. It creates a feed of mentions and processes the data to create social media monitoring reports for your brand, competitors, industry influencers, and so on.
Meet your personal social listening assistant.
Try fully automated, 24/7 brand monitoring with Awario for free.
By signing up I agree to the Terms of Use and Privacy Policy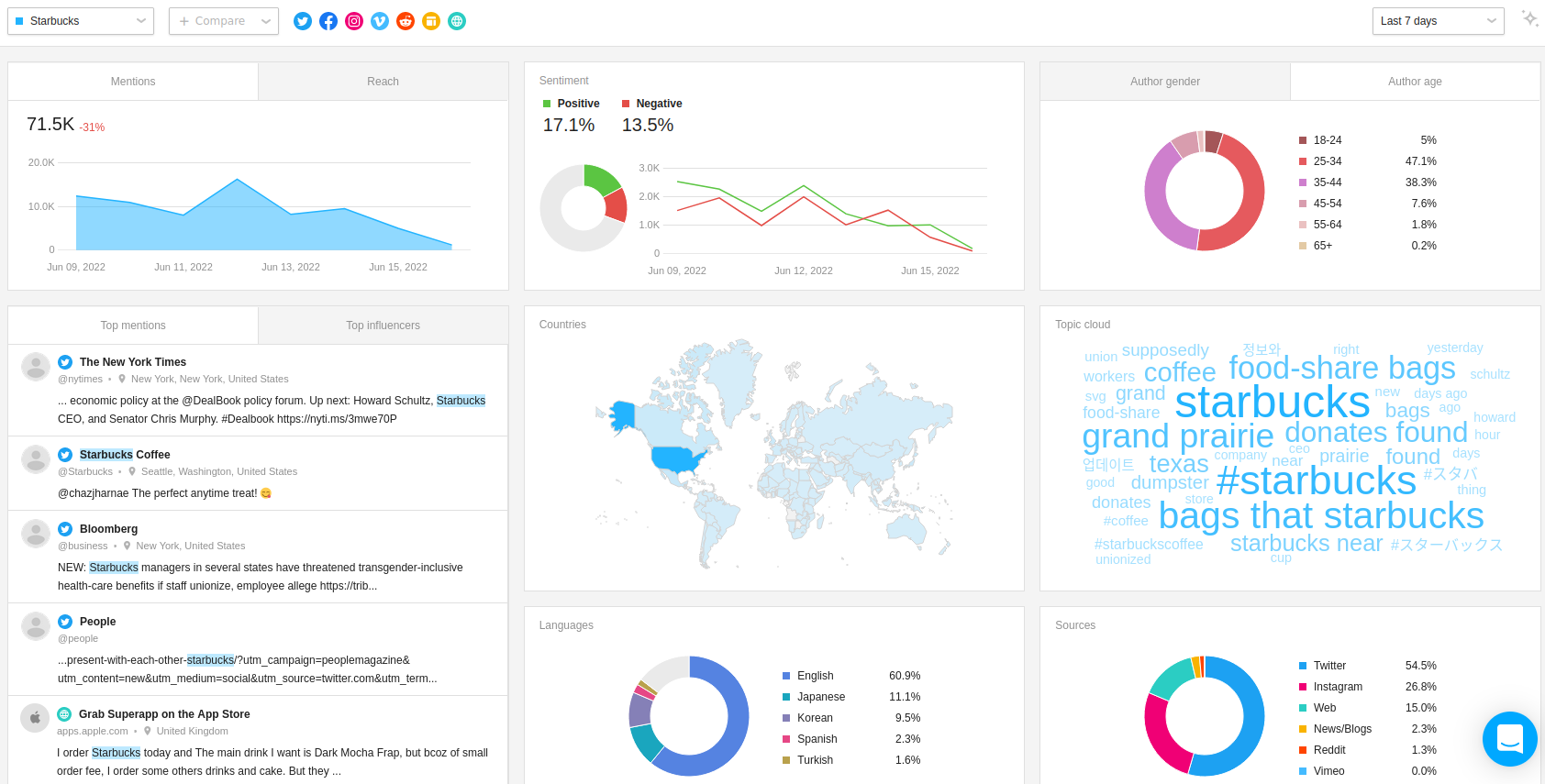 When to try social listening tools?
The way I see it when your business is just a startup with a handful of clients, Google Alerts is a wonderful tool to dip your toes in the world of online monitoring. It's free, allows you to create multiple alerts, and is good training on how to use this kind of tools: how to choose keywords, and filters, and figure out what information is relevant.
But once your business passes this stage, you need a more sophisticated tool to reach your more ambitious goals. That's where social listening tools like Awario come in.
You already have a grasp of online monitoring, so it won't be challenging for you to get a handle of a propper social listening tool and you can use its many features and analytics to run all your marketing activities online.
In conclusion
Google Alerts is a great beginning to your brand monitoring journey, but it doesn't have to end there. Let your marketing tools grow together with your business, and make a change when you feel the time has come. Until then, enjoy Google Alerts' notifications in your inbox.
Enjoying the post? There's more.
Sign up for our newsletter to get our best content by email.