How to make LinkedIn video work? The most popular mistakes and fixes

Put a ton of effort into your LinkedIn video marketing strategy, but the results are disappointing? Have you carefully checked all the rules?

In this article, you will learn the popular mistakes made on LinkedIn when implementing a video marketing strategy. You will also figure out how to fix them.
Why Is LinkedIn Video Marketing Popular?
Video content takes the lead these days. According to Animato's research, consumers choose video over written content when studying a product or service since it conveys ideas better.
LinkedIn itself states that along with being their rapidly growing content format, videos engagement rate is three times higher than articles. And what is more, a video post on LinkedIn is five times more likely to trigger the conversation.
Impressive engagement rate coupled with the Aberdeen fact that brands using video marketing increase their revenue by 49 percent faster binds video to marketing success. It is truly the most effective content type in 2021.
But how come that while being the so-much-efficient and so-much-loved content, marketing video budgets are still going down the drain to bring one like or ten views?
Why doesn't the video work?
You are following all the rules and remembering all the DOs. But how about the DONTs? Have you analyzed them? If not, it is about time. Put your activities on hold and let's go back to square one.
We need to learn the ropes.
Analyze this, analyze that.
Grab Awario's free trial and run a social listening analysis of your own.
By signing up I agree to the Terms of Use and Privacy Policy
#1 Be The Platform Adherent
Shared (Embedded) Videos
There is something you should remember once and for all. LinkedIn is not Facebook, Twitter, or YouTube.

LinkedIn is LinkedIn. It is a unique social media platform with its algorithms and preferences.
And though it is still a common practice to create a video asset, upload it to a video-hosting platform, and share it elsewhere. You should stop using shared videos or embedded videos since all your content efforts fall flat.
Shared videos do not play automatically on the feed. People have to go the extra mile to view your masterpiece. And you know how users react to extra actions. Consequently, the engagement rate of the videos decreases. Additionally, LinkedIn favors other video types far more.
The good old tactic "publish everywhere" does not work any longer.
1st DONT: Do not use share/embedded videos on LinkedIn.
LinkedIn Video Ads
LinkedIn video ads are sponsored videos you stumble upon in the feed. They have great potential to increase the awareness of your brand and drive traffic. They assist with lead generation and offer great targeting.
But let's take a look at the flip side.
Though it seems obvious, most marketers make this mistake. You have no goals or they are undefined. What is even worse, you are not sure about the expected result. Is it brand awareness? Or subscriptions? Leads? Followers? What is the purpose?
Correspondingly, you choose video content unfitting for any of the possible objectives. Either marketers use overproduced video with professional footage, cutting, sounds, actors, animation, etc.
Or you use an under-produced video like several images compiled into, for example, a GIF.
In both cases, the audience has to figure out what action you desire them to make. Instead of delivering them valuable ideas and distinct advantages, you are playing a guessing game with your potential customers for YOUR BUDGET.
Ultimately, you fail strategically in terms of planning, budgeting, and promotion efforts. As a result, most of the video ads fail, as marketers launch them out of pure hype.
2nd DONT: Do not launch a video ad if you haven't done counting, research, and don't have expectations.
How To Fix? - Commit To A Platform
LinkedIn Native Videos, a.k.a. In-Feed Videos
Native videos are the videos uploaded directly to the platform or created on it. LinkedIn loves them.
Although it sounds like a not-a-special-trick, LinkedIn Pros tirelessly repeat it. Native videos have better engagement, interaction, and shares. They resonate with the audience. They want to comment on them.
Let me give you a great example.

Allen Gannet, the author of The Creative Curve and founder of TrackMaven, masters Native Video feature to the full. By running one-to-two minutes interviews with influential people, he earned international recognition.
In the Convince and Convert podcast, Allen makes the idea very clear - "to be successful on any social media channel, you must be a citizen of that channel". It is true! The post that drives engagement on Instagram, brings zero results on Twitter.
The same goes for videos. To win the platform's audience, you need to become its adherent. Just as Allen did. He leverages the potential of In-feed videos, follows quite a strict video timing, posting schedule, and benefits from tagging. He makes the organic work for him.
1st DO: Be platform-unique, stop creating universal content.
It is wise to commit to a platform by producing high-quality content specifically for the LinkedIn audience. The returns are worth the efforts invested.
#2 Be Focused
This one naturally derives from the first point. We know that LinkedIn loves content created specifically for it. However, for some undefined reason, marketers get stuck here again.
Let's remember what LinkedIn is. Wikipedia says LinkedIn is an American business and employment-oriented online service that operates via websites and mobile apps. Launched on May 5, 2003, the platform is primarily used for professional networking and career development, and allows job seekers to post their CVs and employers to post jobs.
Take a look at the keywords: business, employment, professional networking, career development, CVs, and jobs.
Seems to be obvious, it is not the place for

Kitties and doggies

Memes

Personal life events and experiences

Vacation videos

Personal "dramas"

Etc.
For instance, this one is a cute video, though not a LinkedIn format at all.
Though those posts may boost your engagement rate, they still bring no value to both sides. With content like this, you get no leads, traffic, orders, and subscriptions. You choose to be an entertainer, which is not that bad. People quite possibly will love you.
But how does it demonstrate your professionalism? Let's make it straight. You are not an entertainer!
3rd DONT: Do not use the LinkedIn platform for entertainment.
How To Fix? - Deliver What They Want
Content focus is the clue.
Running a business means what the audience needs and who your audience is. You should know what content they love most, and what information nudges the actions.
If you still were running your LinkedIn marketing intuitively, it is time to do some social listening.

Social listening is a process of monitoring, collecting, analyzing social media, and making sense of it. The good news is that you do not need to do it manually. The market offers many social listening tools with various features. By using them, you get a ton of insights like:
The volume of mentions for your company, competitors, campaigns, niche

The sentiment of the object you monitor

Demographics

Preferred social media

And many more
The objective of social listening is to help make better business and marketing decisions. It is where your secret weapon is stored. Your audience talks, so go and listen.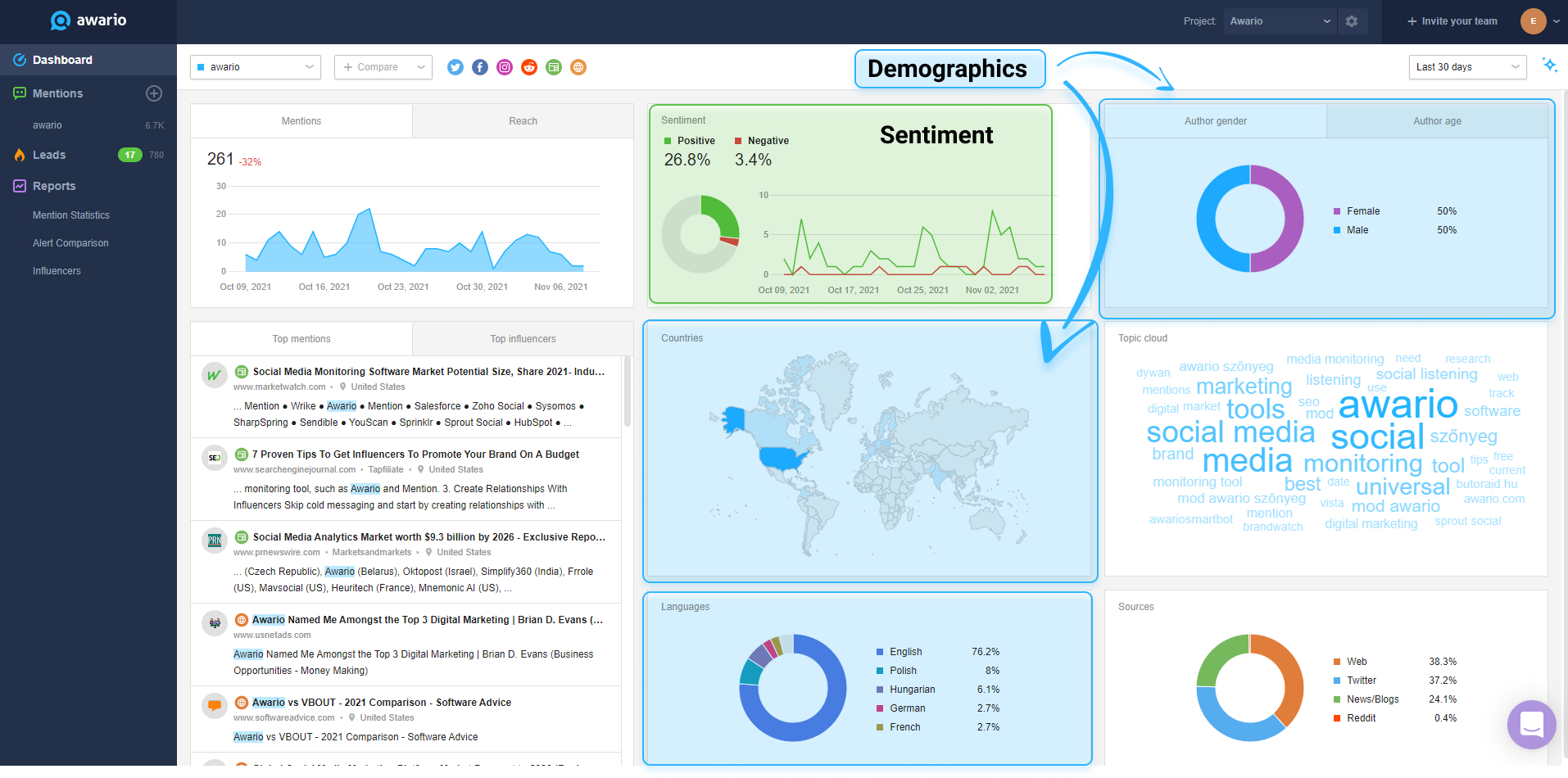 It is just halfway, as you need to take a look at LinkedIn analytics also. It is a fountain of information. Analytics gives you feedback on a bunch of marketing decisions made and their efficiency.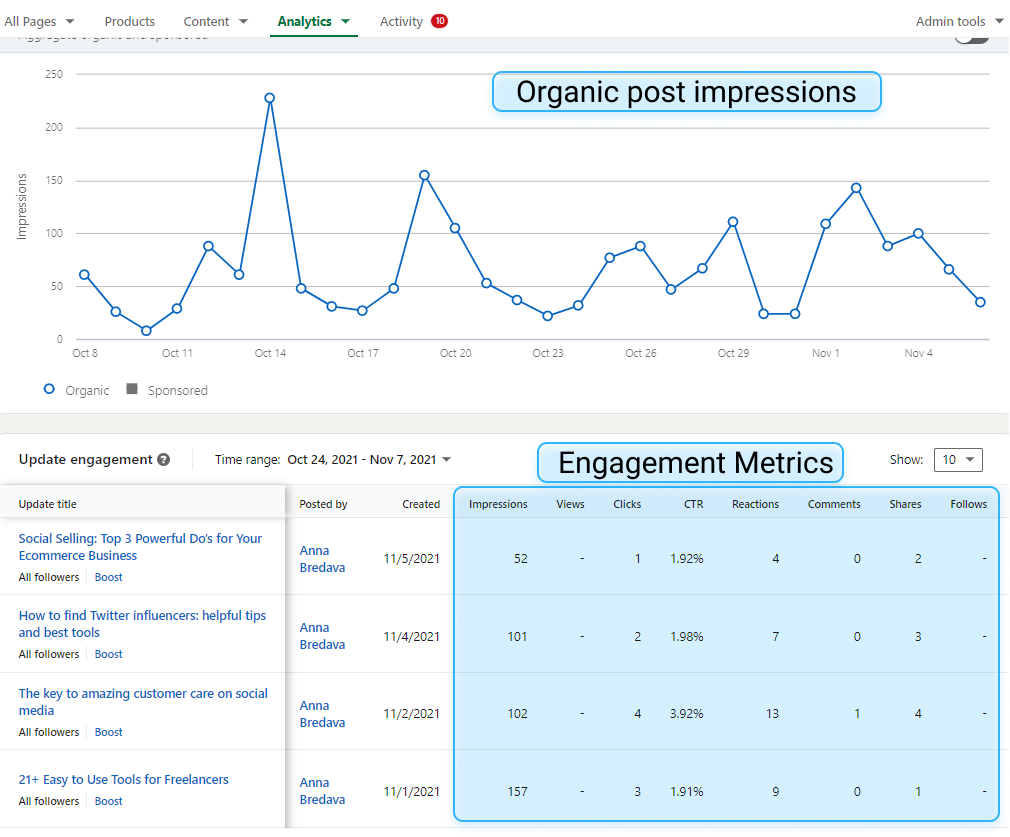 The two approaches combined can become a never-ending source of content inspiration particularly for your audience.
But what video content works on LinkedIn? Here are a few ideas:
Share companies news and updates

Take customers behind the scenes

Share explainer

Preview the upcoming event

Offer expertise through an interview

Tell a success story of your customer

Highlight your employees
And this is just to scratch the surface.
Do you know why it works? You provide the audience with an opportunity to touch your brand. You let them take a look at how your product or service works before they buy it. You let them in by showing that you are real.
2nd DO: Be focused on your audience interests and needs
Start monitoring your brand today.
You should've been doing it yesterday – but the next best time is now with Awario.
By signing up I agree to the Terms of Use and Privacy Policy
#3 Be Present and Deliver
When you finally figure out what your target audience wants, loves, and needs. You should set up your content delivery "machine". The process looks unambiguous: create - share. There are still things that marketers overlook.
Usually, it looks like one common mistake but made differently. It is always either too much or not enough. Another option is either everywhere or nowhere. In any case, it is always about posting.
It is another thing that you should understand and remember: overposting irritates, while under-posting obliterates.
4th DONT: Do not irritate your audience by posting too often, and do not vanish from their feed.
How To Fix? - Be On-Time
There is a good word in the Swedish language - "lagom". It means "just the right amount". It is exactly what you should do with your LinkedIn posting.
Remember, your followers are busy professionals who value their time. If you are overdoing and trying too hard, you will lose them. So, take it easy.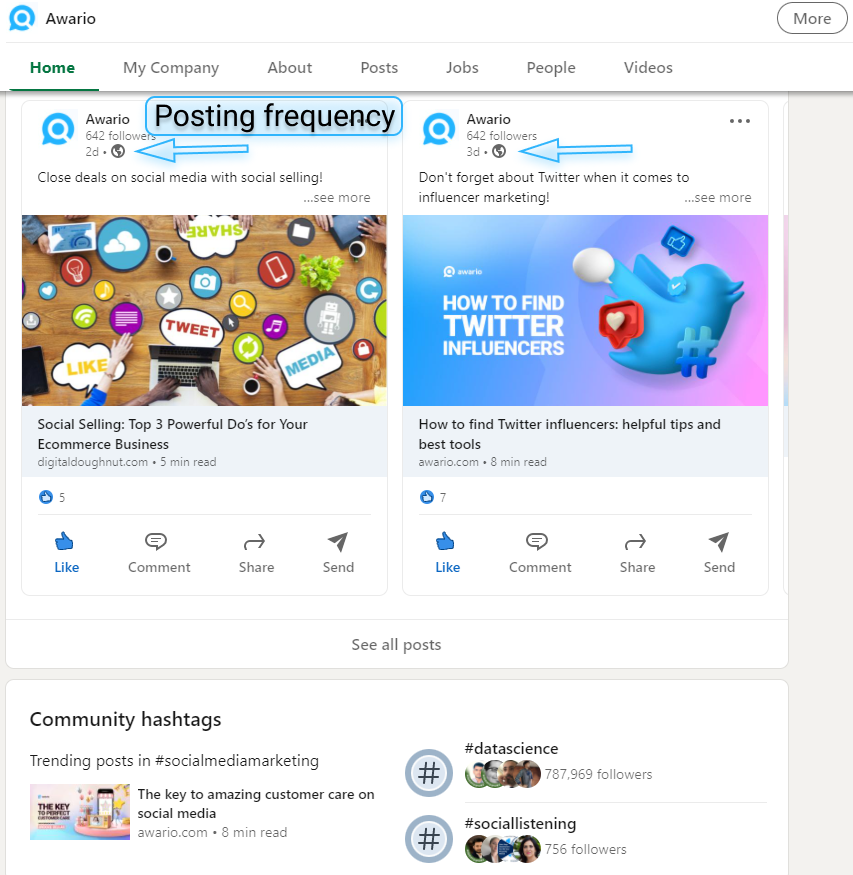 As Meltwater recommends, marketers should post at least three times a week and no more than a couple of times a day.
Go for quality over quantity. Additionally, to maximize the visibility of your posts on LinkedIn, Pros recommend sharing your videos between 8 a.m. and 4 p.m. on workdays. Users are most active through these hours.
However, do not follow the posting rules blindly. I am talking about the time zone where your audience resides. Posting is aimed at their attention, rather than your comfort.
3rd Do: Post it on time and "lagom".
There is one more fix about content delivery we should touch upon here - LinkedIn groups.
LinkedIn groups are a powerful tool. These virtual forums unite professionals with similar interests. By joining the group, you get the opportunity to learn from the community, discuss the hot buttons, find solutions to your challenges and share your insights.
What is more, LinkedIn groups are great for the development of relationships and potential partnerships. To find or, possibly, start your group, hit the work icon at the top right of your homepage.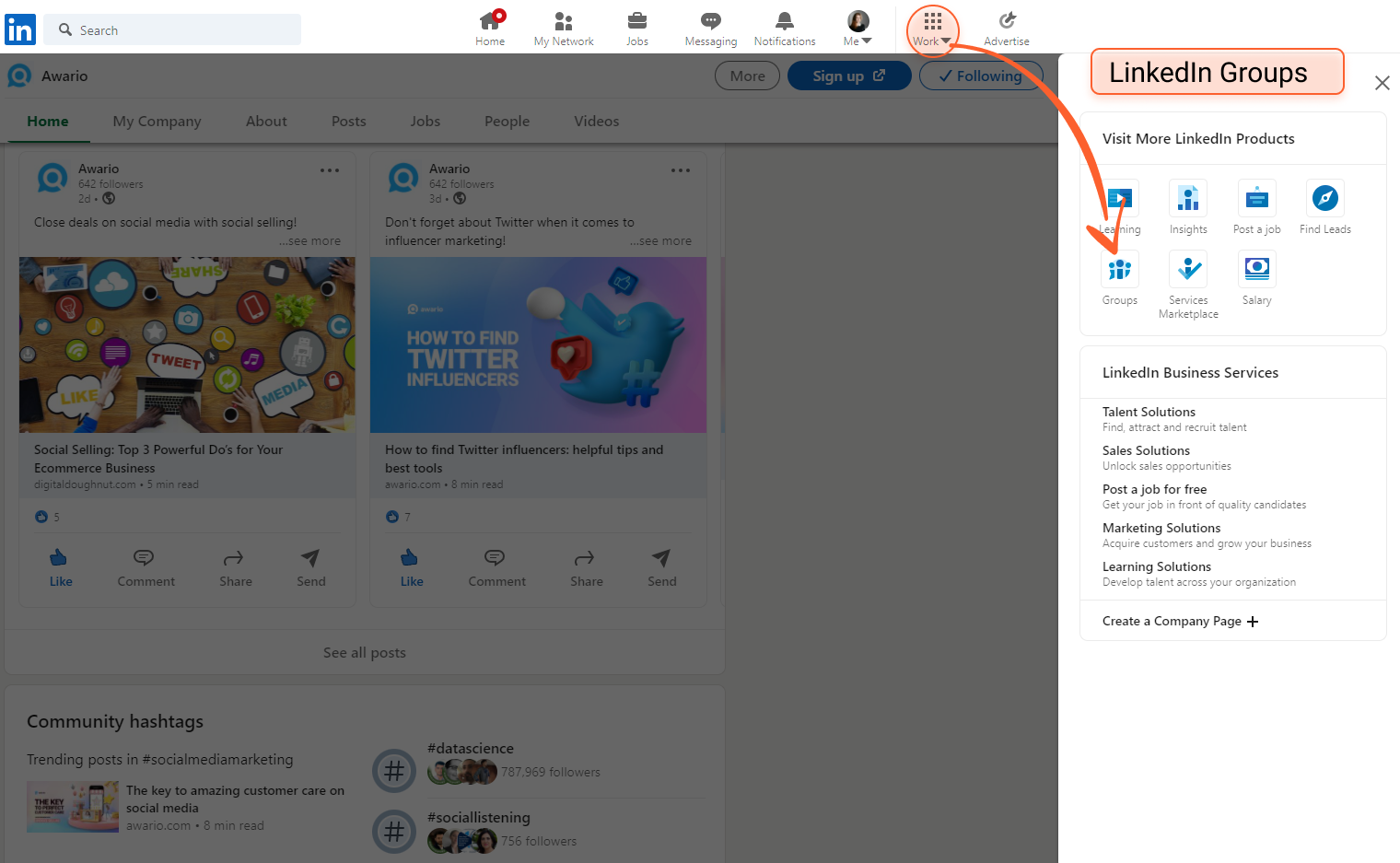 #4 Be Engaged
Let's assume that you know who your audience is, what it loves, where it "resides" on LinkedIn. You know your goals. You did everything correctly. You have published your video .. and you are waiting … for something to happen, results, for instance.
Sounds okay? No, it's not. This is another marketing mistake that gives itches.
I do agree it is inspiring to see the number of views, likes, shares, and comments grow. It means your audience is super engaged. But you are not.
It is something that makes followers angry, companies risk a potential backlash. Why are you standing there and holding the wall? REACT! Engage with them, you've been waiting for it.
It is pretty awkward to say nothing to ANY feedback, review, comment.
76% of all customer reviews are either on Google and Facebook. Only 13% of negative reviews get a response from a business.
And it is not only about reviews. Positive comments are also left unnoticed. Are you ready to refuse all your efforts? I think you are not.
5th DONT: Do not leave any user reaction unnoticed.
How To Fix? - React
Be human, that is what your audience wants. Say thank you for the compliment. Apologize if you made a mistake. Provide further information, if they did not get it from the video and ask a question.
When you get comments under your video, it means you did a great job. You signal LinkedIn that your video is creating a good conversation in the feed. It is a good reason to put it on the top.
Let's go further since comments are not the only thing. You should trigger the engagement. How about a strong and clear call to action? Tell them what you want them to do. Give the direction. You have a few seconds to grab their attention, forget the guessing. It is better to help them join the conversion.
Put the video idea upfront and describe it. Engage with your viewers first. Tell them why they need to watch it, add a hashtag, @ mention relevant people or companies, add the link to the website. LinkedIn finds that posts with links have 45 percent higher engagement than those without one.
Direct your audience. Take the first step and be proactive, but, please, do not keep silent. It is insane.
4th DO: Be proactive and reactive. Act like a human, not a social media entity
Conclusion
LinkedIn is one of the most complicated platforms for marketers. It has strict rules and a critical audience. Should you try to dupe its users, success turns into a nebulous concept. Nevertheless, LinkedIn also loves audacious individuals.
Thus, to win the audience of this exclusively professional network. Learn the DOs, study the DONT's. Examine the failures, and develop your marketing strategy.
This is like a video script, where the idea goes first to capture the mind of users.
The Last Do: Be audacious.
Enjoying the post? There's more.
Sign up for our newsletter to get our best content by email.