12 best social media listening tools in 2023 (free or for reasonable pay)

Article summary
Social listening helps you understand your target audience, analyze your niche, and get marketing insights to boost your social media strategy by monitoring social channels. Luckily, you can automate this process! In this article, you will find 12 top social media monitoring tools.
Not to sound too tacky, but social media listening might be the best thing to have happened to digital marketing.
Just think about it: being in complete sync with your industry, customers, and even competitors because you know exactly what's going on out there without actually doing any in-deep research. Instead, a social listening solution does it for you.
What used to take countless Google Alerts and hours of manual searching on top of that is now fully automated and carried out by designated software i.e. social listening tools.
Social listening brings the best of social media monitoring and data analytics together. By setting up 24/7 mentions monitoring, you essentially get a superhuman assistant searching all of the Internet for mentions of your brand, non-stop. Because you also get access to data analytics, you can actually make sense of the entirety of data found online and draw very specific insights useful at every step of your marketing and business processes:
reputation and brand management,
audience analysis,
lead generation,
customer support,
product development,
influencer marketing,
campaign tracking,
link building, and so much more!
Being a big fan of social media listening and the good it can do for every business, I put together a list of 12 top social media listening tools used by marketing teams of all shapes and sizes. I tried to make it as inclusive as it gets to let every business runner find their perfect fit depending on the budget and marketing needs.
On this list, you'll find free social media listening tools and state-of-the-art web monitoring tools that offer trials without payment.
Regardless of the tool you choose, I promise: if you put enough time and effort into it, you'll gain yourself a trusted ally and get to master most of social listening use cases with little to no hassle. Let's dive in.
listening solution
platforms supported
pricing
free trial

Monitoring and analytics

Awario

Twitter, Facebook, YouTube, Instagram, Reddit, news, blogs, forums, web monitoring.
$29-299/mo
7 days

BrandMentions

Facebook, Instagram, Twitter, YouTube, LinkedIn, Reddit, Pinterest, the web.
$99-499/mo
7 days

Keyhole

Twitter, Instagram, Facebook, YouTube.
$49-199+/mo
7 days

BuzzSumo

Facebook, Twitter, Instagram, Pinterest, Amazon, Quora, and Reddit.
$99-499+/mo
30 days

Talkwalker

Facebook, Flickr, LinkedIn, YouTube, Twitter, Instagram, news, blogs, and forums.
$9,000/year
—

Brand24

Facebook, Twitter, Instagram, blogs, forums, news, video platforms, and the web.
$49-199+/mo
14 days

YouScan

Twitter, Facebook, Instagram, YouTube, blogs, forums, the web.
$12 000+/year
—

Monitoring and publishing

Mention

Twitter, Facebook, Instagram, blogs, forums, and the web.
$29-450+/mo
14 days

Sprout Social

Facebook, Twitter, Instagram, LinkedIn, Pinterest.
$99-249/mo
30 days

Agorapulse

Facebook, Twitter, Instagram, YouTube, LinkedIn.
$99-199+/mo
30 days

Mentionlytics

YouTube, Facebook, Twitter, Instagram, Pinterest, news sites, the web.
$99-299+/mo
14 days
1. Awario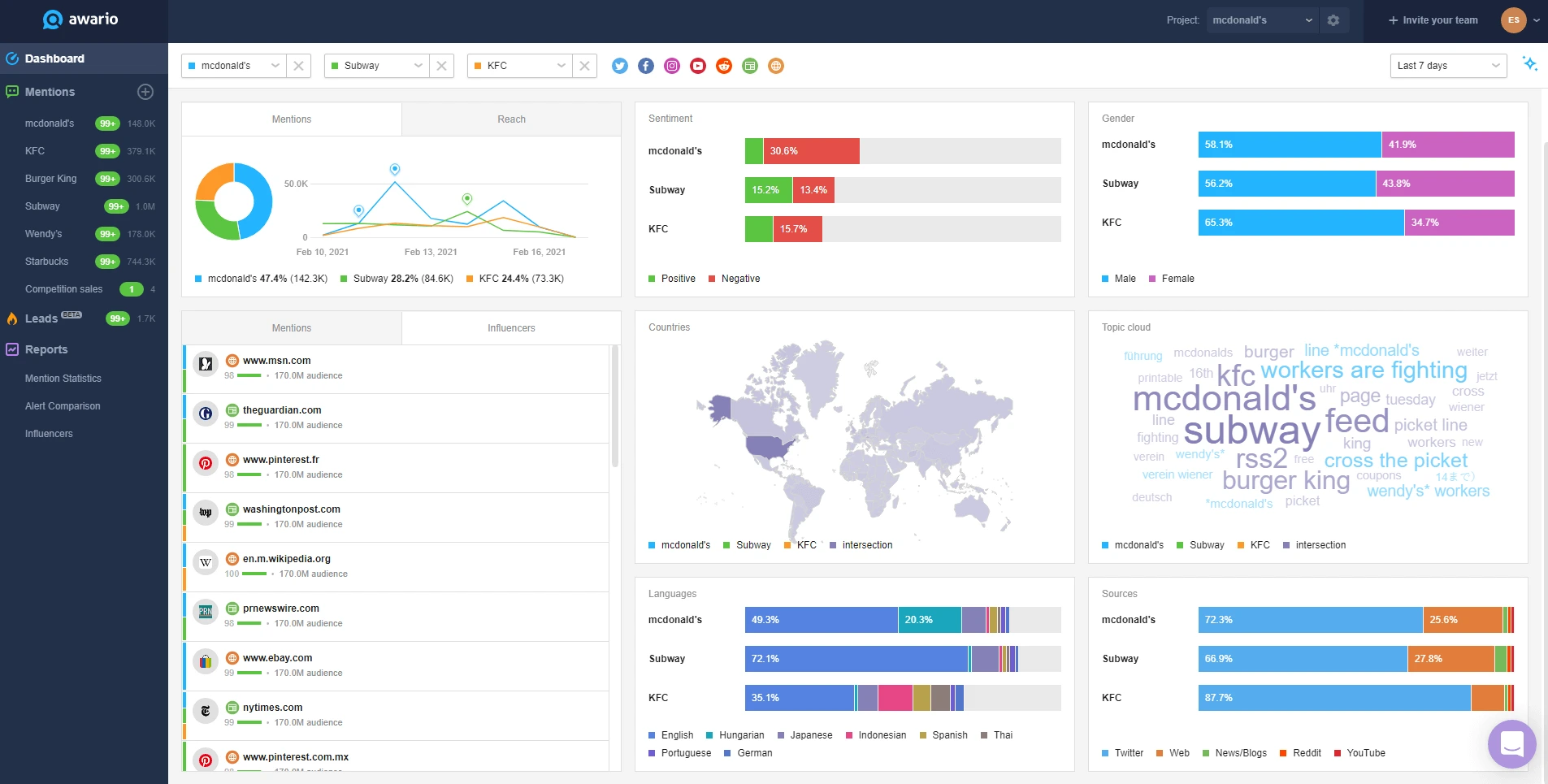 Putting Awario first is what I do for work, I know, but it's also the tool I can personally vouch for. Awario is powerful yet cost-efficient, which makes it one of the best starter apps for mid-sized businesses thinking big.
It's versatile, too: you can fire up 24/7 brand monitoring by putting in as much as your company name — or up your game from the start by setting up Boolean search for social listening to get truly on-point results (a lifesaver for brands with common or ambiguous names that get a lot of irrelevant social mentions!). The tool covers everything from market analysis to utilizing your social media for customer support.
However advanced your setup, Awario helps you take care of your brand health holistically: from reputation monitoring to crisis management. In addition to brand management, you get to use various platforms and the web to run market research, competition and audience analysis, and selling — all in one software.
Its main monitoring dashboard is able to give you a quick overview of a trend, brand, or market sourcing data from various social platforms in real time.
Meet your personal social listening assistant.
Try fully automated, 24/7 brand monitoring with Awario for free.
By signing up I agree to the Terms of Use and Privacy Policy
Needless to say, Awario has you covered on non-stop news monitoring (actual news sites, blogs, and the entirety of the web) and influencer research (industry, niche, as well as competitors) thanks to real-time social listening. Add to that speedy social media customer care and enjoy a steady flow of valuable social media mentions you can amplify on, boosting customer satisfaction and growing your backlink profile.
This social listening tool also offers customizable social media analytics reports that are able to calculate your share of voice and find and rank top social influencers in your niche.
While arguably one of the best social listening tools with powerful analytics, Awario is also surprisingly affordable (if you don't compare it with free social media listening tools =).
Platforms supported: Twitter, Facebook, YouTube, Instagram, Reddit, news, blogs, forums, and the web as such.
Pricing: $29-299/mo, annual plans save you 2 months. A 7-day trial with no credit card information required is available.
Sign up for a free Awario trial
See Awario in action with a free 7-day trial. No credit card required.
By signing up I agree to the Terms of Use and Privacy Policy
2. Mention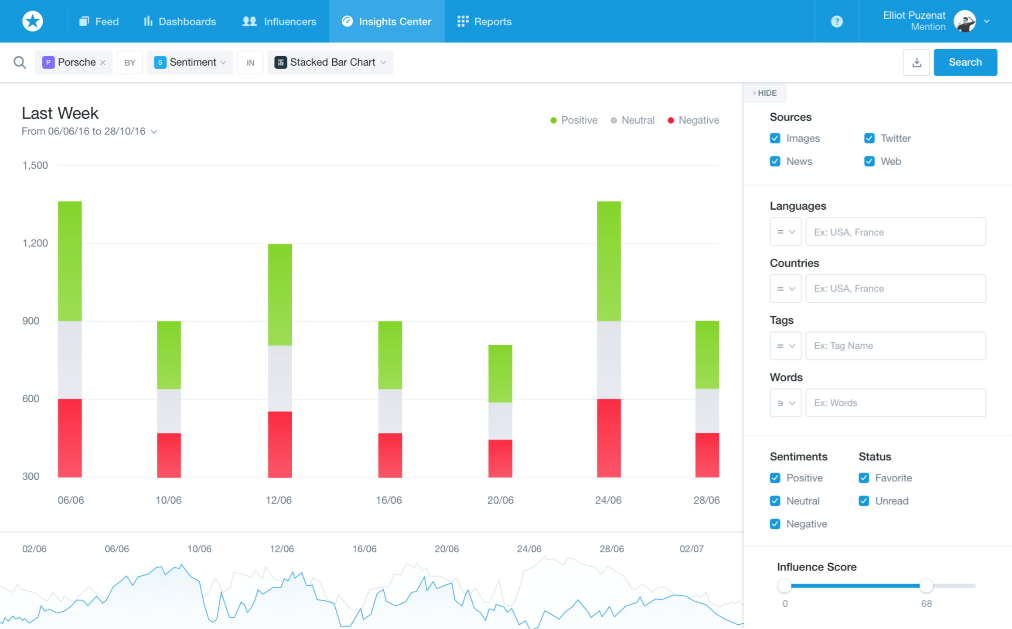 Mention is 2-in-1 software that combines social listening and social media management tools. It's built to help you maintain a solid online presence (posting + taking care of messages) while also monitoring mentions of your brand, competitors, products, or whatever keyword you have in mind. Alongside mentions monitoring results, you get industry analytics and marketing performance review.
Mention is a great fit for brands running mass media monitoring, as it not only searches the web for every relevant piece of coverage your company receives but also delivers industry trends and lets you examine your audience's affinities and engagement with different types of news content.
Similar to other monitoring solutions, Mention delivers influencer suggestions, as well as runs audience research and conversation analysis. These insights will power your marketing decisions and enable you to optimize your marketing strategy in a way that translates into reportable results.
Since Mention is not just a listening solution, but also a publishing platform, you'll be able to implement social media insights right away.
Platforms supported: Twitter, Facebook, Instagram, blogs, forums, and the web.
Pricing: $29-450+/mo, annual plans save you 2 months. A free plan and a 14-day complimentary trial are also available.
3. Brand24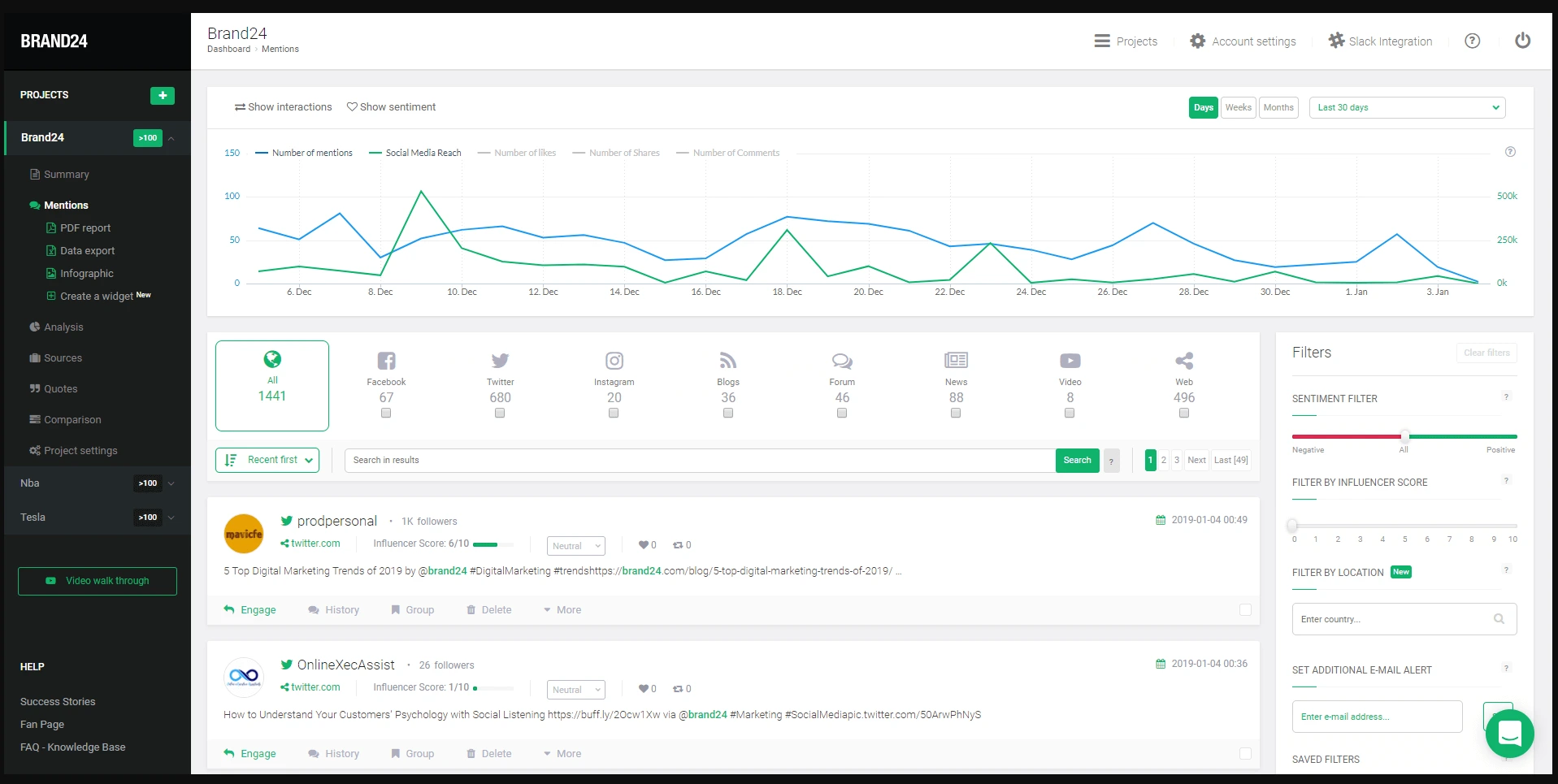 Brand24 is an affordable social listening service for catching mentions about the company – yours or your competitors'. The tool spots problematic issues around your business in comments and allows you to engage in discussions with one click. Thanks to sentiment analysis you can get a clear understanding of what customers are thinking about your product or service and improve weak points.
To find strong allies in your niche, the tool provides Influence Score automatically calculated for every participant in any conversation about your company. The social listening tool enables you to search for brand advocates in new markets you are striving to conquer.
Hashtag tracking on popular networks (such as Twitter and Instagram) is one of the Brand24 crucial features. You can use it for quick monitoring contests and ad campaigns. Pinpoint real-time analytics shows your reach and the campaign virality, the results are able for downloading as raw data for further analysis and as white-labeled reports.
Platforms supported: Facebook, Twitter, Instagram, blogs, forums, news, video platforms, and the web.
Pricing: $49-199+/mo. A free plan and a 14-day trial are available.
4. Keyhole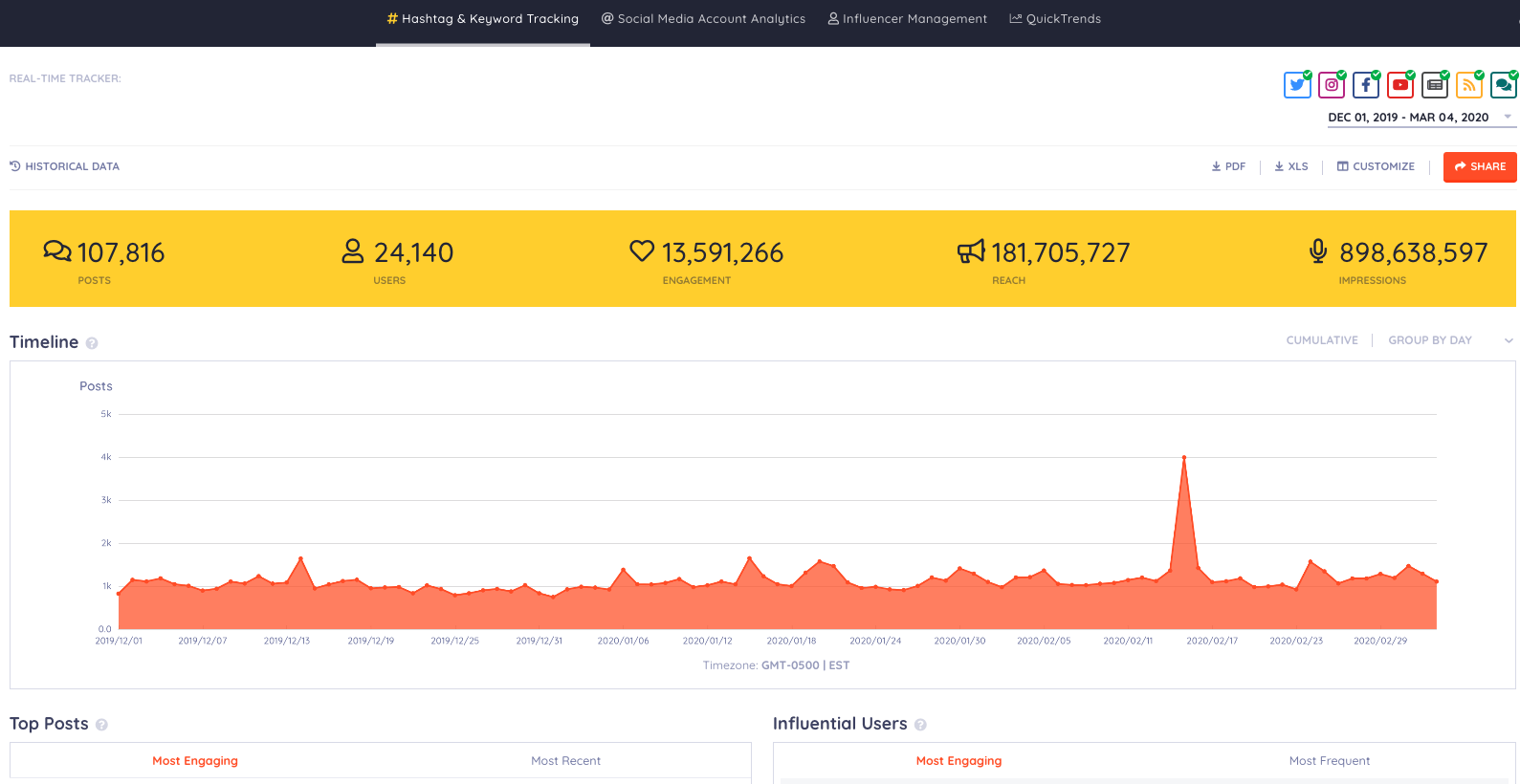 Keyhole is primarily a hashtag tracking tool that measures the effectiveness of your marketing activities by delivering data-driven insights. The software extends to an advanced suite that lets you monitor online mentions and provides analytics that cover everything from event tracking to market research. The tool uses machine learning to deliver on-point predictions of your marketing performance.
If we consider it as one of the best social listening tools, Keyhole provides advanced sentiment analysis, uncovers trends and influencers to amplify your messaging, and delivers competitor intelligence insights to help you reverse-engineer top-performing strategies. All of these are fetched via social monitoring, which means you get the most out of otherwise uncrawlable data.
Keyhole is one of the top apps for data collection and analysis that will actually transform campaign tracking. In addition to real-time performance analytics, it provides user-friendly reporting options that make sharing your progress a matter of a couple of clicks. As you go, you also get advanced audience insights for better targeting and engagement.
Keyhole simplifies making data-driven decisions and managing online marketing processes. On top of campaign tracking, influencer marketing, and social listening, you can also schedule and publish your posts, all in one platform. There are also additional free tools for social media analytics.
Keyhole saves marketers 5+ hours every week on gathering and reporting data, which translates into over $7,000 saved every year. Keyhole suggests you work smarter, not harder.
Platforms supported: Twitter, Instagram, Facebook, YouTube.
Pricing: $49-199+/mo, yearly plans save you 50%. A 7-day trial is available.
5. Agorapulse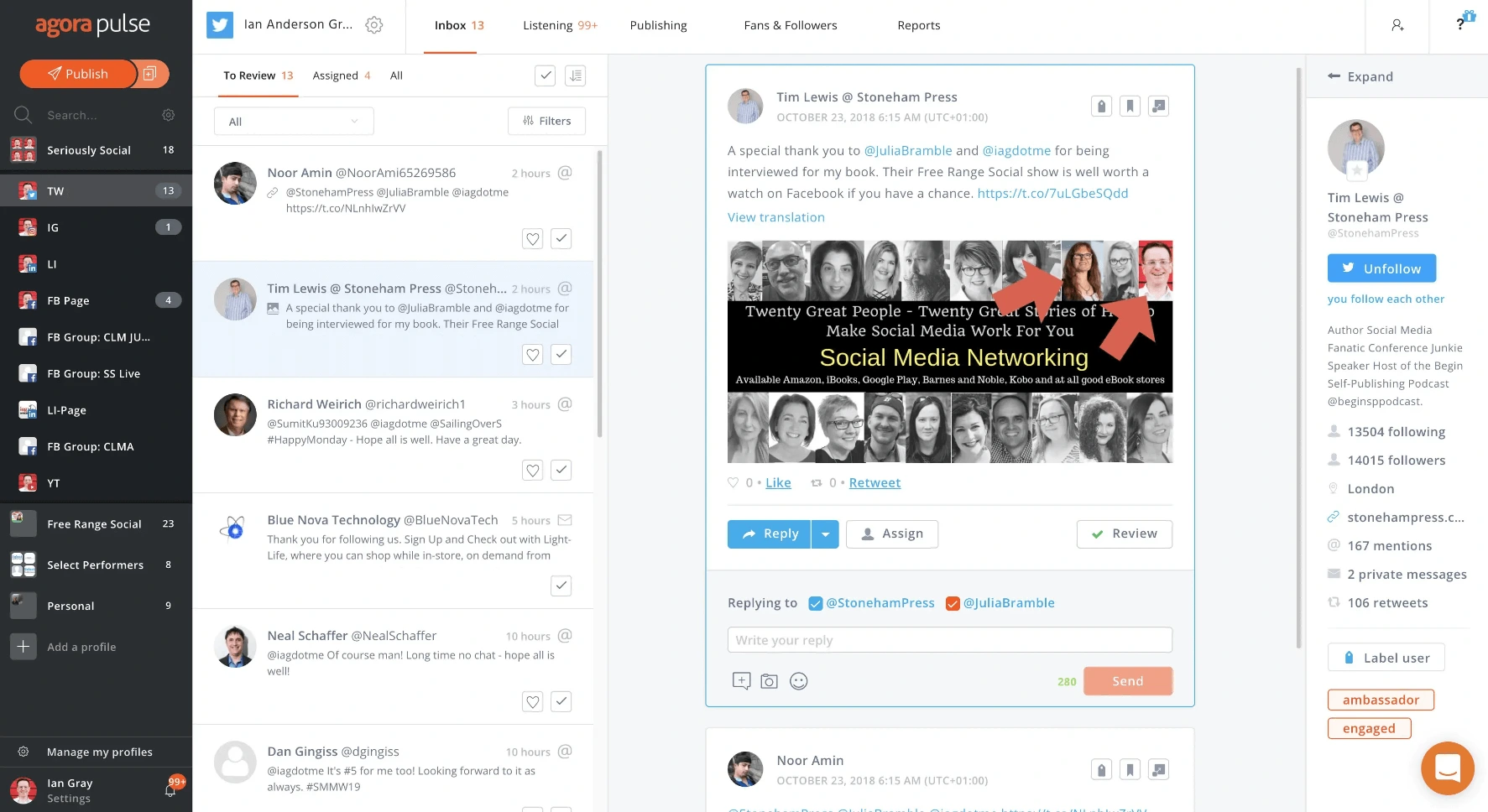 Agorapulse is a comprehensive social media management software with solid social media monitoring features. Agorapulse is one of the solutions that offer the Boolean search mode, which means you get to set up laser-sharp social monitoring regardless of how common your brand name is, as well as identify trending topics and influencers, provide instant customer support, and make use of many more perks.
Since you get to combine all your accounts and also set up monitoring, Agorapulse will display all social mentions relevant to your business for truly smooth social media management. You can join conversations important to your business right from the app, react to user messages as soon as they're posted, or assign them to your teammates or clients for a more thorough follow-up later on.
Agorapulse is a perfect option for large teams as it offers solutions for every aspect of team collaboration. With full access to online media data analytics, you can delegate tasks and make teamwork smooth and efficient: assign replies, review and schedule content, and populate your feeds with top-performing posts.
Agorapulse's website also offers a free report on your basic social media analytics that you can combine with the social listening tool data which greatly aids with social media management.
Platforms supported: Facebook, Twitter, Instagram, YouTube, LinkedIn.
Pricing: $99-199+/mo, annual plans save you 20%. Complimentary open services and a 30-day trial are also available.
6. Sprout Social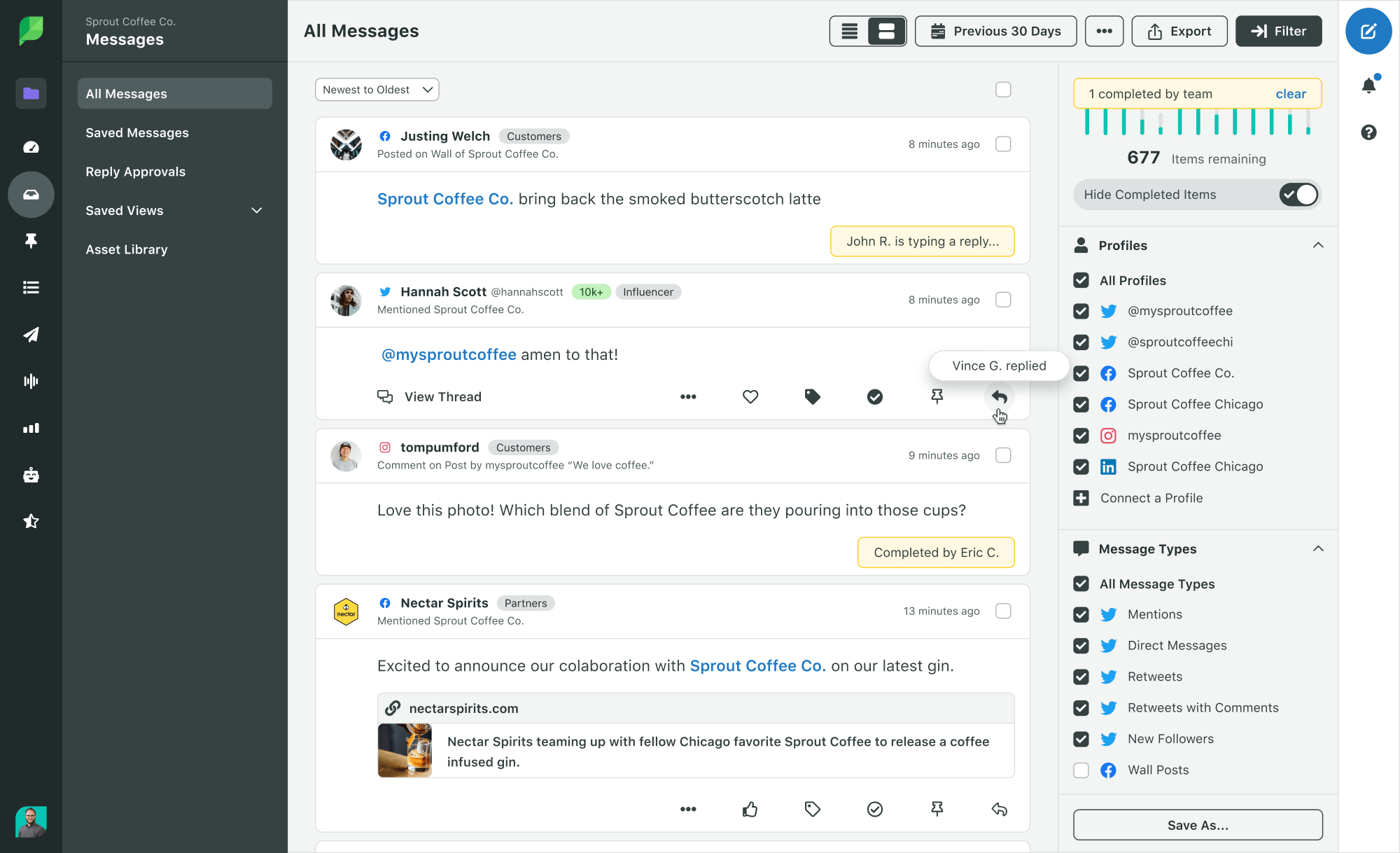 Sprout Social is another 2-in-1 social media management software that offers both listening and publishing features. Since it includes features similar to social listening tools, it lets you keep close tabs on your industry, audience, and trends. Being a publishing tool, it empowers you to act on your findings right away and monitor user engagement as you go.
To help you make the most out of your marketing strategy, the service tracks and analyzes conversations around your brand. By setting the tool to do the same for your industry and competitors, you basically run market research, getting access to valuable market and audience insights, and honest user feedback required to build better products and services.
While not strictly a social media monitoring tool, it is a great solution for teams willing to sort out their message management workflow. It's one of the best social media management tools that let you combine all company profiles in one inbox to help your team deal with messages in a more organized way.
In addition to that, the tool offers real-time notifications to make sure no user message or support request is left behind. All of this is to make sure teams are always aware of pending and completed tasks and assignments.
Platforms supported: Facebook, Twitter, Instagram, LinkedIn, Pinterest.
Pricing: $99-249/mo. A 30-day trial is available.
7. Mentionlytics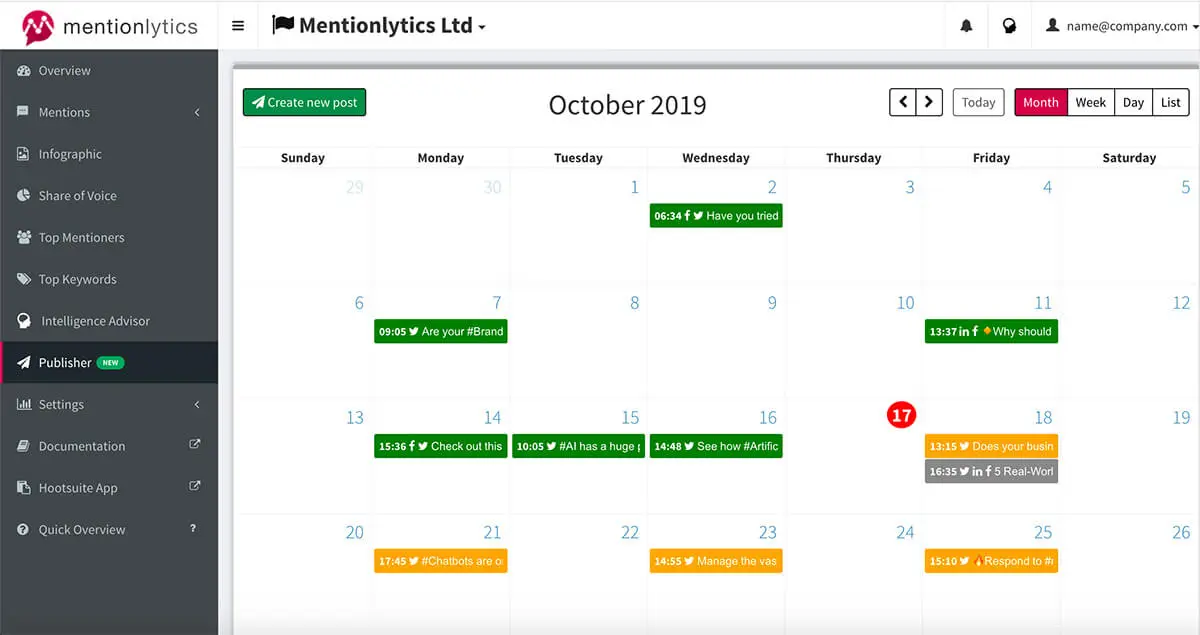 Mentionlytics combines social media monitoring with scheduling and publishing software. The service provides a standard kit for your brand analysis: from finding relevant mentions anywhere on the web to revealing marketing and sales leads. The main difference is the intelligent algorithms the service uses for analyzing.
While scrolling through the mentions feed, you can see short clues from your 'personal AI advisor'. Mentionlytics identifies trolls who publish tones of negative comments about your company, highlights the most successful posts with good reach, or recommends hashtags performed really well in ads campaigns of your competitors. These insights uncover precious knowledge behind dozens of raw data, which enables you to enhance your marketing efforts.
Another feature of the service might be appreciated by SMM teams. Mentionlytics provides embedded features for ruling activities on a plethora of platforms. You can manage a content calendar, schedule and publish posts choosing profiles on Facebook, Twitter, and LinkedIn, monitor all comments, check user's sentiments, and track what is doing your competitors.
Platforms supported: YouTube, Facebook, Twitter, Instagram, Pinterest, news sites, the web.
Pricing: $99-299+/mo. A 14-day trial is available.
8. BrandMentions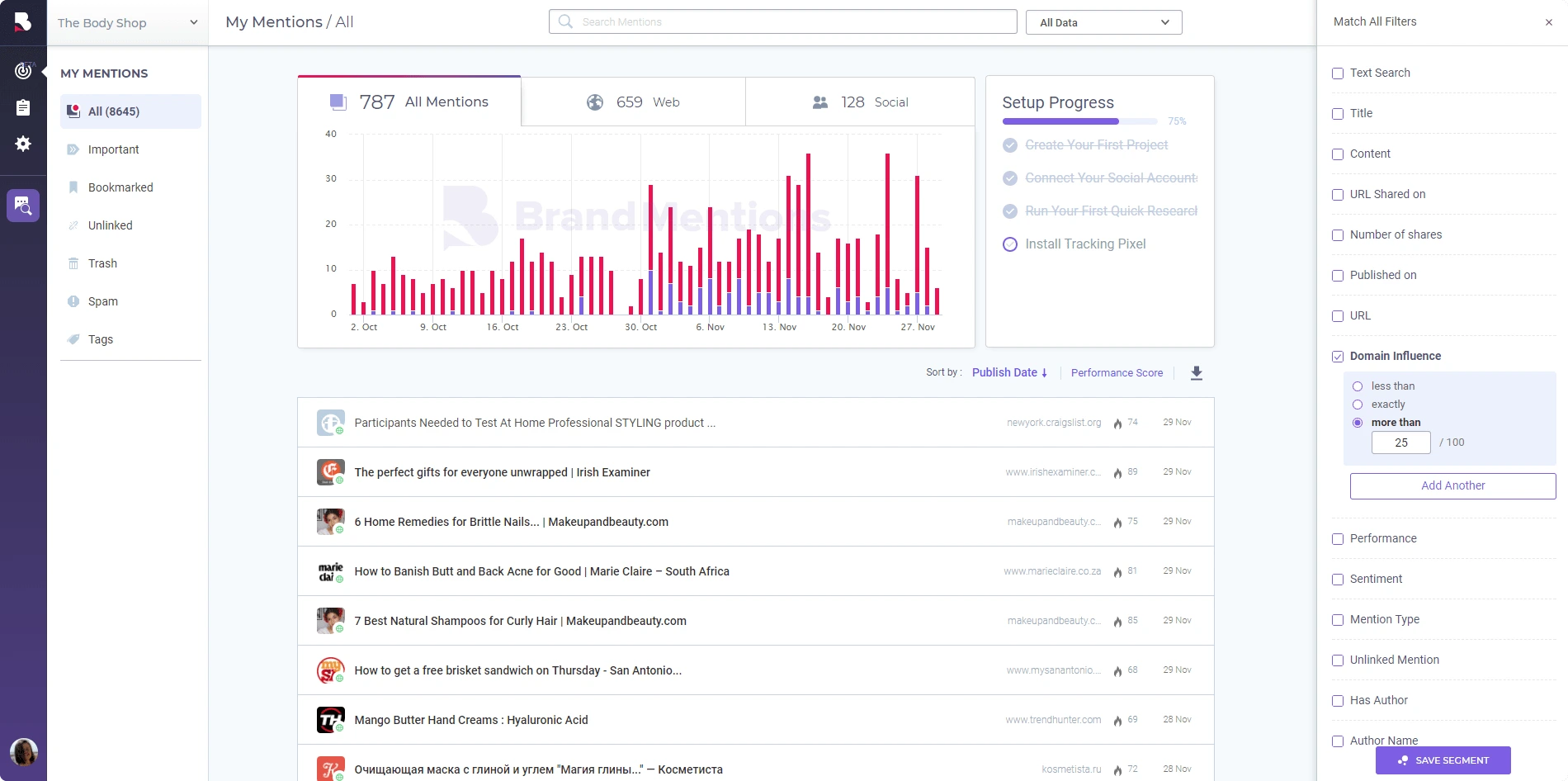 BrandMentions is a web and social listening tool that does exactly what the name suggests — it finds brand mentions online to help you get the full picture of your brand's performance. By tracking every conversation relevant to your business and niche, you get to spot industry trends, develop engaging content, react to important mentions in a timely manner, and grow your customer base along the way.
On top of that, BrandMentions runs thorough news monitoring. Through real-time tracking and analytics, you are always in sync with the latest news and important events, which enables you to make data-informed marketing decisions, run smart event planning, develop content with secured coverage, and target your social media messages accordingly.
BrandMentions is a great social media monitoring tool for every business looking to optimize and speed up its customer service workflow. By promptly addressing user concerns in-app, you boost customer retention, grow Net Promoter Score, and expand your customer base as well as brand ambassadors pool.
Platforms supported: Facebook, Instagram, Twitter, YouTube, LinkedIn, Reddit, Pinterest, and the web.
Pricing: $99-499/mo. A 7-day trial is available.
Enjoying the post? There's more.
Sign up for our newsletter to get our best content by email.
9. BuzzSumo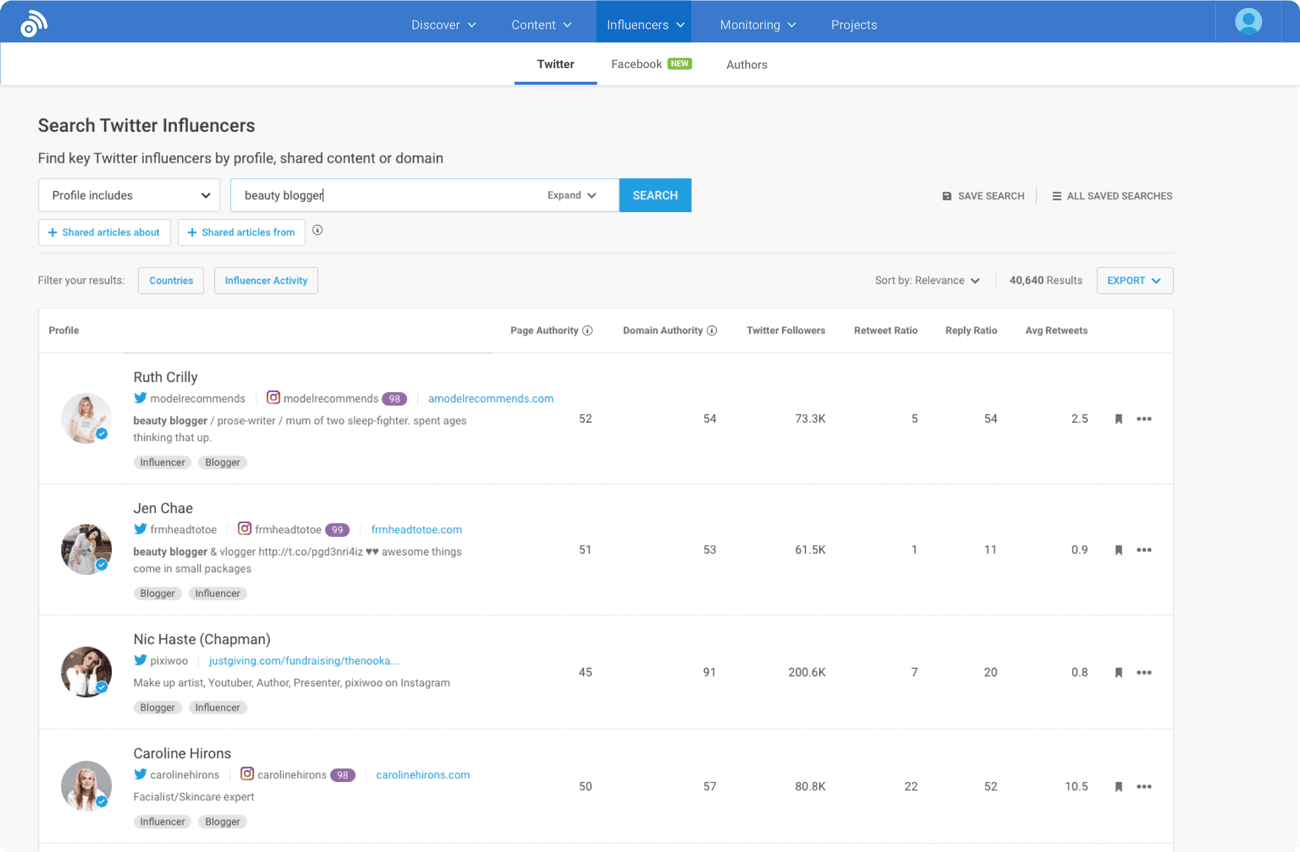 BuzzSumo is a 360° SMM solution: content curation to influencer marketing. The tool offers social media and forums monitoring features that enable you to keep track of your brand, competitors, industry trends, and opinion leaders. With BuzzSumo, you can research your market and implement data insights in content and campaign development, identify topics with high demand, and select relevant keywords for launching effective PPC campaigns.
NB: The mother's company of BuzzSumo, Brandwatch, provides an Enterprise-level social media monitoring tool with the same name for consumer intelligence and market analysis. These instruments can be used together for diving deeper into research and getting more insights.
Similar to other social media monitoring solutions, BuzzSumo is also a great help in influencer marketing. Based on the topic you enter, the tool fetches a list of niche influencers and publishers for you to research and build relationships with: develop content, run campaigns, and grow your customer base organically.
On top of social media monitoring, you also get to monitor and grow your backlink profile. While sourcing and developing top-performing content, you get notified of every new backlink — this way, you can learn from trending posts and customize your content moves accordingly to make sure you never miss a backlink opportunity.
Platforms supported: Facebook, Twitter, Instagram, Pinterest, Amazon, Quora, and Reddit.
Pricing: $99-499+/mo, annual plans save you 20%. A 30-day trial is available.
10. Mediatoolkit (renamed to Determ)
Update 2023:
After re-branding the tool is called Determ, you can learn more about it on their new website -
determ.com
Mediatoolkit is a good marketing platform for big companies because the tool provides an unlimited number of teammates per account. As an admin, you can give complete or partial access to the service – from read-only to edit mode that allows several departments to work together. Whether a PR or marketing specialist you are, Mediatoolkit will be useful for your professional tasks.
11. Talkwalker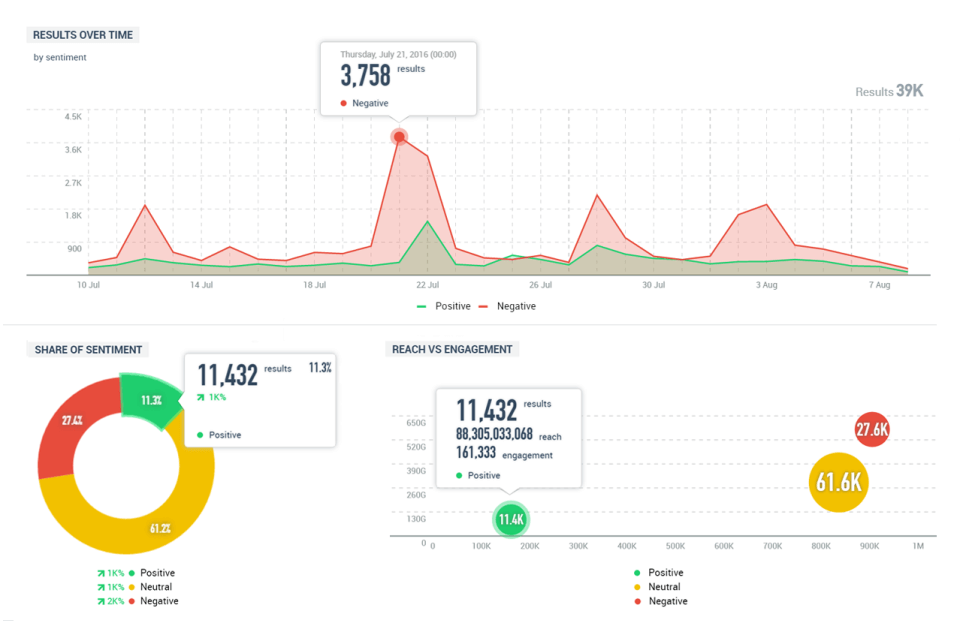 Talkwalker is an Enterprise-level social media analytics and monitoring tool that keeps track of all brand-related online, print, and TV/radio content to help you stand out. In addition to tracking mentions of your company, products, campaigns, or any other keywords, it will also monitor the usage of your logo and provide both real-time and historical data to make sure your marketing decisions are powered to the max. All this is supported by real-time social listening, so you can immediately react to changes in public opinion.
A Talkwalker AI engine allows you to find hidden mentions related to your brand among users' videos and pictures uploaded on popular platforms. Thus, you can monitor your company's reputation online, manage hot discussions in comments and make biased and toxic critics quiet just in time.
Talkwalker is brilliant as a data intelligence platform. As you get to aggregate all your data insights under one umbrella, adding your own data along the way, developing and re-designing your marketing strategy becomes not only doable but also easily done.
If you're only interested in free social media listening tools for now, and not ready to commit, Talkwalker offers a free tool for social media search with the basic ability to see how many mentions your brand gets.
Platforms supported: Facebook, Flickr, LinkedIn, YouTube, Twitter, Instagram, news, blogs, and forums.
Pricing: starts at $9,000+/year.
12. YouScan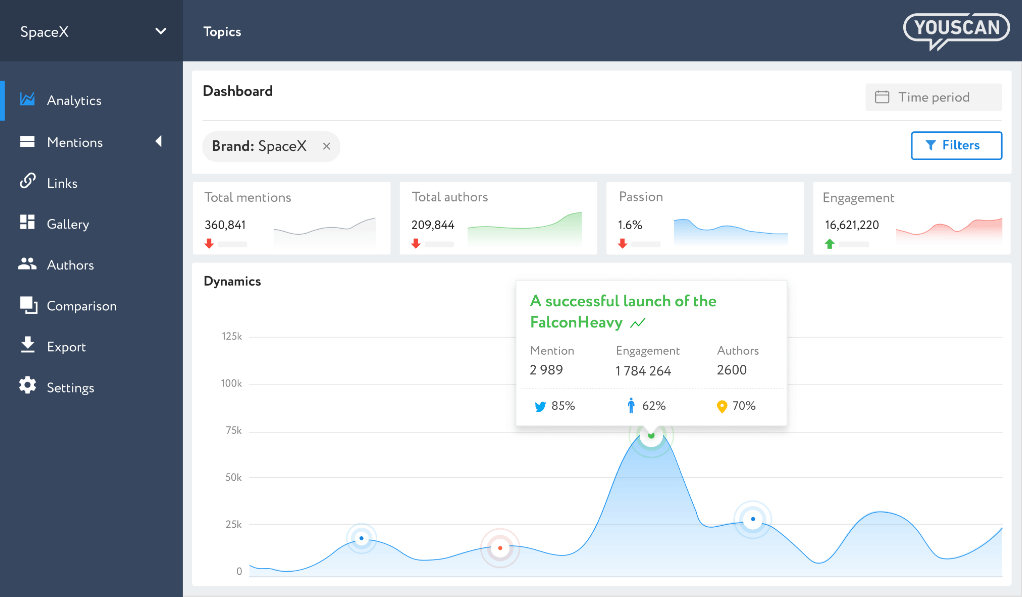 YouScan is another social media monitoring tool that uses AI to make sure you're always up to date with your brand's performance and reputation. The tool processes both text and visuals to track any social activity relevant to your company. YouScan covers all of the Internet to deliver every important insight and help you use it to your brand's advantage.
YouScan keeps you updated on any spikes in mentions, important conversations, and trends. The tool also offers automated tagging to help you take care of new mentions in a way that works for you. With auto-segmentation of mentions, YouScan lets you optimize your social media workflow even further.
This social media monitoring tool boasts a neat-looking Insight Wall for clear mapping and presentation of your SMM analytics. Being a customizable dashboard, Insight Wall is a smooth solution for marketing teams required to report on their digital activities in a way that's appealing and data-driven.
Platforms supported: Facebook, Twitter, Youtube, Instagram, VK, blogs, news sites, review sites, forums, and messengers.
Pricing: $12 000+/year.
Before you go...
Whatever your primary objective with brand monitoring, you can rely on social media monitoring software for data-powered support and a shortcut to any marketing insights you might need along the way.
I hope my listicle of the top social media listening tools gives you a new perspective on how much you could benefit from implementing social media monitoring into your marketing workflow.
With so many brilliant social listening tools the market has to offer, it's almost easier to do brand monitoring than not to do it.