How to optimize your Instagram account for social selling
A few short years ago, simply having a solid advertising budget was enough to promote your product and increase sales. Today, people don't trust overly promotional ads: two-thirds of customers pay close attention to peer reviews and product recommendations from friends and family before making a purchase decision.
In 2019, people use social media platforms to share their thoughts and experiences, so it's no wonder that modern consumers are shopping through social. With over 70% of users who discover products on the platform, Instagram has become a great marketing tool for over 25 million businesses to promote their products online.
To stay competitive in the marketplace, you need to leverage social proof in your Instagram marketing efforts. Here are four steps you should take to optimize your Instagram account for social selling:
1. Make the shopping process easier
Modern customers are 52% more likely to make impulse purchases, so it's important to ensure that they can discover your products in-app, get product information, and buy them without leaving the app. If you want to keep your customers happy and encourage them to share positive customer experiences with their friends on Instagram, you need to put them first and make the shopping process easier. With over one billion active users, Instagram has great sales potential, so it rolls out more and more business-specific features to optimize the shopping process.
Show off products
If you want to turn your Instagram visitors into followers and your followers into customers, you need to provide people with useful information about your products that can solve their problems. In other words, your Instagram feed should show off your products that might be interesting to your target audience.
A good example is Ring Concierge. As a jewelry brand that should showcase commonly small pieces, the company creates photos that keep a focus on items and show them off from different angles with multiple images within one post: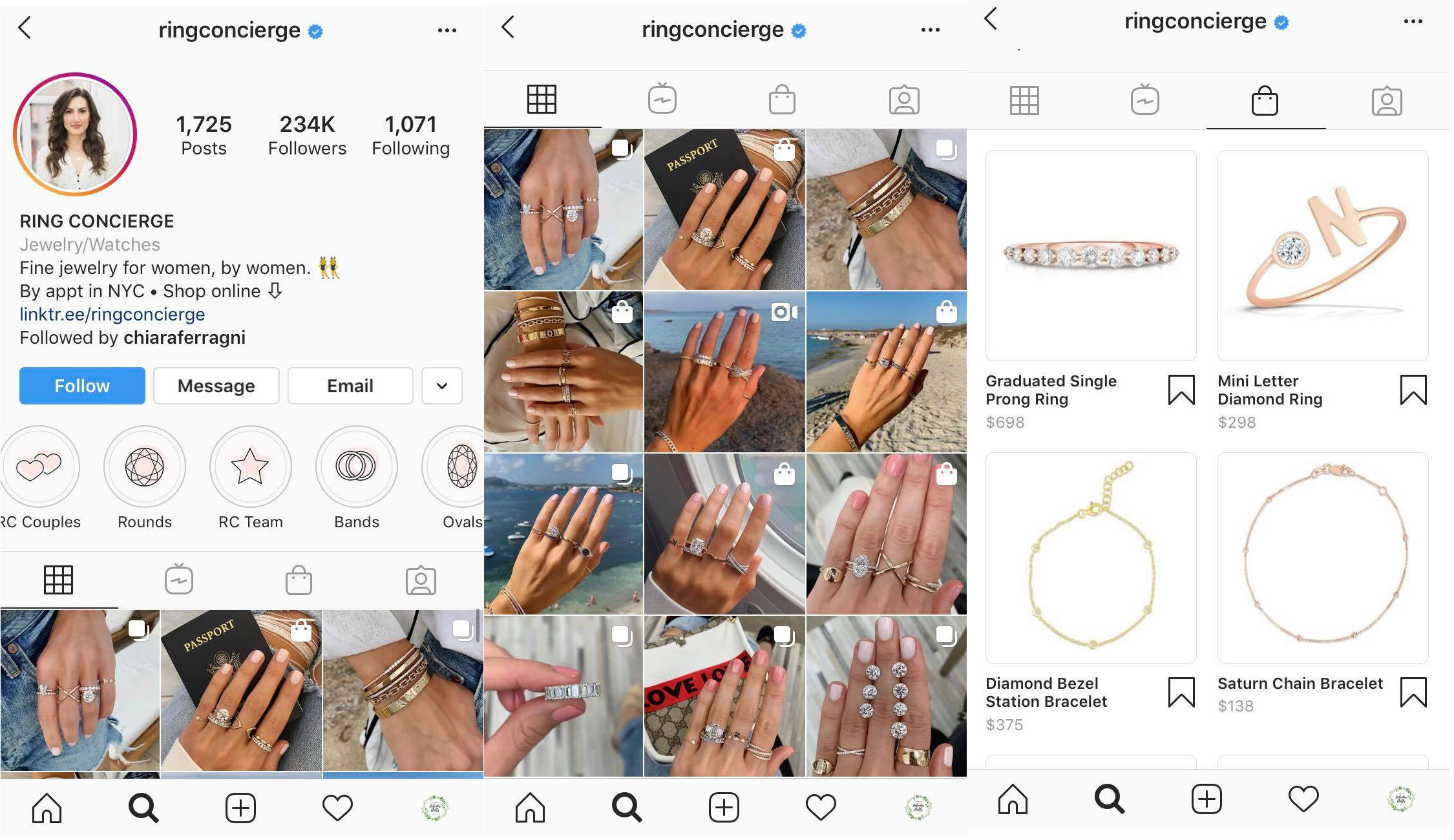 If you want to give this strategy a try, do your homework and create unique highlights for each of your products/services and show off them from different angles via your posts to make it easier for visitors to discover your products in-app.
Add product tags and shopping stickers
Now 130 million users tap Instagram's product tags to reveal products on the platform, so this means they are ready to buy in-app. With the introduction of in-app checkout, Instagram has become a perfect platform to make money online. For brands, using product tags and shopping stickers is a proven way to improve customer experience.
For example, clothing brand MadeWell has optimized its Instagram account for in-app shopping. The company uploads shoppable posts that help followers learn more about the featured items and prices. Once followers see a small shopping bag icon in the top-right corner of the post image, they can tap it to view product details: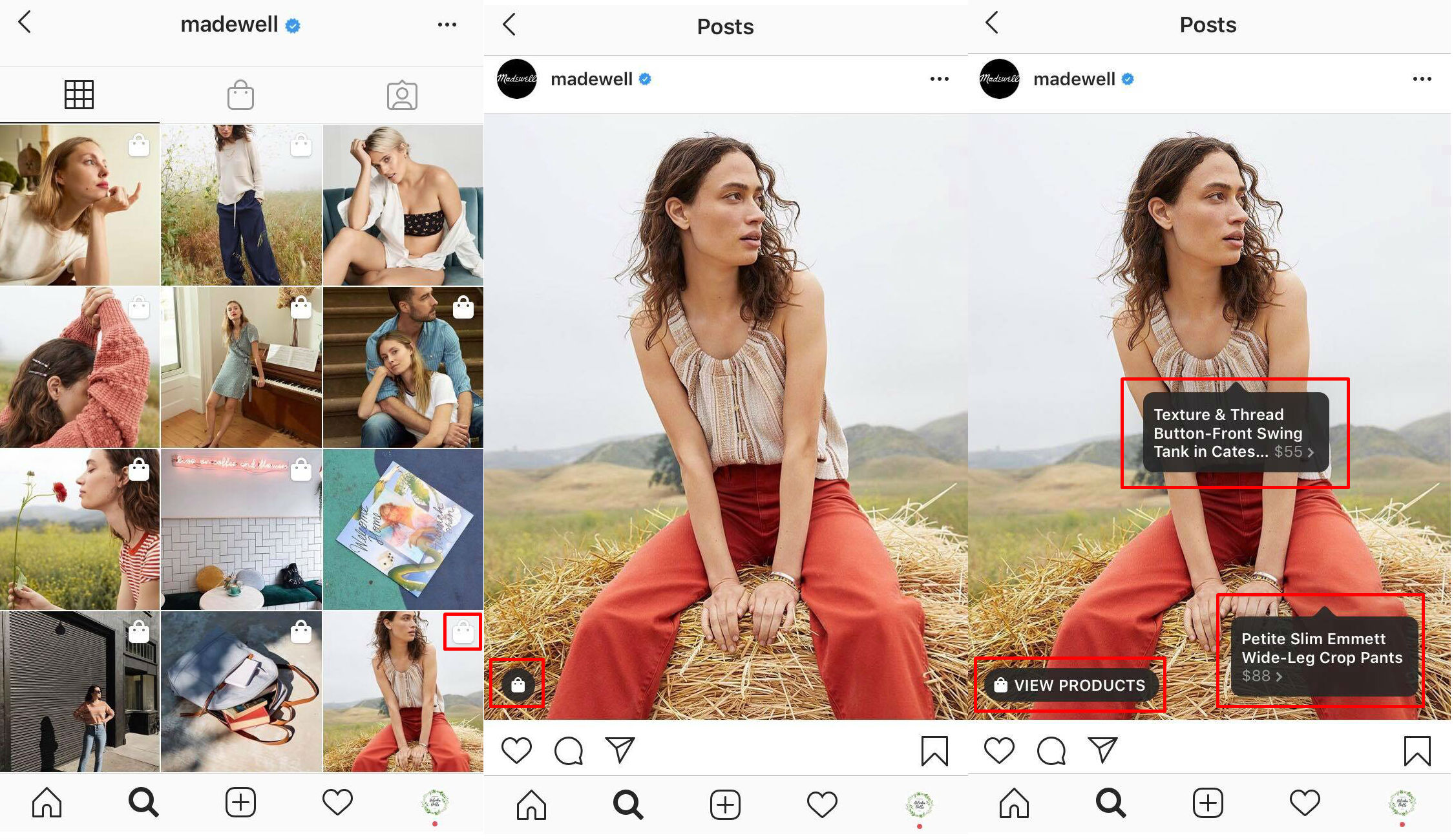 And here's how the brand uses product stickers to offer a faster way to shop on Instagram Stories: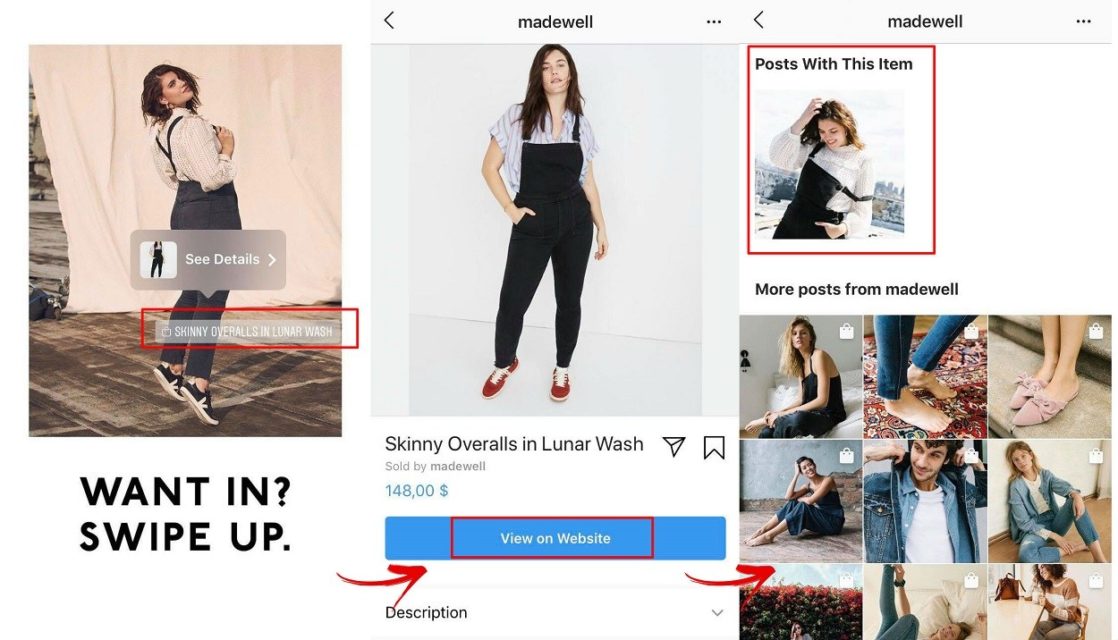 Once your account has 10k followers, you can also make the most out of clickable Instagram Stories and add links to your product pages. If you want to help your followers discover products with ease, you can use the swipe up link to provide them with additional information about your product even if you haven't been approved for shopping on Instagram.
2. Provide social proof
Customers are savvy: They consult reviews before making a purchase decision. Since most customers share their genuine thoughts on the product, reading reviews is a proven way to ensure that the chosen product can suit your needs and wants. In short, the era of social shopping is booming, so brands of all sizes and shapes should create credibility with social proof. When you show your potential customers that other people choose your brand over other options on the market, you ease the minds of worried buyers.
Feature fan-made content
In 2019, advertising doesn't work anymore. Customers seek out genuine reviews before buying products, so it's no wonder that 79% of people say user-generated content has a great impact on their purchasing decisions. When people show off your product in their photos, potential customers trust your company more. Thus, it's important to feature fan-made content.
Many companies encourage user-generated content on Instagram, and CLUSE is one of the best examples. The company shares fan-made images and tags the authors to increase brand trust.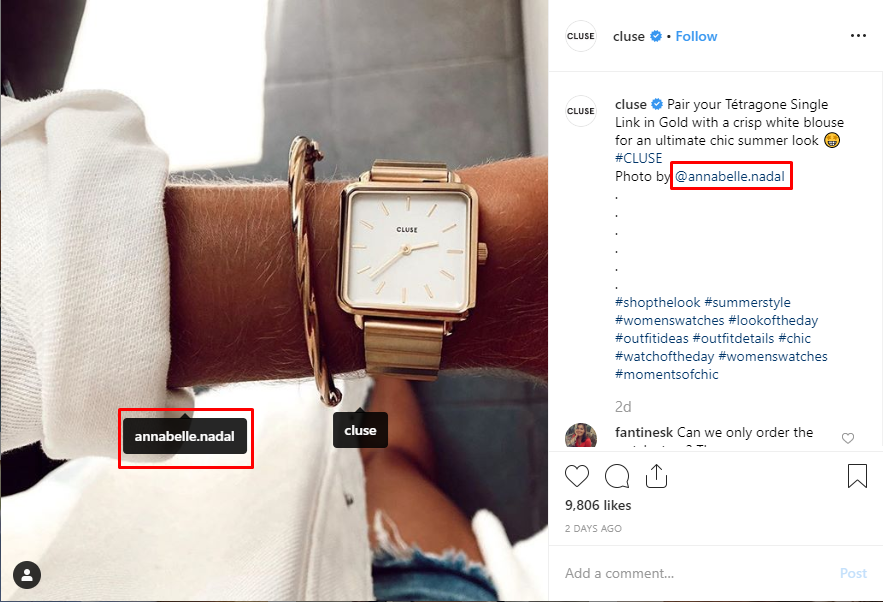 Fan-made content is a good source of social proof as it tells potential customers that your product is worth giving it a try. Thus, brands should post user-generated images on Instagram if they want to increase ecommerce sales.
Post influencers' feedback
Here comes the ugly truth: If you're not one of the most popular brands, you may have trouble generating fan-made content. However, you can collaborate with niche influencers to turn them into content creators and start generating UGC.
It's no secret that influencer marketing is on its rise and many brands turn to Instagram opinion leaders to spread the word about their products. Let's take JCrew, for example. The company collaborates with famous fashion bloggers to kill two birds with one stone - to tell their stories and show off JCrew products: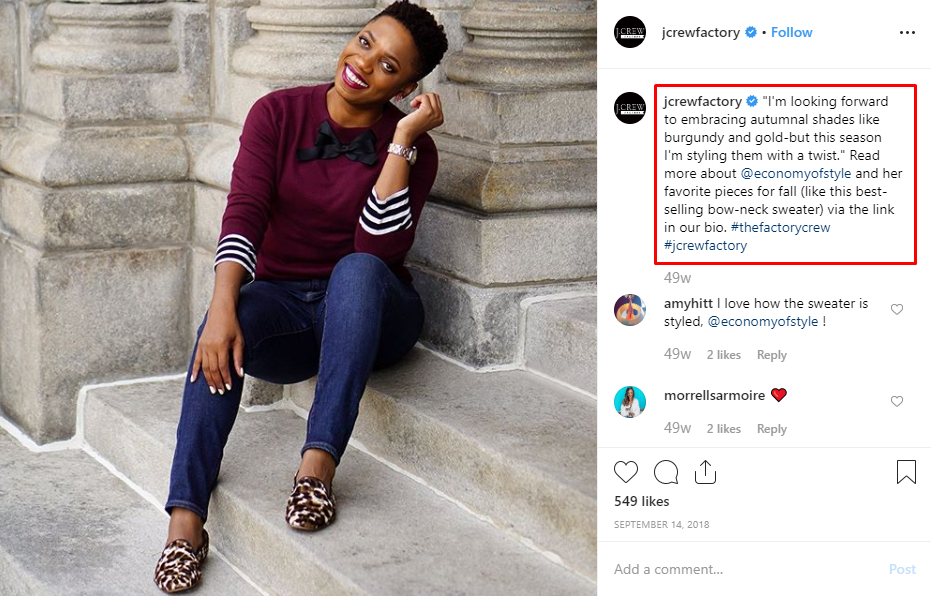 Instagram influencers have a great impact on their following, so working with opinion leaders is a proven way to cause a buzz around your product without investing much. Moreover, it helps to encourage user-generated content that affects the decision-making process.
Publish the media reviews
Who else wants to publicize your product in well-known magazines? Getting your products featured in famous magazines isn't easy, but it helps to gain exposure and increase brand trust. Readers pay close attention to product recommendations they see in the magazines, so it's another great idea to get social proof.
Once magazines have featured your products, take a screenshot and add a swipe up link to the blog post to show your followers that your product is in the public eye. Just take a look at how Bali Body does it: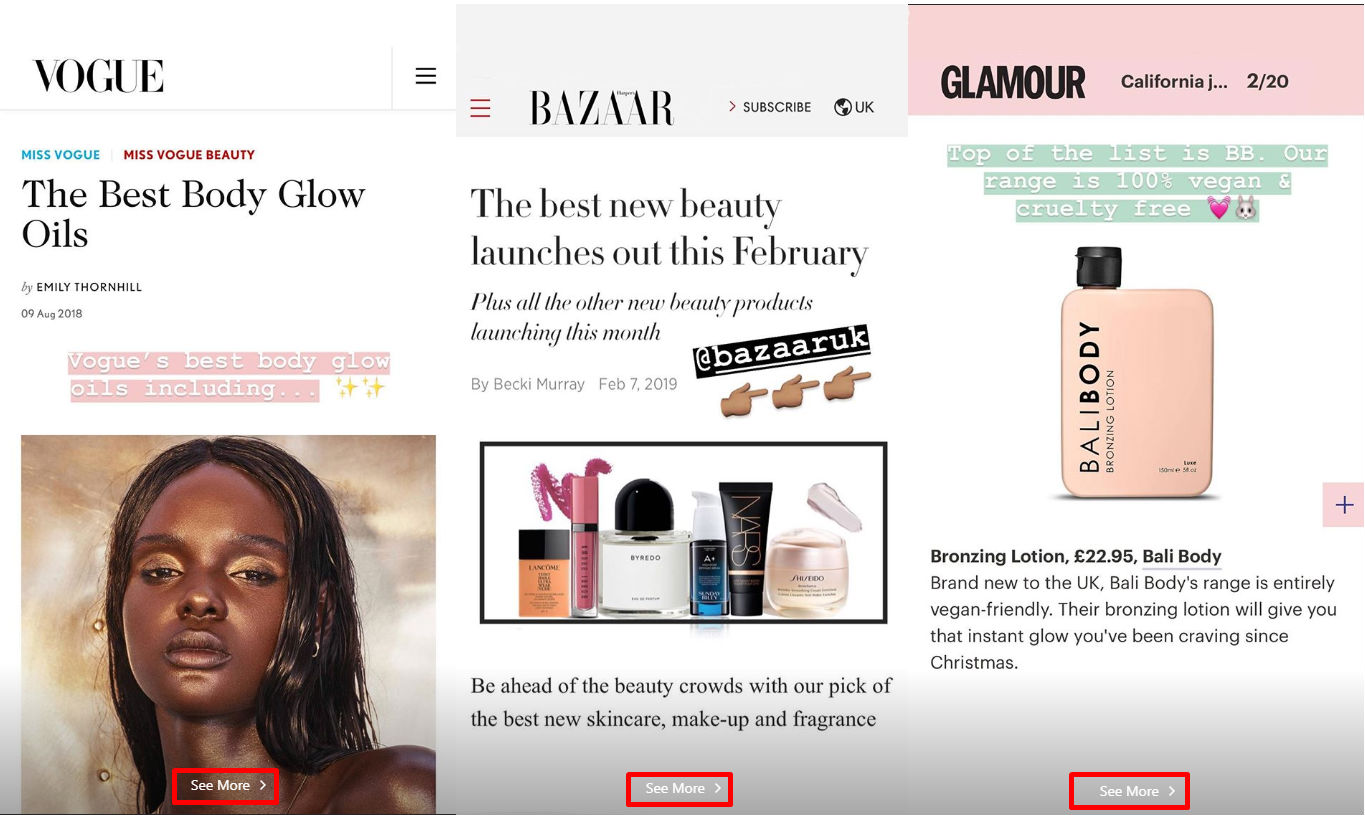 When blogs and press speak about your product, this means it's worth buying, and many customers are open to giving it a try after reading about your product in the media. Thus, you should publish the media reviews to increase brand trust and encourage your followers to buy your product.
3. Increase brand loyalty
Repeat customers matter: Acquiring new buyers costs five times as much as retaining existing ones. With a great variety of options on the market, it's extremely difficult to convince customers to make repeat purchases from your brand over time. Since consumers seek out better offers, it's important to increase brand loyalty and trust so that they feel committed to your brand.
Share exclusive deals and offers
Wouldn't it be great if you could increase brand loyalty and boost ecommerce sales at the same time? With access to the internet wherever you are, it's no longer a problem for modern customers to do research and find the best deals on the market. Consumers crave for discounts and 75% of people claim that receiving offers/discounts is the main reason to follow a brand on social media. Thus, it's a great idea to share exclusive deals within your Instagram community.
Here's how Passion Planner shares social media-specific offers to foster customer loyalty: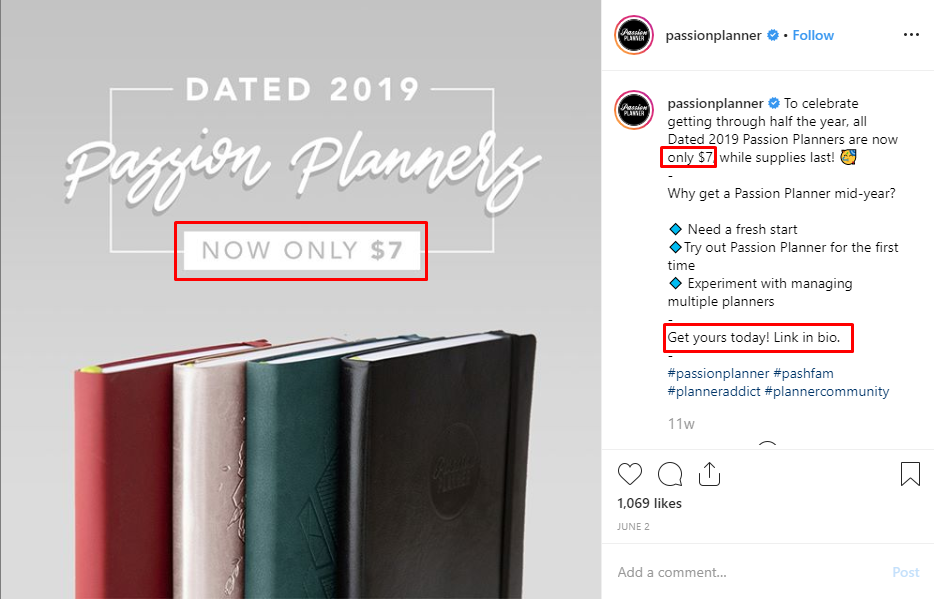 Adding text to your image is a great way to attract followers' attention, so you should create Instagram posts that provide a short description of your offer to interest users and increase reach.
Promote loyalty programs
With a great variety of options on the market, it's extremely difficult to retain customers. If your customers come back to buy your products, you need to reward them and having a loyalty program is a proven way to show customer appreciation. Moreover, it helps to increase brand loyalty and trust, and therefore attract new buyers. Want to know the best part? It's also a great way to collect customer data and analyze shopping patterns and customer behavior.
If you want to give Instagram social selling a try, promote your loyalty program on the platform to turn your followers into customers. For example, Starbucks shares information about its loyalty program, so it has announced a new points/star system on Instagram: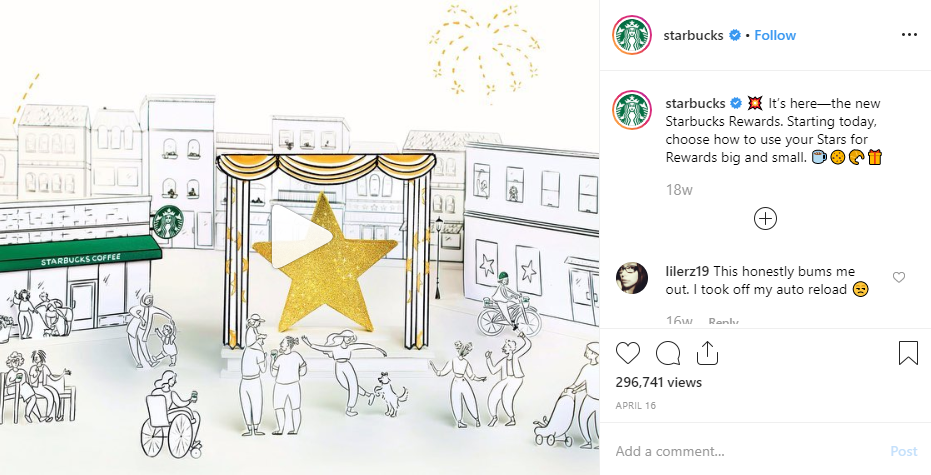 When Instagrammers visit your profile, they scroll your feed to find something that can meet their needs, so promoting your loyalty program helps to catch their attention and give them a reason to trust you. Plus, if your current customers find your loyalty program beneficial, they will be more likely to tell their friends about your company.
Run contests
The idea of running social media contests to boost engagement isn't new. Firstly, contests bring the fun. Secondly, it's in our human's nature to love free stuff, so it's no wonder that contests or giveaways attract many participants. For brands, this means a great opportunity to increase user engagement, spread the word about the company, and increase brand loyalty.
When it comes to social selling, it's easy to ask your followers to tag their friends who may be interested in your products - everything depends on the participation requirements of your contest. Just take a look at the example below: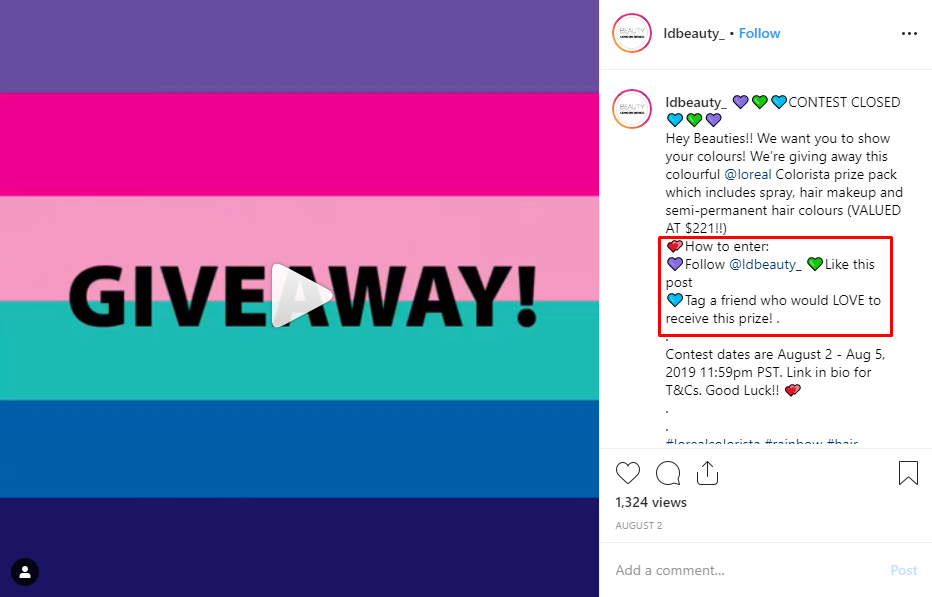 People trust their friends, so they will be more likely to check out your profile once someone tags them in the comments. And if you want to enter an already-established community and reach out to your target audience faster without spending much money, collaborate with niche influencers to become a giveaway sponsor.
4. Understand your customers' needs
Social media platforms make it easier for people to share their thoughts about the product or services without being interrupted. When it comes to product recommendations, customers are happy to share their positive shopping experiences, and they make suggestions directly to their Instagram followers. Thus, it's important to make sure your customers get what they want, so companies should understand their needs first. Once you satisfy your buyers' needs and wants, you can turn your customers into brand ambassadors.
Encourage interactions with customers
Having a solid Instagram following is great but this means nothing unless these people are engaged. If you want to sell your products and attract more customers, you need to know your potential customers' pain points. The good news? Your followers are a perfect source of market research: Just encourage interactions with followers to understand them better. From liking their comments to contacting them via direct messages, there are many ways to encourage interactions with customers. The main idea is to stay proactive.
Here's how Bliss used a call to action to encourage followers to share their questions about skincare: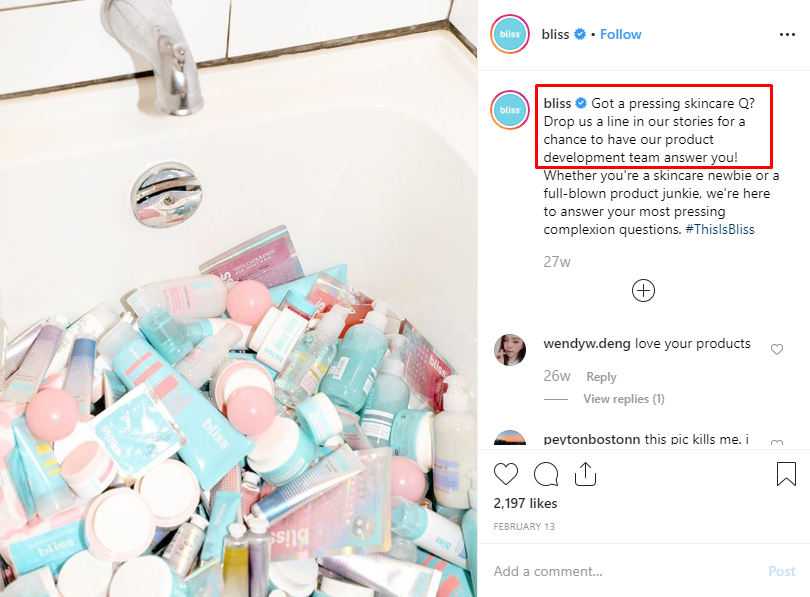 Once you know what bothers your customers, you can answer their questions to provide them with useful solutions. People want to feel valued, so they trust brands that take care of them, and listening to their needs and wants is a great way to establish a connection with your customers.
Collect customer feedback
Running an Instagram business account, it is easy to understand the pros and cons of your product - simply ask your followers about their thoughts. Why? Instagrammers are ready to start a conversation with their favorite brands. According to the SocialBakers report, Instagram has the highest overall engagement rate across all social media platforms. As a great marketing tool, Instagram rolls out more and more business-specific features that allow marketers to understand their customers better.
For example, Starbucks collects customer feedback with Instagram Stories. With the help of the Instagram Stories question sticker, the company makes a simple poll with an open-ended question. Since followers aren't limited to several options, it's a great way to get customers' responses and understand their preferences and needs better.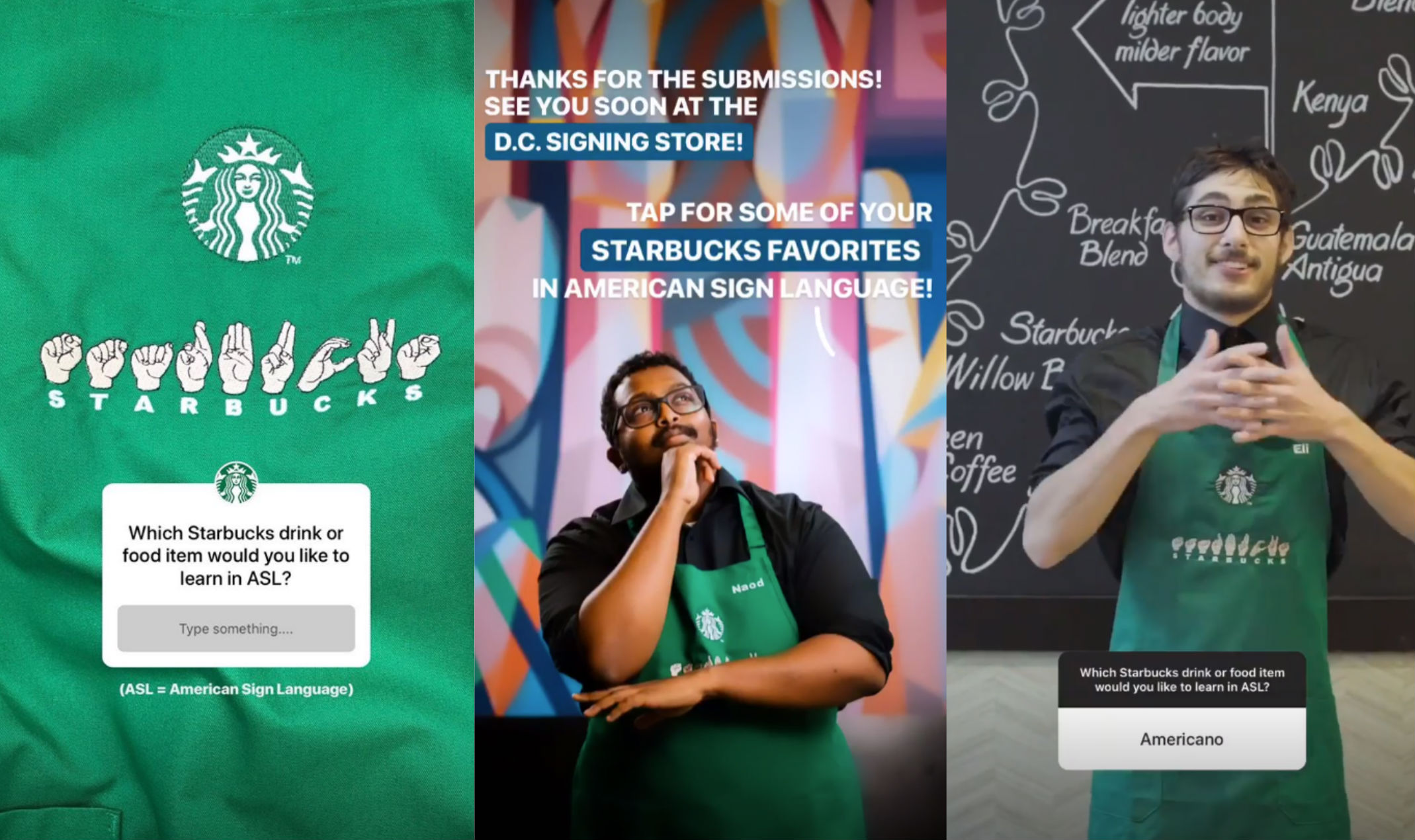 Since the majority of modern customers want to connect with brands on social media and 80% of Instagrammers follow at least one brand on the platform, this network is a great way to collect qualitative data about your products in an interesting way.
Use social listening
It's no secret that customers use social media platforms to share their shopping experiences with friends and families without being interrupted or biased. They want to tell their stories to help other potential customers make the right purchase decision, so social media networks have become a great source of market research. Today, Instagram monitoring is an important element of your social media marketing strategy as it allows you to get insights from your customers.
If you're a large brand like Whole Foods, it's more likely your customers will share their thoughts in the comment section, so it won't take much effort to analyze that information.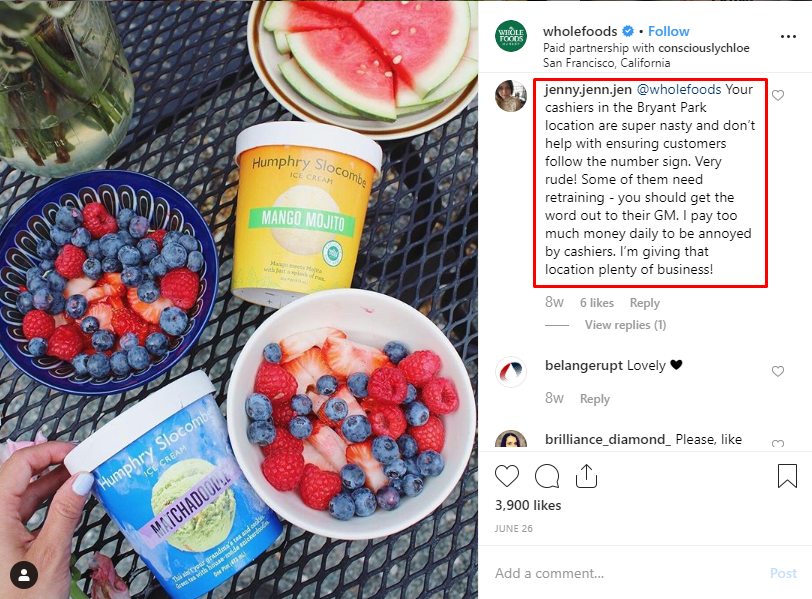 And if your customers tag your account when speaking about your brand, you get a notification in the Activity feed and it's easy to track the conversation. But if they don't tag you or add your branded hashtag, unless you use social listening tools. Thus, you need to make sure that you understand what people say about your brand to take care of them and offer a better solution to their problems.
Over the last few years, Instagram has become a powerful ecommerce platform for brands that want to sell products online. With the power of social shopping on Instagram, brands of all sizes and shapes must understand how to launch an effective social selling campaign on the platform, and optimizing your Instagram account is a must.
So, are you ready to optimize your Instagram account for social selling? What tactics will you use first? Share your thoughts with us!