Personal Branding: Things that Help Create a Strong Brand on Social Media

When consumers find a new brand, they start an entire investigation before finally trusting the brand enough to become its customer.
There are three characteristics that usually make a consumer fall in love with a brand:
personality
affinity
authenticity

Statistics also provide this point, saying 86% of consumers name authenticity as a critical factor in choosing a brand, and 81% say that trust is essential in the brand-consumer relationship.

But what about personal branding? Do the same characteristics apply to evaluating a personal brand?

Absolutely. You could say that consumers get even more meticulous when investigating personal brands. You can notice that from the example of online influencers, who have to work harder than traditional brands to earn the trust of their customers.

So, if you want to build your personal brand, no matter for what purpose, today, we're going to take a look at a few tips on how you can do it through social media, as this is one of the most effective ways to get more exposure for your personal brand and get noticed faster.
Sign up for a free Awario trial
See Awario in action with a free 7-day trial. No credit card required.
By signing up I agree to the Terms of Use and Privacy Policy
1. Identify Your Niche
Personal branding strategy is all about the creator, who is the focal point of it.

A personal brand should be differentiated from a topic brand. The content created for a topic brand is more about focusing on a particular theme, and in that, a topic brand is somewhat limited.

However, a personal brand is more about what the creator is up to in the current moment. The creator's content for a personal brand can vary significantly. But the main focus of this content should be on representing yourself as a brand.

Here's an example. Let's say you are a YouTuber making videos on how to learn Spanish easily. Thus, your strategy is more about a topic brand, and you unite your audience around the theme of learning foreign languages.

However, if we talk about personal branding, your life, everyday activities, and experience become the main attraction and the reason why people follow you.
Nevertheless, it doesn't mean that a personal brand should not focus on a specific niche. A precisely defined niche will give you marketing power, and it will be easier for people with certain interests to find you and for you to build an audience.
How to choose a niche for a personal brand?
Choose a niche that reflects the personality of your brand. Start by defining a broad topic and a few subtopics related to it. However, don't start by producing content for each one of these subtopics right away. Instead, try to focus on one and develop your branding strategy from it.

For instance, let's say you're interested in wellness. This topic has different subtopics, like a healthy diet, exercise, mental health, and awareness, etc. You can start building your personal brand from the subtopic of nutrition. And, as more people start following you because of their interest in nutrition, you can slowly start introducing other subtopics related to wellness.

As a result, the audience that you end up having will follow you not because of the topic of nutrition but because they are interested in your personal brand and want to see it grow.
2. Study Your Current Audience
If you already have a presence on social media, there's no need to start building your personal brand from scratch, as you might already have the audience you're looking for.

What you need to start doing is establishing rapport with people who already follow you. For that, you'll need to do some audience analytics.

First of all, to help you understand better who you will address in your content, take a look at the current demographics of your social media followers. You can do it by going to the Analytics tab on the respective social media platform. Here's how it looks on Facebook: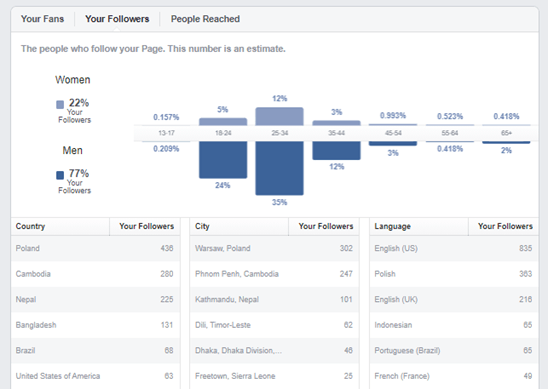 You can use this information to build a target audience persona who you will attract with your content. But to establish rapport with your current audience, this data is not enough.

The best way to build a connection with your existing followers is by developing content they would like to see from you. To find out their content preferences, you can also go to the Analytics tab and check out post-by-post engagement and reach: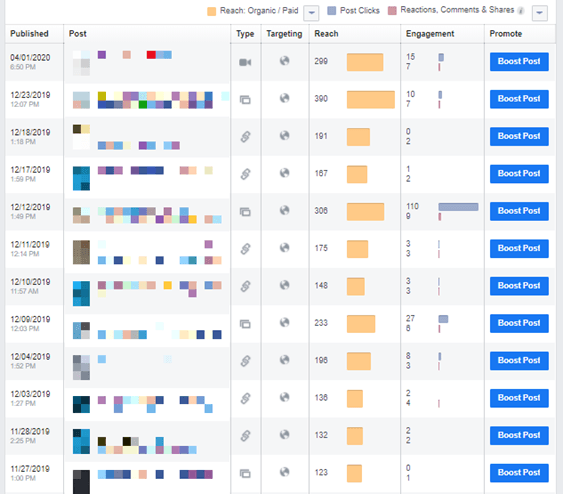 You will also have to keep doing brand monitoring to maintain a consistent presence on social media and make sure audience engagement is not dropping. Here, building a personal brand isn't different from any other brand – even though the main focus is about you, you still need to monitor your audience to maintain a strong relationship with it.
3. Network with Like-Minded Influencers from Your Niche
Building a strong personal brand on social media is also about connecting with other influencers from the niches related to yours. This is not just an effective way to grow your audience but also to raise awareness about your personal brand and your content.
Here's a good example of such networking. Valeria Lipovetsky is a model and entrepreneur who successfully built her personal brand on social media by sharing content on wellness, fashion, and family.
Recently, every week, she started meeting with other influencers from related niches to talk about the topics connected to her audience's interests. One of her recent talks was with Jay Shetty, a best-selling author, who spoke about his formula for a happy life: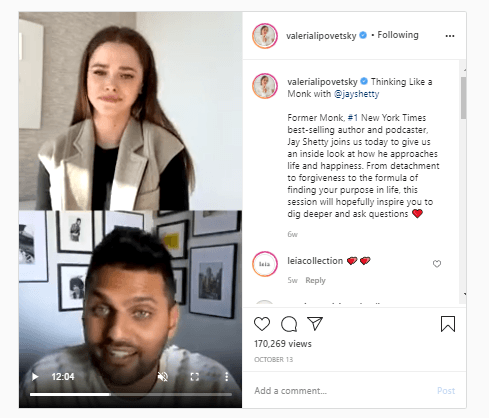 Credit: Valeria Lipovetsky
She also met with other influencers from the wellness niche, like Katie Dunlop, Jeanette Jenkins, and Nina Agdal.
What impact did networking make on Valeria Lipovetsky's personal brand?

First of all, it brought her more exposure, and improved brand awareness as each of her talks with other influencers brought her 100K+ views on Instagram. Besides, Valeria Lipovetsky successfully leveraged networking with other influencers to build authority within her own niche.

So, if you want to build a strong personal brand on social media within your niche, grow your network to get support and maintain a strong presence.
4. Focus on Consistency
No matter how great of a personality you have and how awesome your content is, your personal branding strategy will hardly be successful if you aren't consistent with it.

People can hardly trust a brand that doesn't maintain regular contact with them. Besides, inconsistent presence on social media can be harmful to the visibility of your personal brand.

That's why, when developing a content plan for your brand, take into account how often you want to post. The quickest way to figure out the perfect time when your posts should go live is through the analytics tab.

For instance, if you go to Facebook Insights, you can find the data on audience activity under the Posts tab:

As you can see, this graph presents the exact time and the number of followers that are active at that moment. This information can be very helpful, as you can use it for your content calendar and to schedule your posts.
Why focus on audience activity when building a personal brand?
One of your main tasks when building your personal brand is to focus your efforts on building awareness. In this regard, audience activity plays an important role, and if you leverage it to your advantage, you will be able to significantly increase the visibility of your posts.
Besides, as a personal brand, you will have to develop a close relationship with your audience. By tracking the activity of your audience, you will know the exact time when it is the most convenient to engage with your followers.
Over to You
Having a personal brand is exciting. You get to be yourself, cover the topics you like and have thousands of followers who praise you for who you are.

However, building and maintaining a personal brand also requires a lot of work. Even though you can potentially cover any topic of your liking, you still need a specific niche to start from and to build your initial audience. Later, you can cover a broader spectrum of topics, but you need to start small.

Besides, you need to have a very good understanding of your target audience, their demographics, and psychographics. Also, you will have to study their content preferences thoroughly both to boost their engagement and to bring more awareness to your personal brand.

As a brand yourself, you will also have to build authority in your niche by interacting with fellow influencers. This way, you'll be able to get more exposure and to showcase your knowledge and experience in the niche.

Lastly, if you want your personal brand to have a strong presence on social media, it is important to be consistent. Track your audience's activity on social media platforms to see when it is the best time to interact with them. It will help you boost engagement and build a closer relationship with your followers.

Enjoying the post? There's more.
Sign up for our newsletter to get our best content by email.