Pornhub case study: 5 marketing steps that made it #1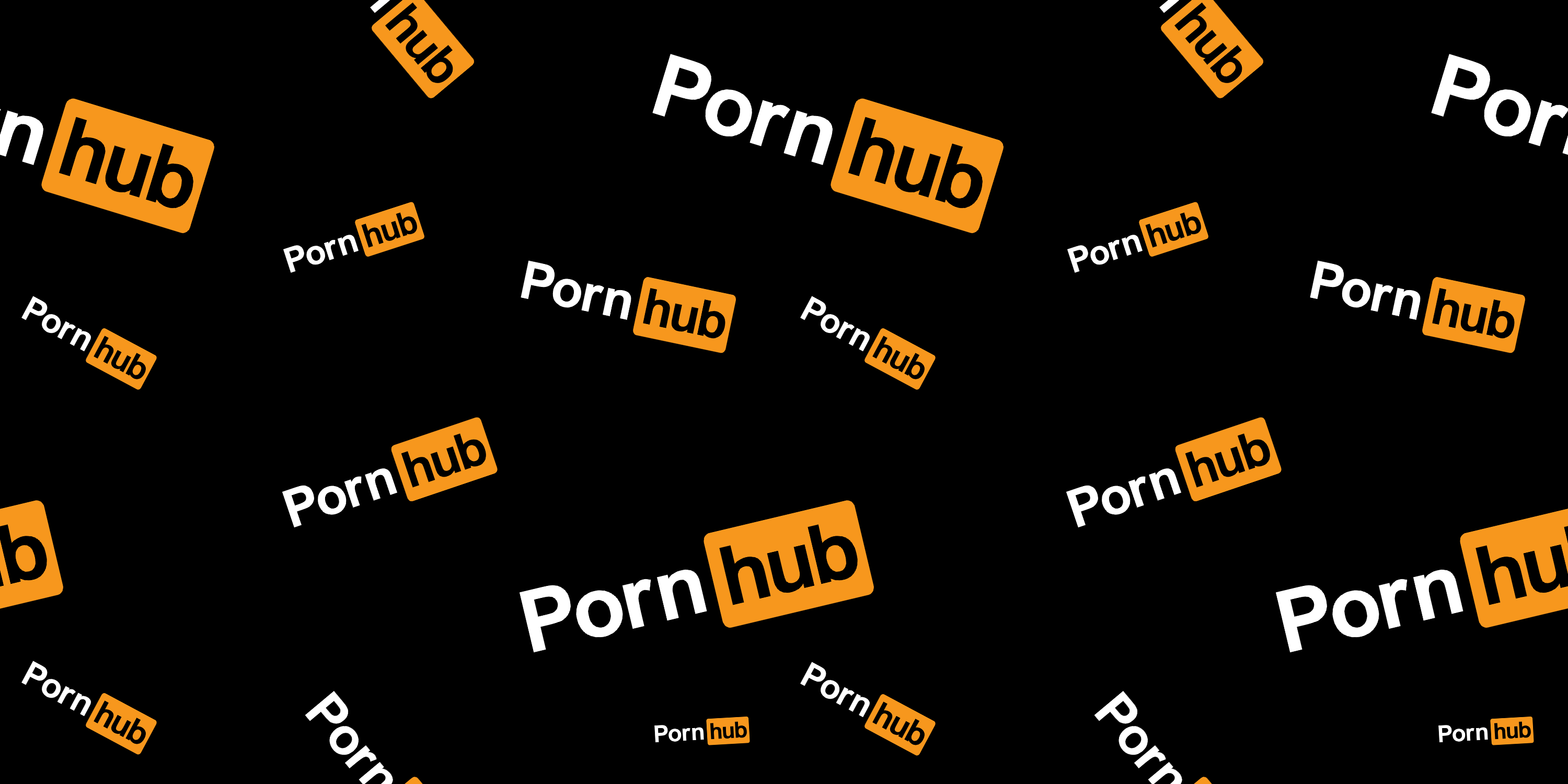 Companies today try to bring their marketing efforts to a whole new level. They create useful and/or entertaining content, engage with the audience, help their customers live, love, and laugh… You know the drill.
Now guess who is great with posting entertaining and, let's face it, sometimes educational content? Who engages their audience for an average of six minutes (unlike my blog posts) and genuinely helps their customers?
Yep, that's Pornhub. Pornhub's daily visitors exceed 100 million. It's more than the population of Canada, Poland, and Australia every day. And, it's not just about the fact that people watch porn. Pornhub wasn't the first adult video aggregation and production site. It's also not the only one to offer free content. It's not the best one in most rankings (yes, they exist, and yes, I checked. Research!) But it is the single most popular adult video site all over the world.
I am here to prove that Pornhub's marketing is the reason it got so big (not that size matters).
Here's the thing. Despite the fact that the overwhelming majority of people watch porn, it's still a taboo subject. This means that traditional marketing is out of the question. You can't advertise porn on national television or Facebook. You can't make a great Super Bowl ad (Pornhub tried to get in, or pretended to try, and got banned).
You can't even go with traditional social media marketing: people won't share the images of naked women, "like" the step-by-step guide of choosing a perfect pornographic video or discuss favorite porn stars on the Pornhub's Facebook business page. Even the most loyal users are very unlikely to tell their friends about the discount for a premium subscription. The whole thing is just too… private.
So, Pornhub developed a unique market strategy in their field and beyond it. Its marketing works in two ways. On the one hand, the company gradually works to normalize pornography. In their campaigns, they subtly but persistently show that everyone is "doing it" and that, therefore, that's OK.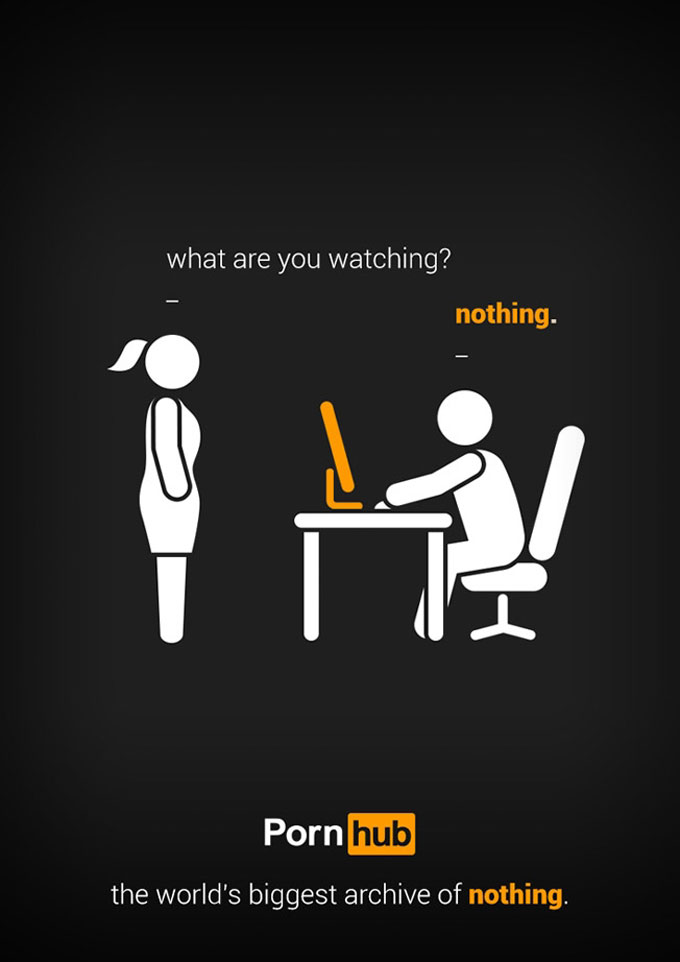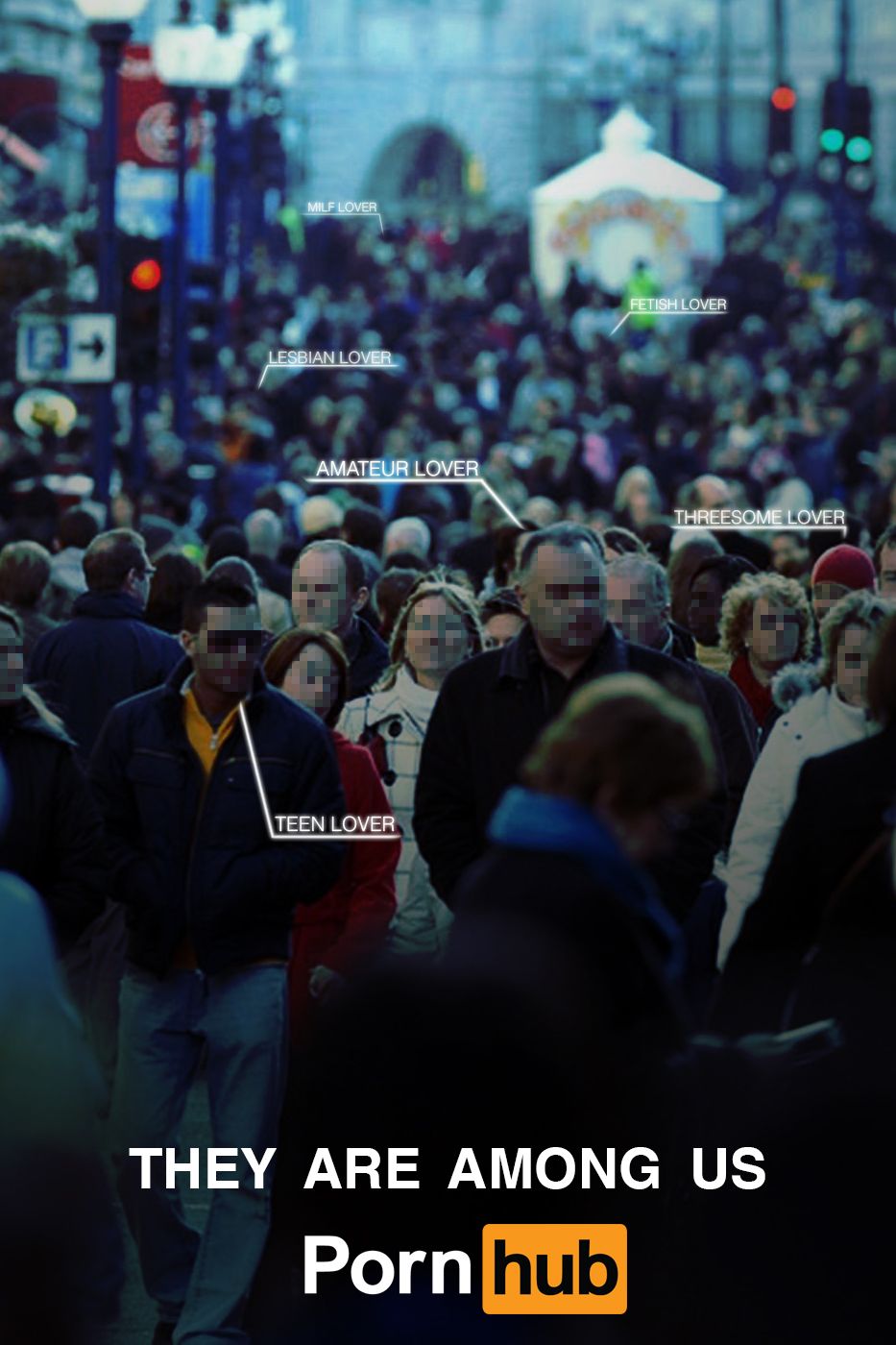 On the other hand (not like you need the other one*), they produce content that is sexy, but not NSFW kind of sexy. It's shareable and, moreover, it's fun to talk about. For example, how can you not mention during a conversation about climate change that the adult site made a video that raises awareness and money for cleaning the ocean? And there you have it: brand awareness, word of mouth, love, fame!
*Sorry.
But let's go through Pornhub's genius strategy one weirdly appropriate step at a time.
1. Authentic, funny, and relatable social media
Pornhub's social media channels are led by Aria, a witty and down-to-earth girl that evidently doesn't do porn.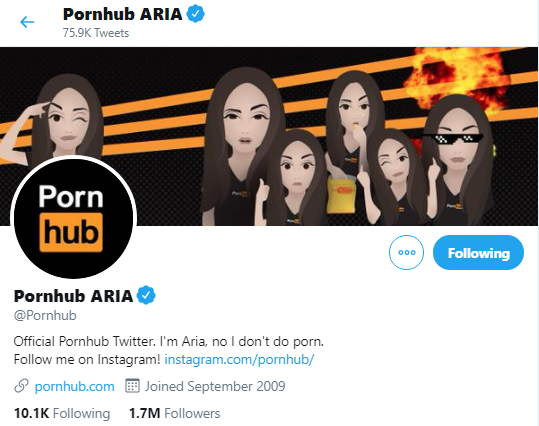 Her Twitter account is heavy with jokes and memes: sex-related and sex unrelated.
Just burned 2000 calories!!! That is the LAST time i leave weed brownies in the oven while i nap.

— Pornhub ARIA (@Pornhub) August 14, 2015
#instagramdown pic.twitter.com/yaZlCJy0tm

— Pornhub ARIA (@Pornhub) March 13, 2019
@aguywithnolife excuse me? We have 38000 anal fisting videos.

— Pornhub ARIA (@Pornhub) January 20, 2014
Sometimes, the account is just so relatable: you read her tweets and understand that that's basically you.
WHAT AM I GOING AS FOR HALLOWEEN THIS YEAR? PERHAPS AN EXISTENTIAL CRISIS?

— Pornhub ARIA (@Pornhub) October 19, 2019
RT if you sexually identify as a mistake

— Pornhub ARIA (@Pornhub) March 20, 2019
Aria stays up-to-date with everything that's going on in the news and on social media. In her interview with Mashable via email, she says:
I try to latch on to mainstream trends and breaking news stories to boost engagement. If people are talking about something nonstop, I want to insert myself into that discussion.
At the same time, she's aware not to post anything too controversial because she doesn't want her Twitter to turn into "a hateful thread where people are arguing back and forth with each other".
It's very clear from Aria's Twitter that it's her. It's an actual authentic personality of a funny, pretty, and open-minded girl that works for Pornhub (how exciting!). And that hooks people to Aria's social media accounts, from which she builds Pornhub's reputation and brand awareness.
Aria says that this strategy made Pornhub more "approachable".
People are able to see me being silly on social media and are less inclined to think of us as strictly an adult entertainment platform. I like giving Pornhub a personality that many people can relate to.
While Twitter is much more for laughs than for running your blood hot, Aria takes a different approach for Instagram (NSFW). As a visual platform, it's focused on showcasing pornstars in an Instagram-friendly way, which works as a teaser. Aria also posts her own fully-clothed selfies and other people's with the hashtags #phworthy that isn't viral yet but has all the potential to become one.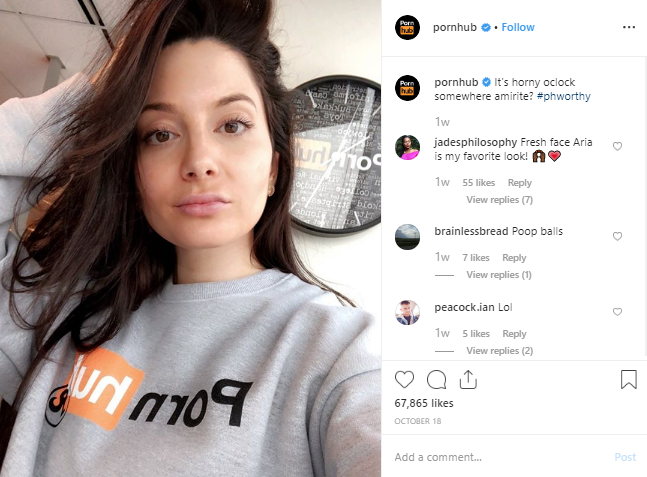 On YouTube, a strictly safe-for-work platform, Pornhub posts the day-in-the-life series "Chronicles of Aria" and "Pyft", in which she takes a ride with porn stars and asks them personal questions. Both were the result of the social media manager's popularity on other platforms. People wanted to find out more about her and the people she works with.
Right now, Pornhub's Twitter has 1.7 Million followers, Instagram has 8 million followers, and YouTube has 523 thousand followers. And how many regularly check them out without making "the following" official!
2. Marketing campaigns you can't not talk about
Pornhub's marketing campaigns become widely popular despite people's aforementioned lack of desire to discuss porn. They get featured on Discover, Vice, The Washington Post… Not to mention social media and day-to-day conversations. What does it take to make notable media and people talk about porn?
Something ridiculous
Like, I don't know, creating porn in space. Yes, in case you missed it, in 2015, Pornhub started a crowdfunding campaign (the audacity!) to shoot an adult video in space. The called it SEXPLORATION. I mean, why not. The campaign gathered $236,086 out of $3,400,000 required. As you can imagine, it got all kinds of traction. Notable media reacted. Brand awareness skyrocketed. It was marketing at its best. Too bad no one was actually sent to space.
Something good
Is porn good or bad for society? Opinions, predictably, differ. The topic is too controversial and dangerous for Pornhub to discuss. Yet, Pornhub wants to be perceived as a company that makes the world a better place. Doing undeniably good things is another factor that makes Pornhub number one, despite the fact that, obviously, they would still get tons of traffic without going through all that trouble. But the adult entertainment site plants trees, saves bees, cleans the ocean… Let's face it, Pornhub does a lot to save the planet. They really are the good naked guys.
In the most recent campaign of 2019, Pornhub created the "Dirtiest Porn Ever".
An adult video is filmed on a dirty beach where a couple is having sex while litter pickers wearing Pornhub-branded suits clean up the beach. Every time the Dirtiest Porn Ever is played, Pornhub makes a donation to Ocean Polymers – a non-profit organization that is planning to launch a ship to collect and reprocess plastic from the sea.
We're dirty here at Pornhub, but that doesn't mean our beaches need to be.

Corey Price, vice president of Pornhub.
Ocean Polymers executive director, Heather Wigglesworth, responded by saying that the initiative and support from Pornhub is "inspired and appreciated". He encouraged more companies of this size and stature to take "the same responsibility with the audience they engage".
Before that, Pornhub had a campaign called Pornhub Gives America Wood: after each 100 Big Dick videos watched, Pornhub planted a tree. If you recall how many people watch Pornhub daily, that's a lot of trees!
And, of course, they had a campaign where they would donate for every video view on its Beesexual channel to nonprofits Operation Honey Bee and The Center for Honeybee Research. The Beesexual category featured short videos of bees doing it (nature porn?) with voiceovers by popular porn stars. Pornhub pointed out that 70% of food is "the direct result of bees banging plants", so saving bees is relevant to their business. Can't argue with that.
Pornhub also donated large sums of money to save pandas and whales, encouraging people to make "panda style porn".
However, nature isn't the only cause that Pornhub supports. In October, they joined the world in the fight against breast cancer: the site donated every time someone watched videos in the breast-focused categories ("save the boobs!"). In November, a month that raises money for prostate cancer, they teamed up with the Movember team and promised to match every dollar the Movember team raises, up to $50,000 (save the balls!"). The site also gave out scholarships to students pursuing an education in science, to women in STEM research, and donated to end domestic violence.
All of this is Pornhub Cares: a program that helps make the world a better place, keeps Pornhub's reputation really good (for a porn site), and attracts conversations, publications (even in Forbes, would they talk about the porn aggregation site otherwise?), and social media buzz.
3. Data that all of us are interested in
While people are not so much into sharing their intimate preferences, they would surely love to find out about others'. At least, to figure out if they themselves are "weird" or just like the rest. Pornhub satisfies this desire: regularly, they upload viewership data to show what kind of porn people watch, for how long, when, where, etc. Obviously, this kind of content spreads like crazy: social media, Buzzfeed, Vice, Daily news…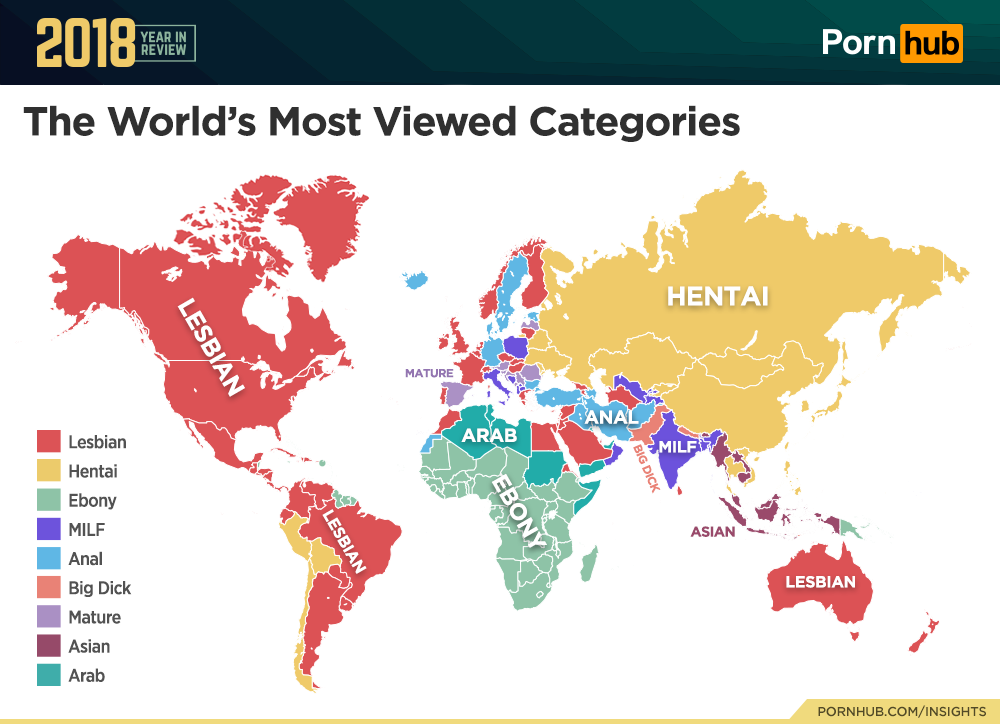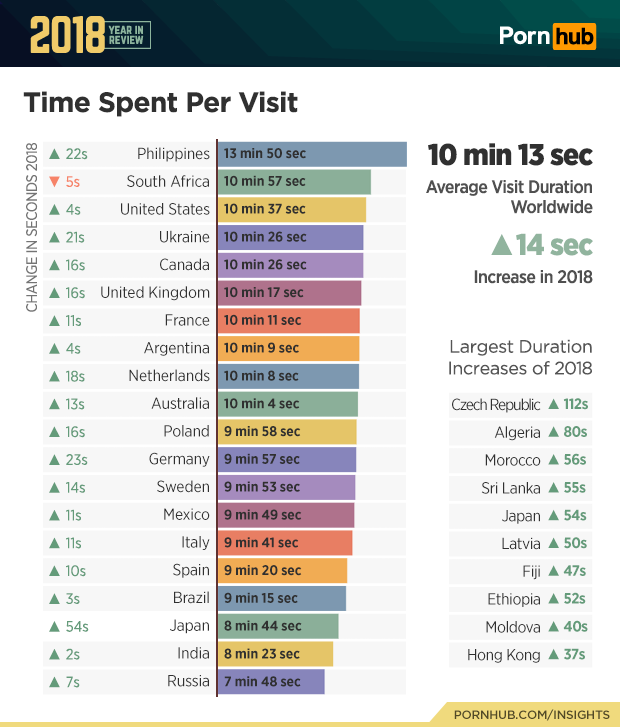 They go even further by showing how porn viewership is affected by world events - natural disasters, holidays, championships, GoT finale, Pokemon Go release... All of this is genuinely fun to discover and then, surely, talk about. Discussing these stats doesn't really make you a person who's into porn and at the same time, this takes away some of the taboo-ness.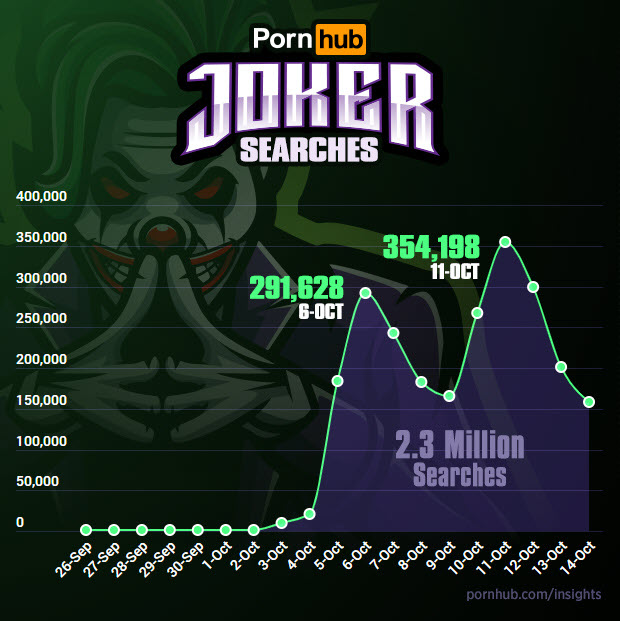 4. Genuinely hilarious ads
Again, engaging people is all about humor. Even if you're a sex-focused site that can have hundreds of naked women advertise it, humor is what attracts people the most. As their social media manager said, "At the end of the day we just want to put a smile on people's faces."
So, Pornhub's ads are funny and relatable to their target audience.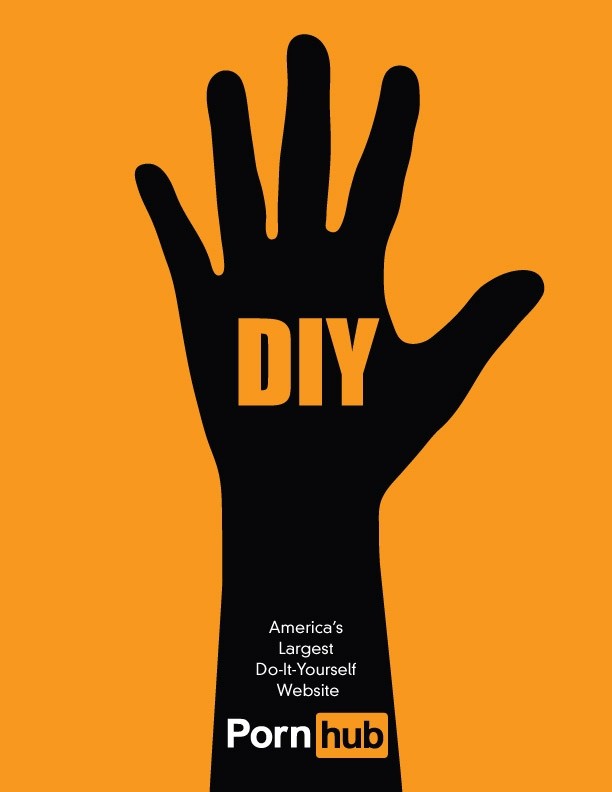 And, sometimes, to their unobvious target audience. Perhaps the one they want to attract?
5. Influencers marketing
Even in the world of porn, where you have, you know, PORN STARS, you still need influencers. When Pornhub analyzed people who've interacted with its social media content, they discovered that a lot of their audience is into rap. So they chose the rapper Waka Flocka Flame, who announced a new Flocka track with an NSFW music video produced by Pornhub (first announced as a sex tape - however, this happened on April Fools and was obviously a joke).
Since then, the Pornhub Records appeared. So far, it hasn't done much, but caused dozens of publications in media, such as "Pornhub Launches Record Label" by Rolling Stone. The site announced the song contest in search of the Pornhub anthem. The judges included rapper T-Pain, top hip hop producer Scott Storch, and VICE music editor Dan Ozzi. As part of their grand prize, the winners (Jordan Royale and Mihannah Zhangwill) each received $5000 towards the expenses of making a music video and had their videos featured on Pornhub with 500,000 views guaranteed.
---
So, what do you say? Has this article made you go out there and tell your friends about all kinds of cool things that Pornhub does? Maybe post something on Reddit's TodayILearned? Or just have a nice relaxing evening with the world's marketing winners (not my intention, btw)?
Let me know in the comments. Keep it safe-for-work, I am, after all, at work.