How to promote your business on social media in 30 minutes a day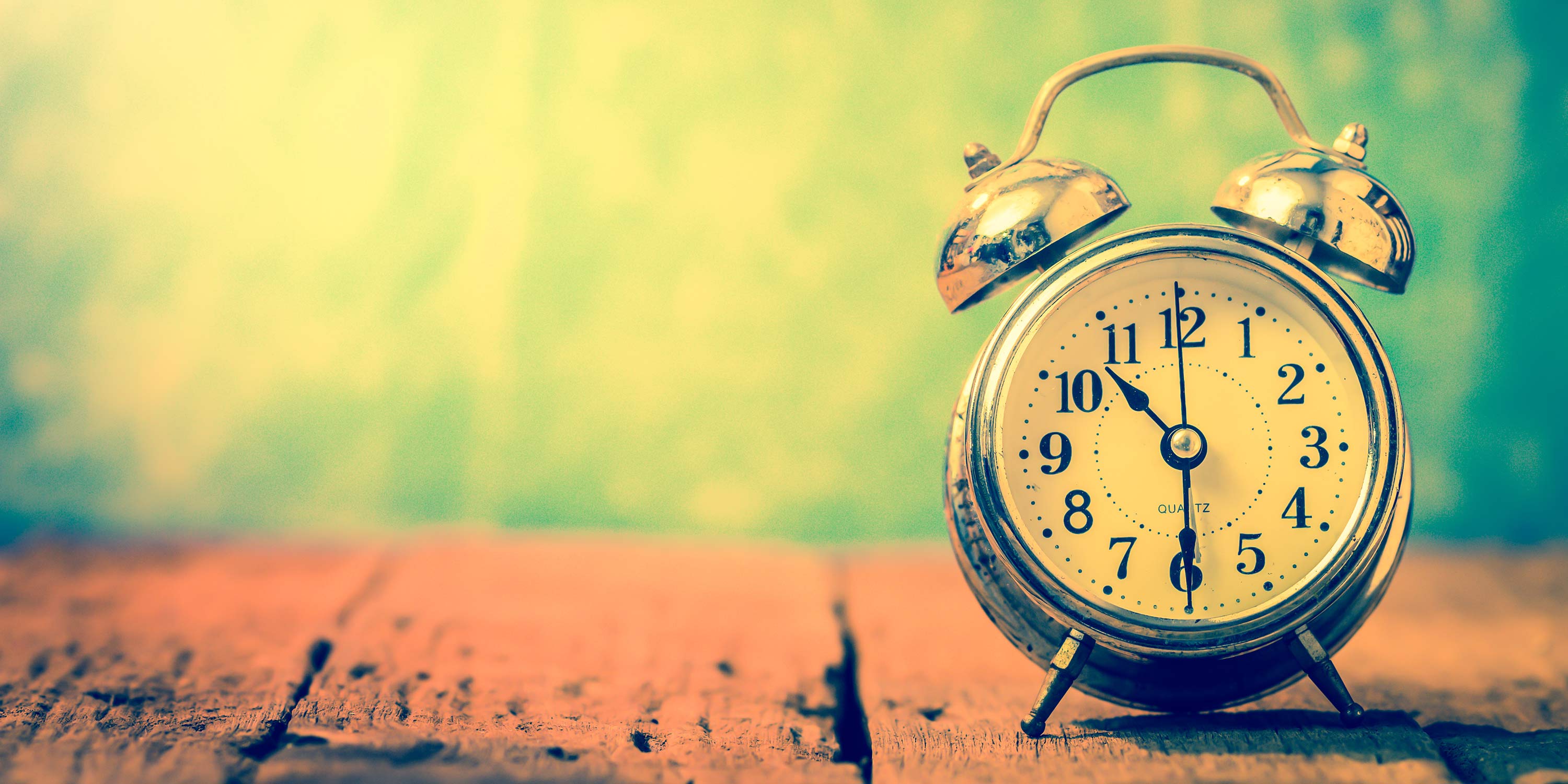 Small business owners tend to be everything in one: the department of sales, HR department, accountant, and all other professionals their business requires.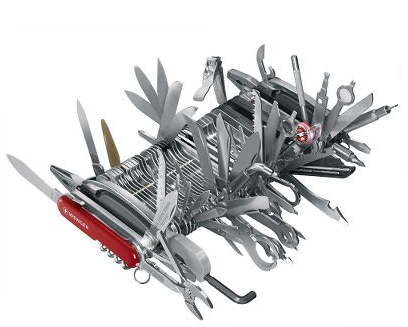 So when the social media craze happened, many small business owners didn't see an opportunity in it - they saw another headache.
Sure, the very idea of social media marketing is utterly confusing. Yet, it works. In a report by Social Media Examiner, 90% of all marketers indicated that their social media efforts have generated more exposure for their businesses. Increased traffic was the second major benefit: 77% reported positive results.
In this post I'll show you how you can use social media for business promotion, lead generation, and reputation building in just the time you have.
First, we'll divide all your activity into three main categories:
Listening (and responding)
Publishing
Analyzing
Then we'll see how you can cover the essentials of each of these without taking any more than 30 minutes of your time.
Listening (and responding)
1. Respond to mentions on social media about your brand ( 5 minutes)
Social media is first and foremost a place to socialize. While you might assume that if you have 5 minutes left to deal with social media, you should spend them posting news about your brand, that is simply not true. Social media exposure works through building a reputation of a helpful, friendly brand. So first thing you should do is act as customer service: find mentions about your brand on social media and respond to them. React to any questions, comments, complaints, and praises you see online.
Social Media Monitoring tools like Awario make this task easy and quick for you. All you have to do is set up an alert for your brand, and the program will show you all mentions on all kinds of social media (from Facebook to blogs) in one dashboard (or send them to your email). In Awario, you can reply to mentions of your brand on major social networks right from the dashboard, too.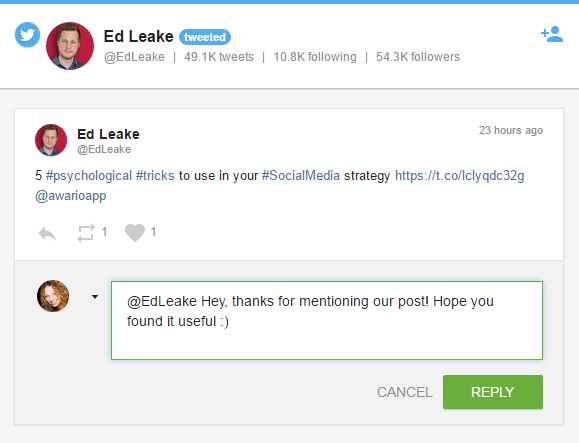 How is it effective?
First of all, great customer service is one of the best ways to make sure your existing customers come back. Secondly, it is a way to build the reputation of a trustworthy brand, which will undoubtedly attract new customers. Thirdly, customer service done on social media results in more brand exposure: the whole online population of Facebook acquaintances and Twitter followers of the mention's author observes you being helpful.
2. Respond to mentions of your competitors (5 minutes)
Monitor mentions of your competitor(s) alongside monitoring mentions of your own brand (set up an alert in a Social Monitoring tool for your competitor's brand). When you have a couple of minutes a day, reply to some of the mentions. If users are asking an industry question, reply to it without necessarily promoting your brand. If they are complaining, promote your brand openly, explaining why your product wouldn't have the same problems. If people are asking about your competitor, offer your brand as an alternative. And so on.

Well, you don't have to. Check out XYZ Salon next time. I promise, everyone is really nice here :)
How is it effective?
By responding to mentions about your competitor, you are making your brand known to people that are already interested in this kind of product. Moreover, you have a chance of getting the unsatisfied customers of your competitors that either didn't know about your product or needed a push to switch.
Publishing
1. Share relevant posts from people in your industry or your influencers ( 5 minutes)
Social media is all about building relationships. By sharing posts of people in your industry and your influencers, you are killing two birds with one stone: you're posting relevant content (preferably interesting one, too) on your brand page, and you are promoting people that might be useful to you in the future. Share posts that contain images or videos the most. Don't forget to include the appropriate hashtags and @mentions.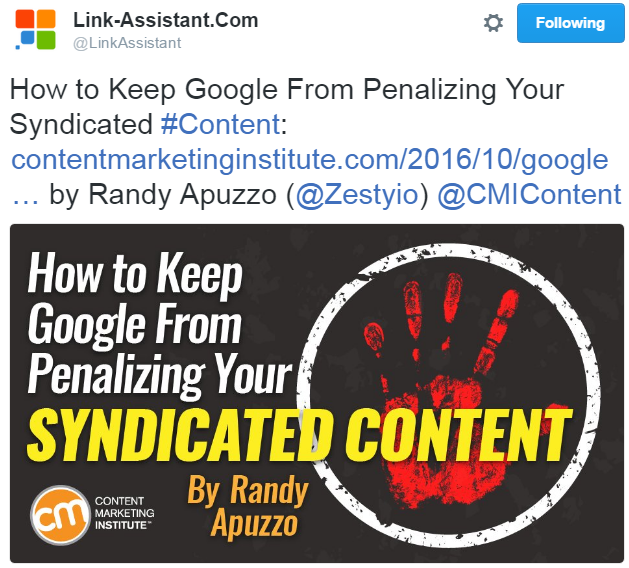 Share posts of your customers, if there are any, and if these posts are related to your business. For example, never hesitate to share testimonials on your brand page.
It is completely unrequired that you share all posts you find fitting: one or two each day is usually enough.
How is it effective?
By sharing relevant and useful posts of other people, you are engaging your customers, your influencers, and experts in your industry. This is a way to establish yourself as a knowledgeable and friendly brand, and build brand awareness among people in the industry.
2. Promote your brand (5 minutes)
While the first point (sharing posts of people in your industry and your influencers' posts) should take most of your brand page's space (80%), it doesn't mean you should completely ignore anything that happens with your actual products. 20% should still be dedicated to posting any news and updates about your products, sales, and questions to people about your products. Don't forget the images! Adding an image to your post takes no more than a minute, and yet it has immense power. For example, images boost retweets by an impressive 35%.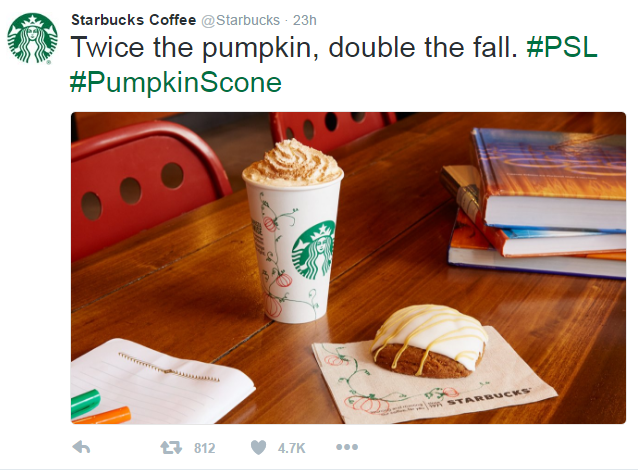 How is it effective?
Even if your brand page is on Facebook, you're not fooling anyone: users know that you're there to sell. Hence, when they sign up for (like, follow) your brand, they expect your page to be a news source about your products. So talking about your product (without overdoing it) is logical and effective in raising your conversion.
Analyzing
1. Analyze and refine your social media efforts (10 minutes)
Analyzing is not something you have to do every day. Analyzing your social media efforts only makes sense if you leave some time for data to collect itself. Then use a Social Media Monitoring tool to see what's going on online. Look at things like:
Which posts reach most people?
Which of your tactics are most successful (offering a 10% discount for your product to your competitor's unhappy client)?
What people mention your brand a lot? Can they become brand ambassadors?
Refine your social media actions based on the results you get.
That was it! We're out of time!
Social media marketing doesn't stop here. In fact, this is just where it starts. However, this is an actual situation when 20 minutes a day can bring your business to a whole new level.