Reddit marketing with Awario: a how-to guide + DOs & DON'Ts

Summary
This article will show how to do social listening on Reddit and never miss a conversation about your brand. And what to do when you finally know everything about your brand's Reddit live.
12 minutes read
Reddit is a website that is regularly underestimated.
We can only guess why that is. Maybe, it's the lack of a fancy design. Until very recently, Reddit had the classic 90s look. Maybe, it's the stereotypically "geeky" aura that Reddit is so proud of. Or maybe, because marketers just can't figure out how to behave on Reddit not to get banned.
And while it remains to be extremely popular - Reddit is the 7th most visited website in the world - brands continue to ignore it en masse.
Well now, not for the first time, we got a sign from the above that Reddit has the power.
Not like this is in any way surprising. On Twitter, Elon Musk has to approve every tweet with the legal authorities.
All of this is done because of the power that social media has: to inspire mass actions, influence the stock market, make or break businesses.
Start monitoring your brand today.
You should've been doing it yesterday – but the next best time is now with Awario.
By signing up I agree to the Terms of Use and Privacy Policy
Whether you're small or big, online or offline, there are people who either already talk about your brand or will talk about it one day. These people might influence your popularity, reputation, and sales without you ever finding out. And there's a large enough chance this will happen on Reddit.
So this article will show how to do social listening on Reddit and never miss a conversation about your brand. And what to do when you finally know everything about your brand's Reddit live.
Set up social listening for Reddit
First, you'll need a social listening tool. Grab Awario's free trial and create a project for your brand.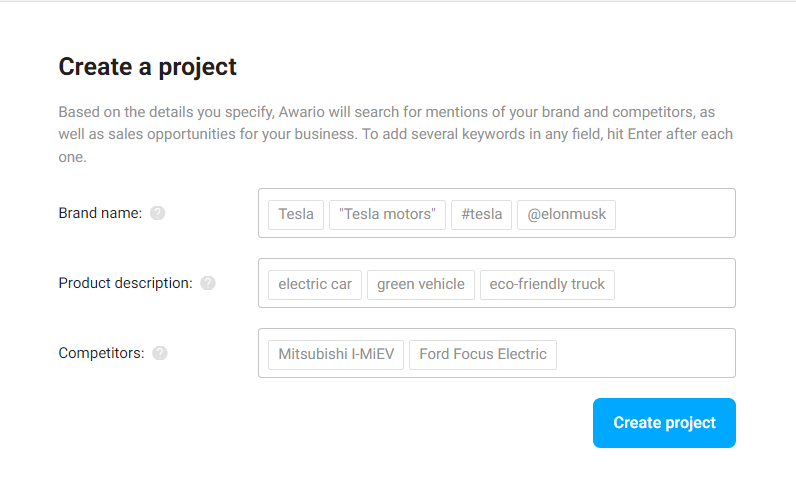 Fill out your Brand name, Product description, and Competitors and click Create Project.
The search will start straight away. It will include all major social media platforms and Reddit is among them. However, if your goal is to only find mentions on Reddit, go to Alert Settings.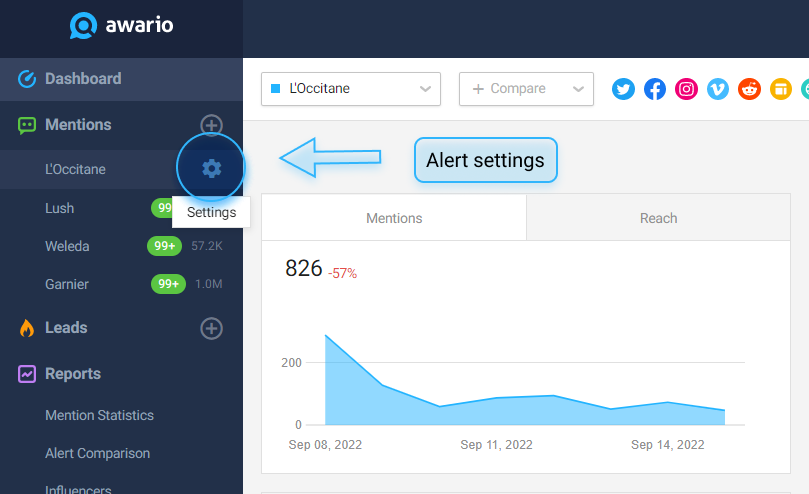 In the Alert Settings, you can adjust your search: specify sources, languages, time range, etc. Note that you can't specify locations for Reddit, because Reddit doesn't disclose its users' locations.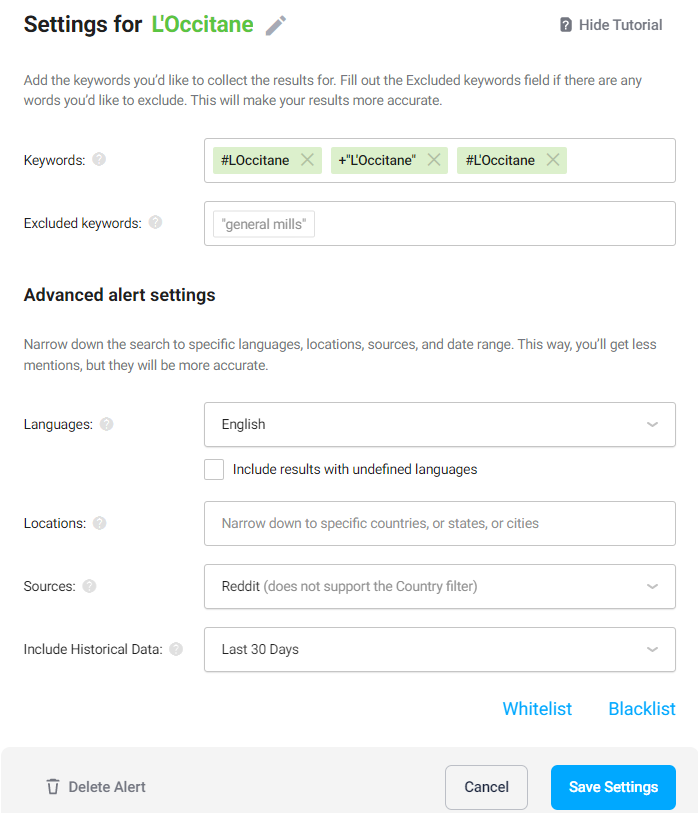 You can also add your website. This way, Awario will also find all links to your website even if they don't involve a mention of your brand.
Look at the results
Once your alert is set up, Awario will gather mentions of your brand on just Reddit or on all major social media platforms, news, blogs, forums, and the Web. Results will start appearing in Mentions Feed straight away.
Mentions Feed
Mentions Feed shows every single mention of your keyword that the tool has found. If your alert includes all sources, but you want to concentrate on just Reddit, filter the results by the source in the Mentions Feed.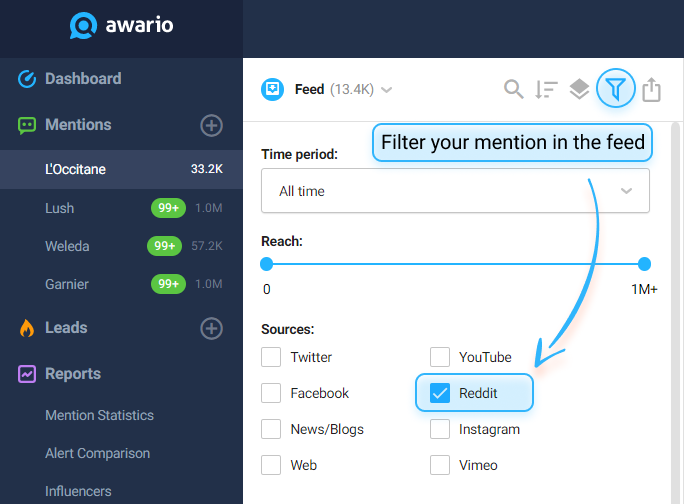 Then, you can scroll through mentions and read what the Reddit users have said about your brand (or any other keyword). Of course, you can also reply to these mentions, delete them, save them in separate folders, and so on.
Analytics
You can watch the analytics live on Dashboard. You can see the analytics for Reddit separately by deactivating all other social media resources. To do that, click once on social media icons on top of the screen. Grey shows that they have been deactivated.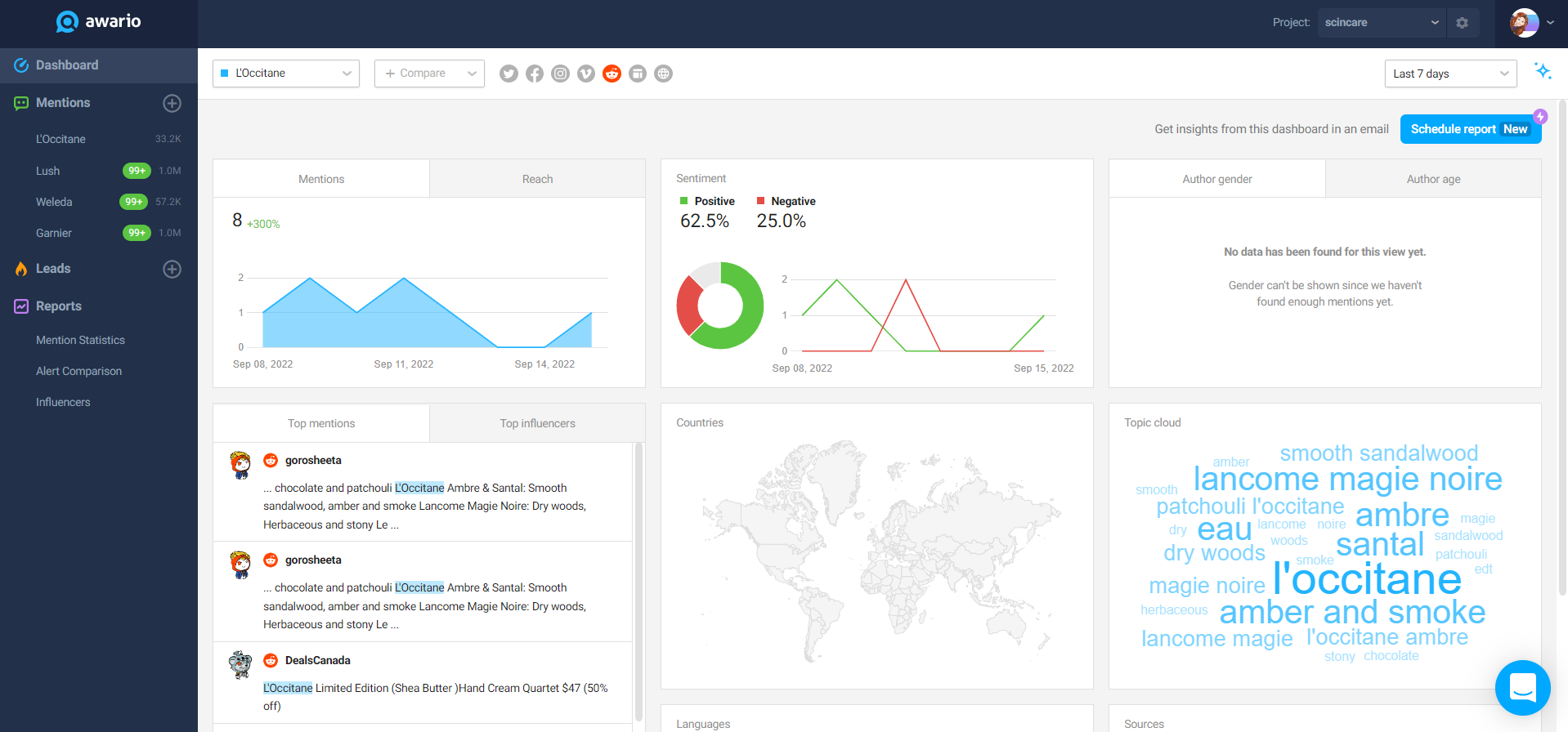 Let's quickly go through this image above.
On the top from left to right, you can see mentions' growth and mentions' sentiment. As you can see, the number of mentions is growing steadily despite having had a sudden decrease. The sentiment is wavy.

You can't see data for gender and locations as Reddit is to a huge extent an anonymous forum and doesn't disclose this information.
At the bottom left of the screenshot, you can see the Mentions tab and the Influencers tab. The first one shows the most popular mentions and the second one shows the authors who've mentioned your keyword and boast the biggest amount of followers (in the case of Reddit, the biggest Karma).
At the center, there is a breakdown by language (we set up monitoring only in the English language in this case) and in the center-left, there is a Topic Cloud. The Topic Cloud shows words that are used most often alongside your keyword, revealing the topics that are most often discussed around your brand.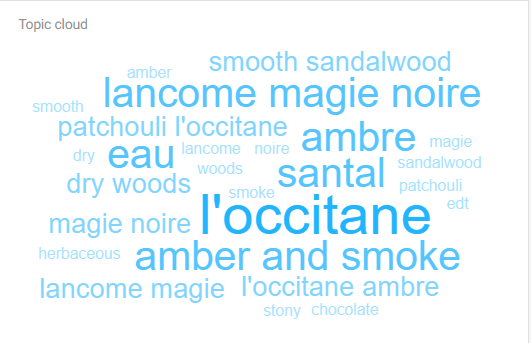 The Dashboard shows you live results. To get more detailed analytics for a longer time period, go to Mentions Statistics.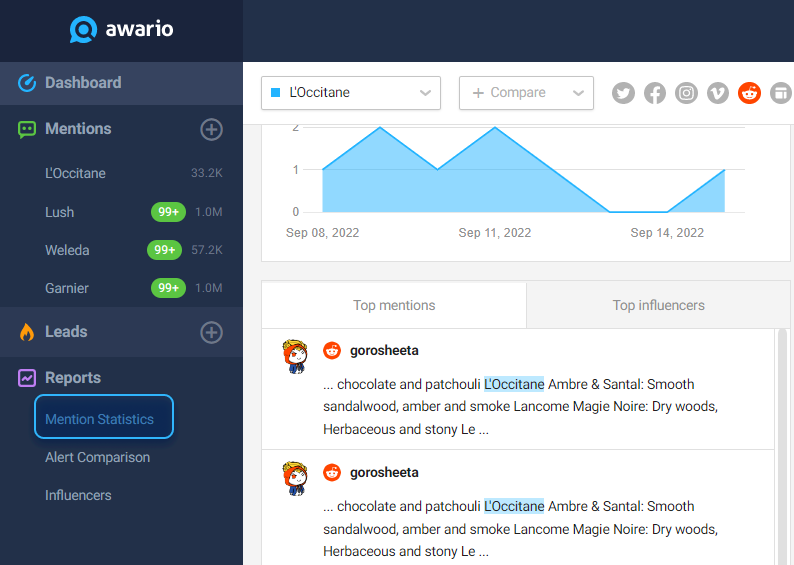 Join conversations on Reddit
Now that you know how social listening works and which results it provides you with, time to learn how to use this info for immediate marketing.
Start monitoring your brand today.
You should've been doing it yesterday – but the next best time is now with Awario.
By signing up I agree to the Terms of Use and Privacy Policy
1. Join conversations about your brand.
The first thing to do is to join conversations about your brand that are already happening. You can join them as a brand representative or as a random user who has loads of experience with the product. Answer questions, comment on criticism and discuss the niche just like anyone else. This will genuinely help people with the product, as well as nudge some other users to try it out.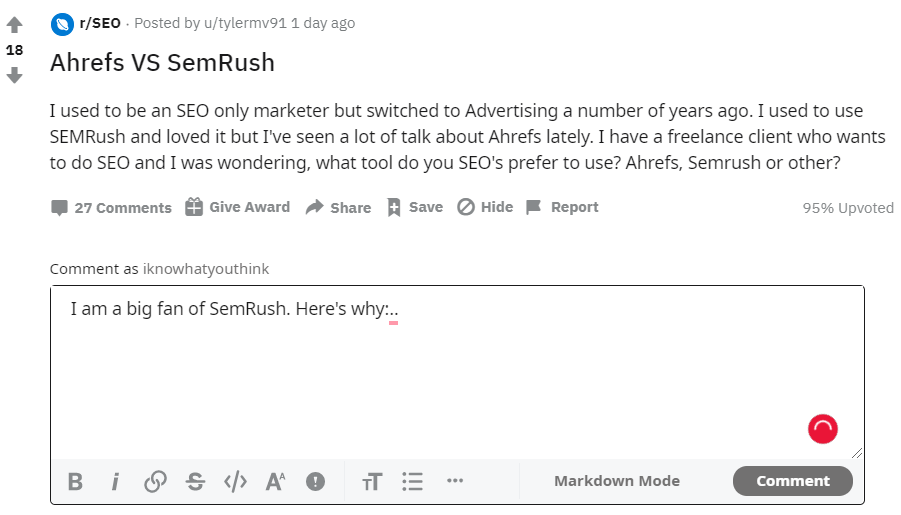 2. Join conversations about your competitors.
The next thing to do is to join conversations about your competitors. Often, these will intersect, but you might want to create a separate alert to also monitor your main competitors. Under discussions that involve your competitors' products, you can explain what's better about your product and influence users who are uncertain as to which one to choose.
Generate leads on Reddit
Remember how at the beginning of the guide you filled out your product description and your competitors? This was for Awario's feature Awario Leads that helps you find leads on social media. This also includes finding leads on Reddit.
Now, all you have to do is go to Leads and check out whether there are some leads suited for your company.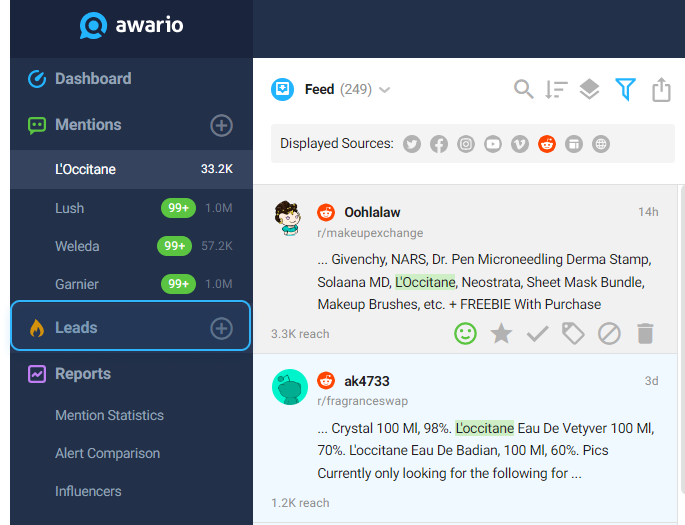 How does Awario Leads work?
The feature finds social media posts that signal that the author is looking for a product or service just like yours. So, if you've described your product as a "productivity app", the tool will find posts such as:


These are "hot leads". You don't have to prove to the author they need a productivity app in the first place. You also don't necessarily need to prove that your product is the best on the market. As long as it fits the requirement the person has outlined in the post, they will try it. All you need to do is let them know that your product exists.
As a company representative, however, you can do more. You can offer a discount or some other incentive for them to try the product right now.
Find brand advocates on Reddit
Another thing you can do with Awario is finding brand advocates on Reddit. I am sure I don't have to explain to you the value of brand advocates - but I'll do it anyway.
Brand advocates are people who already love and praise your brand publically. And often, they aren't paid or asked to do that - they just genuinely appreciate the brand. With Awario, you can search Reddit (or any other social network) and find these people, and collaborate with them to get the most out of influencer marketing.
To do that, got to the Influencers tab. You'll instantly see a list of your brand advocates ranked by the number of the author's followers and by how many times they've mentioned your brand.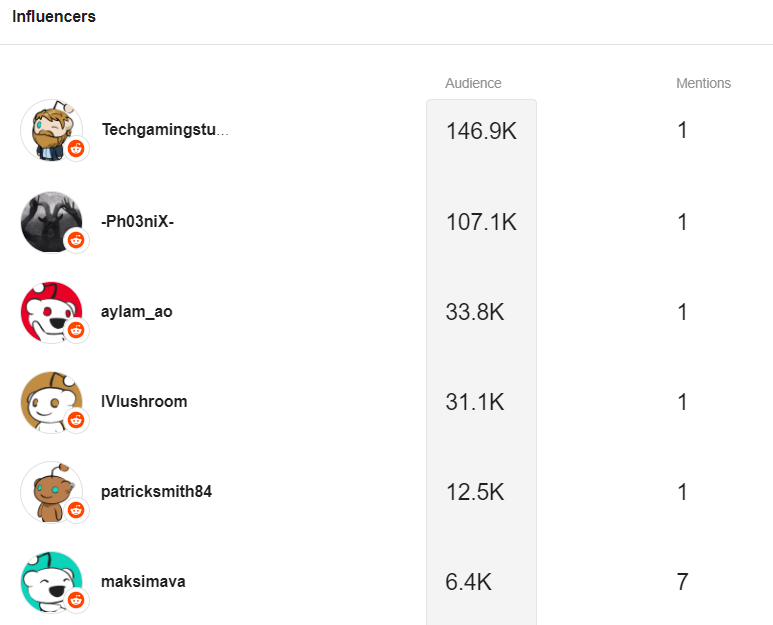 Marketing on Reddit: Do's and Don'ts
Even if you use social listening, marketing on Reddit is risky and harsh. The reason for that is that Reddit users don't enjoy being advertised to. While people are sort of used to all kinds of promotion on Facebook, Instagram, and Twitter, Reddit remains a safe space for people to honestly exchange opinions. This means you can't take the same promotional approach to marketing as you might be doing on other platforms.
Here are the do's and don'ts that will help you work with the platform.
DO
Be a regular and genuine Reddit user. Use the platform for all things that interest you outside work. This way, you'll get the feel of the platform and will know how to contribute best.
Earn Karma. Before posting and commenting anything to do with your brand, post, and comment enough on the topic (or outside of it) to earn profile points that are called Karma. Users with little Karma seem suspicious.
Follow the guidelines. Every subreddit you'll post in and comment in will have guidelines. Read them carefully and follow them.
Always post original content.
DON'T
Don't get offended. Reddit users can be mean and they generally dislike marketers. Someone will inevitably accuse you of something bad. Someone will inevitably criticize your product. In that case, discuss the issues and don't get defensive.
Don't be sales-y in any way.
Don't lie or hide information about your product. The information you put out there should be true and objective.
Follow these rules and the people of Reddit might accept you.
Good luck and may the odds be ever in your favor!
Enjoying the post? There's more.
Sign up for our newsletter to get our best content by email.